Napa Valley wine barrels seem to be quite a bit of hit among furniture refurbishing enthusiasts. Last week it was a gorgeously crafted coffee table, and now we have stumbled across a full fledged washbasin made from the salvaged yet exquisite barrel. Contrived by Alpine Wine design, the aim of the project was to enhance the visual as well as the practical quality of the disposed off wine barrel.
Thus the result was the full-scale utilization of the barrel to form the imposing support stand for the fascinating basin. A copper sink was further fixed onto the top section of this barrel, which is then equally complemented by the elegant Delta brushed bronze faucet.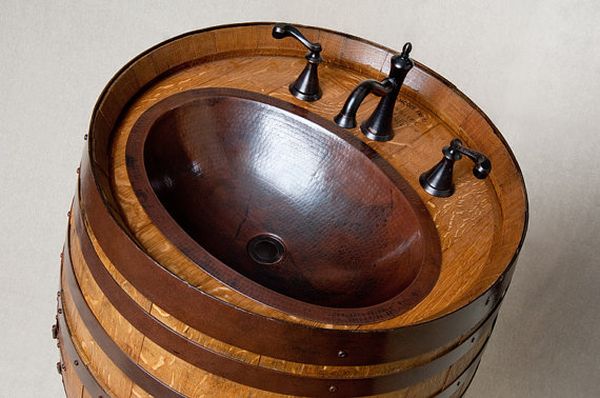 The visual essence is maintained through those faux painted coats of brown rings around the barrel, both along the top and the bottom part. However, beyond the unique aesthetic flavor, we did mention something about the practicality of the scope. In this regard, the barrel also exhibits an inconspicuous door, which is marked by a gilded bronze grape shaped pull.
The inside of this hatch doubles up as both storage space and the area for all the paraphernalia of plumbing. The overall structural quality is further improved by applying three coats of lacquer for durability as well as beauty.
Dimensions: 36″ tall by 28″ round at the peak.
Price: $1,499