Travelers coming to Wales have a chance to stay in Wales's first pop-up boutique hotels built under Epic Retreats project. Eight glamping cabins were chosen through a design competition organized by Government of Wales last year. Each glamping unit can be transported to different locations across the country. Limited 200 bookings are available, so only a few will get the opportunity to enjoy the wilderness of Welsh landscapes in modernist cabins. Llŷn Peninsula, Southern Snowdonia, and lush West Wales are three places that host the Epic Retreats. The countryside retreat features eight structures listed below.
Arthur's Cave
Designed by Miller Kendrick Architects, this glamping cabin is inspired by King Arthur and the cave he slept in with his soldiers when he was on the run. Arthur's Cave features a large sliding glazed door, locally-sourced sheep wool insulation and wood burning stove to keep interiors cozy throughout the year. The cabin has a double bed to accommodate two people, while basic utilities such as shower, basin and compost toilet are also there. In addition, solar-powered lights and USB sockets are also included in the glamping unit.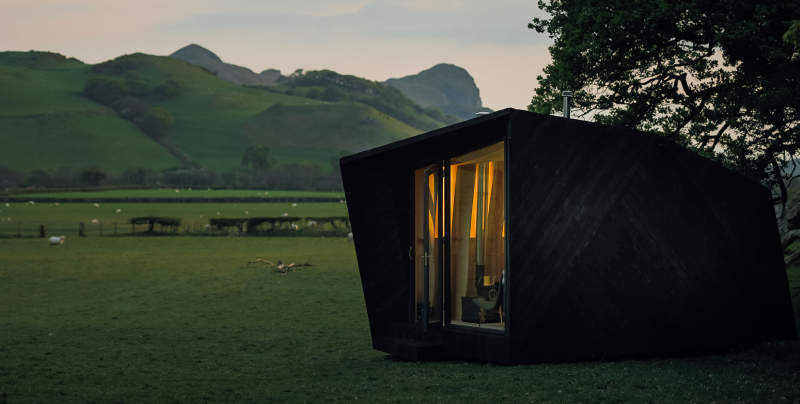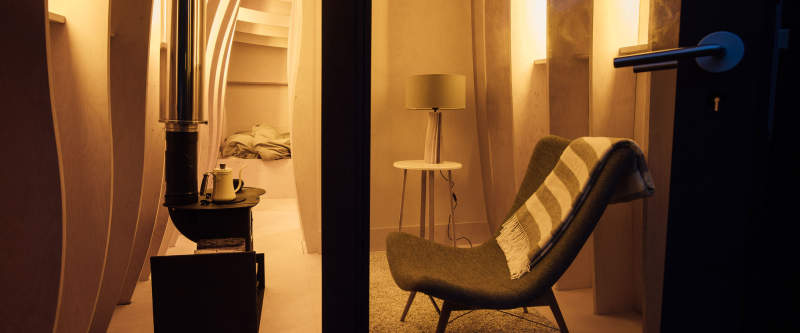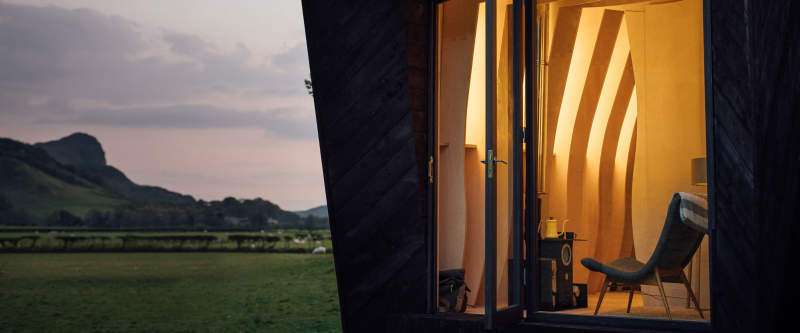 Black Hat
Black hats have a big importance in Welsh cultural identity. Sometimes, it is related to the failed attempt by the French to invade Britain via Fishguard in 1797, where thousands of women in traditional scarlet tunics and tall black hats marched from the small port to the front line to defend their country. Designed by Rural Office for Architecture, this unusual glamping hotel is built in shape of a hat – a perfect reminder of the unforgettable history. This tipi-inspired cabin houses a king-sized bed to accommodate two in the upper floor, while domed roof offers stargazing opportunities to guests. The Black Hat glamping cabin has en-suite shower, basin and a compost toilet to provide utmost comfort to visitors in an eco-friendly way. Solar panels power the house.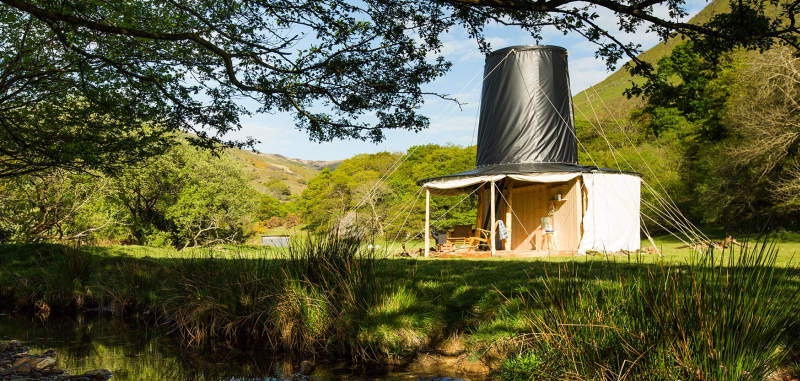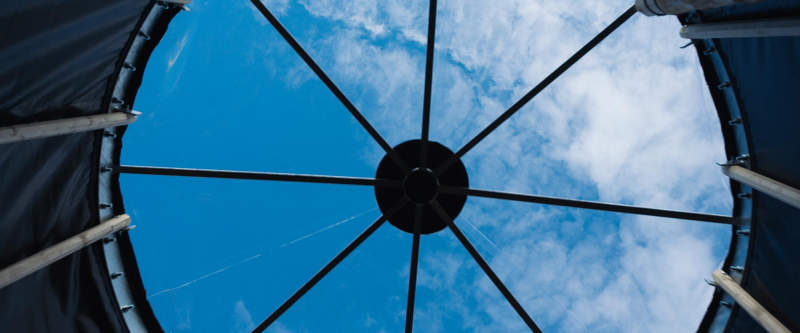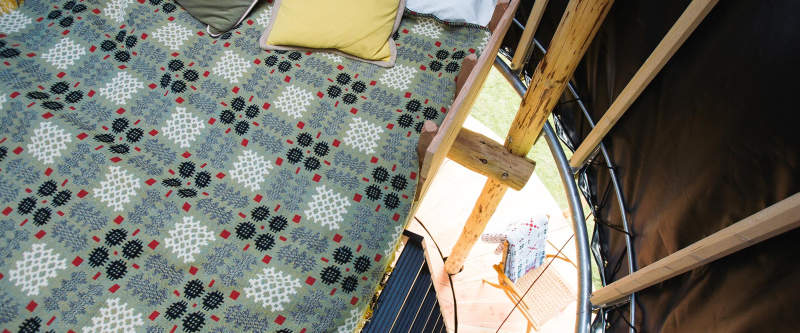 Cabin in the Woods (Animated Forest)
Inspired by the Welsh poem, Cad Goddeu (The Battle of the Trees), this elevated glamping cabin is designed to give impression of movement by Francis & Arnett. It has a padded sleeping area for two, a wood burning stove with rooftop chimney and large box windows to let natural light in and offer mesmerizing views of the valley.  The tiny cabin also has shower, basin and compost toilet. Solar panels fulfill energy requirements of the cabin. It uses raw materials including timber, steel, slate, and leather sourced from the Welsh landscape.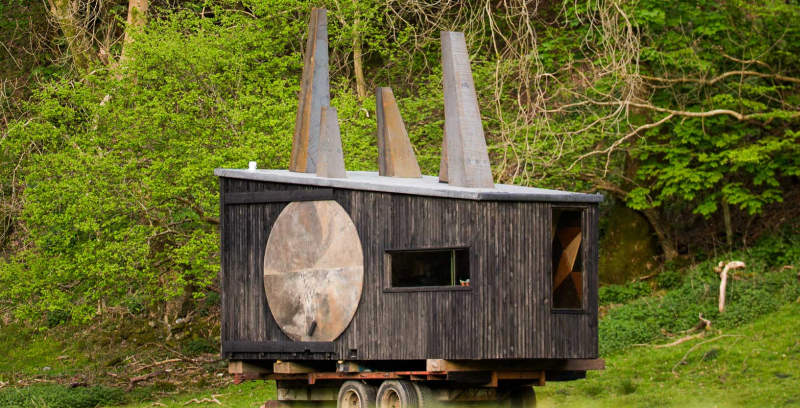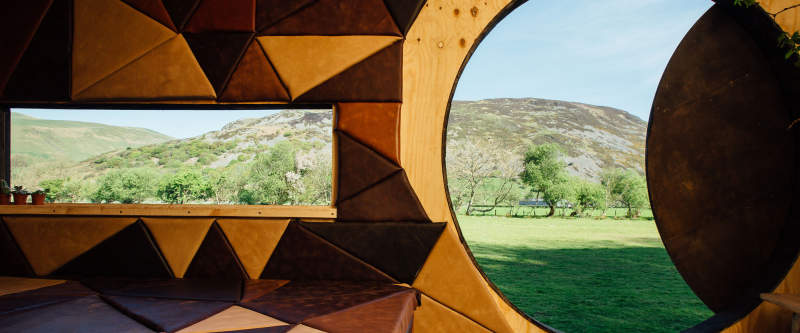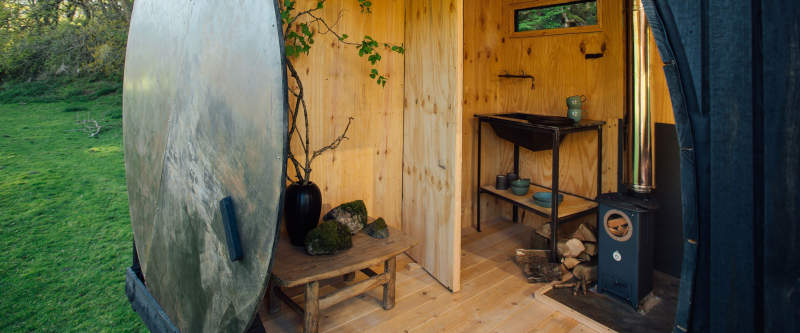 Dragon's Eye
Designed by Carwyn Lloyd Jones, Dragon's Eye is an eye-shaped glamping pod that surprises passers-by with its creepy appearance. Stainless steel shingled exterior gives Dragon scale appearance. The cabin has a round rotating bed and full-height glass windows to enjoy stunning views of the Welsh landscape. In addition, it has a walk-in wet room clad in reclaimed slate tiles and a Hungry Penguin wood burner for cooking and heating. Solar panels generate enough energy to fulfill basic requirement of the guest.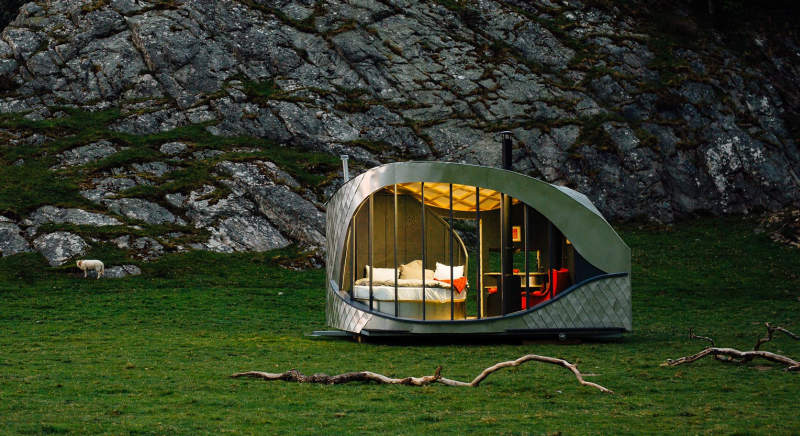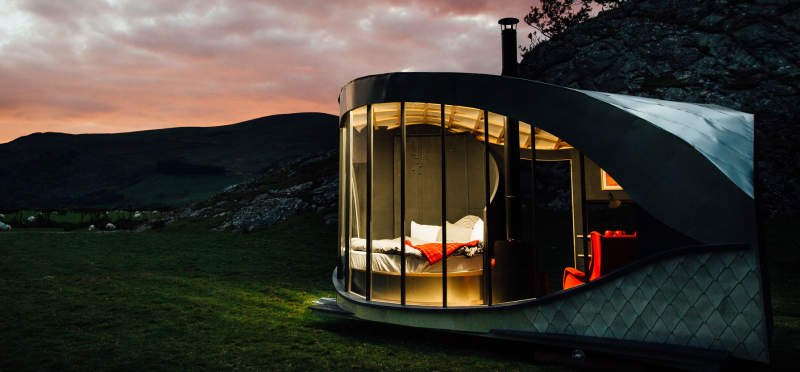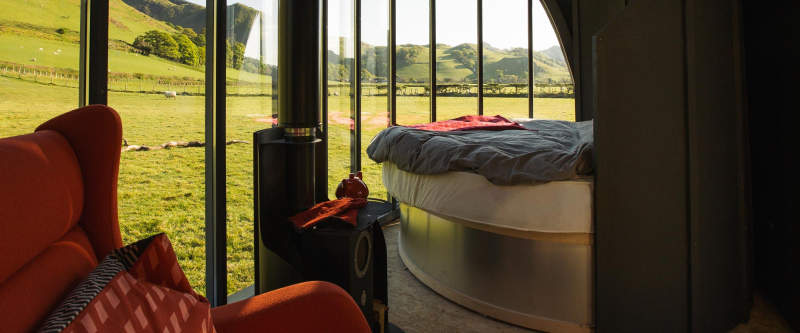 Little Dragon
This double-decker cabin is a unique combination of industrial heritage and Welsh folklore designed by Barton Willmore Architects. With scaly façade and claw-like tripod base, the Little Dragon cabin represents the dragon that is said to be dating back to Wales's past. On the inside, the upper level having a sleeping area with a round bed for two can be accessed through a wooden ladder, while living area in the main floor has a wood burner and hob. The glazing at both levels provides magnificent views of the Welsh landscape in backdrop. The cabin has a bathroom complete with shower, basin and a compost toilet. Solar-powered lights illuminate the cabin at night, while USB sockets can be used to charge phones.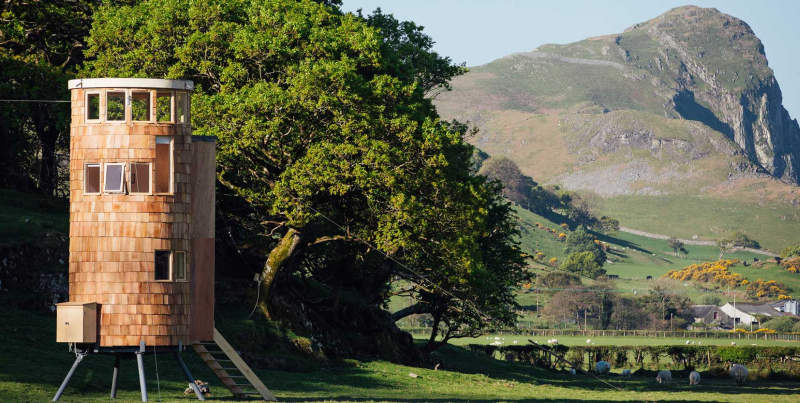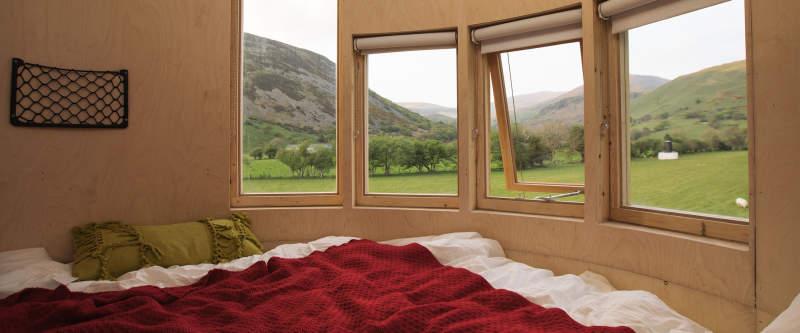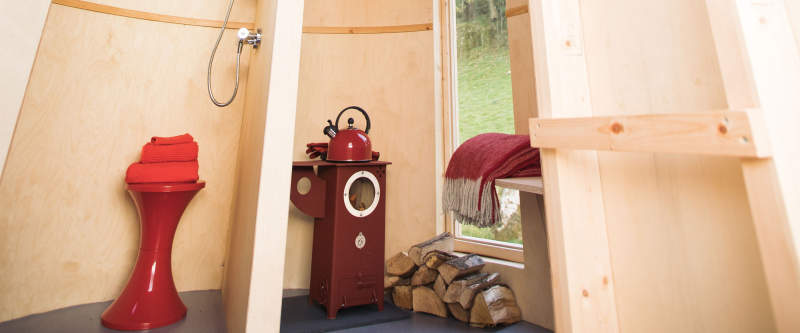 Miner's Legend
London-based How About Studio designed the Miner's Legend cabin as a tribute to the Wales's mining industry. At first glance, it appears like a mining structure and corrugated iron shed placed in outdoors of Wales. It features a tunnel as the entrance, however, a full-sized door is also there if guests don't prefer to crawl into the cabin. Visitors have to climb a flight of steep steps to reach the sleeping area with panoramic views of the surrounding area. The cabin also includes basic en-suite facilities such as shower, basin and compost toilet. Furthermore, there are solar-powered lights throughout the cabin and USB socket to charge mobile phones.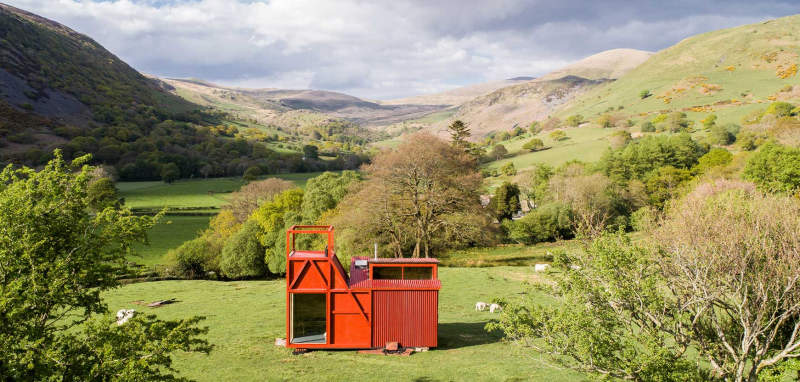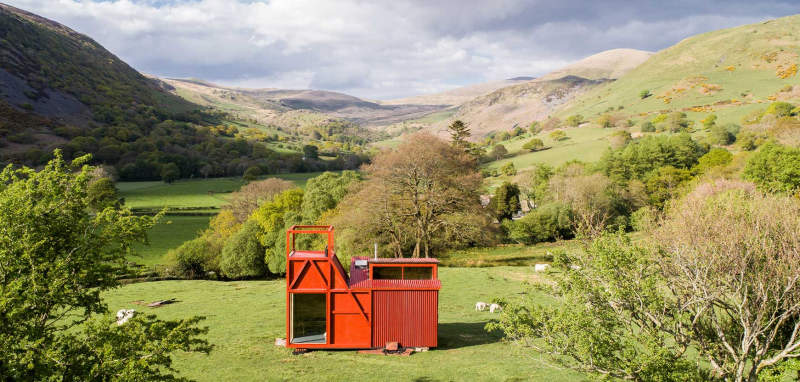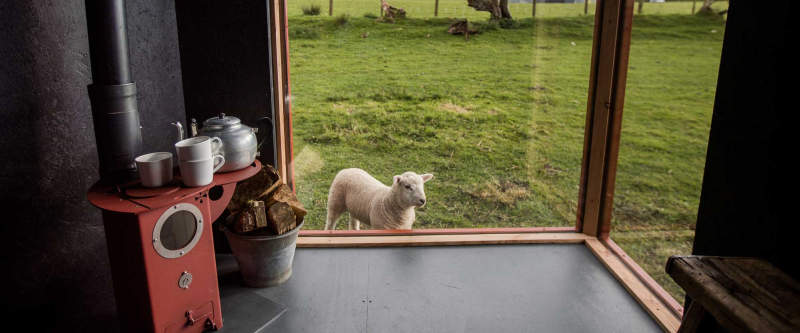 SkyHut
This all-black glamping retreat by Waind Gohil + Potter Architects is perfect for people having a strong fancy for stargazing. Its retractable roof and doors with simple geared cable mechanism open up to transform it into an open glamping observatory. Inside, there is a double bed to sleep two, while bathroom area has a shower, basin and compost toilet. The cabin fulfills its energy requirements through solar panels.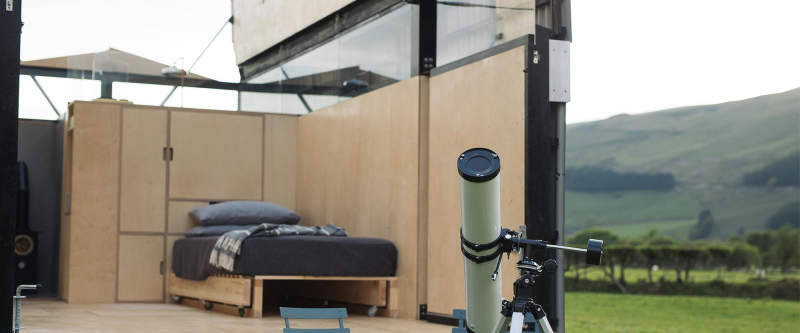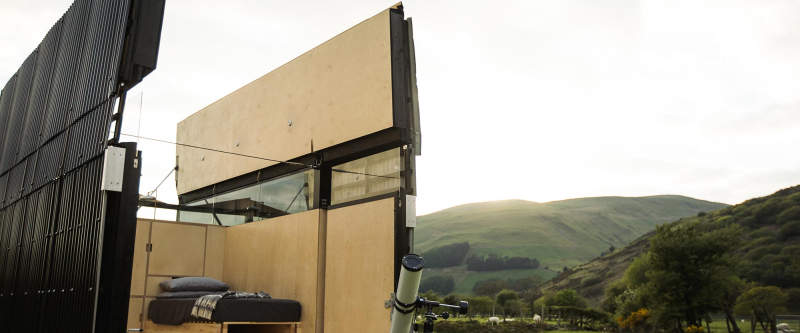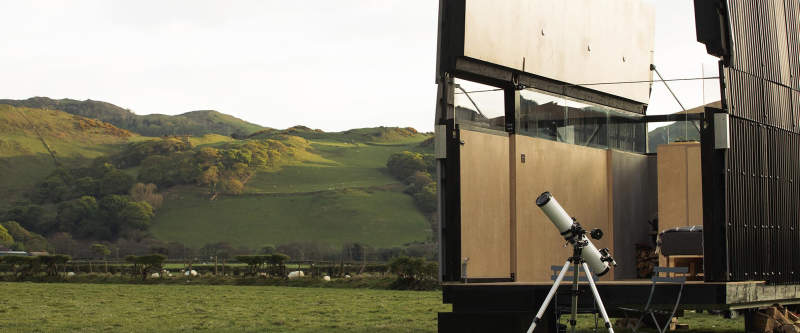 Slate Cabin
Slate Cabin reminds of the topography of the country and it is an ideal place to enjoy the natural beauty of rural Wales. Sydney-based design studio Trias has added rough grey slates to its exterior while a clerestory window is also an interesting feature of the cabin. With exteriors clad in slate, the cabin blends effortlessly into its surroundings. As of inside, there is a double bed for two persons, while the living room has a table placed in front of a window to serve as an ideal spot for people looking for a peaceful place to read, write and relax. Just like other glamping cabins, this cabin also has basic facilities such as shower, basin, compost toilet and solar panels.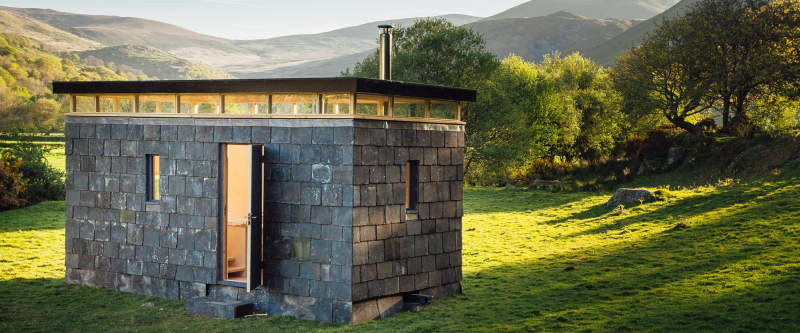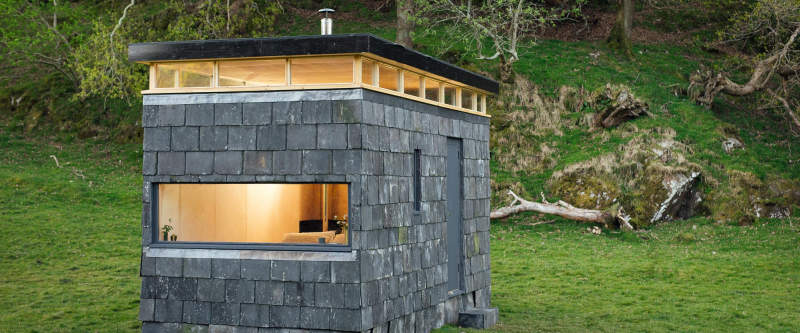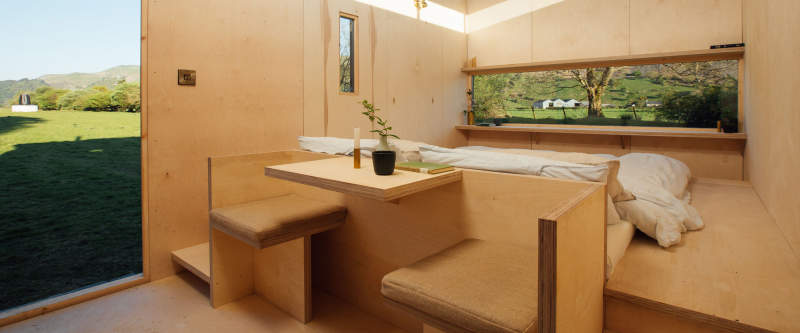 These glamping cabins are built to celebrate the cultural heritage of Wales. People planning to visit Wales have an exclusive opportunity to explore the Welsh countryside in a different way altogether. Currently, all eight cabins are featured by Channel 4 in a series called 'Cabins in the Wild' every Sunday at 8:00 pm. You can follow this link to check the availability or book you place.