Unlike traditional offices with confined workspaces, future offices call for a highly flexible and dynamic environment. After all, a playful and happy workspace is more likely to encourage creativity, interaction, and spontaneity among employees. Amsterdam-based architecture studio Studioninedots has conceptualized a green and gray pavilion-like office space in the same notion, and it nicely gives the impression of the dynamic office of the future.
Named Wet Beast, this 750-square-meter office space is present on the ground level of Westbeat that's a mixed-use building designed by Studioninedots itself. Commissioned by Gerimedica, the new office design focuses on integrating three spatial elements that spark new impulses and evoke a sense of creativity and interaction among employees.
The three flexible pavilions in the office space provide ample spaces for socialization, seating, shelter, and meetings. The distinct functions of each element are visible in the use of diverse materials, shapes, and hues. These spaces offer new ways for employees to connect, work and relax.
Each element is even cleverly detached from its architecture so that the user can use them temporarily or permanently as per their requirements. This design flexibility also gives the office design the potential to evolve with time.
The architects have purposely installed a flexible 'Jungle' staircase, timber 'Town Hall' pavilions and Escher-like 'The Beast' play world within the gray sweeping concrete arches of the Westbeast building.
The lively 'Jungle' staircase has plants integrated into all its sides. It serves two purposes – one is to act as a recreational or relaxation area and the second is to serve as a presentation podium. Next to the staircase is the 'Town Hall' that consists of modular timber seats that remain hidden behind the light curtains. The users can open the curtains to make the most of the given seating space for meetings and discussions.
And, on the opposite side, there's 'The Beast' that is an Escher-like multifunctional play work with private and open spaces for various activities. Meanwhile, the large glass walls connect the inner sheltered area with the rest of the surroundings.
Overall, this office design project is great for modern offices that don't believe in confined and conventional styles of working. We feel that employees will happily work in such open-space and spirited office space. Although it's just a concept for now, we're likely to see more such offices that blur the line between work and leisure.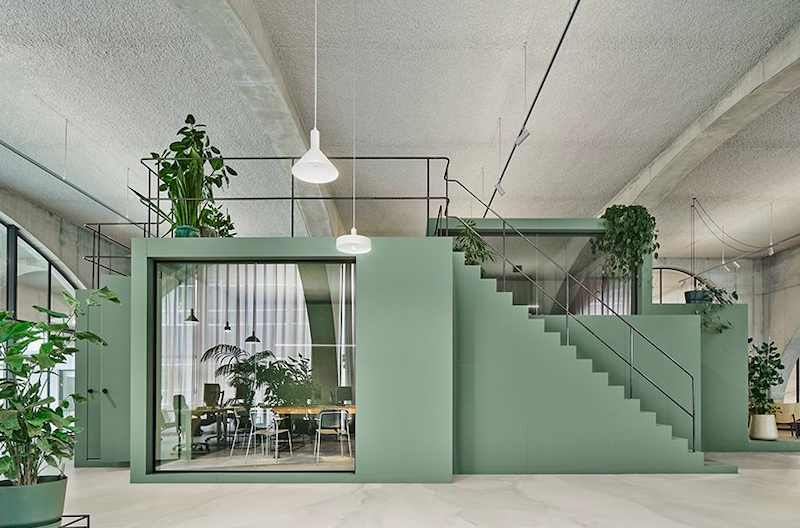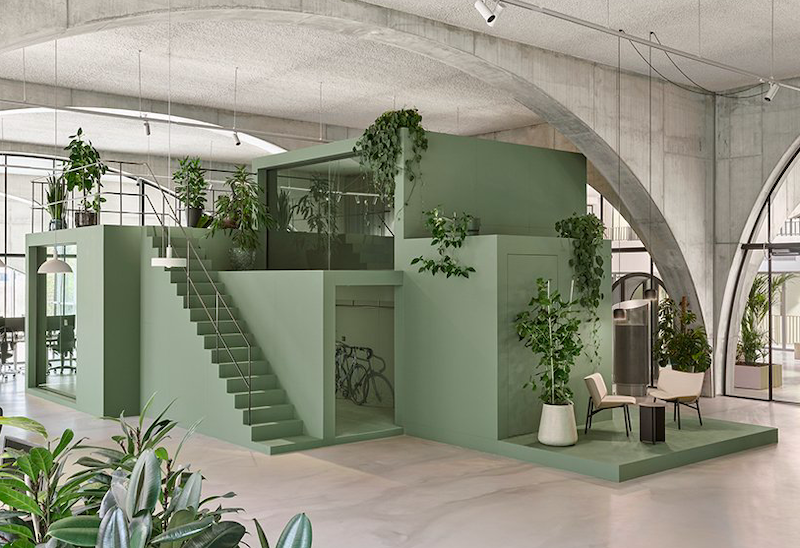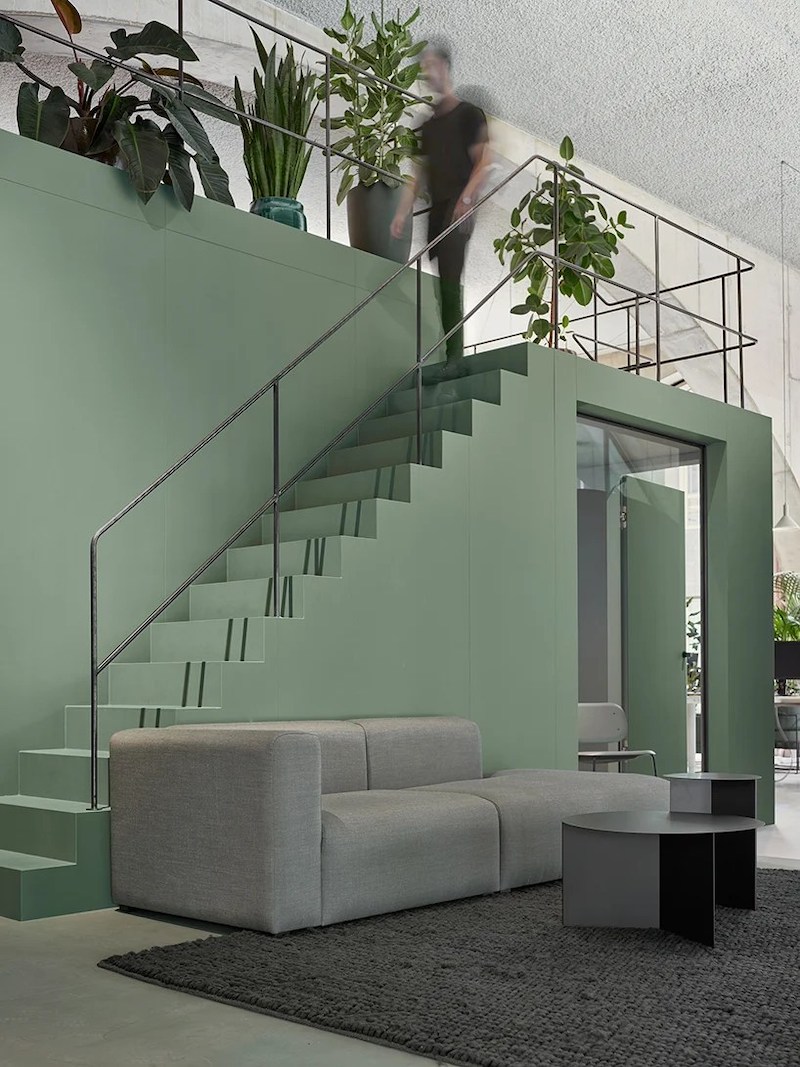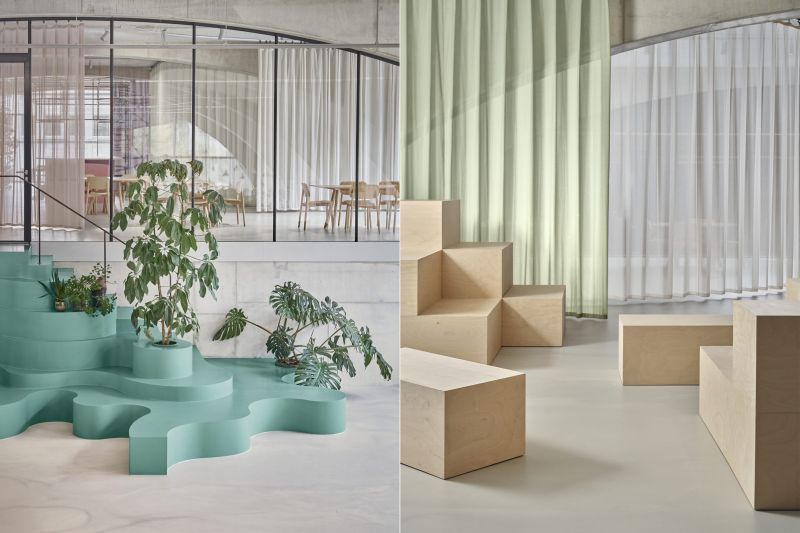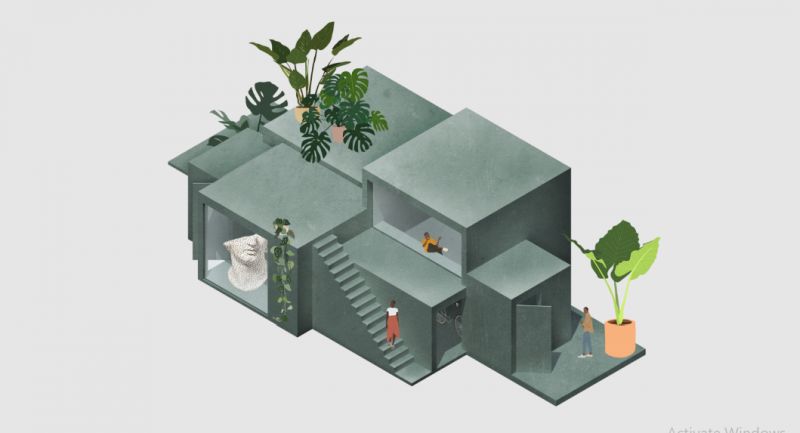 Via: Designboom