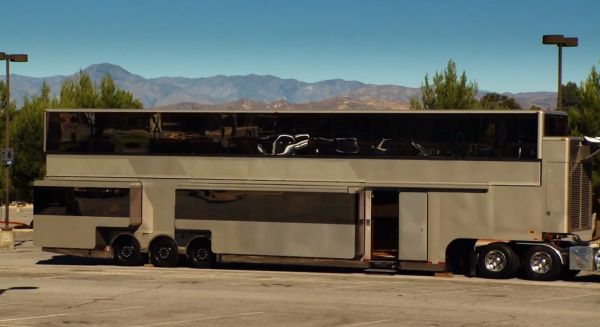 With a record eight films grossing over the sweet $100 million mark, Will Smith is surely one of those movie stars with tremendous box office influence (and yes; we are letting go of After Earth).  And with Smith's A-list status, our 'ever friendly' media and paparazzi have made sure that his accompanying movie trailer has entered the annals of popular culture by now. However, the question naturally arises – what are the spatial and technological features of this $2.5 million gargantuan 'vehicle cum living space'? Well, in answer we have decided to give you a sneak peek into the ritzy credentials of the opulent contrivance, courtesy of HGTV's Celebrity Motor Homes.
Well for starters, the trailer has been christened as 'The Heat'. In terms of sheer space, the mobile home is actually two storied, exhibits a whopping 1,200 sq ft of living area and rests atop a set of 22 wheels. The interior equally matches up with the imposing nature of the structure, with a flurry of 14 television screens, $30,000 worth of leather work and around $250,000 worth of technological gadgetry.
The circulation areas of the double decker mansion are divided into user specific zones. These include – a main lounge area with a lighted make-up mirror (which also doubles up as a TV), a  kitchen with $200,000 worth of granite tops, a wardrobe/private room with sliding doors where Smith gets into his characters and an ostentatious bathroom with glass paneled steam showers.
The opulence continues upstairs (accessible via a dedicated staircase) with a 30-person screening room and black out shades to shield the people inside from the ravenous paparazzi. Good ole technology also plays its part by raising the roof of this upper floor by 42-inches (or 3.5 ft), which is boisterously achieved by eight pistons that remarkably push 2,000 lbs of pressure. For more details, do check out the YouTube video below.
All images are courtesy of YouTube and HGTV.