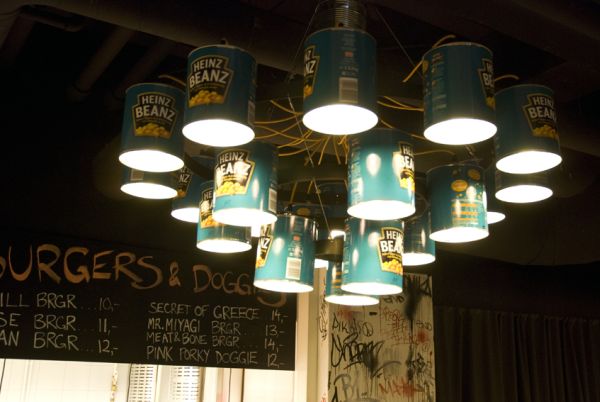 We have previously talked about single products that have been conceived from upcycled material. However, we daresay this is the first time we have come across the scope of upcycling in an 'industrial scale'. Dutch designer Willem Heeffer has come up with a 'collective' endeavor of utilizing around a whopping 334 recycled cans for various decor items exhibited at Top chef Hans Välimäki's new American diner in Helsinki. These items include fork and knife holders, bar lights, a floor to ceiling storage display and three chandeliers – all made from the upcycled tin of the salvaged cans.
Among all of these contrivances, it is the chandelier design that really tickles our fancy due to reasons of familiarity (Willem Heeffer has already dazzled us with his recycled ski chandelier lights). Comprising of 21 Heinz Beanz (Heinz Baked Beans) classic cans, the arrangement of the light fixtures are pretty simple in nature with an unpretentious essence. And, true to the designer's trademark style, these diner chandeliers also utilize the original 'art-work' of the upcycled product, as opposed to some refurbishment done to cover up the scope of recycling. This in turn endows an aura of authenticity to the whole ambit, thus presenting the light's own quotient of uniqueness.
This industrial look also goes well with the interior design (by Martina Rosenqvist and Vera Öller) of the diner, which already consists of old corrugated roof panels as bar cladding and a graffiti facade doubling up as one of the structural pillars. The overall aesthetics alludes to those hastily constructed, rustic diners – a slice of old-school, Taxi Driver-esque 'Americana' we are all so used to watching by virtue of popular culture.
And, for those who are interested in buying the classic Heinz Beanz can that started it all, refer to this link –  Willem Heeffer
Thanks, Willem Heeffer