The 2019 edition of the annual Bark+Build Competition was successfully organized by SPCA of Texas, an animal welfare agency dedicated to providing homes for pets. It invites teams of professional architects to build pet houses, and pet lovers to shop and contribute to the well-being of homeless pets.
There were a total of 24 custom-made doghouses and cat condos on display at NorthPark Center. These pet houses were sponsored by members of the American Institute of Architects Dallas Chapter (AIA Dallas) and TEXO, The Construction Association.
The final pieces were auctioned off and the proceeds are credited to SPCA of Texas. Here is a list of the winning entries (in various categories) from the competition.
TranquiliTea Dog House
Leo A Daly's Dallas team in collaboration with Batson Cook Construction had conceived this dog house that resembles a Japanese teahouse – recognized as a place of harmony, purity, respect, and tranquility. The TranquiliTea is designed to provide pups with a concealed space to relax after the long day.
The doghouse bagged the people's choice "Top Dog" award at the Bark+Build Competition.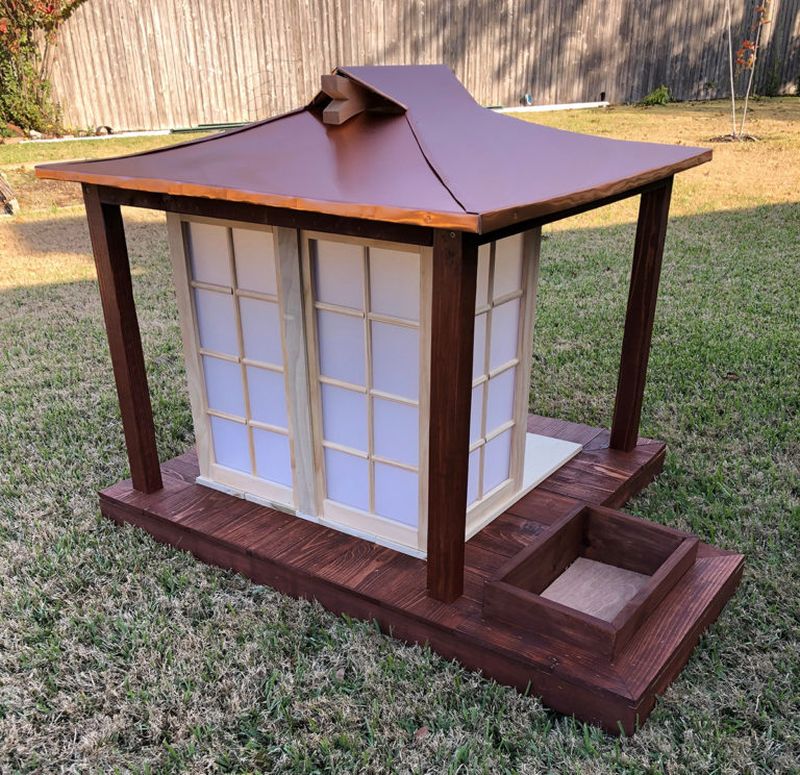 White Paw
It is a dual-purpose furniture item that serves half as a dog bed and half as a home bar stand with covered shelves and countertop space. It is perfect for you and your furry friend to spend time together.
Its sinuous curves and rustic design blends with all types of interior settings so it can be placed anywhere in a home.
White Paw was awarded the "Hot Dog" award at the competition.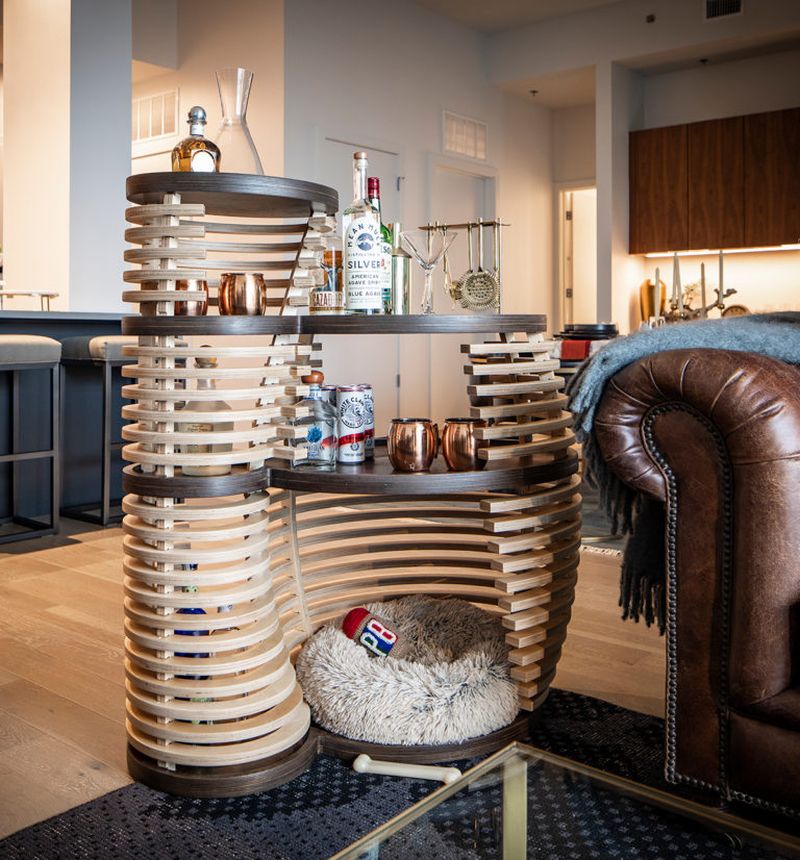 Also Read: Man Builds Luxury Villa for His Dogs, Complete with Pool, Spa, and Cinema
Fetch House
This unique 3D printed dog house was designed and created by CallisonRTKL in collaboration with AECOM Hunt. It is an interactive, modular structure that can be fitted with more than 1,000 tennis balls. The balls can be inserted into the designed cavities around the structure or be pulled out if you want to create a pattern on the doghouse, allow in more light and air or play a game of fetch with your pal.
The modules of the dog house can be easily snapped together without any special tools and can even be expanded if required. The Fetch House won the "Best in Show" award.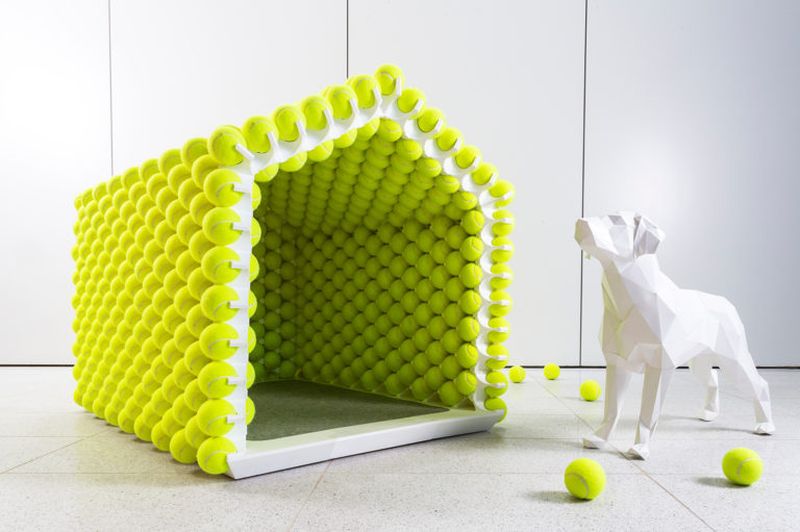 Pawsh Retreat
Inspired by edgy and modern architectural design, this dog house is created for small dogs by GSO Architects and Pacific Northern construction firm. It boasts a trendy industrial style finish with a rustic wood base. There is a large opening for the dog to enter and rest on the soft cushion inside. The wide opening also makes it easy to clean and maintain the doghouse.
Pawsh Retreat won the "Teacup Pup" award that represents the best design for small dogs.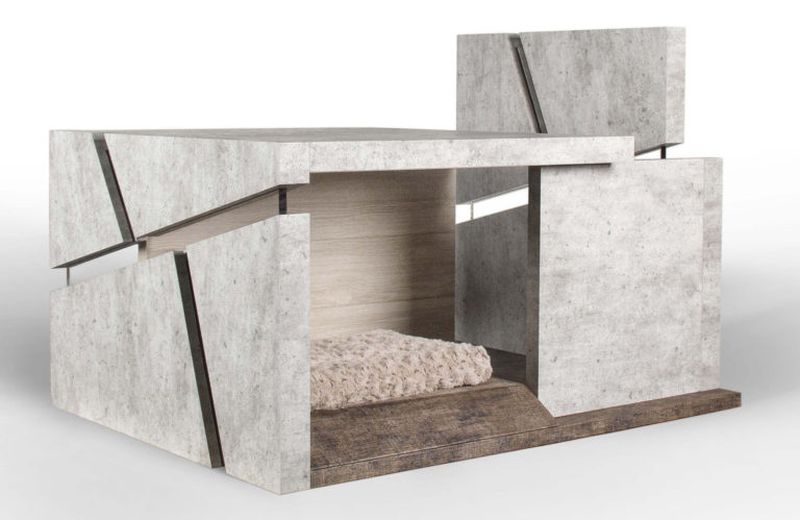 HyggeHound Lounge Chair
Designed by Moody Nolan and crafted by Big Sky Construction, this unique lounge chair celebrates the idea of a common sitting place for you and your pup. You sit on the chair while the dog rests on the cozy bed to the side. The wooden frame with cozy cushions ensures looks and comfort.
It was the winner of "Doggy Décor" award for its furniture-like aesthetic and functionality of a doghouse.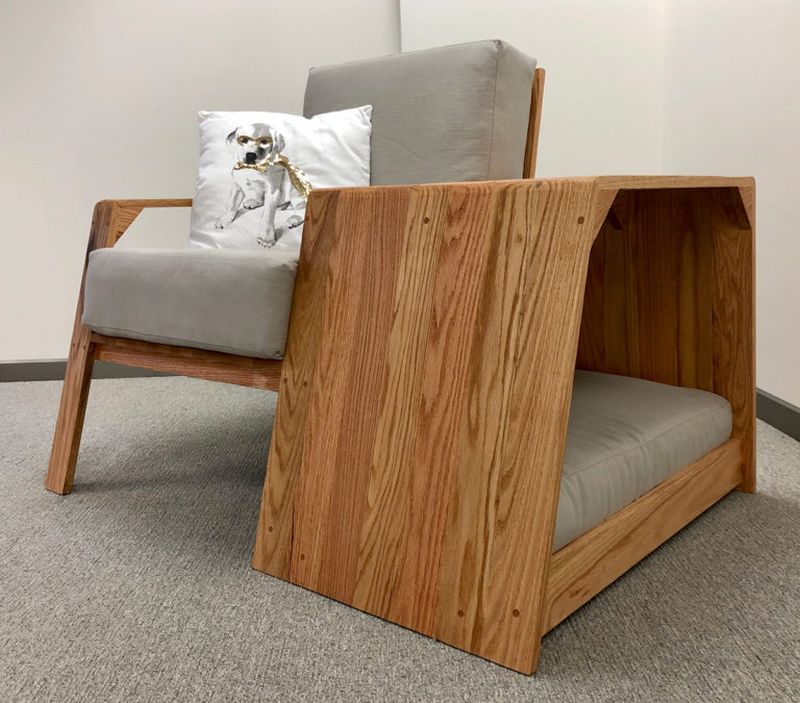 Four Green Gables
Created under the collaboration of SHM Architects and Robert Hopson Group, this wooden doghouse features four gable roof or four entrances. The roof is set upon a sturdy platform with small legs. The interior is spacious and enjoys natural ventilation all the time. The doghouse replicates the shape of a house and boasts old-fashioned carpentry.
It was winner of the "Big Dog" award given to the best entry for large dogs.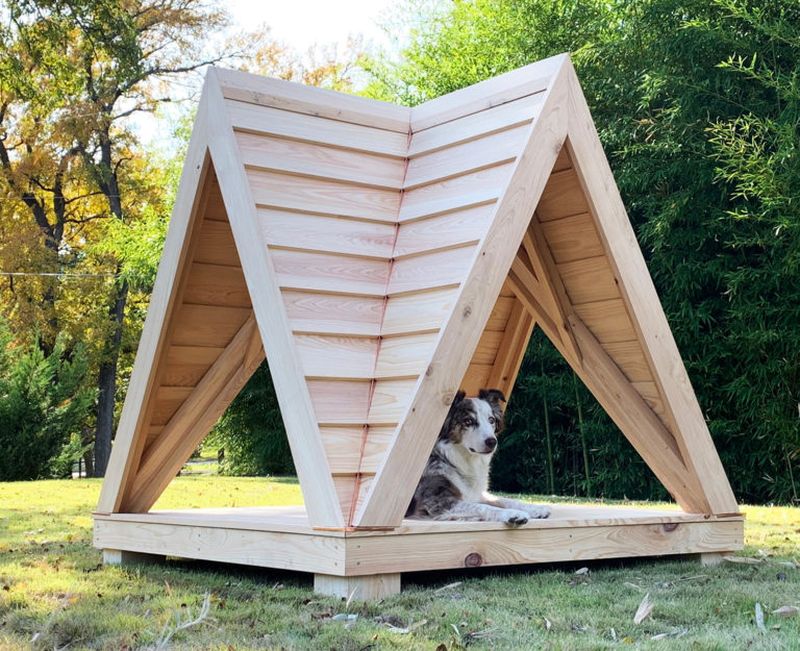 Felix Helix
This cat tower is designed by Omniplan and constructed by VCC USA. It comprises three helical molded plywood fins that gracefully encircle four rotating wooden platforms with holes for access and play along with leave-outs for removable fabric inserts. There are multiple levels for the feline to play and relax. Its rustic design and curvy shape make it suitable for modern apartments with less space.
It was presented with the "Cat Condo" award.