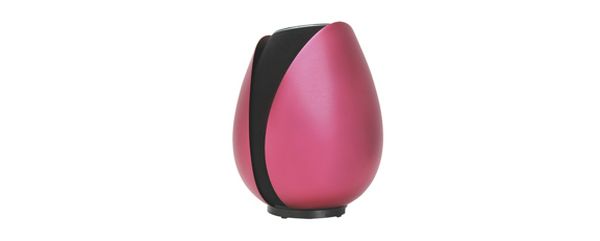 This is not the first time we have come across Japanese Bluetooth speakers. However, the core functional scope has certainly been cranked up with Onkyo Digital Solution's WS-TP active speaker. Exhibiting a bantam form that is covered in what appears to be the luscious petals of some exotic plant (the finish being achieved by smooth aluminum), the unique looking speaker does have a few useful credentials. Most of these features are obviously related to the wireless scope of Bluetooth, thus entailing music streaming from daily used devices like your smartphones and laptops. But the WS-TP is also integrated with NFC (short-range wireless communication) that makes it easier to regulate the Bluetooth settings.
This NFC mark is on the upper end of the speaker's body. This requires you to just bring your phone close to the mark for the completion of the Bluetooth pairing between the device and the speaker. The resultant connection allows you wireless access to music selection and volume adjustment of the sound emanated. And, beyond such wireless attributes, the WS-TP active speaker is also endowed with an external input terminal for conventional cord connection (stereo mini jack) with your computer or dedicated music system.
Finally, coming to the power-train of the WS-TP, it comprises of a built-in amplifier 2.1 channel output speaker system (L / R each 25W + subwoofer 50W, total – 100W). In this regard, the hollow form of the unit is crafted in such a way so as to provide high-quality bass effects even when the volume is turned down. And as for pricing, the overall contraption will set you back by ¥ 29,800 (around $300).
Dimensions – W258 x H331 x D256 (in mm)
Weight – 4.3 kg.
Via: OnkyoDirect