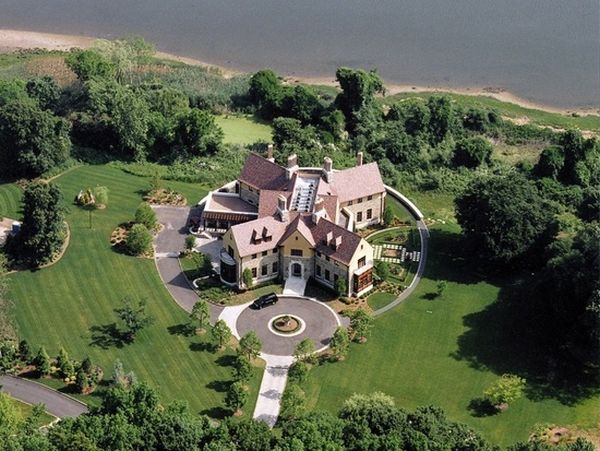 This waterfront mansion is for sale in Long Island, New York featuring granite and limestone exterior in shape of X, as if someone marked a cross sign in middle of the lush green environment. The mansion is situated exactly at 20 Plover Lane, Lloyd Harbor and seems like four different castles are merging together forming a huge X on the ground. The four wings facing different directions are connected together by a circular corridor. The cross-like layout is designed purposely to bring in natural daylight from all corners of the house.
This stunning residential property was built over an area of about 16,754-square feet in 2004, surrounded by beautiful water bodies, dock, boat house and greenery all around the mansion. The unique home is constructed using only cement and imported stone without any wooden framing.
The huge residence comprises of eight bedrooms and 13 bathrooms, each room is en-suited with single bathroom whereas the master bedroom includes two bathrooms with over-sized showers. Besides bedrooms and bathrooms, it also includes multiple dining rooms, seating areas, music rooms, living rooms, a kitchen, a library and an attached five-car garage outside the house.
An indoor pool is also present on its lower level which is surrounded by artistically painted walls. Interior of the home features 14-feet high ceilings, stone tiled and wooden flooring, and three windowed walls in each of the four wings for proper ventilation and brightening up the internal area through daylight.
X-Shaped Mansion is a fully luxurious estate and this property's listing is held by Nikki Sturges of Daniel Gale Sotheby's International Realty. According to the agent the property offers three things i.e. quality, quality and more quality, which is the reason for its high asking price.
Credit: Curbed