Imagine sitting in a secluded house in the woods, with no crowd of cities at all! You are free to do whatever you want, even without curtains because it's only the nature that's watching you. Forest houses are great to get closer to nature but the matter of concern is sustainability. We need to build a house without destroying the forest!
There is a dire need for an ecological architecture that minimizes its impact on nature and also blends into nature seamlessly. If you are interested in the topic, we have hand-picked 20 creatively designed forest houses from around the world.
Take a few moments to scroll down and get inspired by these beautiful modern houses in forest.
# Circular Forest House in Izabelin, Poland
This uniquely shaped forest house envisioned by Przemysław Olczyk Mobius Architekci creates a sense of privacy and intimate connection with nature. The house is constructed out of reinforced concrete covered with panels of Okume wood. It features a private garden atrium at its center and rooftop garden that makes it blend into the surrounding nature.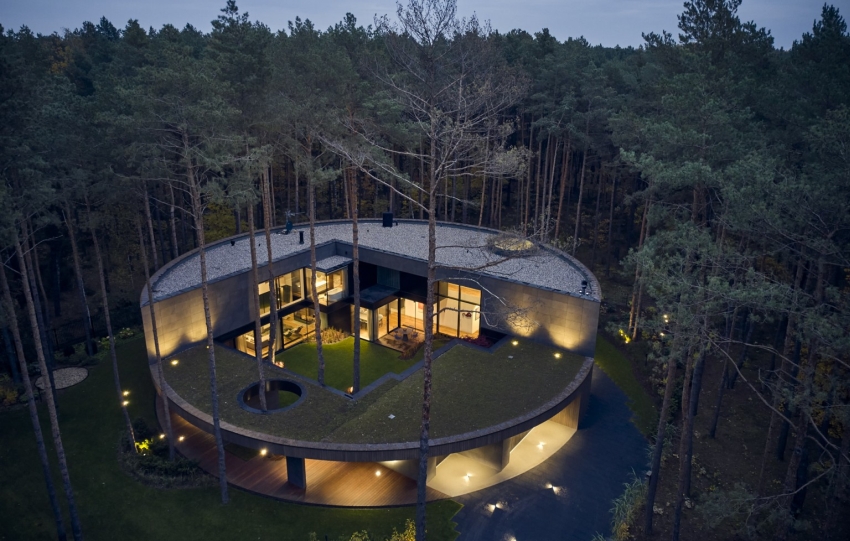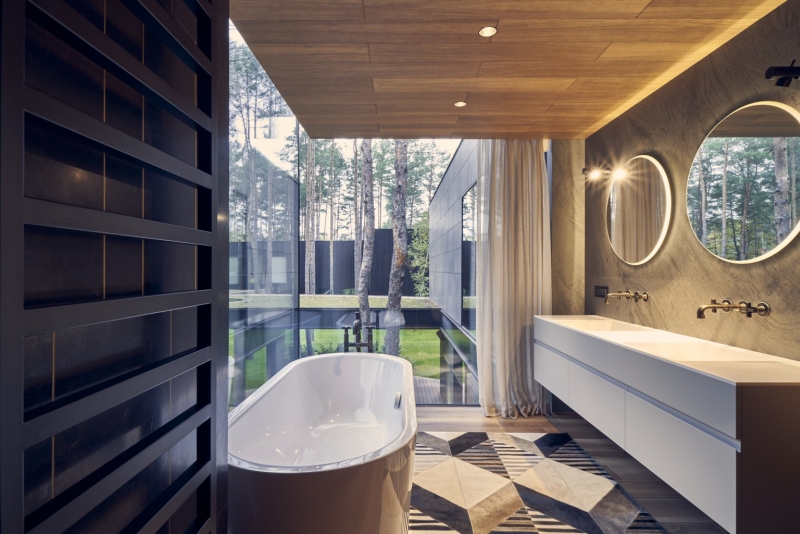 # FORÊT 1 House in Montreal, Canada
Built as a tribute to a living forest, this wooden forest house by nda Architecture discreetly fits into nature. There is a rocky massif on the site and thus the house is raised three meters above the ground. It rests on the rock on one side while it rests on a concrete base placed on the mineral soil on at the other end.
Wood is extensively used in this 215-square-meter house which is in total symbiosis with the forest.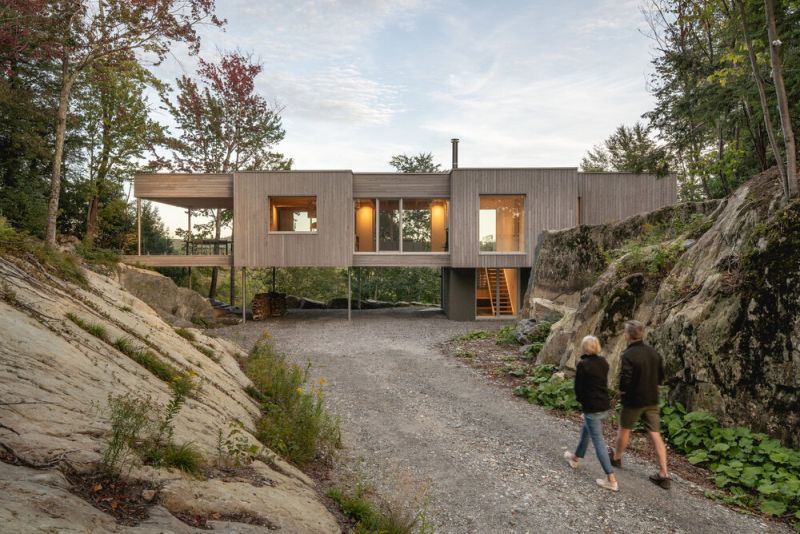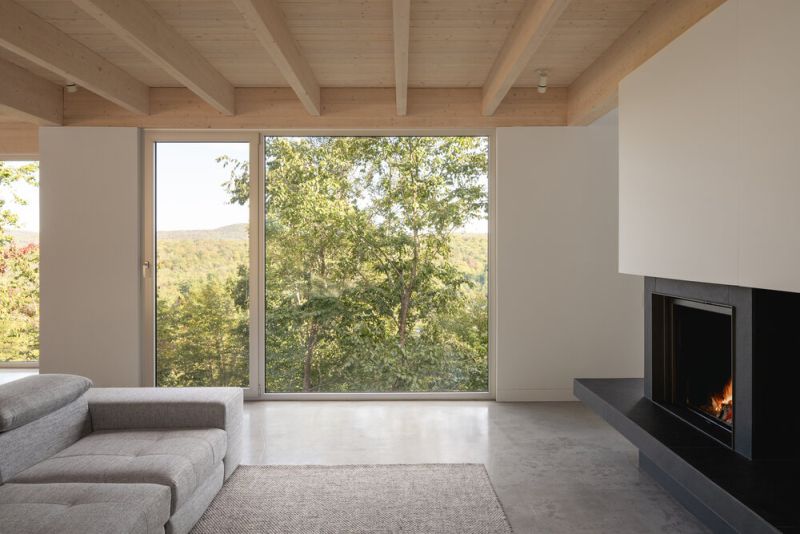 # Modern House in the Woods in  Costa Esmeralda, Buenos Aires, Argentina
Located on a privileged landscape, this forest home by Besonias Almeida Architects is spanned across three different volumes. It was designed to have a generous place for meetings, a kitchen, two bedrooms and a space integrated into the living room to be used as an audio and video room and, eventually, as a guest bedroom.
The entire house is constructed using only two materials: concrete and glass that solved the purpose of its integration with the landscape.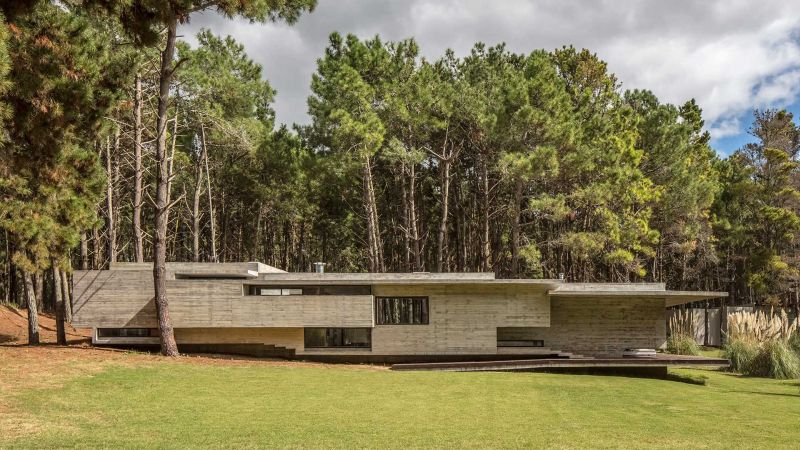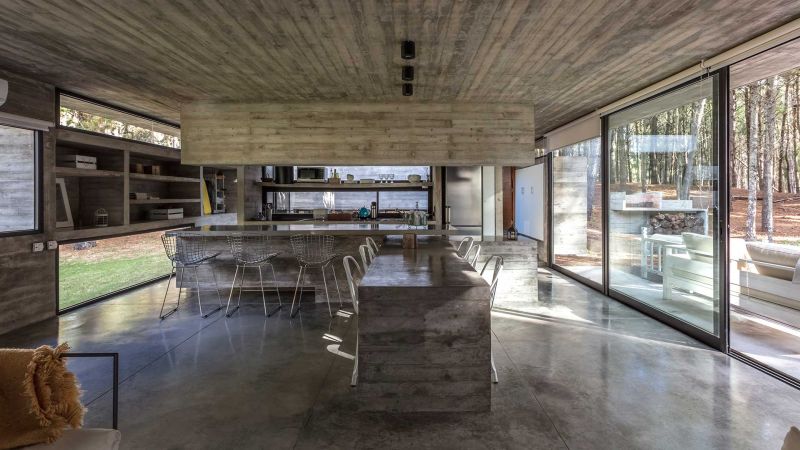 # House in the Forest, Rankoshi, Hokkaido, Japan
Elevated from the ground, this house in the woods by Florian Busch Architects comprises ten cantilevered branches that form individual rooms. Each of these branches feature a full-surface glazing on the end. The kitchen with a free-standing island forms the focal point of the house.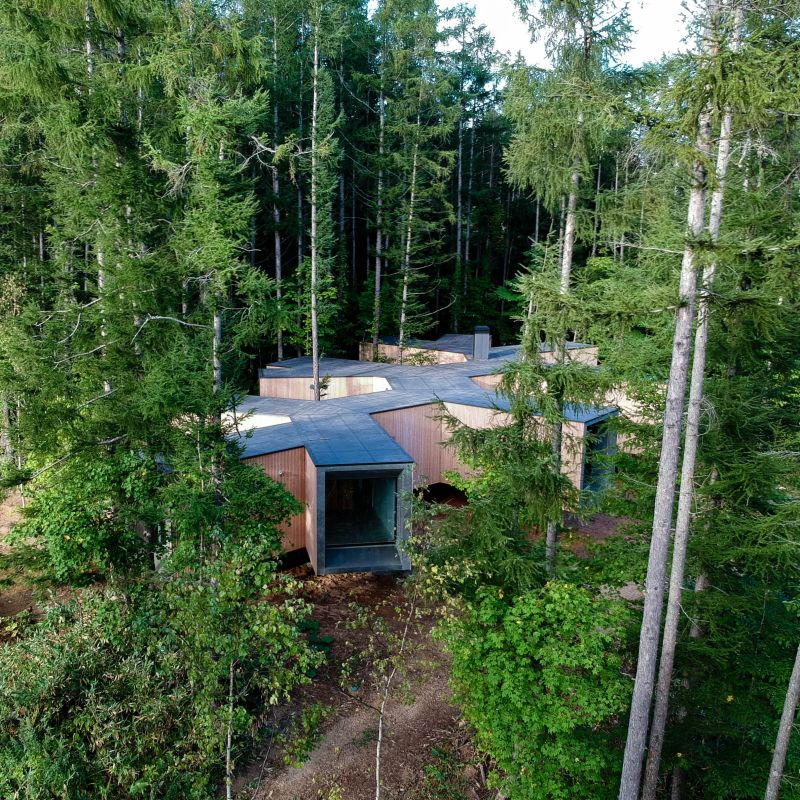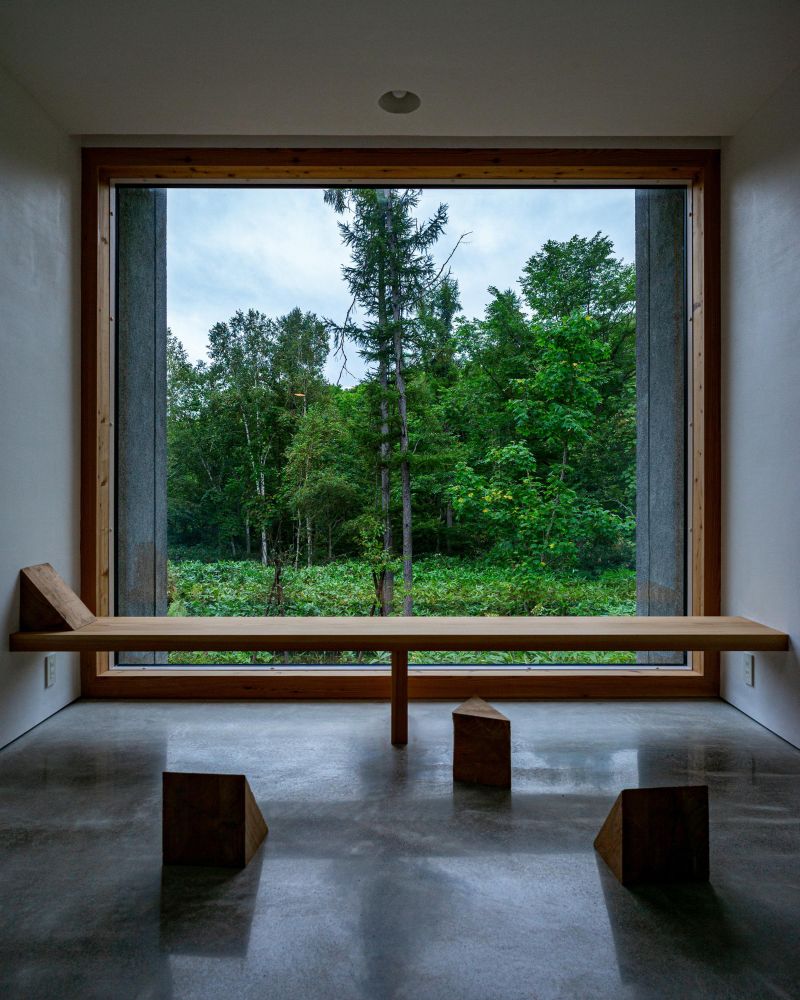 # House Blended into the Forest in Mazovia, Poland
Located amidst a picturesque pine forest, this house by Z3Z ARCHITEKCI is built with the desire to cut minimal number of trees. Black trapezoidal sheet metal along with wooden elements are used for the outer shell. On the other hand, the interior space is kept in an ascetic white with concrete floors.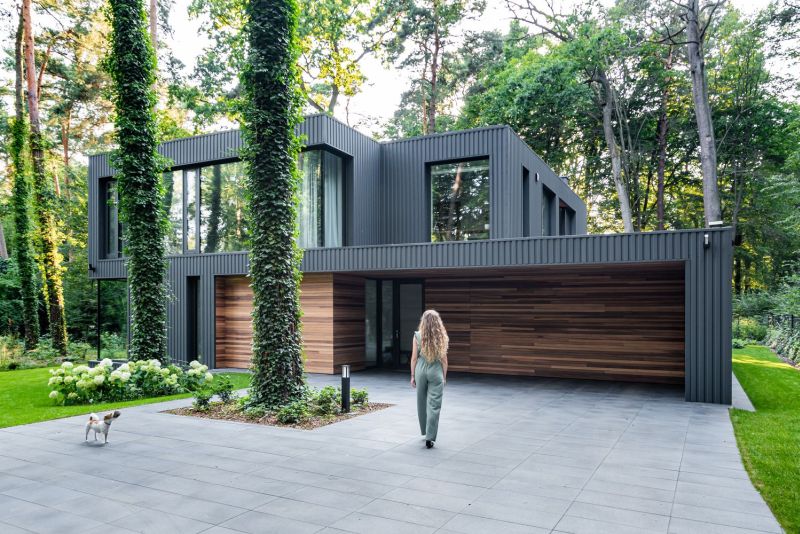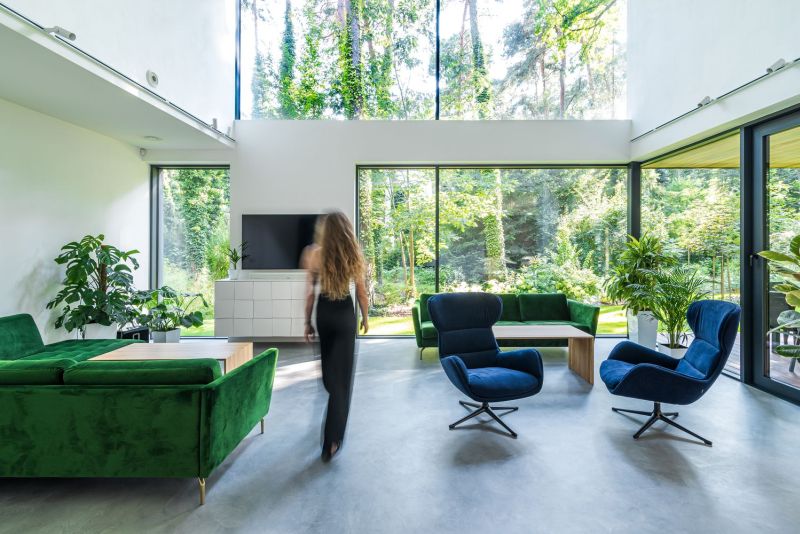 # Forest House in Northern California
Hidden in forested hills, it is created as a private retreat by Envelope Studio where family, friends, and colleagues of clients could gather. Standing on stilts, this house comprises a cluster of tent cabins are linked by wooden paths. There are three sleeping quarters and a living-dining room.
Wood walls and floors lend warmth to living spaces while the large clear and mirrored-bronze glass windows offer views of the landscape outside.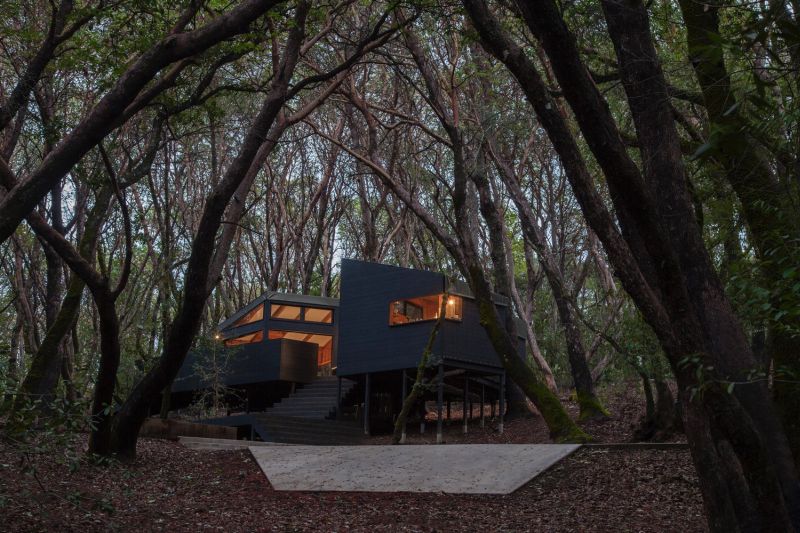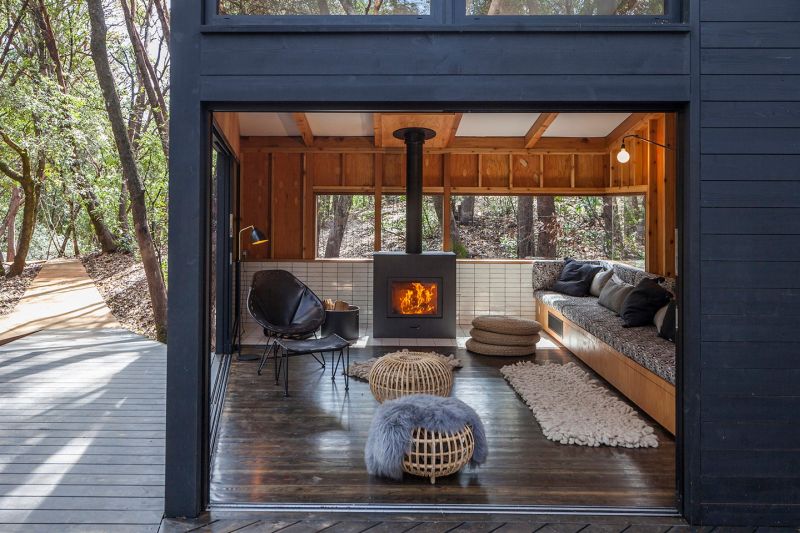 # Gambier House in Sunshine Coast F, British Columbia, Canada
Located on a steep and wooded waterfront site, this 1,700-square-feet house by omb architects is designed as a weekend retreat for a young couple with two children. It is accessed only by water and totally off the grid. The building comprises two stacked boxes that are clad in wood, cement board, and glass.
There are three-bedrooms, an open-plan kitchen, dining + living area, two bathrooms and expansive roof decks.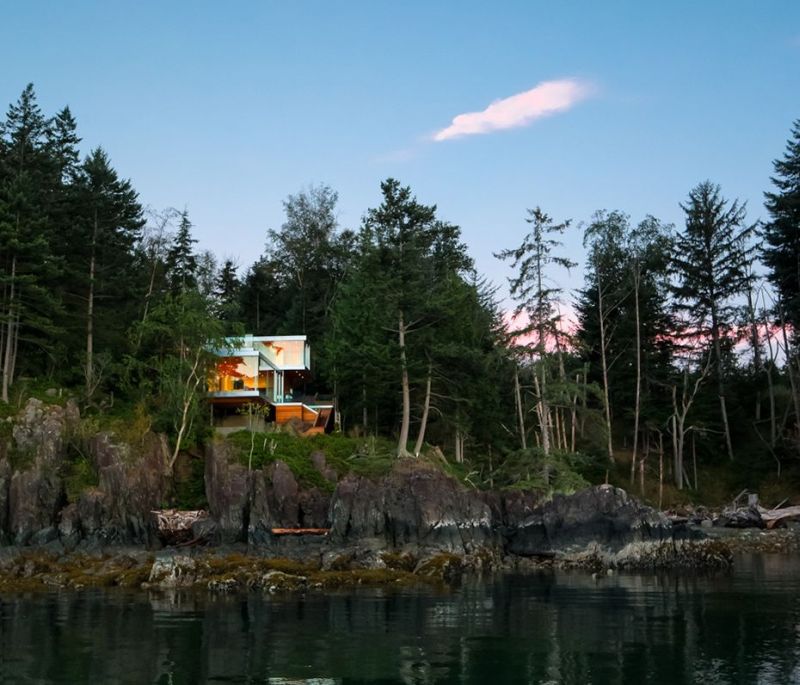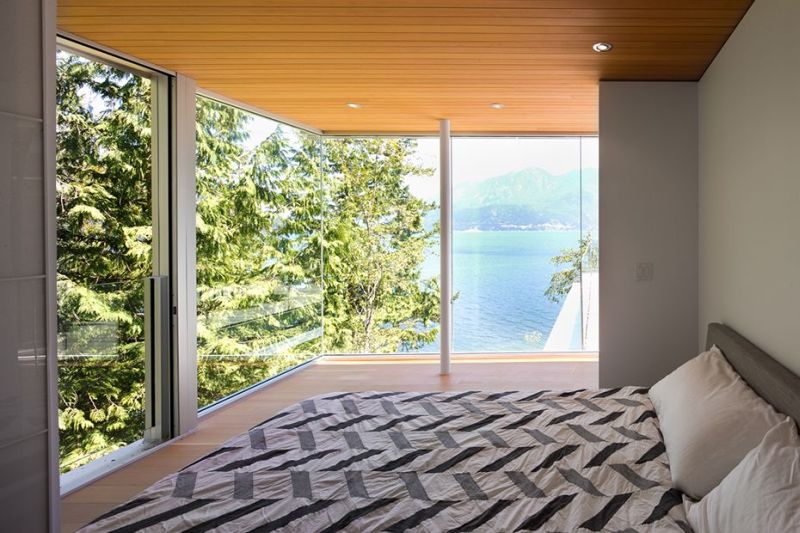 Also Read: 50 Best Tiny Houses on Wheels That are Downright Inspiring
# Rainforest House in Guarujá, São Paulo, Brazil
The Rainforest House by Studiomk27 is located on the coast of the Brazilian municipality of Guarujá on a mountainside. Facing the beautiful Atlantic Ocean, the abode is surrounded by greenery on three sides. The house is designed in such a way that it naturally looks like a part of the surrounding Brazilian forest.
The exterior comprises concrete and wooden structure along with a green rooftop with infinity pool, hot tub and a fire pit. Interior is contemporary with modern furnishing so that the inhabitants don't feel uncomfortable even when away from their urban lifestyle.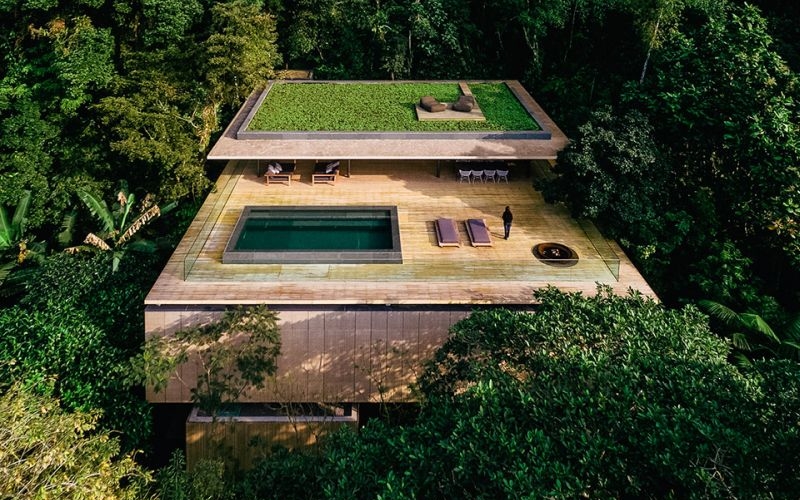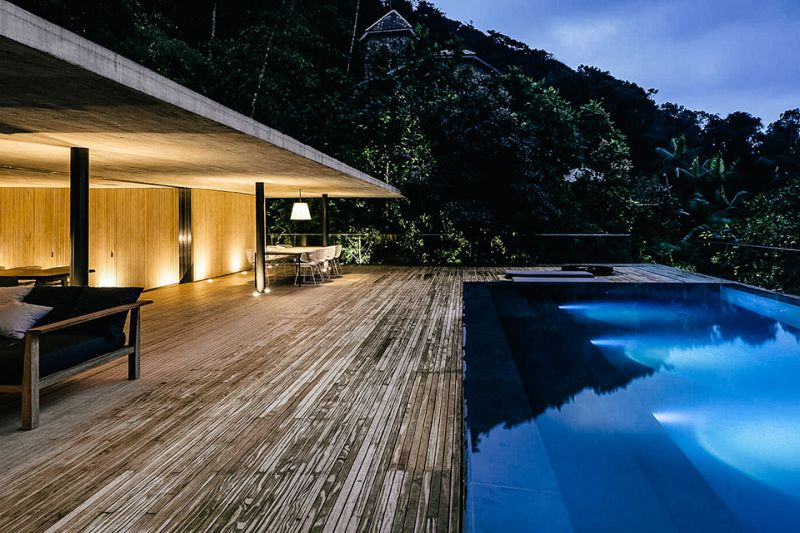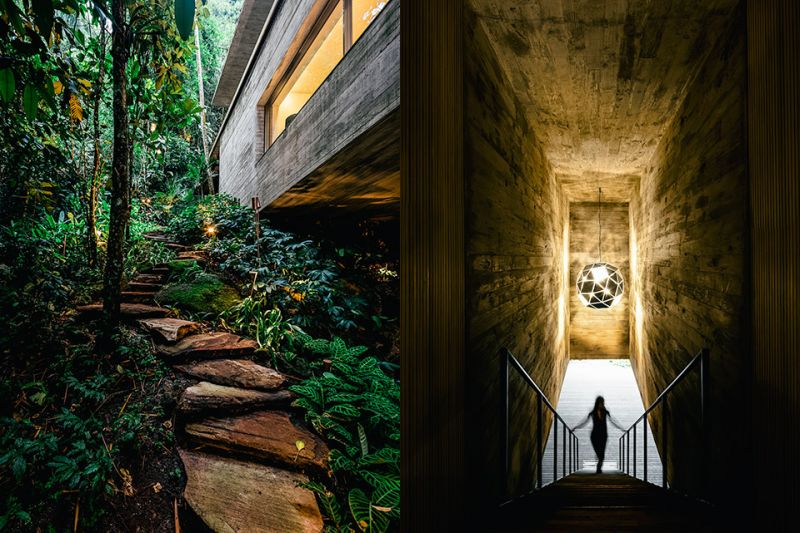 # Planchonella House in Edge Hill, Queensland, Australia
To create a joyful living space surrounded by nature, architect and builder Jesse Bennett has designed the Planchonella House for himself and his family. The forest home embraces heritage rainforest to form an unobstructed connection with nature.
Interior of the forest house includes several luxurious amenities that are found in any modern-day dwelling. The unconventional passive design and raw structure of the house are the results of LoFi technologies that are used for the construction process.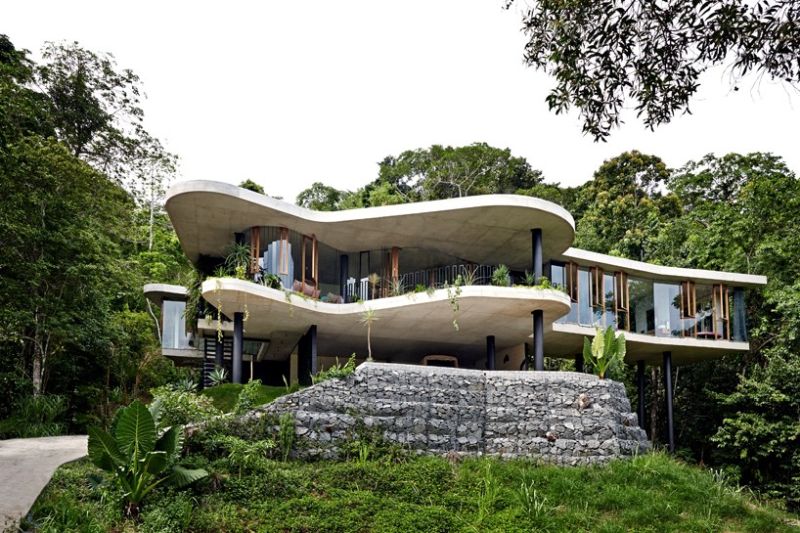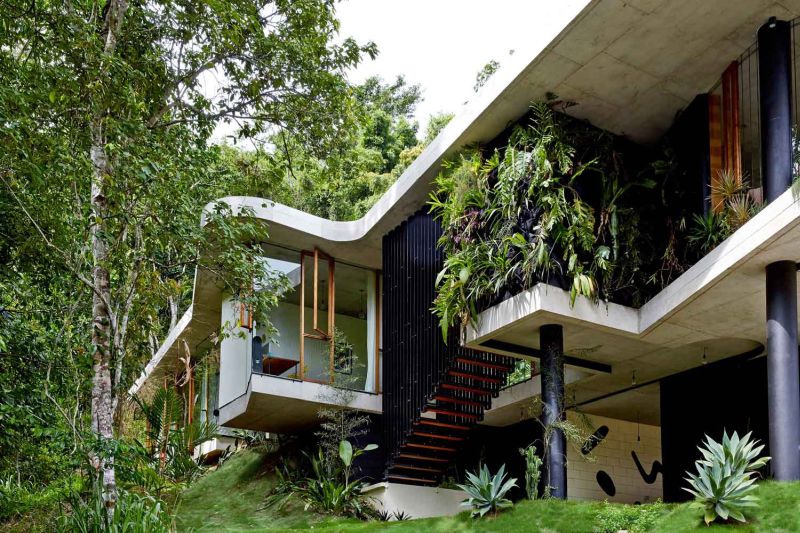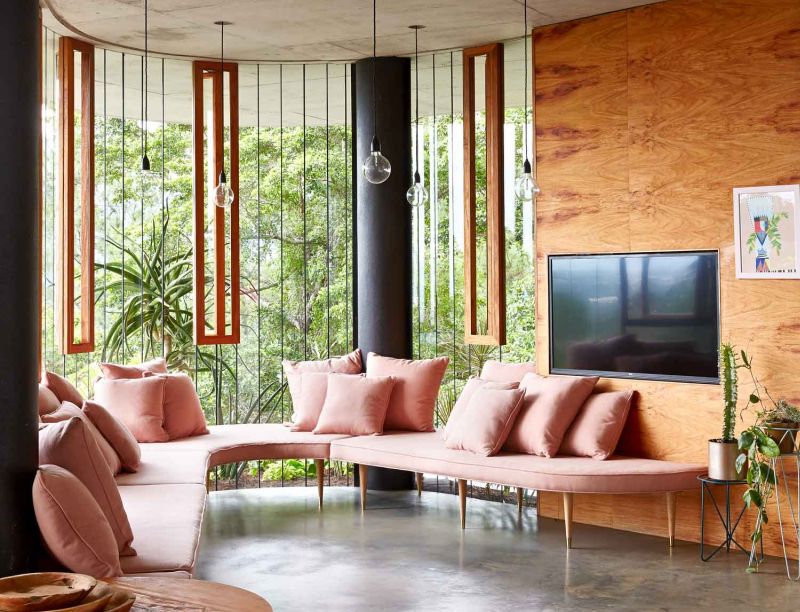 # Forest Home in Tel Itshak, Israel
This forest house by Ando Studio beautifully merges into the landscape. It has been built using wood, concrete, and metal – despite that every corner of the house looks so organic and natural as if it's a part of the surrounding environment.
Although the interior of the house is modern with minimalist furnishing, it offers plenty of natural views of the surroundings thanks to the glass windows and balconies.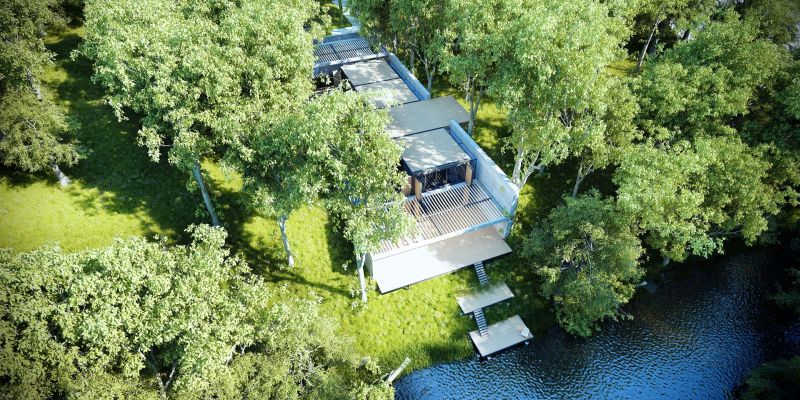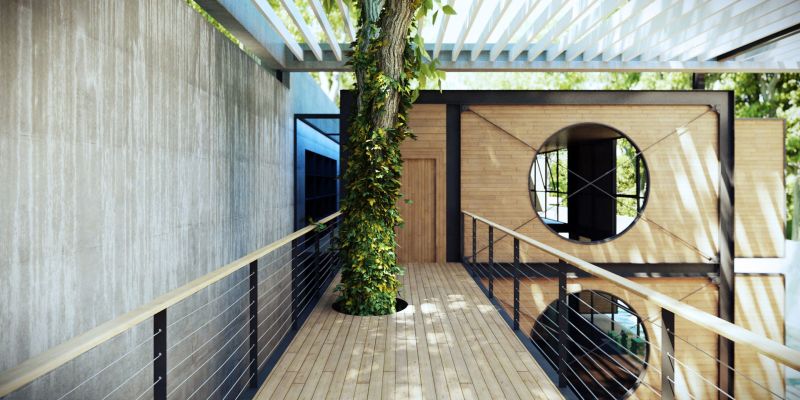 # Black House Blues in Kulautuva, Lithuania
Architects over at Studija Archispektras have created this gorgeous house in the forest for clients who love playing blues music. Aptly named the Black House Blues, the exterior of the house is dressed in dark skin. Not surprisingly, the inhabitants play blues inside while enjoying the surrounding views.
The all-black forest home covers nearly 170-square-meters area in natural terrain, allowing the homeowners to enjoy the natural beauty of the forest throughout the year.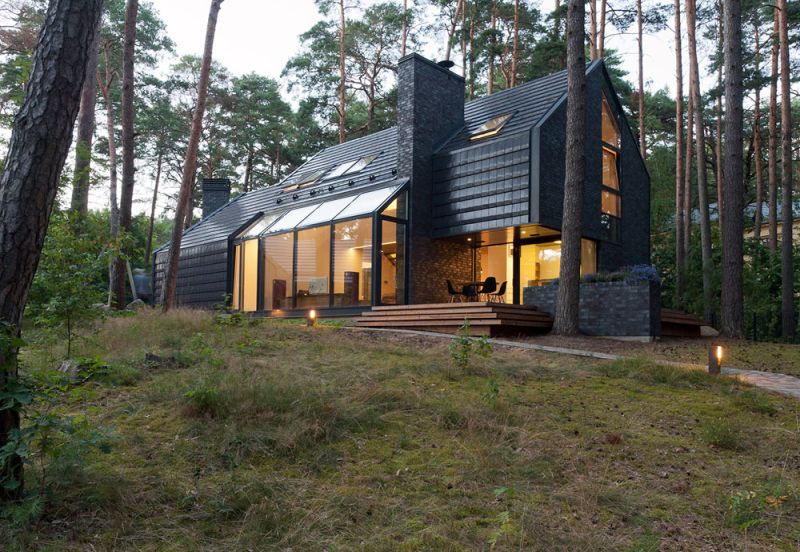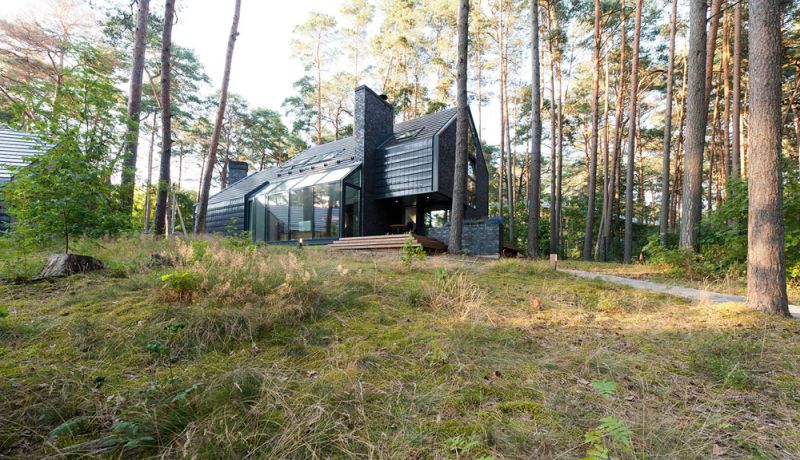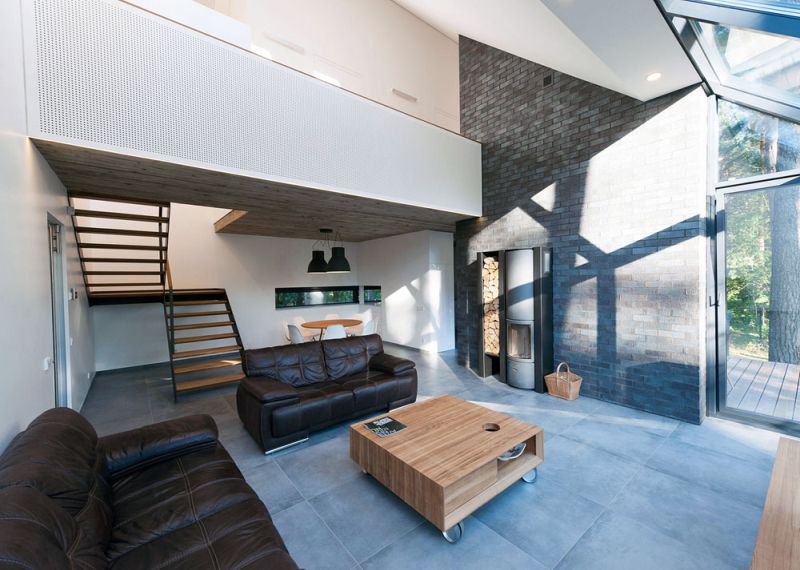 # Forest Home in Mazamitla, Mexico
Barcelona-based Espacio EMA architects have created this minimalist forest house in the mountains of Mazamitla. It is located 75 miles away from Guadalajara (Mexico), in a steeply sloping terrain surrounded by a thick pine forest.
Wood and stone exterior gives a rustic appeal to the house that's contemporary and is designed to allow the inhabitants to stay connected with nature all the time.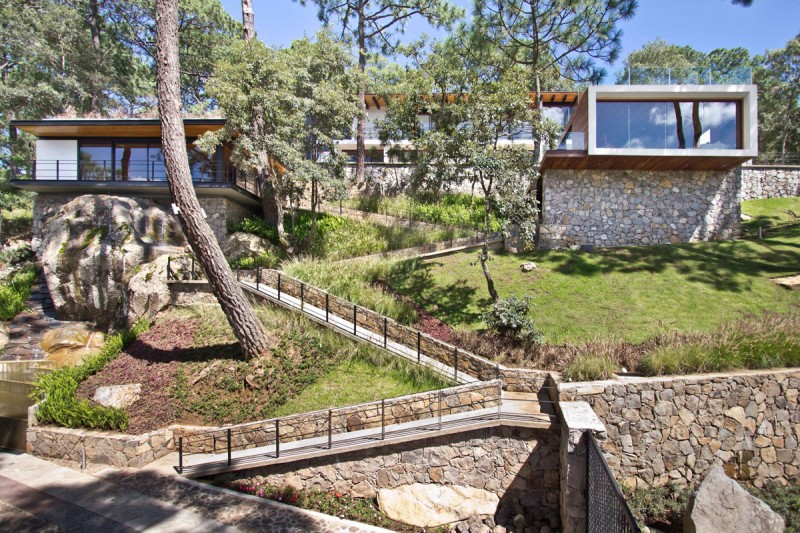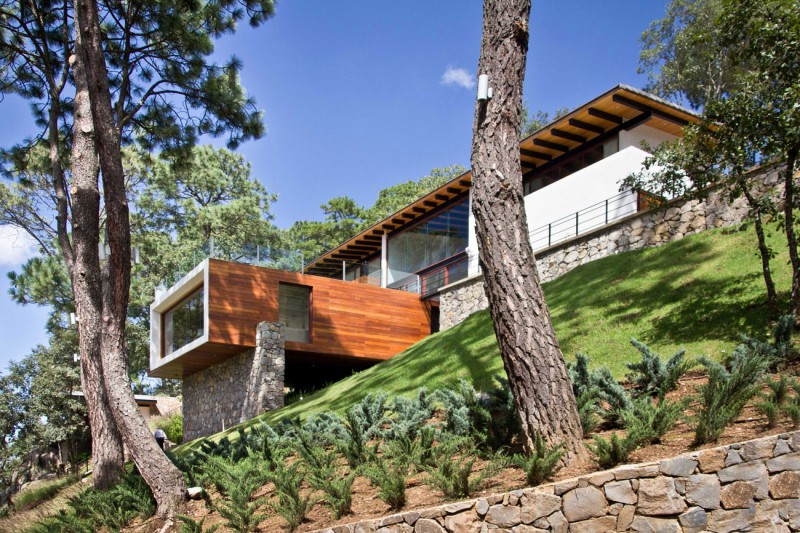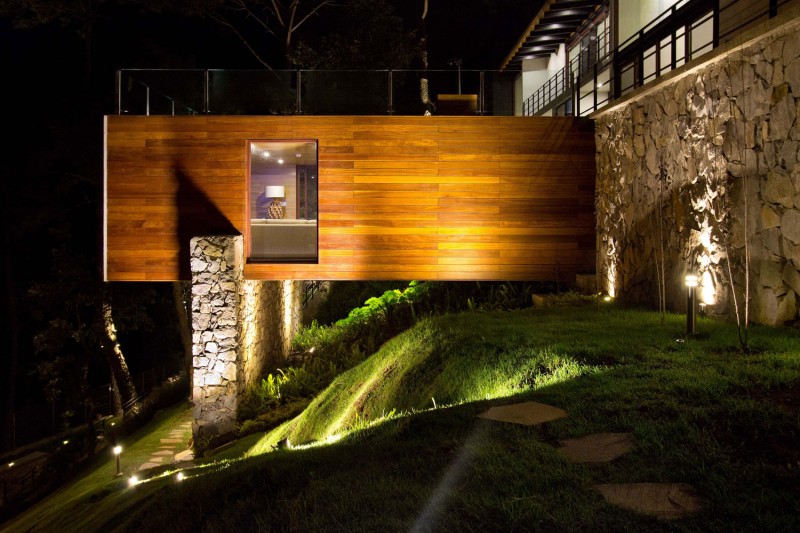 # House in the Woods in Valle De Bravo, Mexico
Parque Humano has designed this stunning 'House in the Woods' project. Instead of cutting any of the trees for construction, the forest house embraces these trees and is built around the tree trunks to sustain a connection with nature.
The house is surrounded by rich, varied flora including very tall trees, and also overlooks the layered hills of Valle de Bravo. Being built on a sloppy hillside, the house seems to be floating above the garden.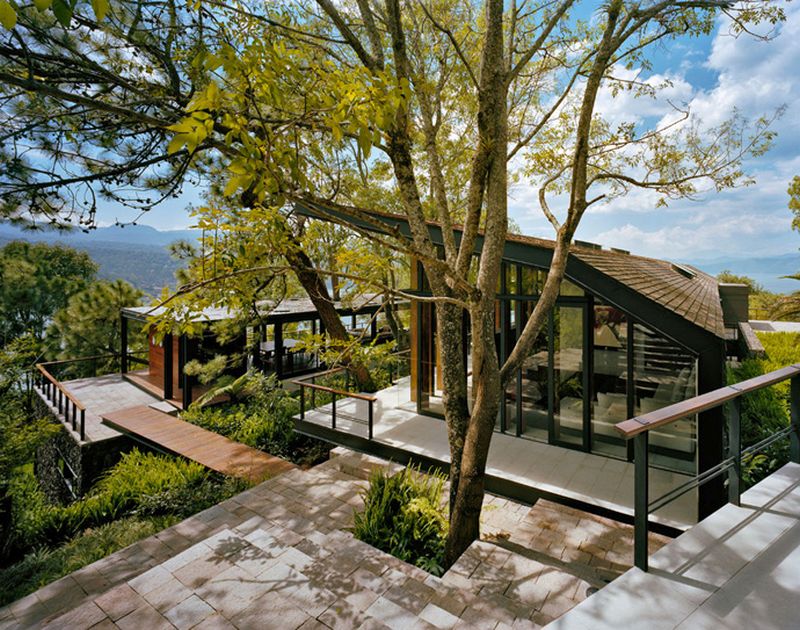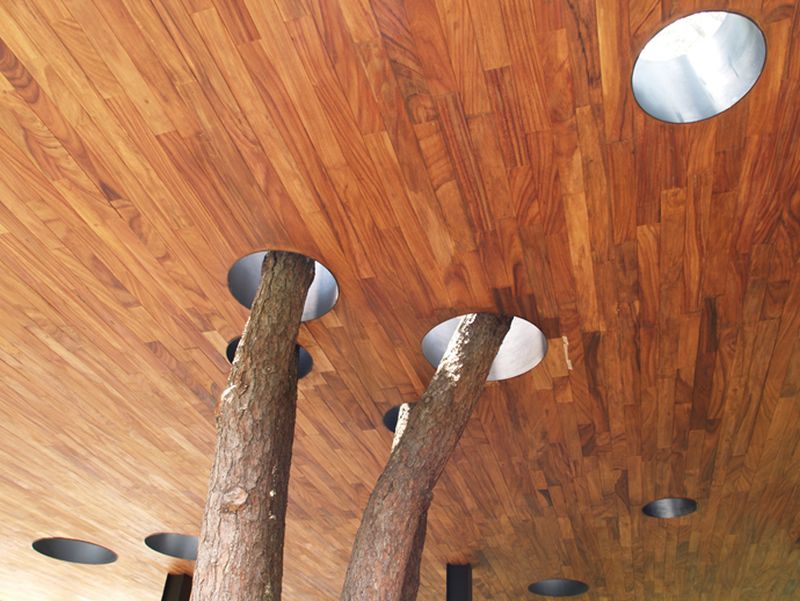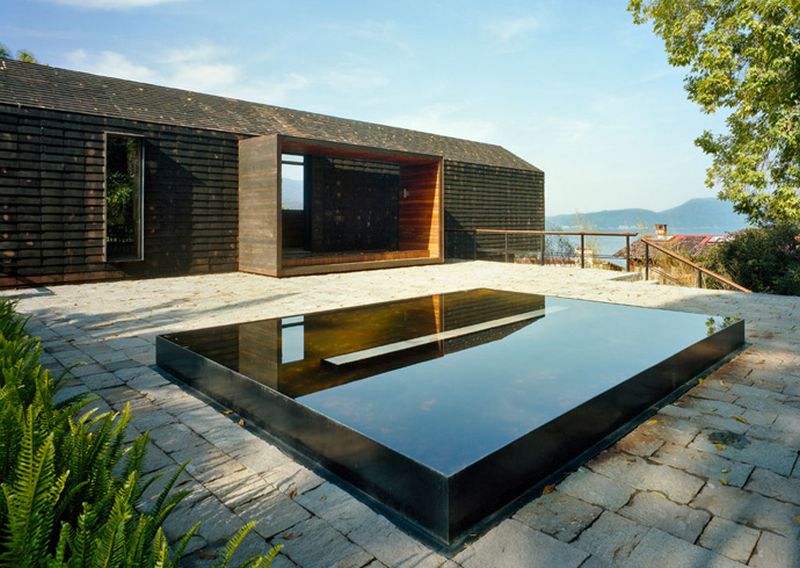 # AMB House in Guarujá, Brazil
AMB House designed by Jacobsen Arquitetura and Bernardes, is situated right in the middle of the Atlantic Forest, overlooking the distant ocean. This minimalist forest home is surrounded by rich forest canopy on the coast of Sao Paulo.
Away from busy city life, this house in the forest is designed to offer full privacy to the residents, blurring the line between the interior and the landscape. Interior is modern and also contains essential modern amenities like a swimming pool, decks, lounge area, etc.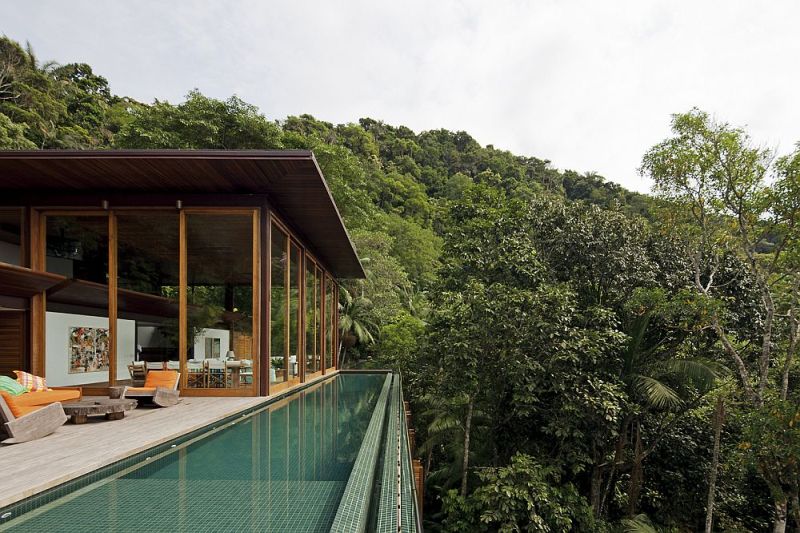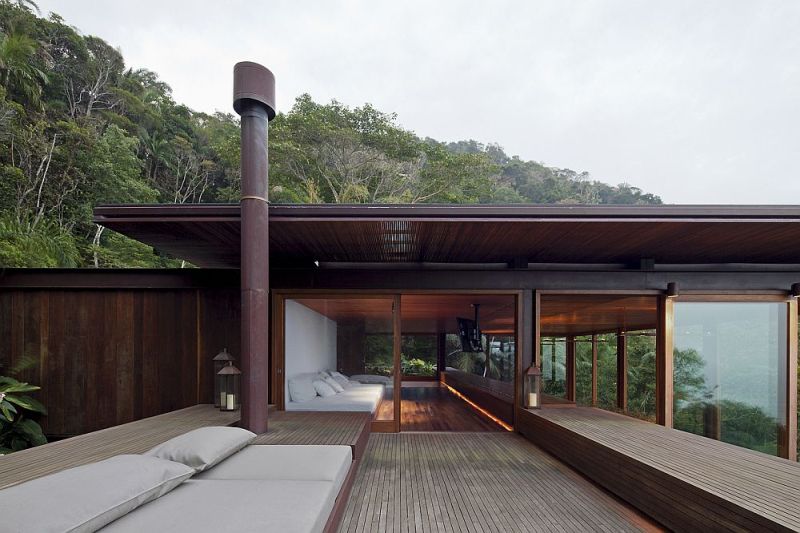 # Forest Glass Cabin in La Conner, Washington
Zero Plus Architecture has created this cozy glass cabin in middle of forest to provide a homely atmosphere to the inhabitants away from urban chaos. The cabin is carefully planned and designed to complement its environment without making much impact.
This forest home boasts classy wooden architecture with expansive glazing to form a never-ending bond with surrounding environment. The living areas on the main floor offer full views of outside while sleeping areas are on the floors above.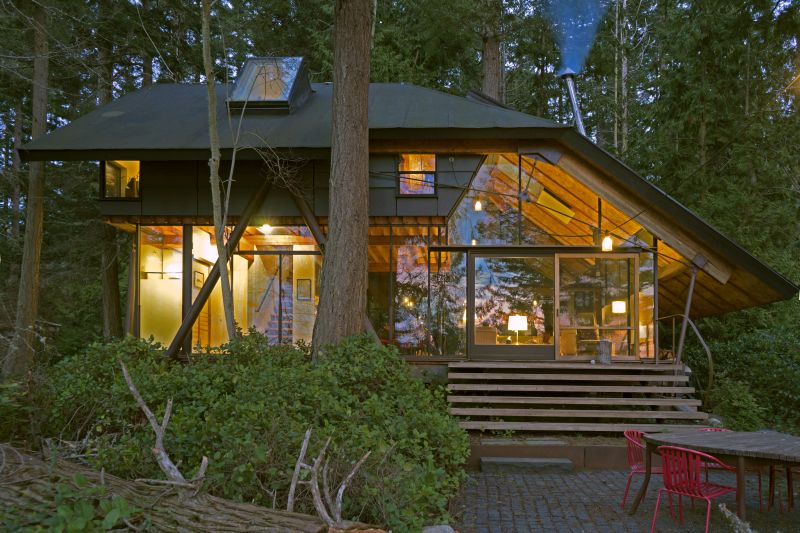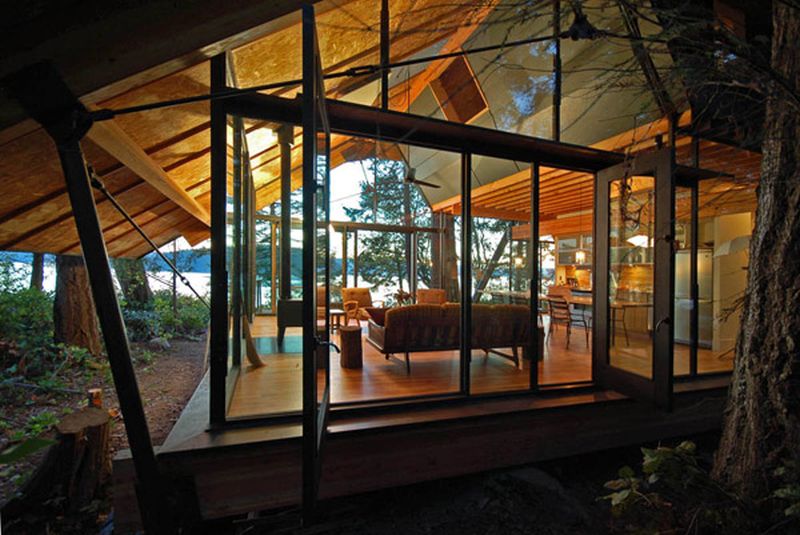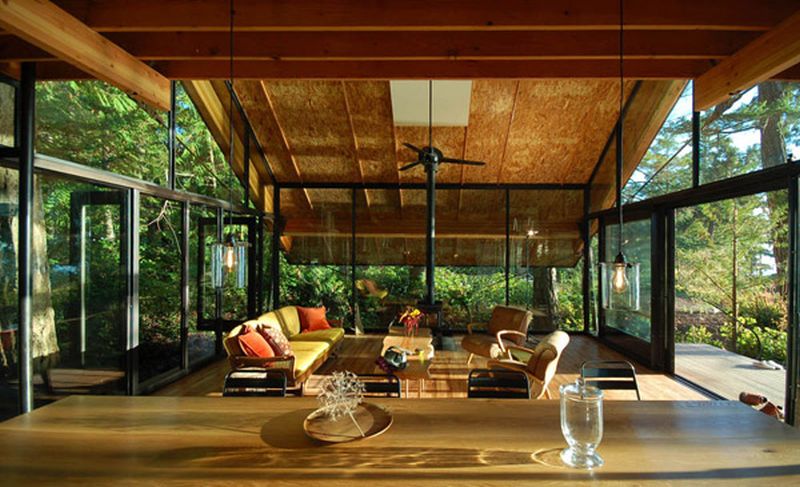 # Lennox Residence in Céroux-Mousty, Belgium
Belgian firm Artau Architecture has constructed the Lennox Residence in a pine tree forest. The project is dedicated to people with constricted physical mobility so that they can witness maximum views of the surroundings without any obstruction.
The house stands on stilts that are half a meter above the ground, minimizing the overall impact on the site while also allowing the residents to enjoy uninterrupted outside views.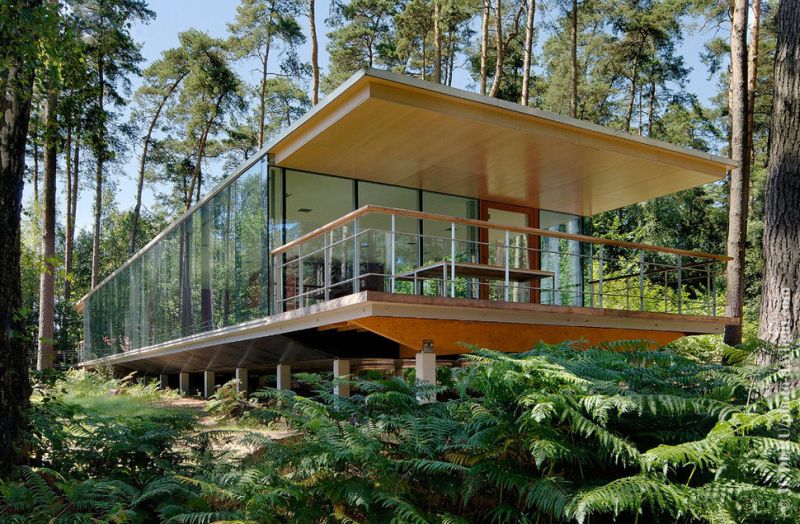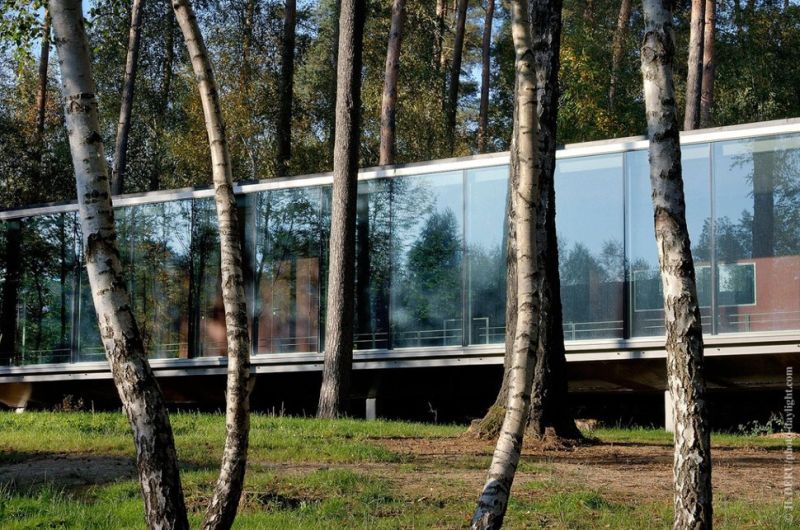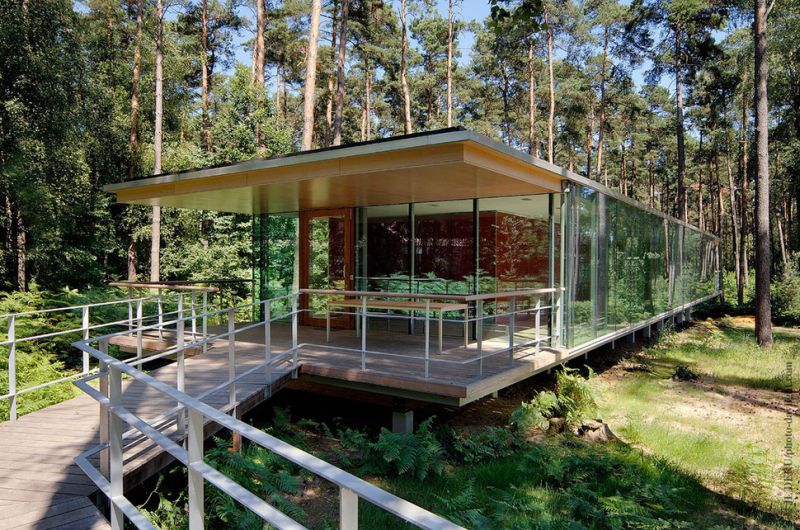 # Fallingwater House in Mill Run, Pennsylvania
Renowned American architect Frank Lloyd Wright's one of the greatest masterpieces, Fallingwater House is now inscribed to the UNESCO World Heritage List. The house follows his philosophy of organic architecture and harmoniously combining art and nature.
It was designed as a weekend home for owners Mr. Edgar Kaufmann and his family. The waterfall on the site had been the family's retreat for 15 years and they wanted to build their dream home around it. So, they commissioned Wright to design the house as they had envisioned it.
Instead of building the house away from the waterfall, Wright has brilliantly managed to integrate the waterfall with the house, forming an amazing waterfall house like no other.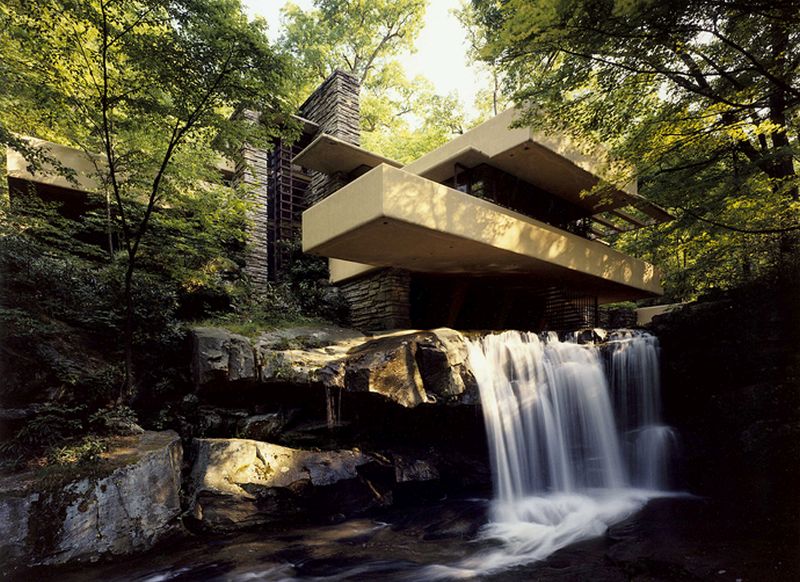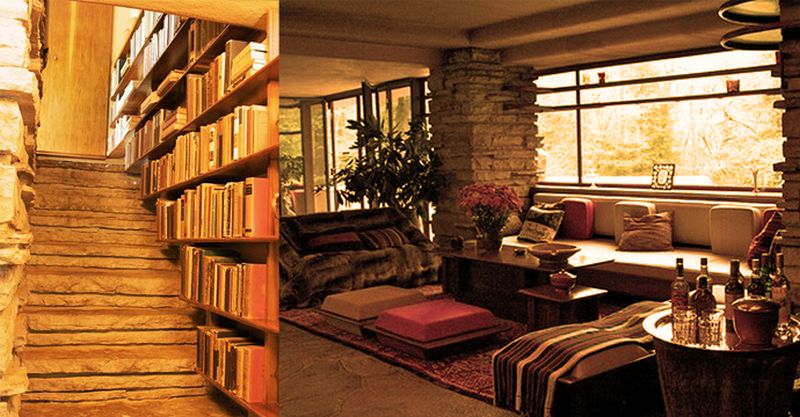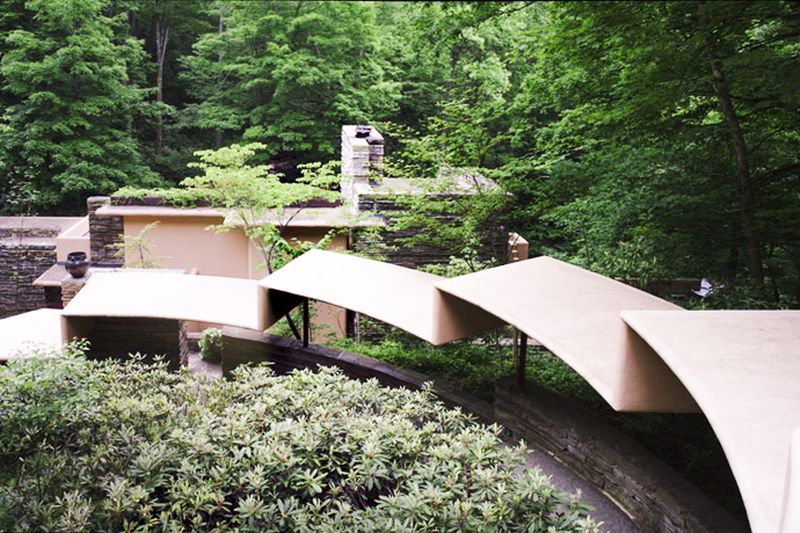 # Stone, Wood and Glass House in Accord, New York
Architect Nancy Copley has created this diamond-shaped, wood and glass house in the middle of the forest. Exterior is clad with stone, wood and huge glass walls, making it seamlessly blend into the wilderness.
Although being far from habitation, the interior of this house in the forest is laden with modern-day amenities. This house is perfect for enjoying a few days away from urban chaos and relax your body and soul amidst the natural environment.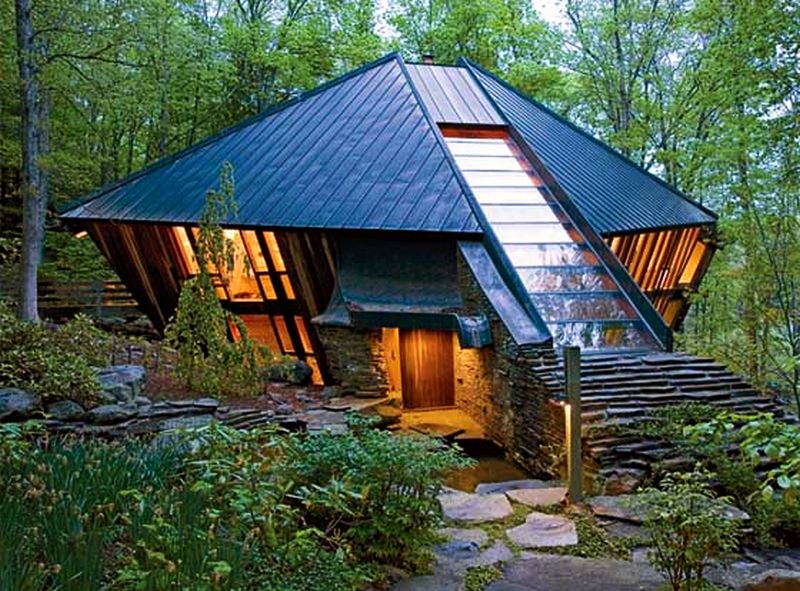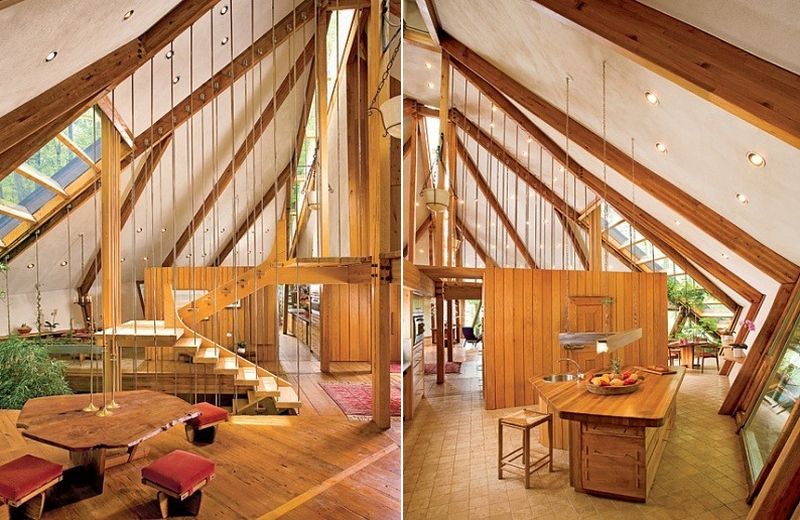 # Chipicas Town Houses in Valle de Bravo, Mexico
Created by Alejandro Sanchez Garcia Arquitectos, Chipicas Town Houses are built inside a private garden. These are four houses with a vertical design and each three-story house boasts a roof garden and floor to ceiling windows to form interaction with the environment.
Two sides of the facade are lined with a skin made of wooden lattice, which provides a sense of privacy.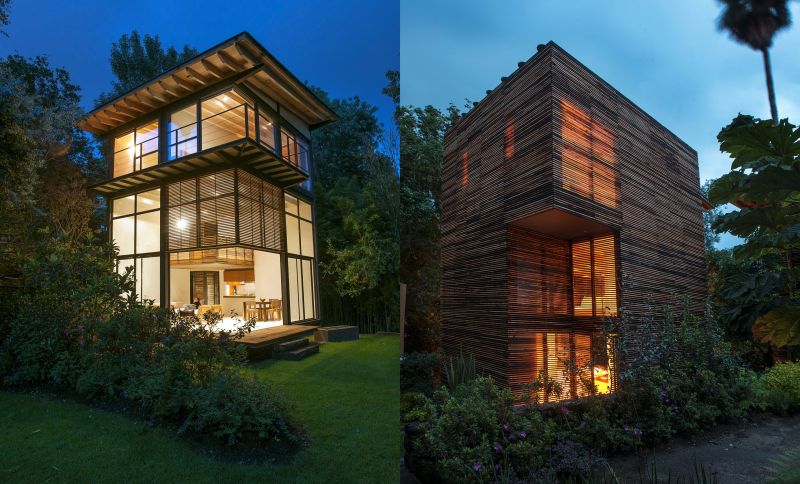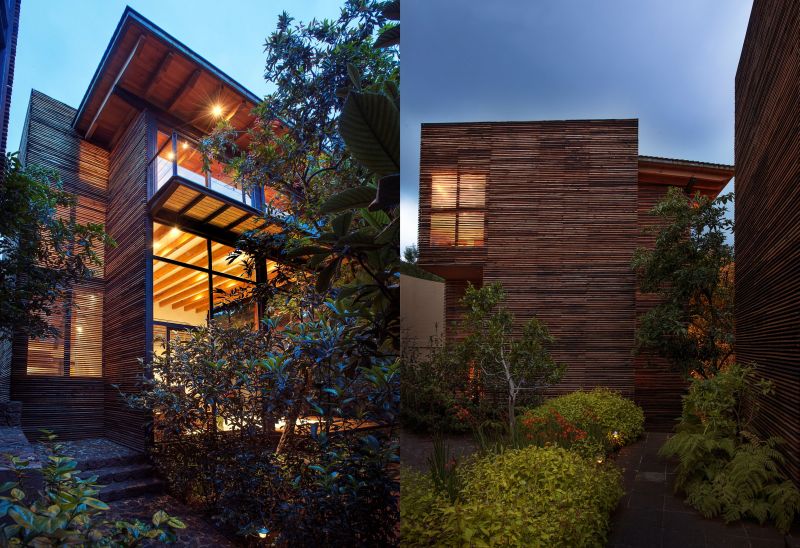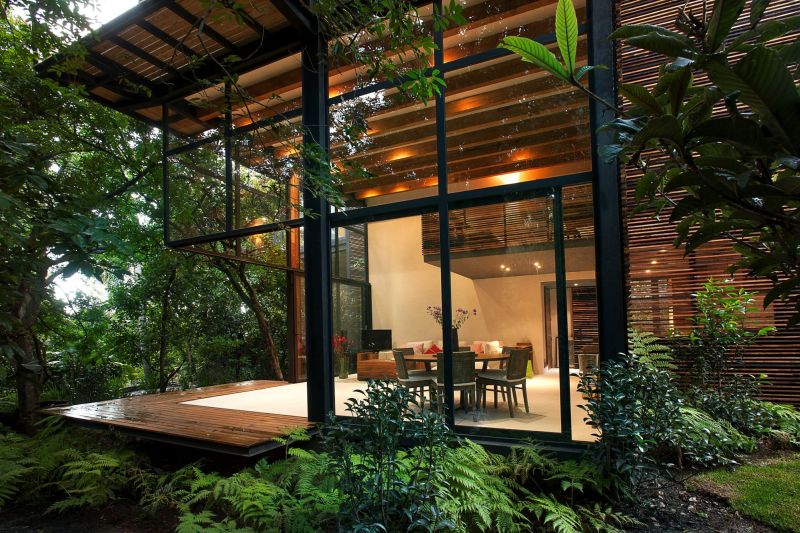 # Black Forest House in Auckland City, New Zealand
This exquisite forest house is designed with the idea to blend into surrounding nature without minimal disruption on the site. Built by architect Chris Tate, its black exterior color scheme mimics the black tree trunks observed in the forest.