An unlit candle argues that a moth is a myth. A lit candle however bolts through the darkness and offers a little brightness despite knowing it will eventually melt away. With Christmas approaching, the significance of these candles increases in our lives more than ever. However, a candle without a candle holder is like Christmas without a Christmas tree.
We are not asking you to buy a candle holder, instead, we are recommending ways to try and make one of your own. Here's a list of 20 DIY candle holders for Christmas made from glass bowls, wooden logs, and other easily accessible materials.
Tree Stump Candle Holder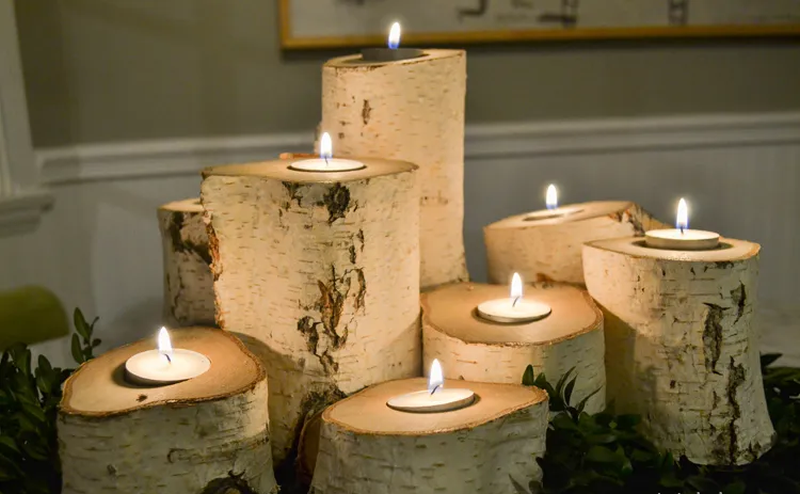 This chic tree stump candle holder will bring nature indoors. It's a simple woodwork project that will dazzle your home during Christmas. Decorate these white birch logs with tea lights and enjoy the festive season. The full tutorial is available at Cozy stylish chic.
Wine Bottle Floating Candle Holders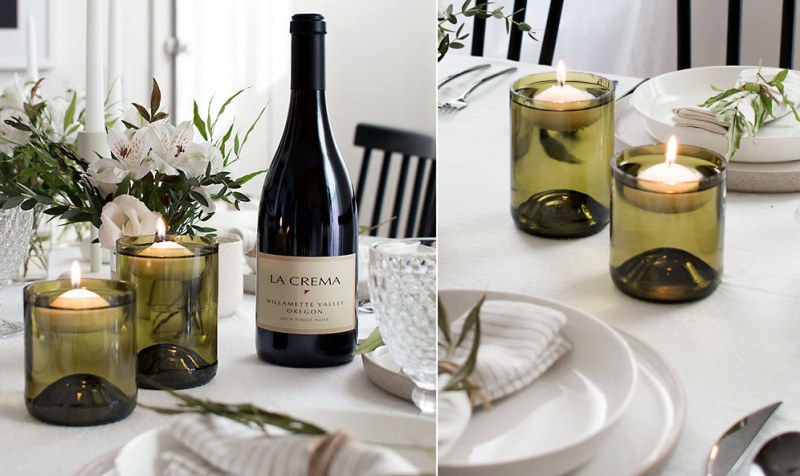 Perfectly suited for your dinner table, these wine bottle floating candle holders are the sweetest Christmas decoration. All you need is a few wine bottles, a bottle cutter, plier and you are good to go. Check out the complete tutorial at La Crema.
Autumn Leaf Mason Jar Candle Holder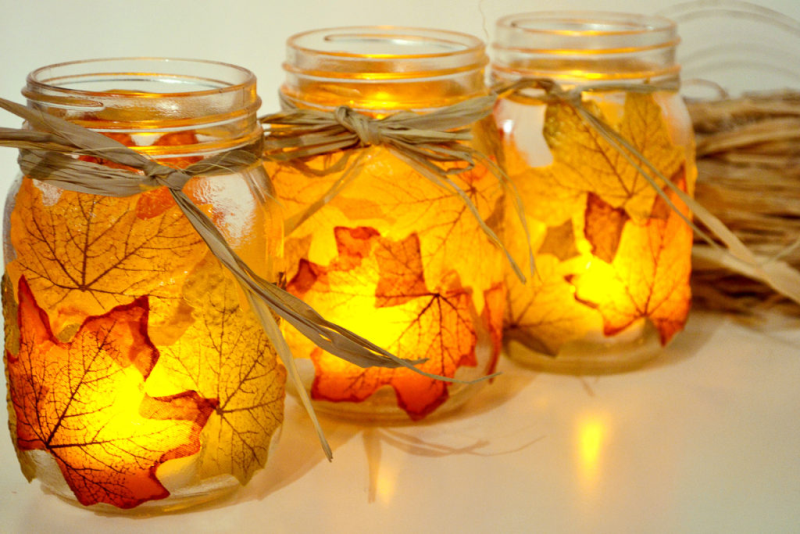 Perfect for dinner and bedside tables, the autumn leaf Mason jar holder is all you need this Christmas. You need a mason jar, real or faux leaves, and glue to pull this to perfection. Hop on to spark and chemistry to check out the complete tutorial.
Air-Dry Clay Candle Holders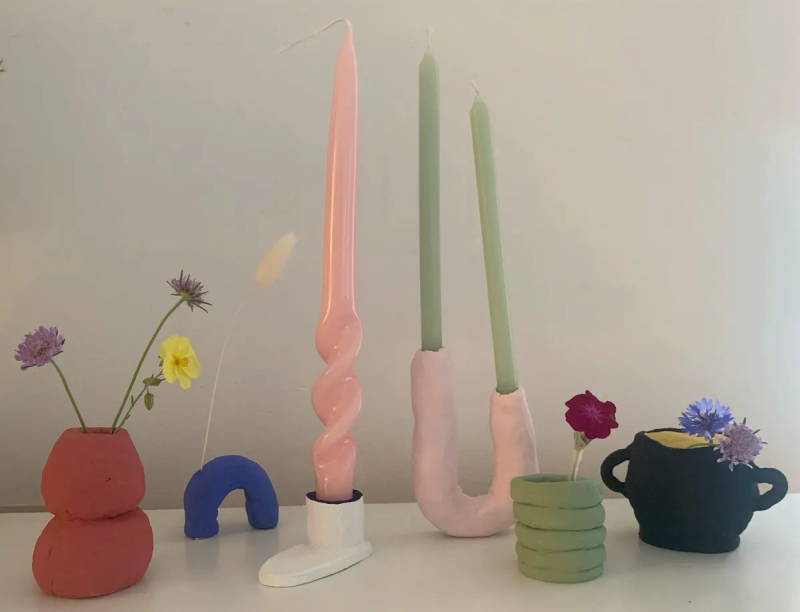 If you are looking for candle holders that will add a gothic touch to your room, you are at the right place. Grab 1kg of white air dry clay to make these air-dry clay candle holders. In addition, you would require glasses of different sizes and a clay tool kit. The full tutorial is available at stylist.
Origami Stars Candle Holders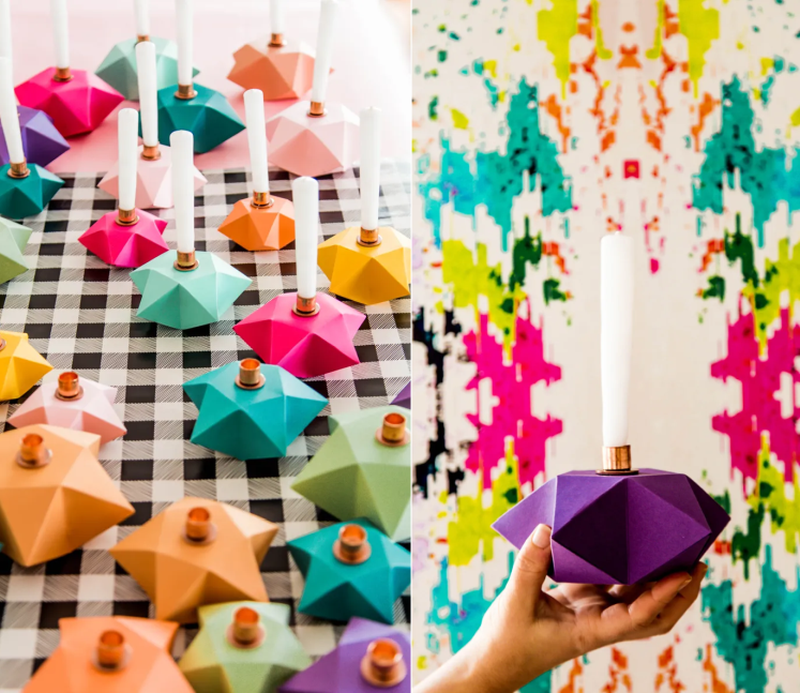 To make these DIY candle holders, you require washers, cardstocks, and taper candles alongside other small accessories. These DIY candle holders look amazing when placed together on a table. The complete tutorial for Origami Stars Candle Holders is available at A Subtle Revelry.
Painted Mason Jar Votive Holders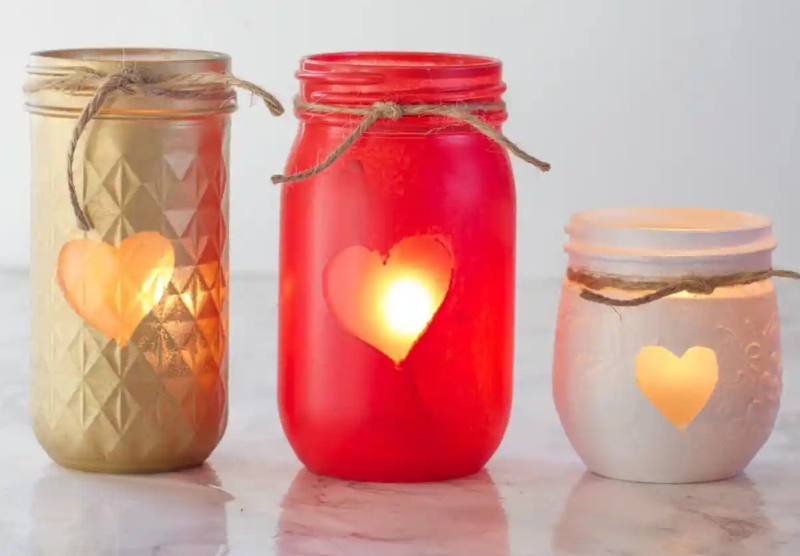 Turn your mason jars into votive holders with a little assist from spray paints. These votive jars will bring joy to your Christmas party once cute little tea light candles are placed inside them.
Sparkly Pine Cone Candle Holders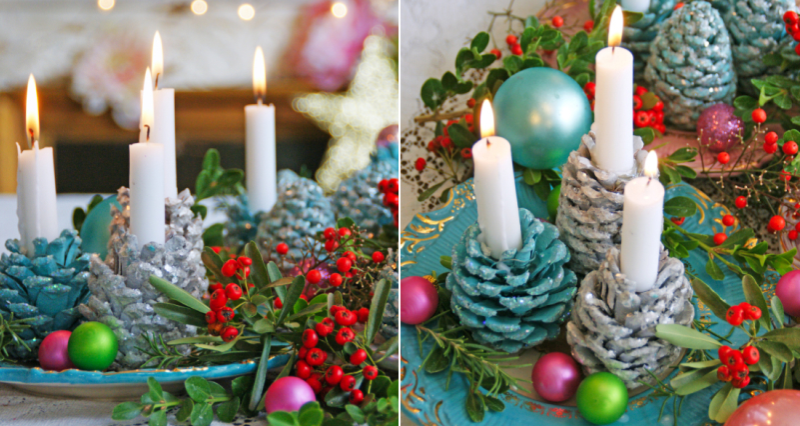 How about putting candles in a pine cone and using them are decorative. These little glittery pinecones are beautiful DIY candle holders that will look astonishing on a table, mantle, or shelf. The complete tutorial is at A Fanciful Twist.
Rustic Candle Holder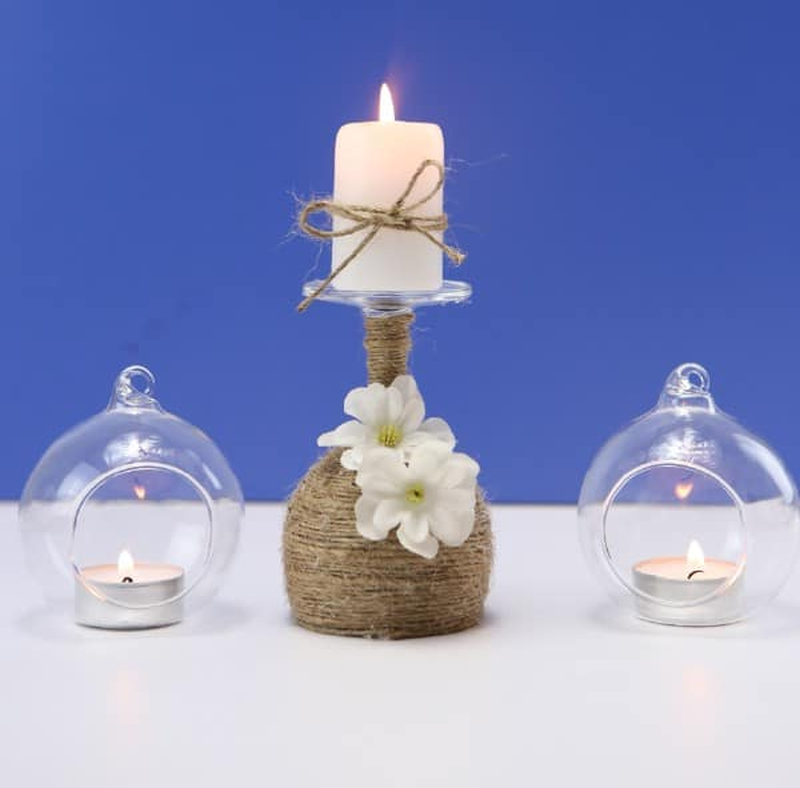 Rustic candle holders are something that will add a raw touch to your Christmas party. Keep your wine glass, twine, faux flowers, and candles ready and make this amazing rustic candle holder. The complete tutorial is available at DIY & Crafts.
CD and DVD Candle Holder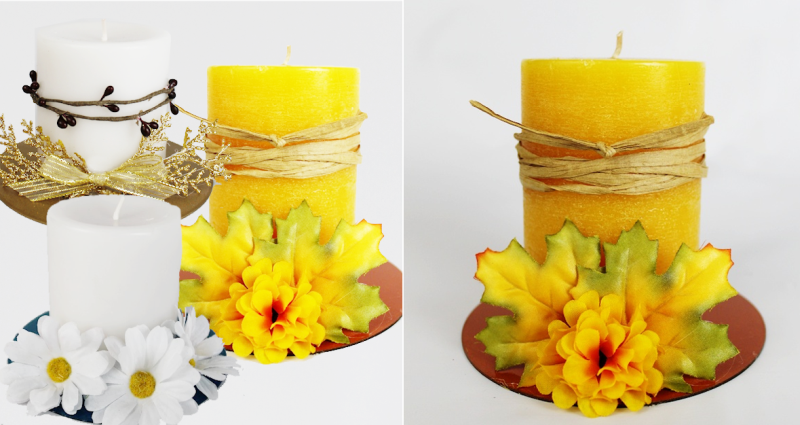 Just in case you forgot to buy a candle holder, CDs and DVDs at your home are a fancy alternative to expensive holders in the market. Decorate candles with artificial flowers and ribbon and place them on the spray-painted CDs. Full tutorial for CD and DVD candle holders is available at Craft Your Happiness.
Concrete Letter Candlestick Holder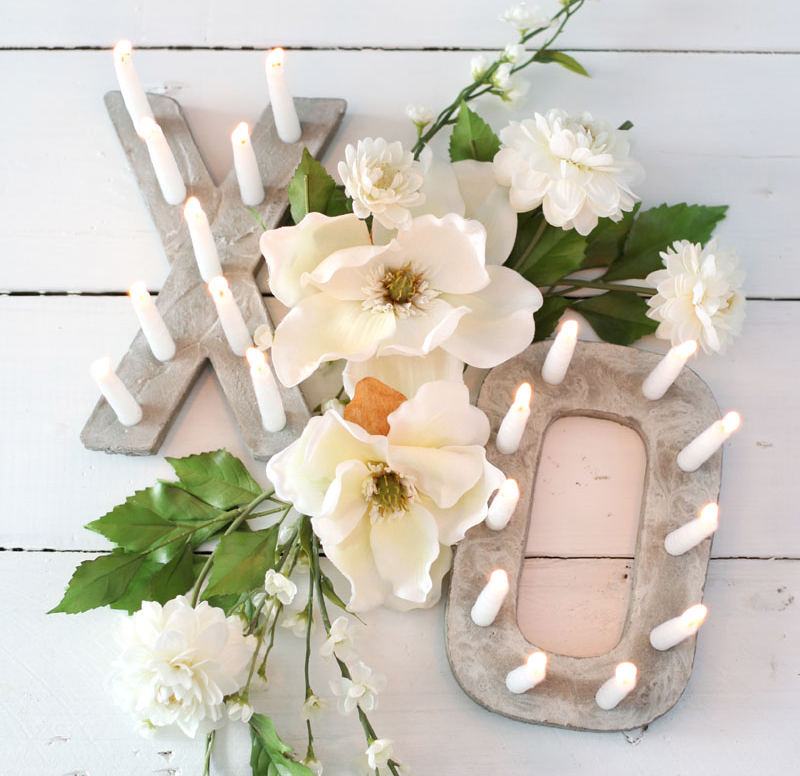 The idea behind this candleholder is simple yet unique. Hold your candles on cemented letters and you are ready with your DIY Christmas candle holder. You need cement, acrylic binder and other accessories to complete this candle holder. Jump over to A Beautiful Mess to read the full tutorial.
Orange Pomander Tea Light Candle Holders

I am in awe of these modern home decors. Orange pomander adds a modern and simplistic touch to your home. Scoop out the orange and place these tea lights inside them. Check out the full tutorial at Rainy Day Mum.
Paint Dyed Plaster Candle Holder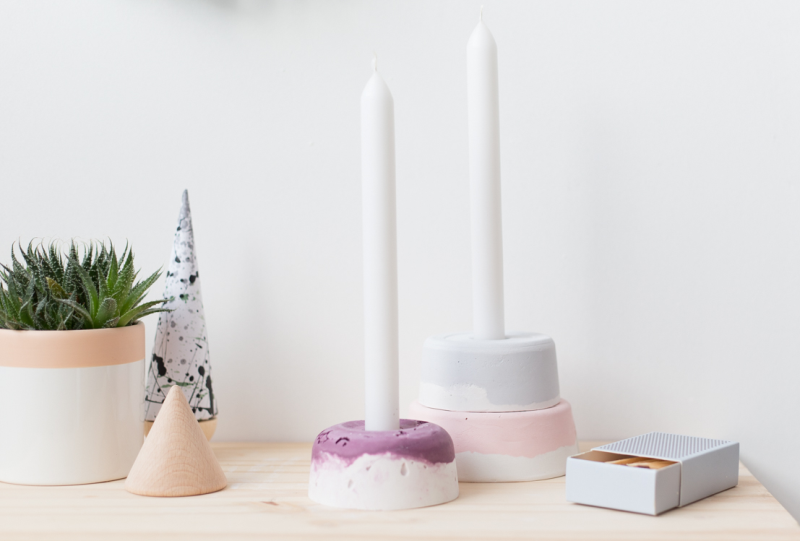 Made of plaster of Paris, tester pots, vaseline, lollipop sticks, and paper cups, these paint-dyed plaster candles are perfect to grab anyone's attention. Check out the complete tutorial at fall for diy.
Copper Candlestick Holder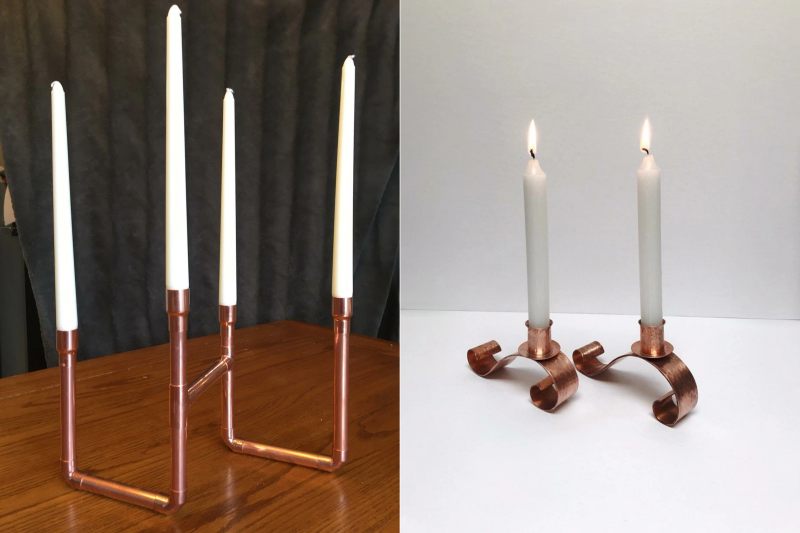 Online shopping stores are flooded with different kinds of copper candle holders. Rather than buying one online, try making one by yourself. All you need is aluminum craft wire, scissors, pliers and an artistic bend. Check out the full tutorial at Amerrymishapblog.
Terrazzo Candle Holder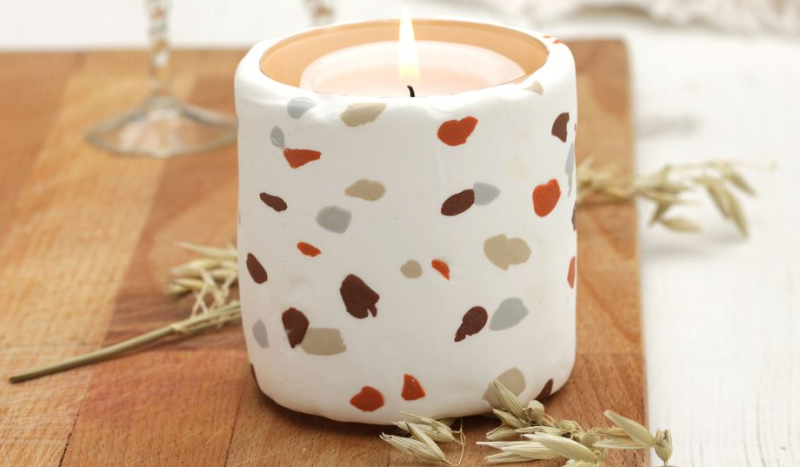 Turn your old candle holder into a new one. Perfect for Christmas and the holiday season, this candle holder is suitable for all festivities. All you need is soft modeling clay and an old Christmas candle to make this terrazzo candle holder. Check out the complete tutorial at Goodtoknow.
Hanging Tin Can Candle Holder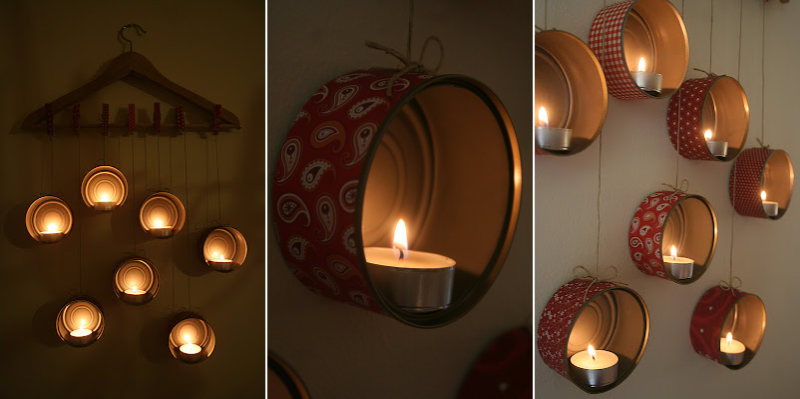 Recycle your old tin can into a smooth and beautiful hanging tin candle holder. Large tuna cans, soapy water and adhesive paper are the items you need for this project. Hang the cans on your wall and light them up during Christmas Eve. Hop on to Kiflieslevendula to check the complete tutorial.
Snowy Frosted Candle Holders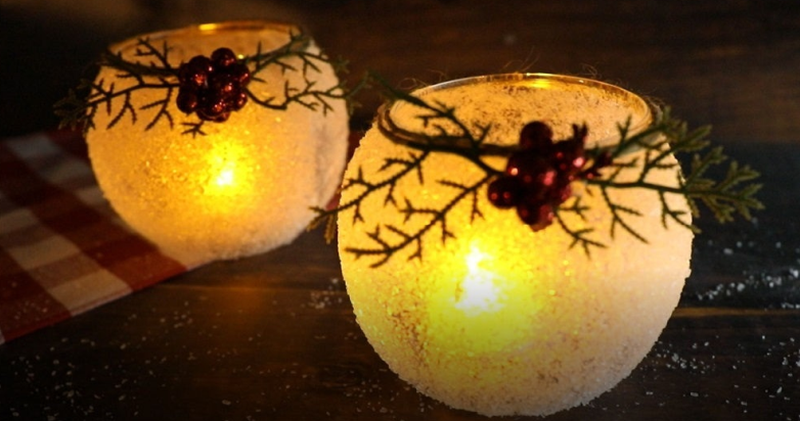 There is no beating the trio of winter, Christmas, and snow. How about you add a frosted candle holder to the setup? All you need for this project is a few glass holders, salt, and tea lights. The complete tutorial is available at Craftymorning.
Wine Bottle Candle Holder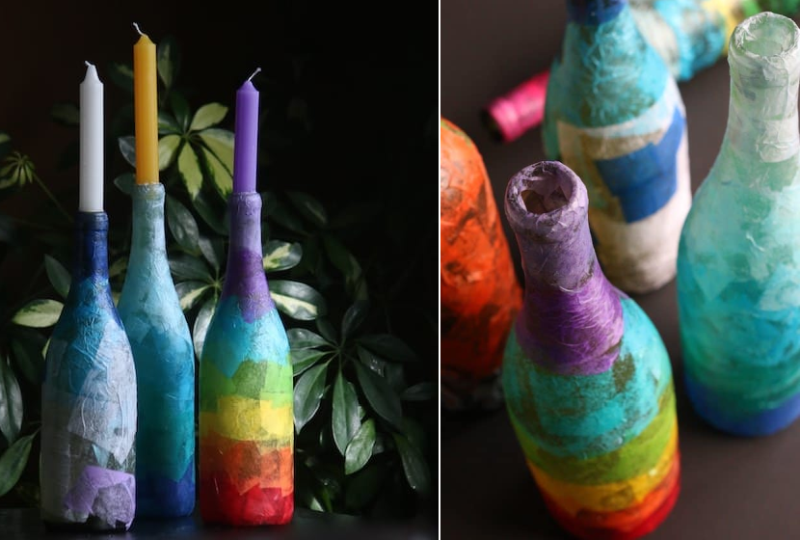 Make your own gorgeous wine bottle candle holder using a simple tissue paper decoupage process. This really easy craft technique requires you to keep a wine bottle, paintbrush and tissues handy. Check the full tutorial at Happyhooligans.
Chalkboard Jar Candle Holder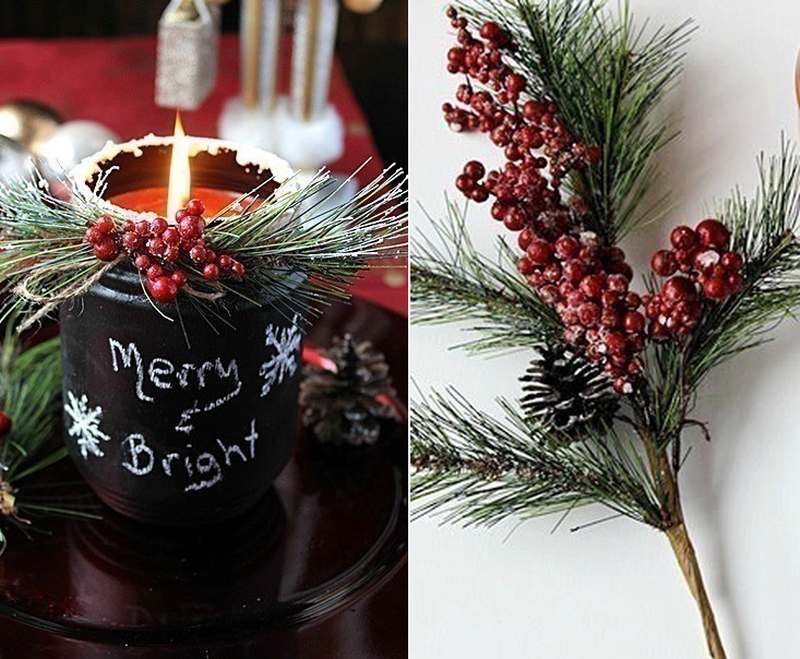 A chalkboard jar as a centerpiece is all you need this Christmas. You don't have to hassle anywhere to look for it, rather make your own using chalkboard paint. All you need is an old jar and some brushes to give a classic touch to your Christmas party. Read the full tutorial at Cutoutandkeep.
DIY Mini Pumpkin Candle Holders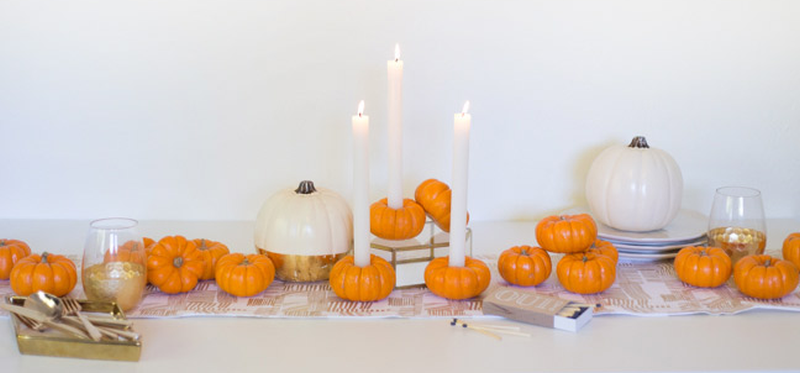 Pumpkin candle holders are not just for Halloween but can also be used for Christmas. Make these cute-looking candle holders using mini pumpkins, taper candles, and a driller. For complete tutorial check out momtastic.
Copper Pipe Candle Holder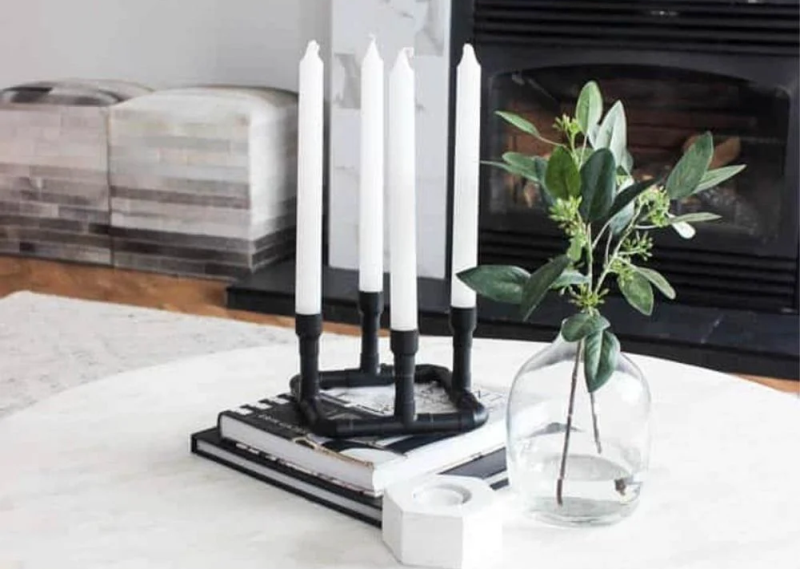 Copper pipes make really elegant candle holders for the dining and living room. You require multiple pieces of copper pipes and copper tee fittings to make a minimalistic candle holder for your Christmas party. Check the full tutorial at Love create celebrate.