Who says Christmas tree should only be an evergreen conifer tree? There are endless alternative Christmas trees that will put you to think. Try something different this year and make a DIY Christmas tree from unused and readily available items at home.
You can make use of paper, cardboard, scrap wood, wine bottles, wine cork, pine cones and several other items to make Christmas trees. Head below to check out the most inspiring Christmas tree alternatives you can try.
Space-saving Wall Christmas Tree
This DIY Christmas tree can be made using faux pine branches or real pine branches. You can decorate it with a few of your favorite ornaments and lights.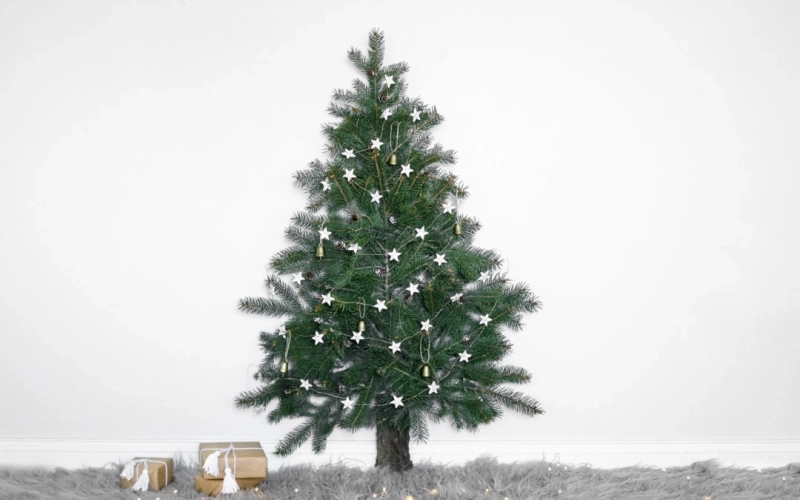 Tabletop Christmas Tree from Real Leaves
This DIY farmhouse Christmas tree can be made using cardboard and leaves. You just need to stick green leaves on a cardboard cone and hang it over a flower pot.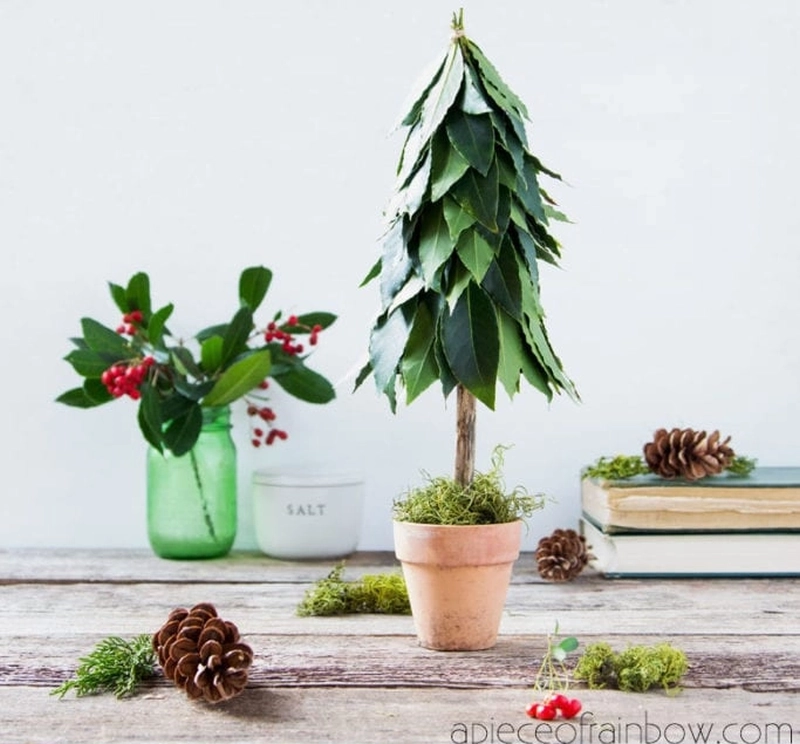 DIY CACTUS Christmas Tree
Add a trendy touch to your home with a DIY Christmas cactus. You can make it using wood slats, PVC pipe, and garland. The entire cactus shape is covered with garland, ornaments, and lights – just like a regular Christmas tree.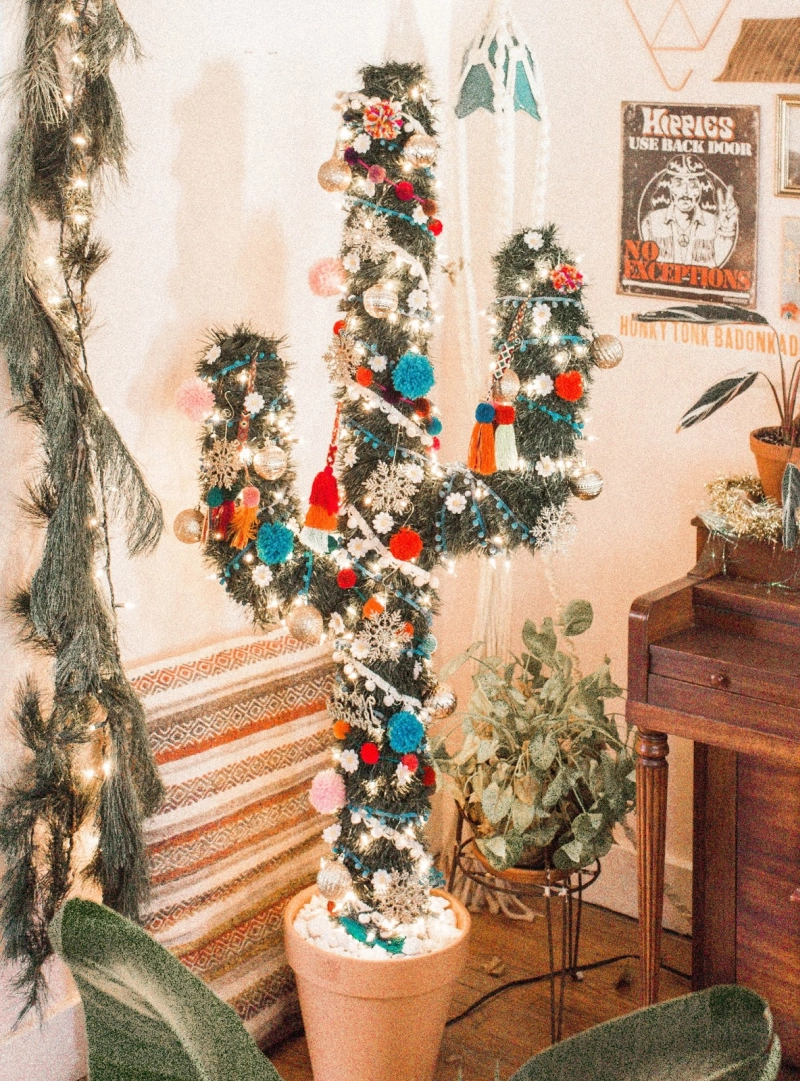 DIY Christmas Tree Made of Fairy Lights
This alternative Christmas tree can be a unique attraction in your home. You can make it using a round plywood base and fairy lights. Wrapping it with firefly lights is the main task!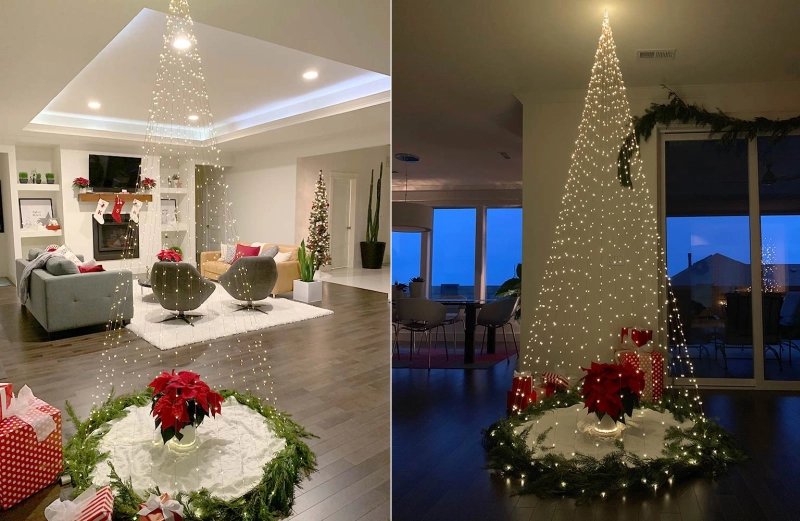 Macramé Christmas Tree Wall Hanging
If you have got the skills, you can make your own Macrame Christmas tree to get the walls in a festive mood. It's going to be a stunning focal point.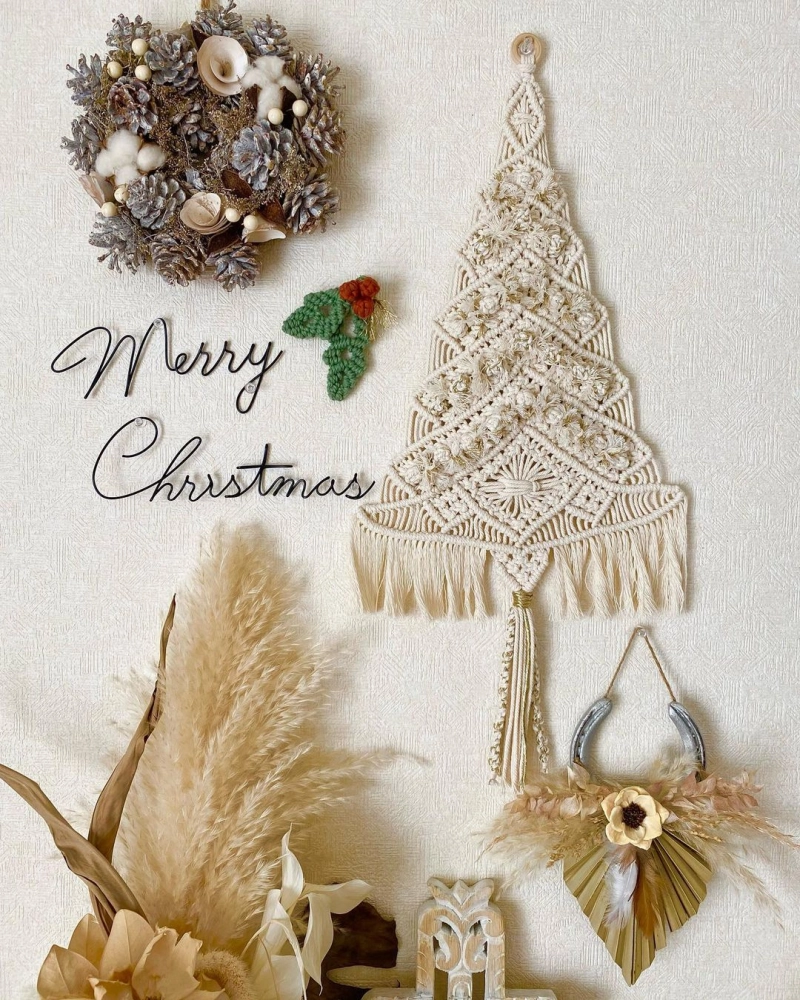 Ladder Christmas trees
You probably have heard of and seen ladder Christmas trees. They are perfect Christmas tree alternatives for people who like to decorate home in an eco-friendly and minimalist manner. Why not make one for yourself this year? It is a budget-friendly and easy DIY that's going to attract everyone's attention. Whether decorating with light strips or Christmas tree ornaments, there is plenty of scope for creativity. Scroll down for some ideas and inspiration.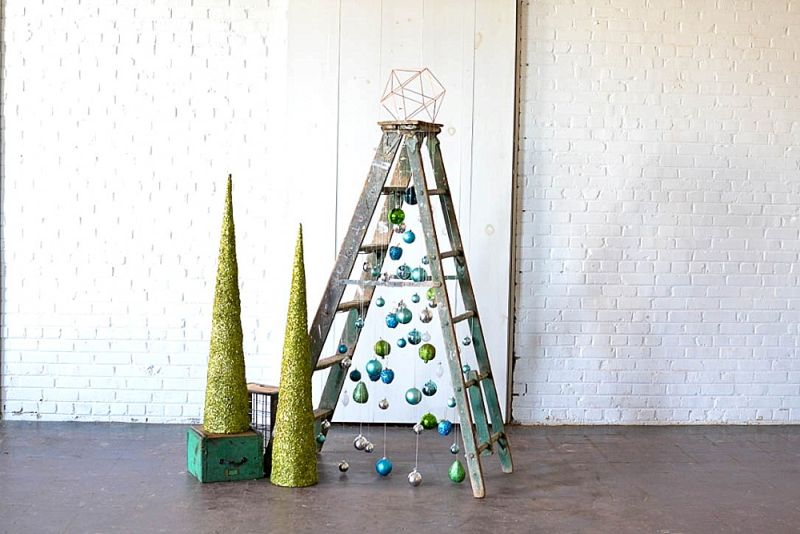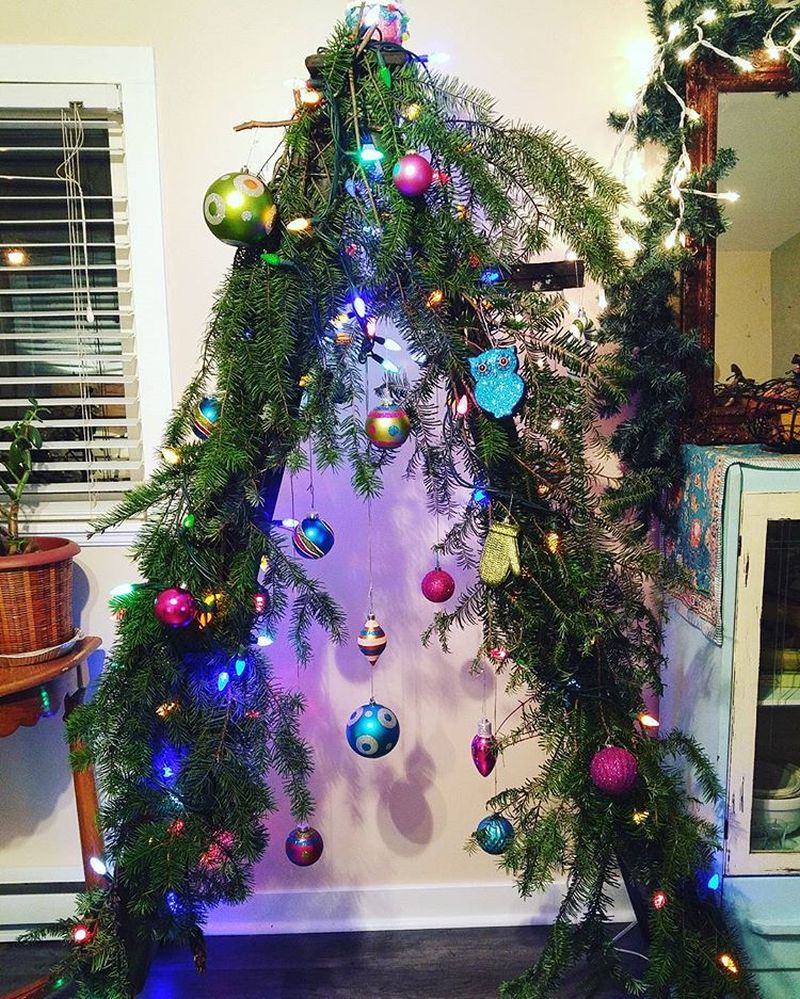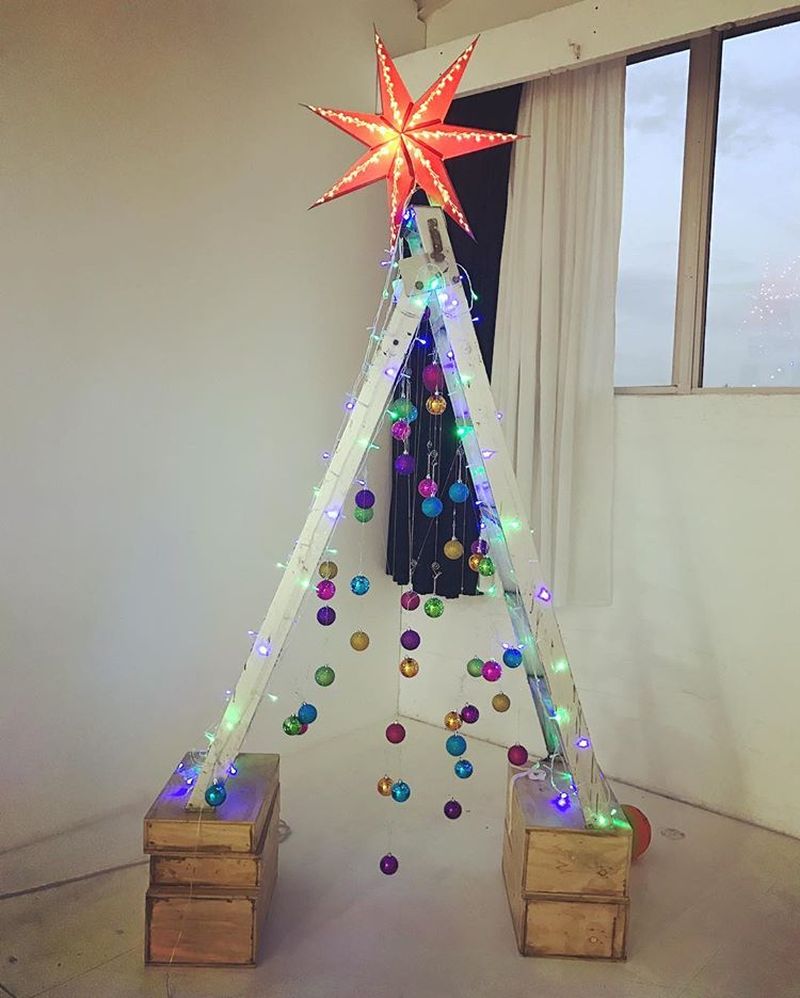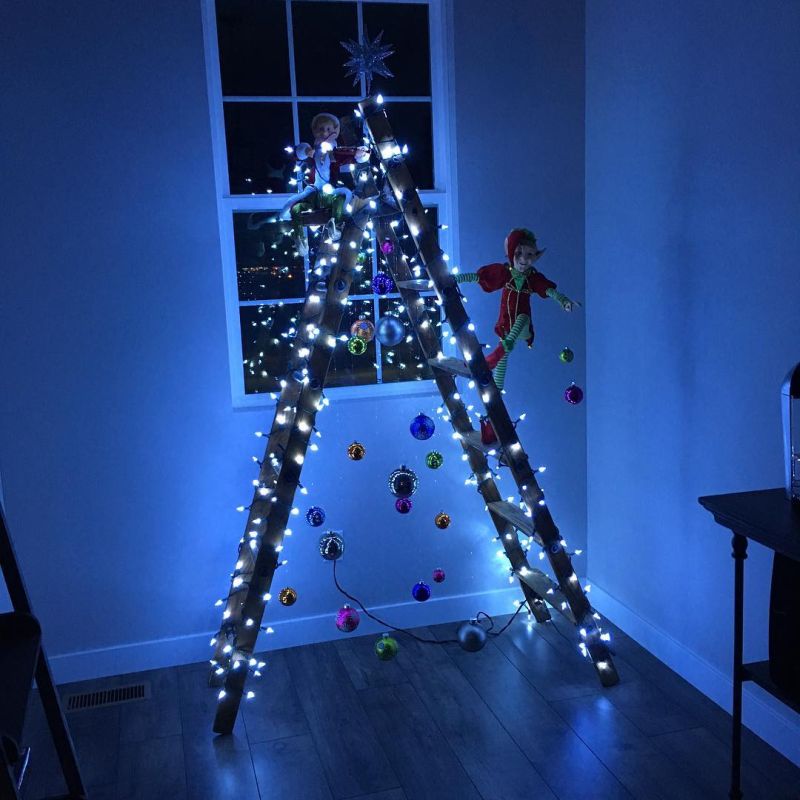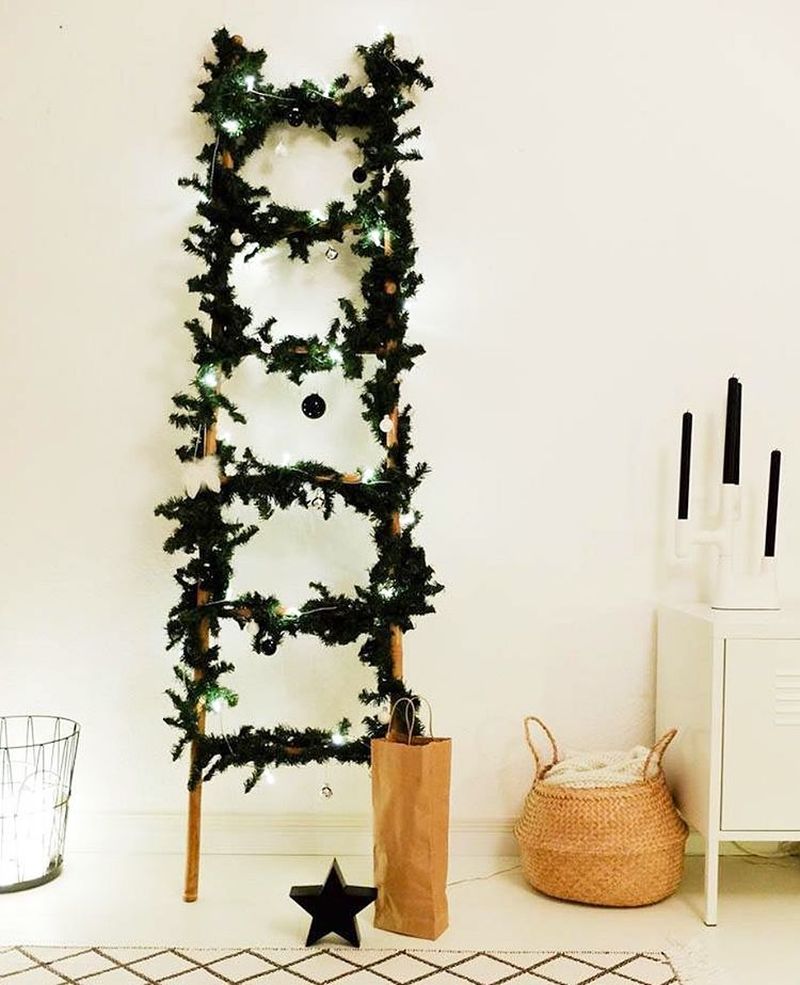 Upcycling Wood Branches and Twigs into Christmas Tree
Have a no-waste holiday by upcycling wood branches and twigs into a Christmas tree. The appearance depends upon your creativity. Choose the ornaments wisely to not overdo the decor.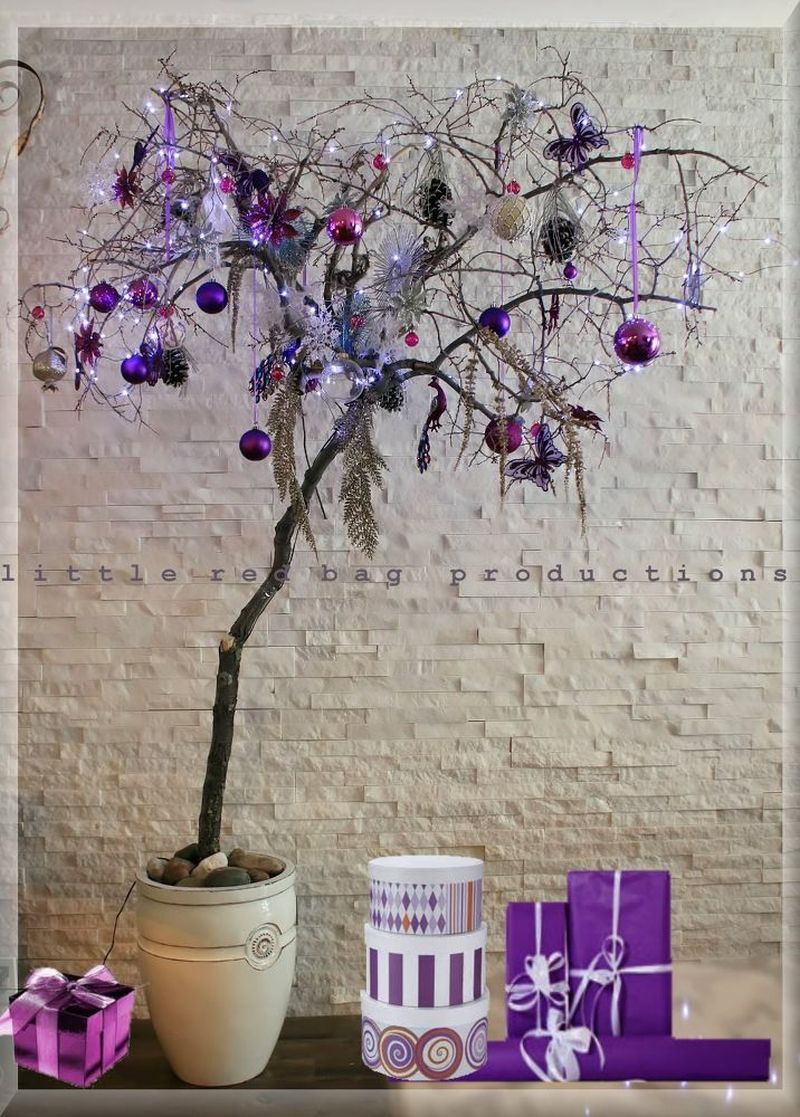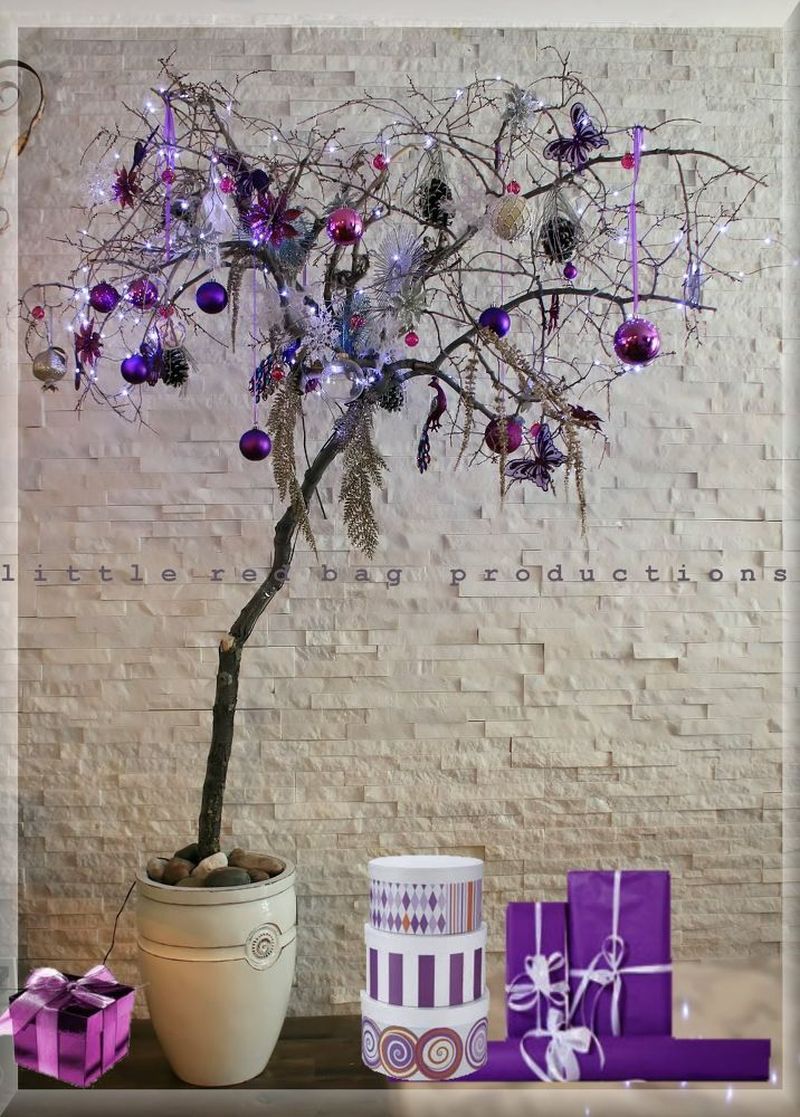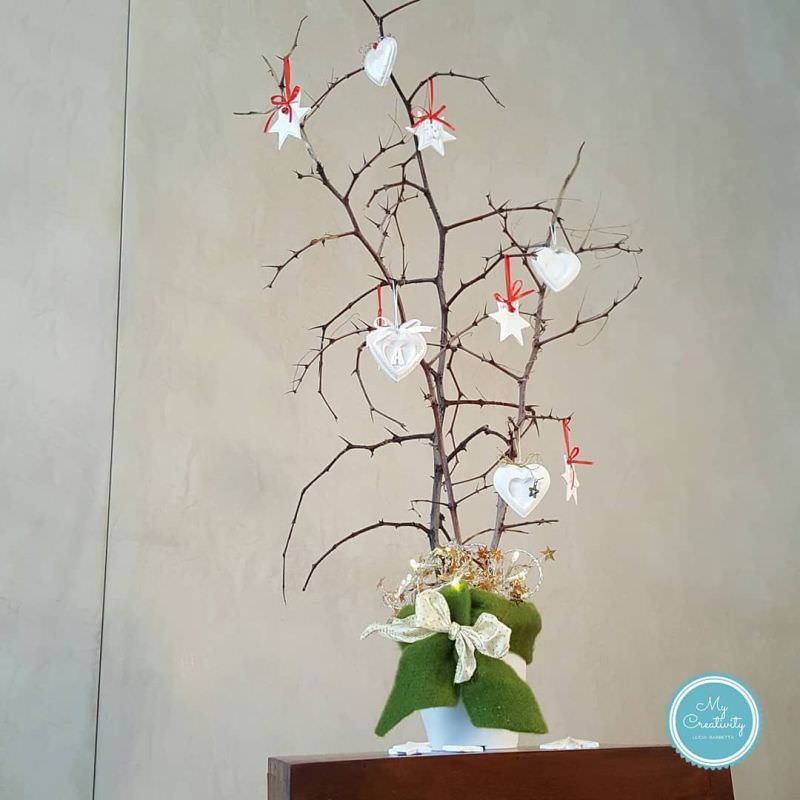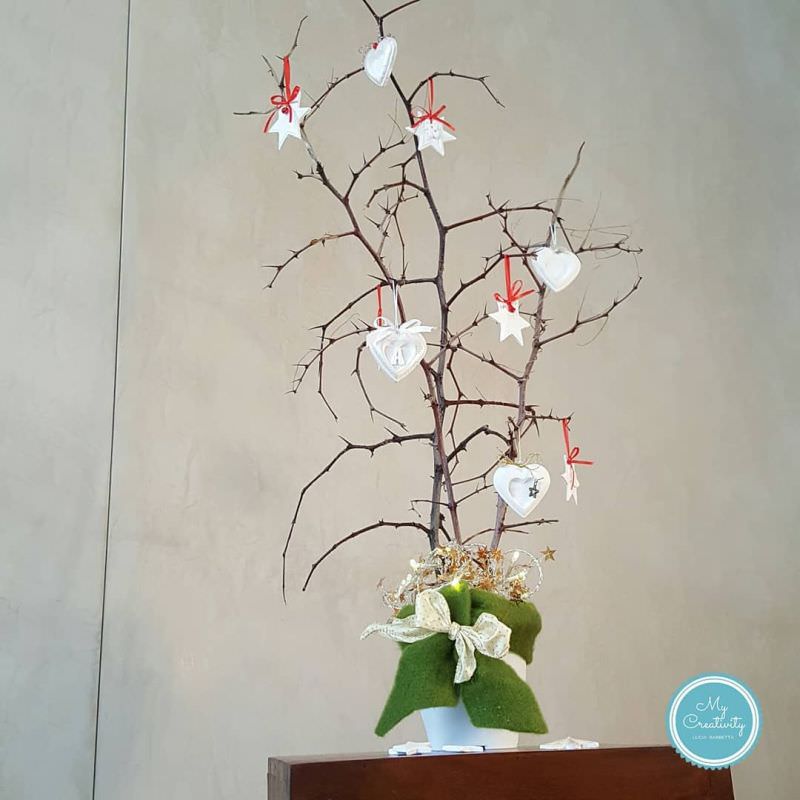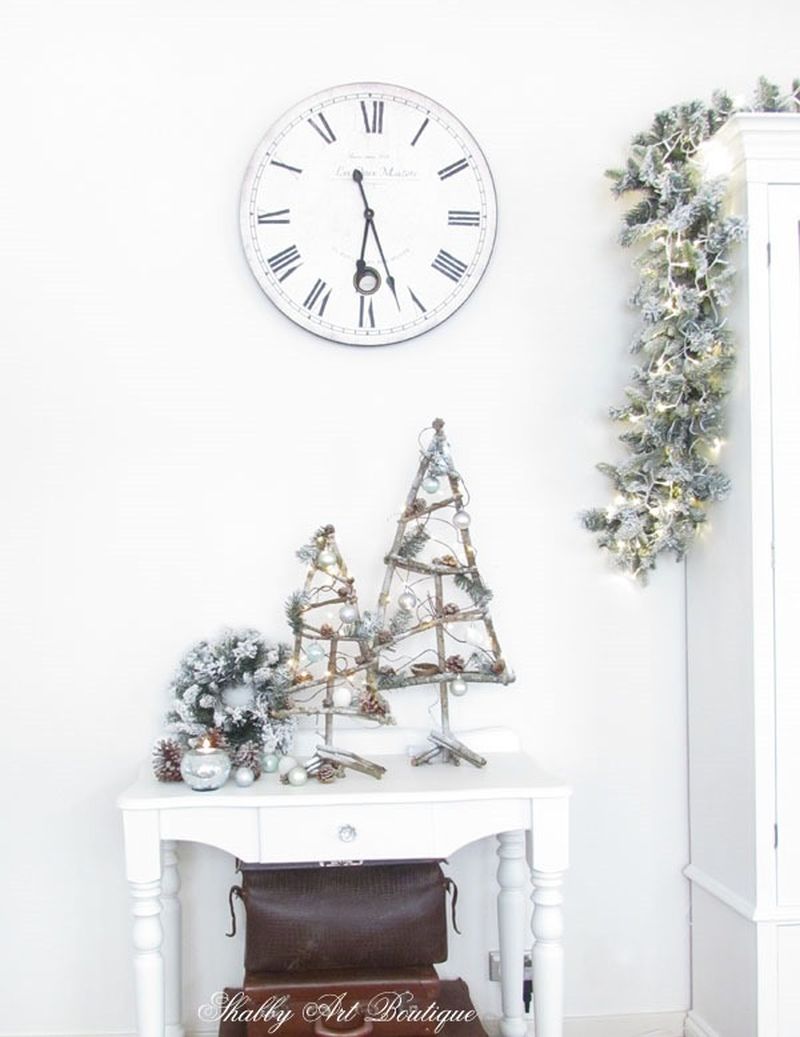 Wall-Hanging Christmas Tree made from Branches
For this DIY Christmas tree, collect some fallen tree branches in various sizes, and tie them up in the shape of a tree, where the largest branch will form the base. Hang it on a wall and decorate it with Christmas balls and stars to render a mesmerizing look. This way you are making good use of tree branches, which otherwise would land in a fire pit or be stranded without any practical use. Take a look at some ideas below.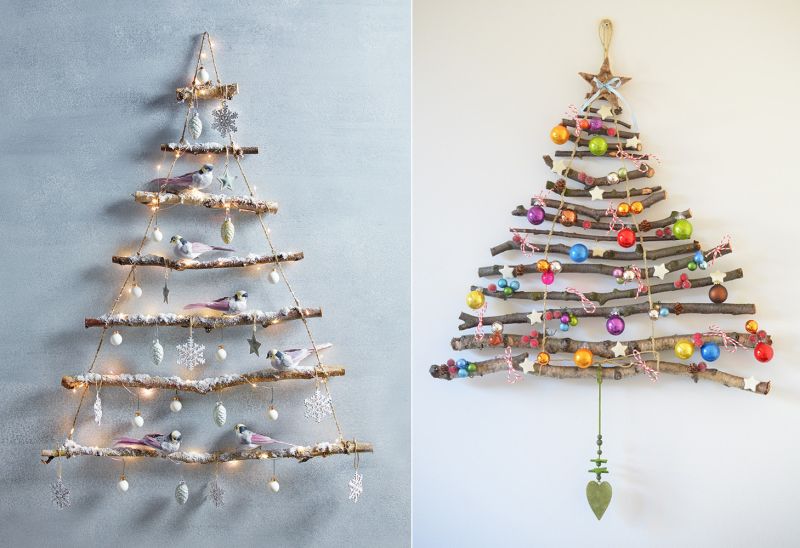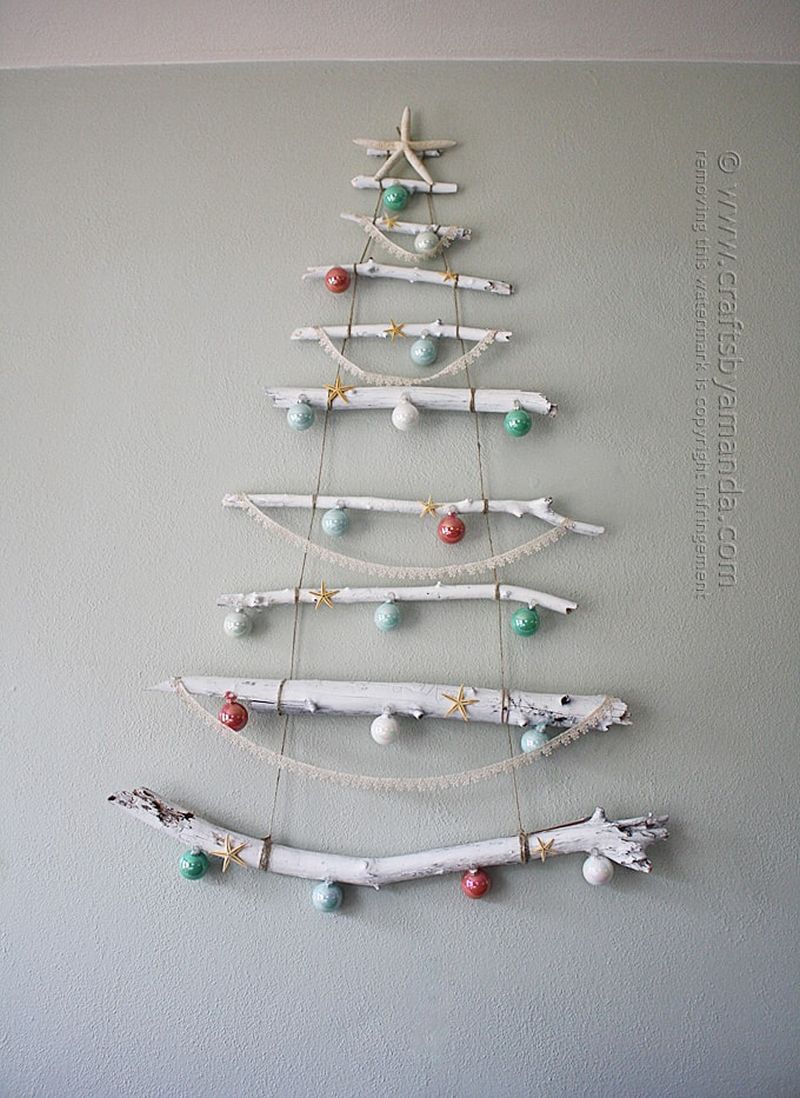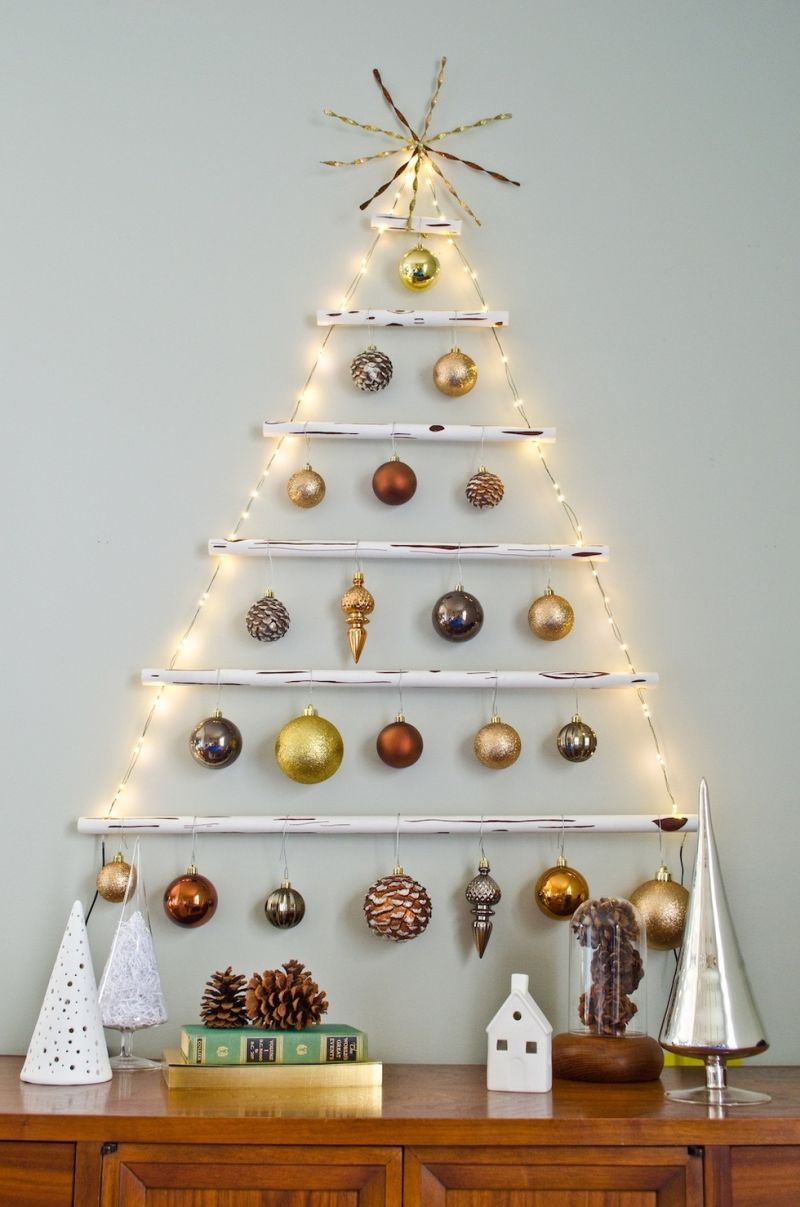 Egg Carton Christmas Tree
An egg carton is the last thing you associate with making a Christmas tree, yet here is a cool idea. Before you think of adding an egg carton into the landfill, cut it out and stack it up for a Christmas tree alternative. Don't forget to paint it green for the allure.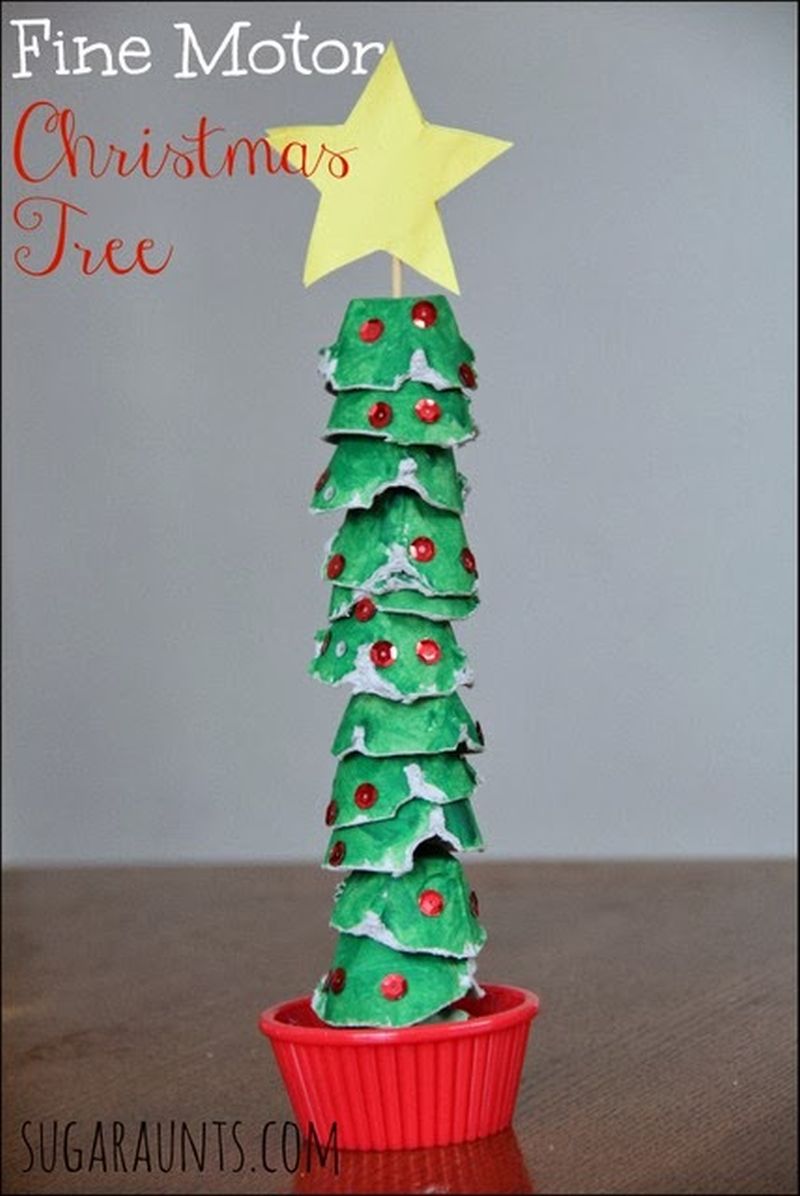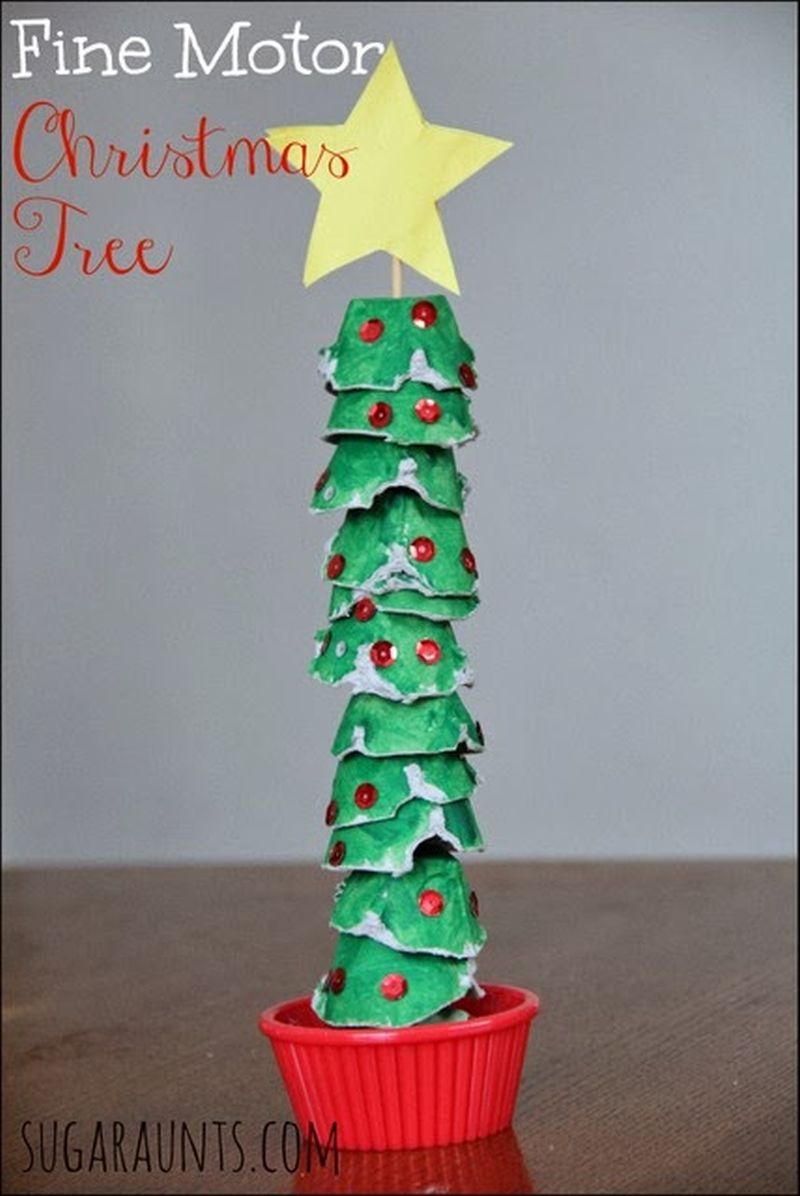 Tin Can Christmas Tree
Tin cans are easy recyclables to transform into a Christmas tree. Just stack up a few cans of varying sizes, with the largest in the base, color them and embellish with pom-poms and a star topper.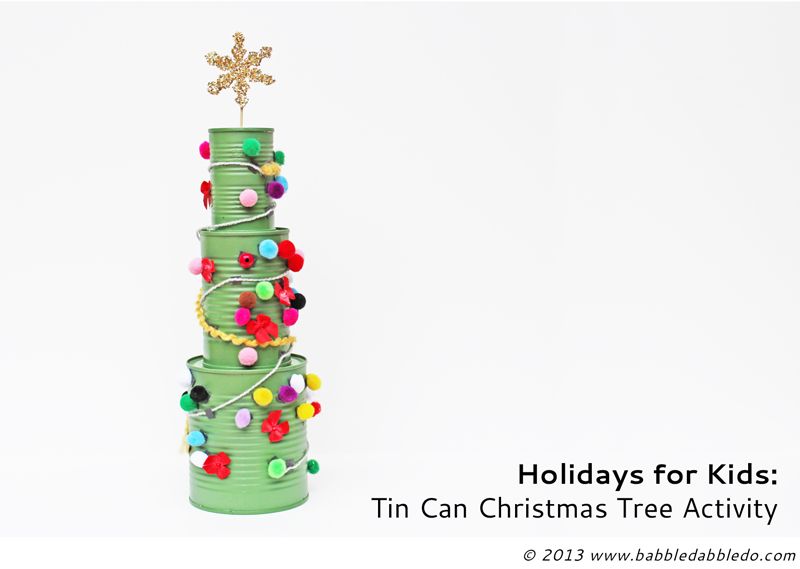 DIY Christmas Tree from Pallet Wood and Paper
This is a brilliant tree idea you can make for Christmas. All you would require is some pallets, patterned paper, and glue. Besides that, it's your creativity!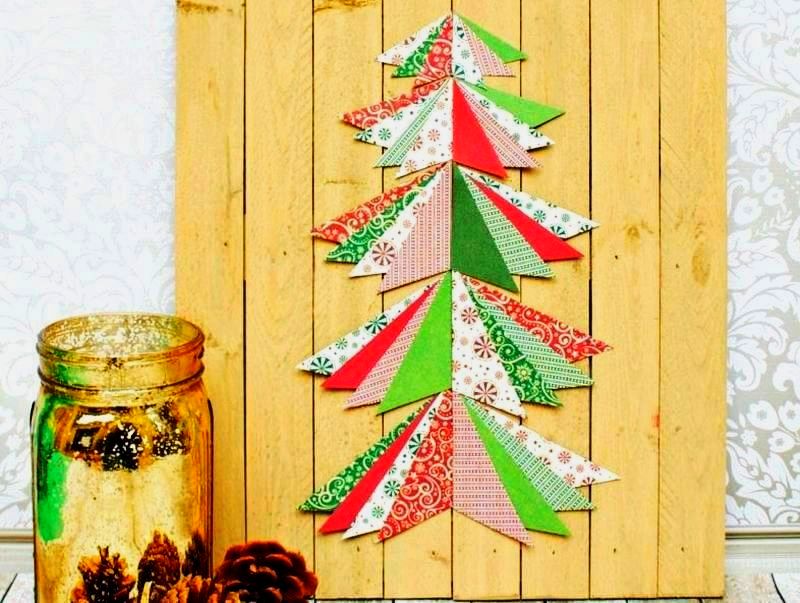 Wall Hanging DIY Christmas Tree
If you have some wood slabs at home, they can be turned into a beautiful wall-hanging Christmas tree. You can tie them up with a rope in the shape of a tree and top it with a star.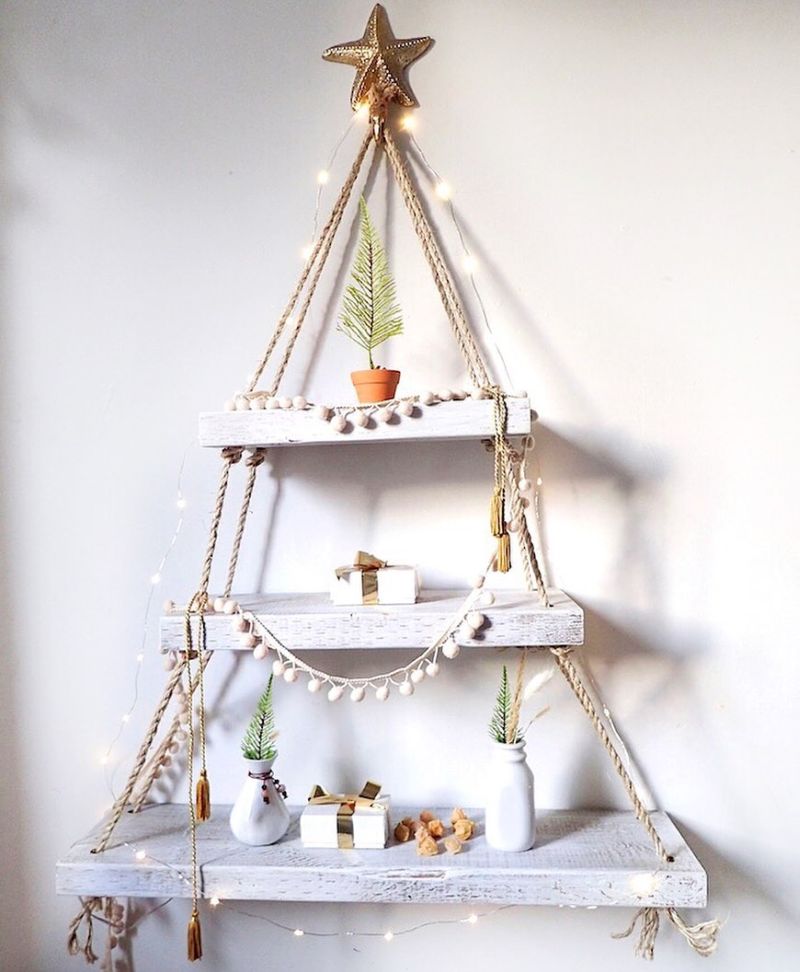 Paper Christmas Tree
Paper Christmas trees are an easy craft idea. These trees are a cute addition to Christmas decorations and even kids can be involved in making them. A good way to make productive use of your family time.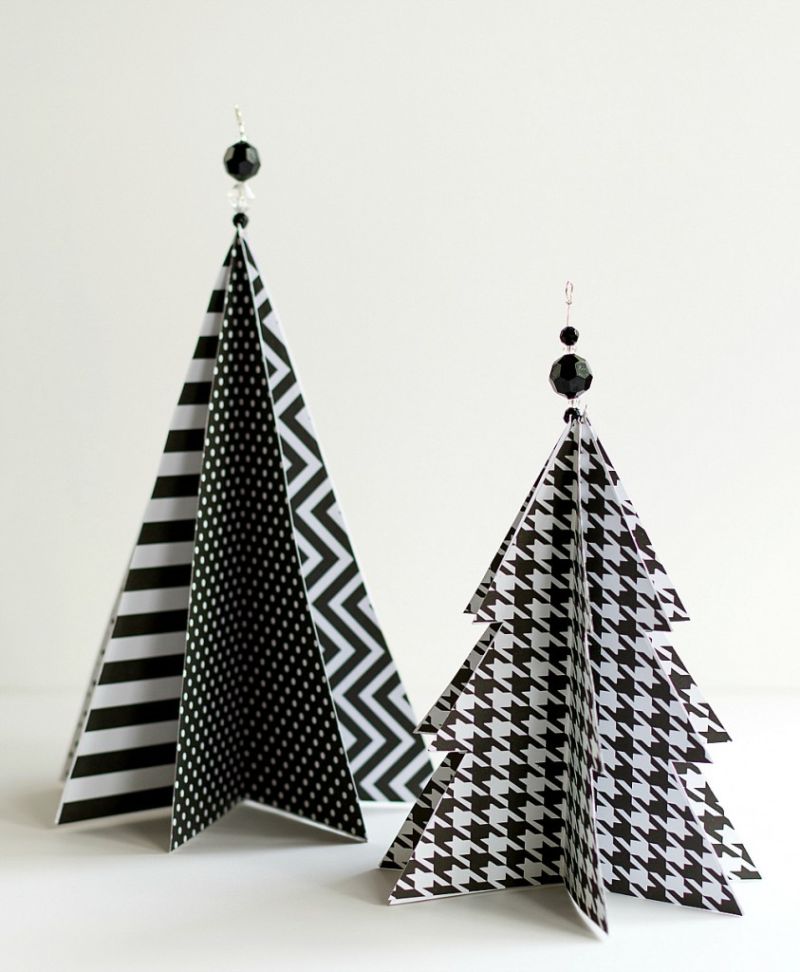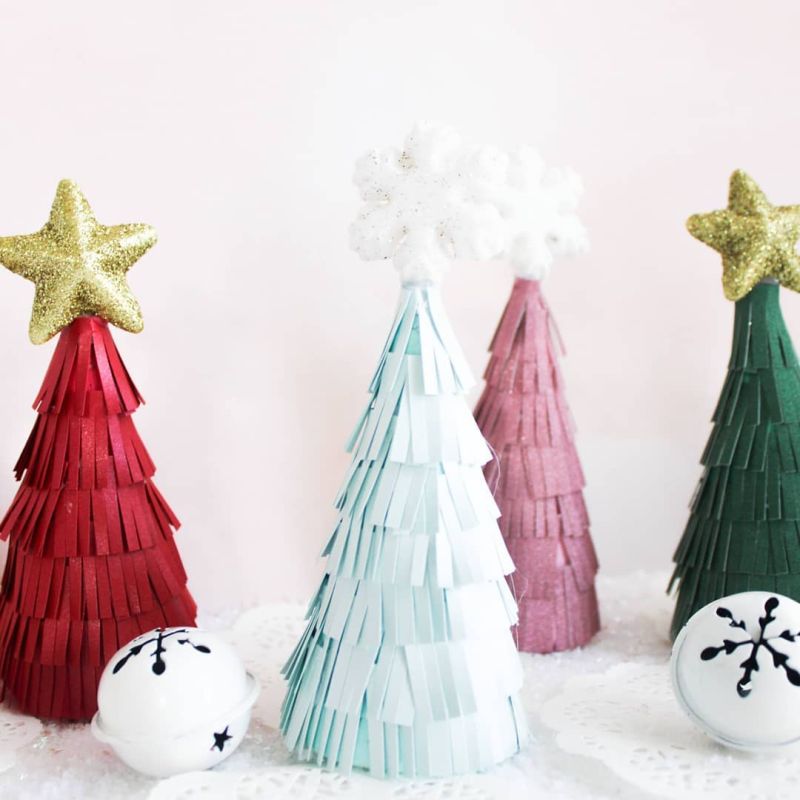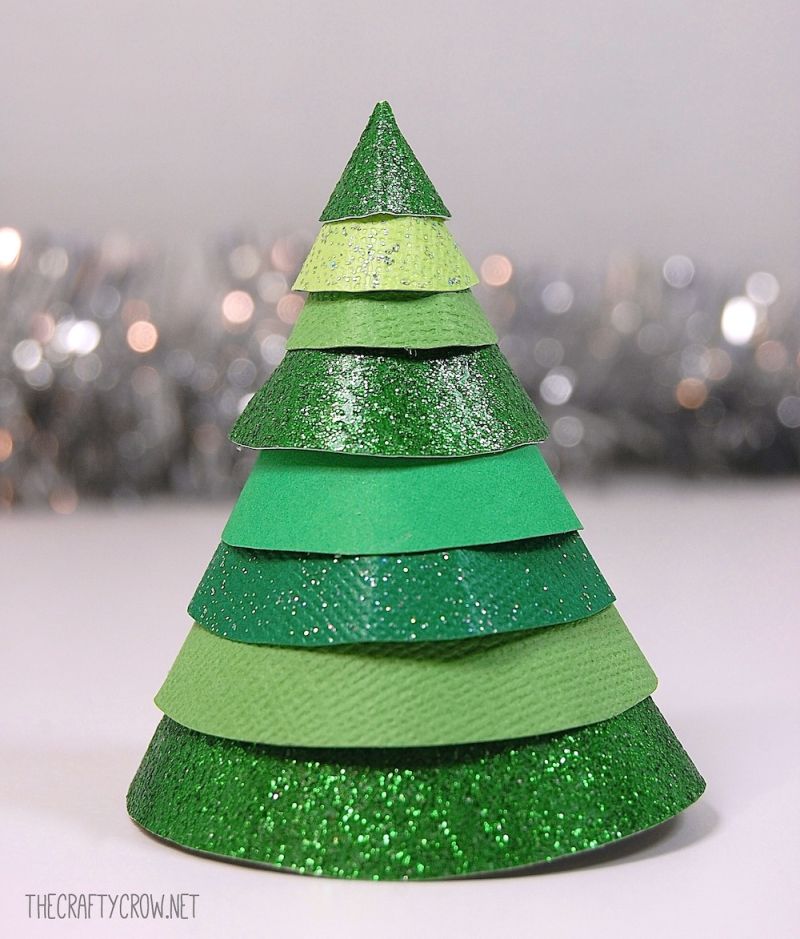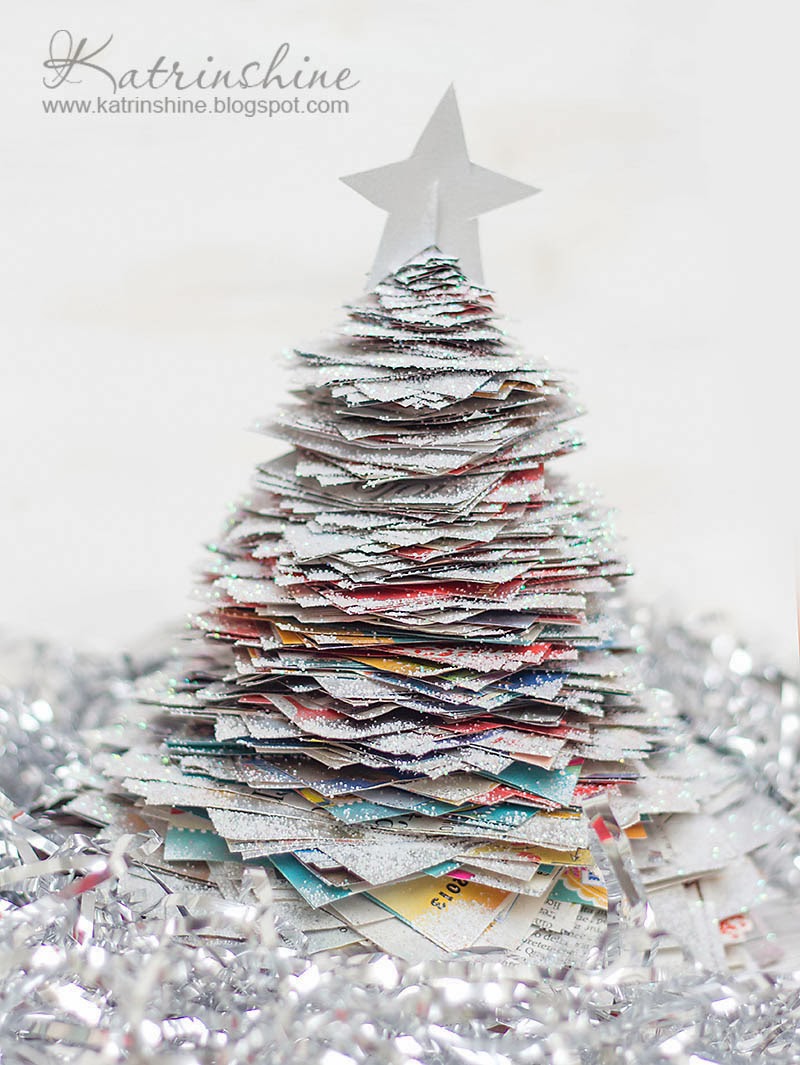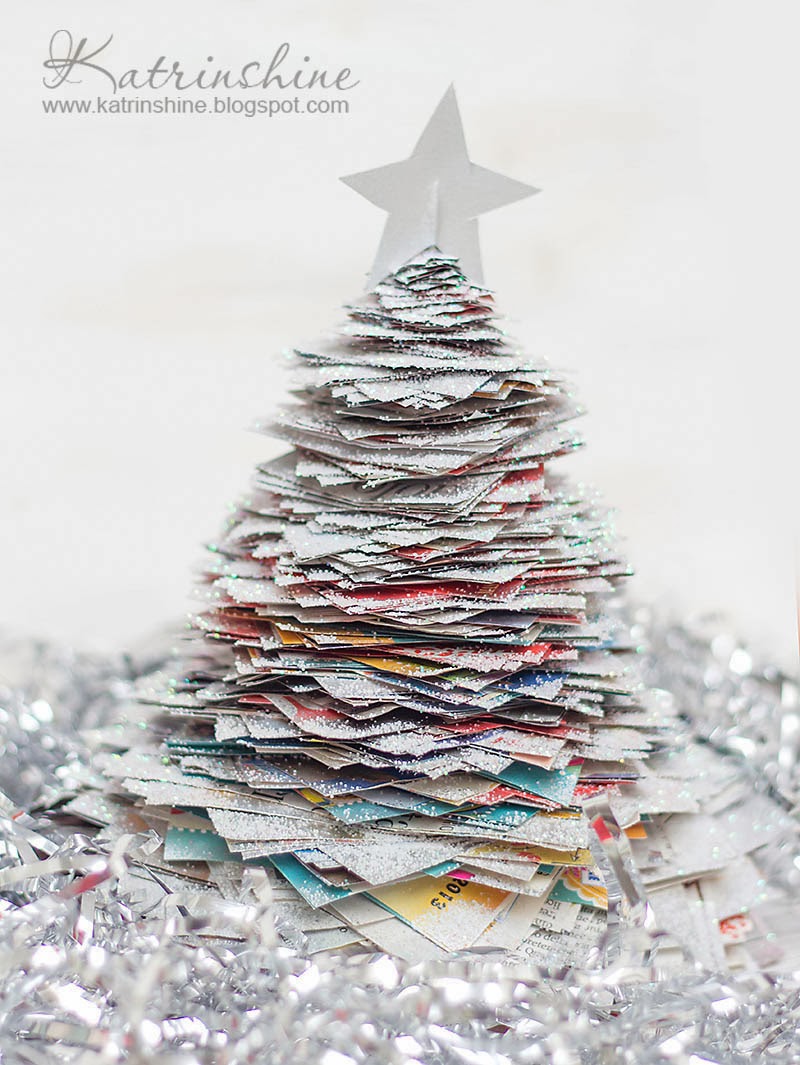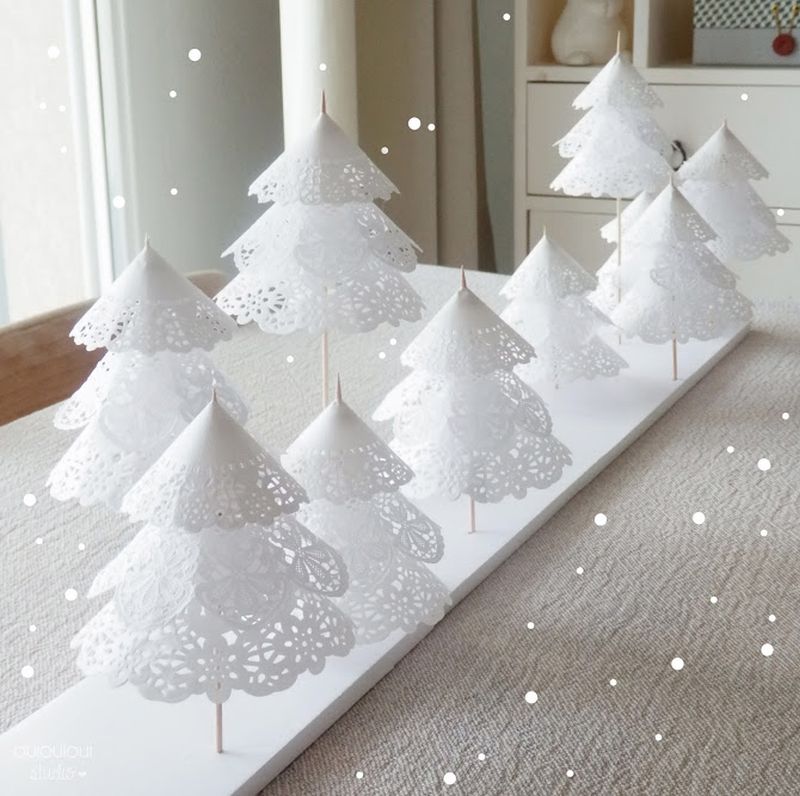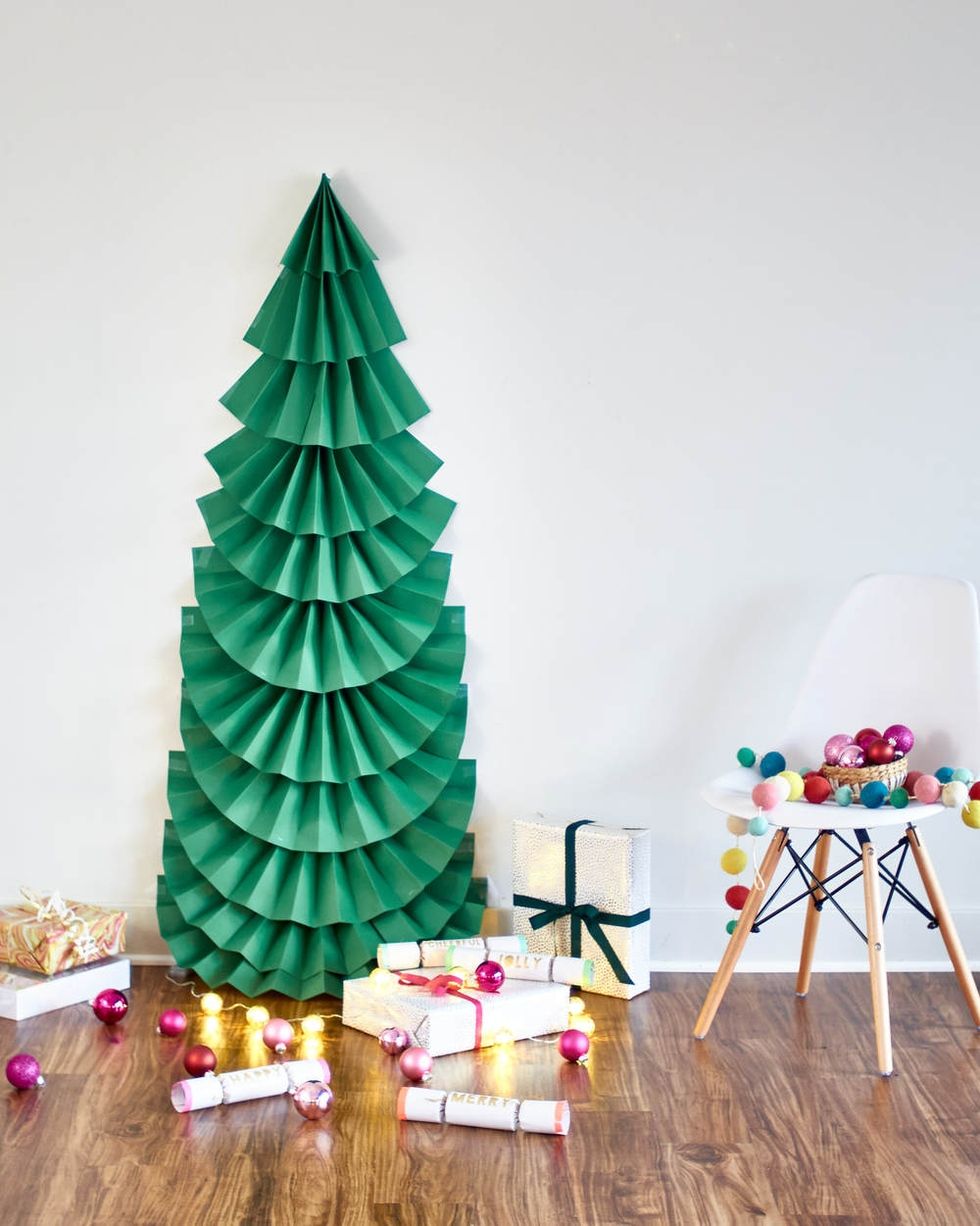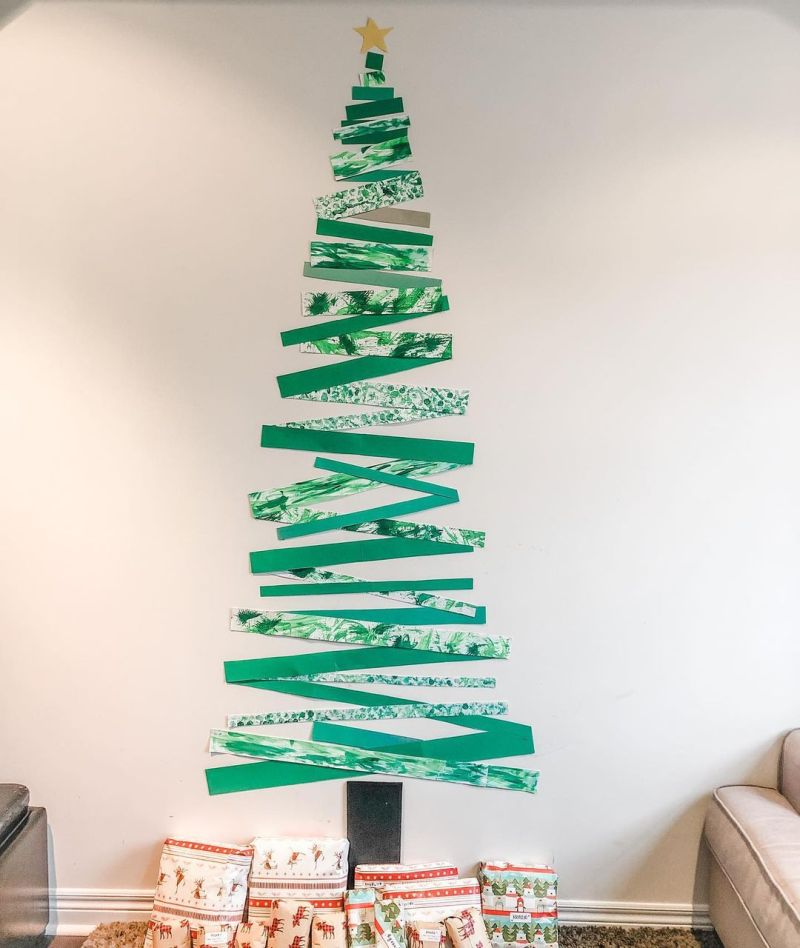 Also Read: Homemade Christmas Tree Ornaments
Tissue Paper Christmas Tree
Fold a paper to form a cone and glue it all over with pieces of tissue paper to make this wall-hanging tree. Decorate it with small beads and voila, you have a Christmas tree ready.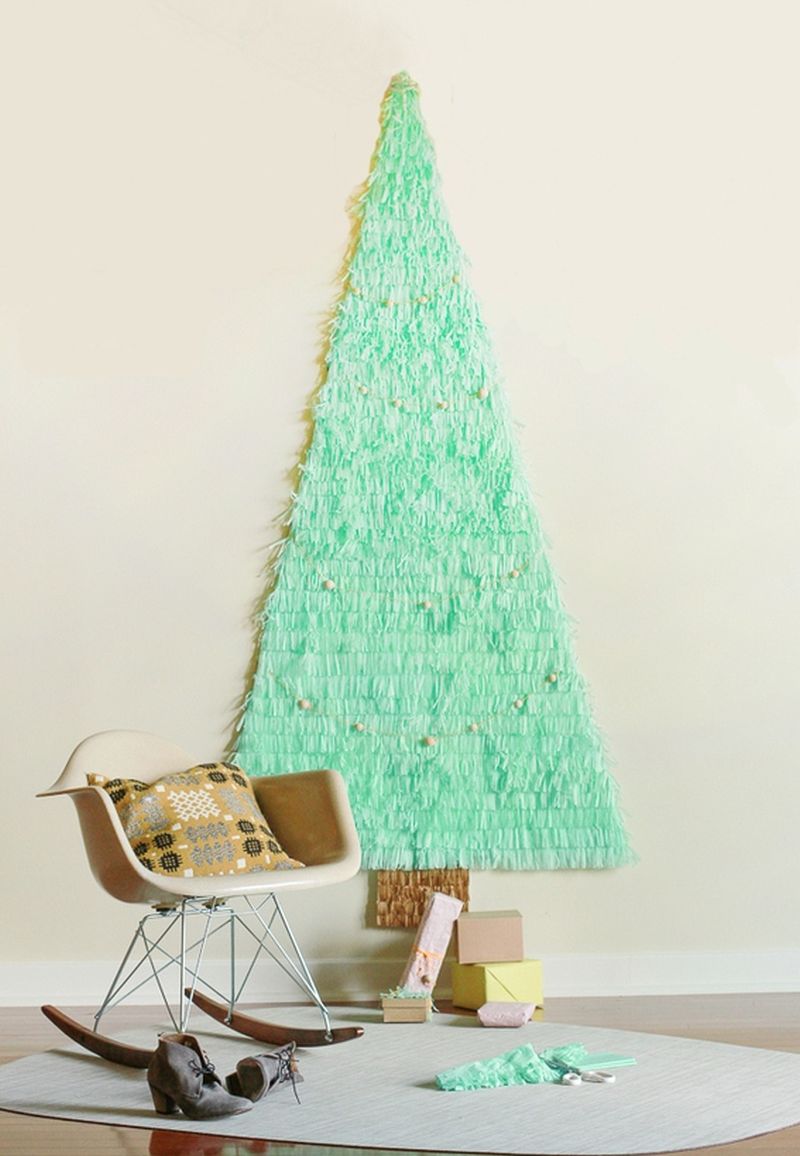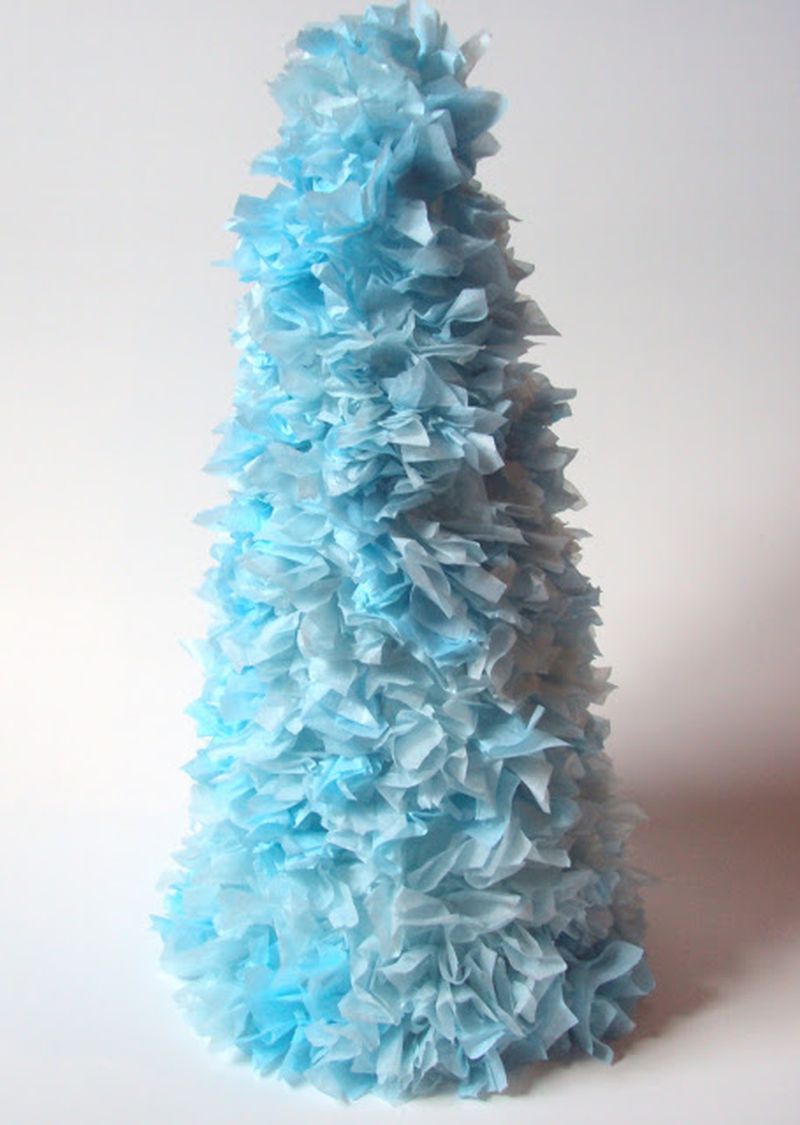 Book Christmas Tree
Don't let your collection of books bite the dust. You have a good option of using them as an elegant Christmas tree. It will be a bibliophile's dream come true. You just need to stack the books so they look like a Christmas tree. Embellish the tree with the desired Christmas tree decorations and it's ready to be a conversation starter in the room.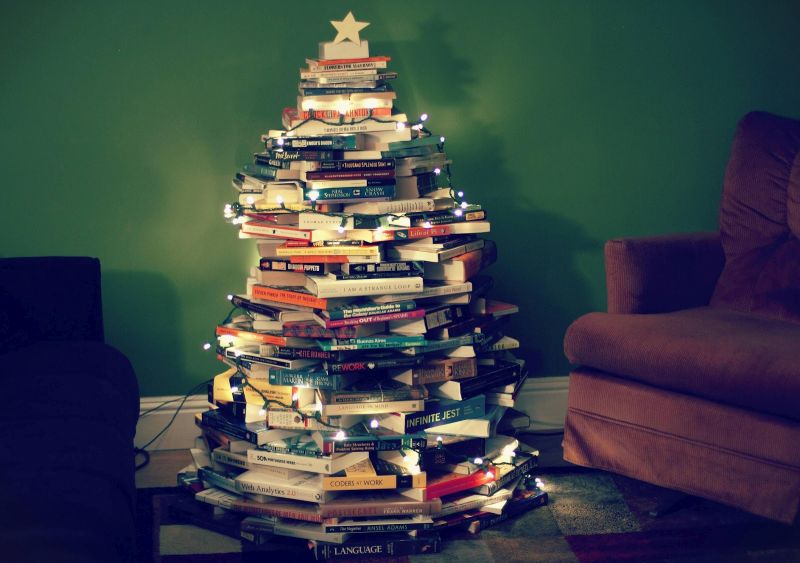 Cupcake Liner Christmas Tree
This is a simple Christmas centerpiece that can be prepared easily using cupcake wrappers. It is ideal to use different colors of cupcake liners. The base can also be prepared to give it a more elegant look. You can place the tree on a table or mount it on a wall.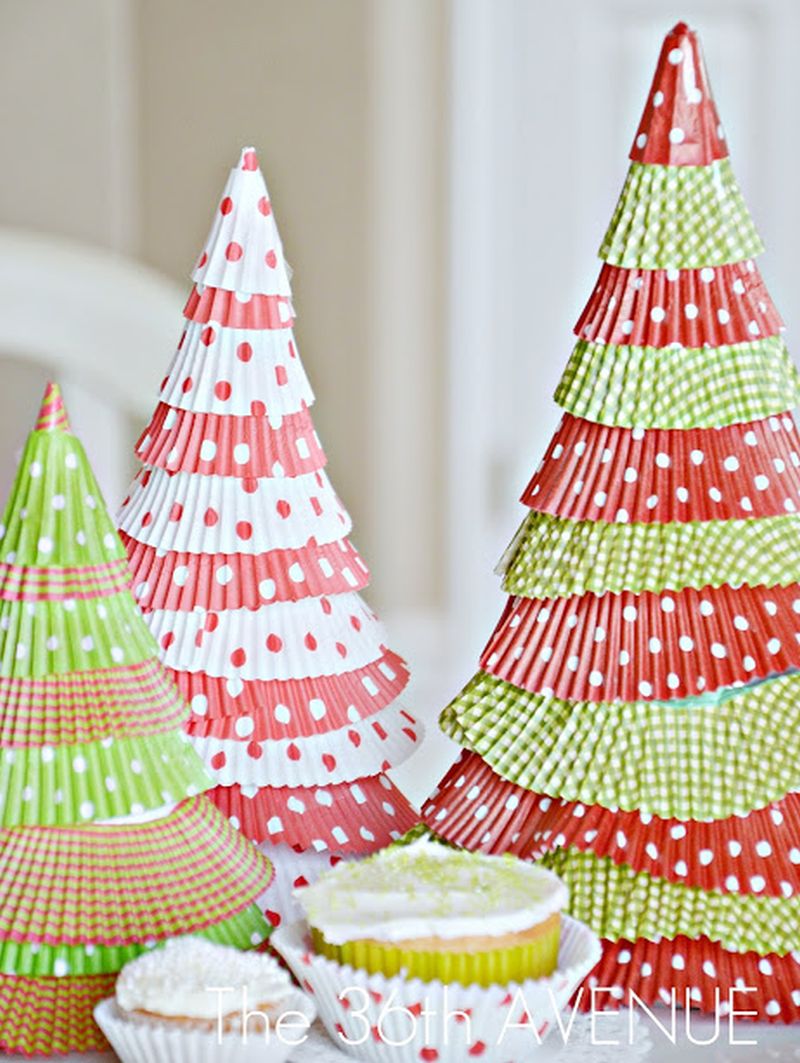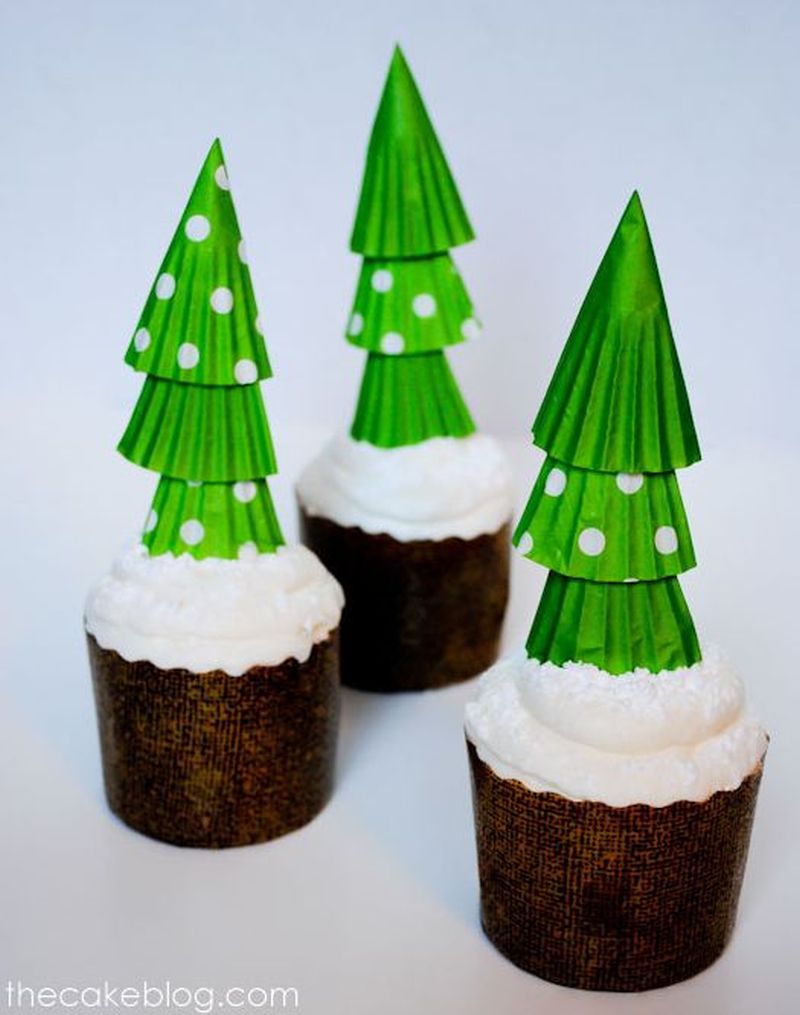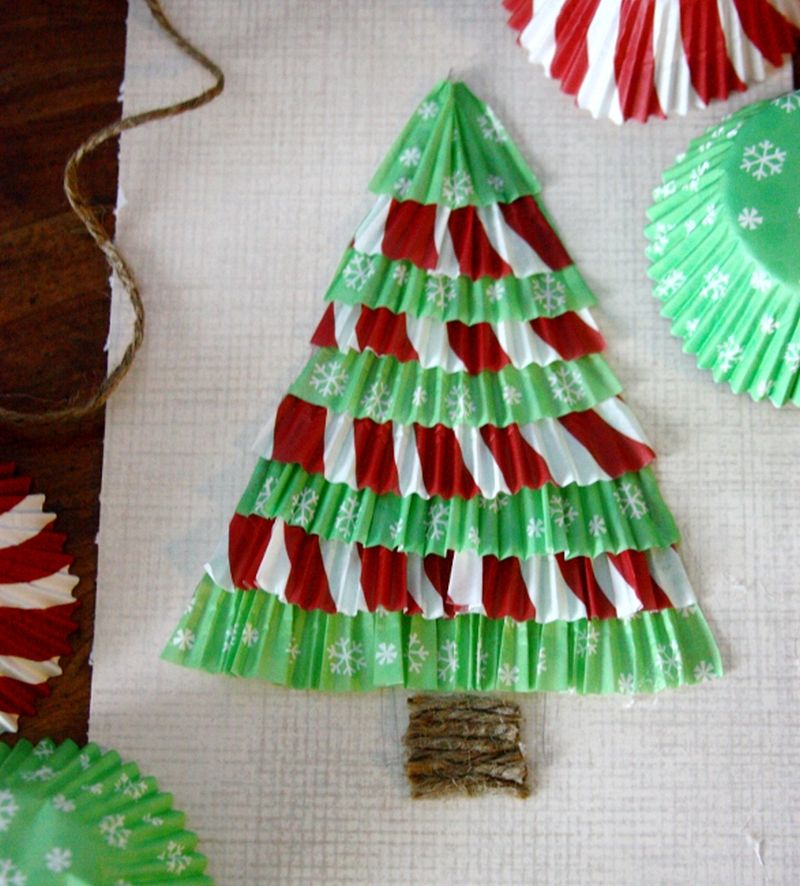 Cardboard Christmas Tree
Do not throw away cardboard boxes you've got with the newly bought refrigerator, washing machine, or TV. Use them for your decoration by making a Christmas tree out of them. The DIY is easy, you can involve your little ones with you in the making. Draw some inspiration from the ideas below. Happy building!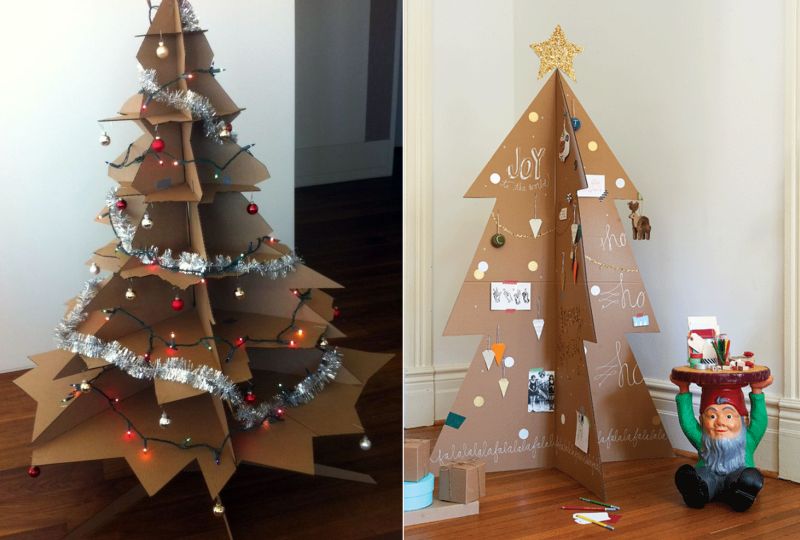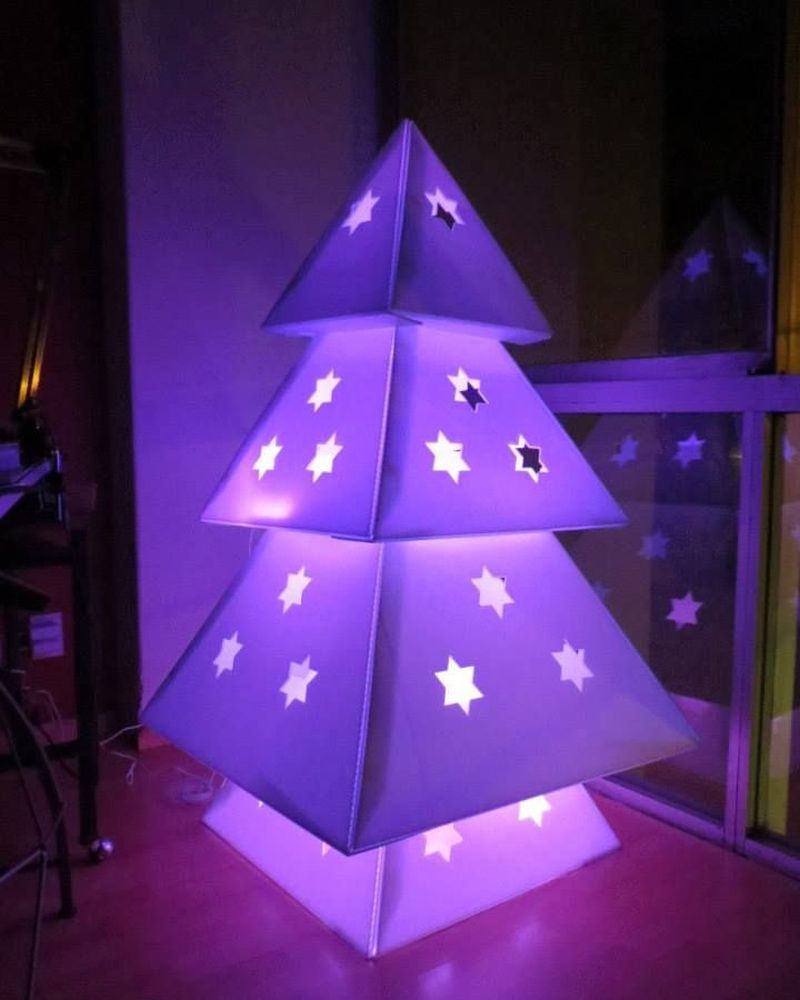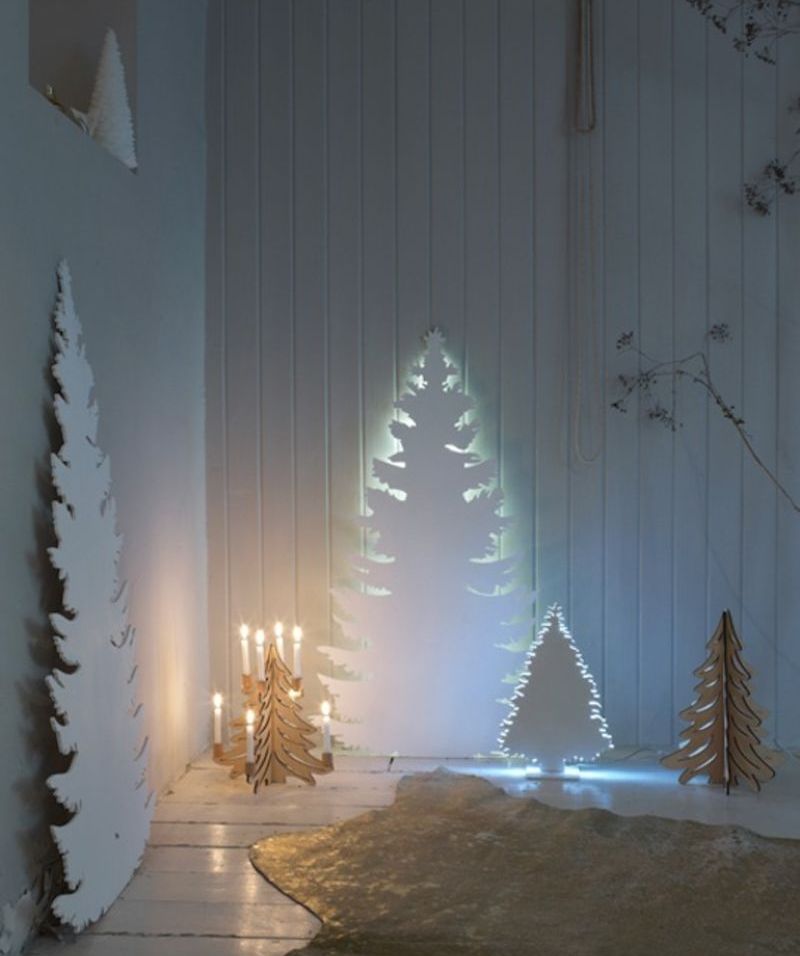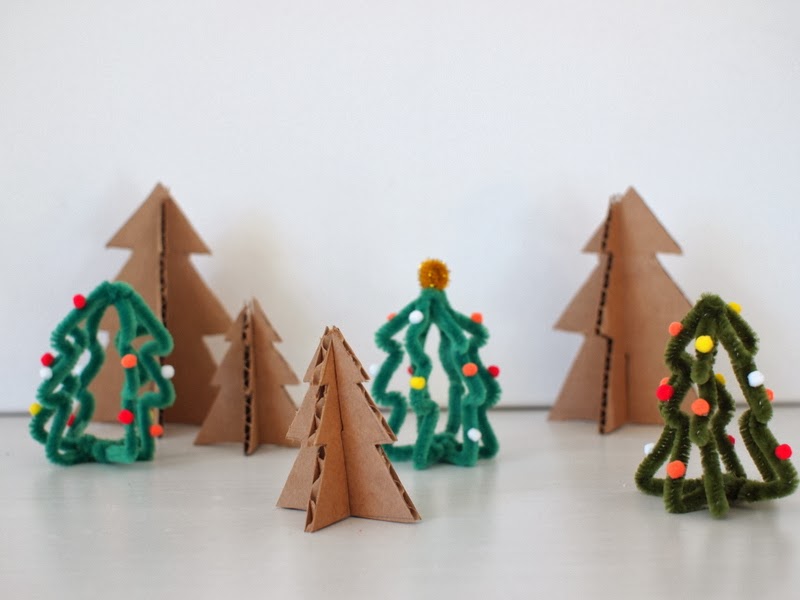 Wine Cork Christmas Tree
You can make a whimsical tabletop Christmas tree using unused wine corks. Start with gluing up the corks in an upright position around a Styrofoam cone leaving small gaps between each cork for battery-powered lights. Decorate with a bow, star, or other small ornaments of your choice and your tree is ready.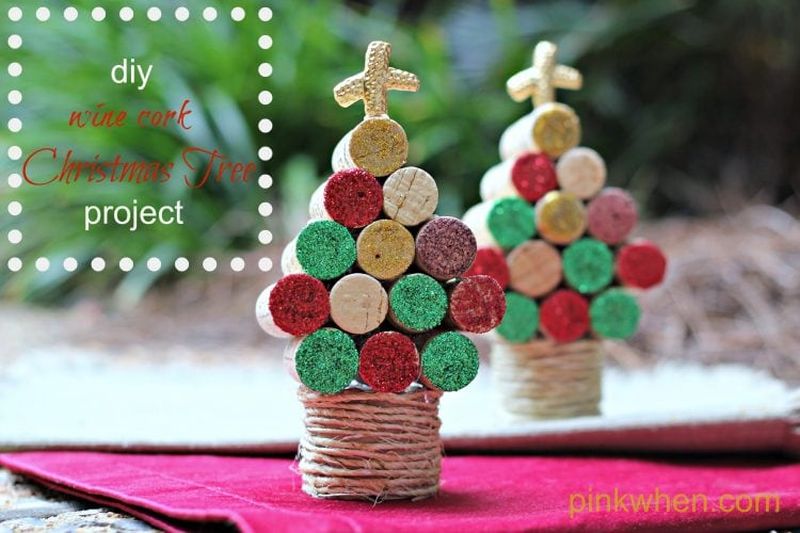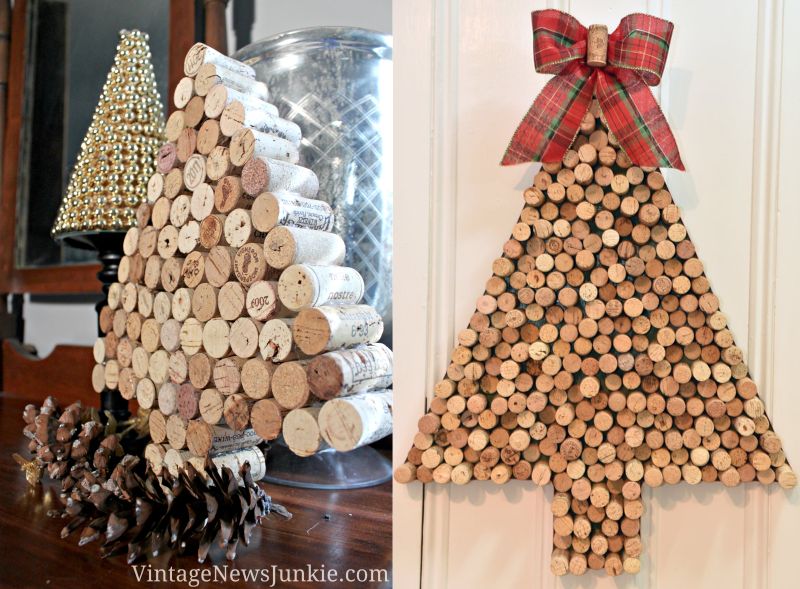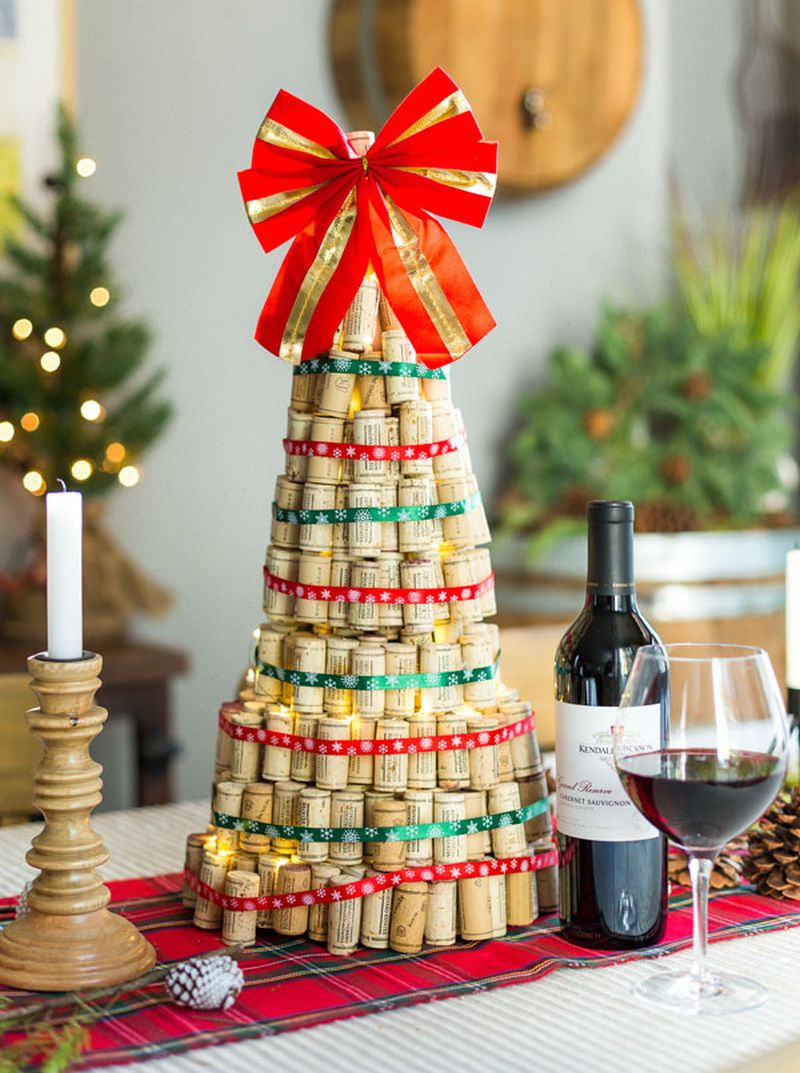 Hanging Christmas Tree
Weave together shiny Christmas tree ornaments of the same or different colors and suspend them using thin threads. Use green ornaments if you want to get a reflection of a natural tree. You can hang this unusual Christmas tree at any central location within the living room. See below some Christmas tree mobiles you'd love.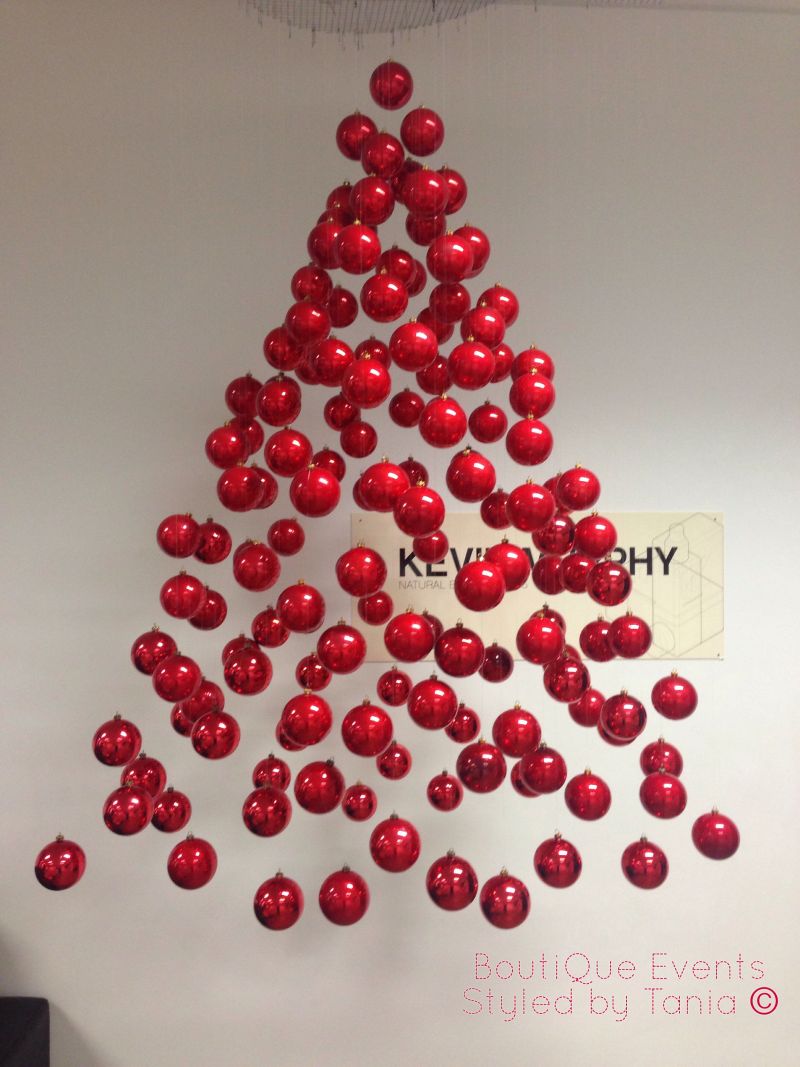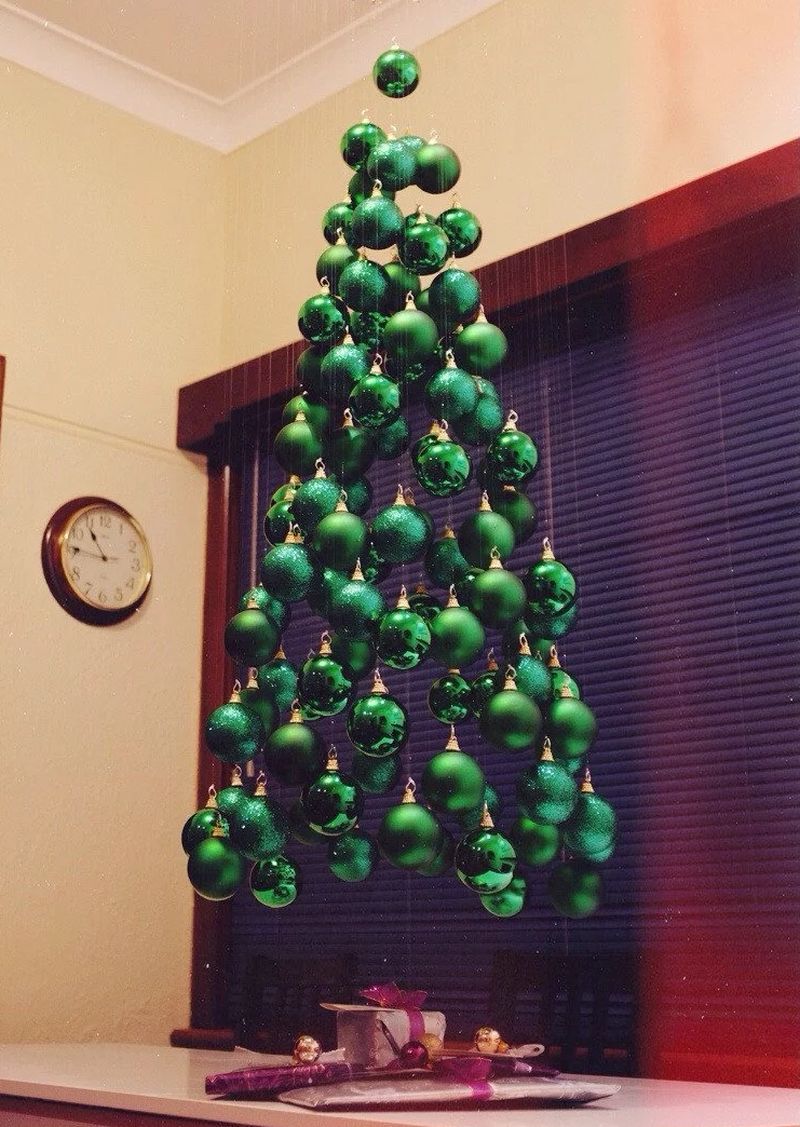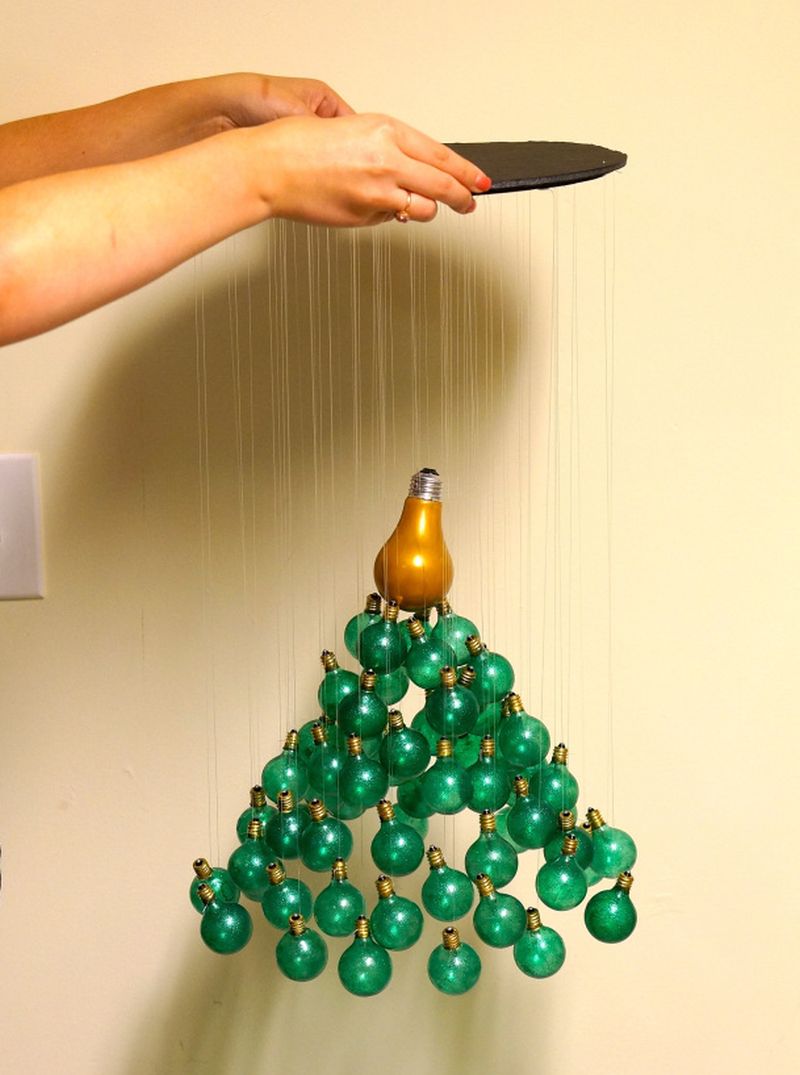 Terracotta Pot Christmas Tree
You'll need terracotta clay pots of different sizes for this DIY Christmas tree. Just paint them and stack one over the other for them to look like a tree. Decorate it with beads, gems, glitter, and a star tree topper. See some ideas for inspiration below.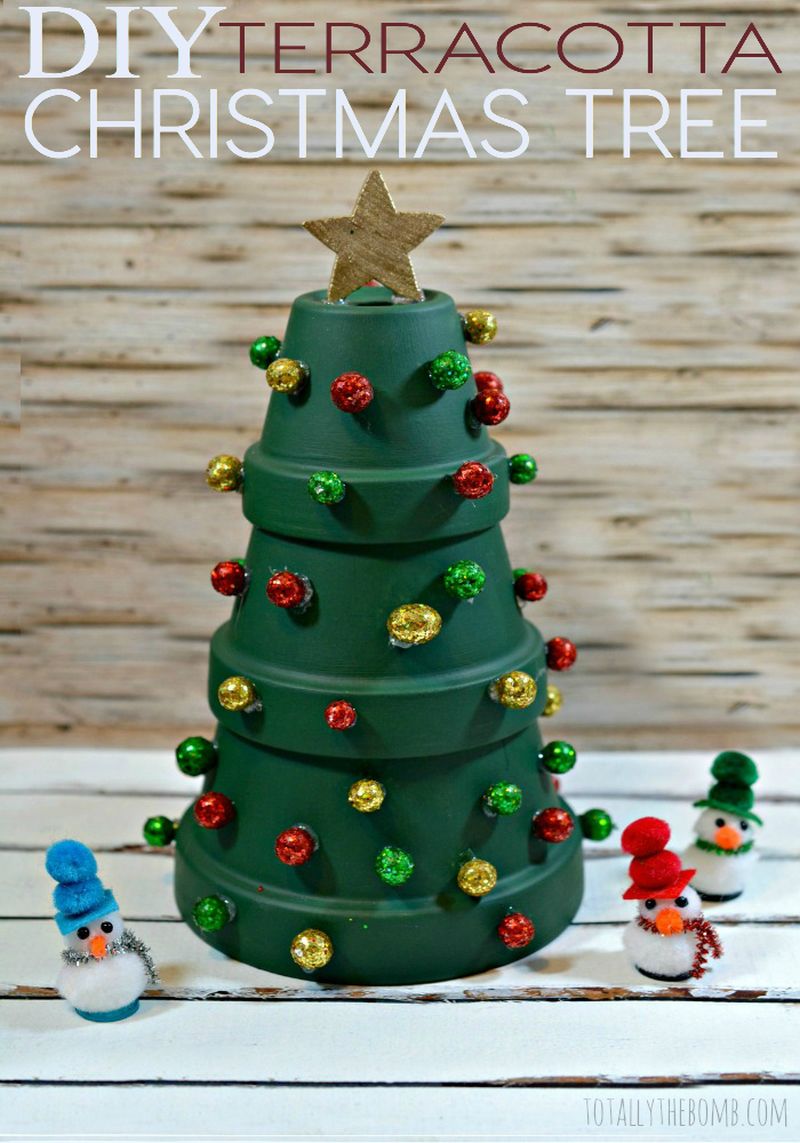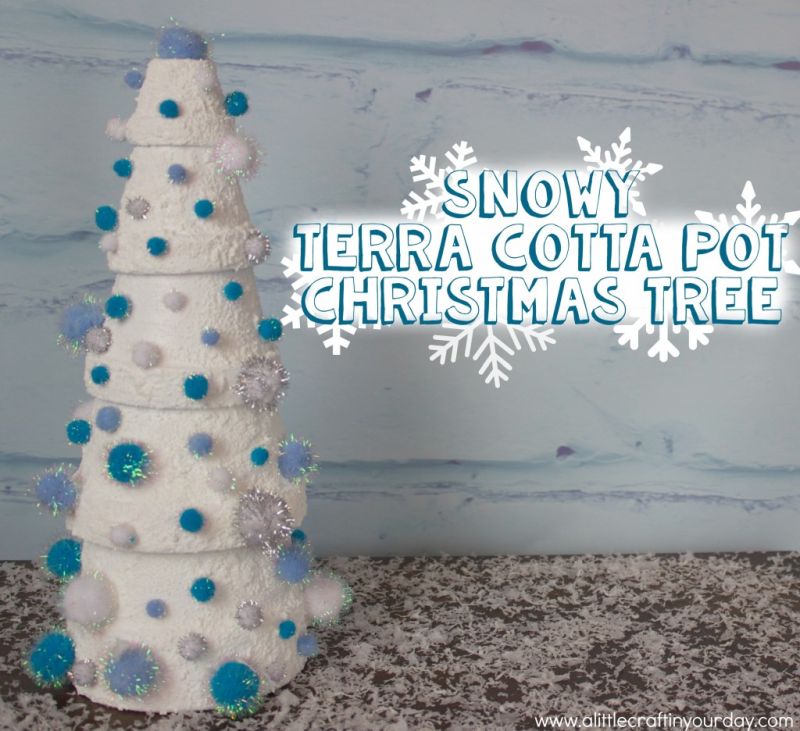 Yarn Christmas Tree
You can easily make a Christmas tree by wrapping yarn around a cone. The more colorful the yarn, the more exciting and inviting the tree will look.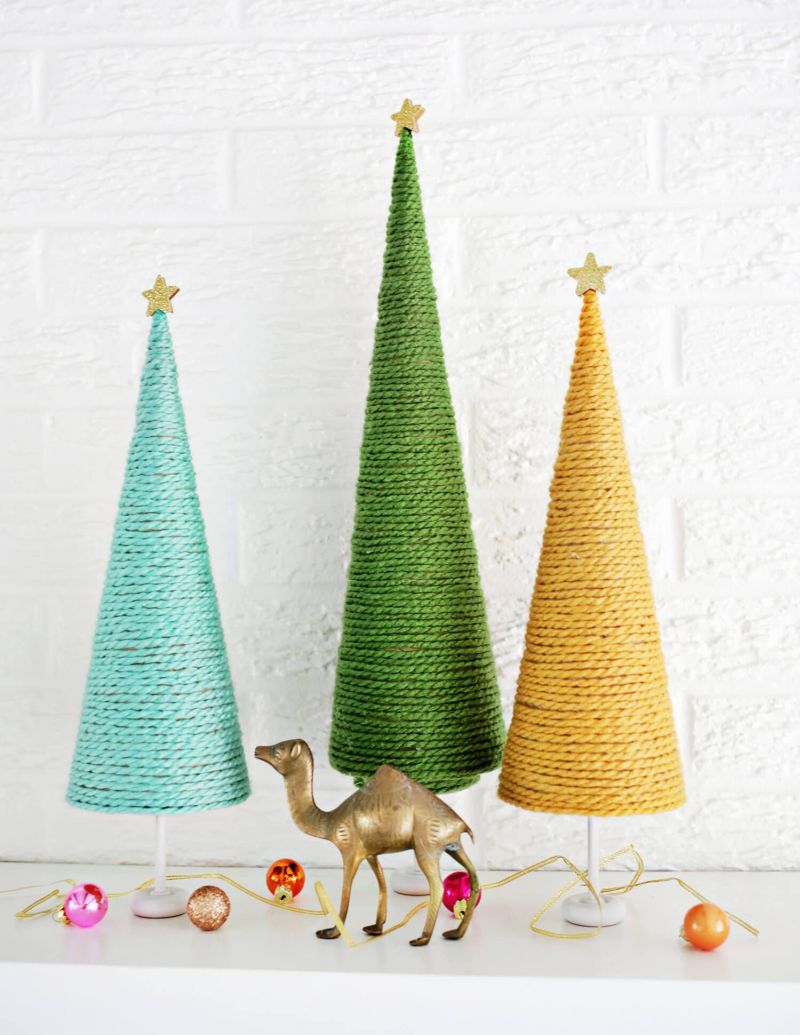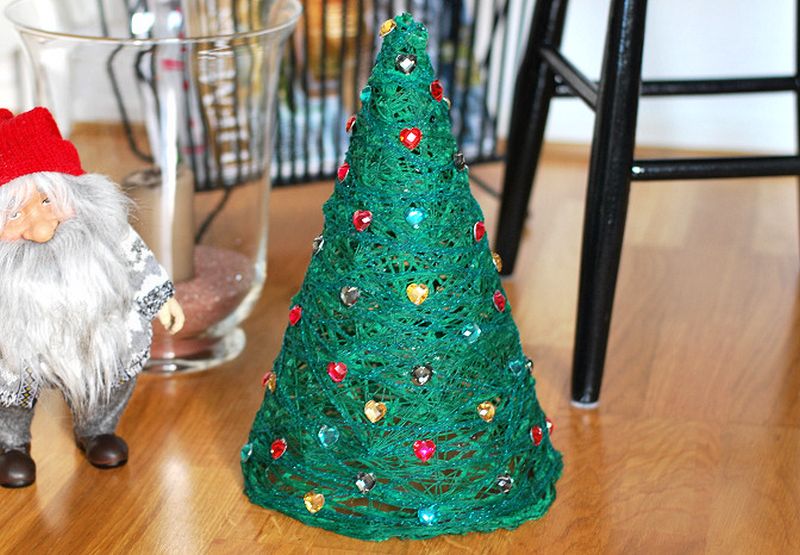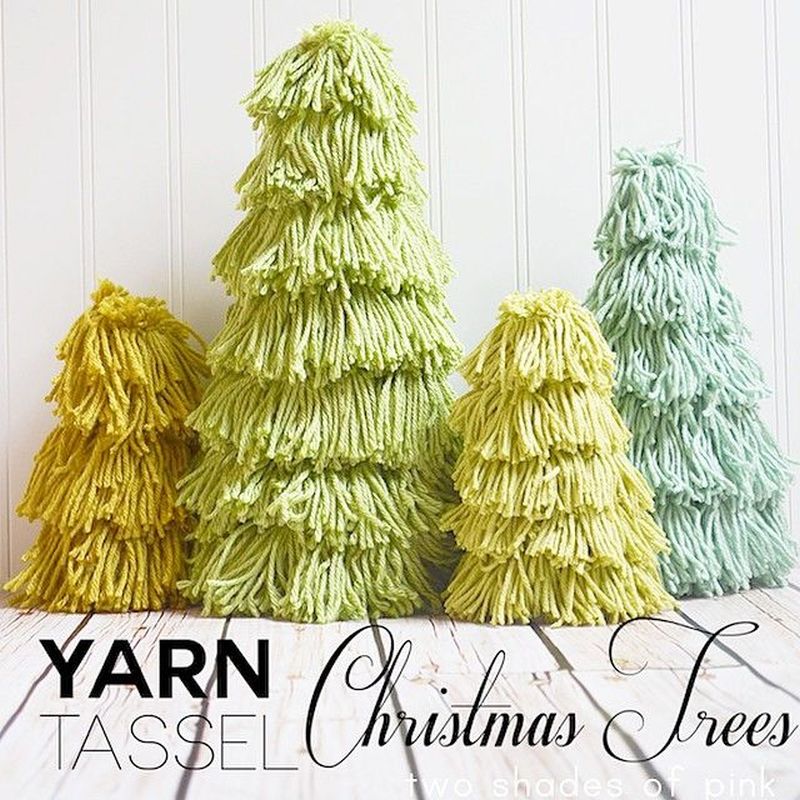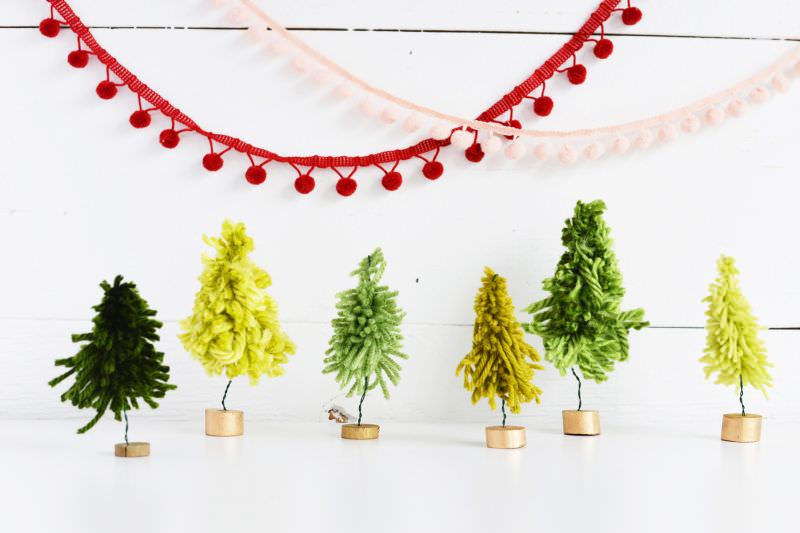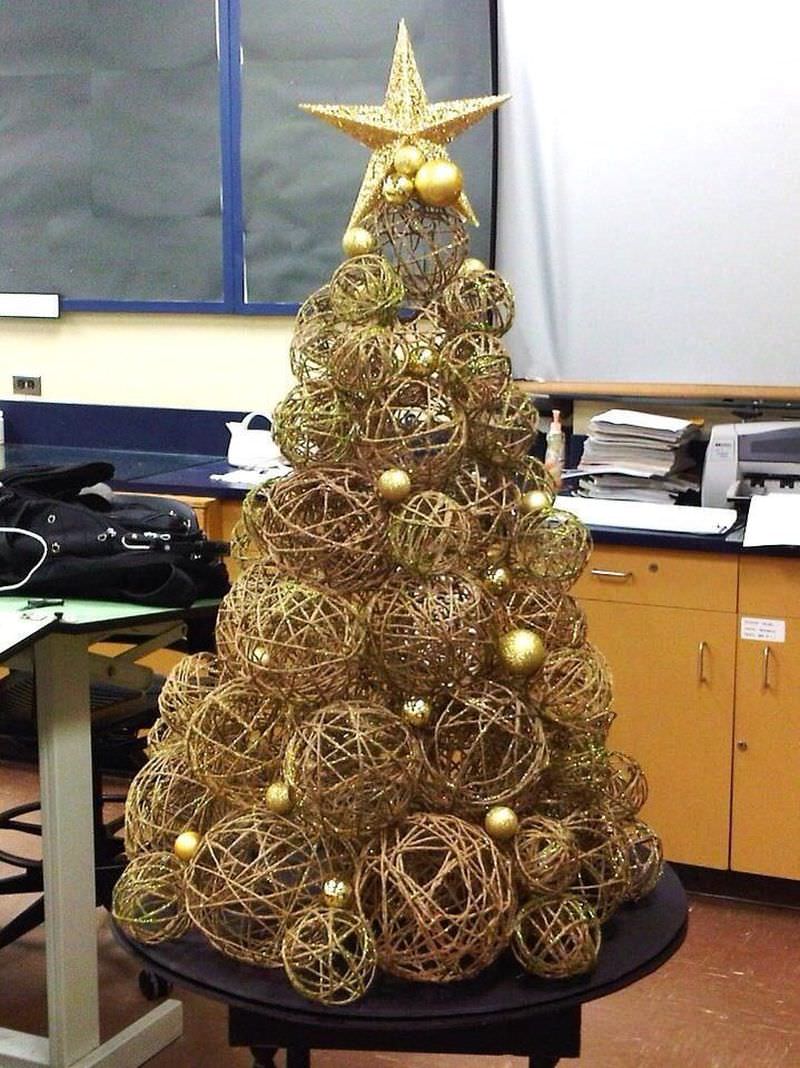 Crochet Christmas Tree
If you are into crocheting, then it is the right time to make some cute crochet Christmas trees, ornaments, and decorations. Show off your skills by making a small or a life-sized Christmas tree. It would be a great addition to the home décor on Christmas.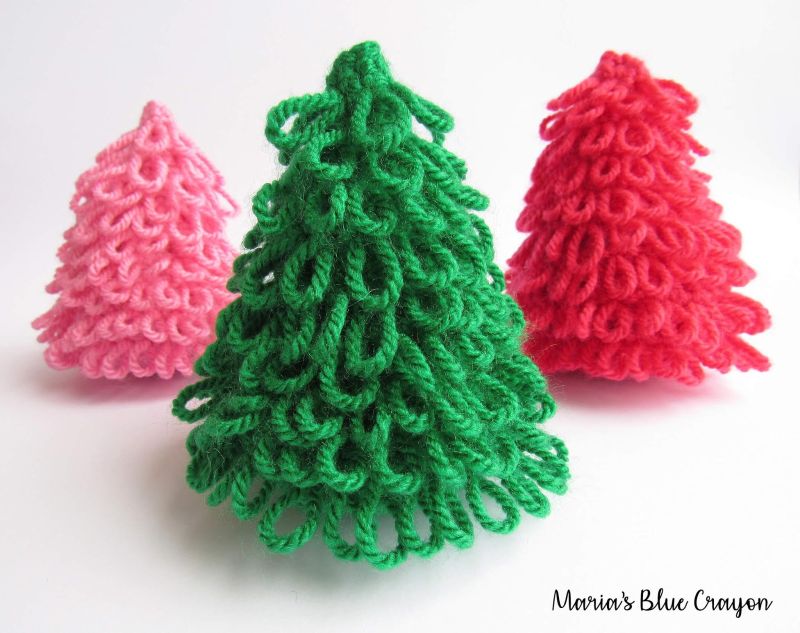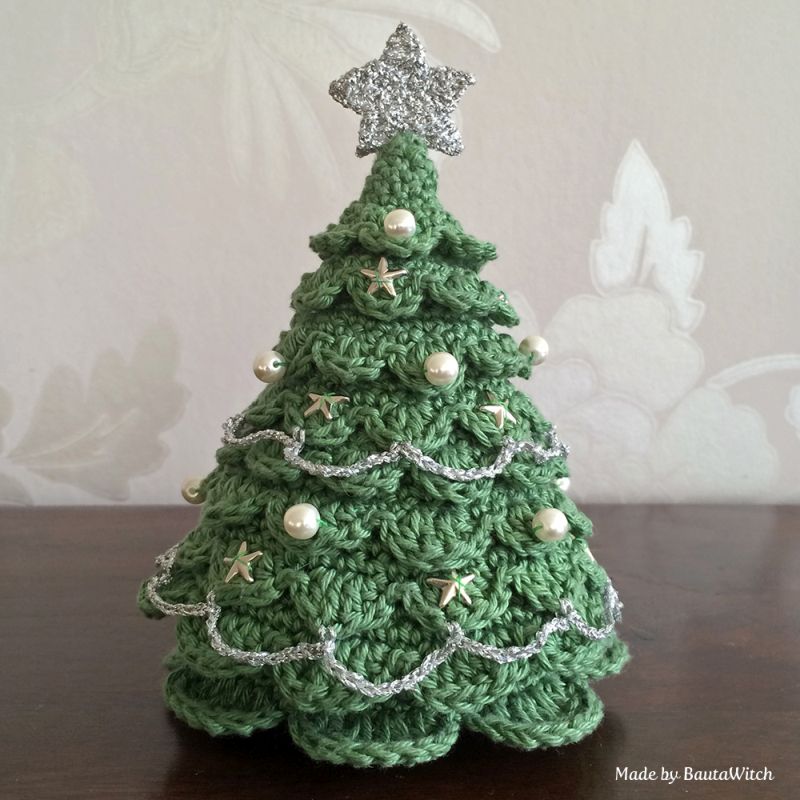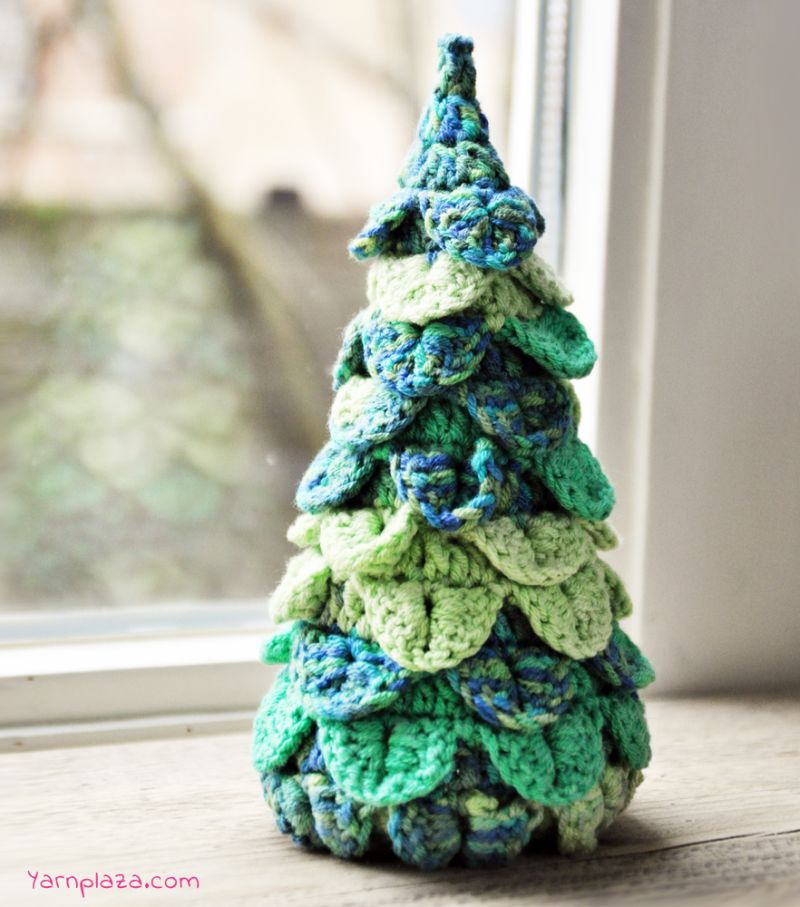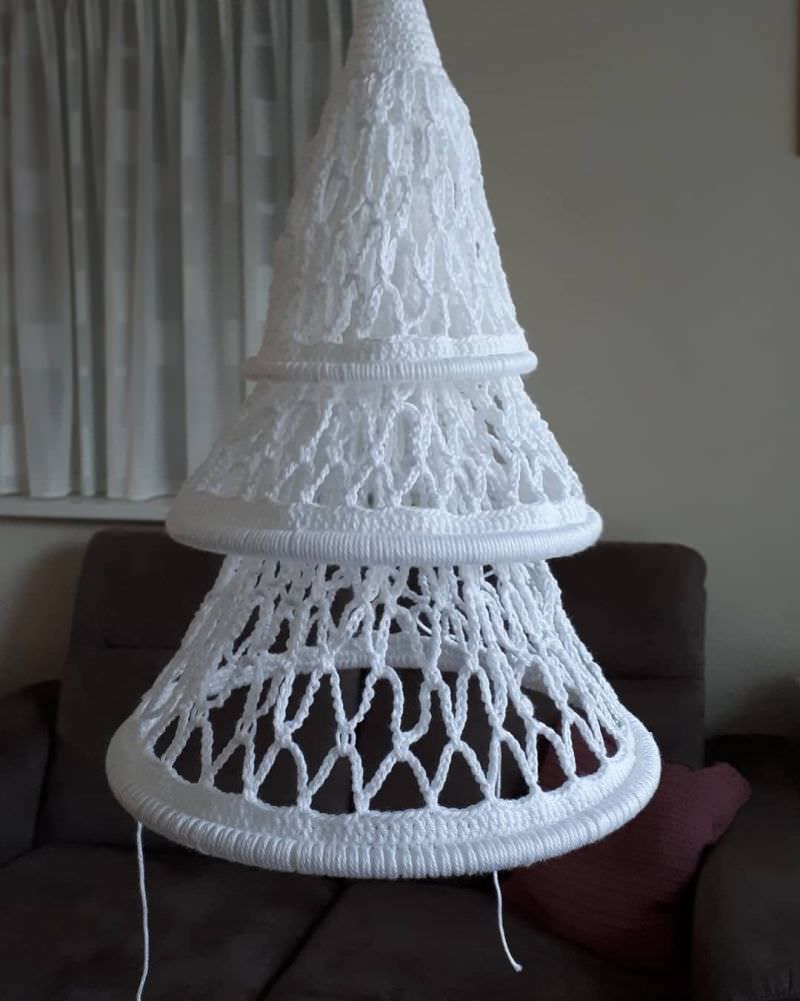 Pom-Pom Christmas Tree
If you are looking for a trendy and easy-to-make Christmas tree, you can make one using pom-poms. Simply glue-up pom-poms on a cone or make a wall hanging Christmas tree with them. These colorful trees will add a vibrant touch to the décor.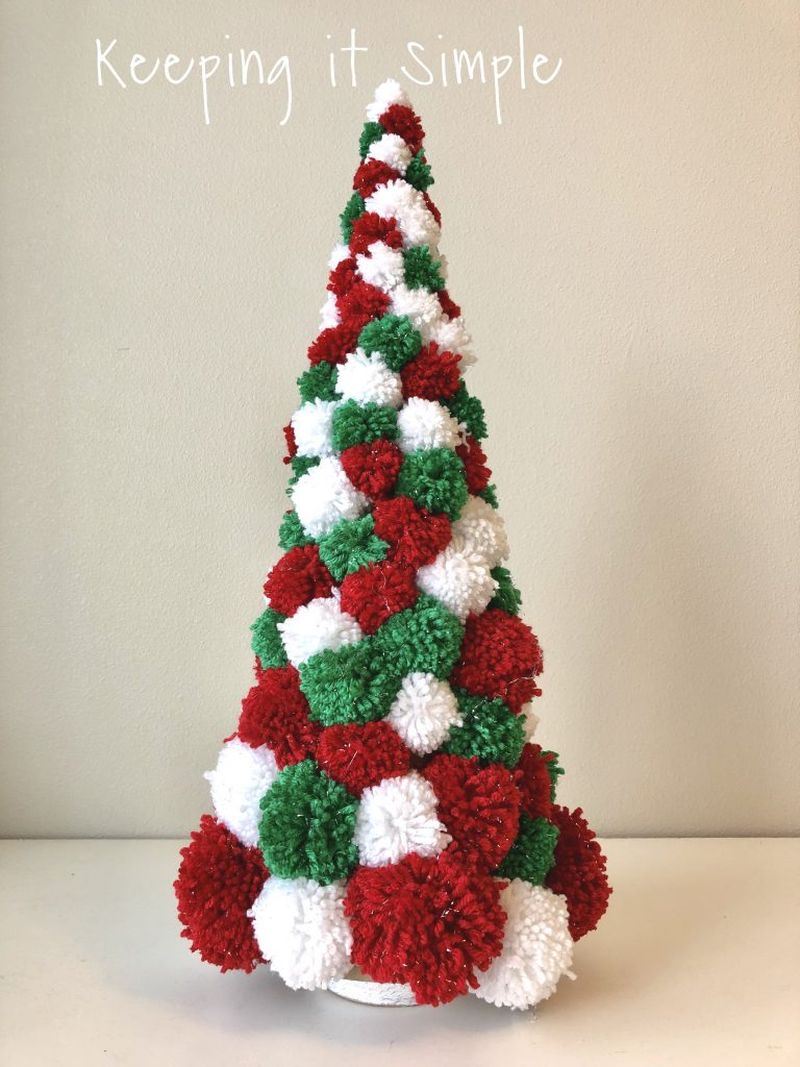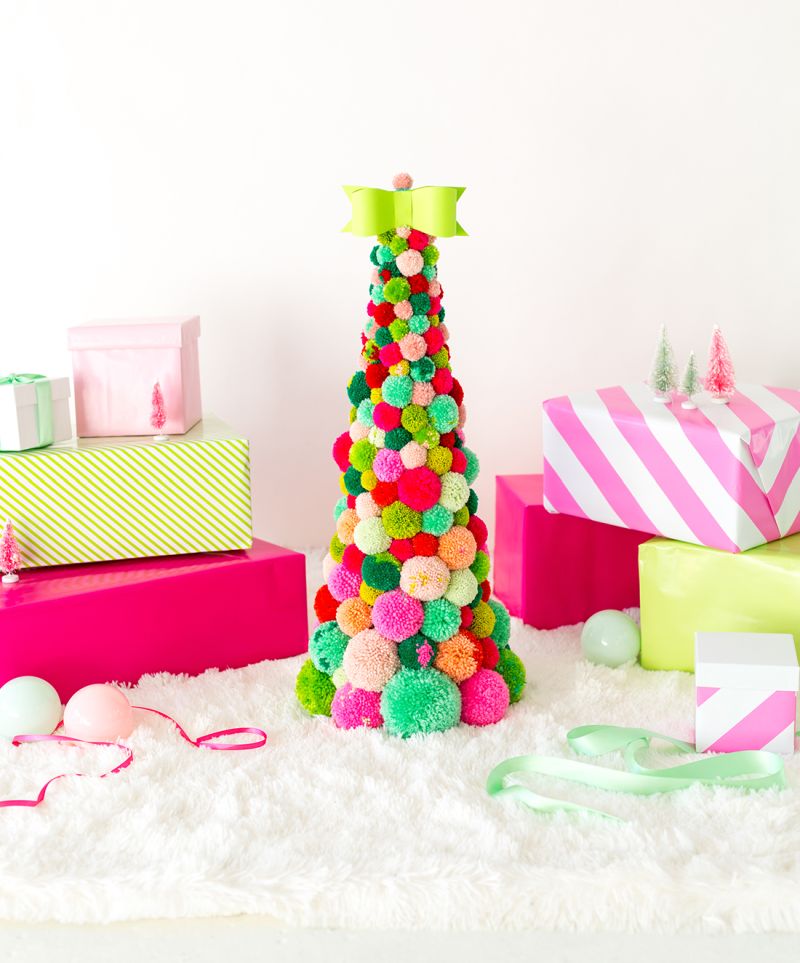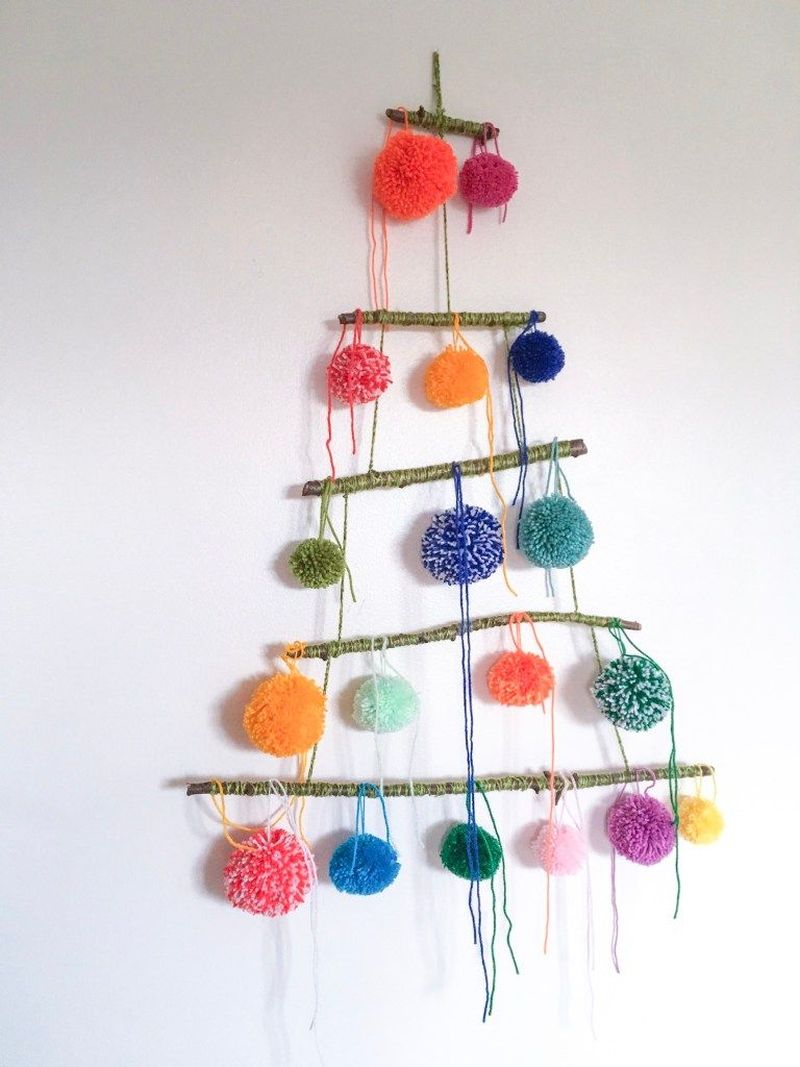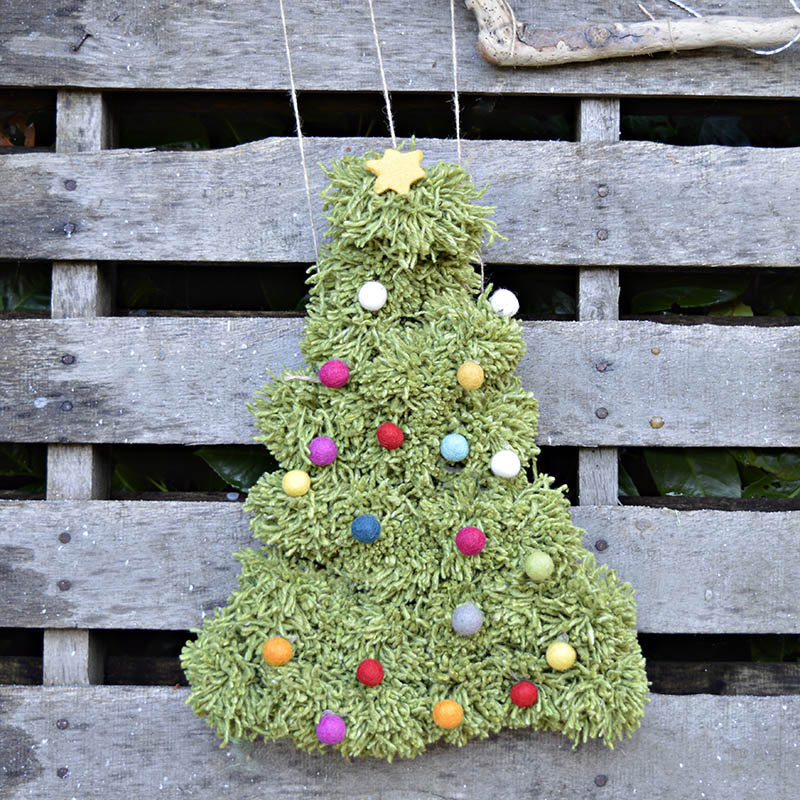 Twine Christmas Tree
Make a cone out of paper and glue twine all around it. Decorate it with buttons and other ornaments to finish the look. Scroll down for some inspirational ideas.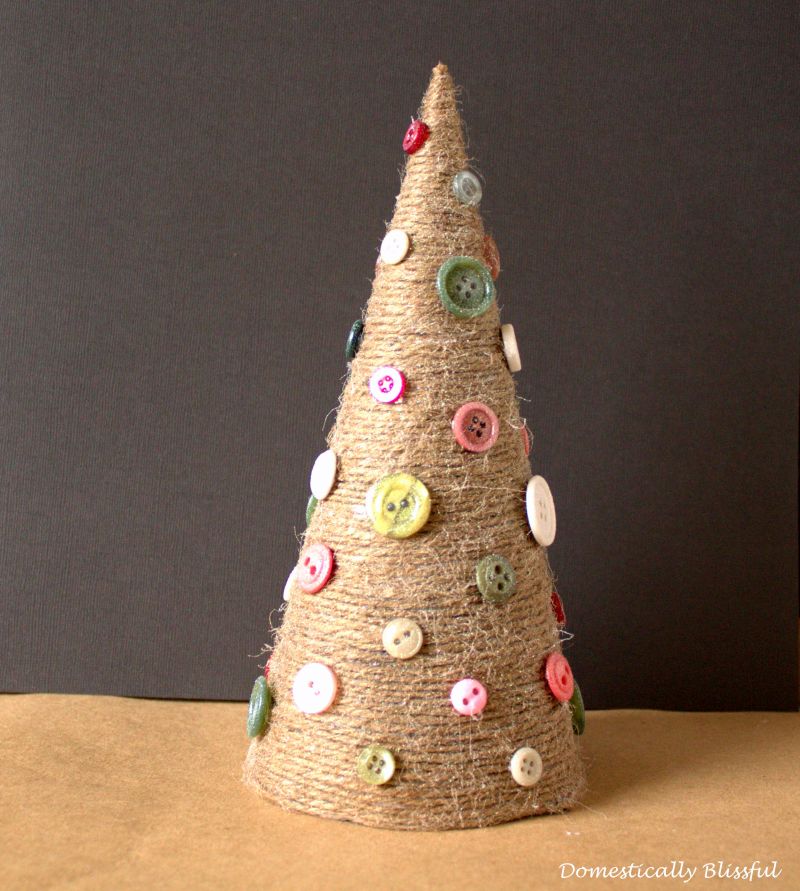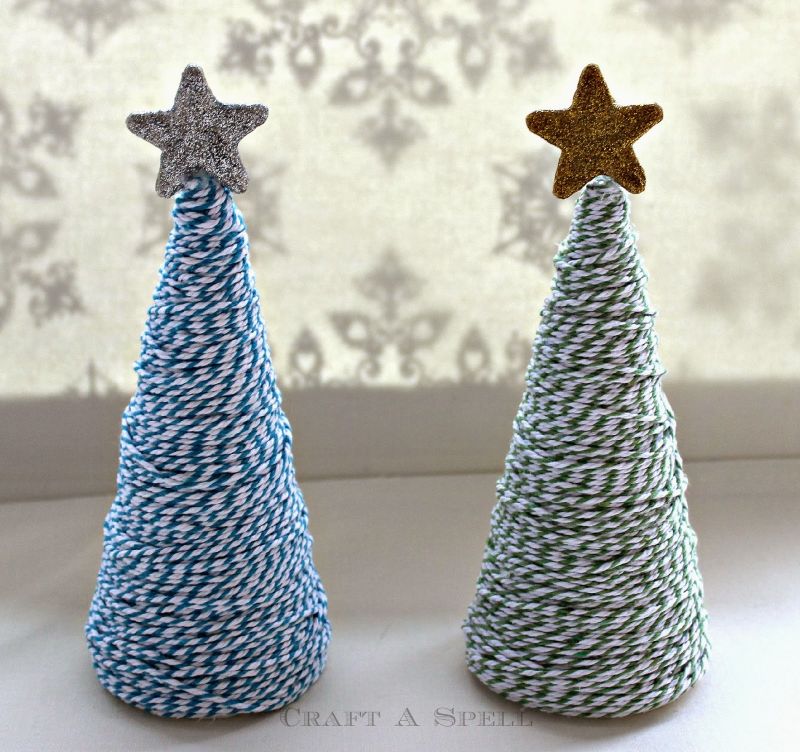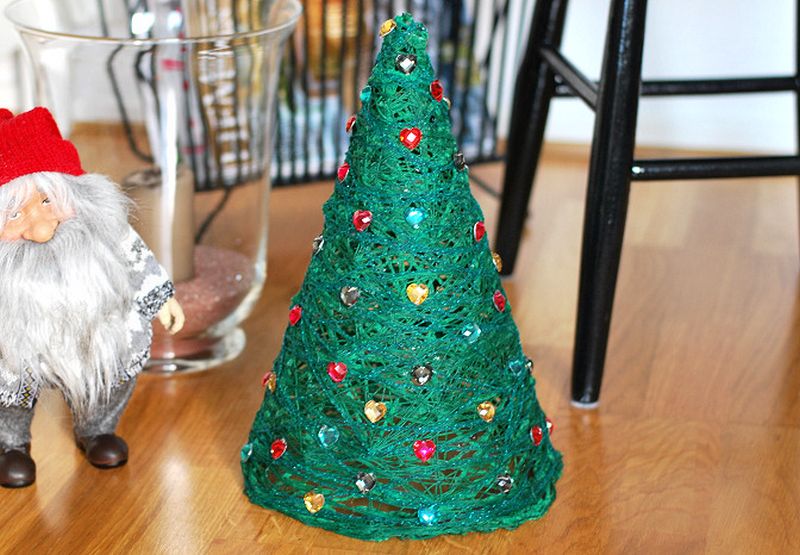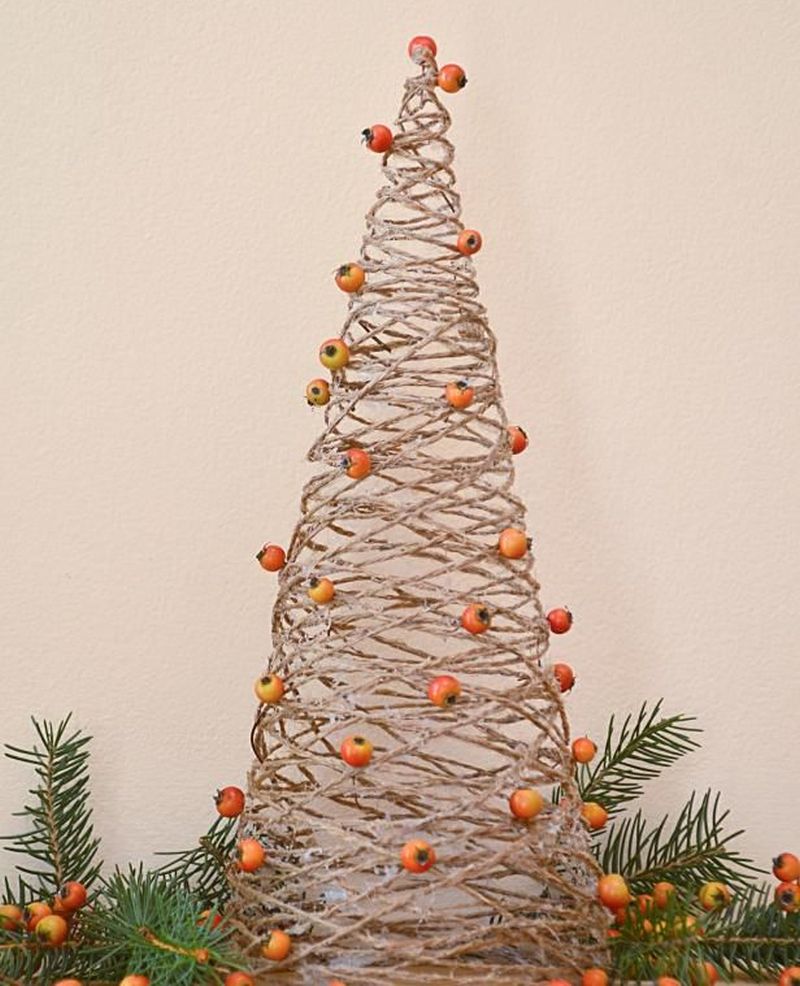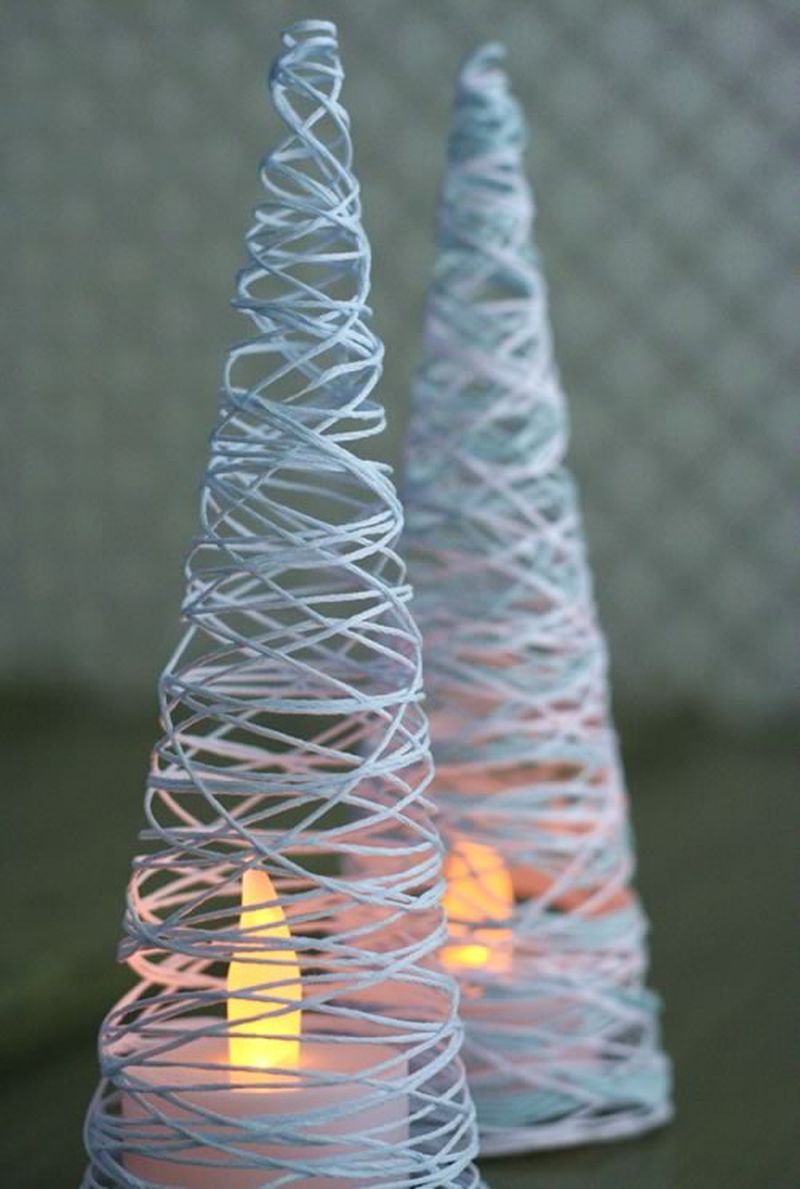 Also Read: Best Christmas Trees Made from Recycled Materials
Fabric, Felt, and Burlap Christmas Tree
You can add a festive décor to your home with Christmas trees made of fabric, felt, and burlap. You will need to hang these trees on the walls; however, you can also make freestanding Christmas trees, if you like. You can add embellishments as per your taste.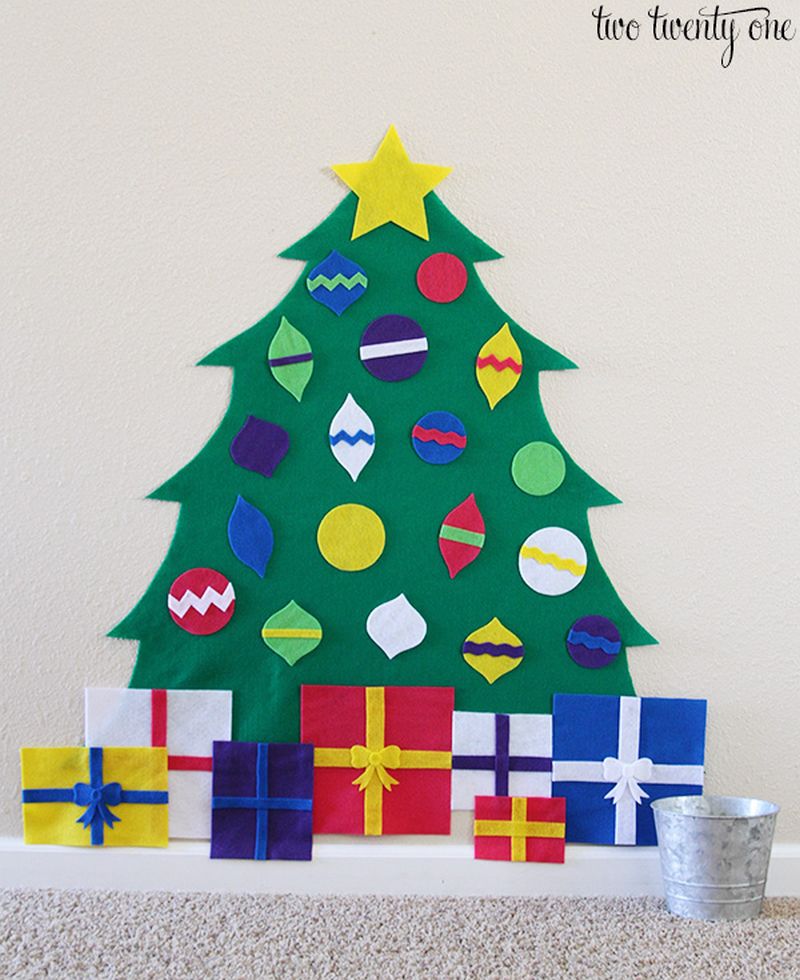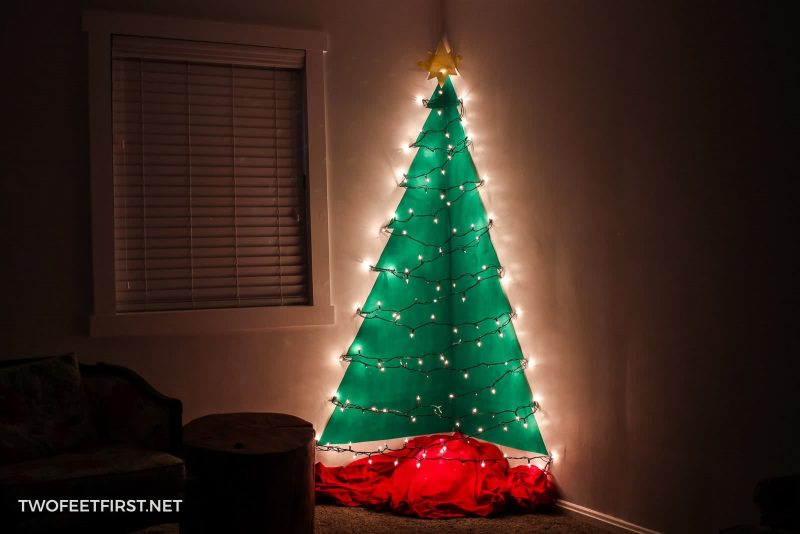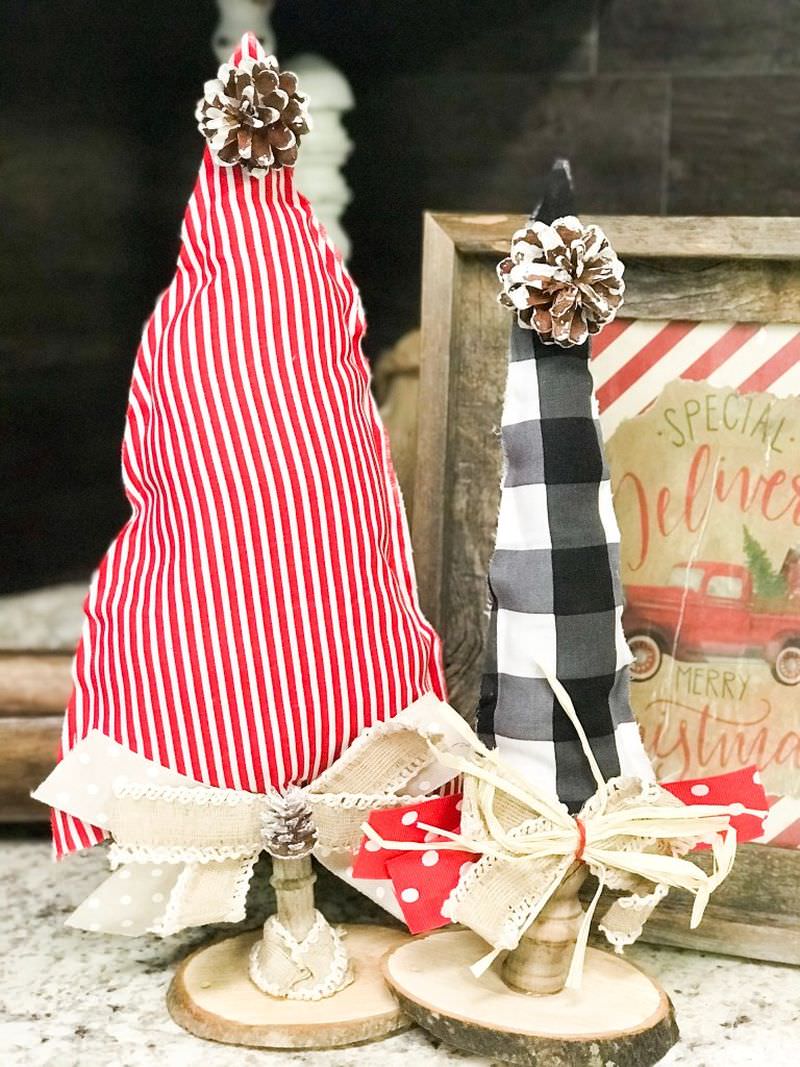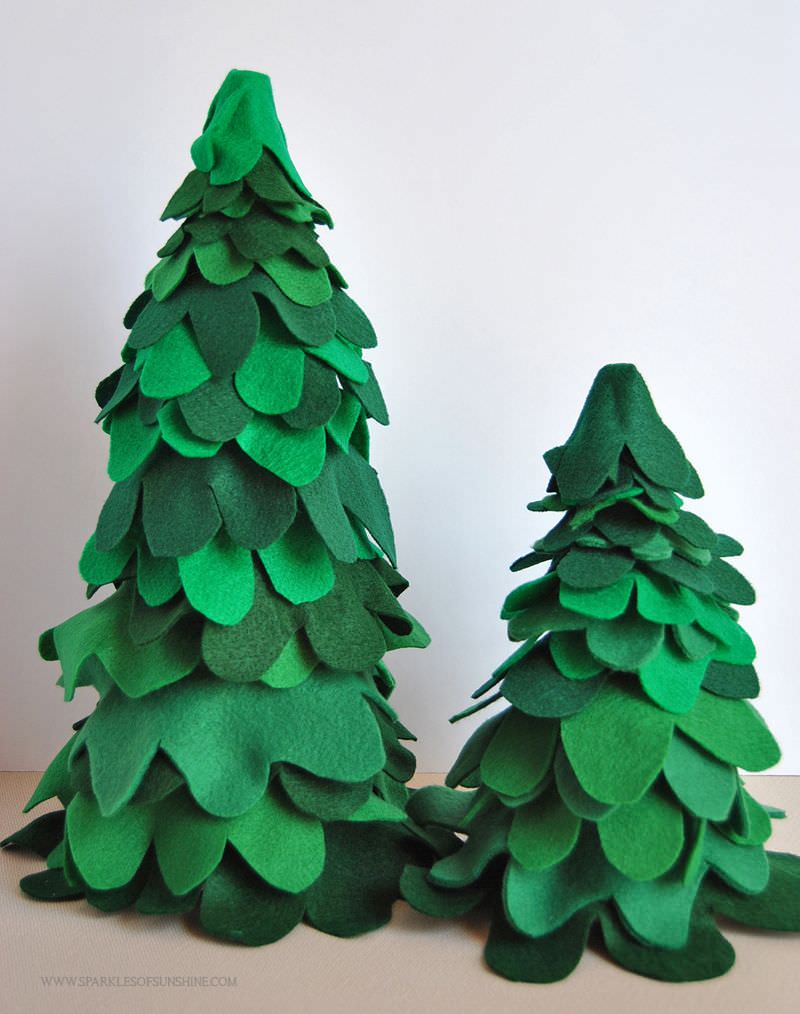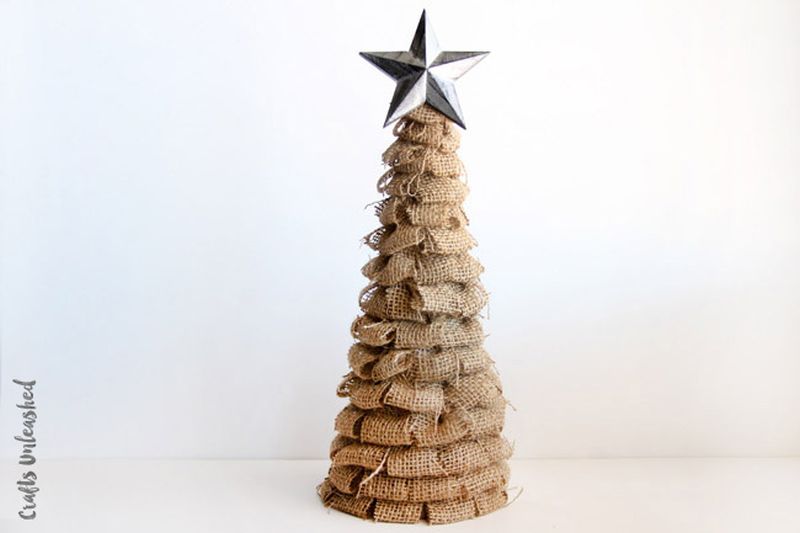 Ribbon Christmas Tree
Ribbons are widely used to decorate homes in festive flair. You can also use ribbons to make Christmas trees. Take a paper cone and wrap it creatively with ribbons and you are done!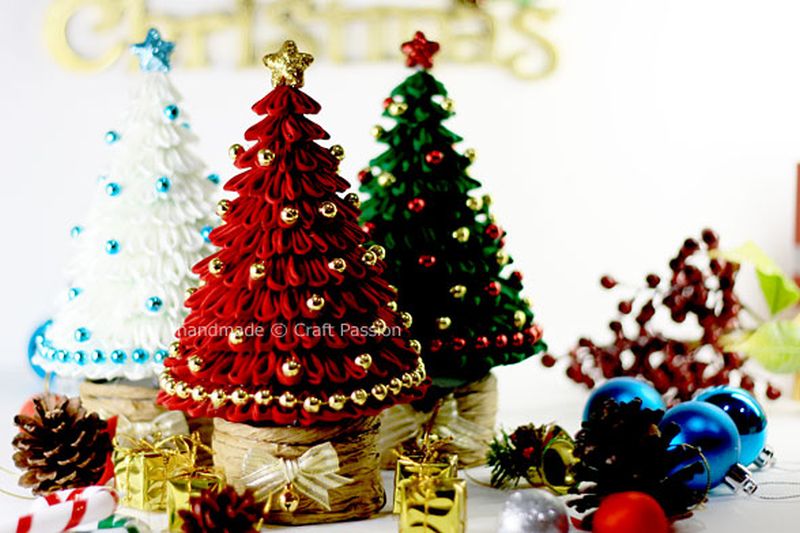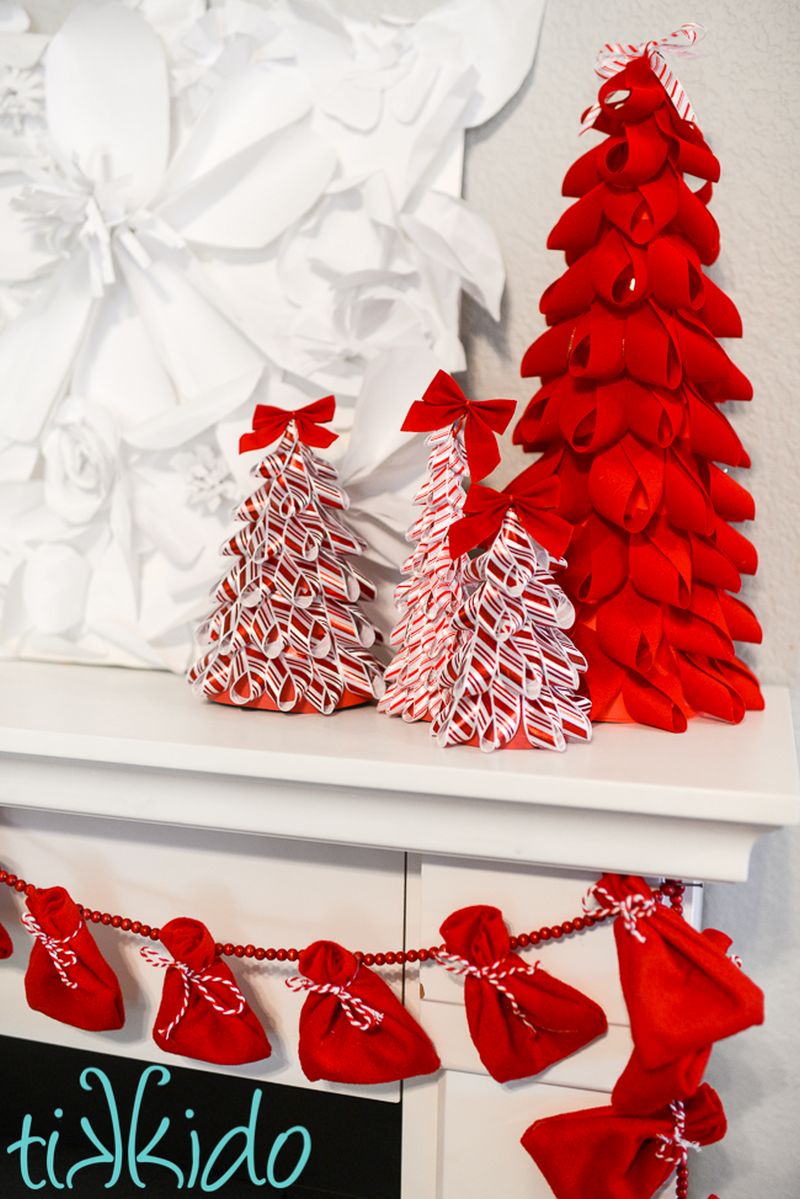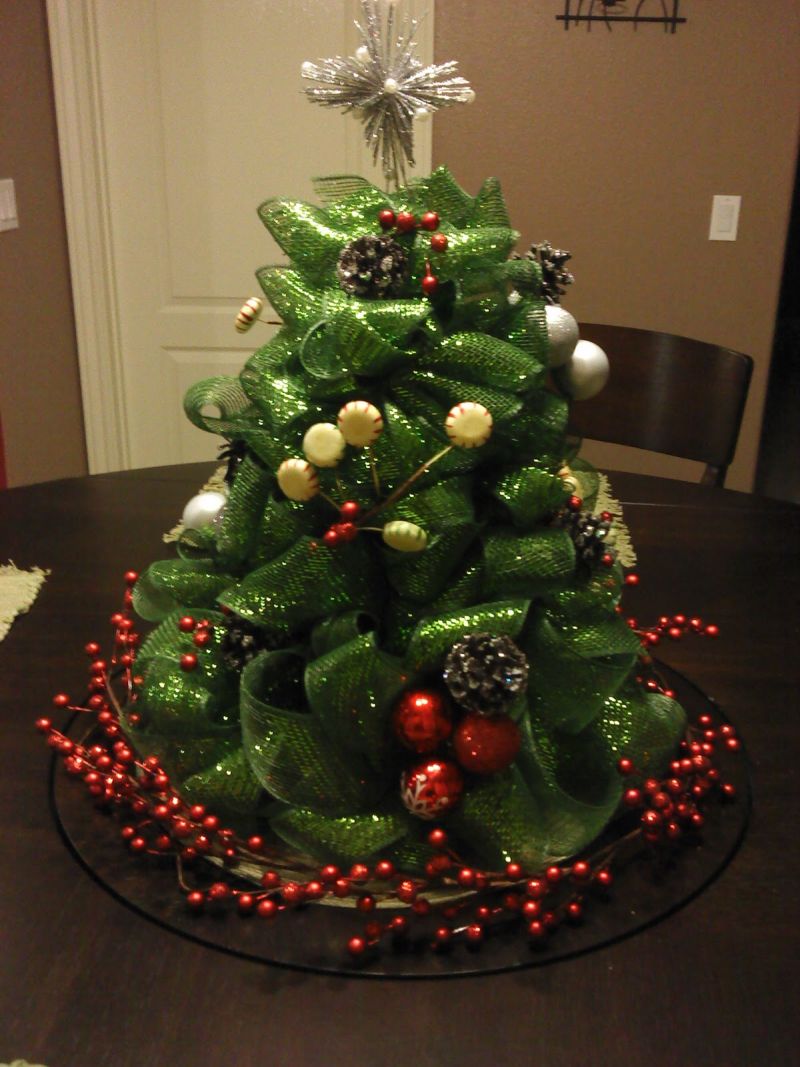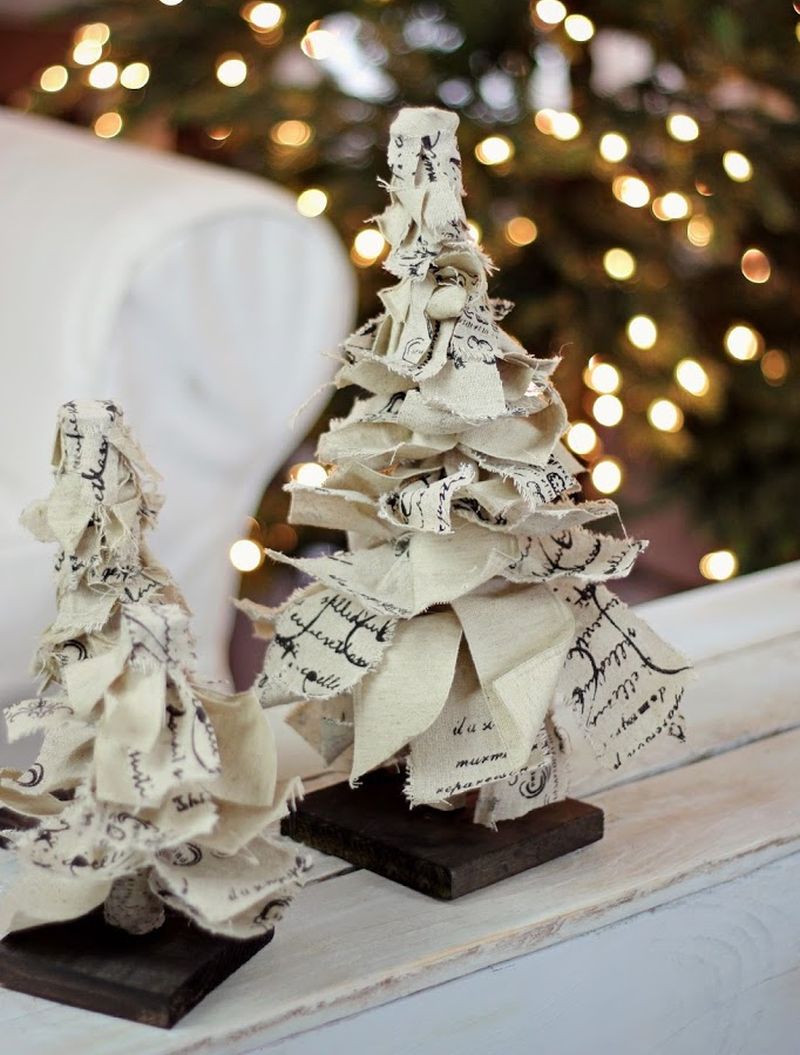 Cotton Christmas Tree
Dazzle your guests by crafting cute little cotton Christmas trees. They are budget-friendly alternative Christmas trees.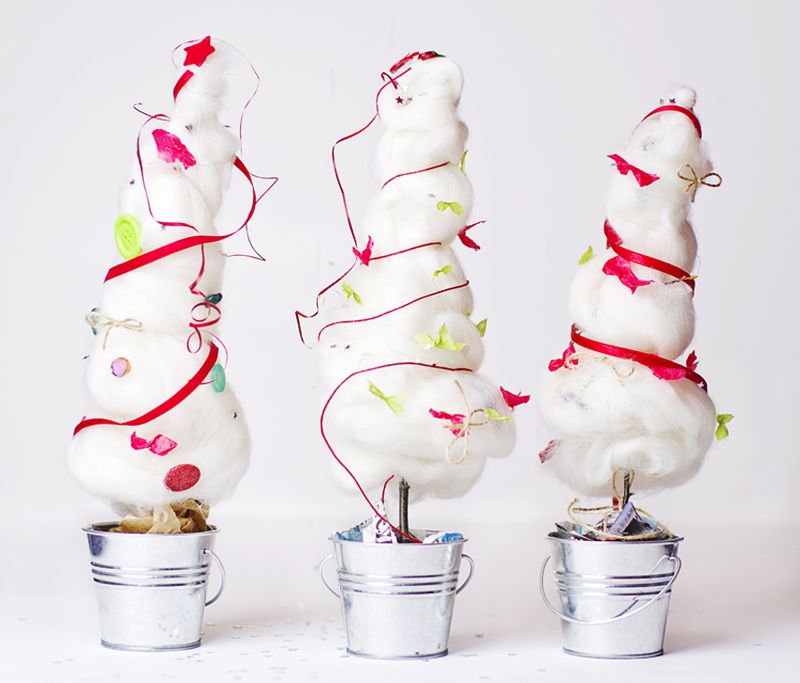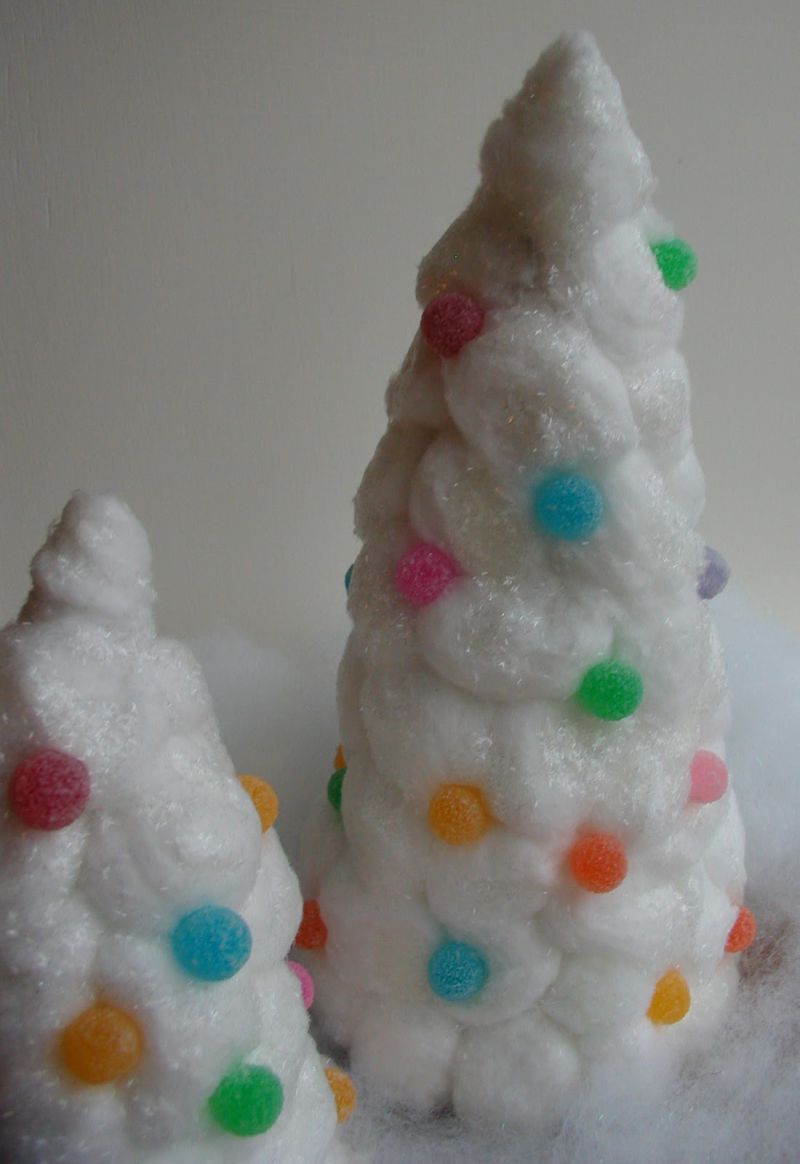 Button Christmas Tree
This mini button tree is a cool upcycled decoration. It can be placed on a mantel or can be turned into an adorable ornament.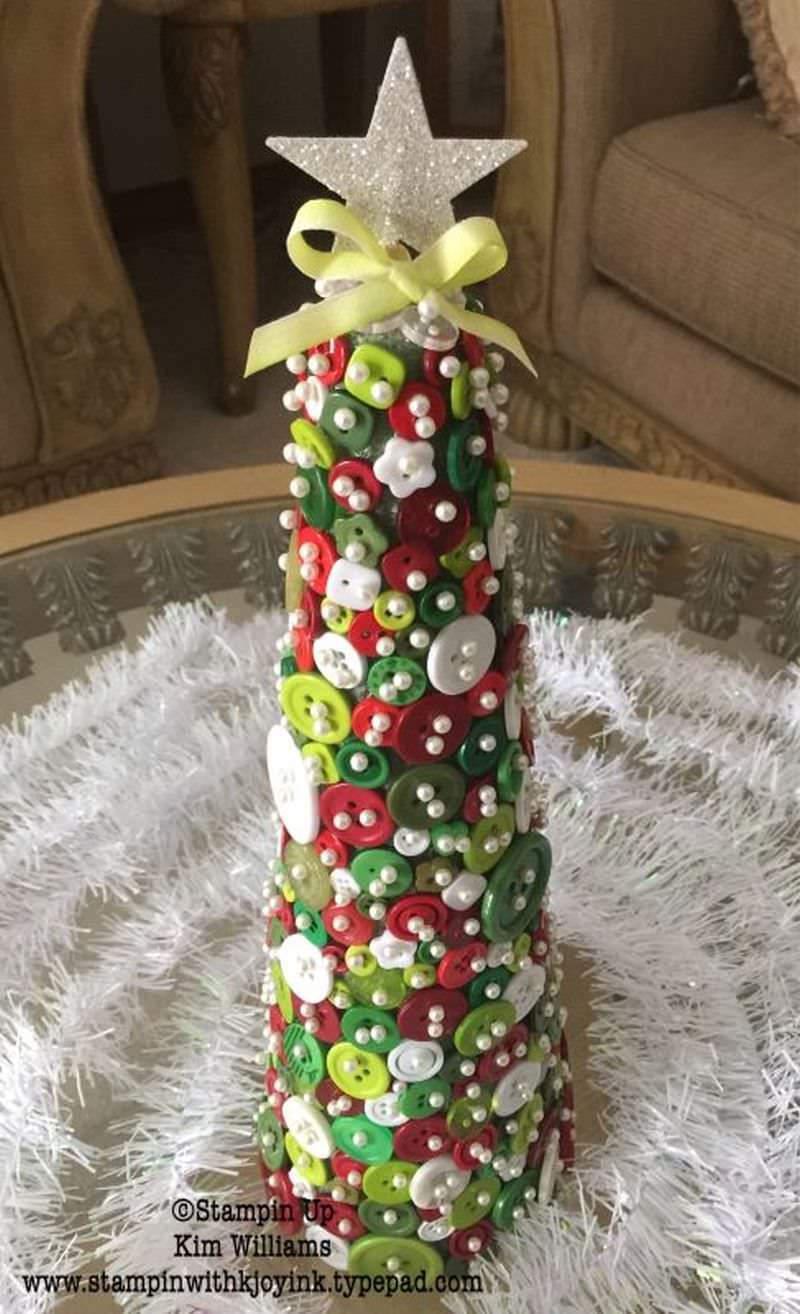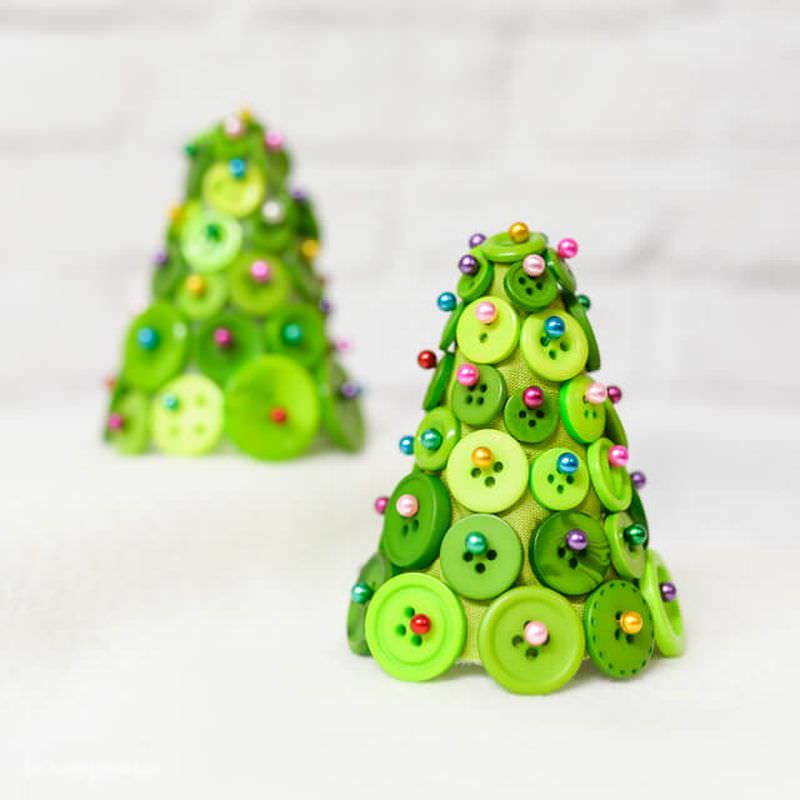 Sequin Christmas Tree
Think about sequin crafting if you want to add some sparkling magic to your home. You can choose colors as per your liking.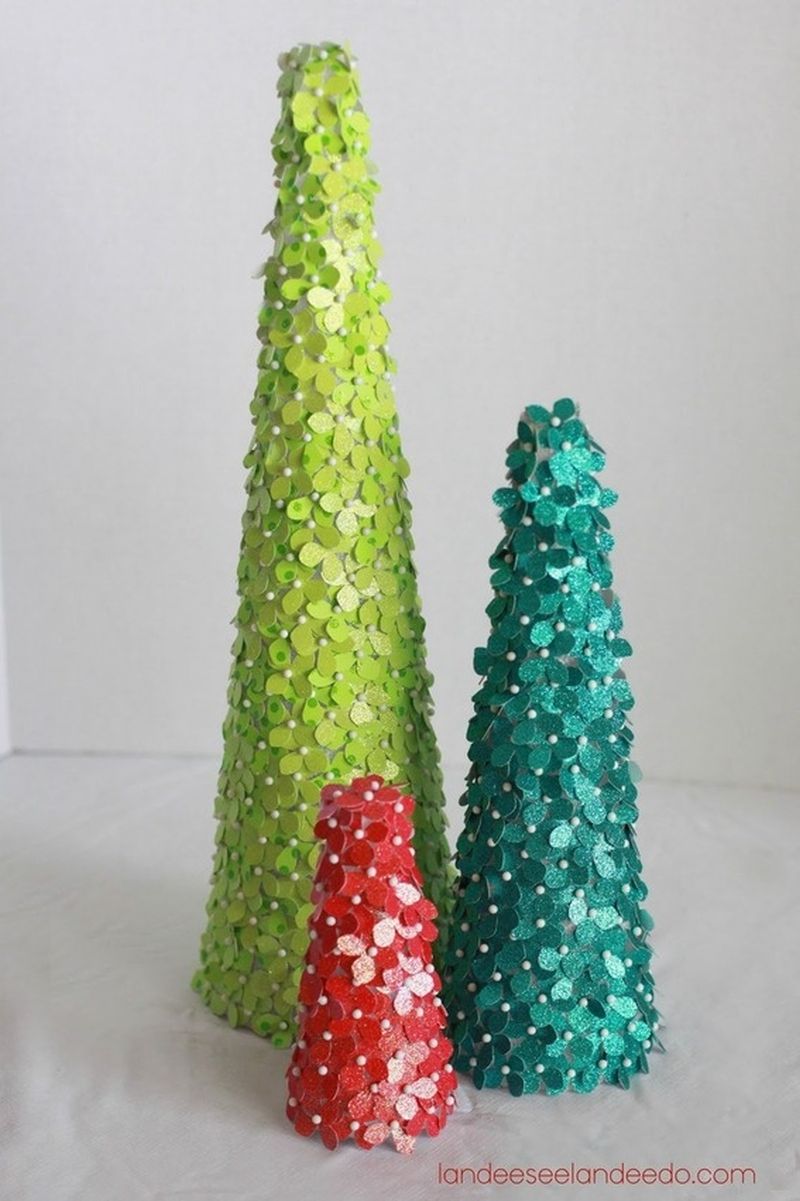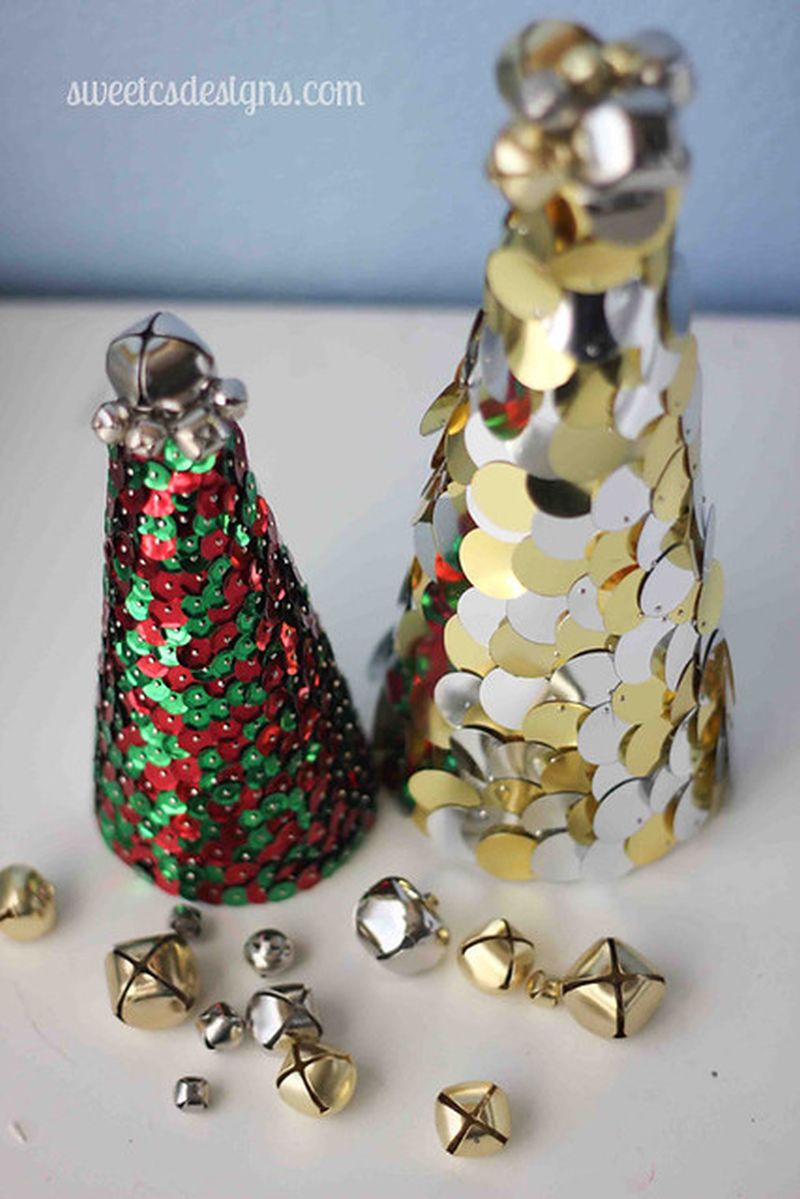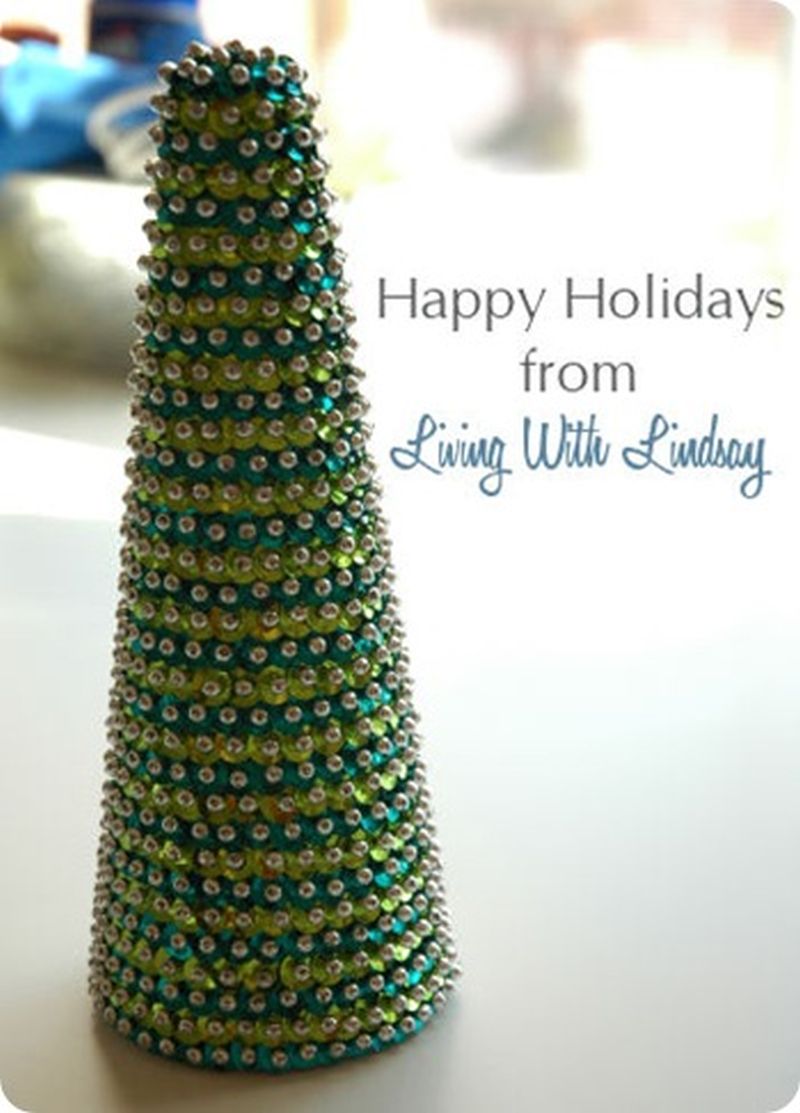 Seashell Christmas Tree
You can easily turn seashells into tabletop Christmas trees. The task is to glue up seashells on a cone. You can make a cone from paper mache or carve a piece of foam into a cone. These little pieces would look great on a shelf or table.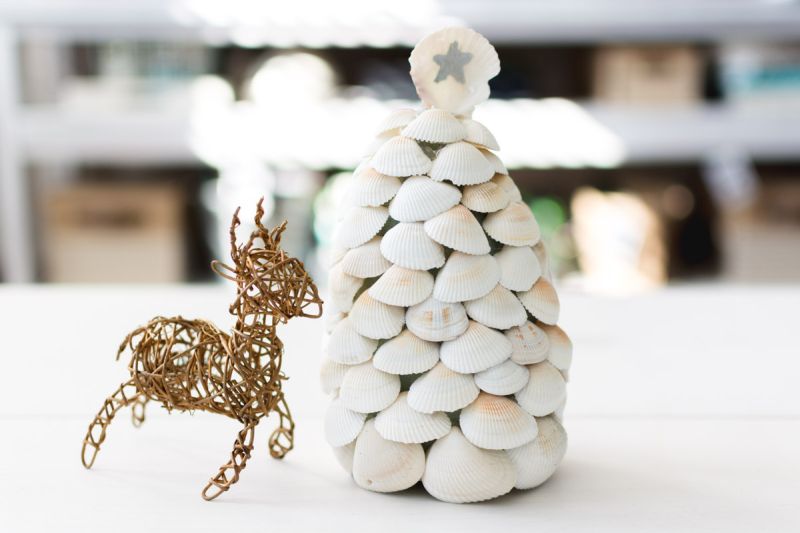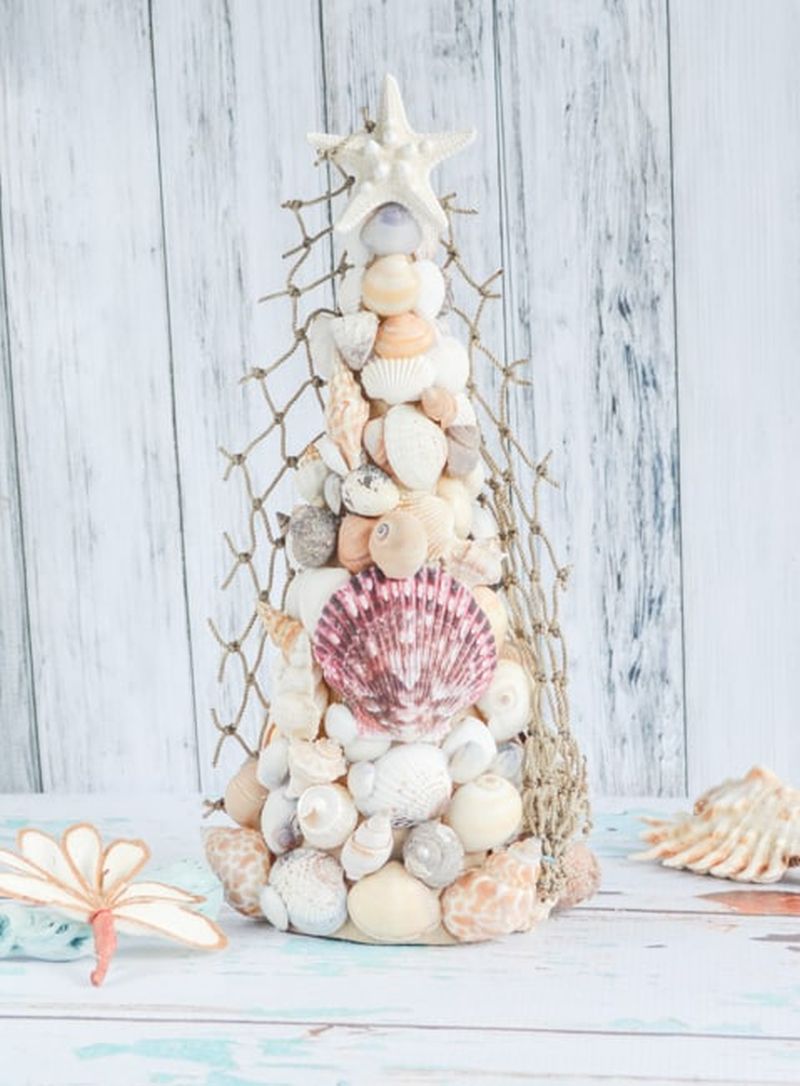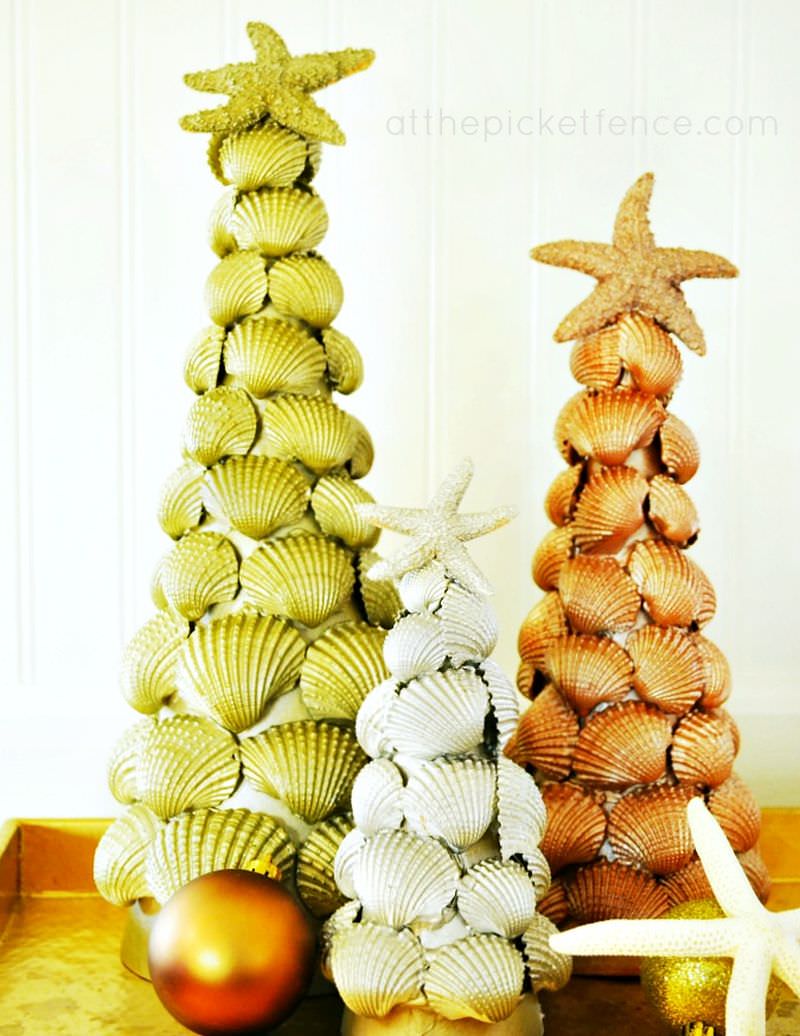 Candy Christmas Tree
You can make candy Christmas tree topiaries as centerpieces for your home. You need to stick candies on a cone or pin them up along with wrappers. It is an easy and fun way to make some new holiday decorations without spending much.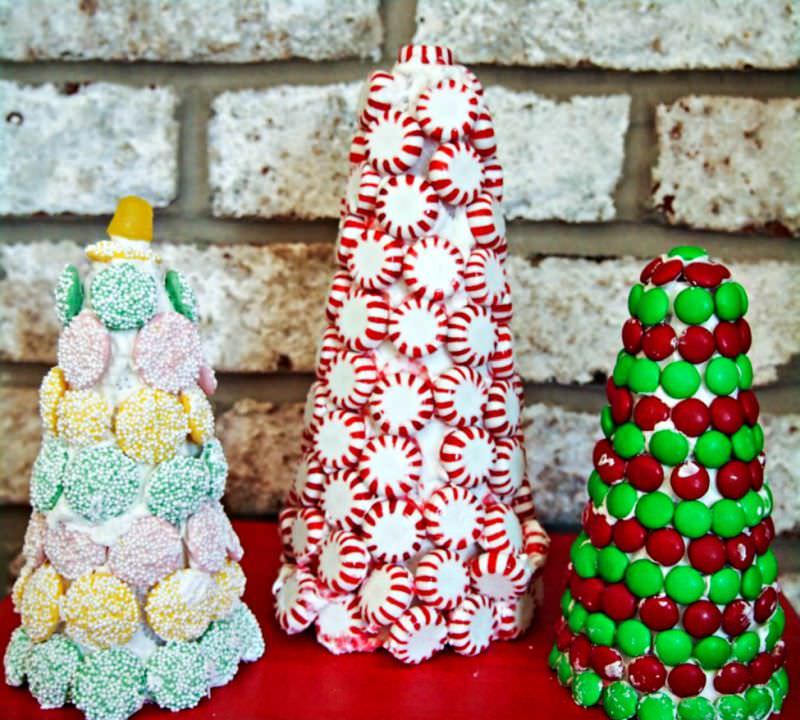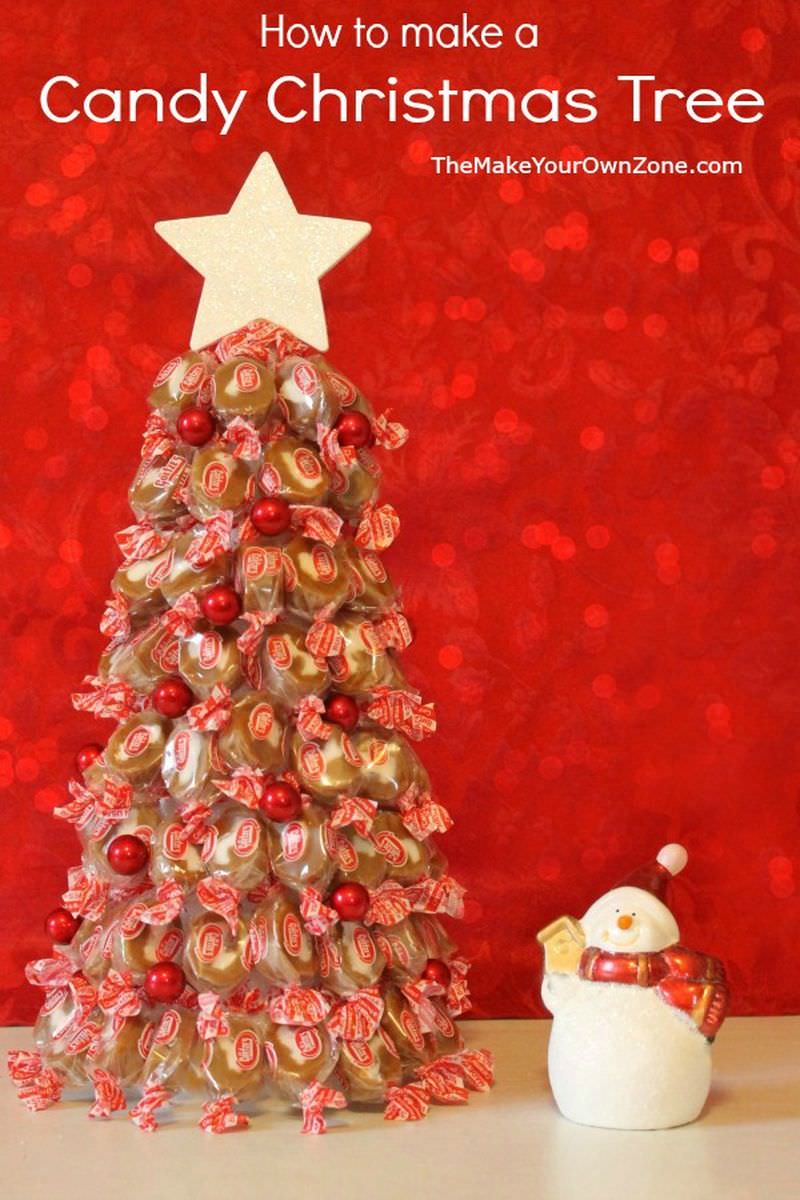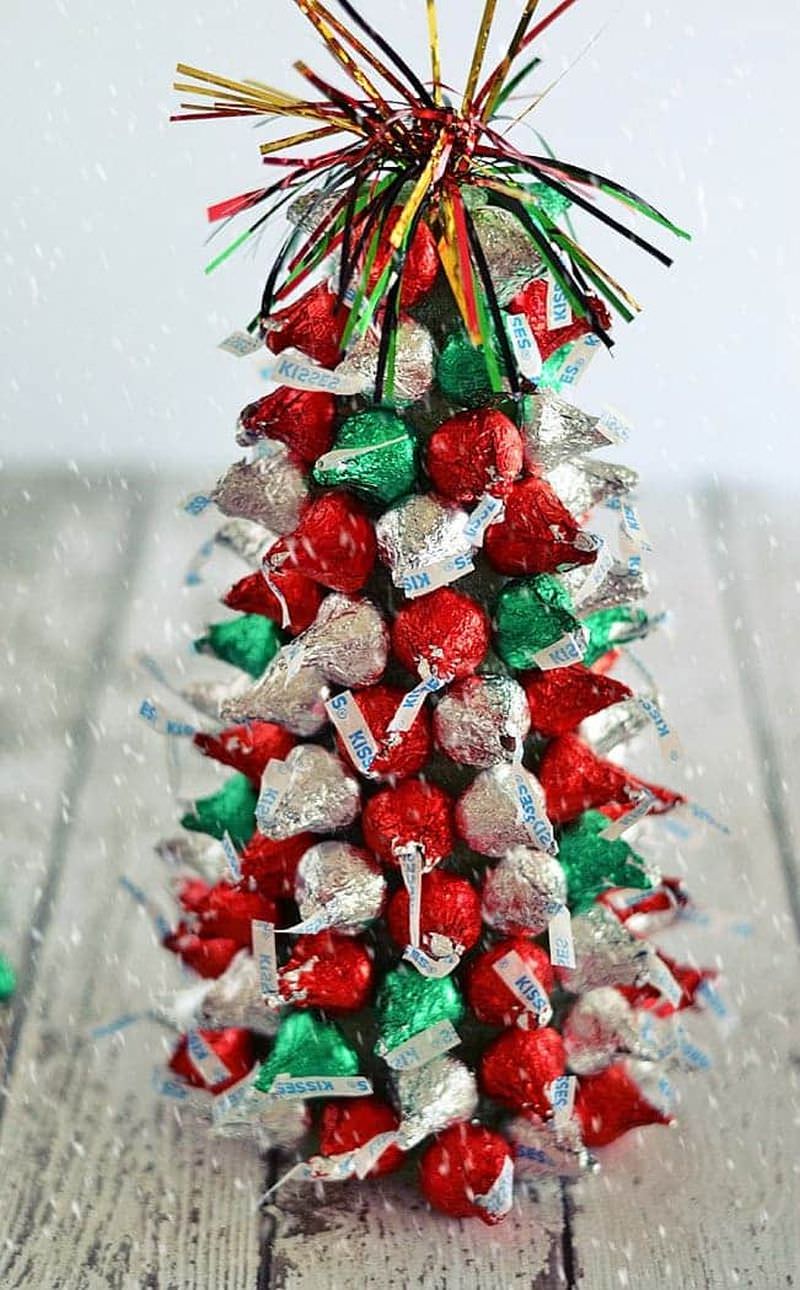 Washi Tape Christmas Tree
If you are short on time and space, it is your best bet to make a wall Christmas tree using washi tape. You can create a tree by drawing out floating triangles and simple strips on the wall using the tape.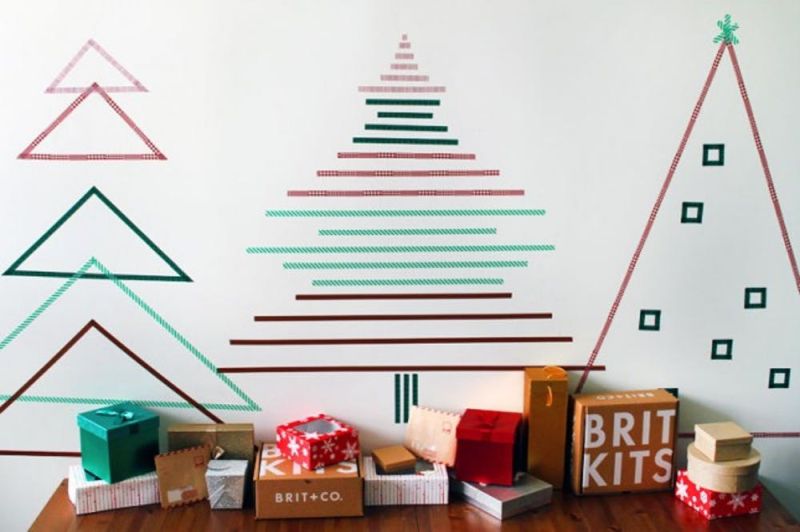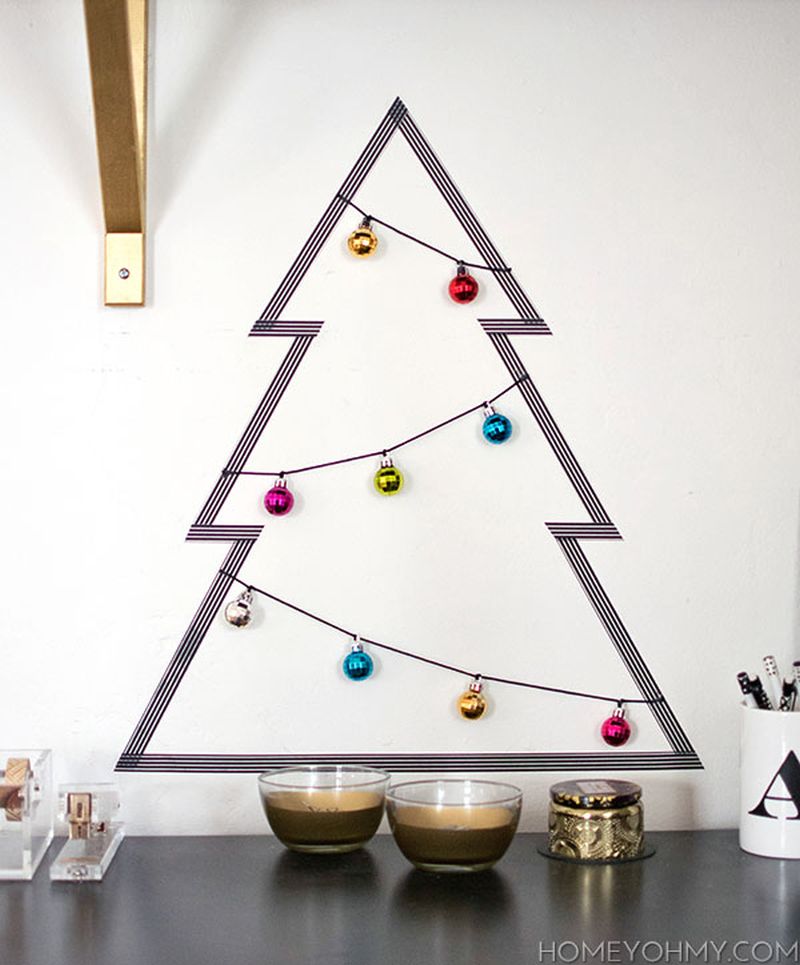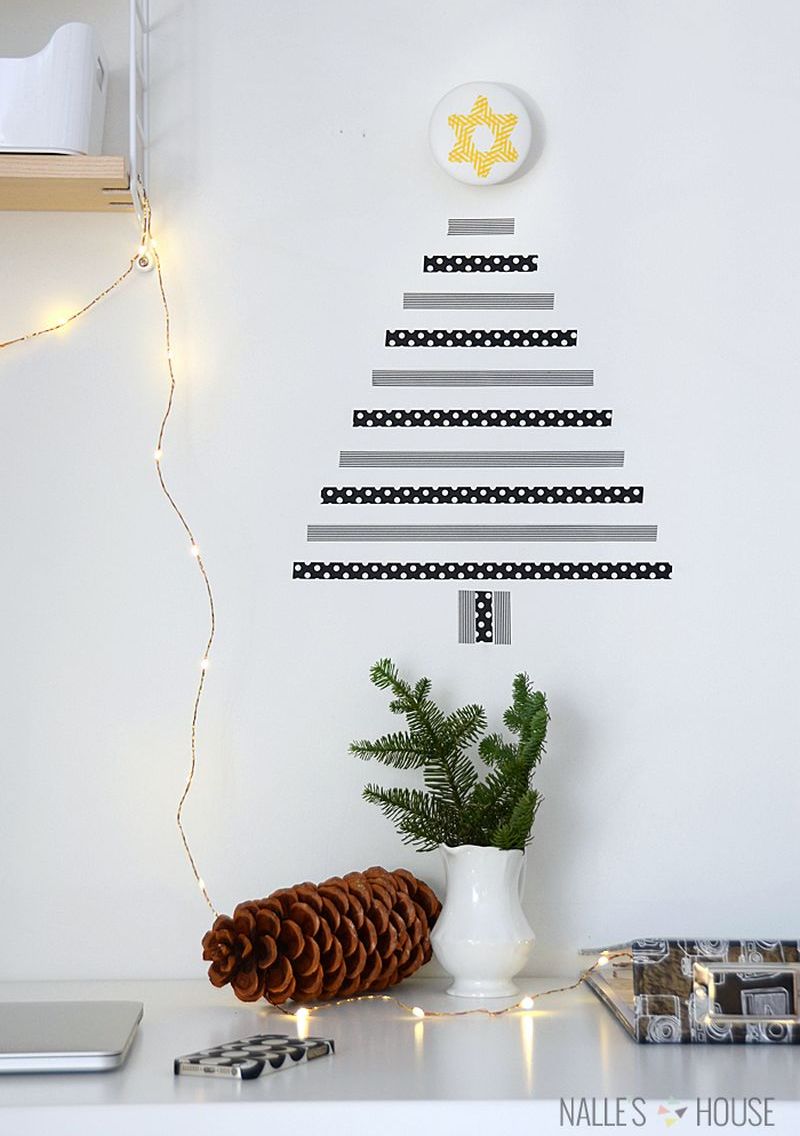 Also Read: DIY Christmas Garland Ideas
Christmas Tree Advent Calendar
Help yourself count down days to Christmas by making a tree-shaped advent calendar. The DIY advent calendar will help you create amazing memories with kids.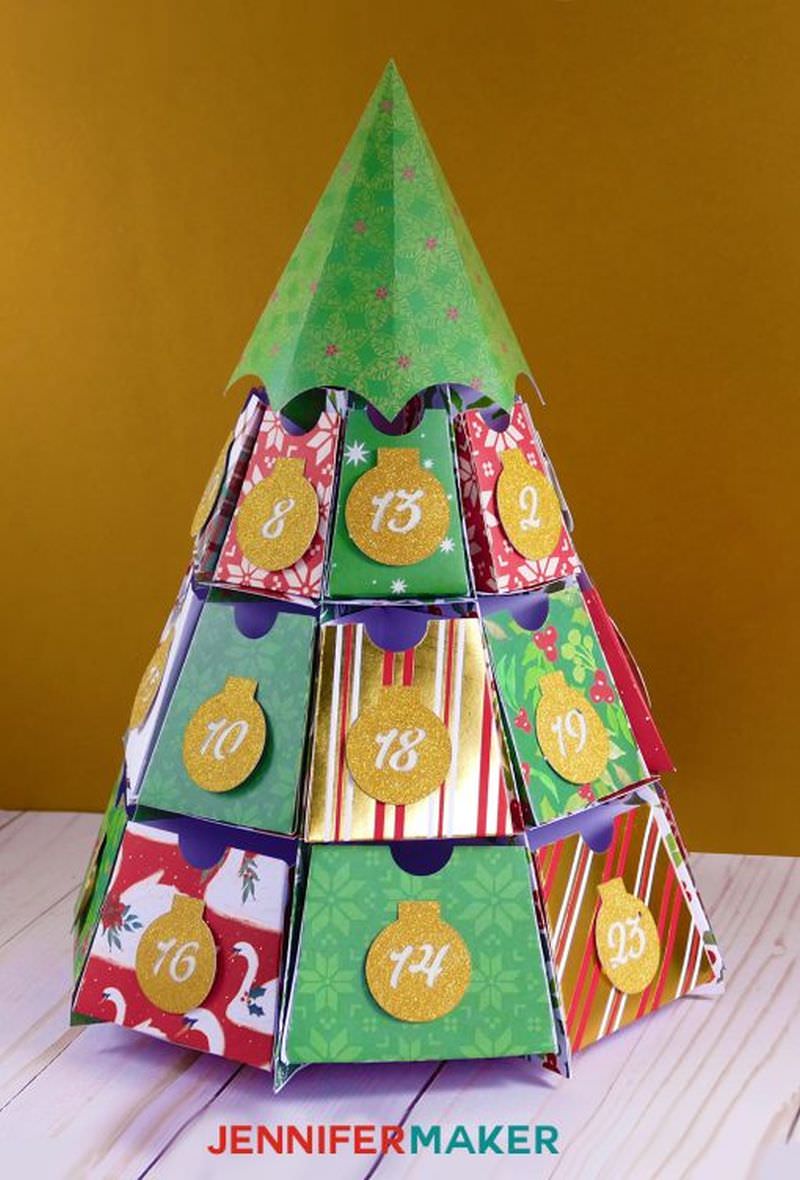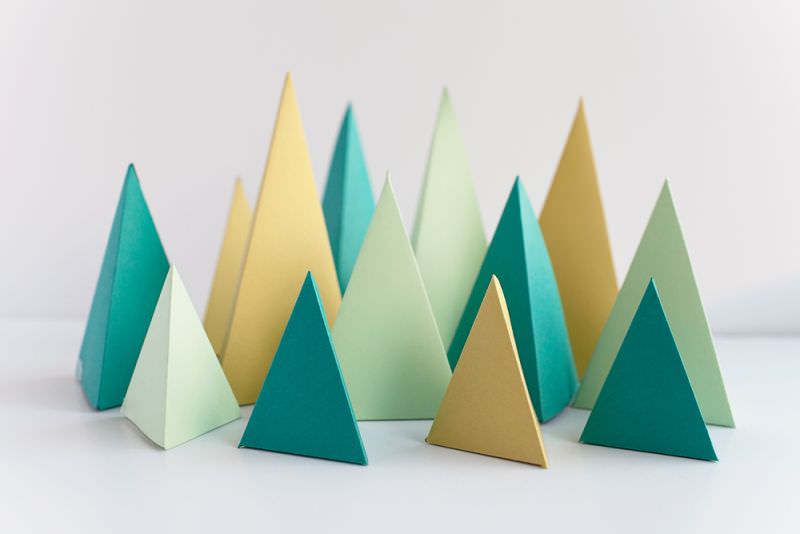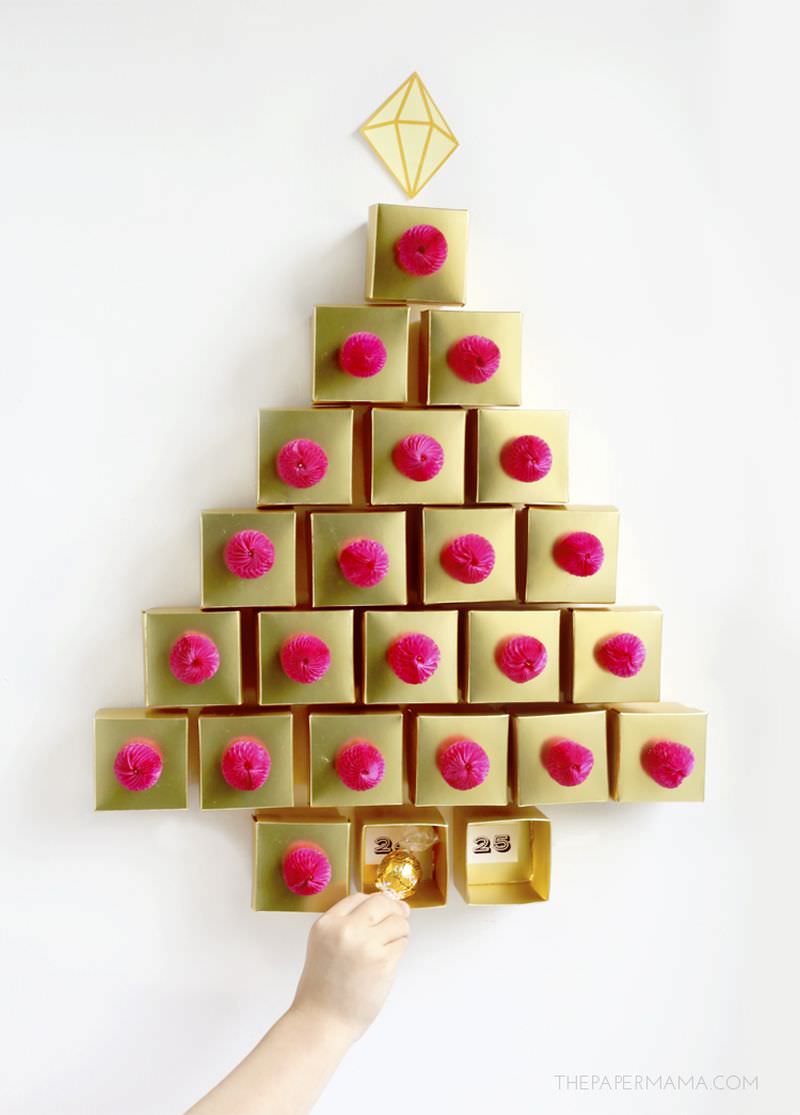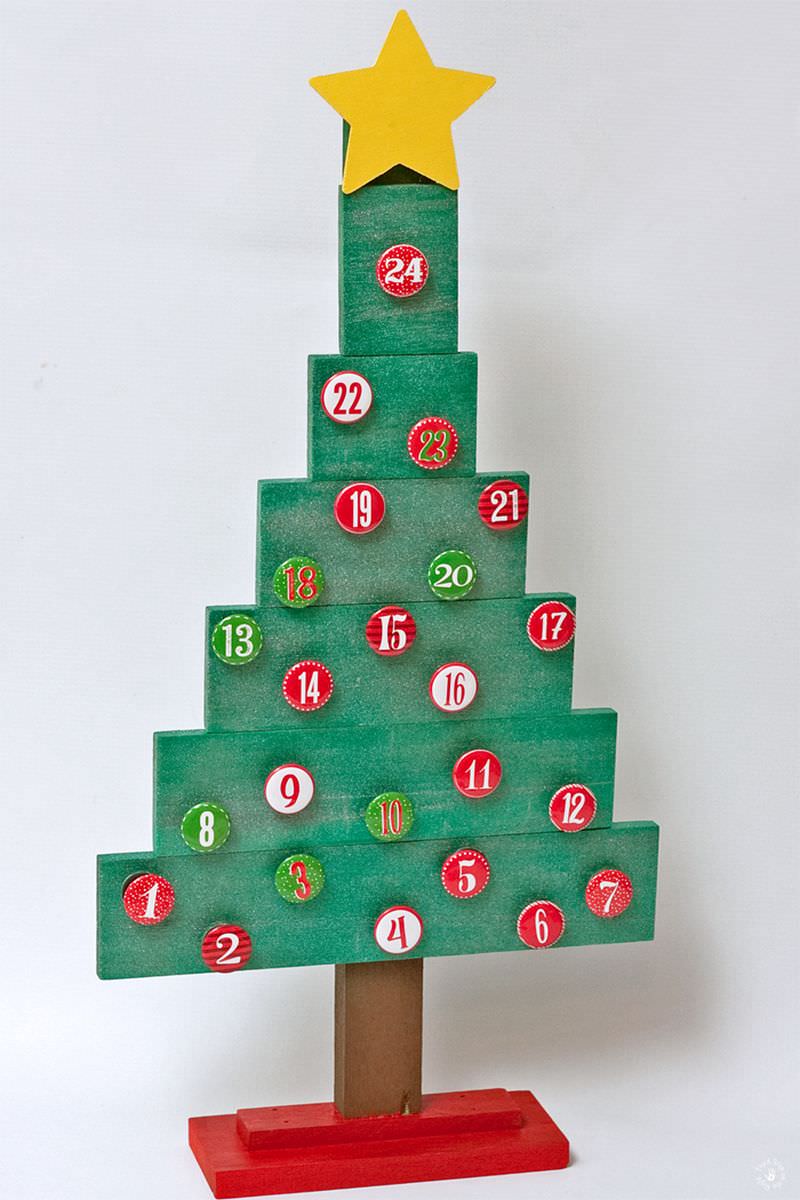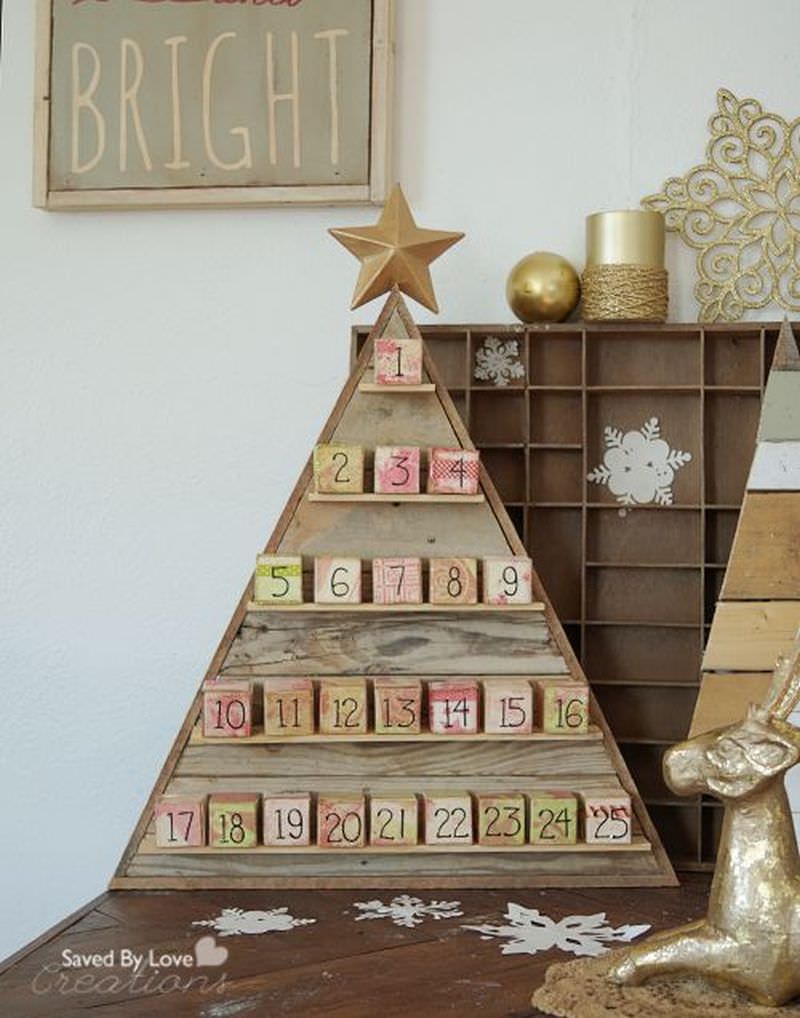 Wall Christmas Tree Made from Light Strings
You can make a space-saving Christmas tree on your wall using light strips, paper, and some other decorative embellishments. You can stick some light strip in the shape of a Christmas tree on the wall and add goodies to it – your light string Christmas tree is ready.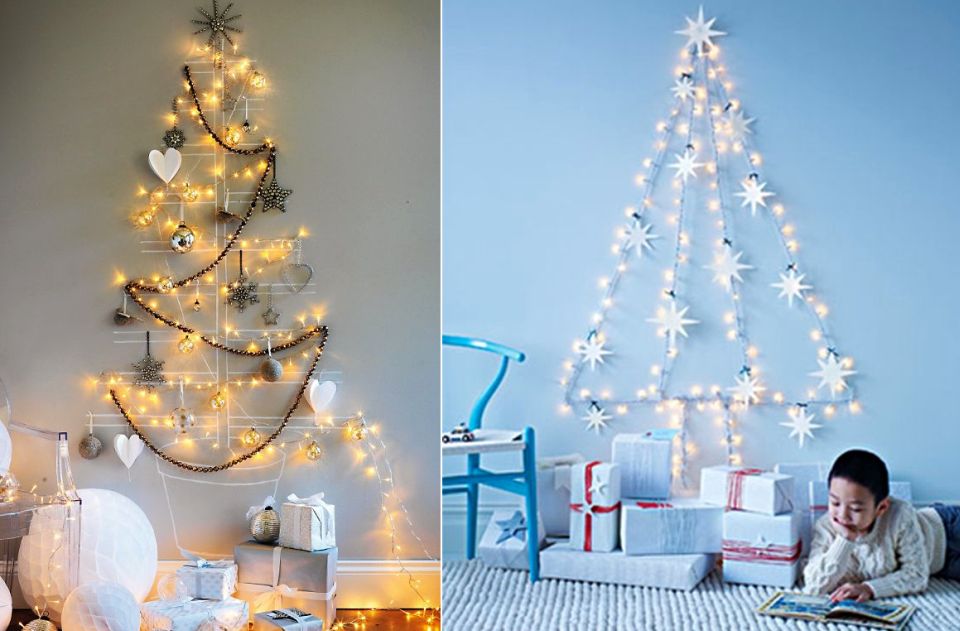 Photo Frame Christmas Tree
Take out all your favorite photos and stick them around empty cardboard boxes, and arrange these boxes to form a Christmas tree. This tabletop Christmas tree will be the focal point of your celebrations as cherished memories will be displayed in a nostalgic timeline. One of our favorites for sure.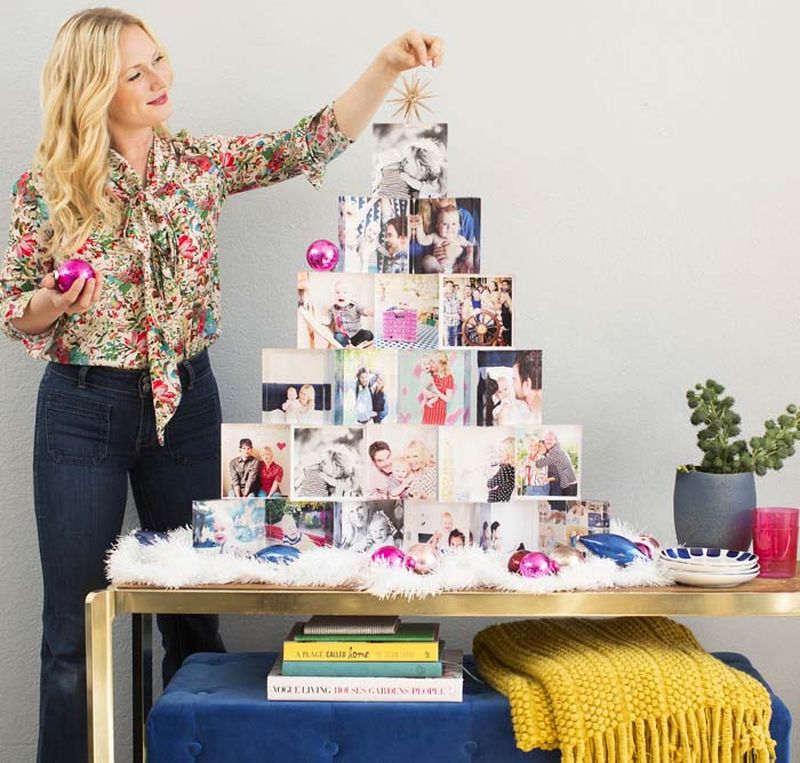 Pineapple Christmas Tree
If you don't have much time on you, you can make a simple and cute Christmas tree using a pineapple. It is not only a budget-friendly idea but will also look attractive wherever you place it. Making it is super easy; all you have to do is, decorate a fresh pineapple with embellishments and festive lights. In the end, it boils down to your creativity – how innovative you can be with the lighting and decor.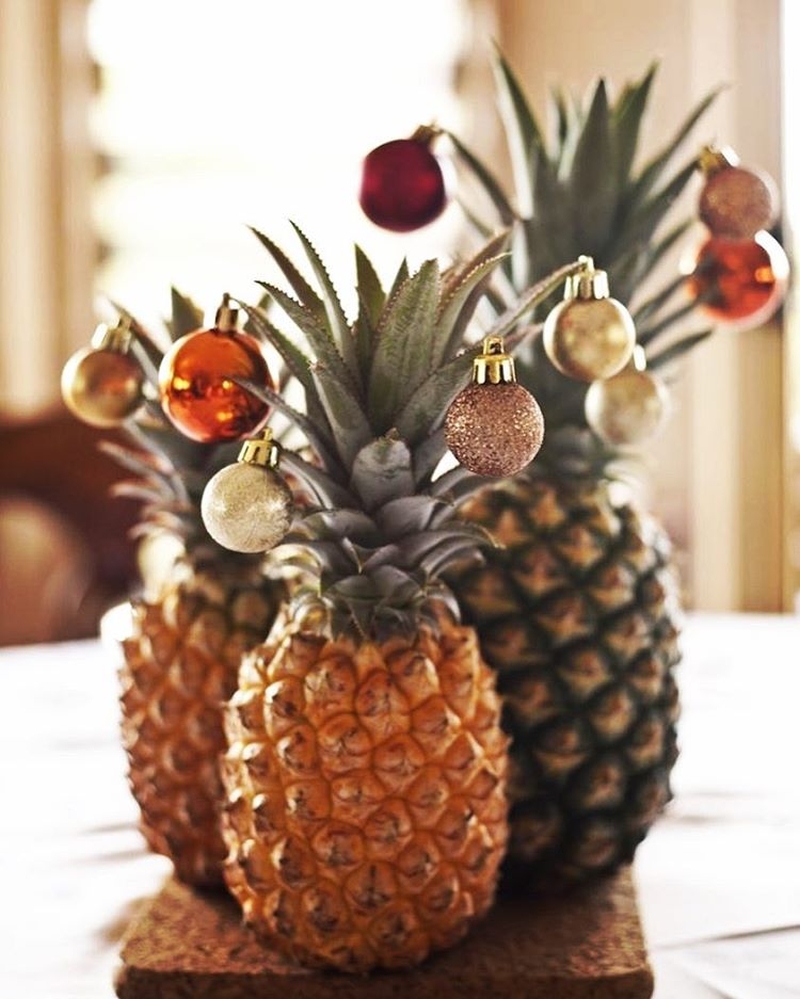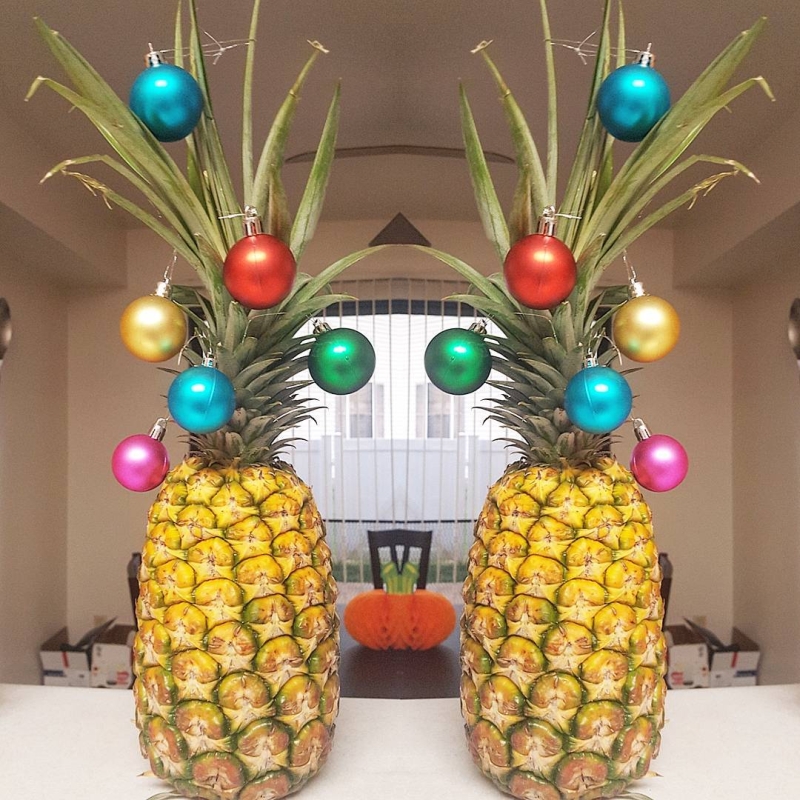 Natural Shrub Christmas Tree
This one is a really quick and easy Christmas tree idea. If you have potted plants at home, decorate them with shimmering light strings, decorative streamers, and shiny balls, and in no time, have a fun Christmas tree ready to make your guest go wow!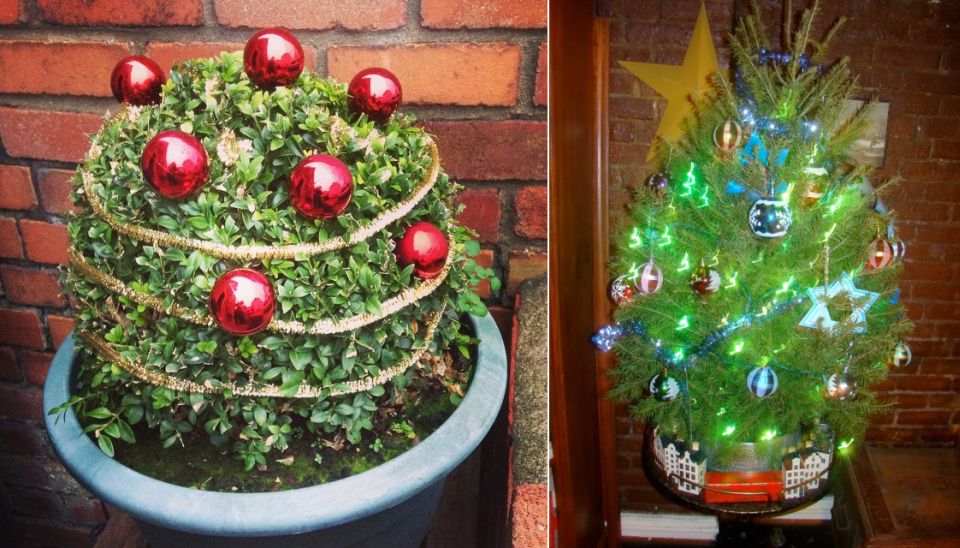 Succulent Christmas Tree
If you're lucky to have succulent plants in your garden, then make your decoration unique with a succulent Christmas tree. Whether you place them on a table, or on a shelf, these nature-inspired Christmas trees look beautiful. You can even make large ones but they will require a lot of time and space. Scroll down for ideas.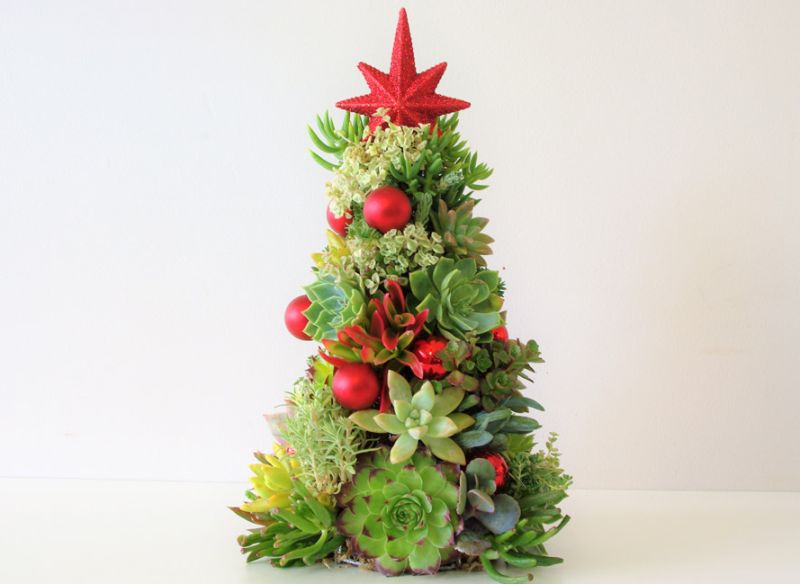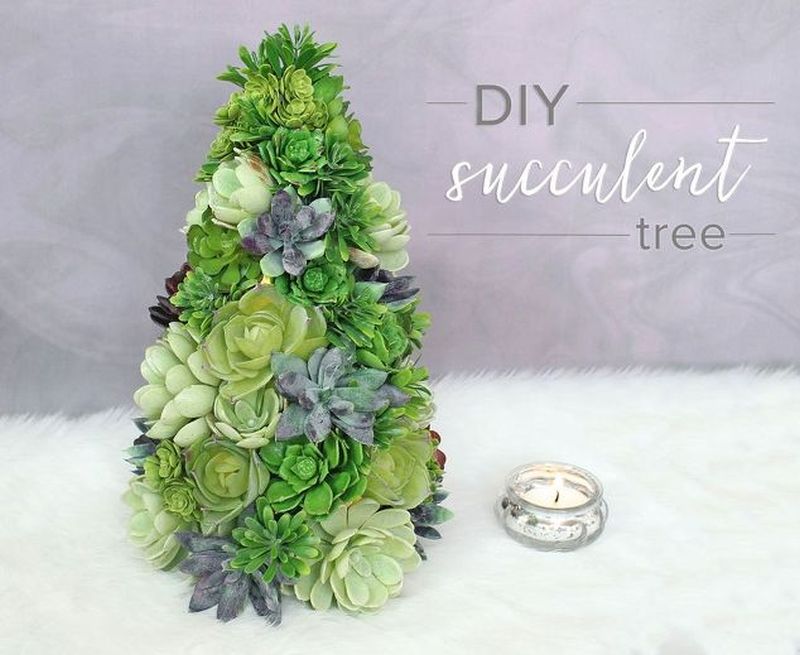 Pine Cone Christmas Tree
If you don't like vibrant colors around you but want something simple yet unique for Christmas; nothing better than staying natural. One cool idea is to make use of pine cones to form a dry DIY Christmas tree. It can be embellished with lights or decorative objects, if you may, else they look equally impressive all bland. If you are in doubt, check out some ideas below and get inspired.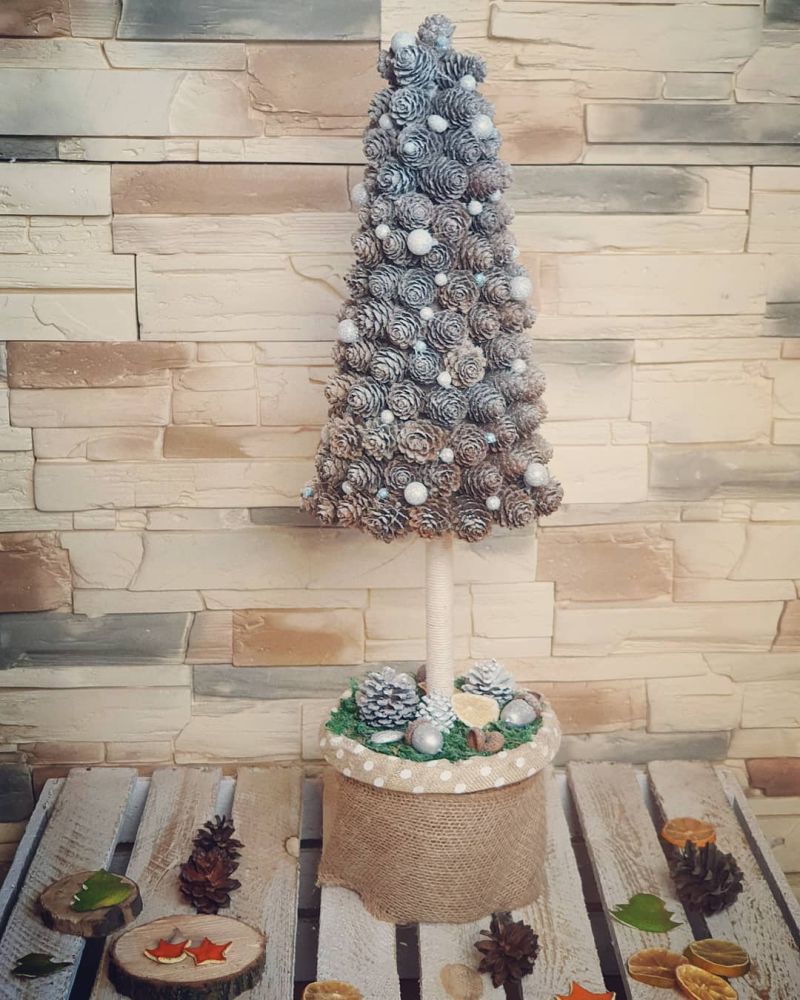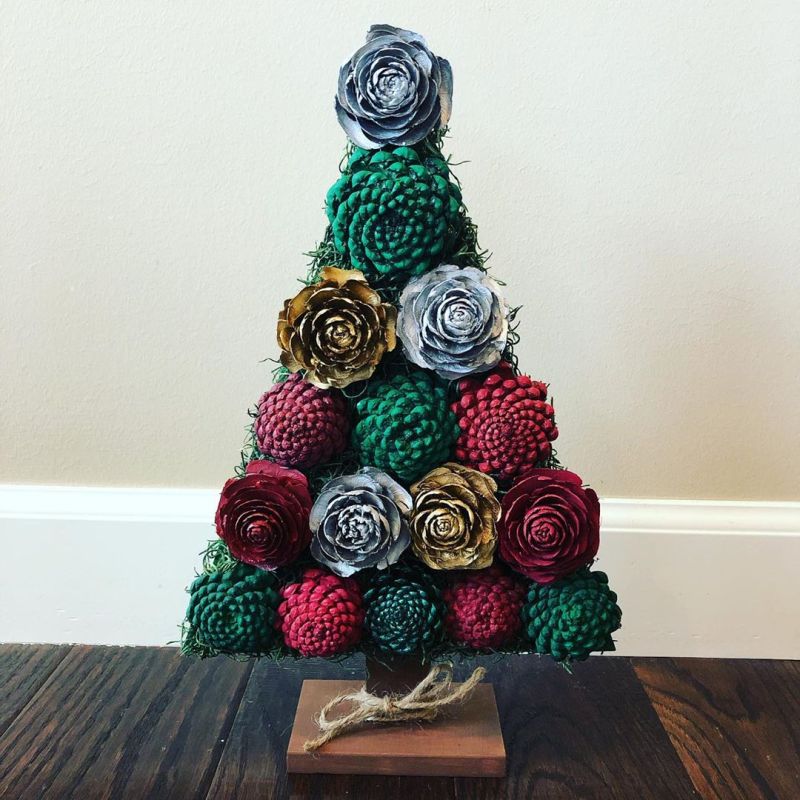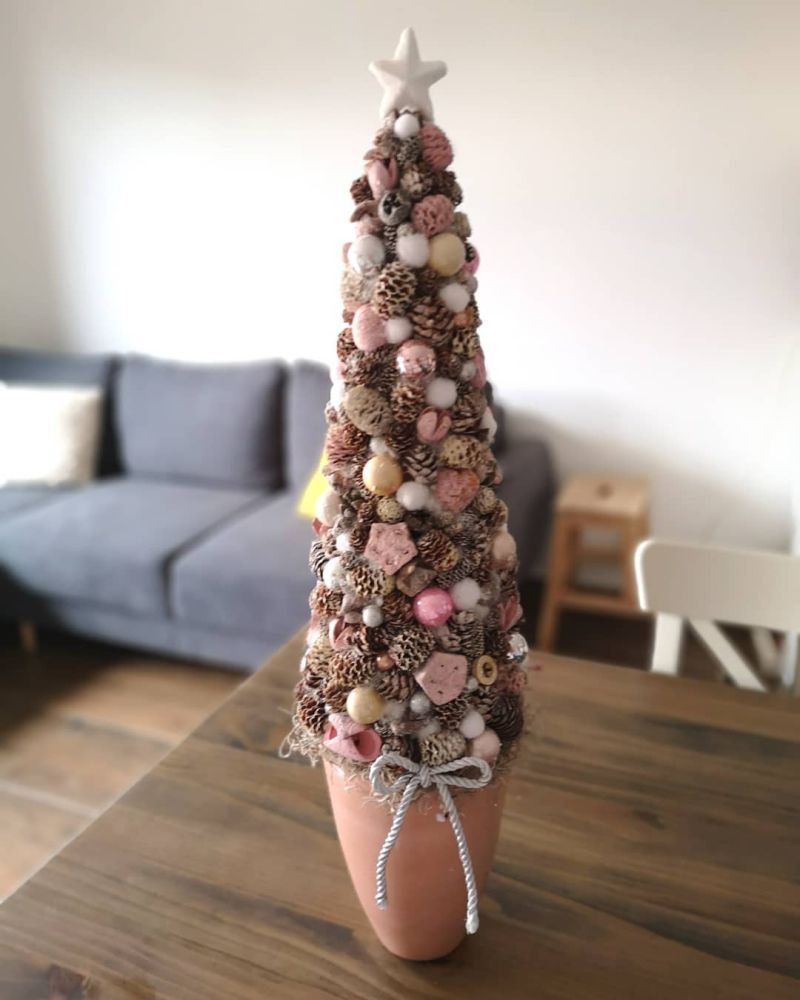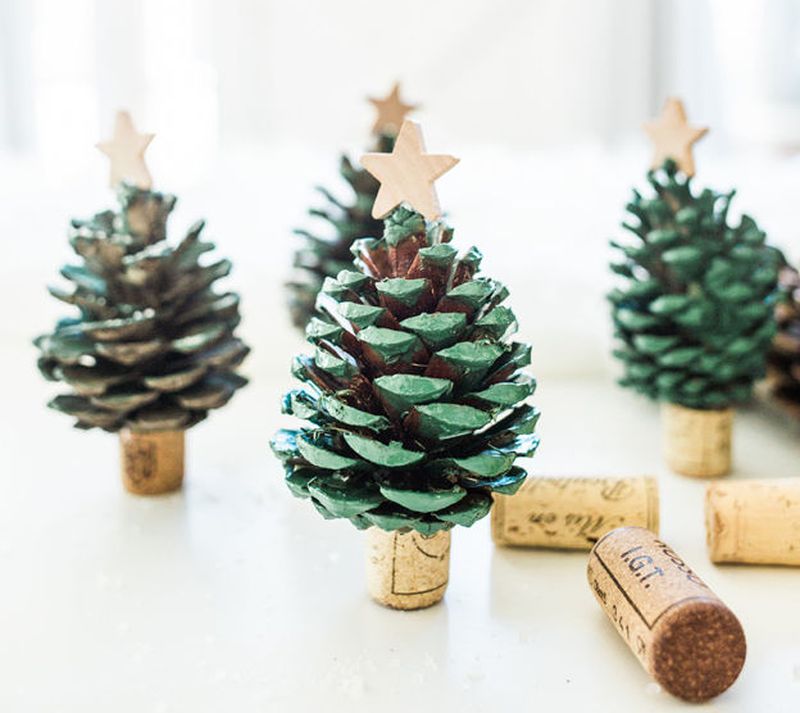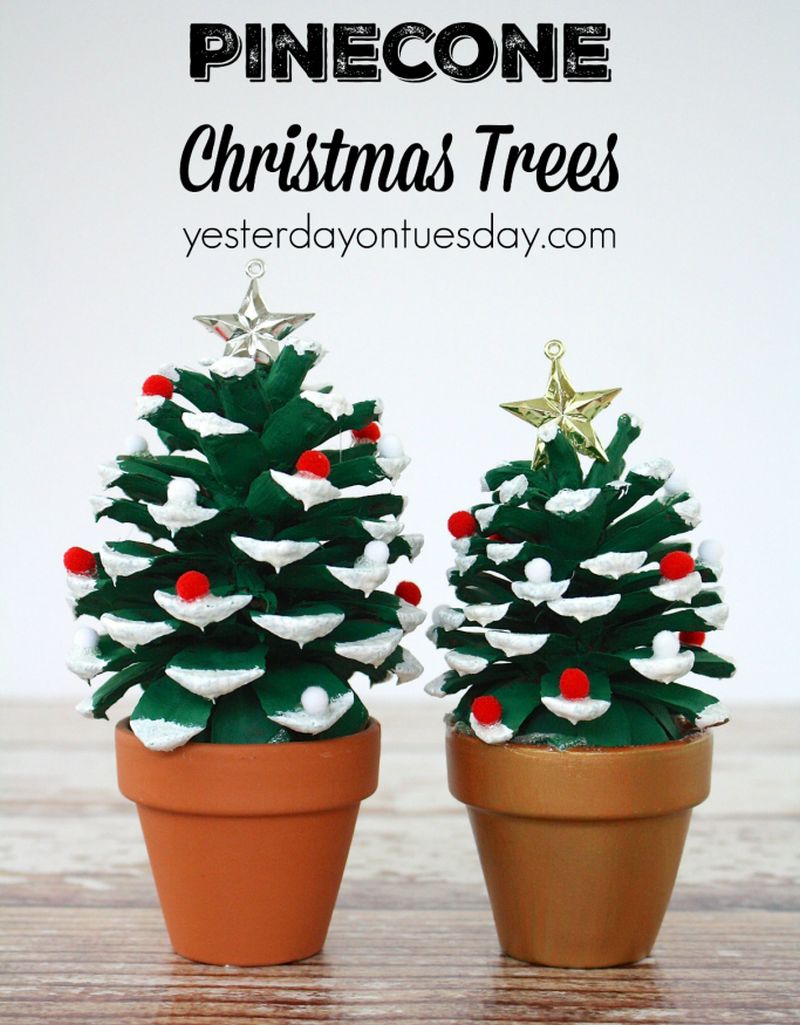 Pillow Christmas Tree
You can make a stylish Christmas tree by doing as little as stacking up some pillows. The color of pillow covers must be pretty and there you go.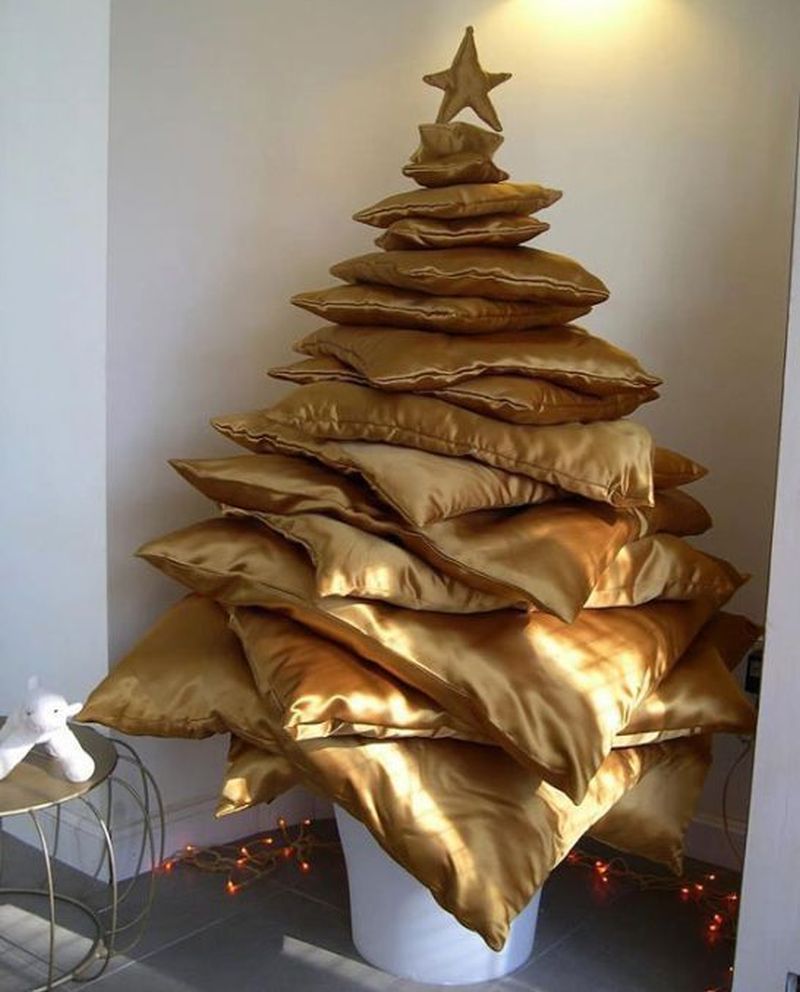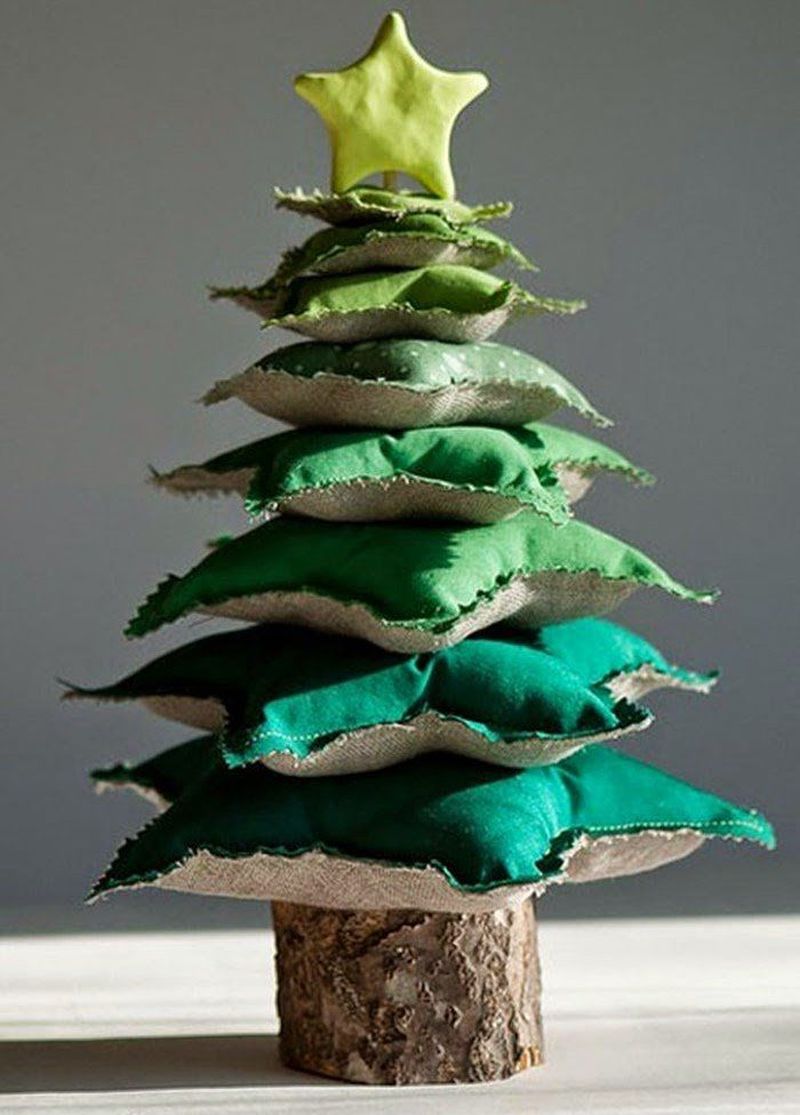 Corner Shelf Christmas Tree
That corner shelf at home can be utilized as a Christmas tree. You will need to decorate it with greenery, glittery ornaments, and other props.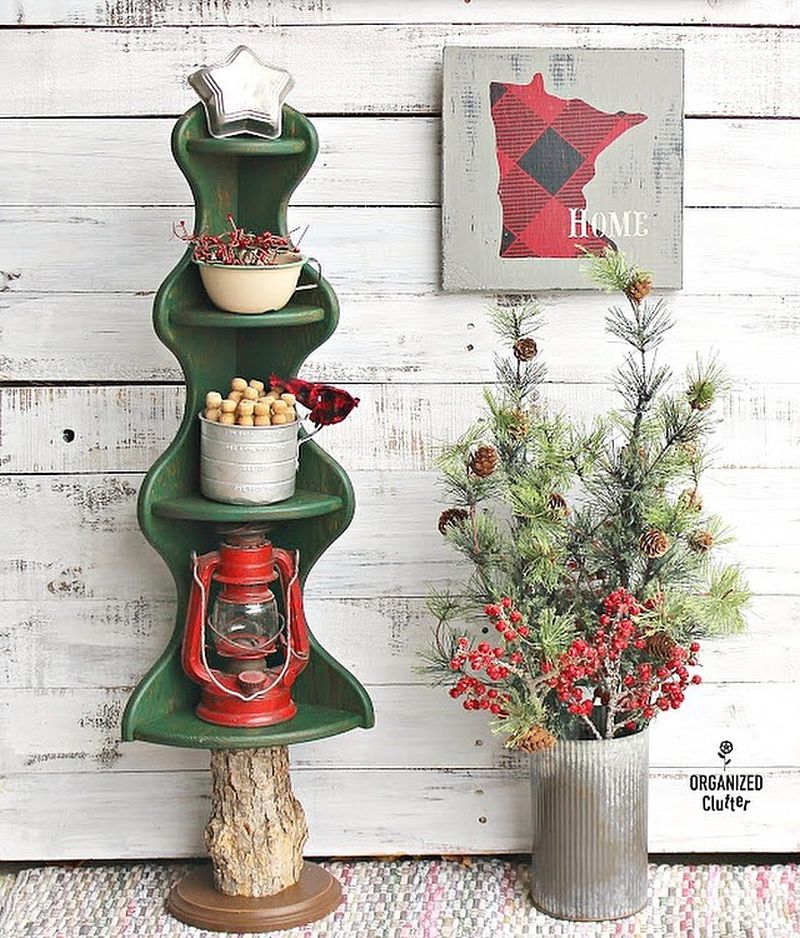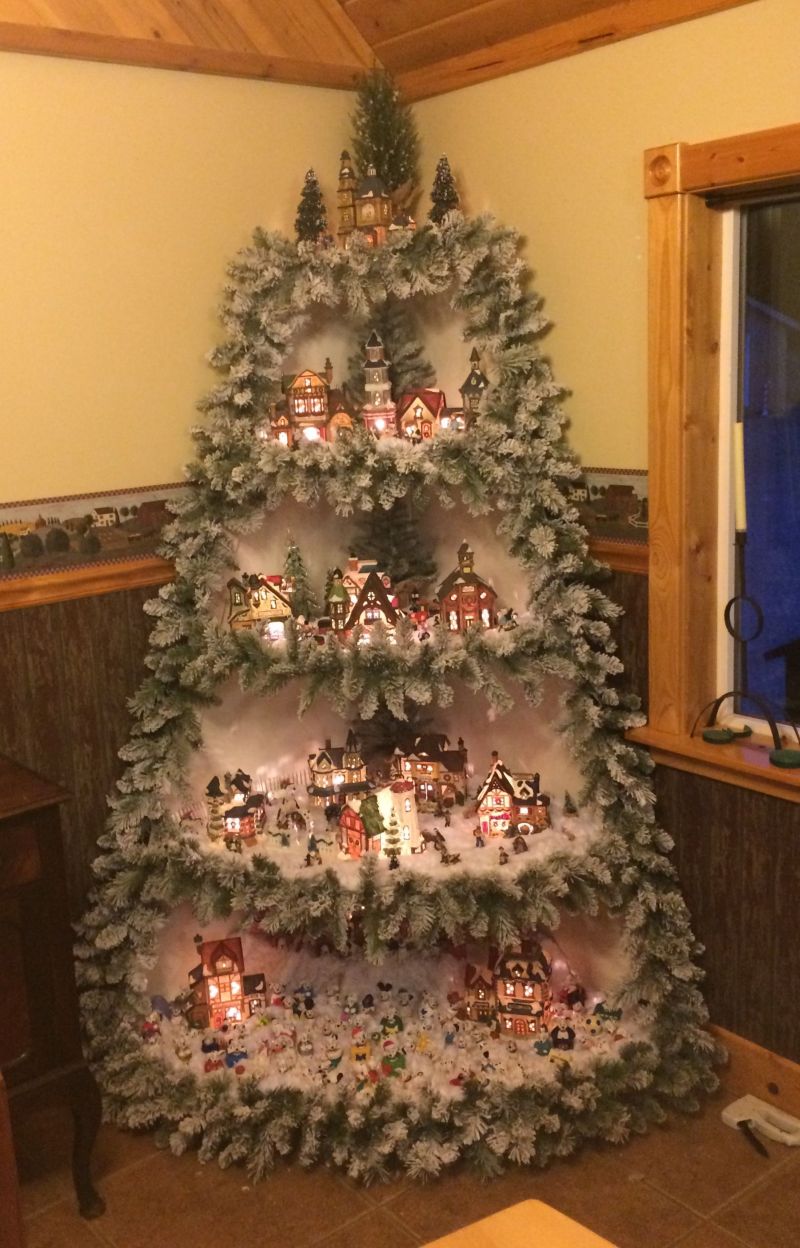 Mosaic Christmas Tree
The mosaic Christmas tree will be an attention-grabbing piece, a perfect item to add charm to the home decoration for Christmas.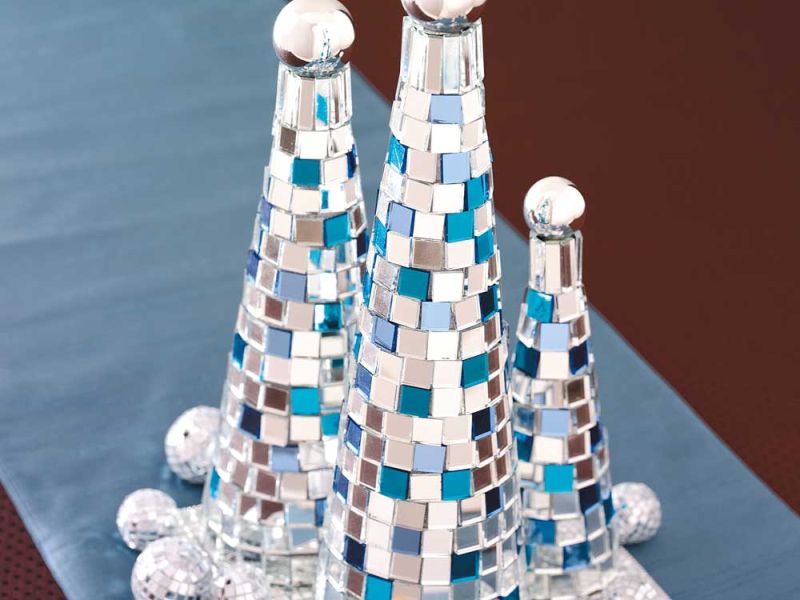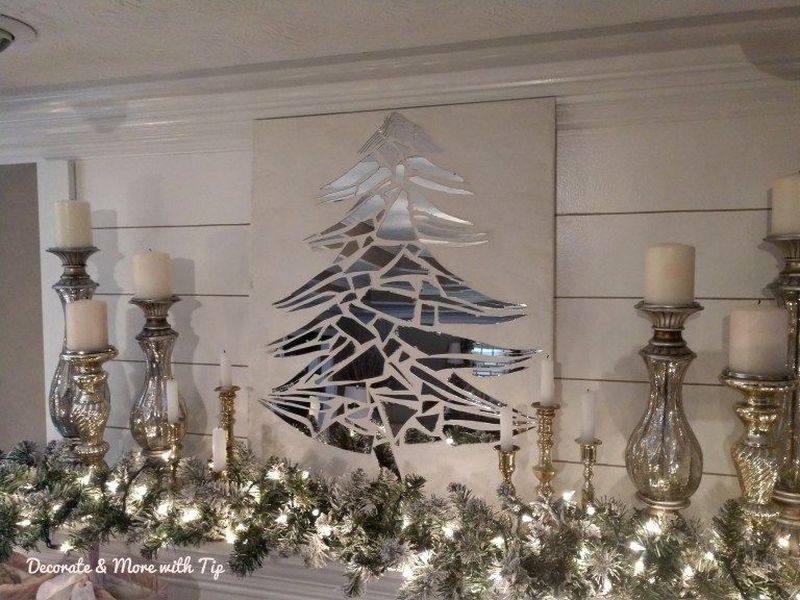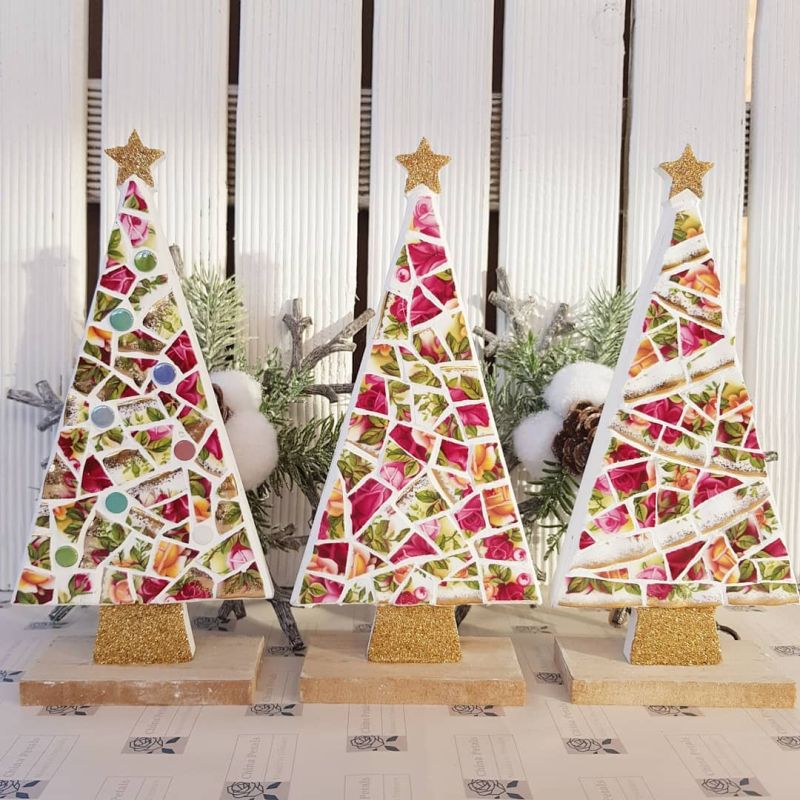 Scrap Wood Christmas Trees
Old unused wood pieces and slats make great material to create a Christmas tree. Painting them in different hues will decide how cool they look. These wood Christmas trees can be big or small enough to be placed on a shelf or table. They are perfect to be used outside the house too.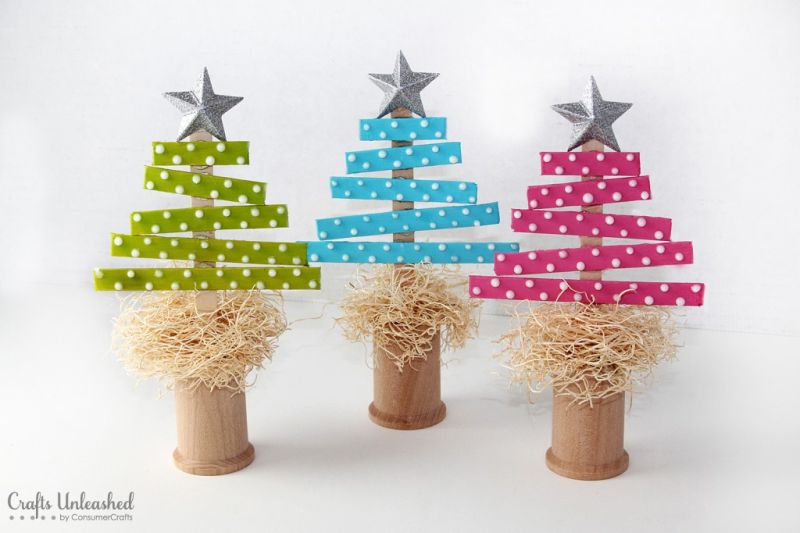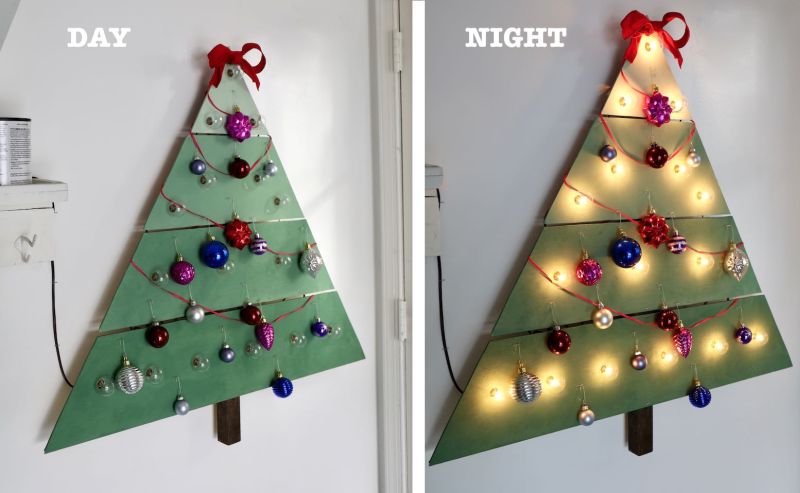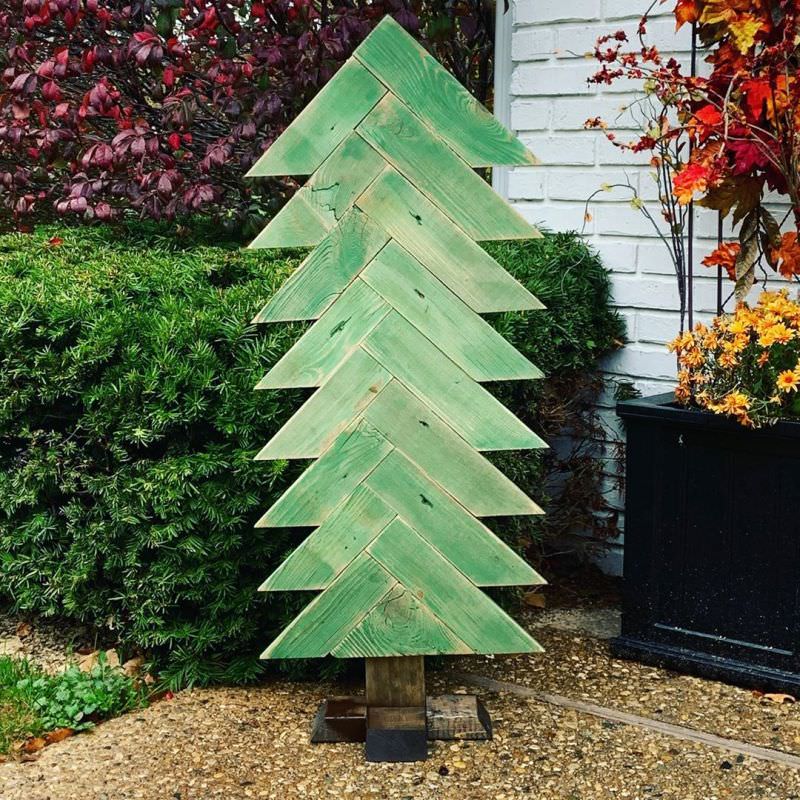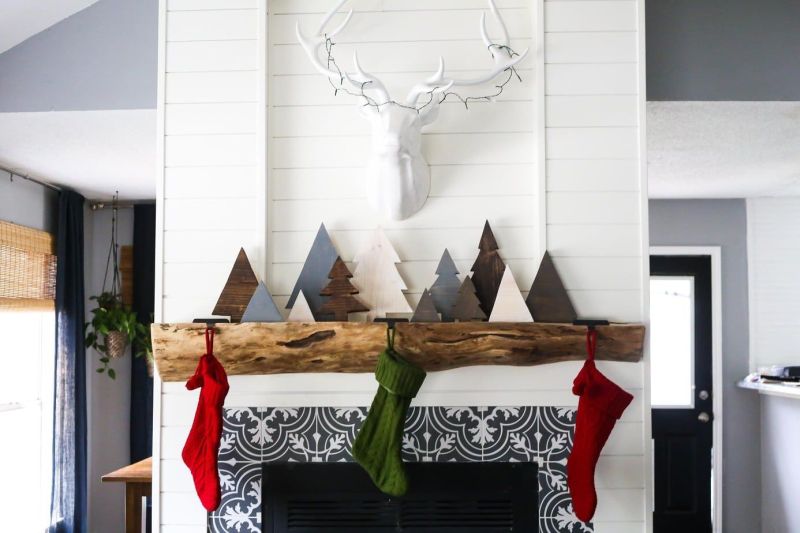 Pallet Wood Christmas Tree
Add a purpose to your Christmas celebration by repurposing pallet wood that you've crammed up in your storeroom since an age. You can transform unused pallets into a unique Christmas tree that will look graceful on the front porch. Below are some ideas to draw inspiration from.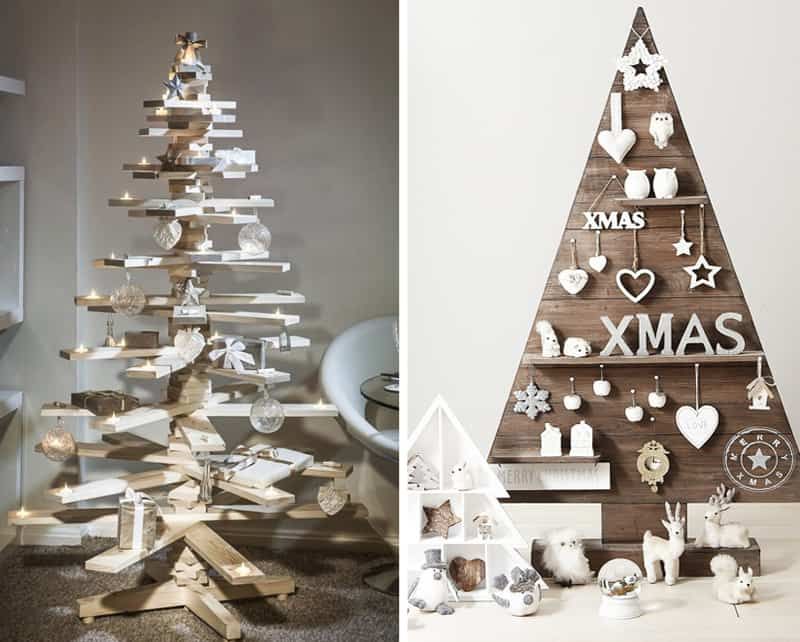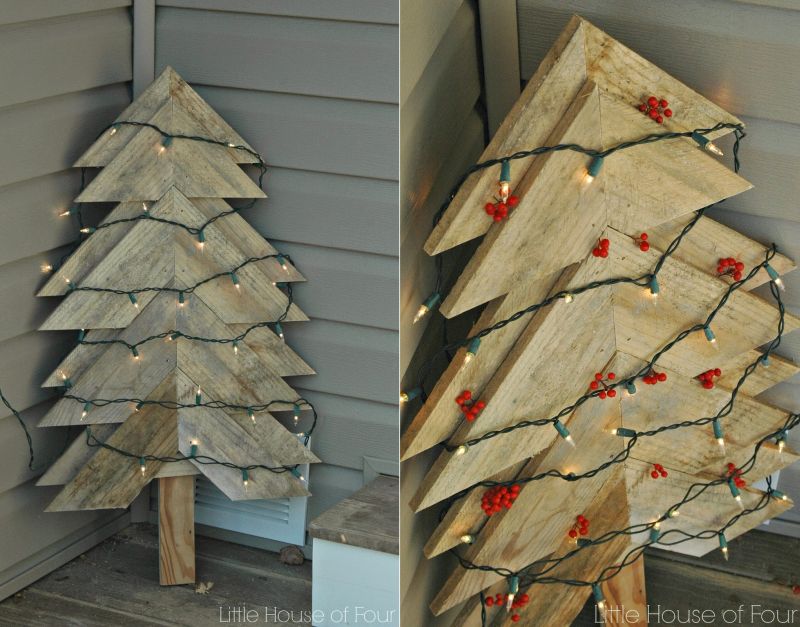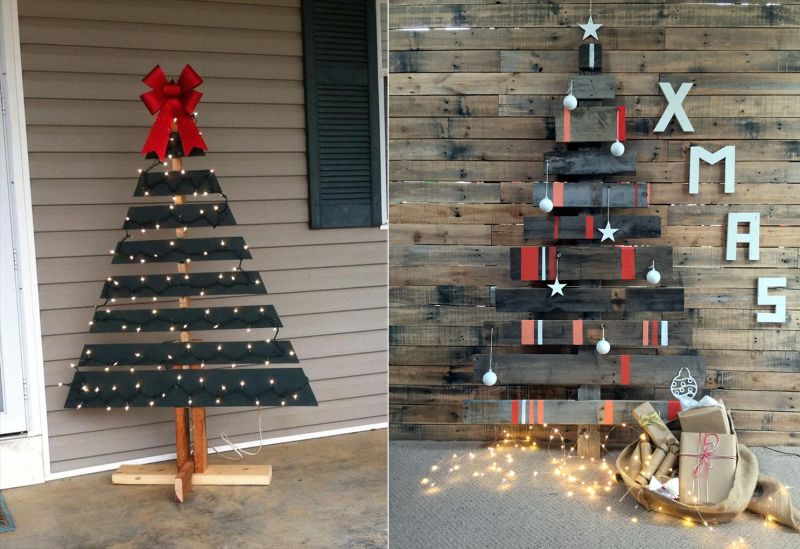 PVC Pipe Christmas Tree
Have a look at these Christmas trees made from PVC pipes. They are a perfect idea for confined spaces or apartments, where the space-saving decor is a must. PVC pipe Christmas tree adds a unique touch to the interior and doesn't take much time or effort to make. You just need to cut PVC pipes into pieces, stick them together to form a tree pattern on a flat panel, and decorate it with your favorite ornaments.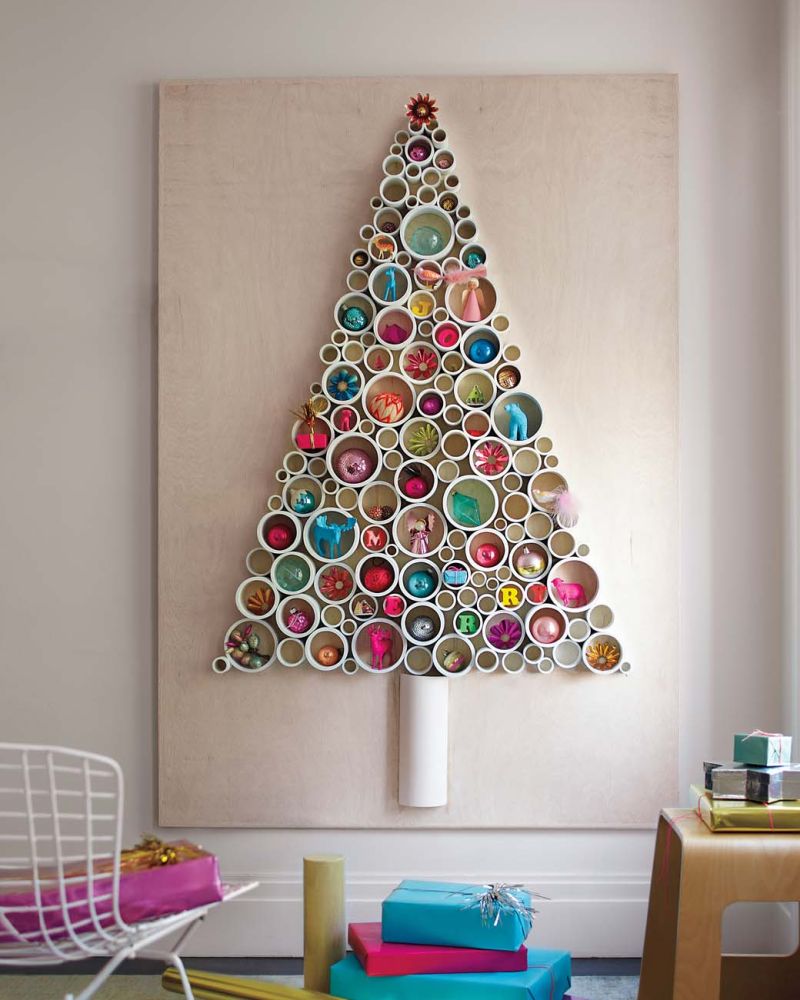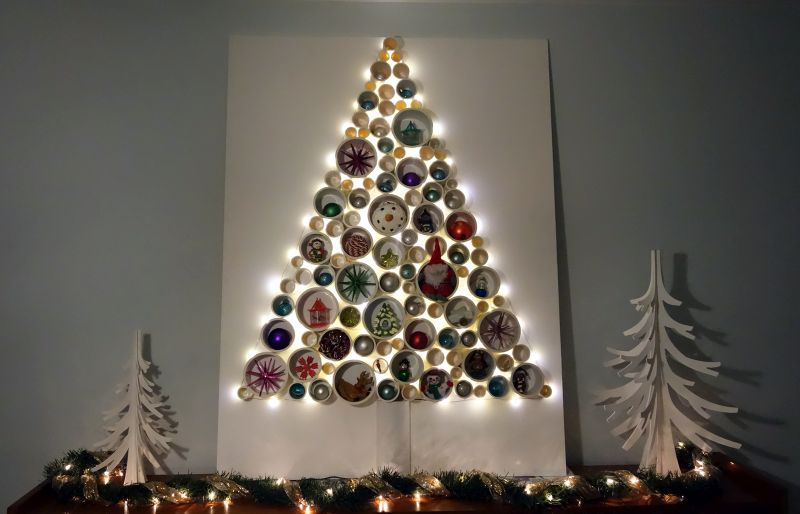 Hazelnut Cane Christmas Tree
Weave up hazelnut vines into the shape of a tree for outdoors. You can add colorful ornaments to improve its grace.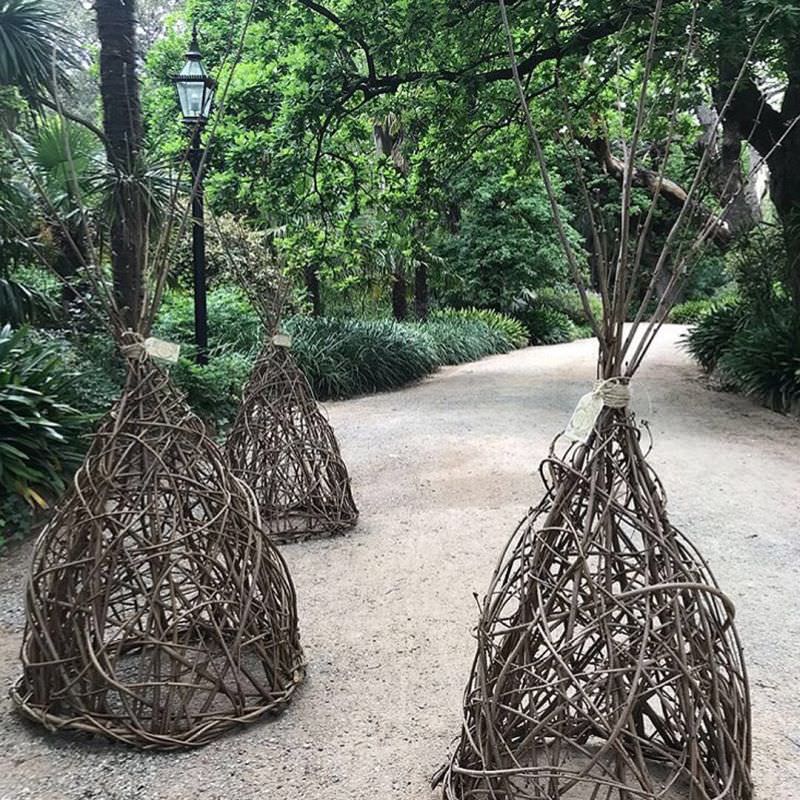 Glass Bottle Christmas Tree
Collect all empty unused glass bottles at home and give them a second life by turning them into a one-of-a-kind Christmas tree. You need to stack them up, vertically or horizontally to form a tree-like structure. It can be decked with light strings and other ornaments.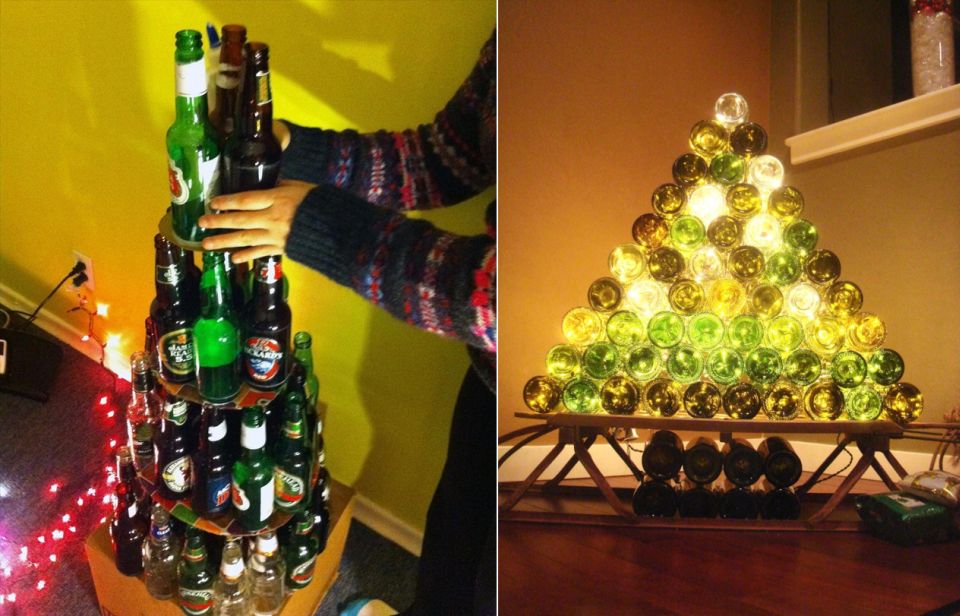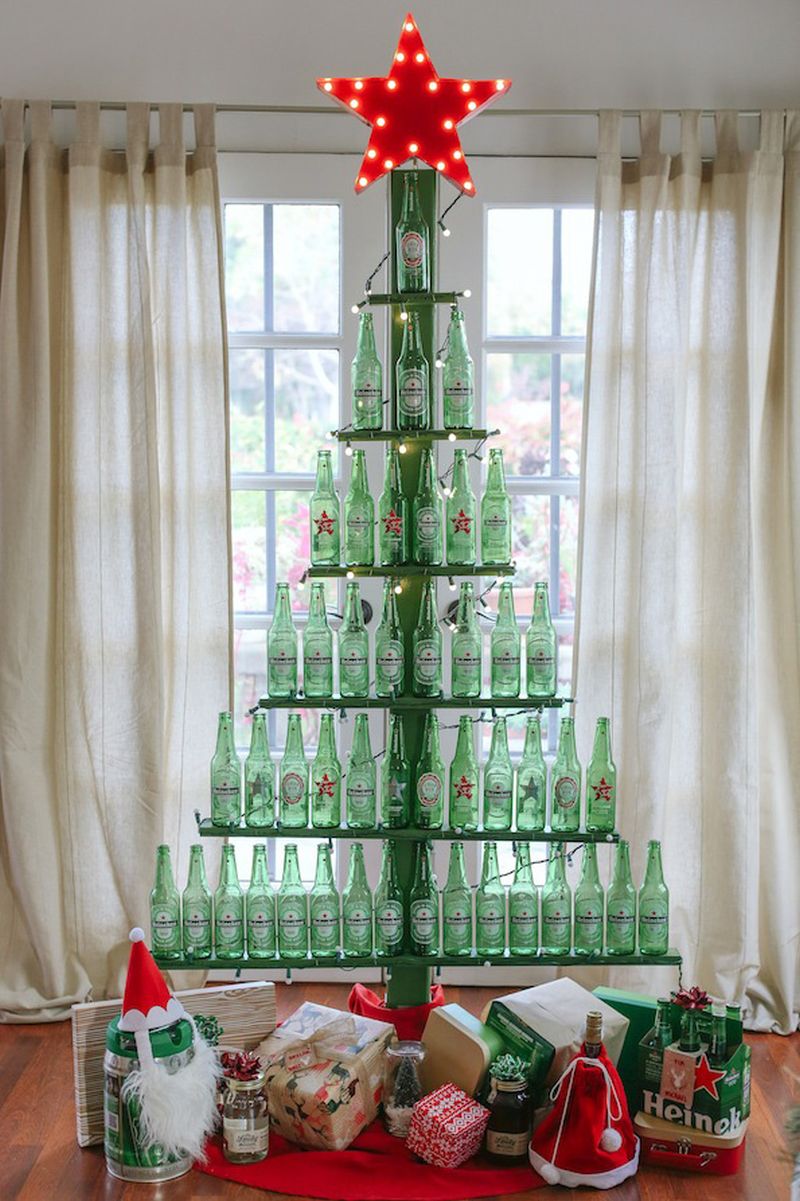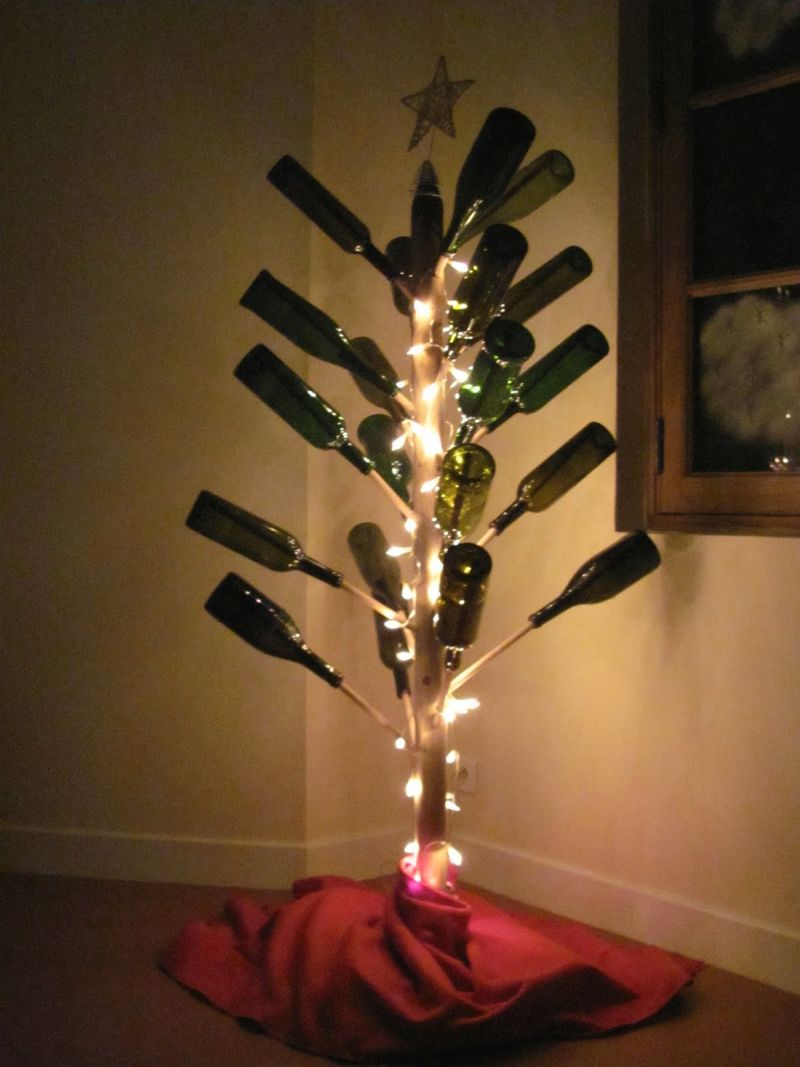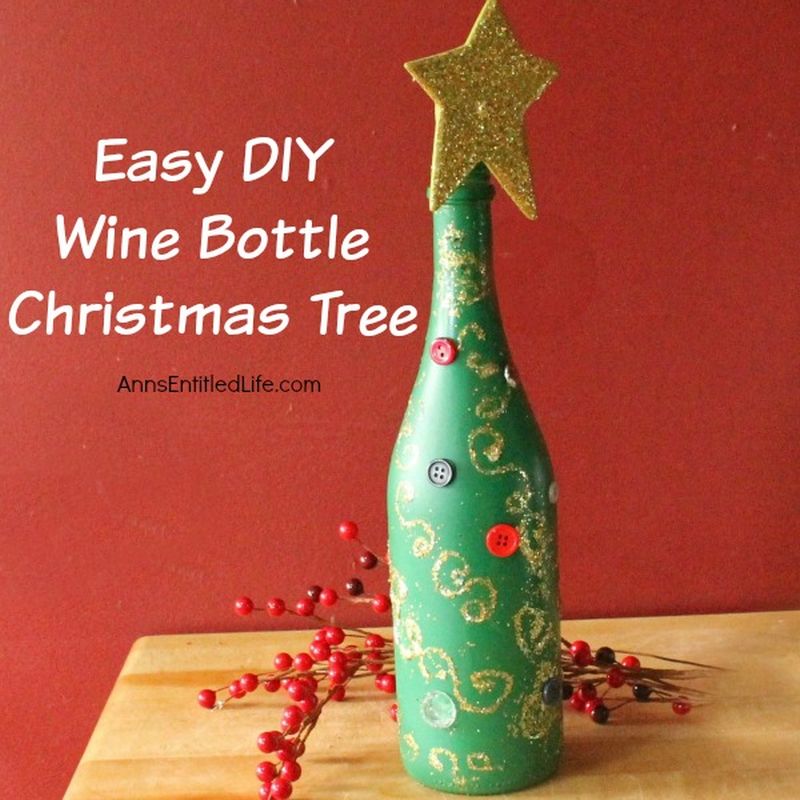 Balloon Christmas Tree
Take home green, white, and red balloons from a craft store to create a balloon Christmas tree. Blow up the balloons and fix them in the shape of a tree using glue or tape. This lightweight Christmas tree can be decorated with glitter and you can even draw on the balloons. See below how you can do that.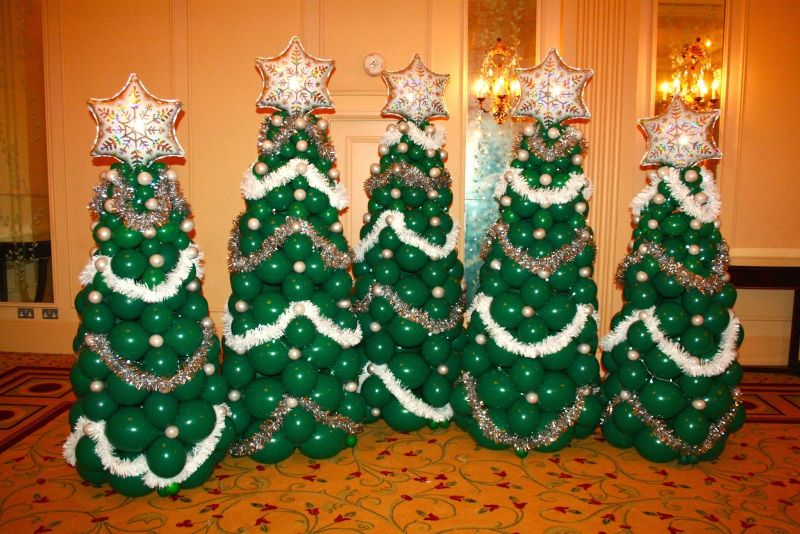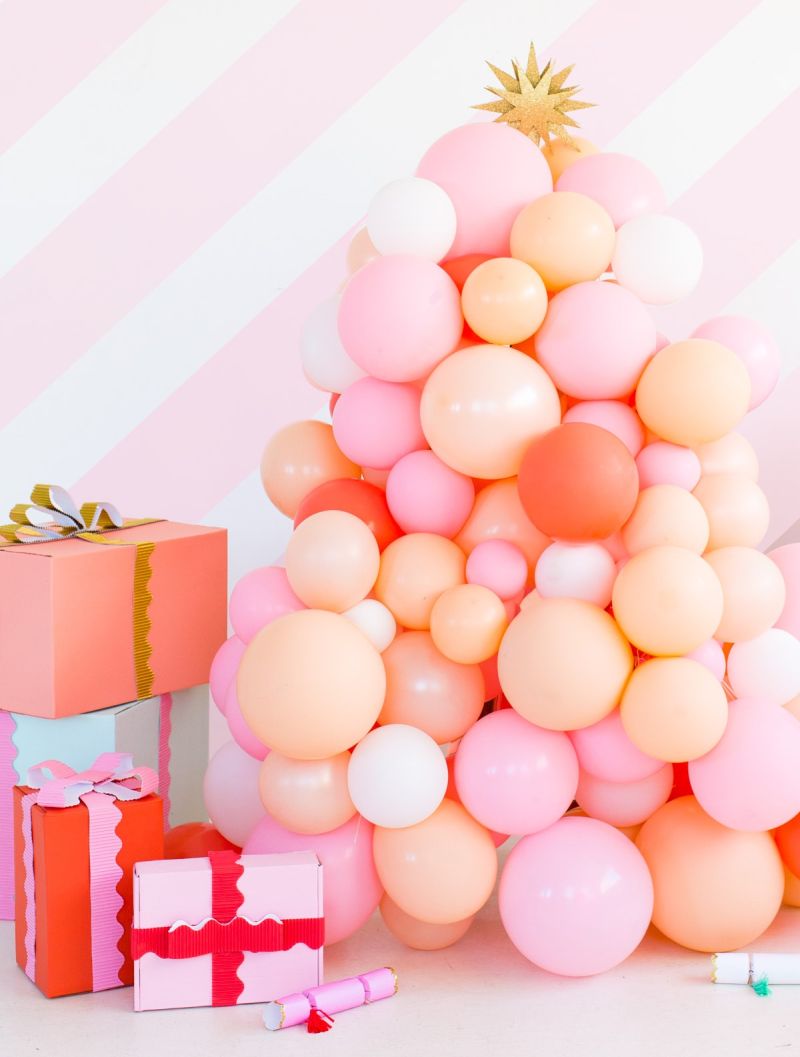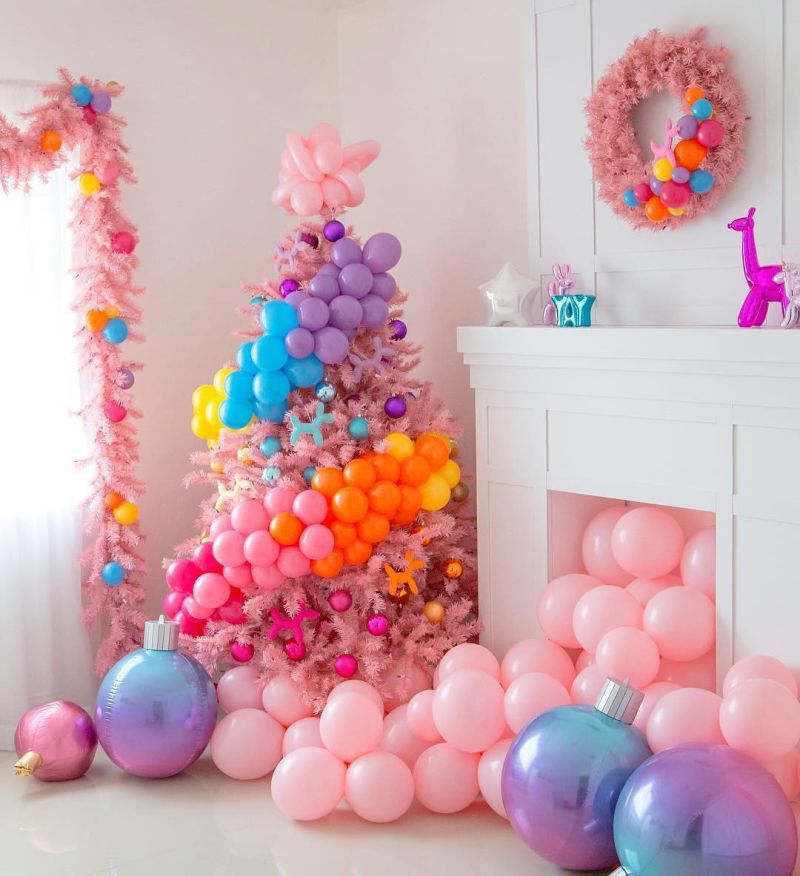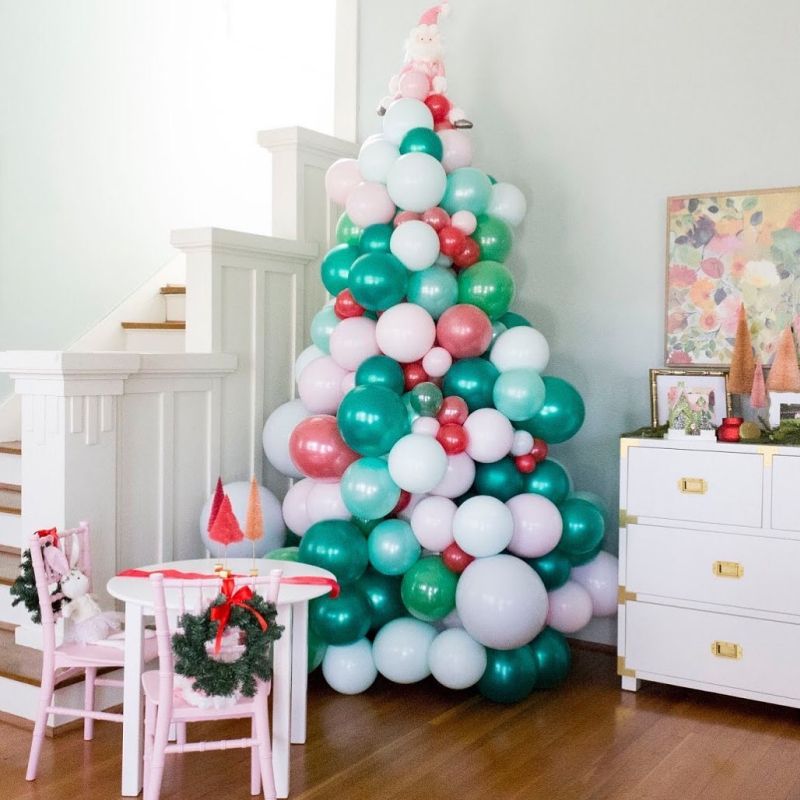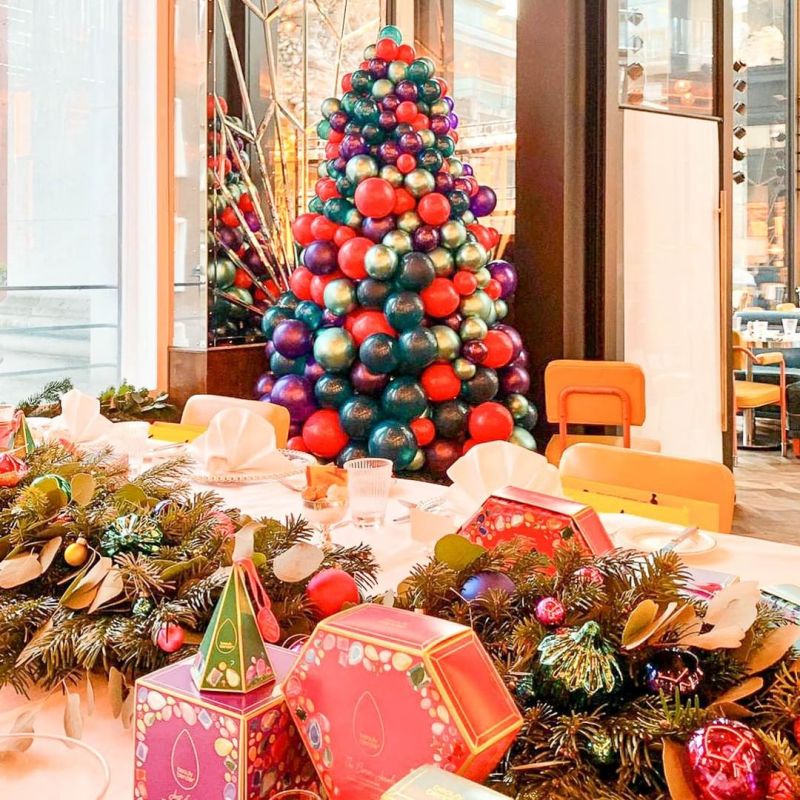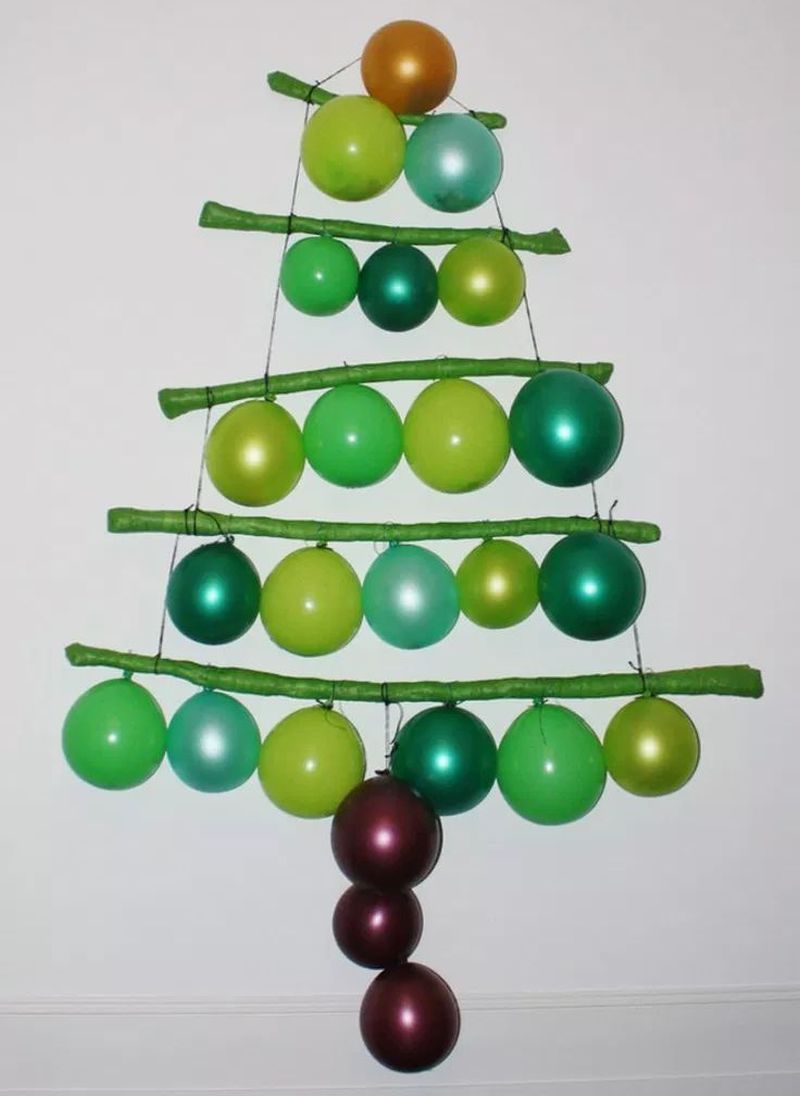 Plastic Bottle Christmas Tree
Fabrice Peltier made this Christmas tree using a number of waste plastic bottles. It is a pretty good idea to reuse plastic bottles. It looks difficult at the onset but could be easy to build if you have patience and zeal.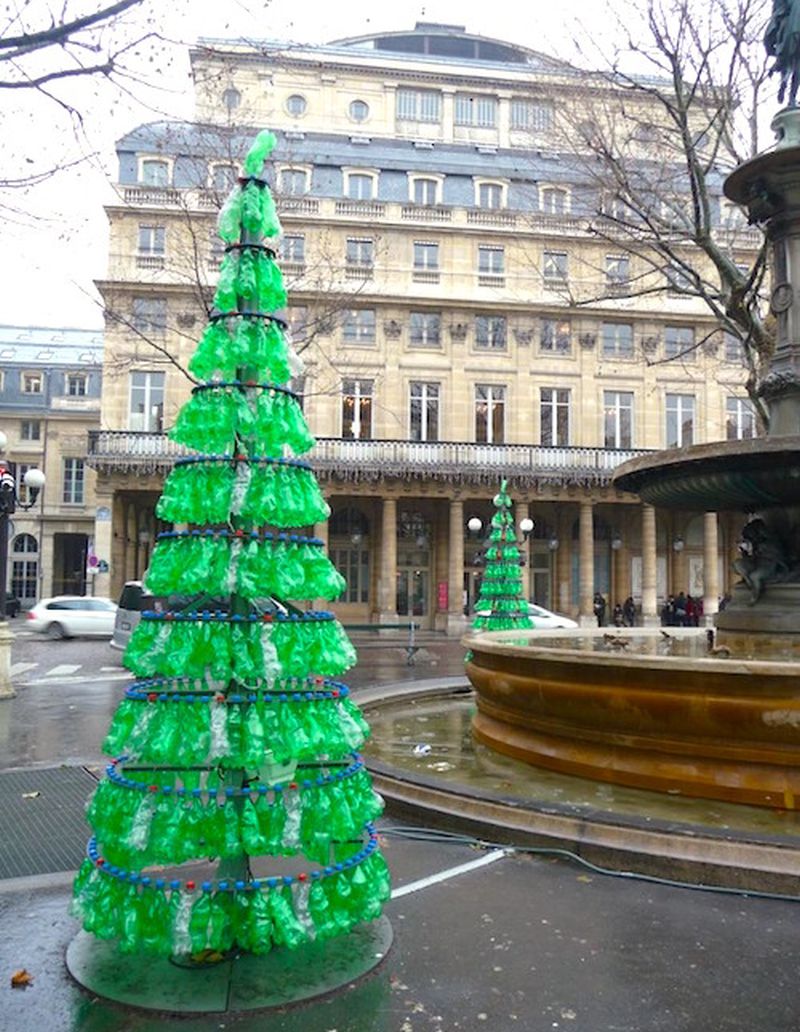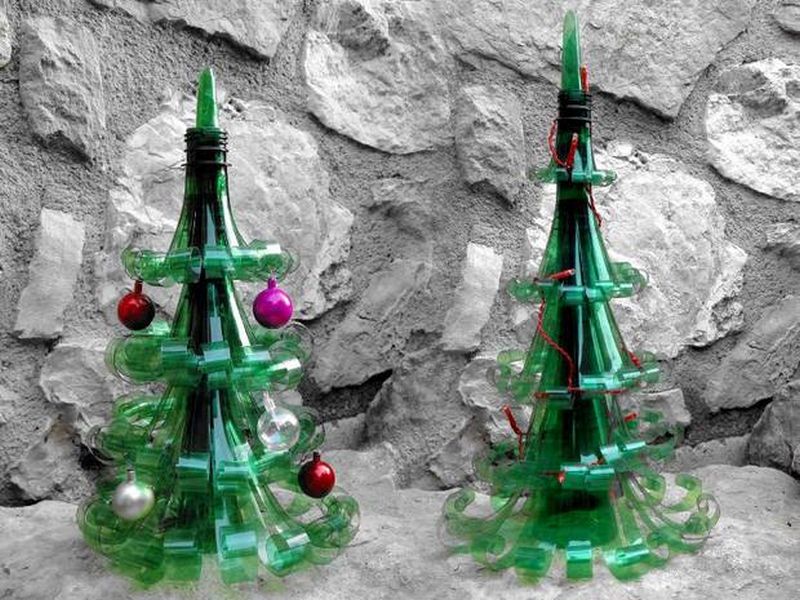 Chalkboard Christmas Tree
Add an artistic touch to your home decoration this Christmas with a chalkboard Christmas tree. Use different colors to make it look attractive. A few suggestions are listed below.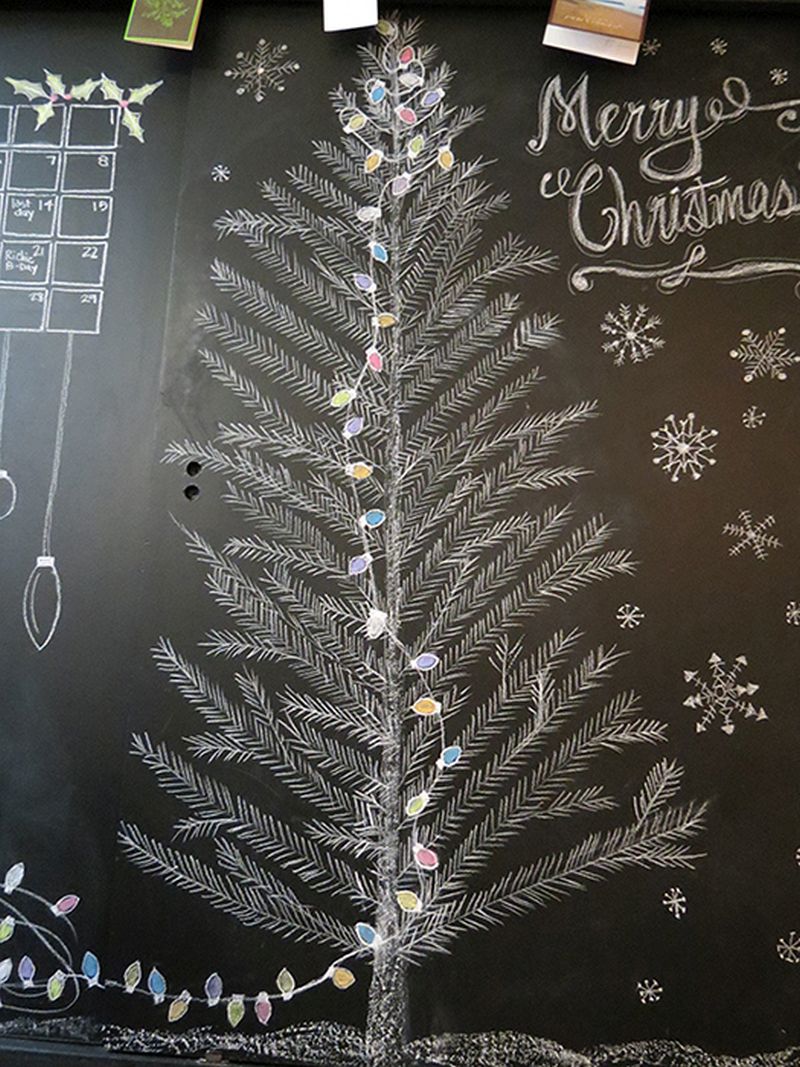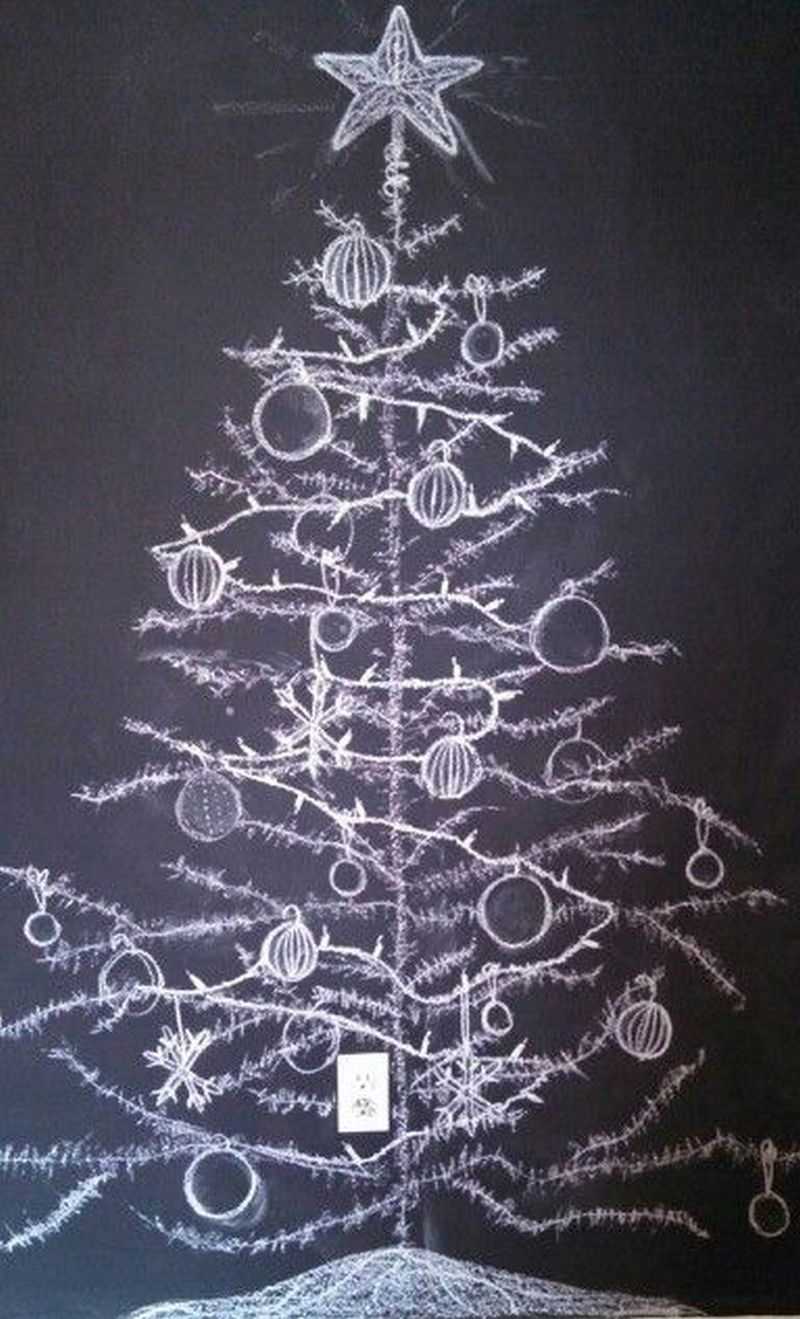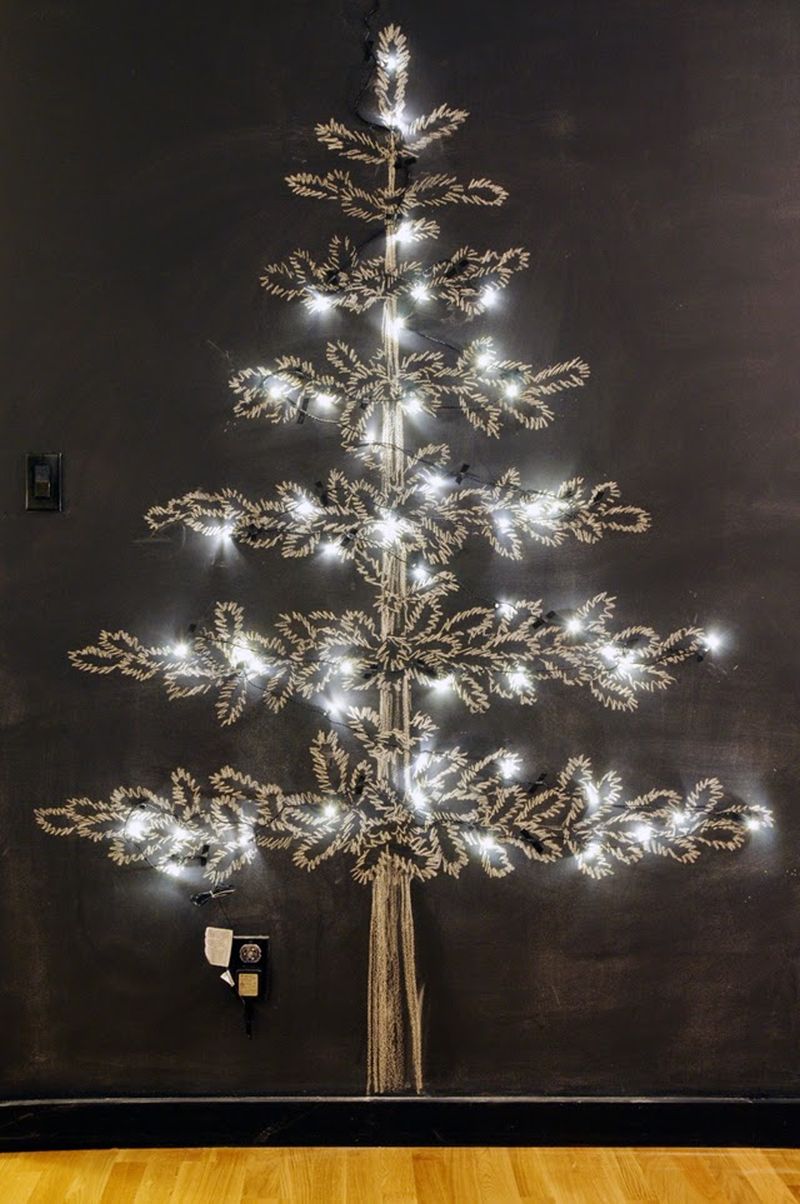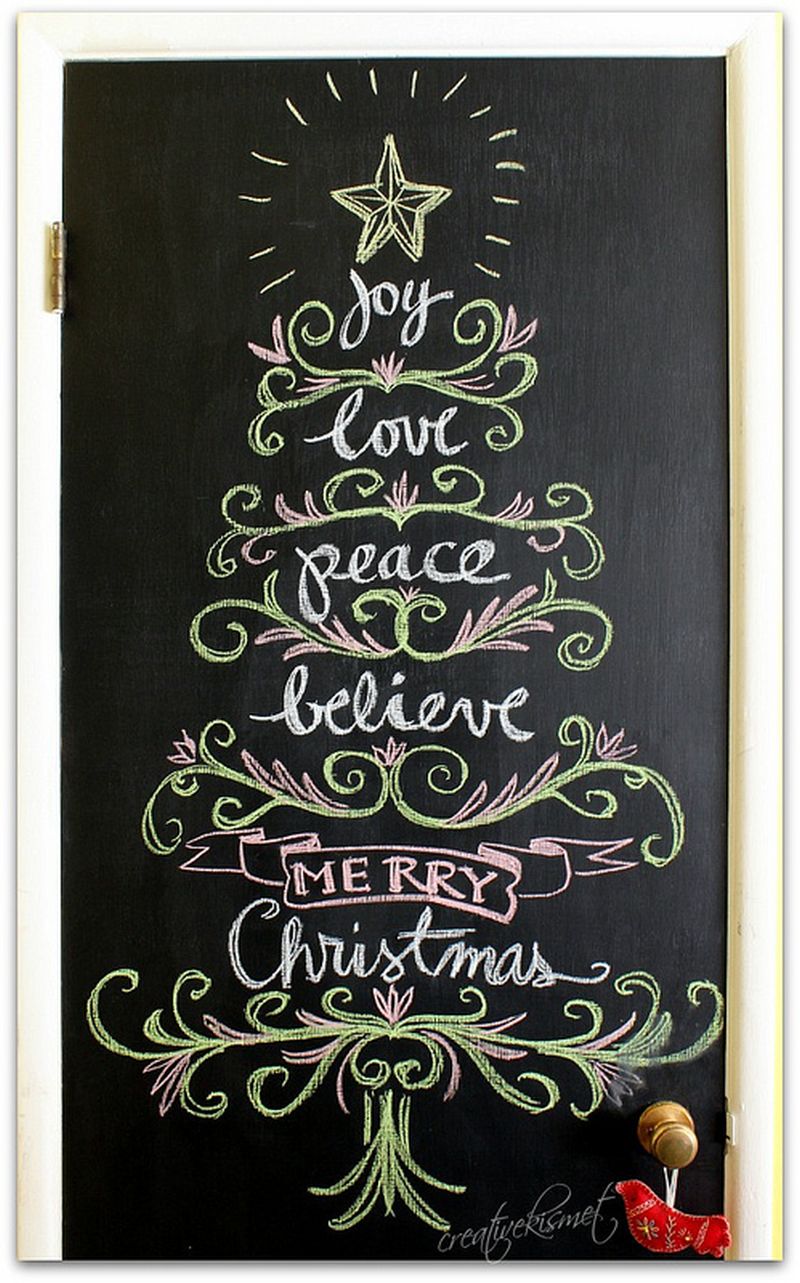 Christmas Tree from Gifts
This one is as fun as receiving gifts. Stack up the gifts you get in the shape of a tree, add a star topper and it can be your Christmas tree. A super simple idea, provided you receive a lot of Christmas gifts.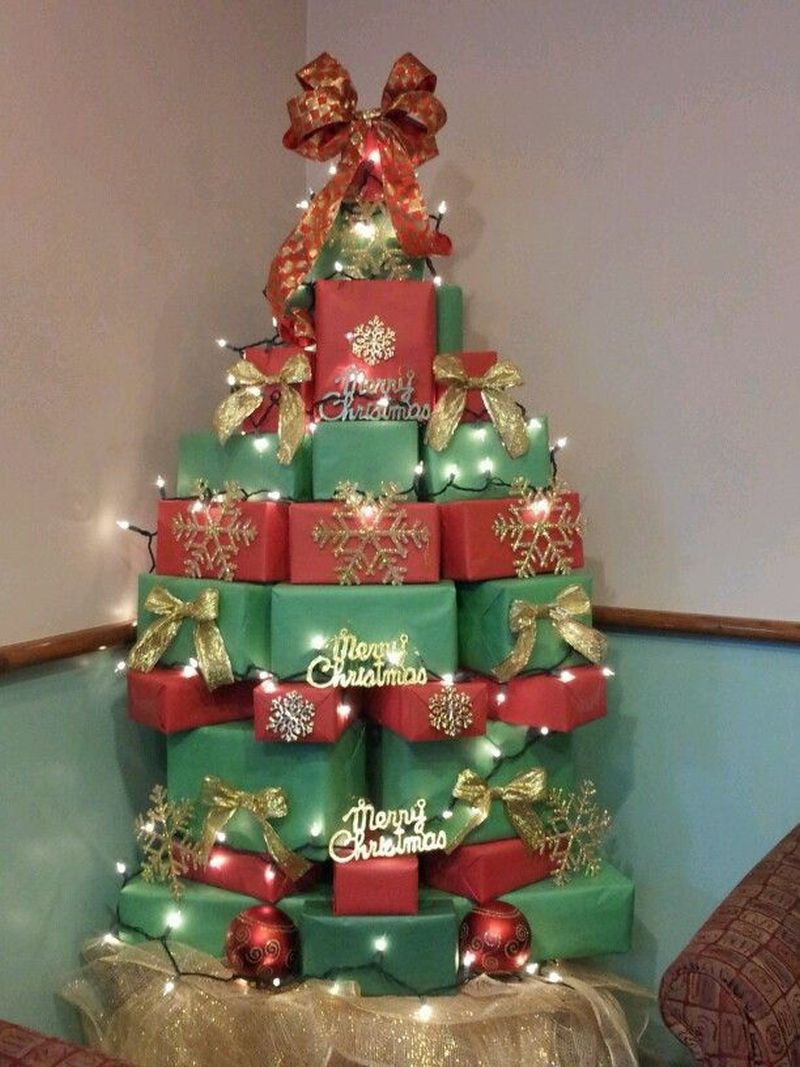 DIY Christmas Tree from Napkin
This stunning Christmas table decoration can be made very easily. You just need to fold the paper to look like a tree. It will rest on a plate.