Decorating a Christmas tree is an old tradition; it is an activity that tells so much about us. Usually, we decorate with light strips, display family photographs, collectibles or purchase readymade decorations. However, if you like to DIY, you should try and make Christmas ornaments on your own. This way, you will save money and add a personal touch to your Christmas tree. Also, you can even make a alternative Christmas tree by yourself.
Kids and adults can equally participate in making ornaments. There are so many options out there, but to simplify the selection, we have listed some of the best DIY ornaments you can make for your 2022 Christmas tree.
Tree Shaped Popsicle Stick Christmas Ornaments
You can easily DIY these popsicle stick Christmas tree ornaments. All you need is a handful of popsicle sticks, a hot glue gun, thread, and sparkle. The task is to cut the sticks into tree shape and then glue on a stick that becomes a tree trunk. See the tutorial for help.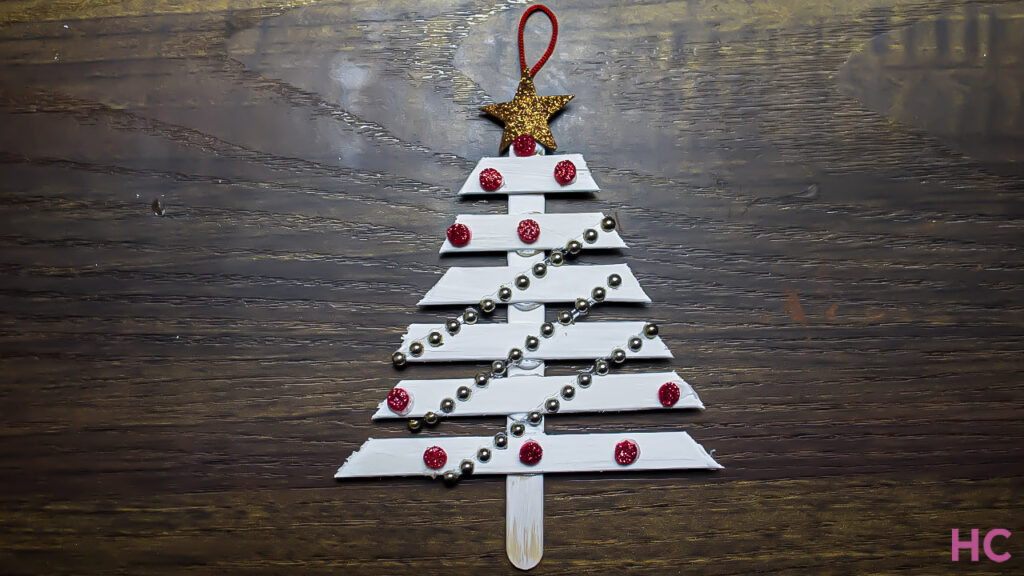 Pinecone Owls
Pinecones are everywhere on the ground during this time of the year but we don't bother to consider them as decor objects. They can be used to create a number of Christmas ornaments. Have a look at these handmade little owls with different expressions on their faces. To craft one of these, you'll need colored felt, scissors, a hot glue gun and pinecones, of course. Making pinecone owls is easy but if you are not confident, consider this tutorial.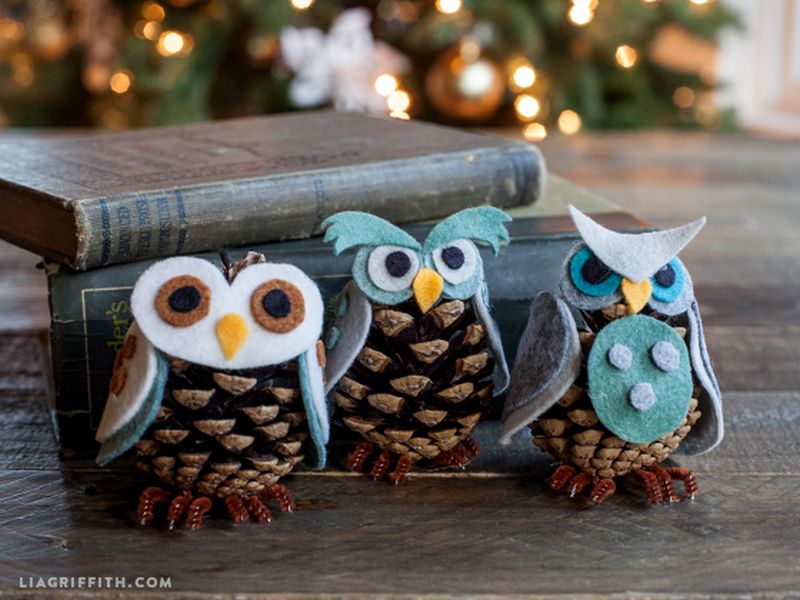 Mini Christmas Globe
Want to show your passion for travel on the Christmas tree? Check out this mini globe ornament you can craft in a few simple steps. You need a Styrofoam ball, map, glue, glitter, ribbon, a wooden skewer, and a pair of scissors for this Christmas craft. Check out the tutorial for help.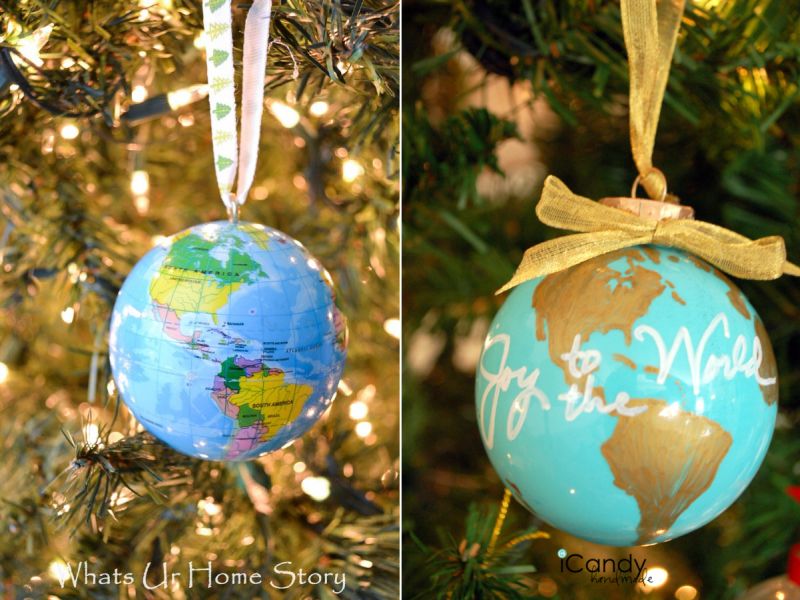 Glitter Foam Ball Christmas Ornament
Making these ornaments will be a fun holiday activity for the entire family. You will need to cut circles from glitter foam sheet, cut them in two equal pieces and then glue into a ball shape. Check out the detailed tutorial for full instructions.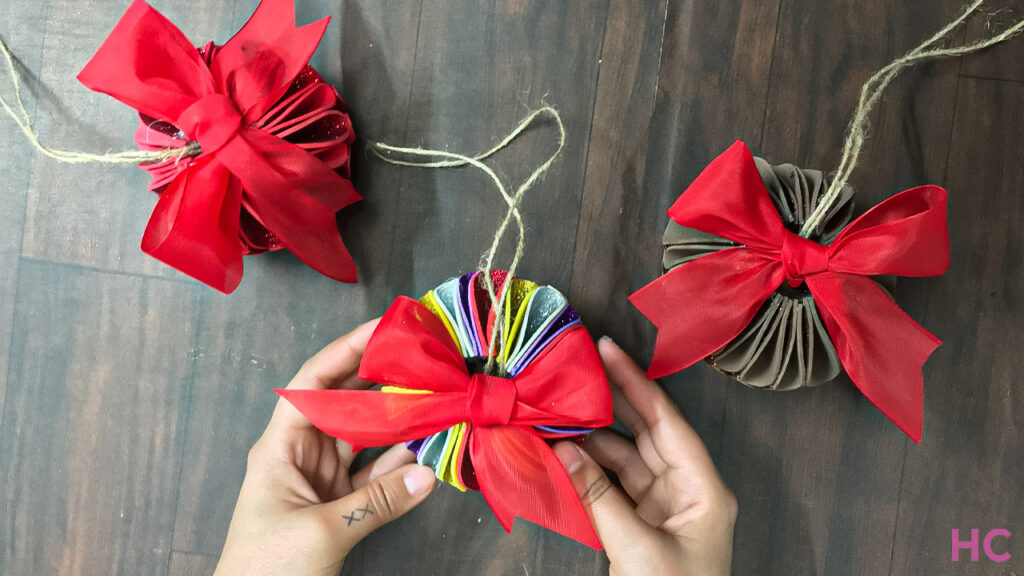 Cork Reindeer
Don't throw away wine bottle corks, you can use them to create amazing ornaments for your Christmas tree. Look at these little reindeers, they are entirely made using bottle corks and a few other embellishments. Reindeer ornaments have their own charm and significance during Christmas, and this DIY project is a great way to add a polar essence to your Christmas tree. See the tutorial for help.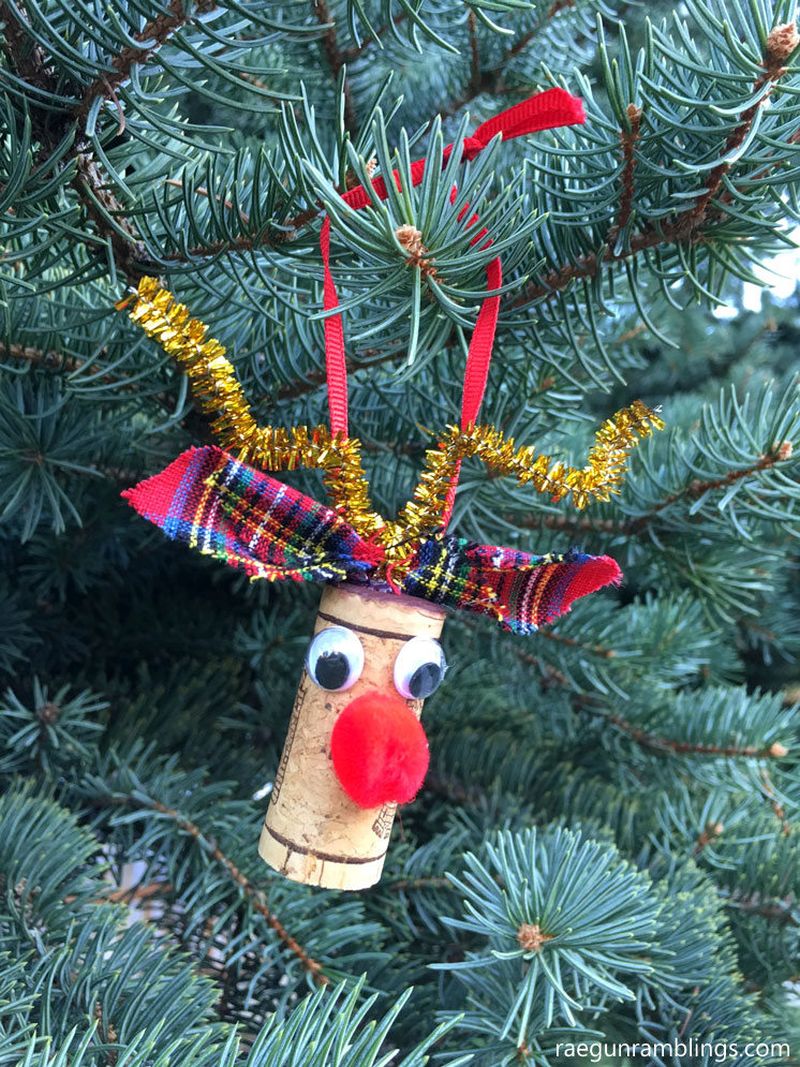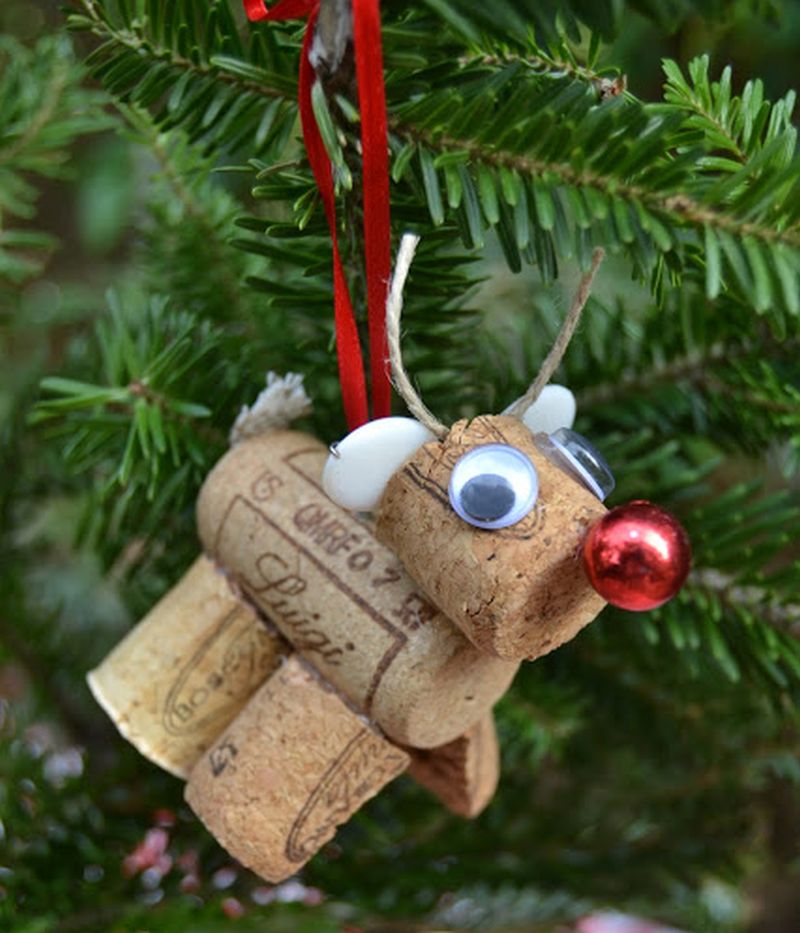 Wine Cork Ornaments
You'll need wine corks, washers of two sizes, eye hooks, jump rings, beads, and glue. Stick washers at the ends of the corks and add eye hooks on each end. On the bottom, add beads and charms and tie a baker's twine to hang the cork ornament on the tree. Check out the tutorial for details.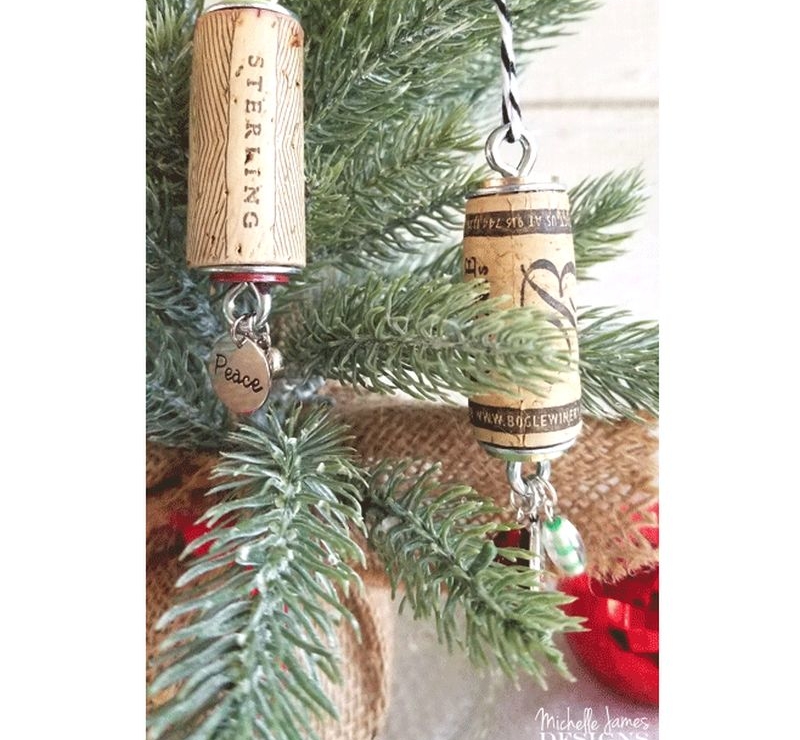 Yarn Ball Ornaments
How about decorating your Christmas tree with yarn balls? It is a cost-effective project that requires colorful threads, balloons, and glue. The interesting thing is, you can create them in different sizes and colors, and involve kids in the project. See full tutorial at All Things GD.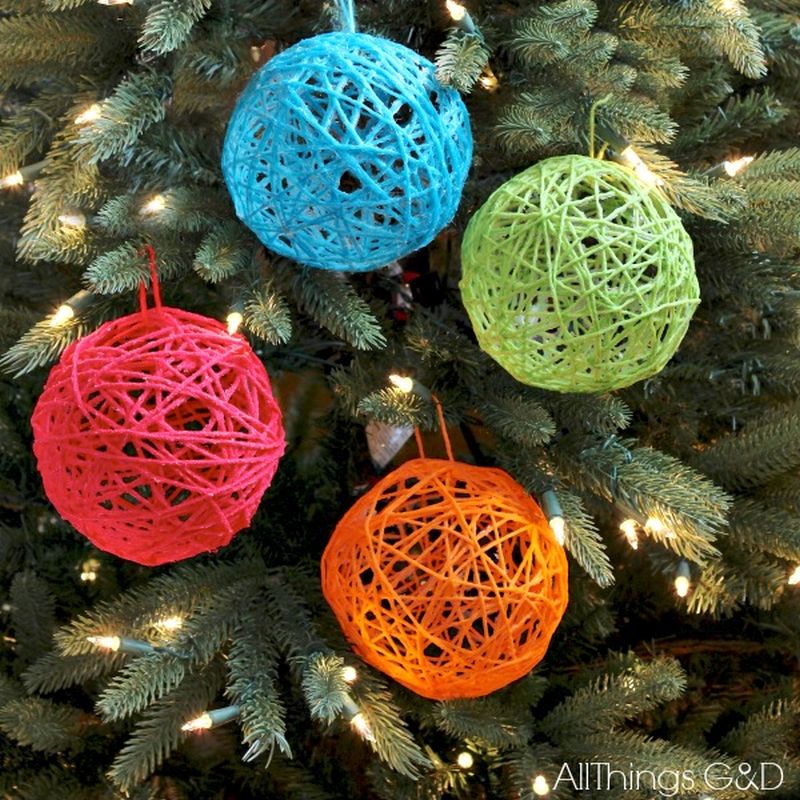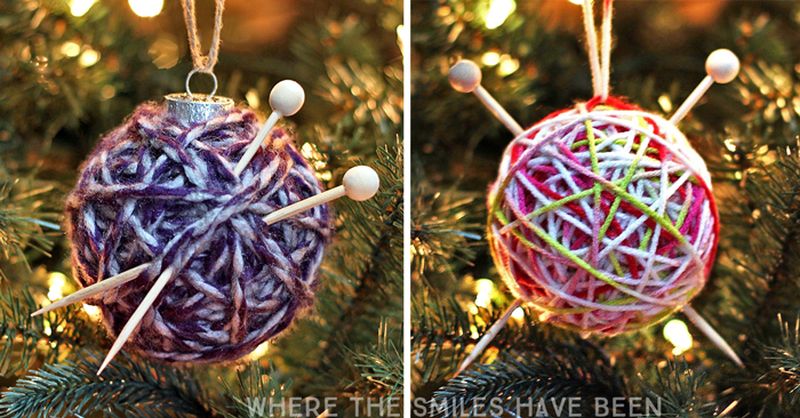 Mini Felt Ornament
You will love this mini felt Christmas tree that you can make on a budget using colorful felt and jingle bells. To craft this adorable mini tree ornament, you need to cut out and glue felt pieces in the shape of a pine tree, then attach a jingle bell or star on top. You can involve kids if you plan on making a number of pieces to put on your Christmas tree. See the tutorial at Hello Wonderful.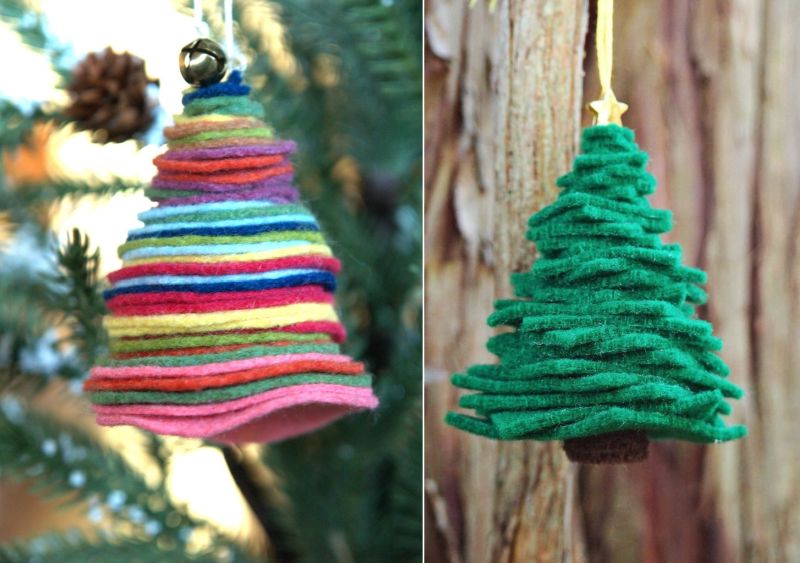 Miniature Yarn Wreath
Aren't these miniature yarn wreaths the cutest DIY Christmas tree decorations? They are perfect to make your Christmas tree undeniably beautiful and unique. These yarn-wrapped wreaths are super easy to craft. All you need is little rubber rings and desired ornaments. Wrap the rubber rings in the yarn of choice, and glue some embellishments to give it a festive look. See the tutorial for more details.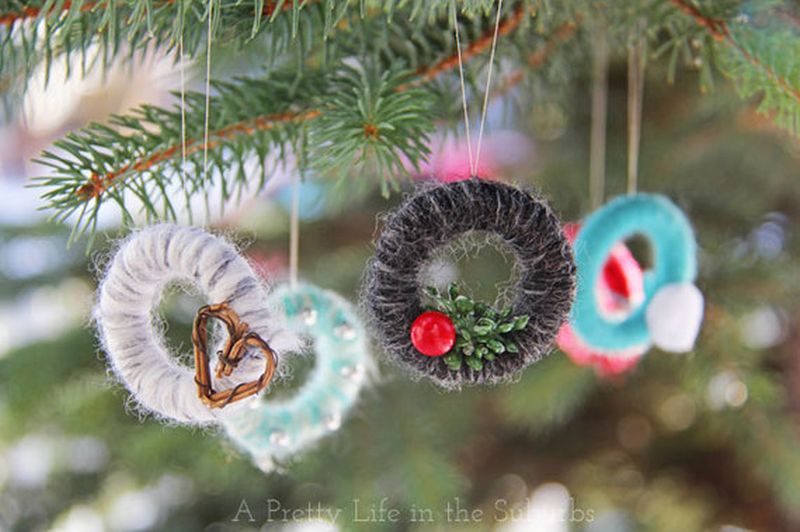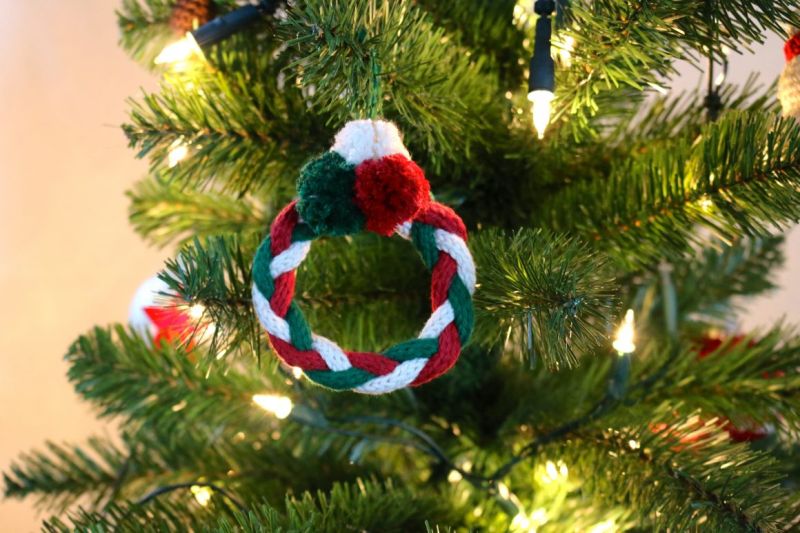 Cute Little Snowman
Christmas is all about enjoying snowfall with friends and making a snowman in the yard. There's a great chance for you to add an equally attractive snowman to your Christmas tree. Make this cute pom-pom snowman Christmas tree ornament using yarn and your DIY skills.
You need to make two white yarn balls, each in different size. Attach the smaller one over the other to make it look like a snowman and decorate with red fabric, buttons, and other embellishments. See the tutorial at Cutesy Crafts.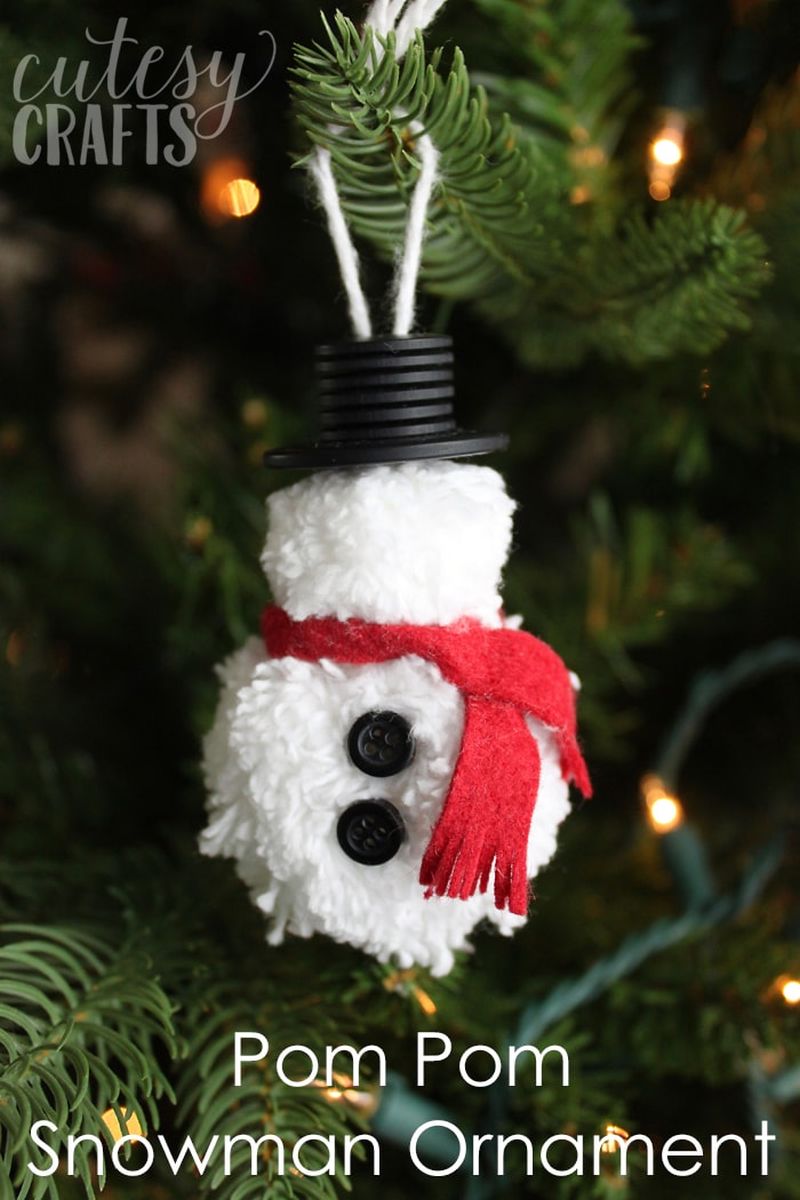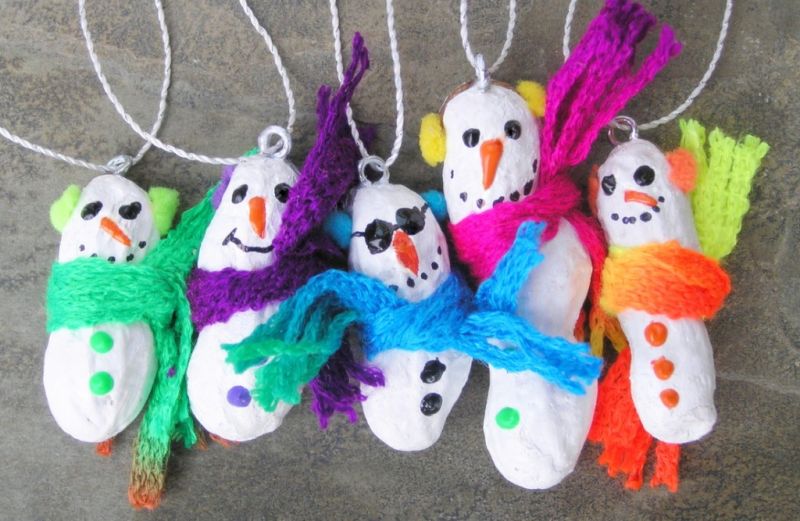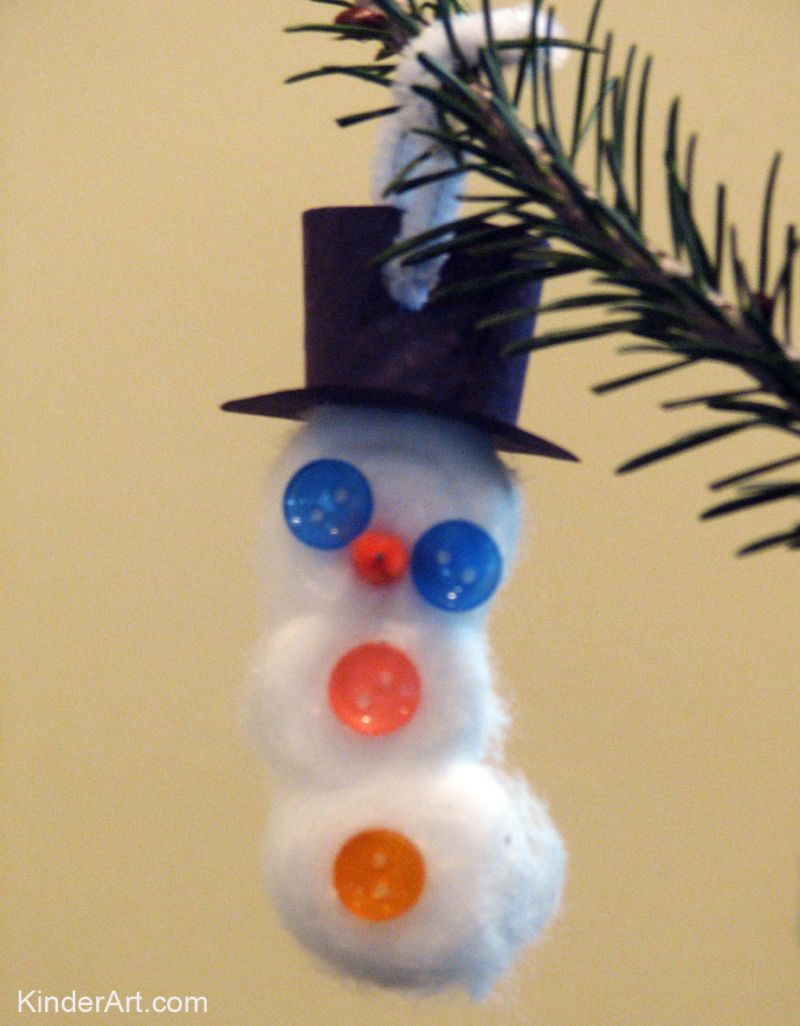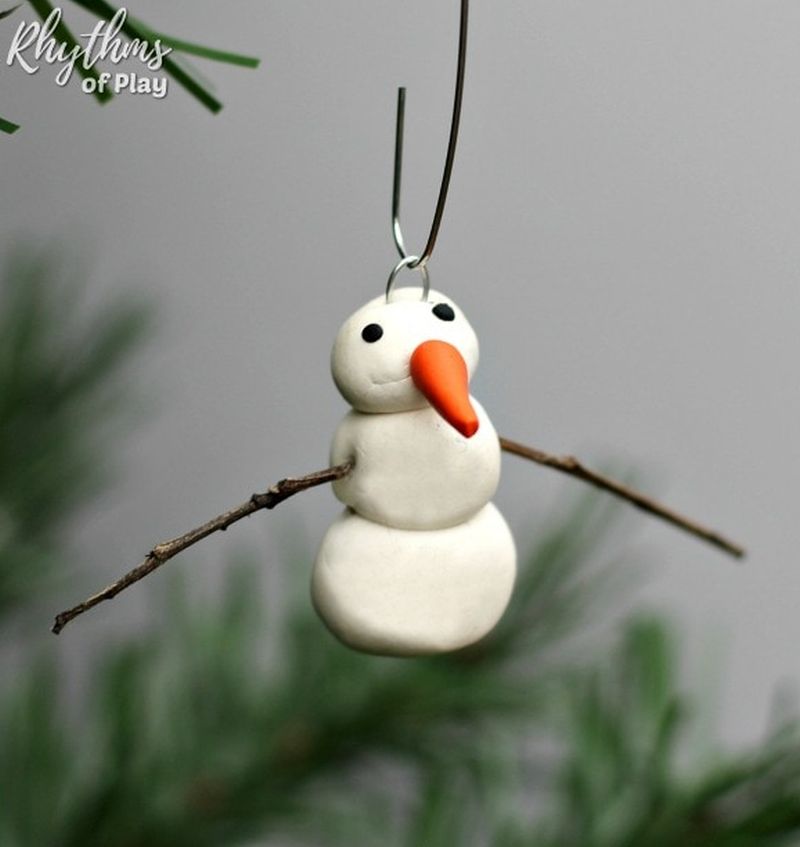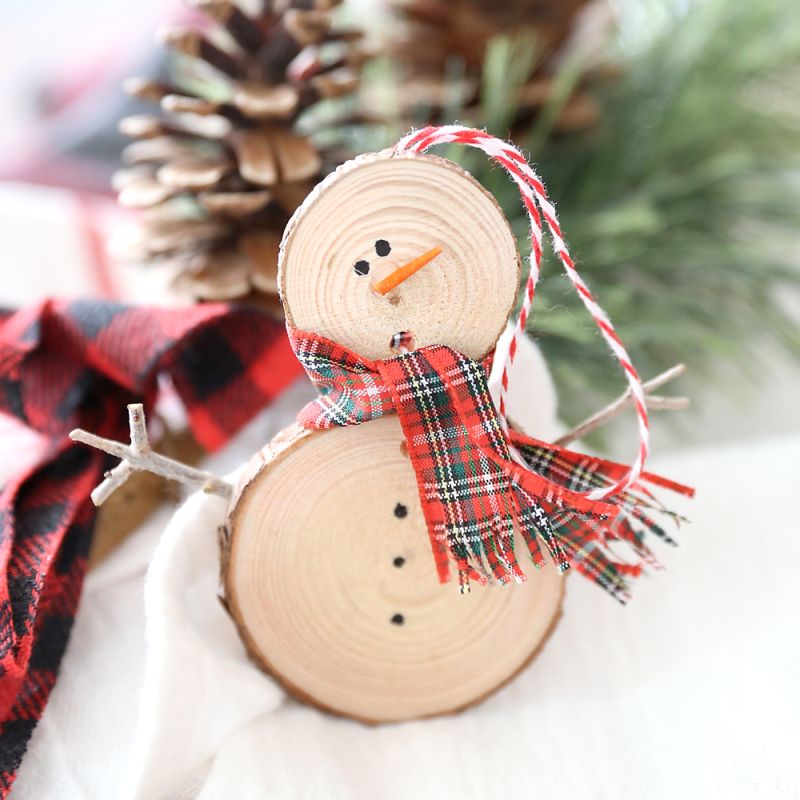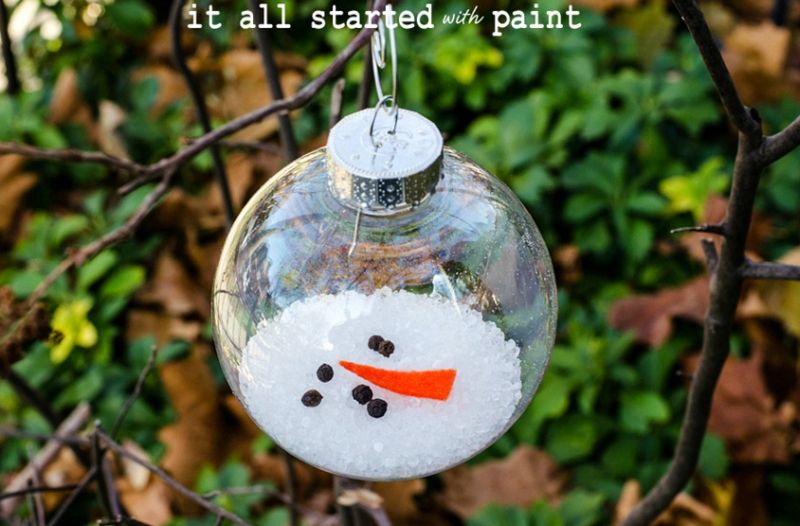 Cinnamon Stick Christmas Tree Decorations
Ensure fun-filled winter holidays for your kids by engaging them in this easy Christmas DIY project. You can teach your kids how to make little pine tree ornaments using cinnamon sticks, colorful buttons, and pine shrubs. These greenish ornaments will look wonderful when you pair them with lighting and other ornaments. See the tutorial for help.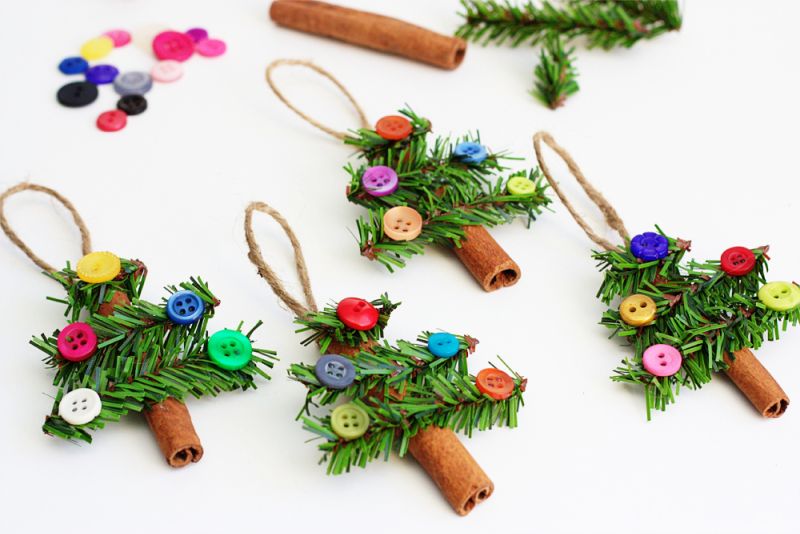 Also Read: DIY Christmas Wreath Ideas
Easy Farmhouse Crocheted Ornament
This rustic Christmas ornament looks cool and can be a great holiday project. Addition of twine makes it look even more beautiful. You can check out the pattern at Winding Road Crochet.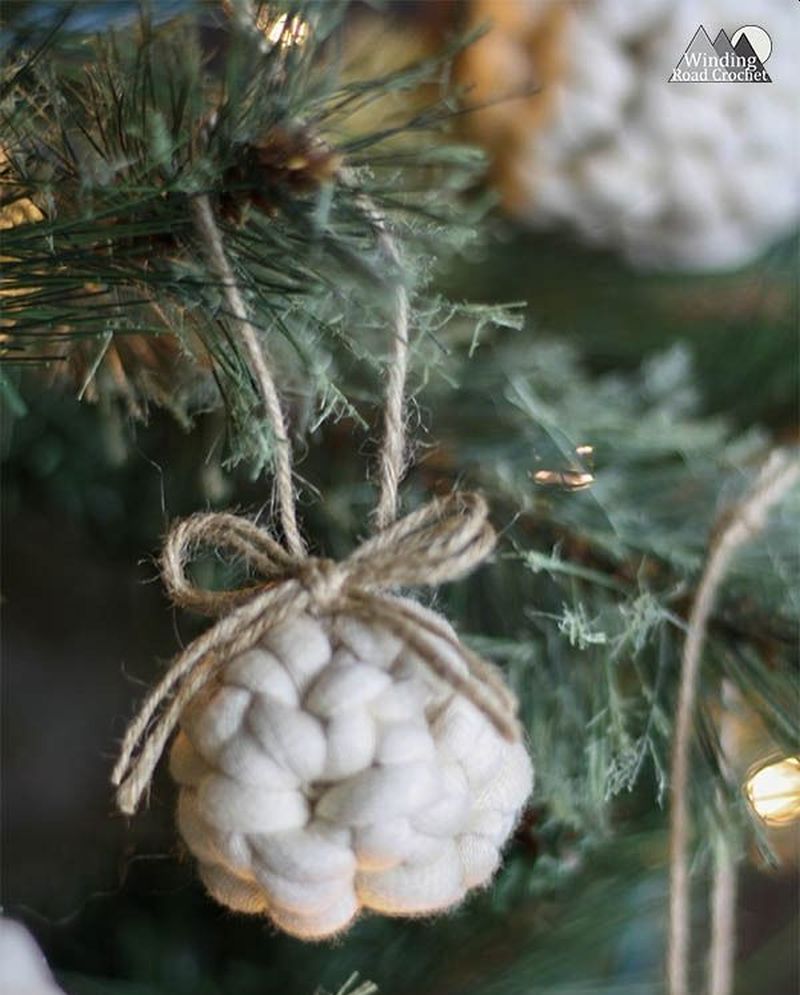 Crochet Mini Gloves
Spruce up your Christmas tree by hanging mini gloves on it. If you are familiar with the art of crocheting, knit a few colorful gloves to hang on your Christmas tree to celebrate chilly winter and snowfall. To add that festive appeal, consider crocheting red and white gloves. Follow the full tutorial here.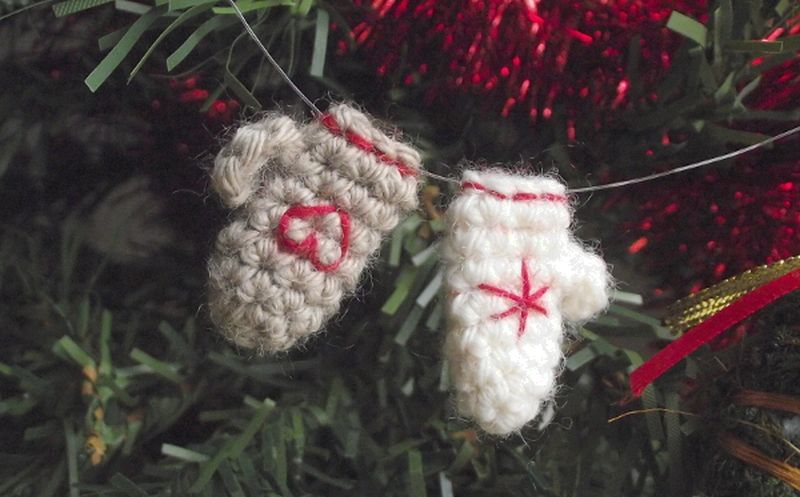 Christmas Sweater Crochet Ornament
If you are familiar with crocheting, this cute crocheted Christmas ornament can help you add personalized essence to your Christmas home décor. You can find the full tutorial at Raffamusa Designs.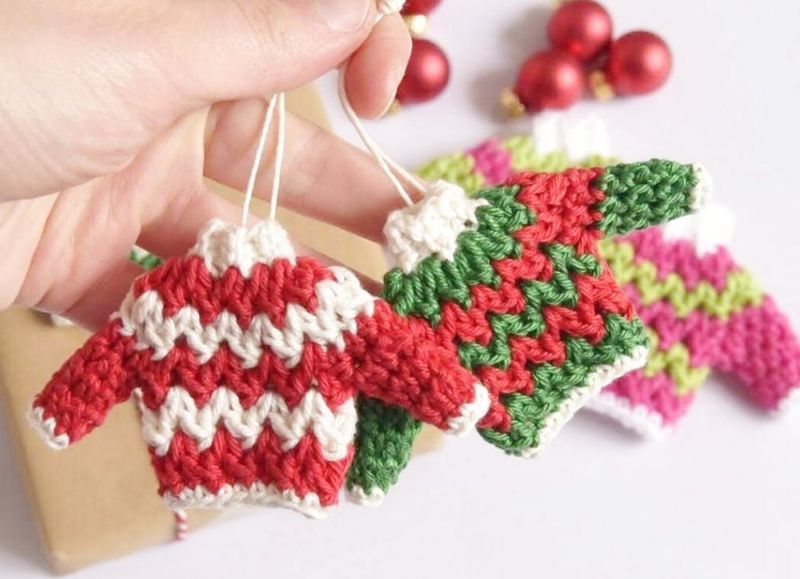 Crocheted Christmas Tree Ornaments
If you have leftover yarn in your cupboard, bring it to good use by crocheting mini trees that will look adorable on your big Christmas tree. Crocheting mini trees is effortless and won't take much time. You can knit them in under 20-30 minutes provided you have the basic knowledge. Check out the tutorial for help.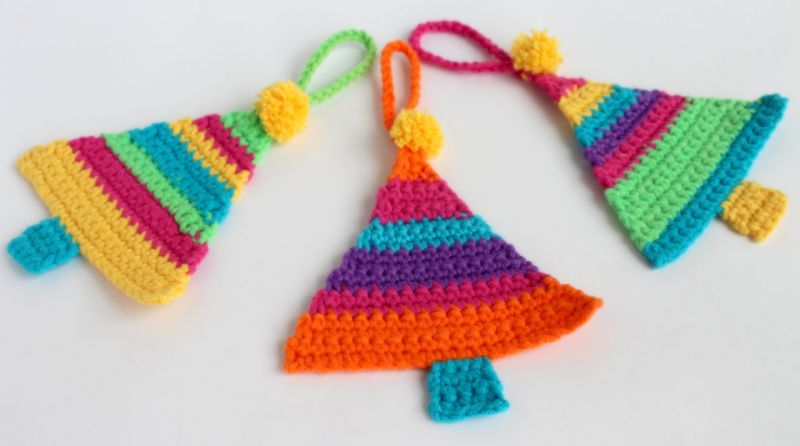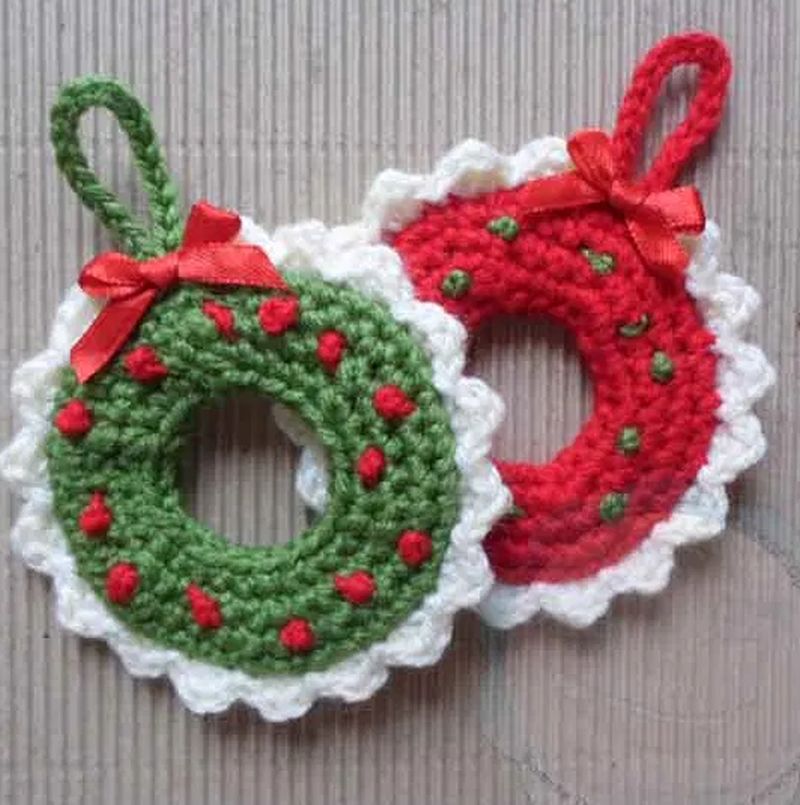 Glittery Pear Ornament
A Christmas tree looks incomplete until you add some glitter and sparkle to it. You can paint a pear with glitter and decorate it with a ribbon bow. The pear will instantly make your tree look beautiful. See the tutorial for help.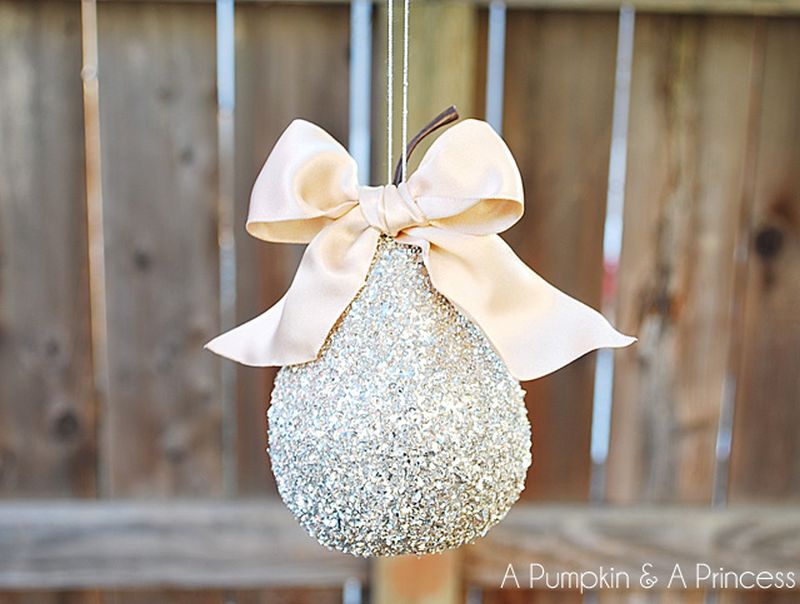 Wood Diamond Ornament
Try making this 3D wood diamond Christmas ornament that is sure to draw everyone's attention. This DIY project will require a lot of patience and above-average woodworking skills. If you want to give it a try, check out the step-by-step guide for help.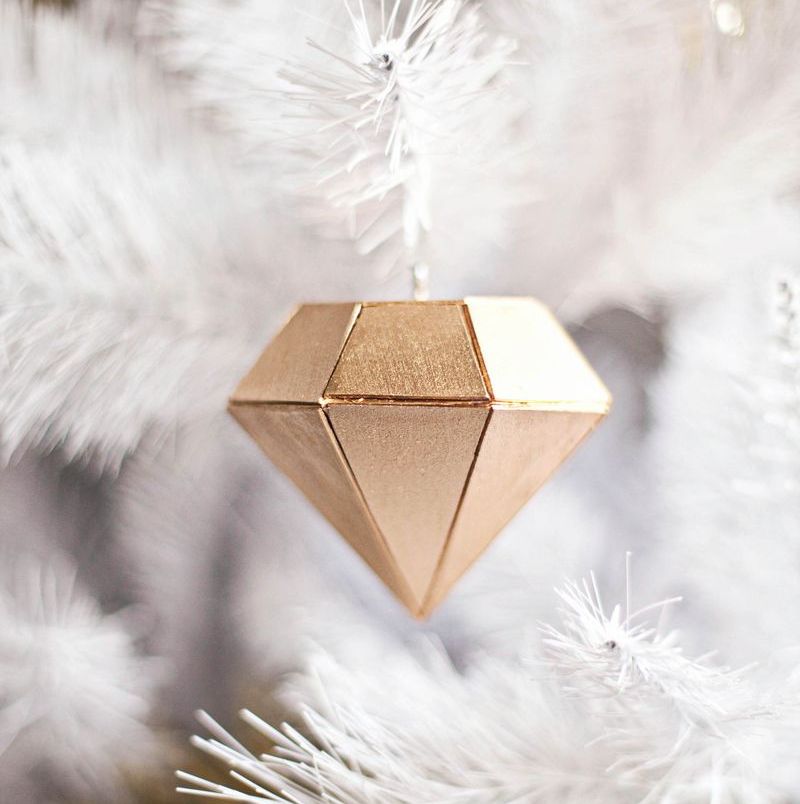 Wood Slice Ornament
How about decorating your Christmas tree with a mini wood wreath? This lovely wreath is made using slices of a tree branch, glue, and other festive embellishments. It'll lend that rustic appeal to your Christmas tree. See the full tutorial at Thrifty and Chic.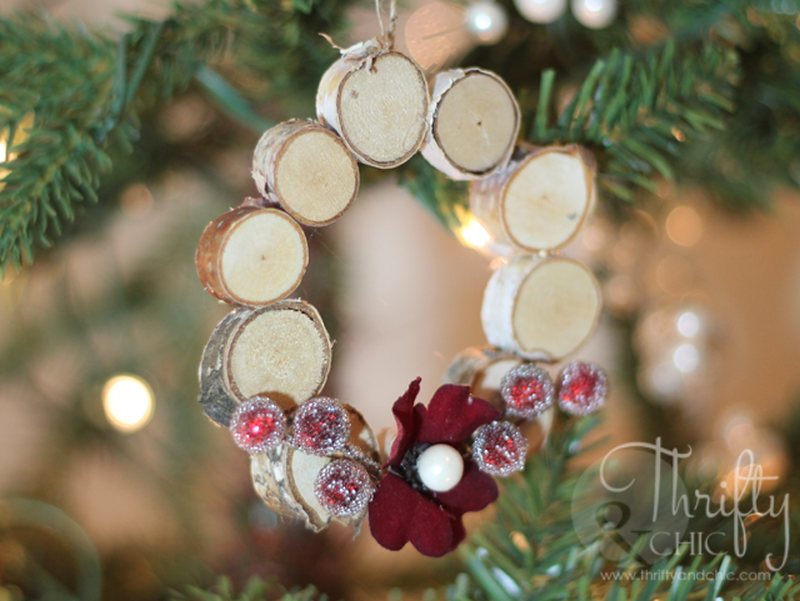 DIY Birch Wood Ornaments
Add a rustic touch to your Christmas tree with these cute birch wood ornaments. All you need to do is get birch wood slices, paint them in the center and screw in the eye rings, and attach them to a ribbon or twine.
You can show off your creative skills by painting these slices or simply printing some labels and sticking on them. And there you have the birch wood ornaments ready to decorate your Christmas tree.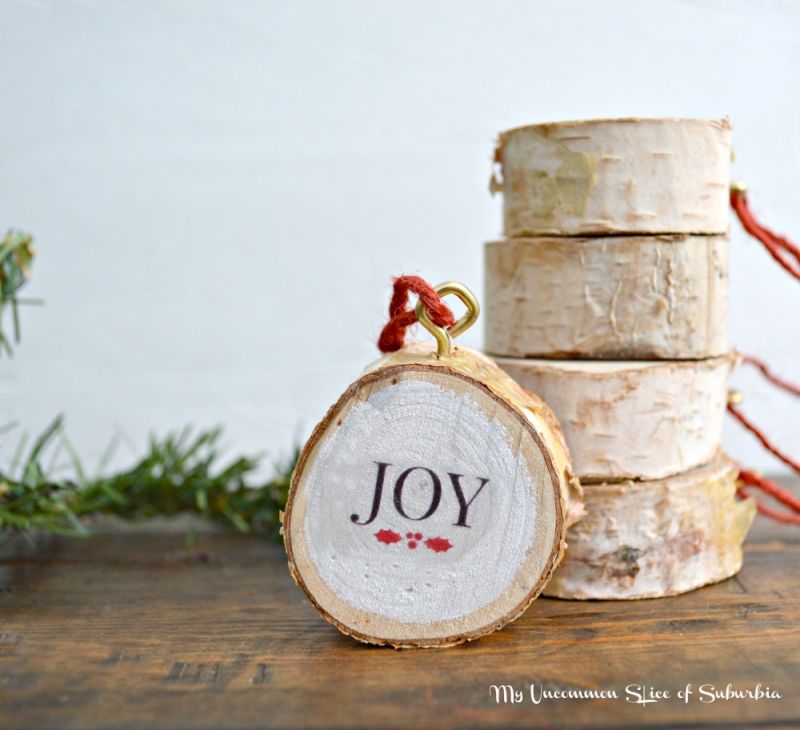 Disposable Cup Snowman Hat
We are sure at guessing that using disposable cups for decorating a Christmas tree would be the last thing you'd want. You're in for a surprise.
You can create lovely snowman hats in just 10-20 minutes using disposable cups, black tape, and crystals. Snowman hat ornaments look pretty and adorable on a Christmas tree with a cute little snowman alongside. See the tutorial for help.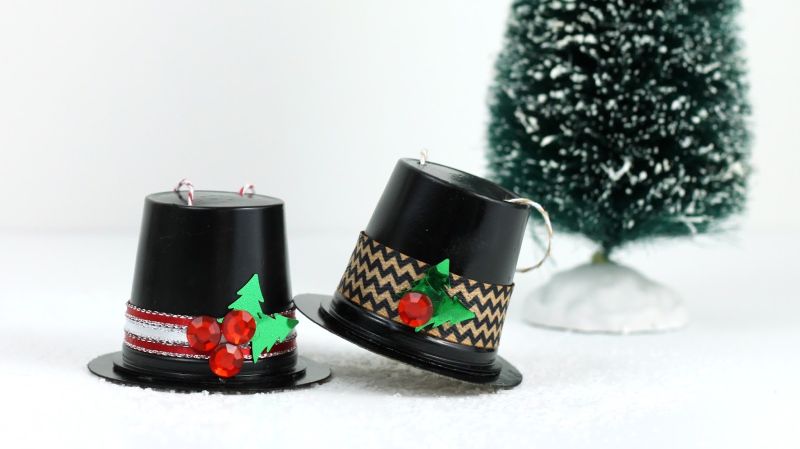 Broken CD Ornament
Let your Christmas tree sing jingles with this fancy ornament made by gluing broken CD pieces on ribbon-filled decoratives. This shiny recycled CD ornament will surely make your Christmas tree look better than ever. The CD pieces reflect light falling on them, thus adding charm to your Xmas tree. See the tutorial at Creme De La Craft.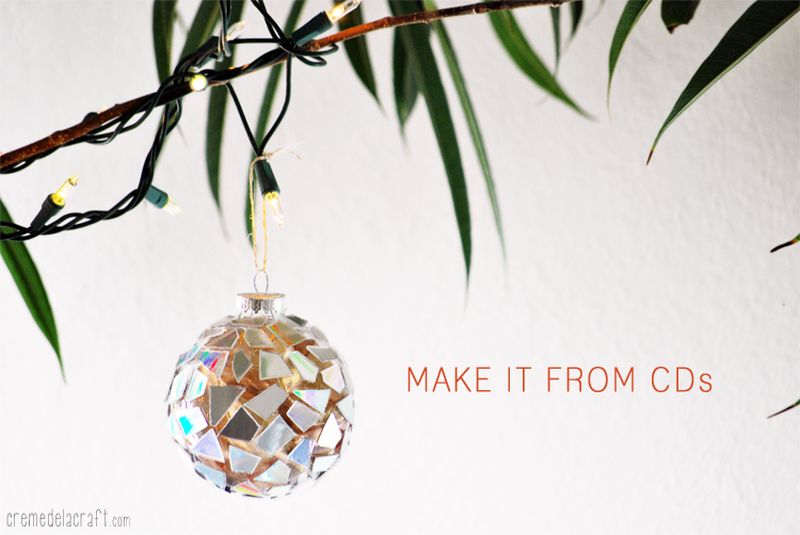 DIY Glass Ball Photo Ornament
This DIY glass ball photo ornament is just what you need to personalize the Christmas tree. To make this, you need to insert your solo or family photograph inside an empty glass globe, add some glittery tape, fancy ribbon on the top to make it look extra spunky. See the tutorial for help.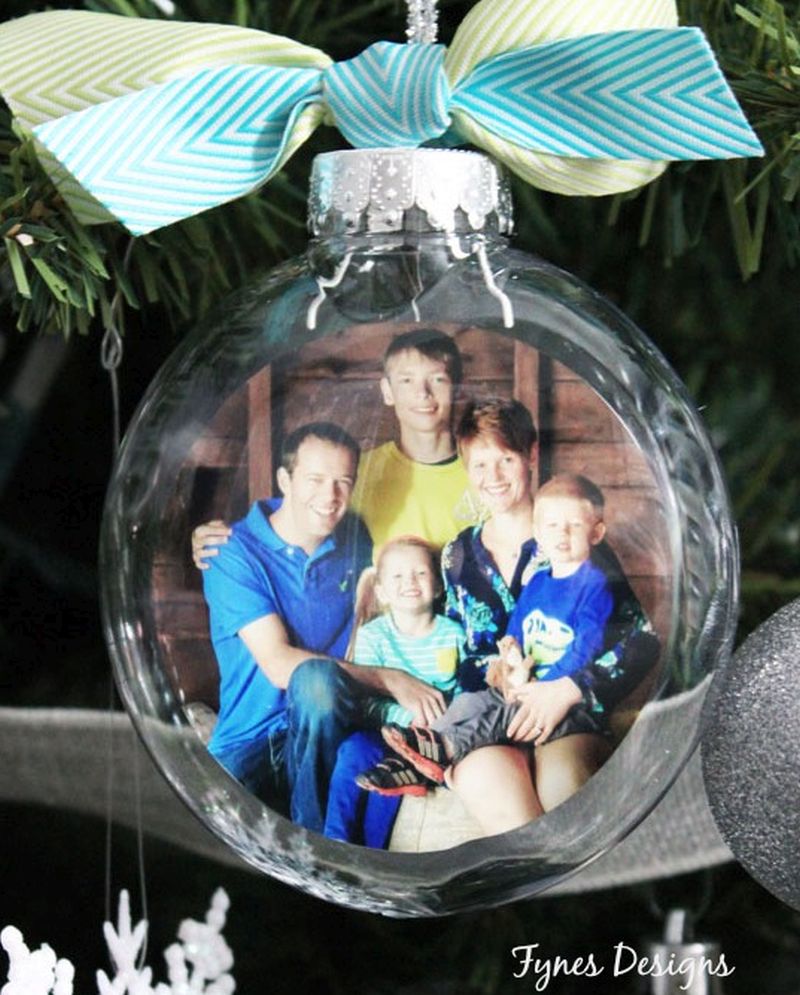 Pom-Pom Christmas Ornament
Glue different colored pom-poms together to form a ball that stands out as a beautiful ornament with a creative twist. You can also make it look like a small wreath and attach it to the Christmas tree. See the tutorial at Northstory.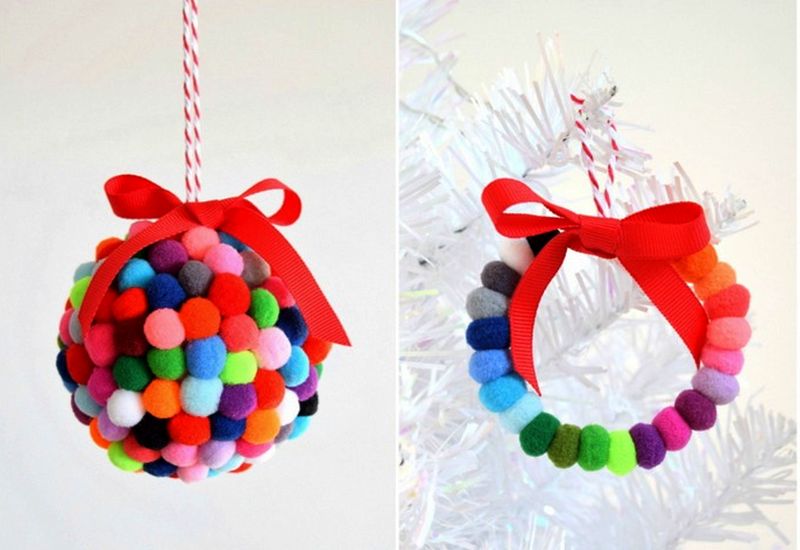 Heart ornament
This heart-shaped Christmas tree ornament can be made from leftover fabric but the project involves sewing. Use them as tree ornaments or as lovely add-ons to gifts. If interested, you can follow the tutorial at On Sutton Place.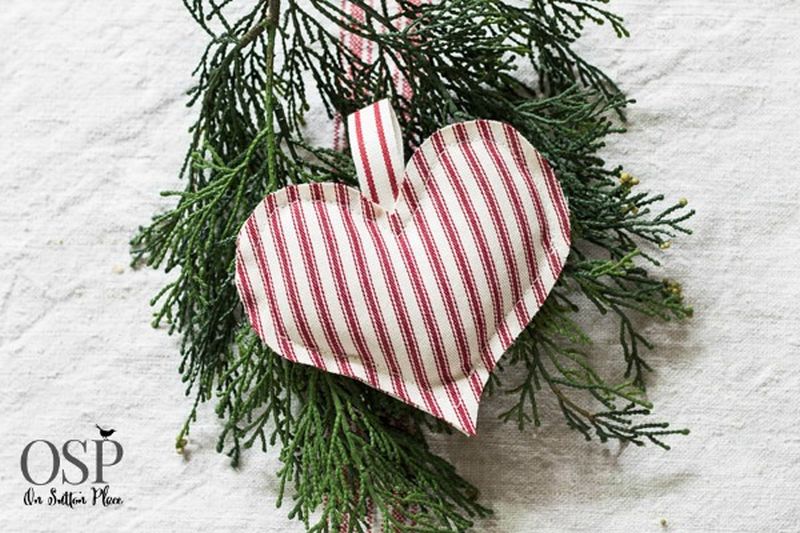 Scrap Fabric Ornament
You can easily make primitive Christmas ornaments from scrap fabric remnants and cinnamon sticks. Just take a few thin strips of fabric, tie them onto a single cinnamon stick, cut them into the shape of a tree and you are ready to hang them on your Christmas tree. See the tutorial for help.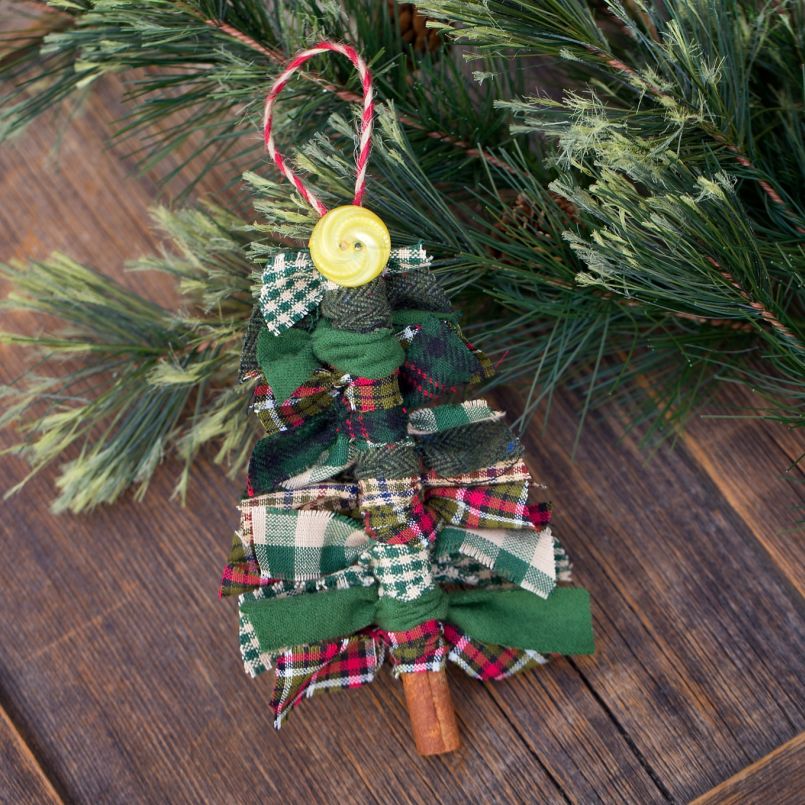 Sparkly Icicle Ornament
Frozen icicles hanging down from a roof create a mesmerizing sight. You can also add a similar appeal to your Christmas tree with DIY sparkly icicle ornaments. Making one isn't much difficult – fold an aluminum foil in the shape of an icicle, decorate with glitter and hang it using a thread. See the full tutorial at Kids Craft Room.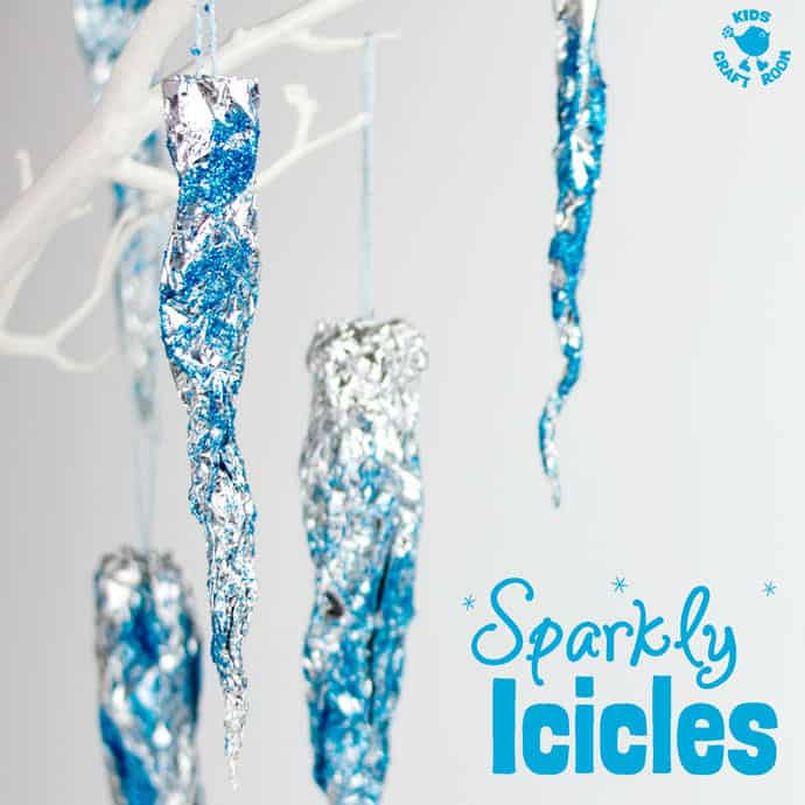 Stamped Burlap Ornament
If you are fond of rustic style, these DIY Christmas tree ornaments are perfect for you. First, you need to wrap burlap around foam balls with glue, add a twine hanger, and add any other embellishments. Printing words on the balls will be the most tiring task. You can see a tutorial at Bliss Bloom Blog.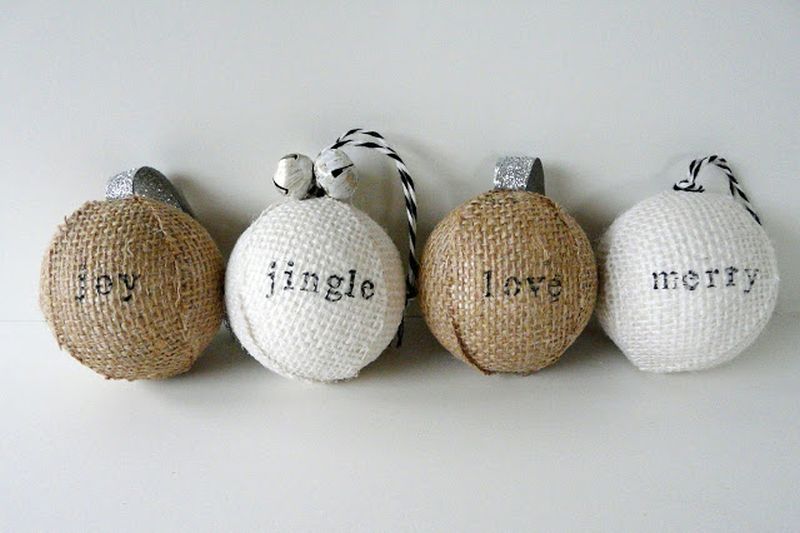 Burlap Angel Ornament
This is a quick and easy Christmas craft that kids also can try. Just wrap a small ball in the center of a square piece of burlap and tie it to make it look like a head. The wings of the burlap angel Christmas ornament can be created with another piece of burlap. See the tutorial for help.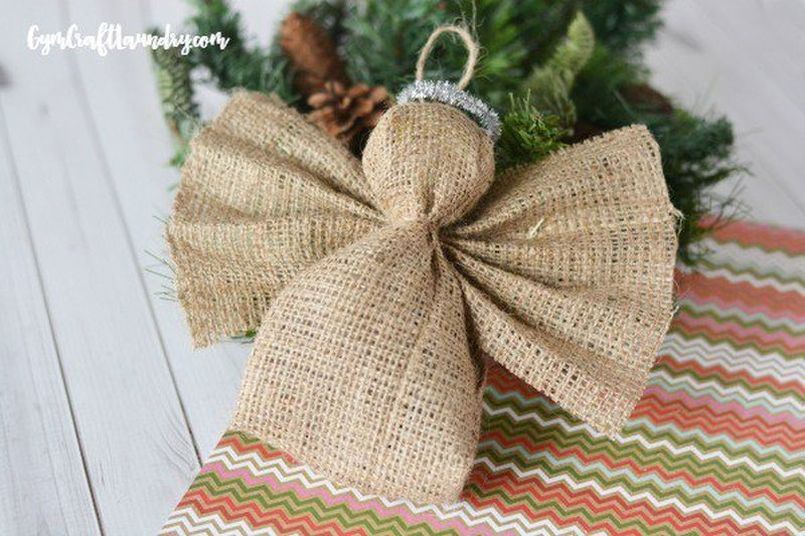 Twig Ornaments
If you are fond of simple decorations, this is probably the right option for you. You will need twigs, twine, hot glue, and a garden shear for this Christmas craft. Just tie thin branches together in the shape of a star, snowflake, tree, or anything you can imagine. See the tutorial at The DIY Dreamer.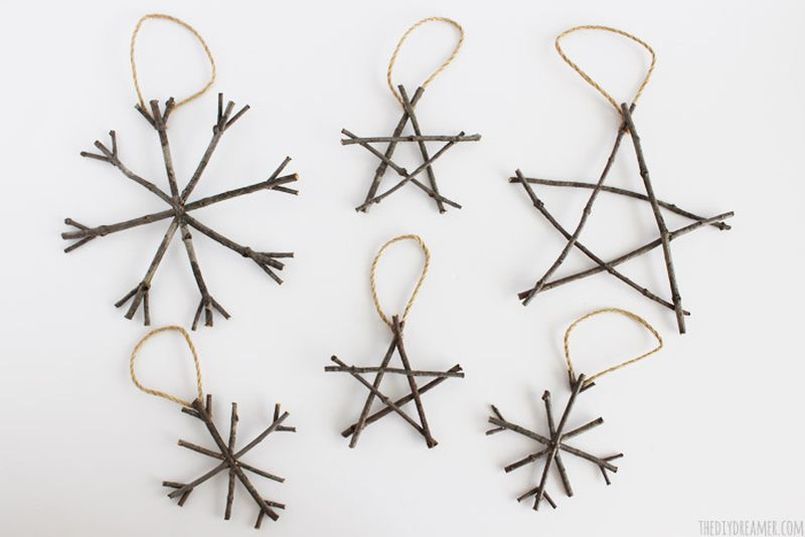 Also Read: Easy DIY Christmas Decorations for Home
DIY Needle-Felted Acorns
You can create artificial acorns using foam, twine, glitter, and a few sewing tools, and personalize them to your taste. You just need to change the color combination. Foam capped inside glittering twine can complete the cup-shaped cupule. See the full tutorial at Crafts n Coffee.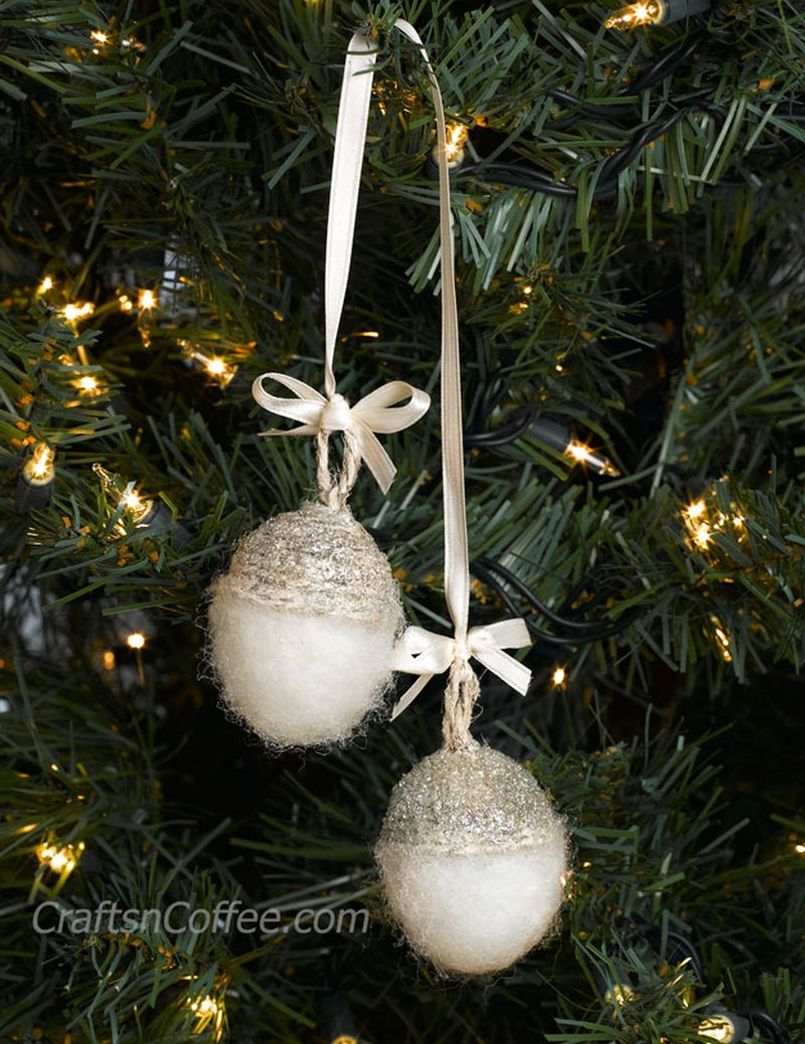 Mason Jar Lid Ornament
If you want to try making this interesting DIY mason jar lid Christmas ornament, you'll need to glue paper cut-outs in the lid and paste your desired festive stickers, embellish it, and it's ready for the Christmas tree. See the tutorial at Clean and Scentsible.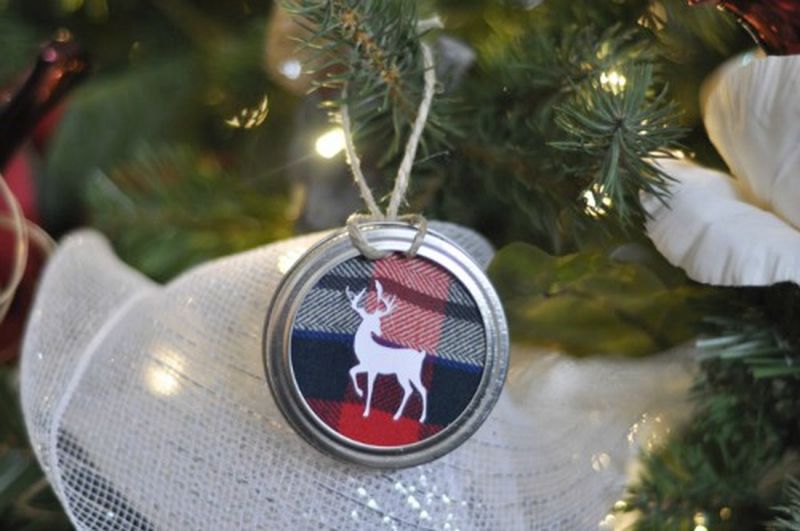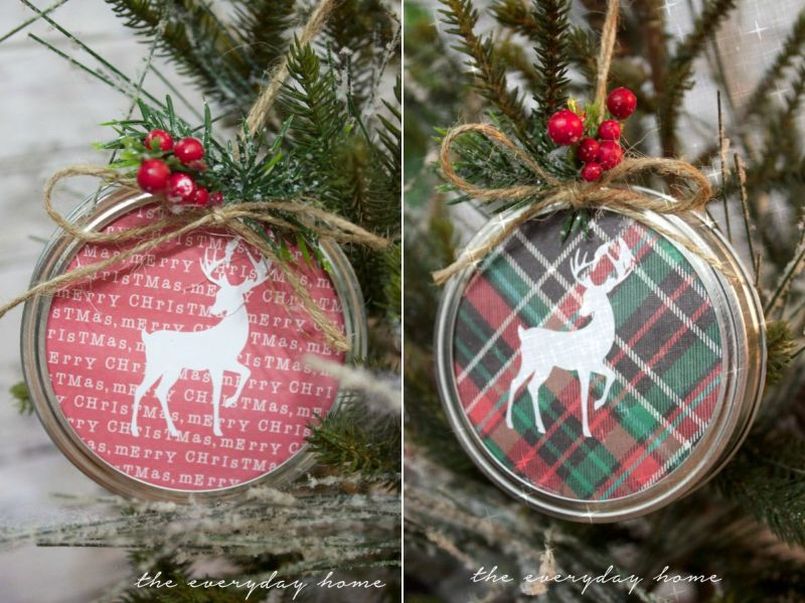 Simple wooden ornament
You will need to cut little wooden pieces and paint them completely white. Then, you can stamp the DIY Christmas ornaments with black ink for a farmhouse style. The twine can be added as a hanger. The size of the wooden pieces decides how difficult the project is going to be. You can check out a tutorial at Simply 2 Moms.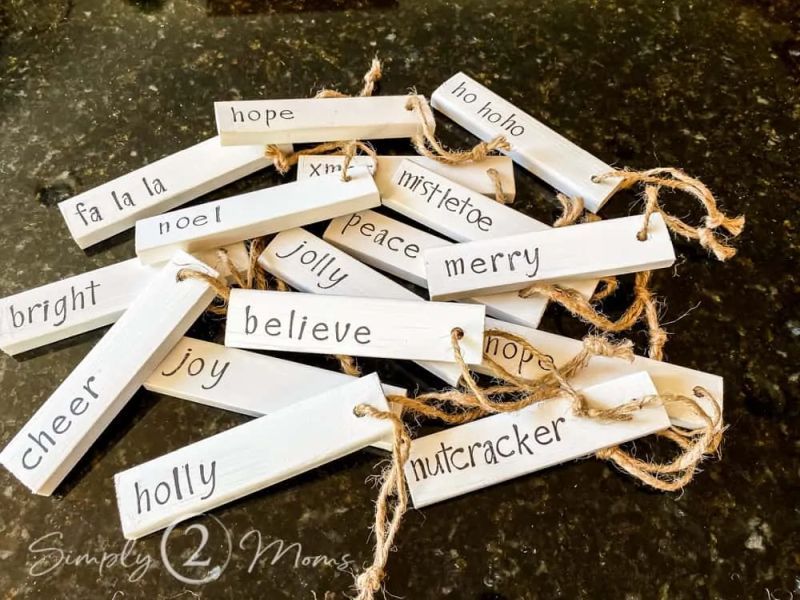 Wood Slice Santa Ornaments
These adorable Christmas ornaments are made from wood slices. Make a hole, paint the desired design and hang with twine. You will need two colors of paint. They will look amazing on a farmhouse-style Christmas tree!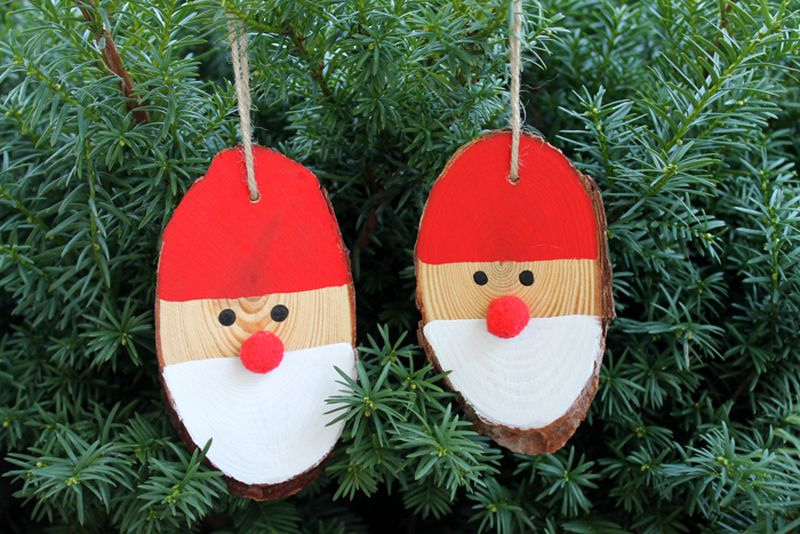 Wood Slice Ornament
Nature-inspired Christmas decorations can win everyone's heart. One similar craft is making wood slice ornaments. One can simply write, paint or decorate it with different things, but if you're looking for something unique, try using pinecones with it to make a one-of-a-kind ornament. See the tutorial for help.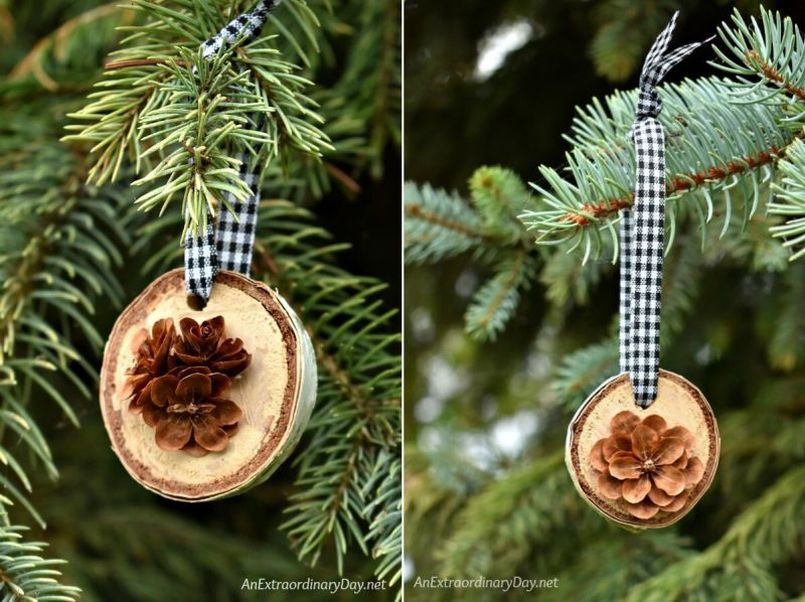 Popsicle Stick Reindeer
Children would love to make this reindeer ornament. You will need a ribbon, a pair of googly eyes, and red pom-poms for the nose. It is a great Christmas craft for preschoolers. You can join it to create more shapes like hats, sleds, etc. Check out the tutorial for help.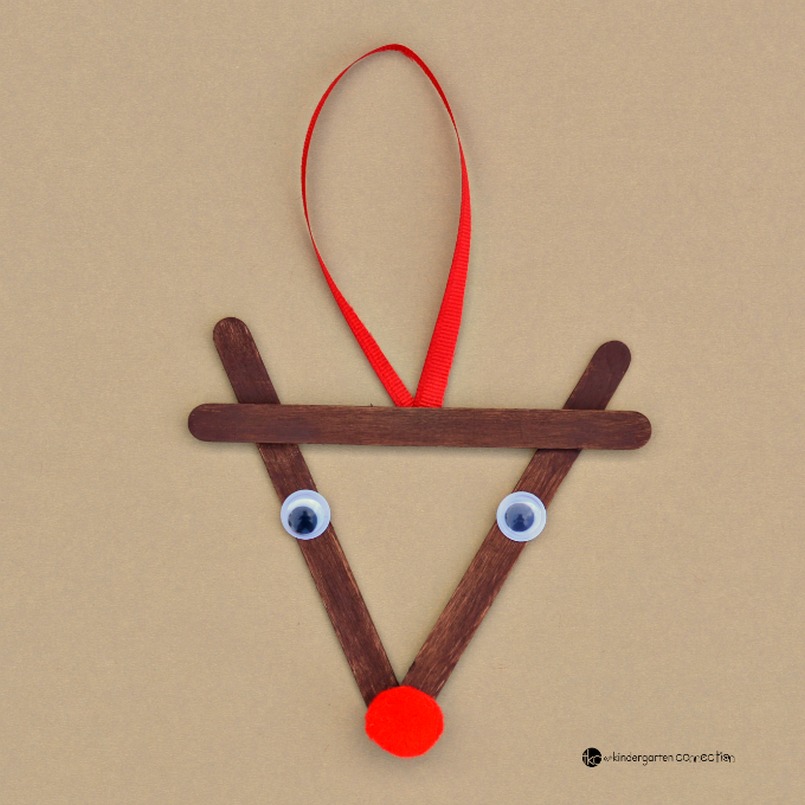 Yarn Ornament
You will need cotton yarn, glue, a styrofoam plate, sewing pins, and cookie cutters to make these wrapped yarn ornaments. Start by marking your design on a Styrofoam plate with metal pins. Attach glue-soaked yarn around the outline, shaping your ornament. Let it dry for a few hours, and you are ready to hang them on your Christmas tree. See the full tutorial at One Little Project.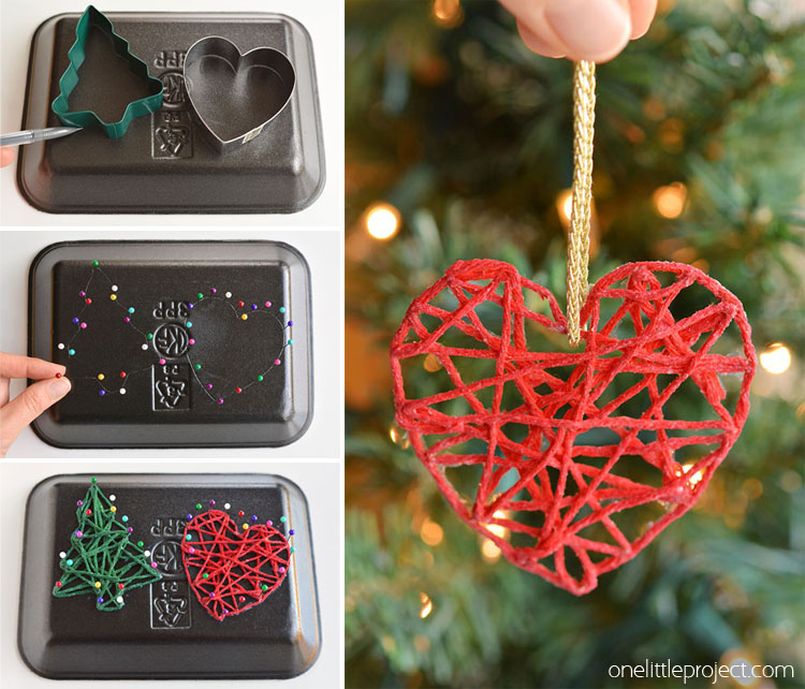 DIY book page ornament
If you are thinking of getting crafty on holidays, you can try making ornaments from paper. There are hundreds of ways you can find out. Here is a tutorial at Gimme Some Oven to make a beautiful ornament easily.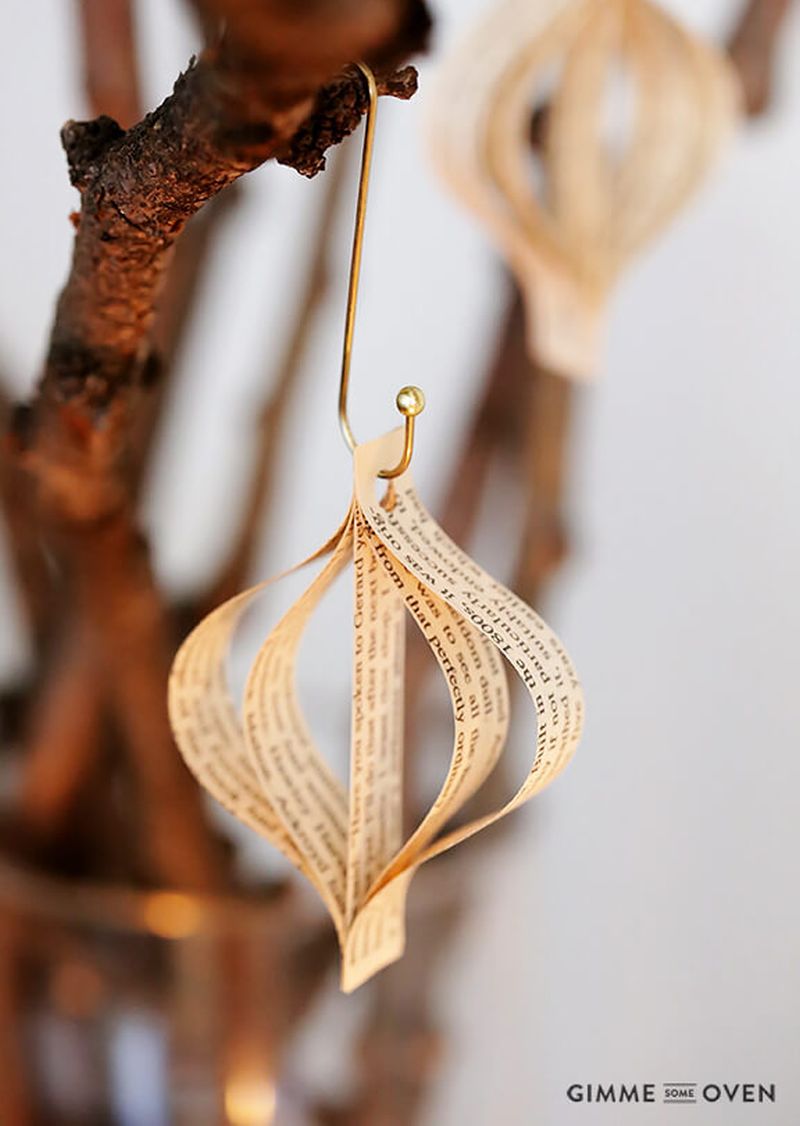 Yarn letter ornaments
It is a kid-friendly DIY project for Christmas. Cutting letters from cardboard and then wrapping yarn around them will be a fun job for kids. You can find s tutorial at A Daily Something.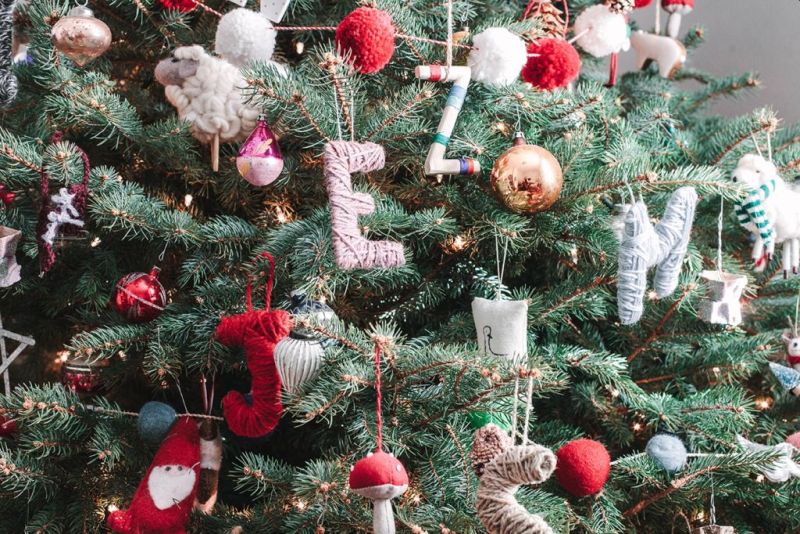 Paper Christmas Tree Baubles
Don't have the time and will to pull of a lengthy Christmas craft, make Christmas Tree Baubles from colored/patterned paper in a jiffy. Make paper strips of equal length and join them using twine in a rounded shape. Unfold and enjoy! Learn this papercraft at Sostrene Grene.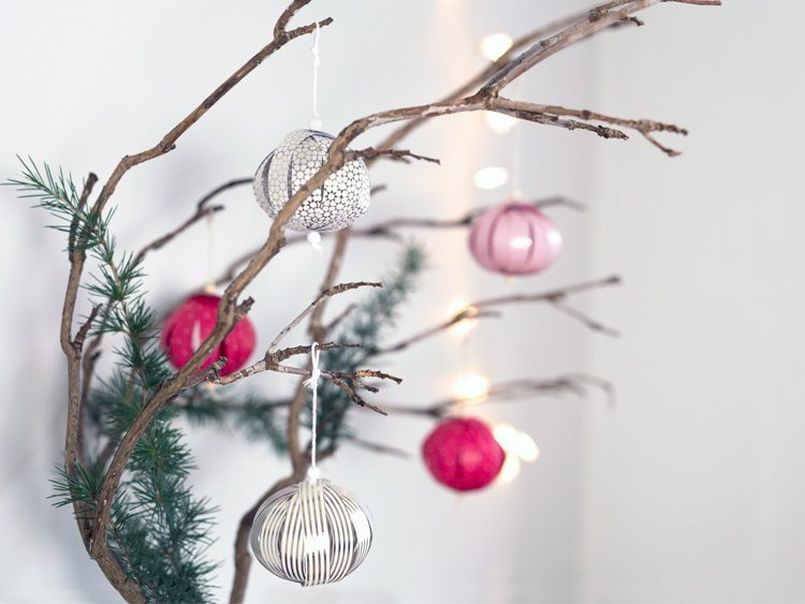 Paper Stars
Origami can come in handy when you're trying to make Christmas tree ornaments at home. You can try your hand at folding paper to make stars or other decorative ornaments to attach to the tree. You can find more details on how to do so at Paperiaarre.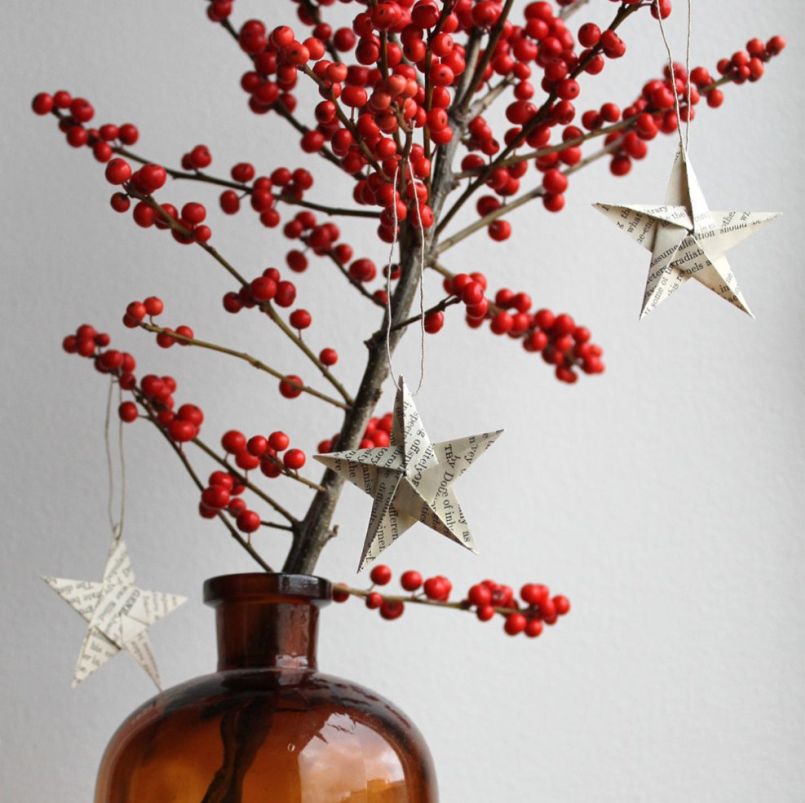 DIY Newspaper Christmas Ornament
Try this easy DIY hack to make newspaper ornaments for your Christmas tree. Just roll paper straws out of old newspapers, paint them and glue them together to make an offbeat ornament. Follow the tutorial for more details.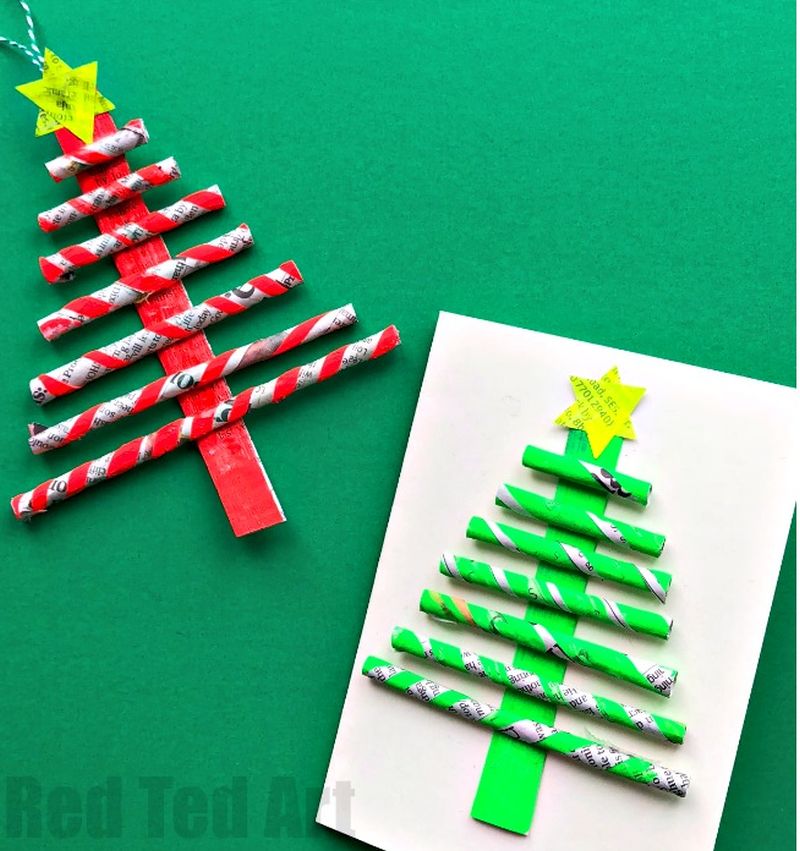 Paper Straw Ornament
Try this gorgeous handmade Christmas ornament from paper straws. Grab a few paper straws, scissors, needle, thread, and small beads. Fashion this beautiful ornament in no time. You can check out the tutorial for help.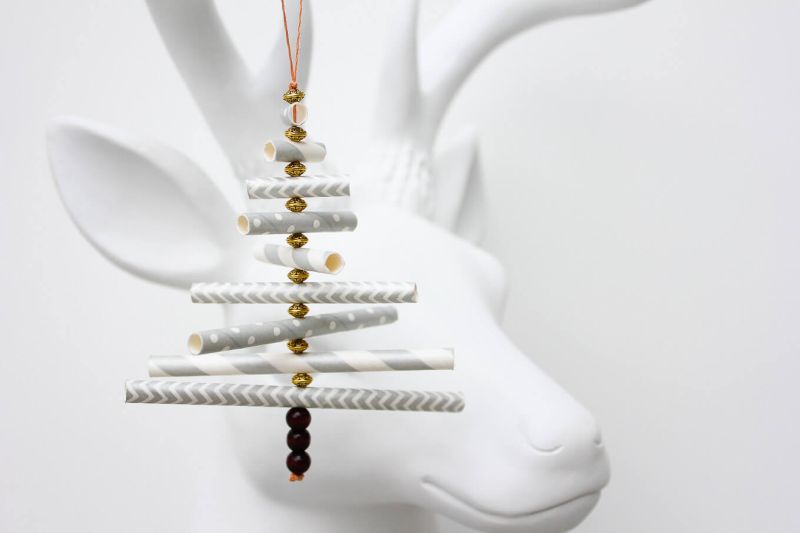 Wire and Bead Ornament
This could be the easiest Christmas craft. Just five minutes with tie wire, beads, and pliers and you're done. Use the plier to bend the wire into shape and keep threading one bead at a time and repeat. There you have it – the cutest Christmas ornament. See the full tutorial here.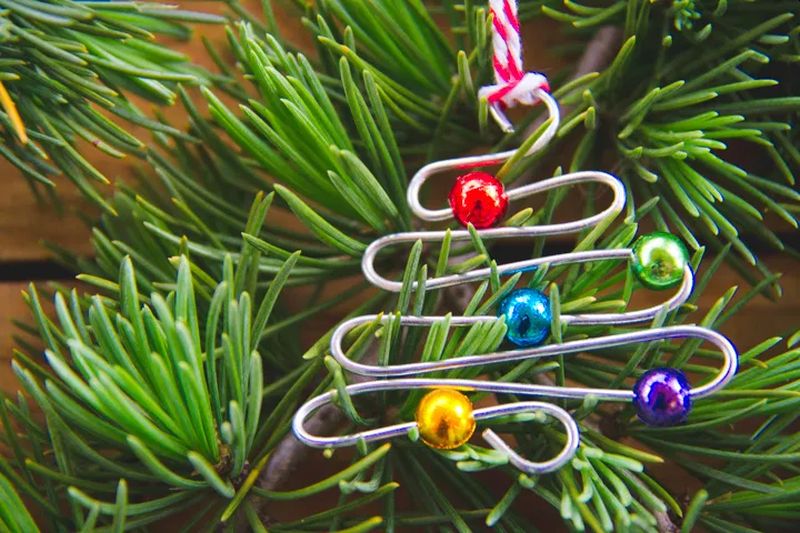 Bottle Cap Snowman
You think bottle caps are useless, wait! You can turn them into a Christmas tree ornament. Glue up two or three bottle caps on a ribbon. Paint cute faces on the back or front of the cap and you are ready to hang it on your tree. It can also be decorated with colored ribbons and pipe cleaners. See the tutorial for help.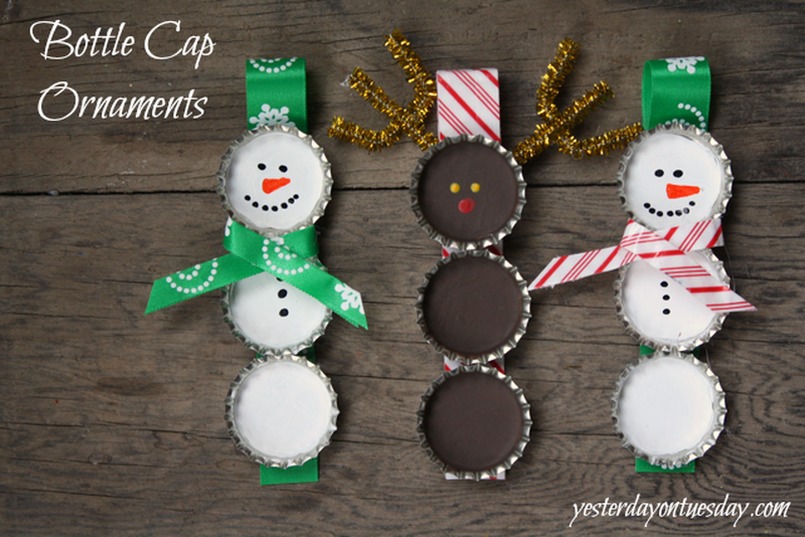 DIY French Macaron Ornaments
These French Macaron Christmas ornaments are super easy to make. You will need to paint a handful of caps in your favorite colors and then glue them in pairs. Don't forget to include strings to hang them up to your tree. Use hot glue to keep two caps together and apply glitter to add elegance to the ornaments. See the tutorial for help.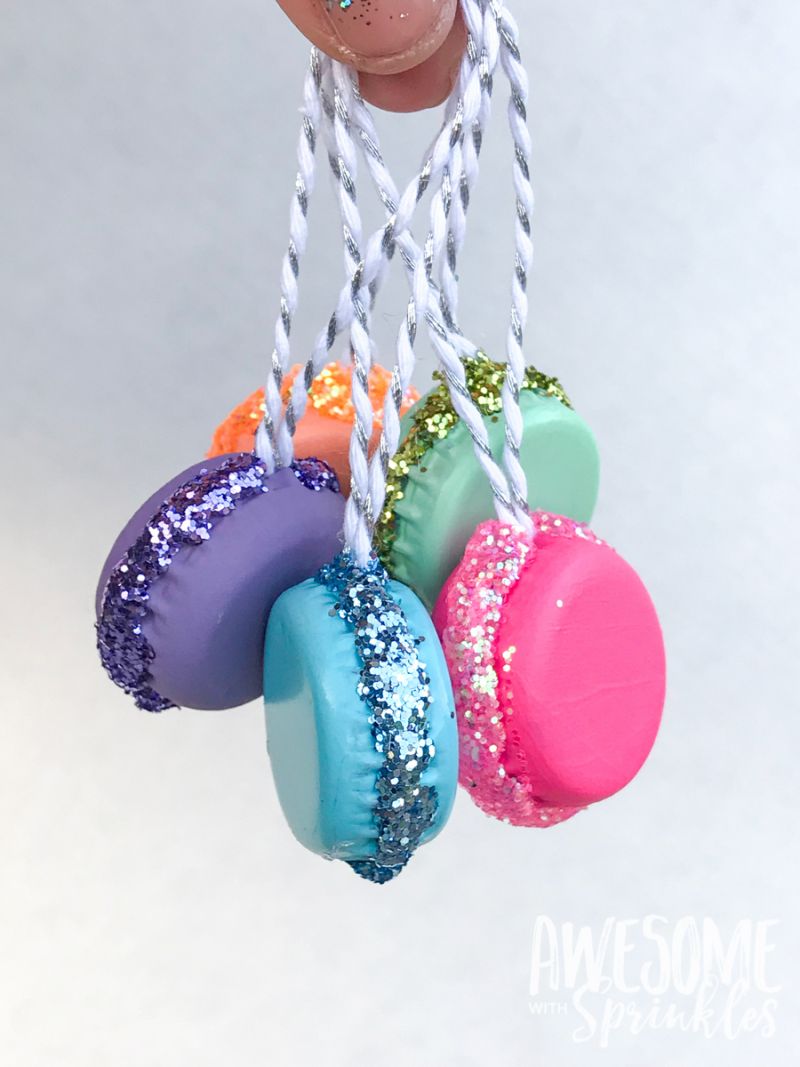 Christmas Tree Ornaments from Old CDs
Turn old CDs and DVDs into beautiful, glittery ornaments to hang on your Christmas tree. Just paint them in different colors. The best way is to involve kids. They will enjoy smudging paint on the CDs. Brush glitter all over the CDs and use a ribbon to hang them to the tree. See the tutorial at Happy Hooligans.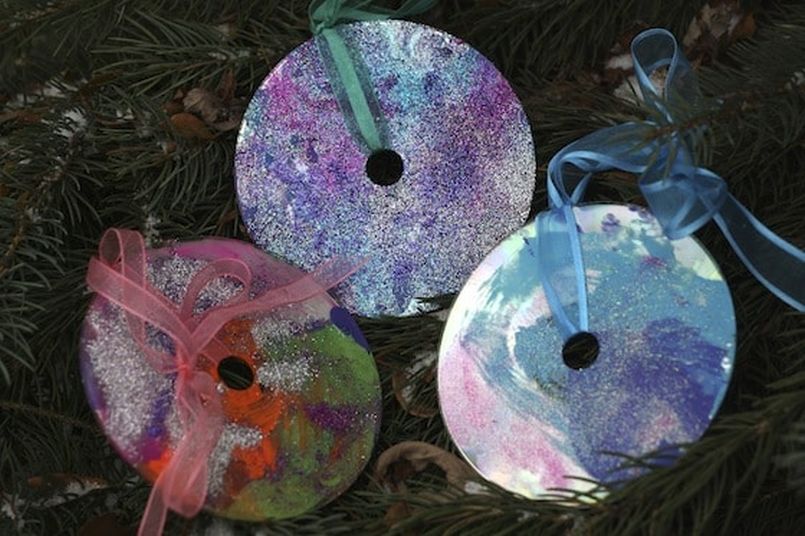 Cinnamon Stick Christmas Ornaments
The simplicity of these cinnamon stick crosses makes them appealing. They are super easy to make, and a wonderful craft for the whole family. You just need to tie cinnamon sticks in the shape of a cross with a colorful string. Check out the full tutorial at Cottage Chronicles Blog.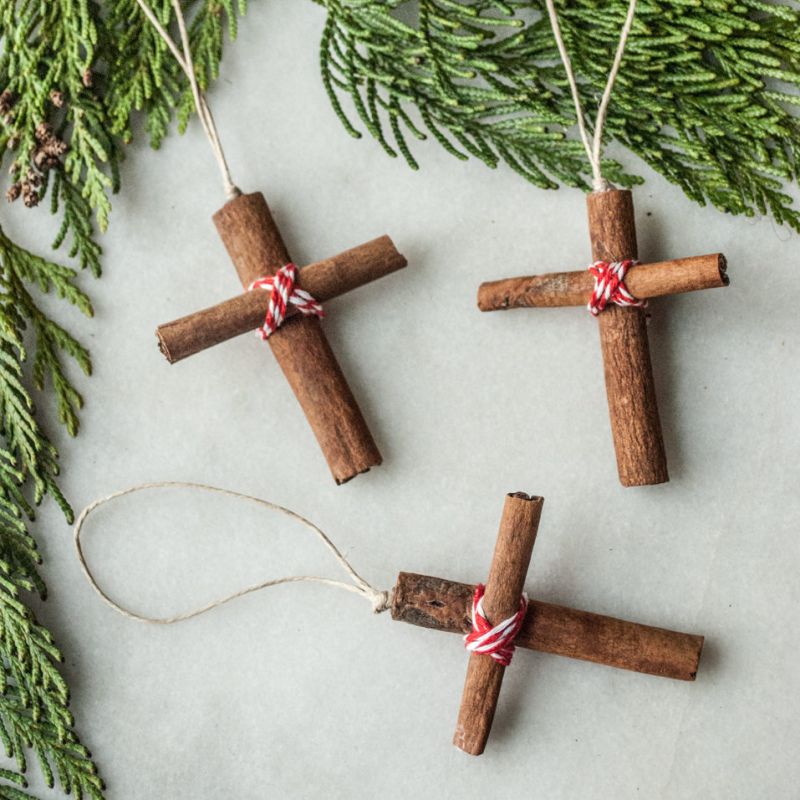 Pinecone Reindeer Ornament
Pinecones have a huge potential in home decor and DIY projects. Use them all bland or paint them in your favorite colors or glitter, they will add a modern-rustic charm to your Christmas tree. You can even turn them into reindeer using googly eyes, pipe cleaners, glue twine, and a few crafting tools. Follow the tutorial at Fireflies and Mud Pies.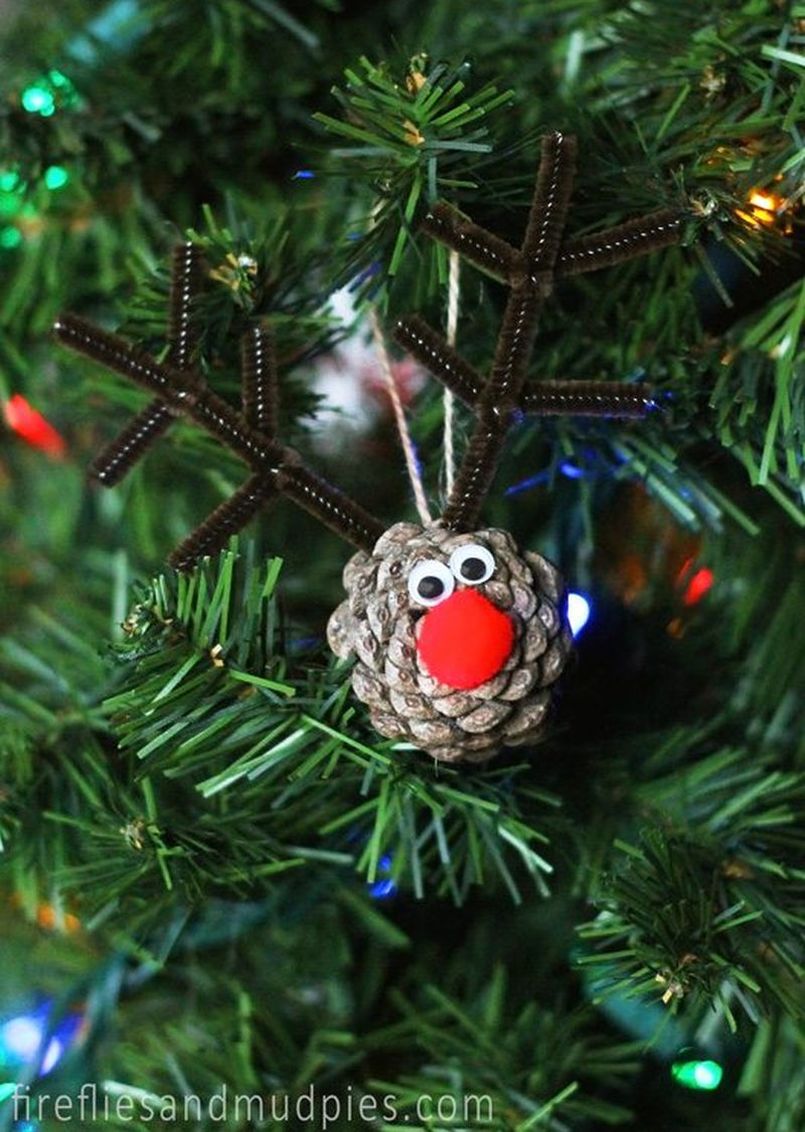 Mini Button Wreath
This button wreath ornament is an easy craft perfect for kids and adults alike. They will find matching different colors of buttons interesting.
Once the buttons are sorted, they can be threaded onto a pipe cleaner and then tied on both ends, creating a circular shape similar to a wreath. Decorate it with ribbon and tinsel, attach a string, and hang it on your tree. See the tutorial by Martha Stewart.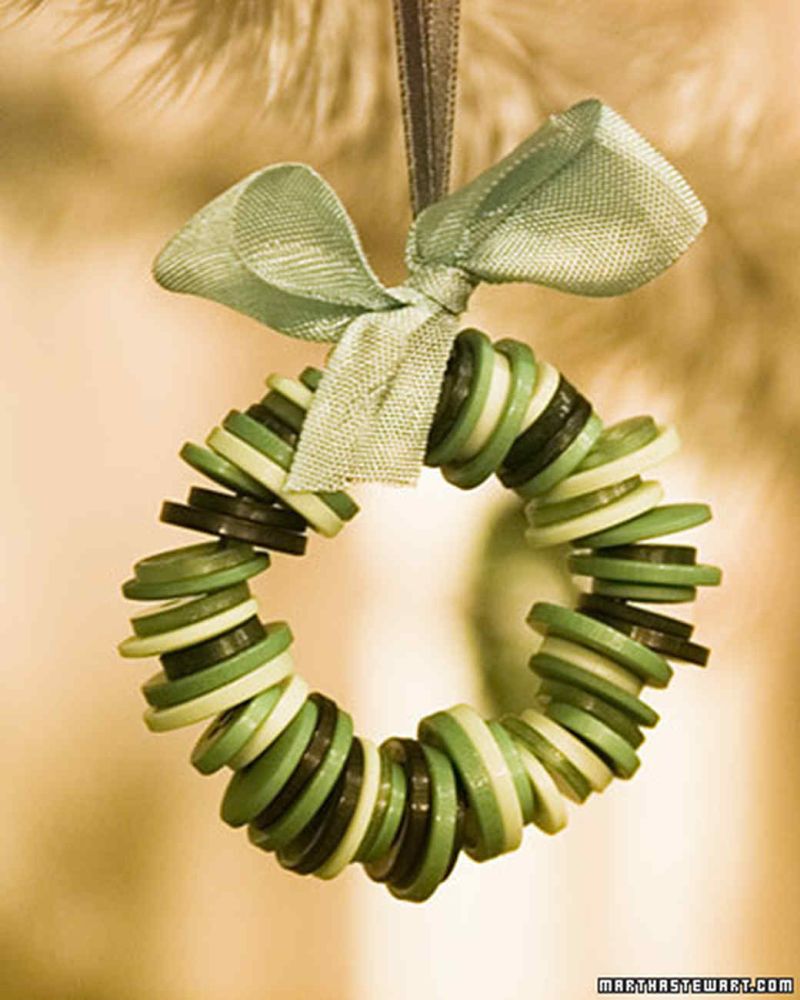 Walnut Shell Ornament
Kids, teens, or adults, anyone can craft this rustic walnut shell Christmas ornament. The most crucial task in this project is cracking walnut into half pieces, so the most experienced can take up the challenge.
Once you are done cracking the walnuts, decorate them with burlap and wooden beads. Make small holes to attach a twine for hanging it to the tree. See the tutorial at Rhythms of Life.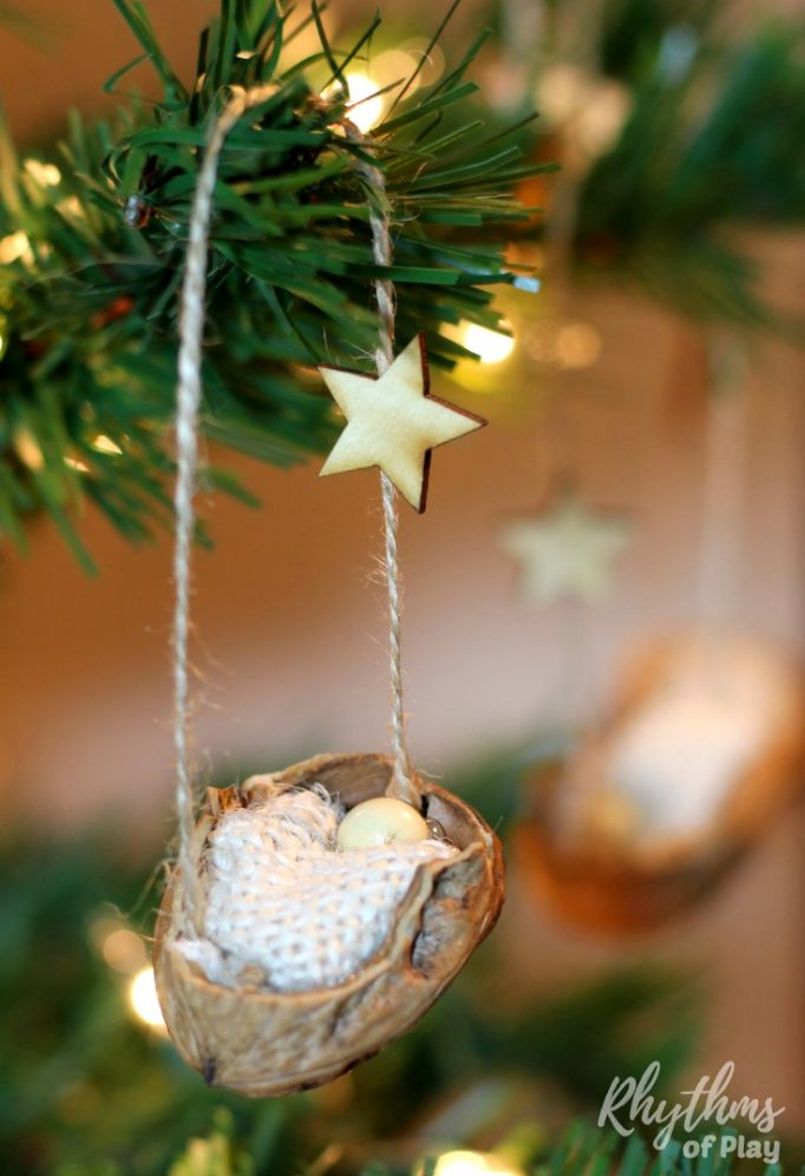 Also Read: Best Tabletop Christmas Trees to Buy for Under $50
DIY Gnomes
You'll need a walnut, crafting felt, white crafting fur, scissors, pen, and a few other crafting supplies. Walnut becomes head of the gnome, while craft felt is used to make a conical cap and white crafting fur for the beard. If you wish to make one, see the full tutorial at Etsy Blog.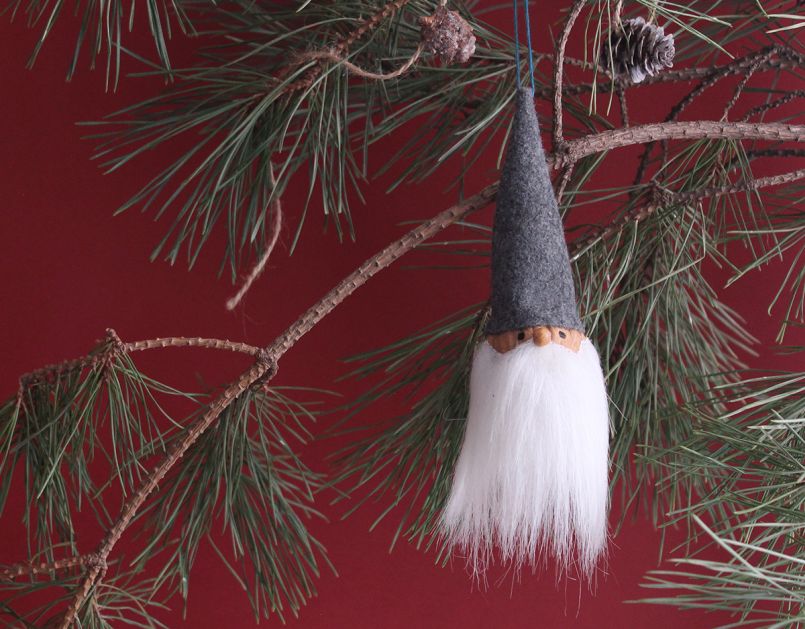 Pom-Pom Gnome Ornaments
Bring the elves to your Christmas tree. You'll need colorful felt sheets, yarn, and a few other craft supplies. Fashion hats out of felt and use yarn to make large pom poms that serve as beard. Secure the smaller pom poms in the middle to make the nose. Hang the adorable pom-pom gnomes on the Christmas tree. Here's the complete tutorial.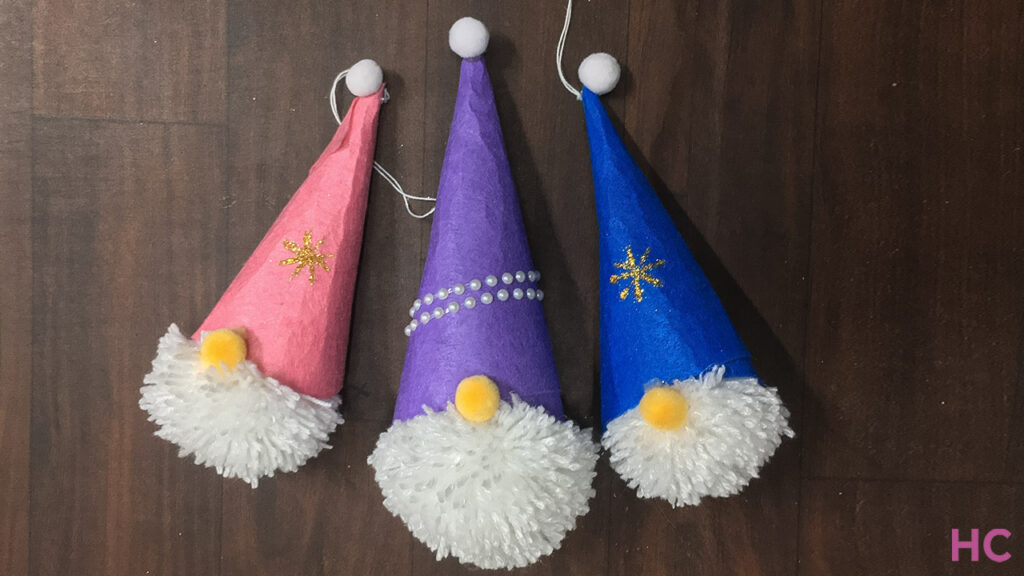 Christmas Tree Ornaments from Felt and Buttons
These cute Christmas ornaments are made of felt and buttons. You can try out different patterns but here is a tutorial for a snowman design. This project involves sewing and other crafting tasks. It will be a cool addition to your Christmas tree.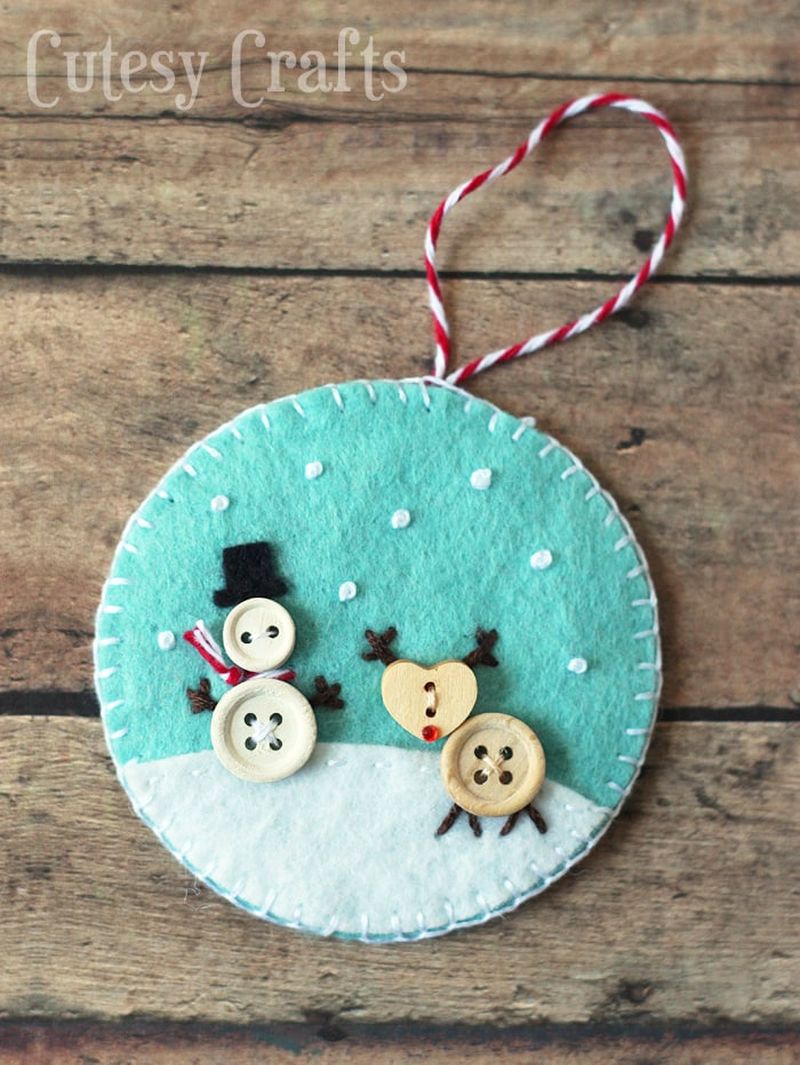 Snowman Ornament
You can make this Chilly the Snowman ornament with a little precision. Take three styrofoam balls in graduated sizes and glue them together. Apply Mod Podge on the snowman and toss it in the bag of Epsom salts to create a snowy effect.
Make a paper hat, a plaid scarf, and arms made of twigs. Place eyes and a toothpick nose on it to finish the project. Follow the tutorial for help.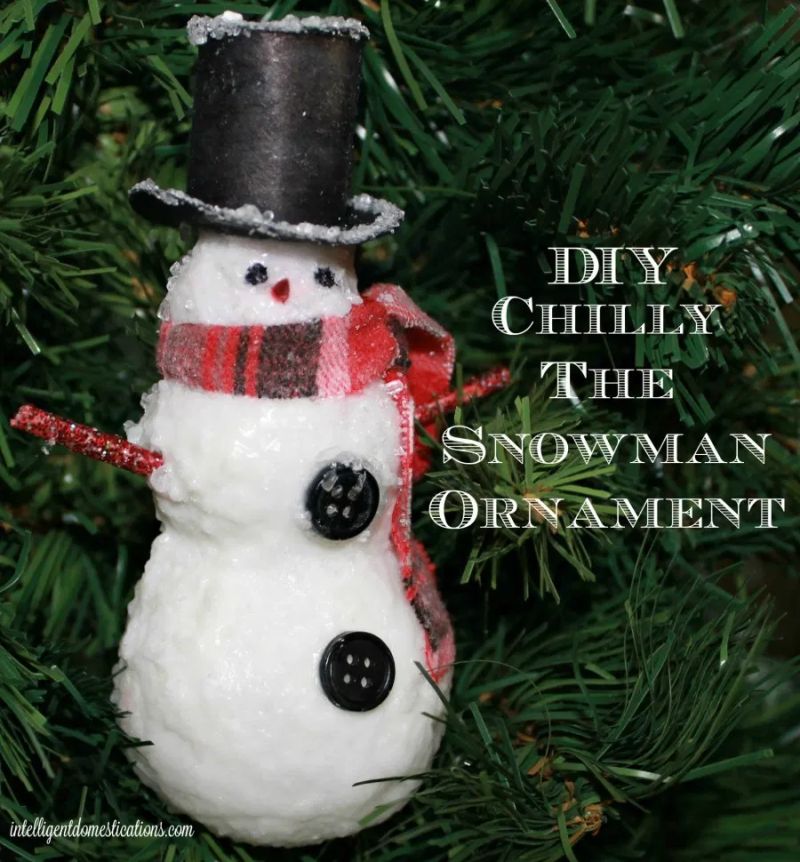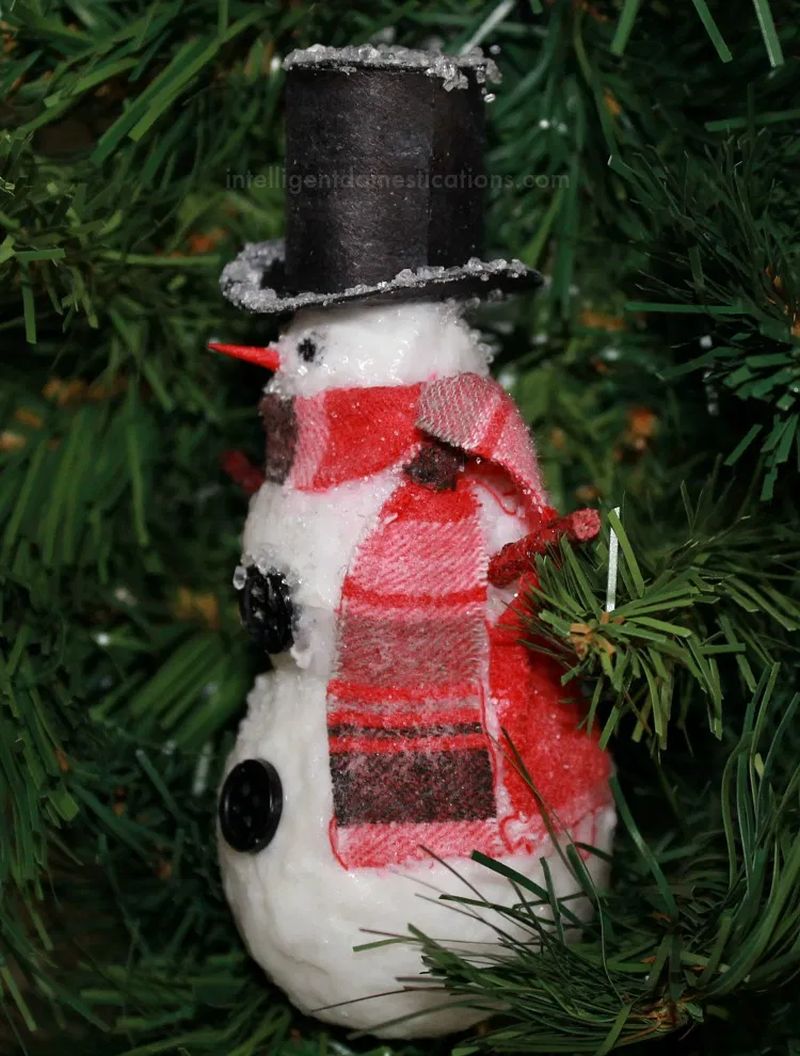 DIY Snowman Ornament
This DIY snowman ornament craft is easy. Get some tiered mini glass bottles and spray them with frosted glass paint. Use adhesive black and orange rhinestones to mark eyes. nose, and buttons. Paint the corks black to mimic hats.
Tie a narrow plaid ribbon around the neck of the bottles and hang them on the Christmas tree. Here is the tutorial.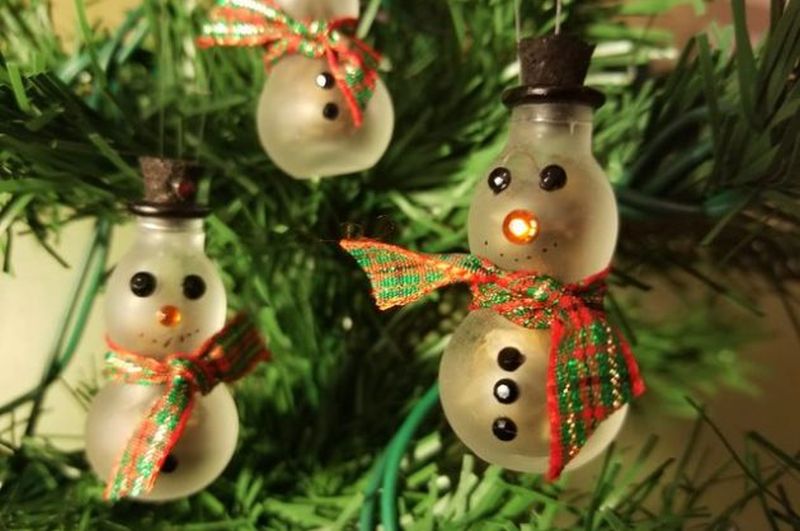 Spoon Angel
Have a look at angel ornaments made from wooden spoons and craft foam sheets. The back of the spoon serves as the face, while wings are made from paper. See the full tutorial at I Heart Crafty Things.
Cardboard Star Ornament
To add sparkle and glimmer to your Christmas tree carve out the eye-catching cardboard star ornaments. Cut two identical stars from cardboard and paint them either gold or silver. Cut a niche in one of the stars, interlock them and hang on the tree. Follow the instructions in the tutorial.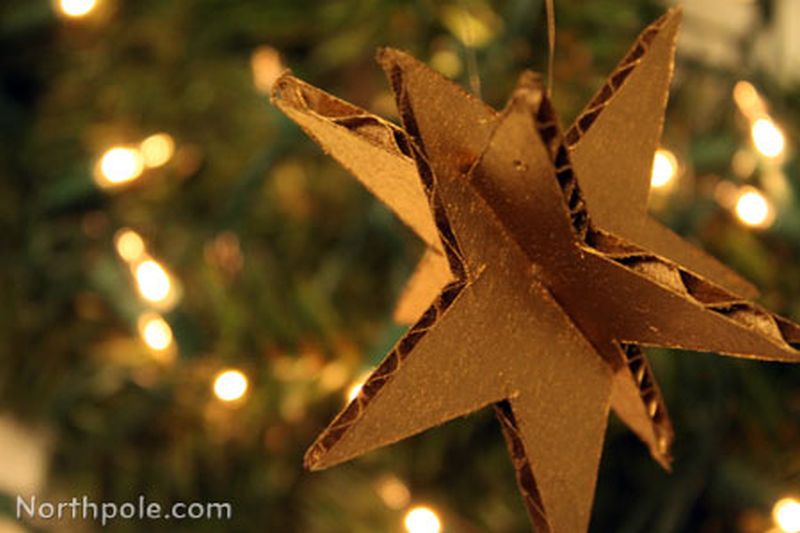 DIY Sequin Ornament
Bestow an instant sparkle to your Christmas tree with this super-easy shiny sequin ornament. All you have to do is to secure sequins on the Styrofoam balls with sequin pins and hang them on the tree with small ribbons. They'll look like tiny disco balls.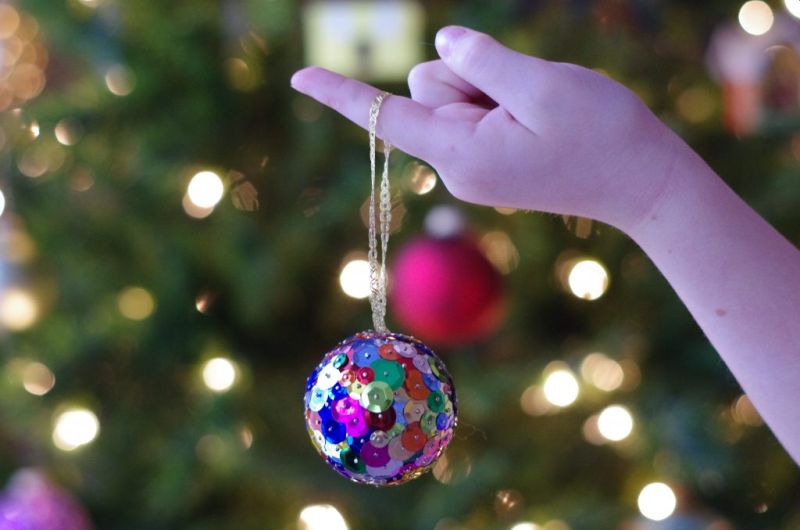 Chalkboard Ornaments
Take a bunch of ornaments of your preference, paint half of it in matte black, and scribble with chalk on the black side. Hang the ornaments on your Christmas tree adding a classic character to it. If you need help, here's the full tutorial.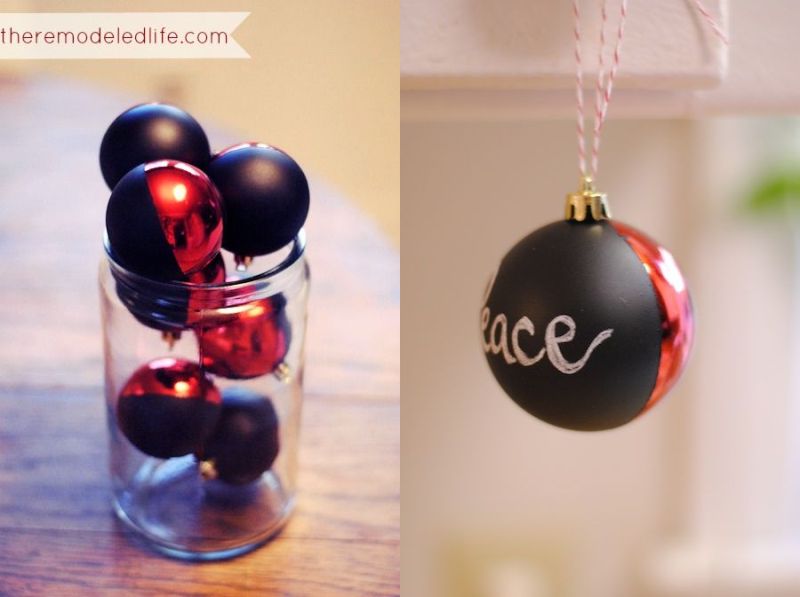 Homemade Minion Ornament
If your kids are crazy for Minions, you should make a Minion ornament to delight them this year. You'll need a yellow decorative shed, wiggly eyes, a black ribbon, and a ball ornament for this project.
Just fill the ball ornament with a yellow decorative shed. Paste a fake eye on a ribbon and then attach it to the center of the ball to remind of the Minions. Find the tutorial at The Resourceful Mama.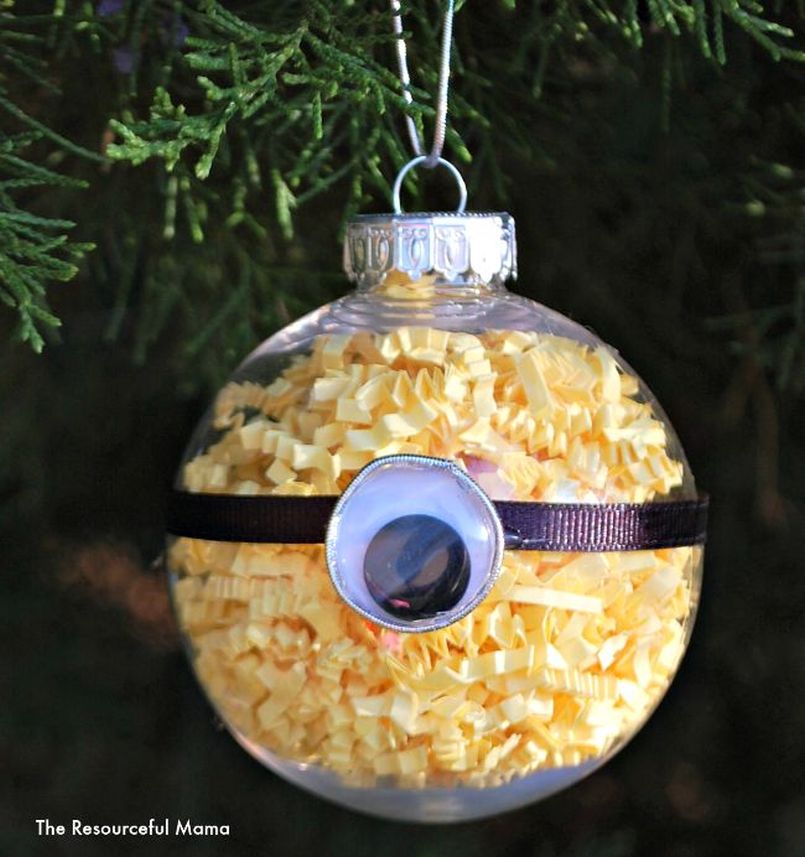 DIY Christmas Tree Ornaments from Pearls
Make a cool Christmas tree decor by gluing pearls around a plastic/glass ball. You can even create patterns of pearls to make it look more appealing. You will need lots and lots of pearls for this, so start stocking up your supplies.