Tried-and-tested ornaments have a special place on every tree but the fun and satisfaction of DIY Christmas ornaments still remains unparalleled. You can turn ornament-making into a fun holiday activity for the entire family with something like glitter foam ball ornaments. Below is a step-wise tutorial on how to make glitter foam ball Christmas ornaments, read on.
Things You Need:
Colorful glitter foam sheet cut into small circles (I used 6 circles in four colors each)
Hot glue gun
Scissors
Jute twine
Festive red ribbon bow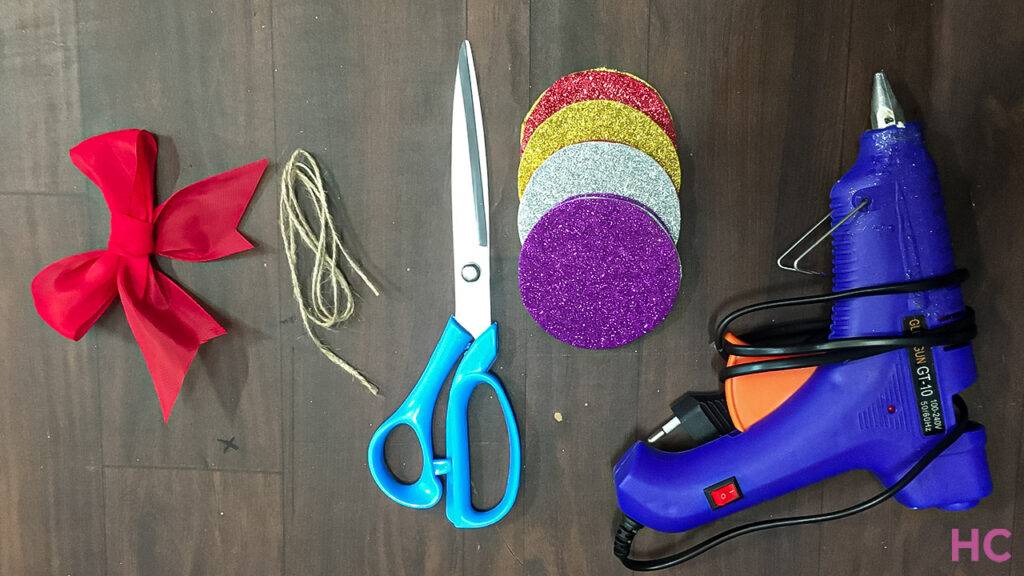 Also Read: Let's Make Pom Pom Gnome Ornaments for Christmas
How to Make Glitter Foam Ball Christmas Ornament
Time needed: 20 minutes.
Steps to Make Glitter Foam Ball Christmas Ornament
Cut the circles into half

Take one glitter foam sheet circle and slice it into two equal halves. You can draw a line on the material to help you cut them straight or just fold them in the middle and cut over the fold. Repeat the process for every circle.

Glue the semicircles

Take one semicircle (cut out from the circular glitter foam piece) and apply glue on the glittery side along the diameter.


Fold the semicircle

After applying glue on the diameter, fold the semicircle and hold it in place until the glue dries.

Repeat the process

Glue and fold all the semicircles as above. You will arrive at something similar to a half-opened floret or a petal.

Glue the florets

Arrange the folded floret next to you and start gluing these arches of the same color. Idea is to create a nice semicircle with two arches.

Follow suit for the rest

Keep gluing arches of similar colored florets to make semicircles from all of them.

More gluing to do

Once all the small florets are glued together, begin gluing these semicircles one by one to each other.

Attach the semicircles one by one

Create a colorful pattern by gluing each of the four colors sequentially and repeating it.

A spherical form emerging

Keep attaching colorful semi-circles one after another and you will see a spherical form emerging.

The sphere is ready

Glue all the pieces together to form a sphere leaving the center hollow to pass a twine through it.

Let the glue dry

Cup the sphere in your palms and allow the glue to set it in place.

Add twine and a bow

You can now put the twine through the opening in the sphere and add a bow on top for a festive look.

Decorate your home with it

The last step is to make as many as you want and adorn your Christmas tree with these beautiful glitter foam ball ornaments.