We all love and enjoy making Christmas decorations, not because it is a budget-friendly way but also because it gives us a chance to bring out our creativity. You can go out and buy all sorts of items from the market yet that satisfaction of decorating the house with pieces made at home is beyond words.
If you aren't a good DIYer, don't fret, we have compiled an exhaustive list of easy DIY Christmas decorations that are beautiful to look at and don't require much effort to make. Pick one of your choice and you will surely enjoy the personal touch it will lend to your home this Christmas.
DIY Paper Christmas Decorations
Paper spirals
Christmas paper crafts look great and are easy to make. This is why they are considered last-minute decorations. One of the simplest ideas of the lot, fold scrapbook paper in the shape of a triangle, using a spiral marker cut in each grove. Now fasten the ends with tape and you have a flowery accessory ready. For full tutorial, head over to Happiness is Homemade.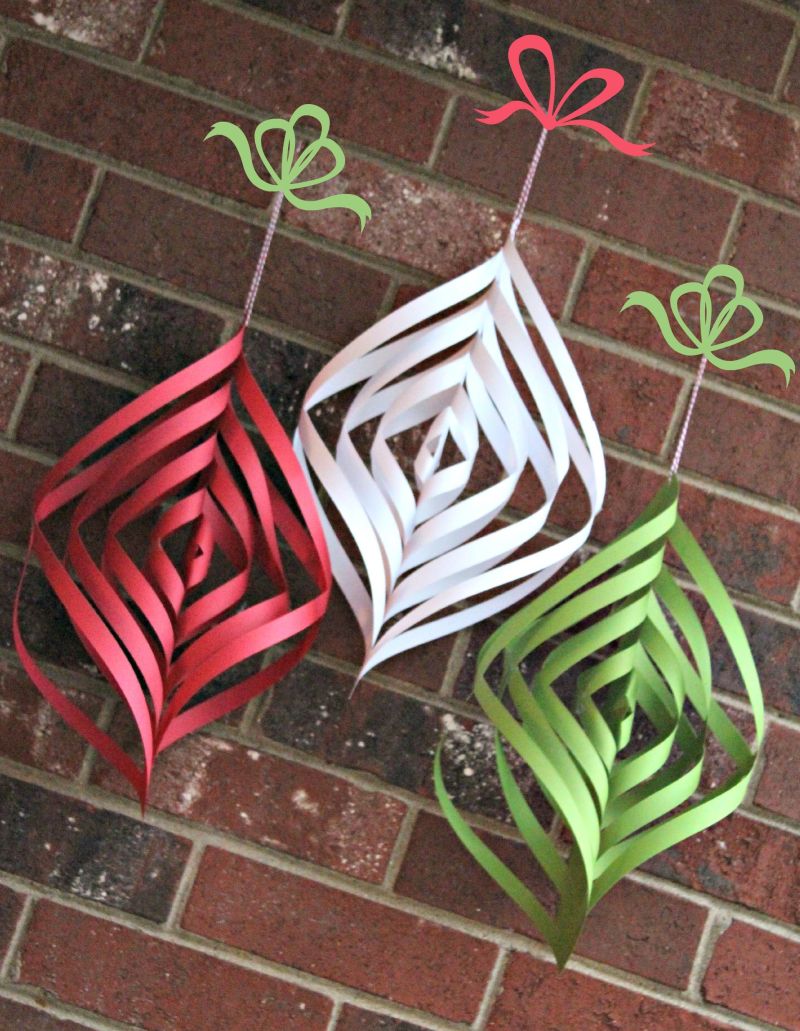 3D paper star
Looking for an easy DIY Christmas decoration that makes a cool star topper for your tree? A 3D paper star is just what you need. Learn the trick of folding paper into a 3D paper star on Gathering Beauty.
Once the star is ready, you can place it on the Christmas tree or have a string attached to it. Using the string, you can hang it down from the ceiling or the fireplace mantel.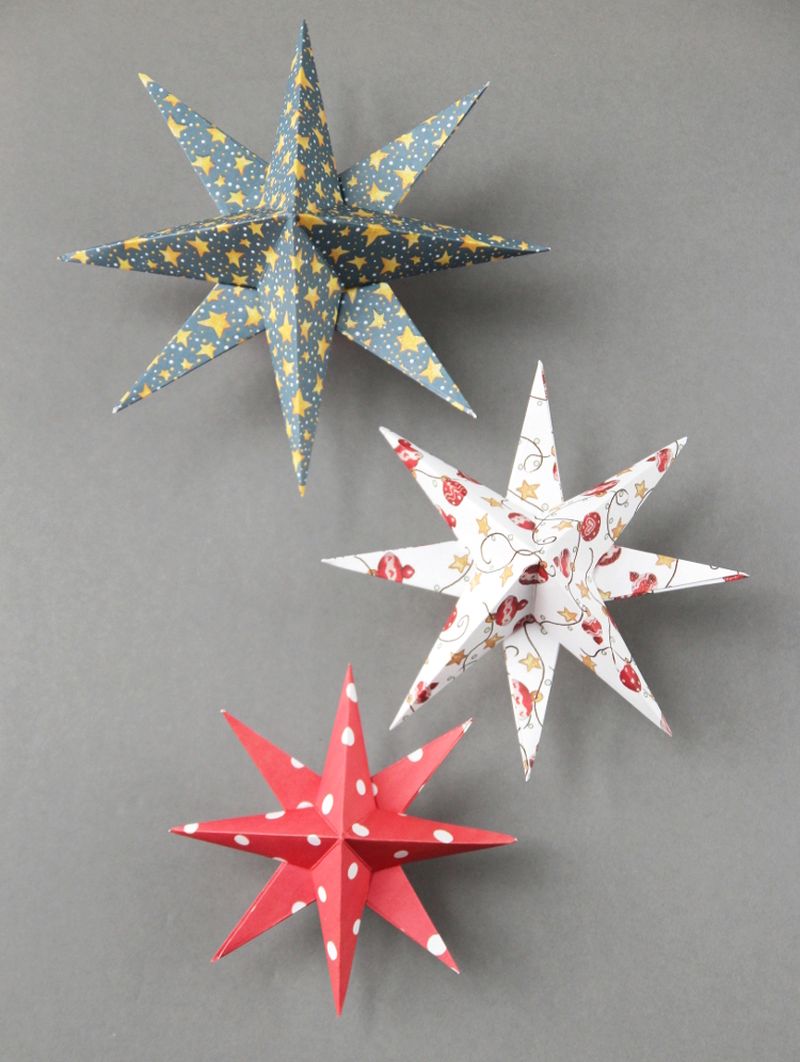 Glittery reindeer art
You can create delightfully appealing decorations using minimum supplies. Have a look at this sparkling reindeer that's been made using white paper, sparkle, and glue. If you have basic drawing skills, you have got this one, else have your child draw a reindeer for you.
Now you or the kid can fill the outlines with some glue and sprinkle color sparkle over it. Wait until it is dry, and blow off the extra glitter (not sticking with glue) using a dryer. See the full tutorial at Inspiration For Moms.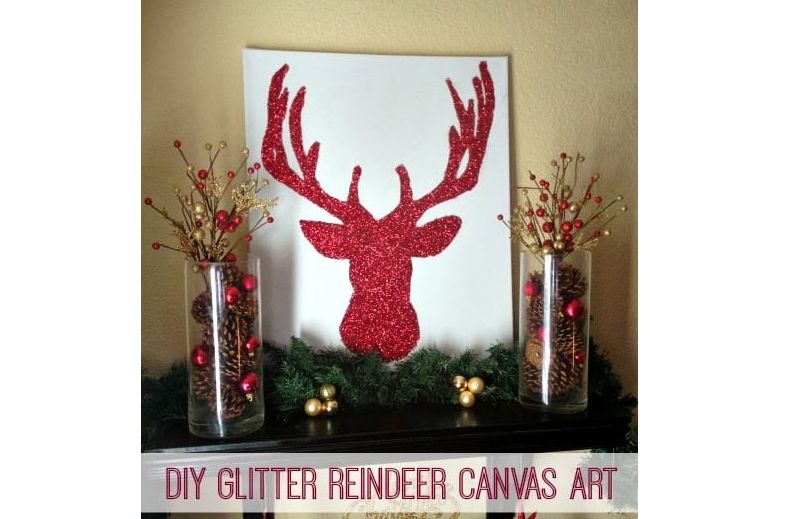 Paper Christmas tree
Add a touch of rustic warmth to your décor by making this miniature paper Christmas tree. To create this, you'll need some card stock, scissors, a paper cone (which will be the base you'll work on), hot glue gun to fix things to the cone, faux berry branches, and some fake snow. Go through the tutorial at Place of My Taste for the step-by-step process.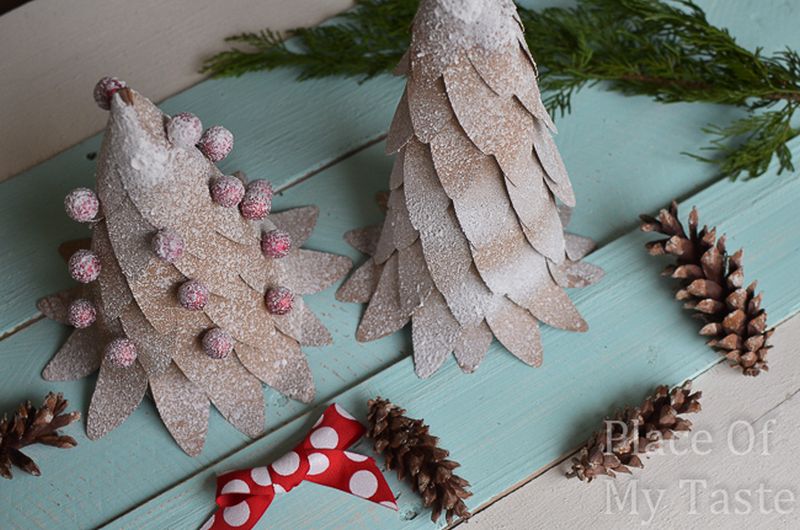 DIY Christmas Decorations from Paper Cups
Paper cup bells
Make Christmas-themed bells out of paper cups and decorate your home for the festive season. A few paper cups, ribbons, pipe cleaners, paint, and glitter is what you'll require to make this DIY project. Begin by painting the cups in the desired color, then use pipe cleaners to connect beads and jingles bells and tie up the ribbon. Full tutorial on First Palette.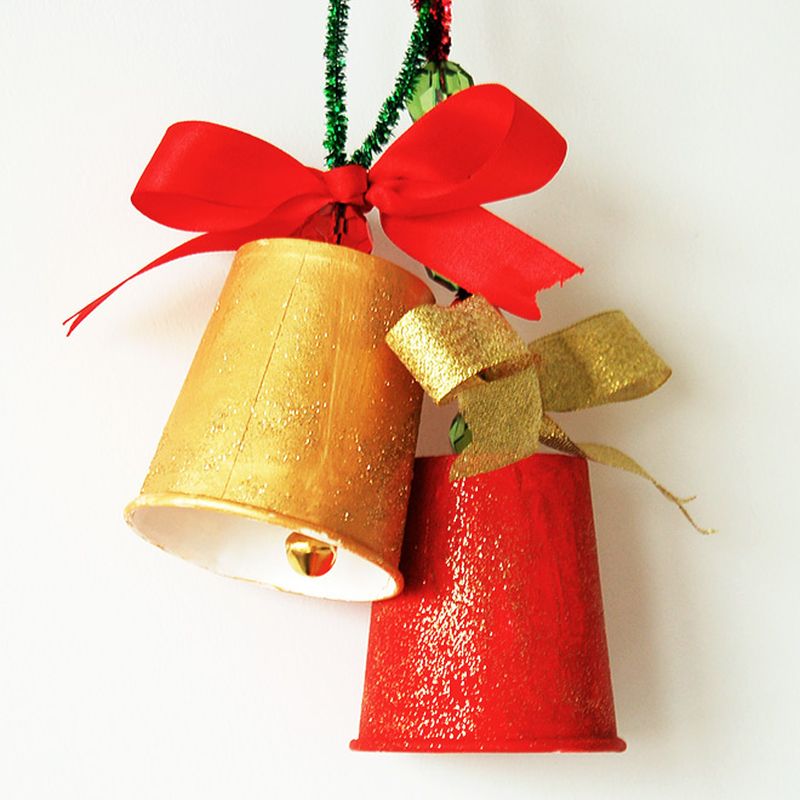 Plastic cup twirlers
An easy-to-make Christmas decoration that will help you deck up walls and windows effortlessly. All you need is some plastic cups, scissors, and a ribbon. Cut the cups in form of a spiral string from top to bottom, tie them up like garland using the ribbon, and hang on a wall. See tutorial at I Can Teach My Child.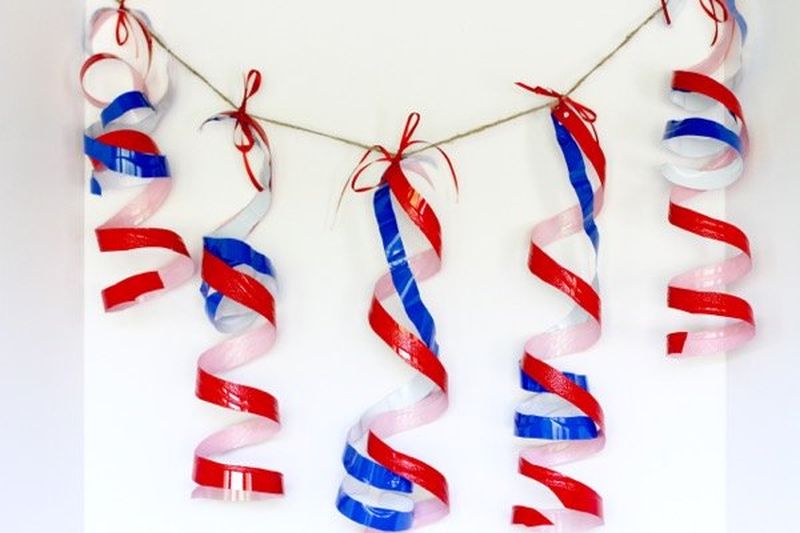 Plastic cup Christmas wreath
You will need Red Solo disposable cups, a decorative ribbon, glittered floral pieces, scissors, and a hot glue gun to make this Christmas Wreath. Just glue cups together in the shape of a wreath and decorate with ribbon and floral decorations. A complete tutorial on Living Locurto.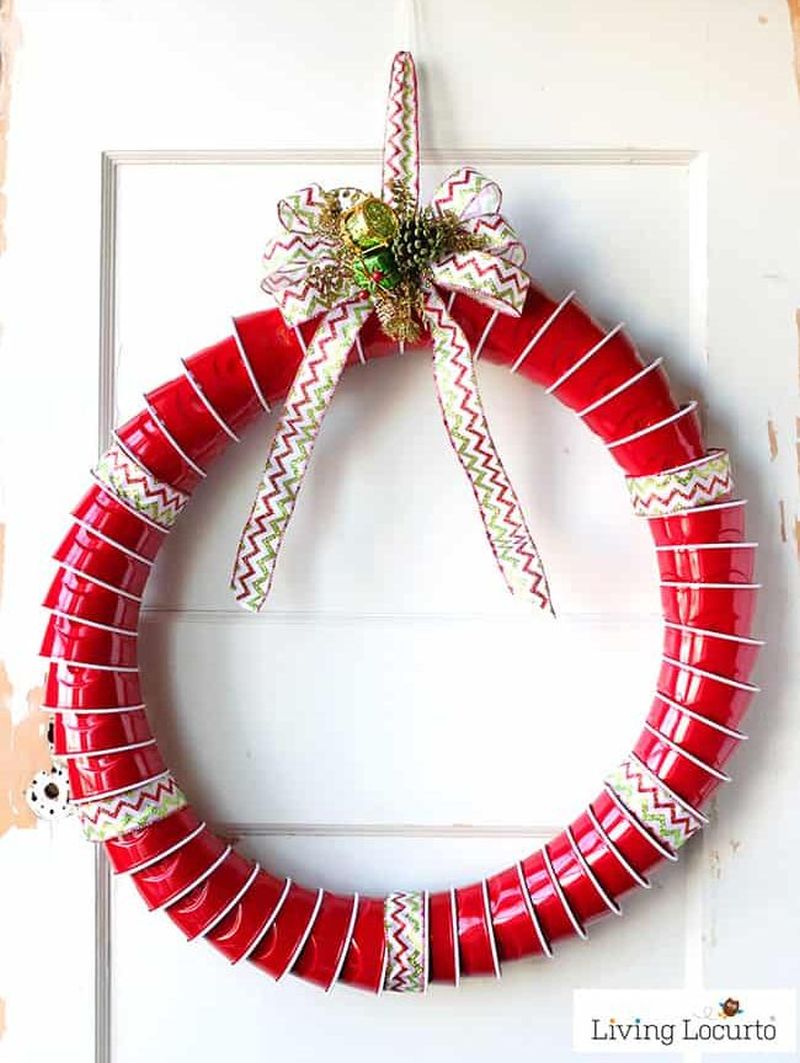 Plastic cup snowman
How about making a cute snowman for Christmas decorations using disposable glasses? If you wish to try, you'll need to create the snowman from a bunch of plastic cups (around 250 pieces), a lot of staples to bind them together.
As you all know snowman is made of two sections, a rounded bottom, and a top. So, start attaching plastic cups using a stapler until you get a good full circle. After this, create another one, a bit smaller this time, to form your snowman's head.
After fixing the head and the body, adorn your snowman with paper balls to make eyes, nose, mouth, and buttons. Also, wrap a lovely scarf around his neck, and give him a matching woolen or Christmas cap to wear. To make it look more charming at night, place a lamp inside the hollow structure. Tutorial on Colorcitos.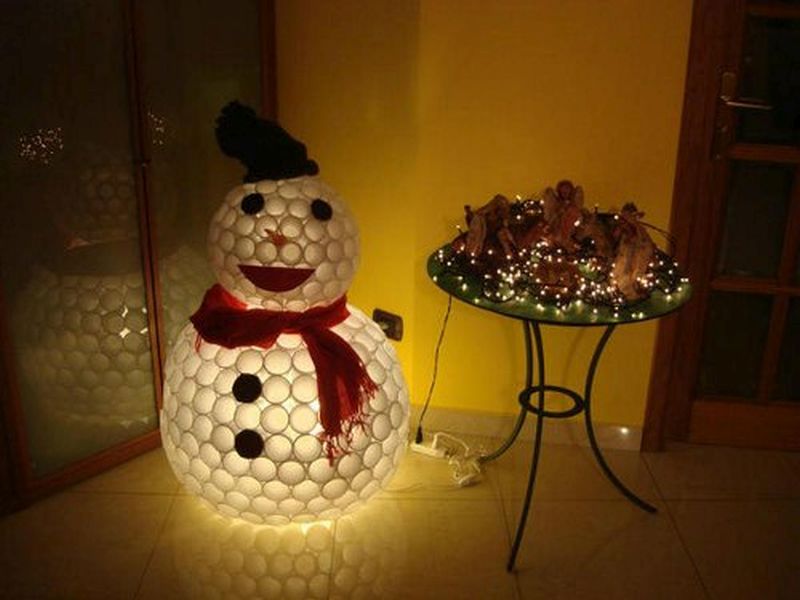 DIY Wood Christmas Decorations
Tabletop Christmas tree from twigs
You don't need to use real Christmas trees in different corners of your home. You can simply make an alternative Christmas tree using tree branches, faux greenery, pinecones, baubles, and any other decorations you have. See the tutorial at Shabby Art Boutique.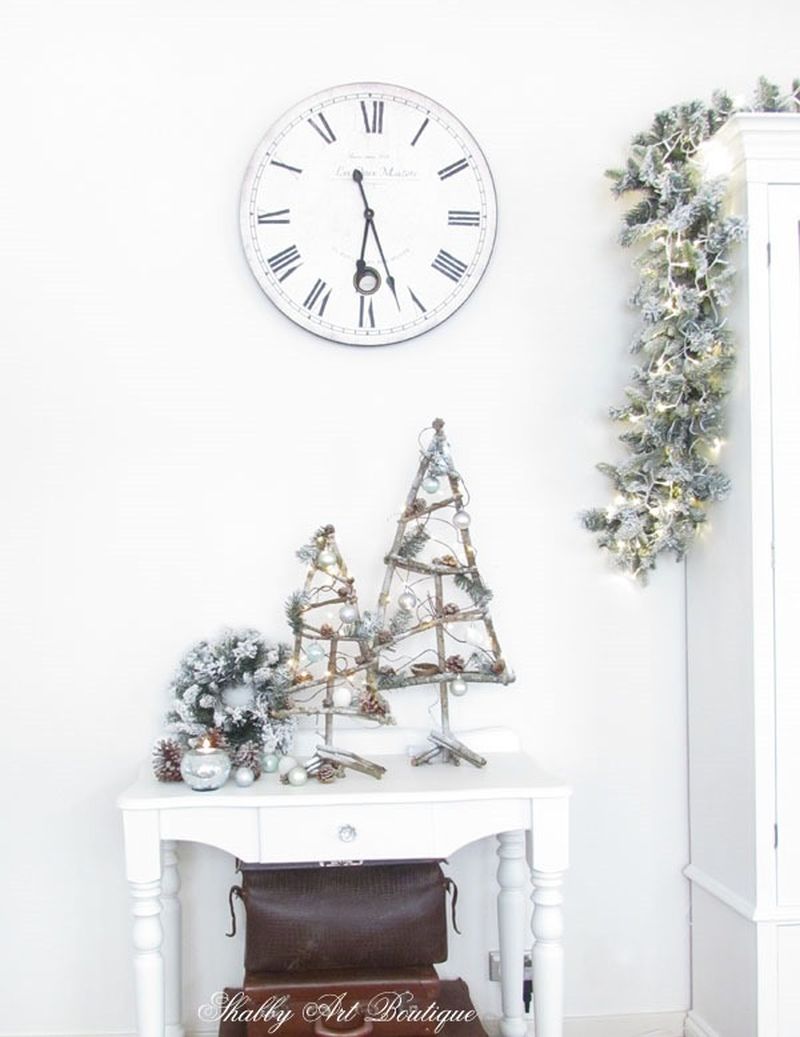 Also Read: 50 Christmas Tree Alternatives You can DIY This Year
Christmas tree from broken tree branch
Make a rustic alternative Christmas tree from a long fallen tree branch and other decorations. Just put it in a planter and fill it with sandstones. Finally, decorate with blue-colored ornaments, burlap pieces, and lights. See full details at Little Red Bag Productions.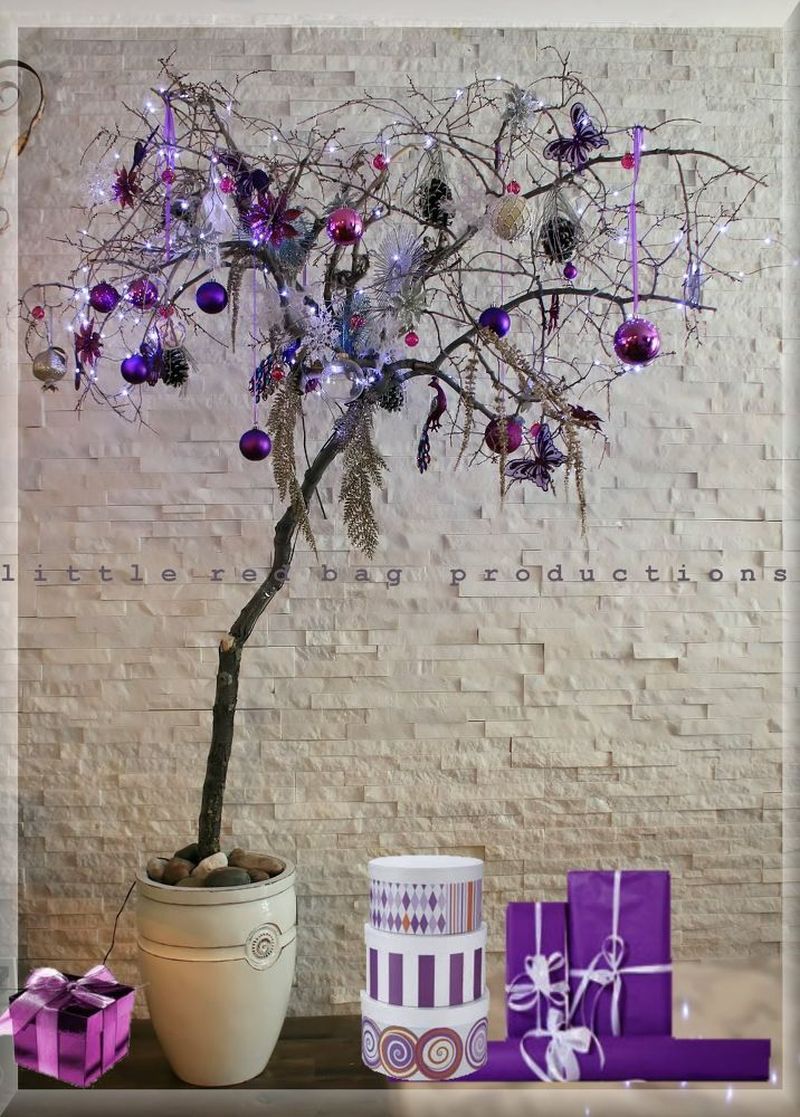 Green tabletop Christmas tree
Create a whimsical tabletop Christmas tree using a Styrofoam cone and an old faux pine garland. You need to wrap and hot glue the garland around the cone. A thin birch wood branch is used as the trunk of the tree while a wide birch wood log is used as the base. You can see the DIY process at The Navage Patch.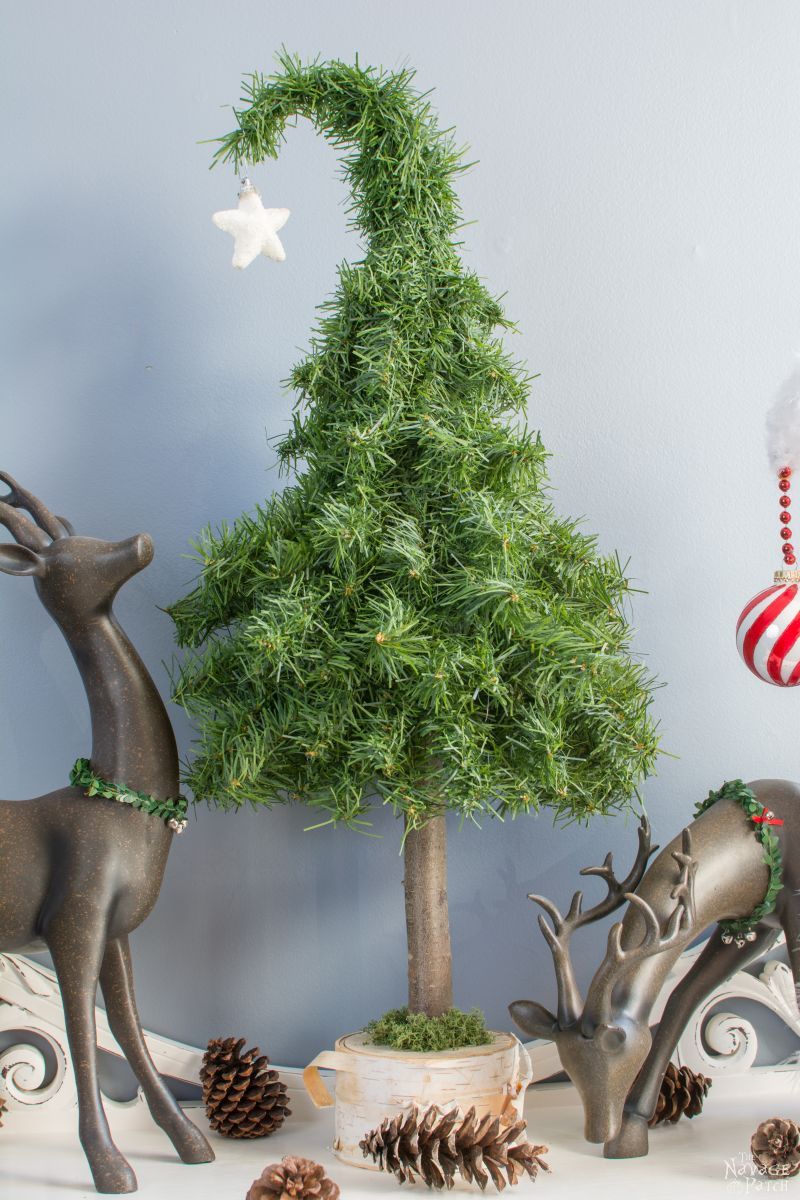 Bottlebrush Christmas tree
Sisal Bottlebrush tree is a good way to create a small display at home. Brush can be painted in desired colors (preferably green) or you can even make one on your own. Check out the tutorial at Smile Mercantile to make one from scratch using sisal rope.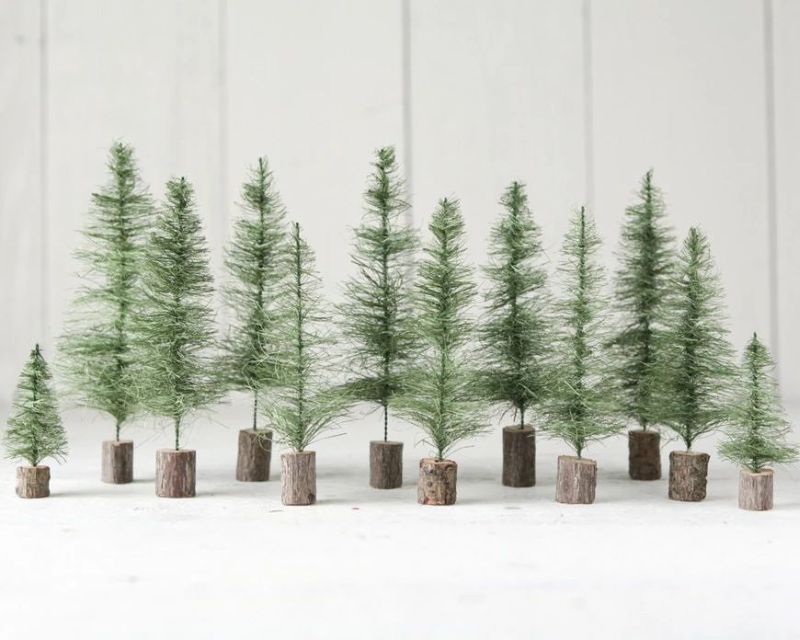 Birchwood Christmas wreath
If you want to bring natural elements into your Christmas home decor, you should decorate your home with this octagon-shaped birch wood wreath by Love Create Celebrate. It is made from birch wood pieces that are cut on both ends so that they attach to each other seamlessly.
You need to be careful while making cuts on the birch wood pieces. Maintain the classic red and green theme, this all-natural Christmas wreath is decorated with foliage, pinecones, berries, and ribbons.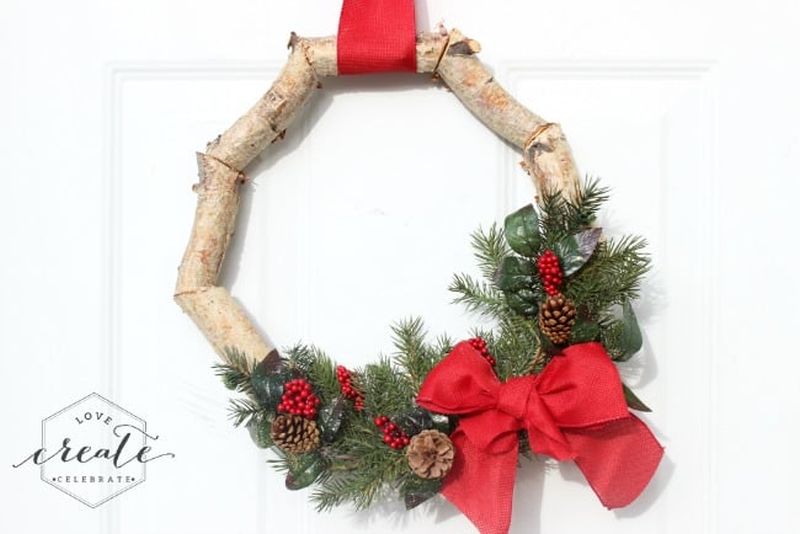 Pallet wood Christmas tree
It is time to repurpose those wood pallets that you have crammed up in your store or garage. Create a unique Christmas scene for your front porch by making a colorful Christmas tree with wood pallets. Attempt this if you have basic woodworking know-how and painting skills.
Once done with woodwork, you'll need bulbs, LED strips, Christmas balls, and ribbons for the decoration. The pallet Christmas tree will certainly look stunning on your porch with the apt Christmas lighting. See the tutorial on Redhead Can Decorate.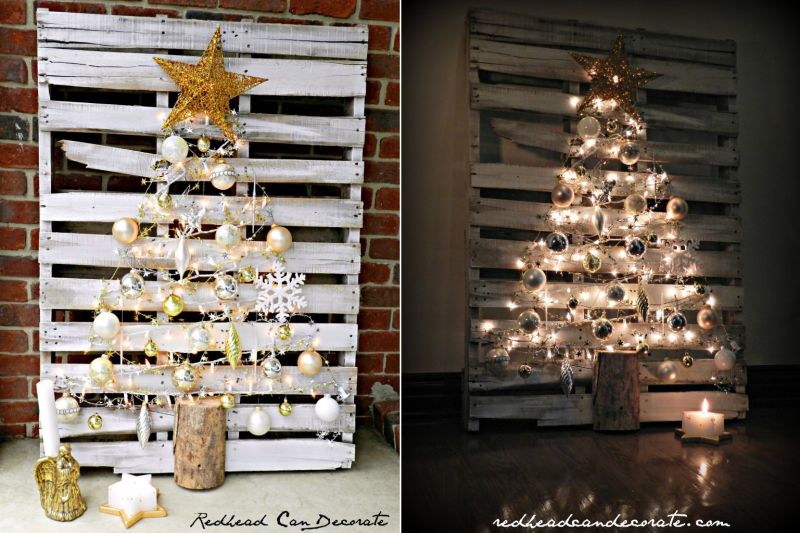 Wall Christmas tree from twigs
Collect a few broken tree branches from your neighborhood and start binding them to look like a conical tree. You can use sisal or some fabric. All you need is to decorate the wall Christmas tree with colorful ornaments and other festive decorations.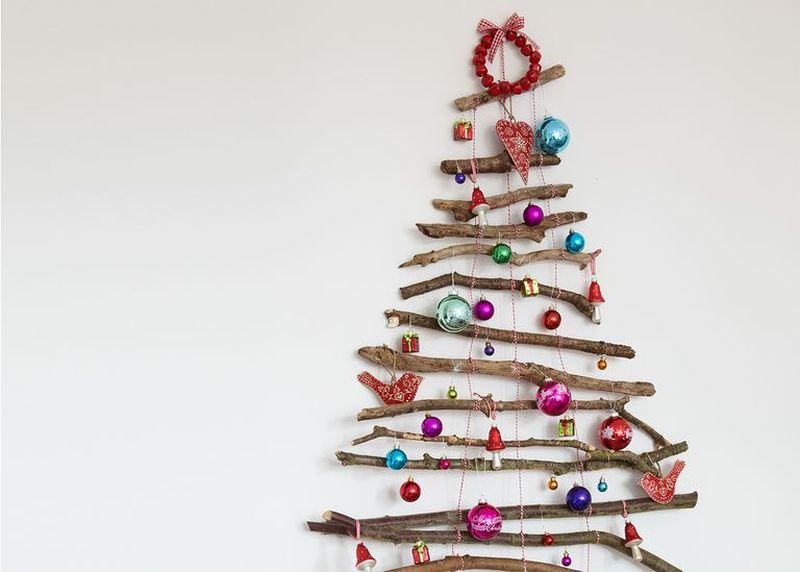 Pinecone Christmas Decorations
Pinecone Christmas tree
The naturally available pinecones can be used to make cute tabletop Christmas decorations. You can even turn them into alternative Christmas trees. While making one, you can use wine corks as the base and paint them. Now add a mini wooden tree topper to enhance the final look.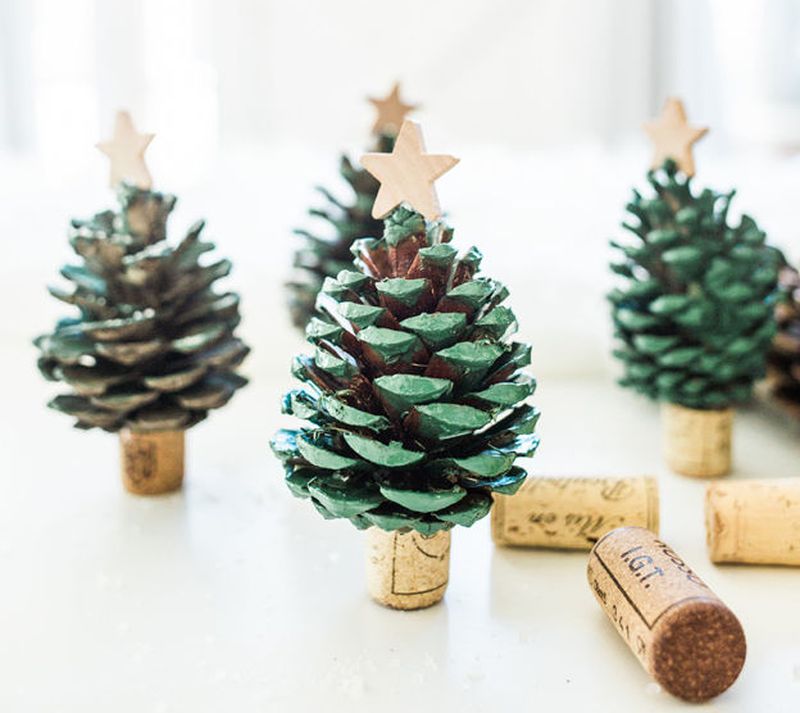 Ombre pinecone
If you have an obsession with colorful things, the ombre pinecones by Whimzeecal is a perfect Christmas craft for you. You can paint pinecones in three or four different shades of the same color or different colors and your decoration is ready.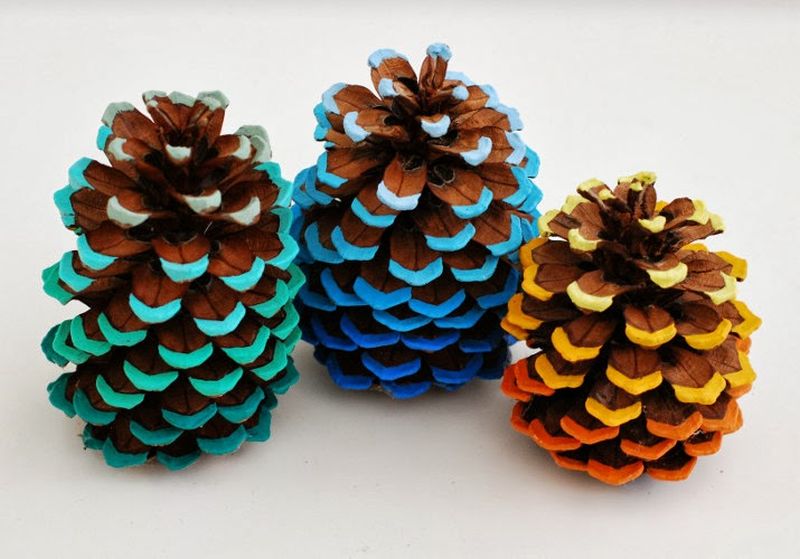 Pinecone elves
If you have a creative bent, you can transform pinecones into cute Christmas decorations. Mini wood beads serve as the head while tubular caps, mufflers, and shoes are made from felt. You can choose colors as per your taste. See the tutorial at Lia Griffith.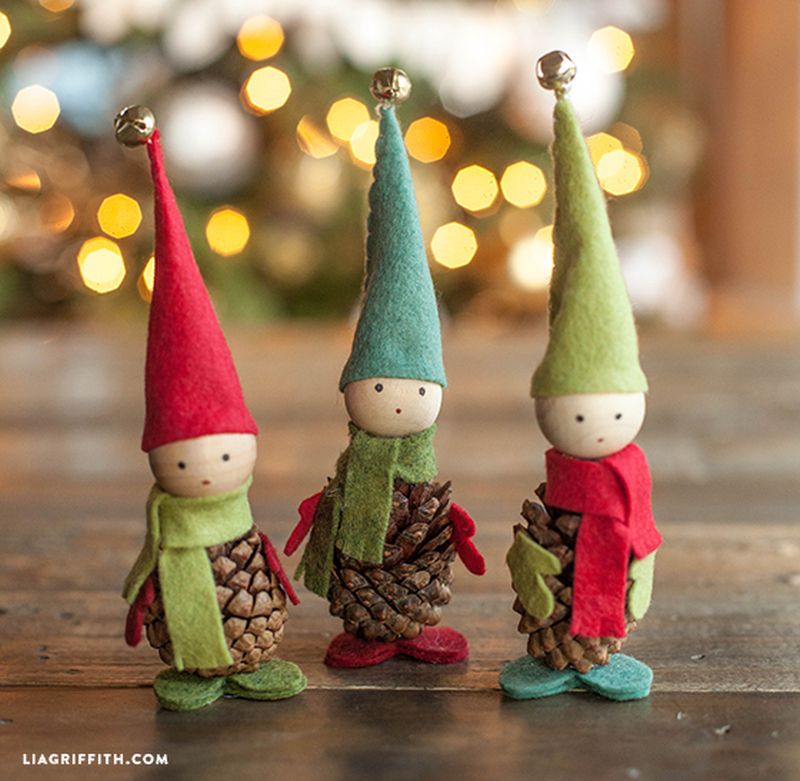 Pinecone Christmas wreath
Stroll down to a nearby pine forest and collect some pinecones to make an elegant Christmas wreath for your living room. Just glue up the pinecones on a wire wreath frame and decorate with light strings, artificial foliage, and berries. See the full tutorial at A Piece of Rainbow.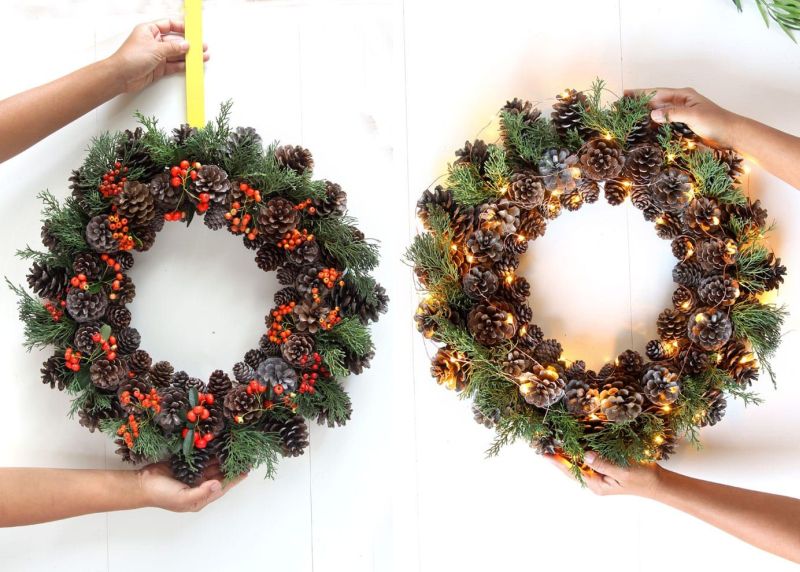 Mason Jar Christmas Decorations
Mason jar Christmas tree
Create a mason jar base for a small flocked Christmas tree that can be placed on a table or shelf. Paint the jar in white chalk paint. Finally, decorate with a wide wired buffalo check ribbon; a few fake berries can also be added. See full details on Weekend Craft.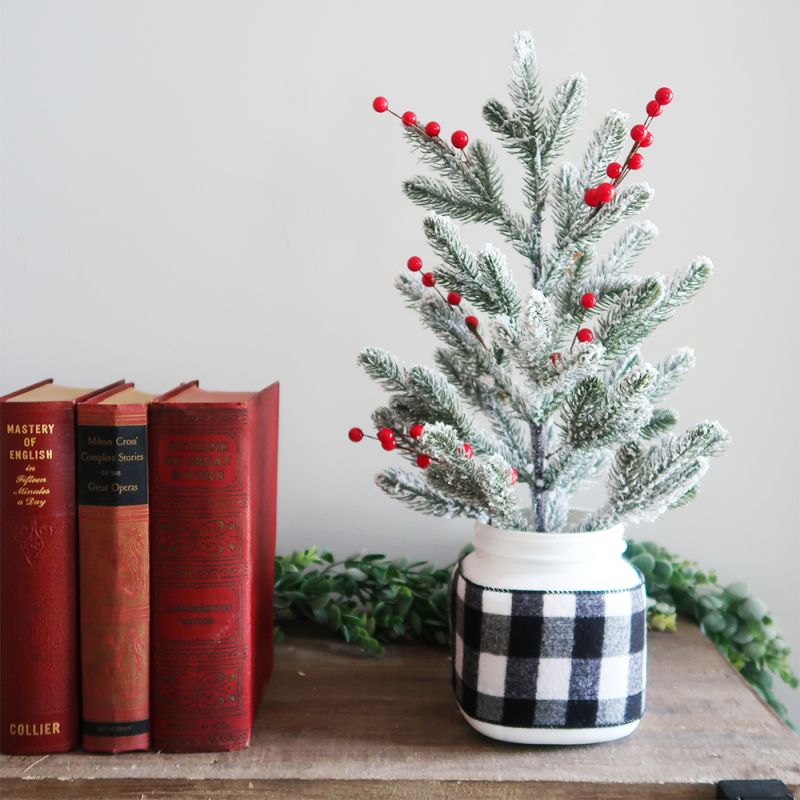 Mason jar snow globe
Decorate your living room for Christmas with a fun, personalized jar snow globe that anyone would love. It is super easy to create using a mason jar, glitter, glue, mini trees, snowman, Santa, and fake snow.
You can also create one with water inside, but for that, you'll have to replace simple glue with waterproof craft glue. Jar snow globes are perfect to make DIY toys. See the full tutorial on Tidy Mom.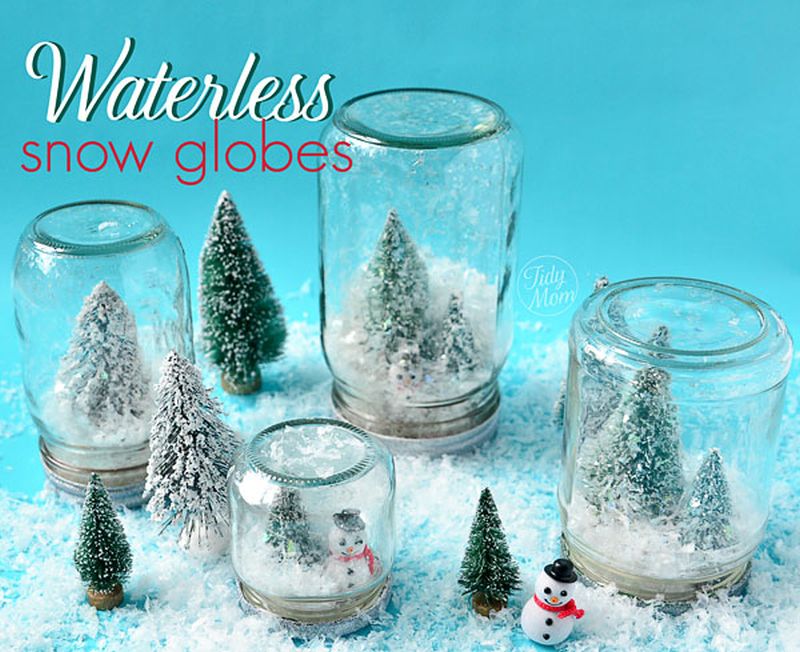 DIY snowy mason jar luminaries
Mason jars can easily be turned into snowy Christmas tea light holders. Exterior of the jar covered in salt gives a snowy look. Next, decorate it with foliage and twine. See the tutorial on Instrupix.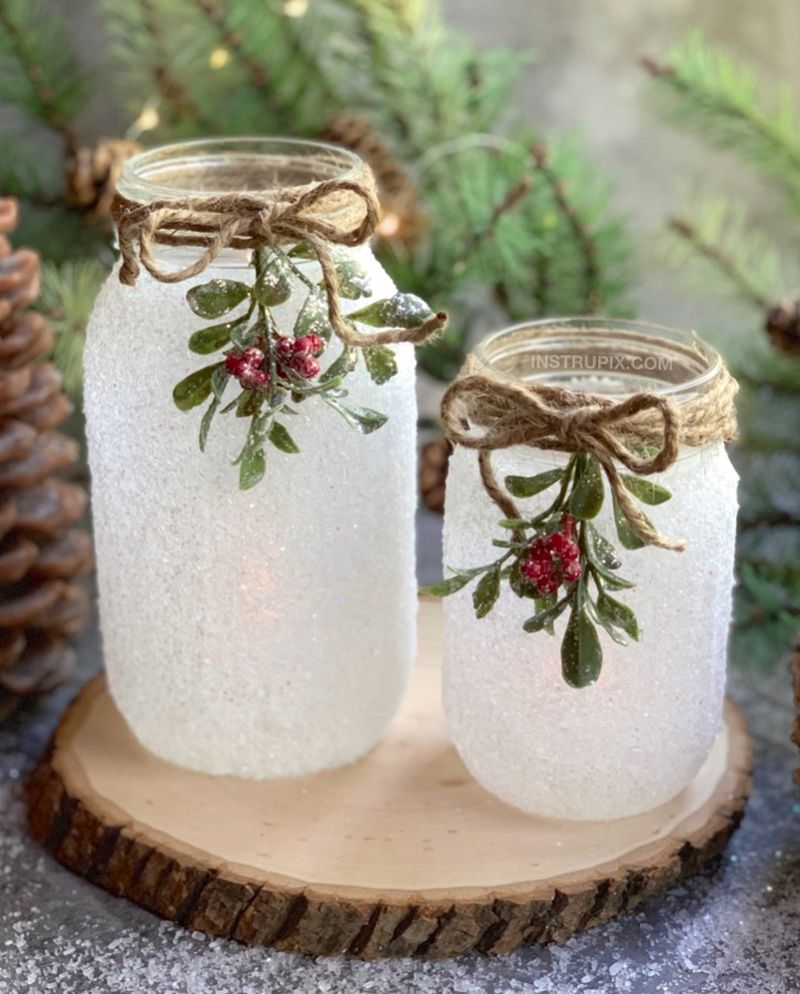 Handmade Christmas mason jars
If you are fond of painting, you can try and make these festive sweater mason jars. You'll need to paint the jars with white acrylic craft paint and then make two strips using Washi tape so that you can make elegant patterns on the jar. Further, use a white paint pen to make snowflakes. See the tutorial at It All Started with Paint.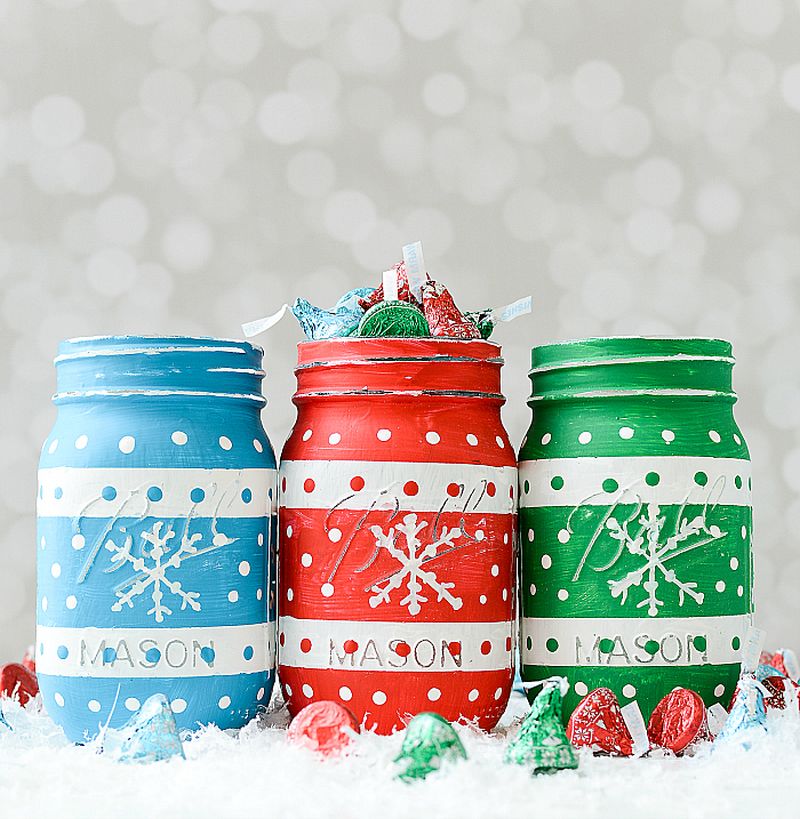 Painted mason jar snowman
Snowman and Santa are two popular Christmas figures that you can make with the help of mason jars. Before you start painting the jar, don't forget to tape the areas where you will be drawing the eyes and mouth, etc. Check out the full tutorial at Sustain My Craft Habit.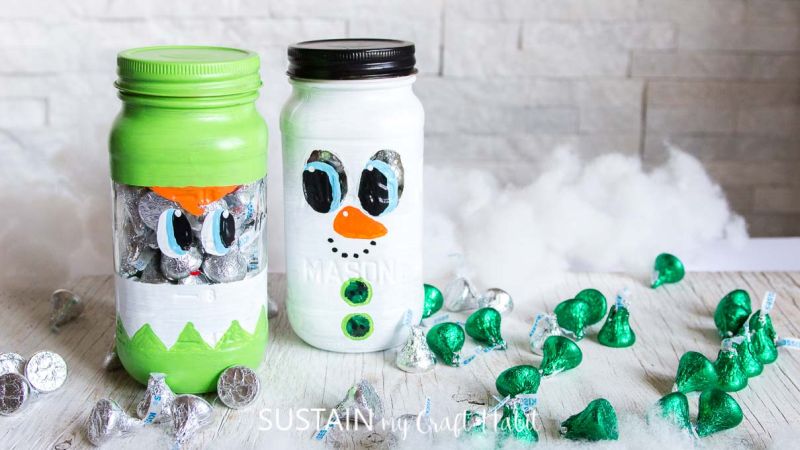 Also Read: 55+ Christmas Tree Ornaments You can DIY This Year
Handmade Christmas Decorations from Glass Bottles
Painted wine bottle tabletop Christmas tree
Christmas is a great opportunity to reuse wine bottles to create hand-painted decorative accents. Have a look at this illuminated wine bottle that you can make to light up your space. A hand-painted wine bottle can be a fun addition to your home, a gift for a loved one, or a centerpiece for your living room table. See the tutorial at Ann's Entitled Life.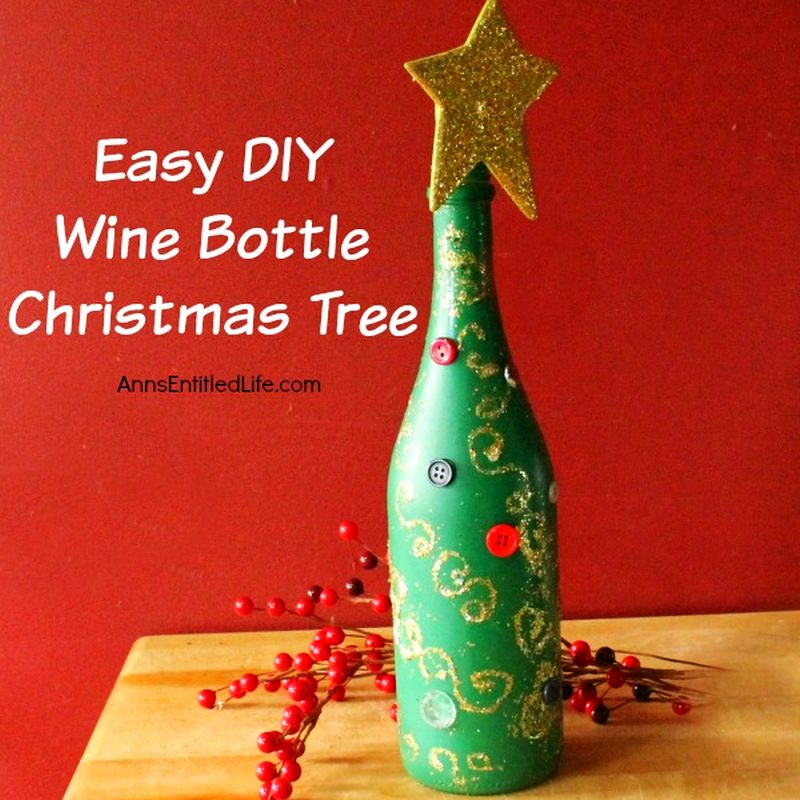 Chalkboard paint wine bottle
Make use of empty wine bottles by creating an array of chalkboard paint Christmas-themed wine bottles. It is a fun project that you can do in under a day. You will need to paint the bottles with chalkboard paint and write the desired messages with chalk. The messages can be erased and rewritten, just in case you want to.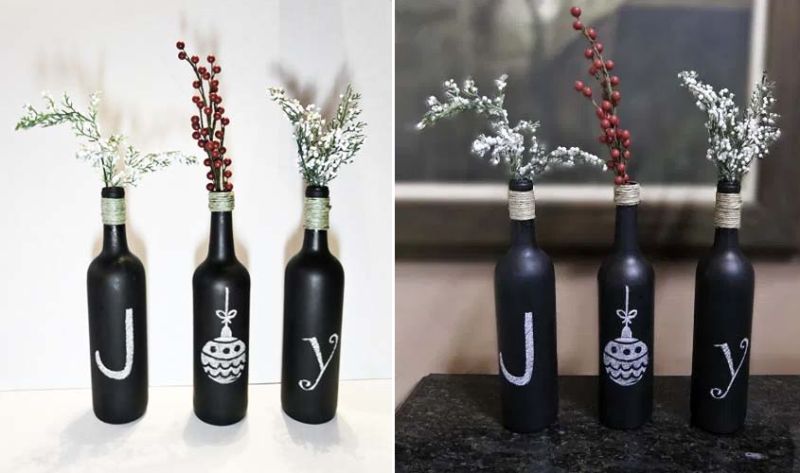 Christmas Decorations from Wine Bottle Cork
DIY wine cork Christmas tree
If you can't part with old wine corks, then turn them into a whimsical cork tree that will surely win the heart of your guests. We personally love this idea since it can add spice to a dinner table or mantel. To create a tree, you will need a lot of corks, one small or large Styrofoam cone (depending on how tall you want the tree), a red ribbon, a battery-powered string of lights, and a hot glue gun.
Start gluing corks in an upright position around a Styrofoam cone, leaving a small space between each cork for the battery-powered light string to fit in. When done, glue up another layer of corks randomly. Once you reach the top, glue a bow, star, or small ornament of your choice to give the tree a festive appeal. You can even wrap a red ribbon around the cork tree. Check out the tutorial at Kendall Jackson.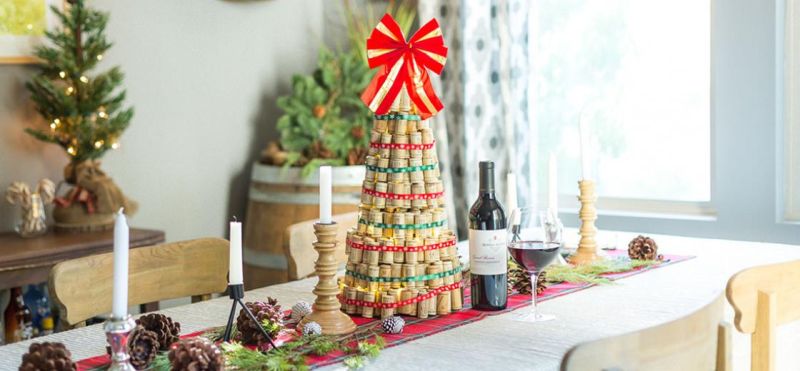 Wine cork reindeer
Wine corks can be used to create a tiny reindeer, which will bring a lot of cuteness to your coffee table. Creating the reindeer is easy; even kids can try it. In addition to a few corks, you will need screw pins, springs, and a few embellishments to shape up the reindeer's face.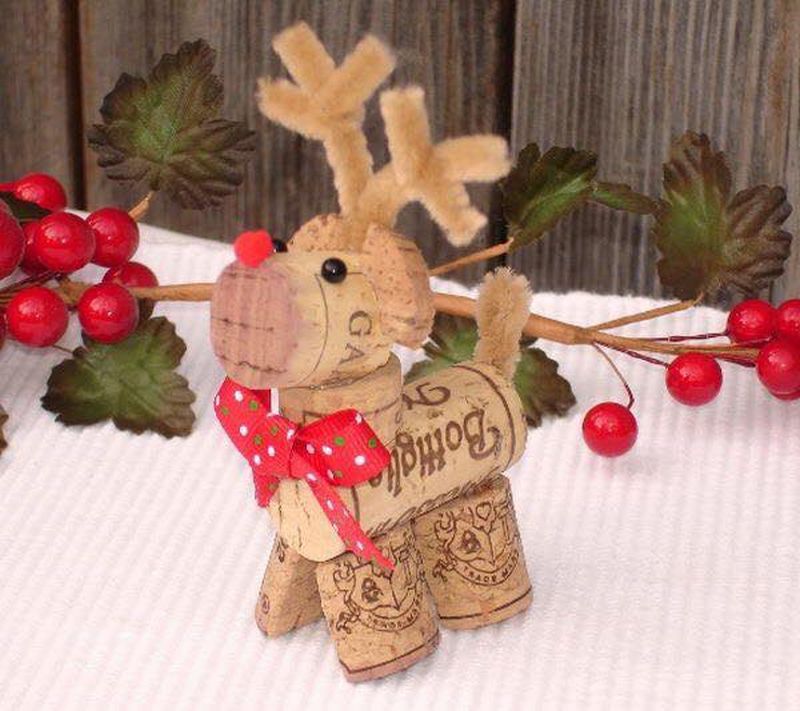 DIY Yarn Christmas Decorations
Miniature yarn Christmas tree
Have you ever come across a mini Christmas tree made of yarn or thread? If not, have a look at this super easy to DIY and lovely Christmas tree by A Beautiful Mess. It is made using a paper cone and colorful yarn wrapped around it evenly. A star topper is added for a finished look. These little trees will surely spruce up your Christmas decor.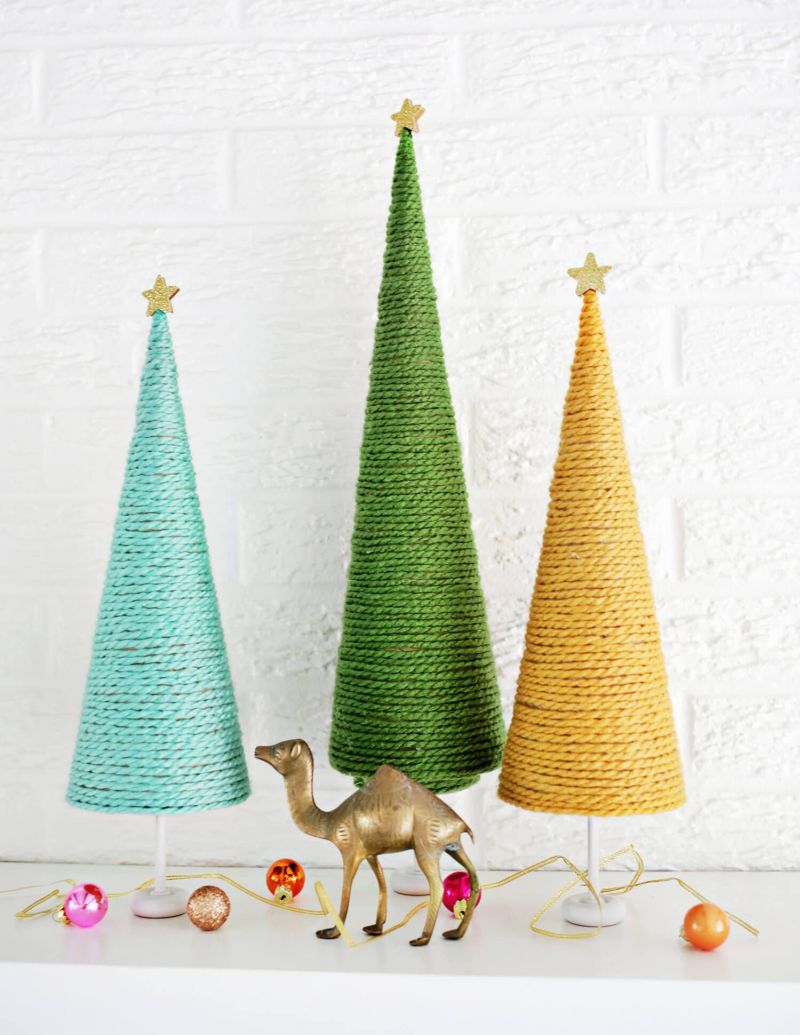 DIY snowman using balloons and string
You can reduce the costs of Christmas decorations with your DIY skills. It is not much difficult DIYing a stunning snowman Christmas decoration using balloons and string. Making balls from strings will take some time but it is an easy project.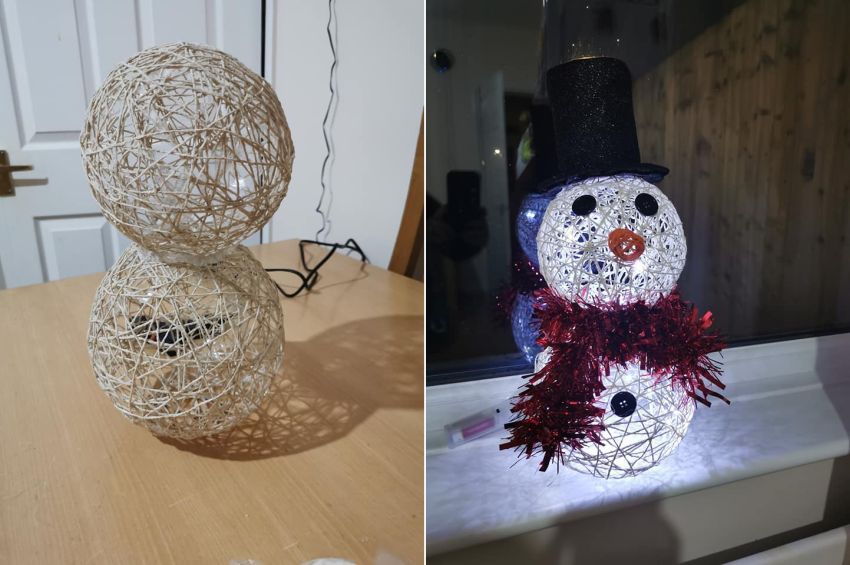 DIY Yarn Garland
This super cute DIY banner garland will make your home ready for the most wonderful time of the year. It is made out of layered tassels. See the tutorial at The Beetique Blog.
DIY Macrame Christmas Decorations
Macrame Christmas stars
This Bohemian-inspired wall decoration will make beautiful essence to your home. You can also add fairy lights to make it more festive. Check out the full tutorial at Twome.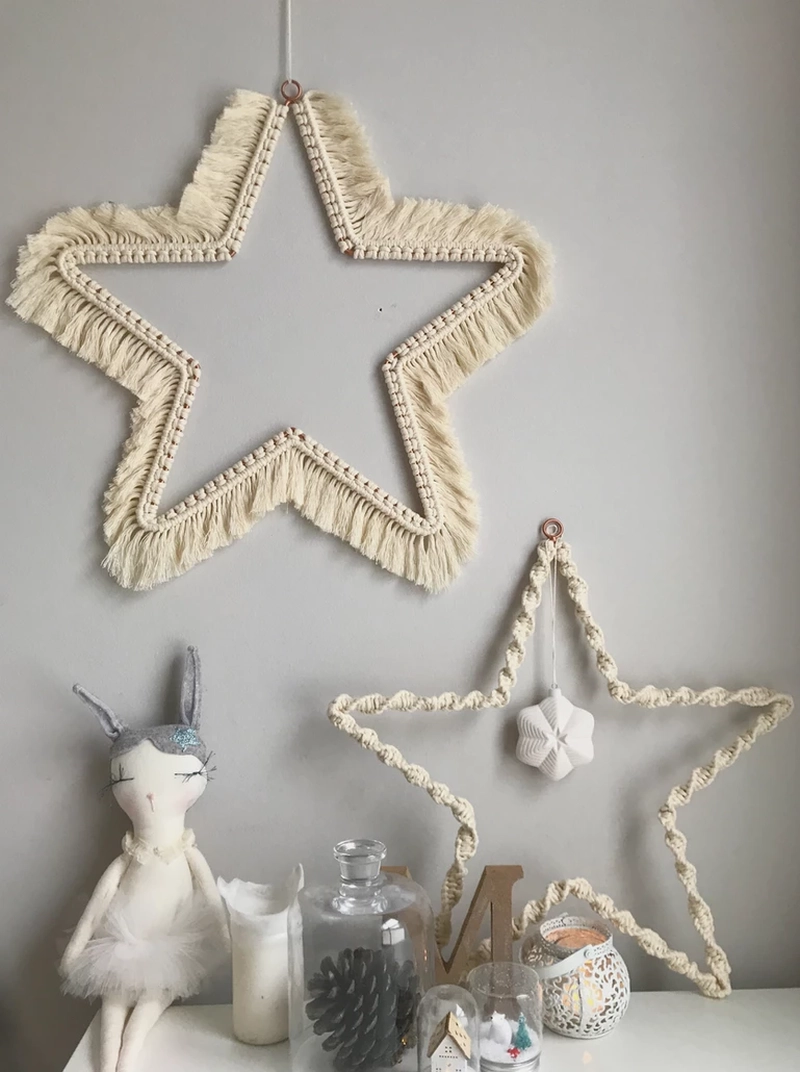 Macrame Christmas trees
These cute little tabletop trees add a perfect touch to any Christmas scene. You need to weave macramé around a wooden frame. The project is difficult and you can get help at Hometalk.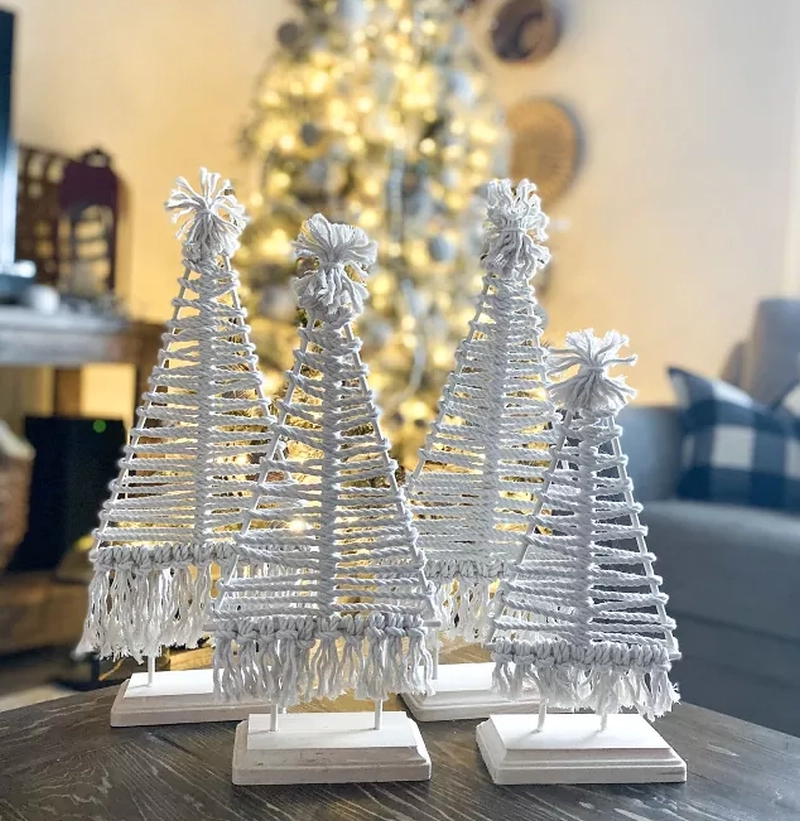 DIY Christmas Decorations from Popsicle Sticks
Popsicle stick snowflakes wall decor
You can create wall decoration pieces for Christmas using only ice cream sticks and glue. Wondering how? Have a look at these beautiful snowflake wall decor by Unsophisticook. Anybody can make them within no time using popsicles and drape walls in the Christmas spirit.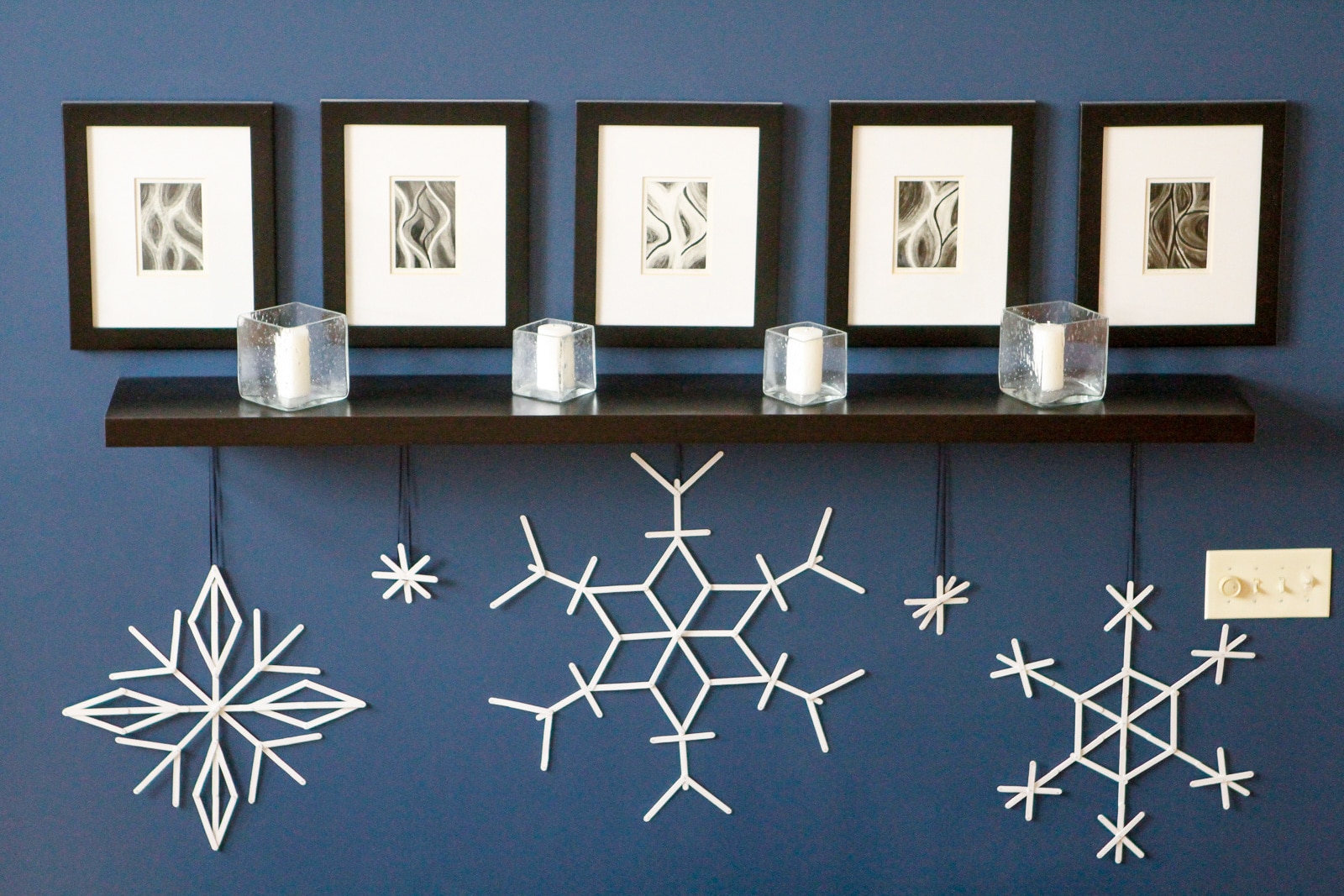 Popsicle Christmas decoration
You can make a festive Popsicle stick craft window easily with just a few simple materials. The main task is to glue up the Popsicle stick in a good-looking way. You can also use fabric and other decorations for elegance. See the full tutorial at Little Bins for Little Hands.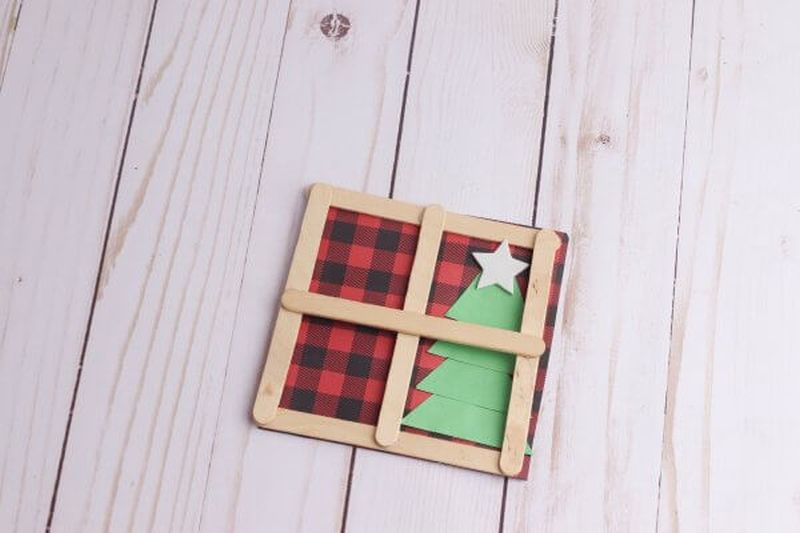 Gilded popsicle stick garland
Popsicles are great for crafting Christmas decorations. You can even turn them into festive garlands. If you are interested in making one, this is a perfect option. Just glue up the popsicles, write some wordings and hang it wherever you want. See the full tutorial at Pars Caeli.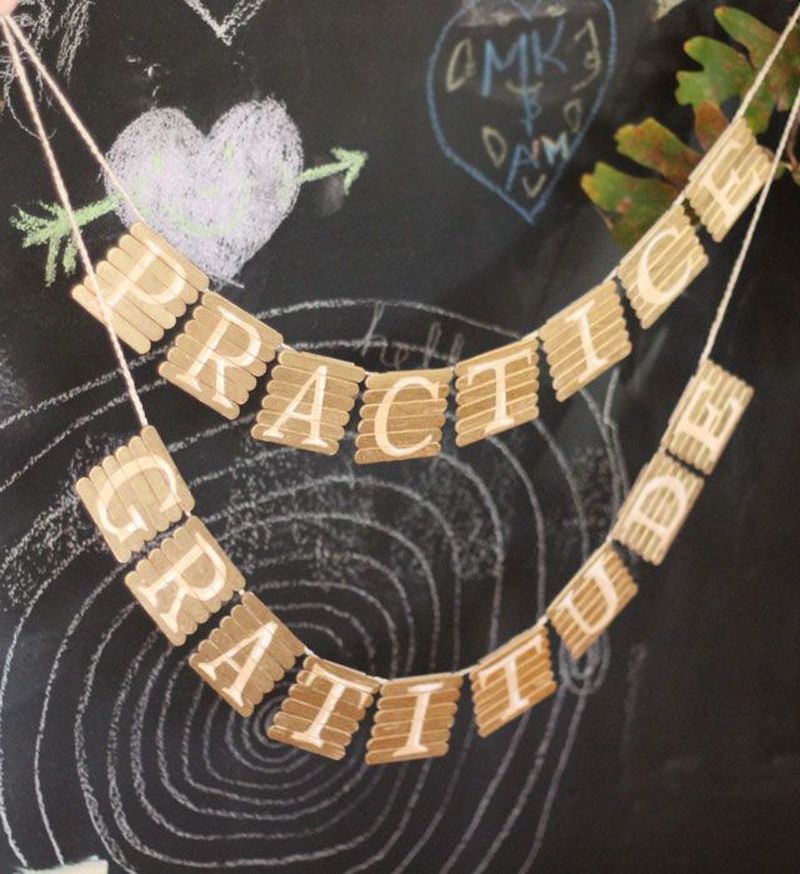 DIY Christmas Tree Toppers
Glitter paper star tree topper
How different your Christmas tree looks depends mainly on how well you decorate it. When it comes to decorating, a tree topper is what makes or breaks the charm. If you haven't found a unique star topper you wanted for your tree, try making one using paper and glitter. Catch the full tutorial on Lia Griffith.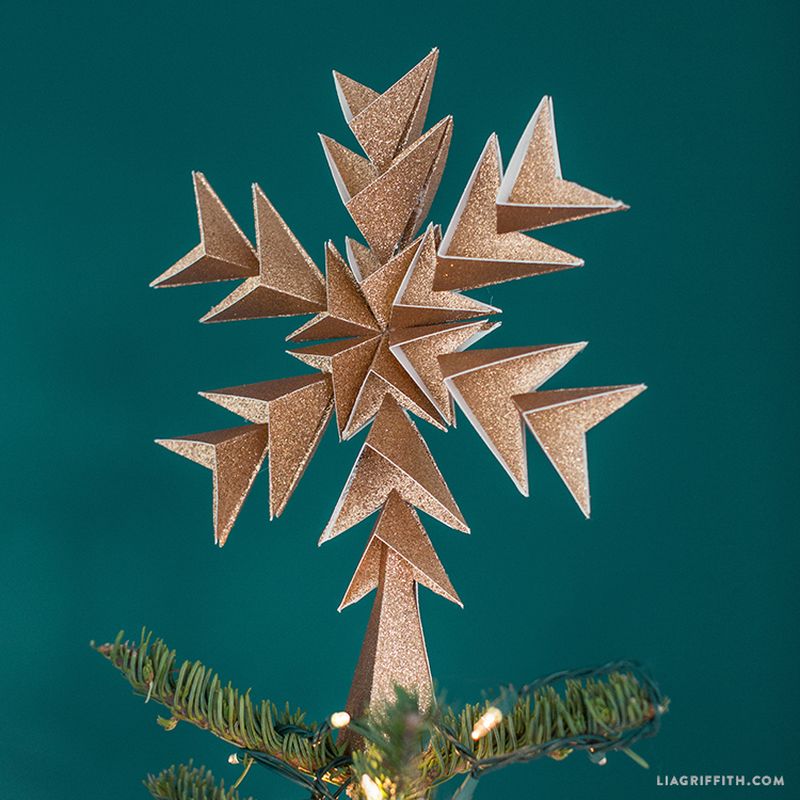 Wire star tree topper
It can be fun to try making a star topper for your Christmas tree using a wire hanger. To make one, you need to bend the wire hanger in the shape of a star and attach pom-poms to it using thread.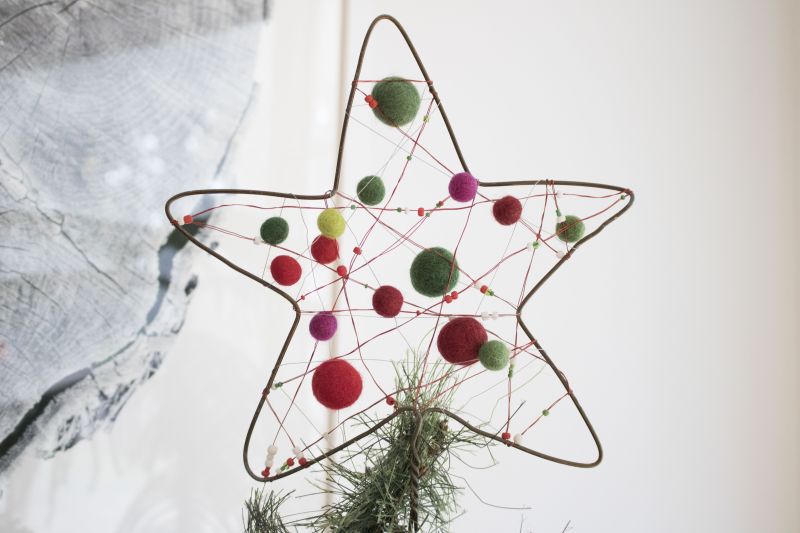 Unique DIY Christmas Decor
Snowman Christmas wreath
Here is an adorable Christmas wreath idea to make your front door inviting at Christmas. You will love crafting this lovely grapevine snowman wreath this year to adorn your door. To craft it, you require three different-sized grapevine wreaths, a hat, a scarf, and little adornments to give it a Christmas appeal.
You can also glue pine tree shrubs on grapevine wreaths to give it a natural appeal. See the tutorial on Sweet Little Bluebird.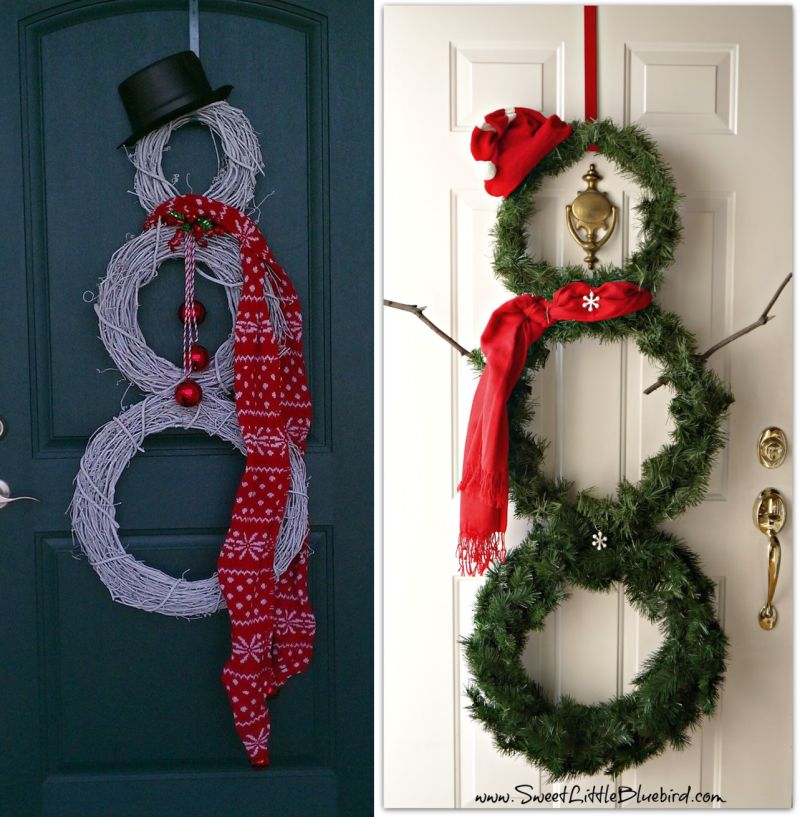 Berry wreath
Christmas without wreaths has no charm. Instead of buying an expensive one from the market, consider creating this low-priced, lovely berry wreath. The wreath is created using only a few artificial berries, a wreath form, and a hot glue gun.
You will instantly fall in love with its charming appeal and two colors (red and white) that justify Christmas festivities in the best way. For more clarification on how you can also make one, jump over to the full tutorial at That's What Che Said.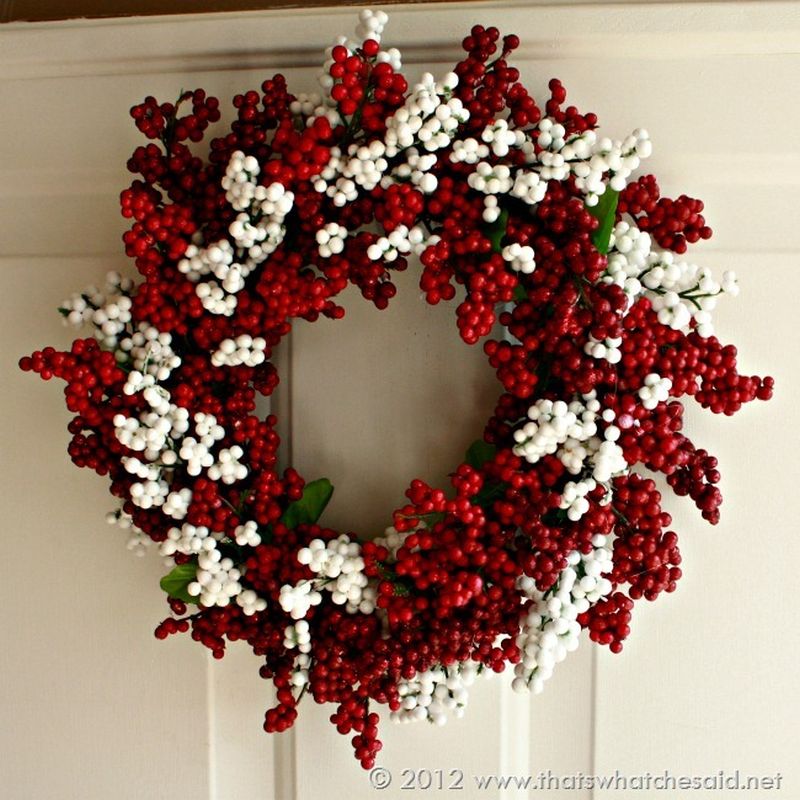 Vintage Christmas ornaments wreath
Full of colors, this vintage-inspired DIY Christmas wreath is made from glass ornaments and tinsel garland. Just glue them over a wreath form and finally decorate with tinsel. It can be prepared in a few hours. See full details at Inspired by Charm.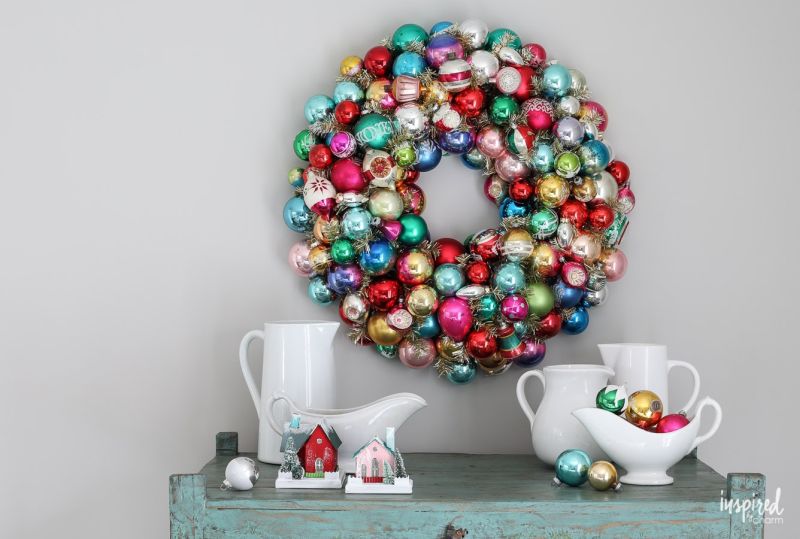 No-sew sock snowman
How about creating a cute snowman using a single sock? We are in love with this adorable little craft that anyone can create at home. To make it, you have to fill a sock with some rice. Once you are happy with its size, tie the top using a rubber band or thread.
Also, tie it from the middle to differentiate the snowman's head and body. Once you achieve a definite shape; affix a button, eyes and wrap a scarf to complete its look. See more details on Handimania.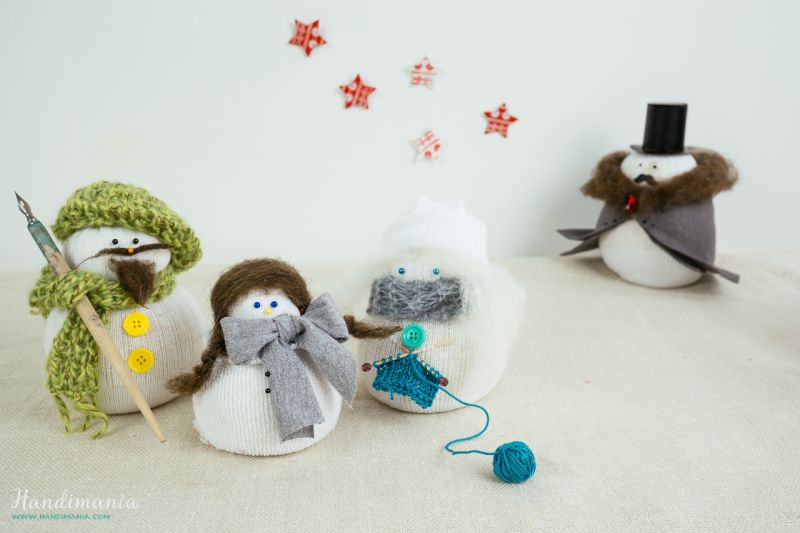 Christmas gnomes
These cute little tomte gnomes are quirky decorations for Christmas. If you have a creative hand, you can make one using an old sock. They can be used to decorate the mantel, bookshelves, and console tables. See the tutorial at Love Our Real Life for help.
Plastic straw tabletop Christmas tree
You can beautifully embellish your Christmas tree or ceiling with adorable decorative accents made using plastic straws and metallic spray paint. Watch the video below, and learn how you can use plastic straws for Christmas decorations. A full DIY tutorial is available on Make Film Play.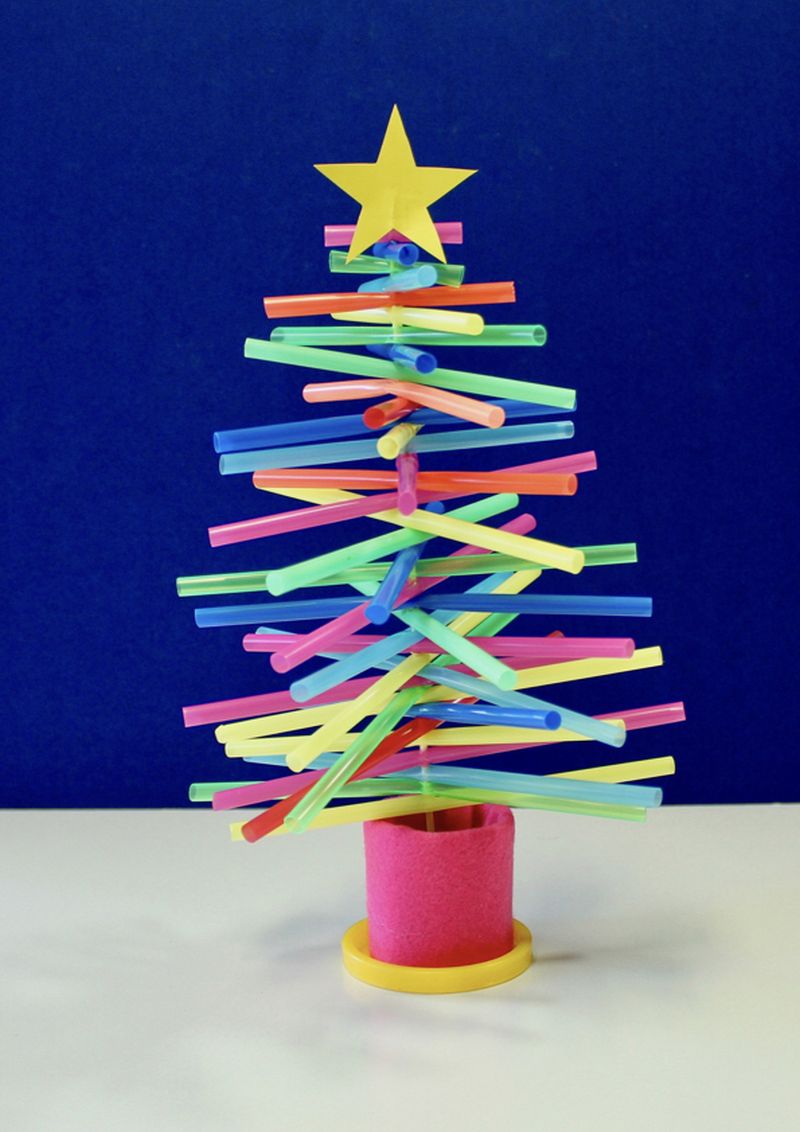 Also Read: 90+ DIY Christmas Garland Ideas: The Ultimate Roundup
DIY Christmas advent calendar
Learn how to make a simple wall-hanging advent calendar out of a copper pipe at Growing Spaces. Place an optimally sized branch horizontally and attach different sized strings to it on which the dates will hang. The dates here are made of copper pipe pieces.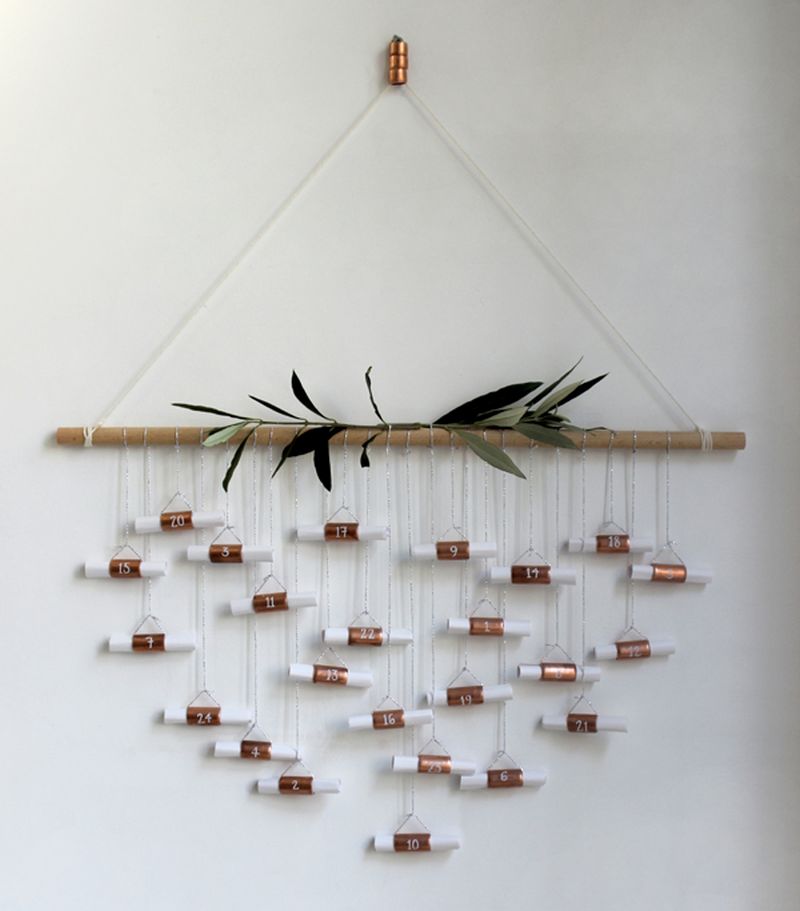 Image: Growing Spaces
DIY light balls
If you want a unique lighting effect in your backyard, try and make these DIY light balls. These lighted ornamental balls thrown around the lawn will make a merry effect. They are relatively easy to make.
You'll require a chicken wire, small wire cutters, a measuring tape, gloves, and LED mini lights to create them. Start with wrapping wire in the shape of a ball and covering it with a colorful LED light strip. Find more information in the tutorial on Christmas Lights Etc.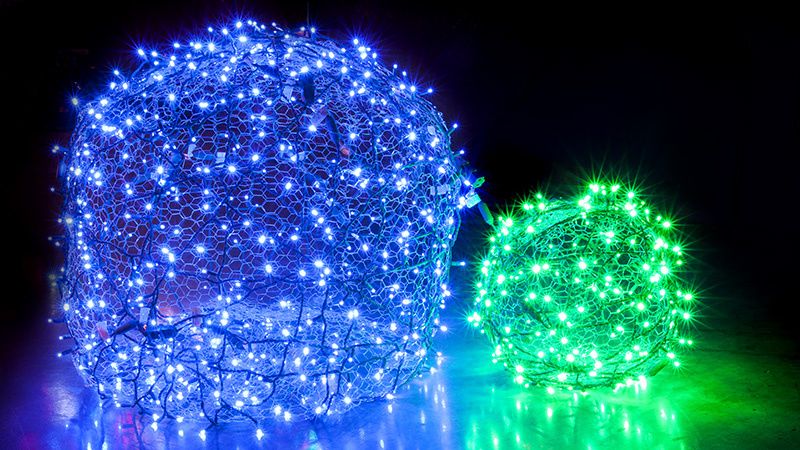 Sequin sparkle balls
Want to add colorful, unique, and hand-made ornaments to your Christmas tree? Then this DIY is definitely for you. Have a look at this beautiful sequin sparkle ball that your kids can create easily. They will love decorating the Christmas tree using their own crafty skills.
To create the sequin sparkle balls, kids would need to add sequins to a foam ball using T pins. It can be embellished with different types of decoration items since there is so much space to showcase creativity.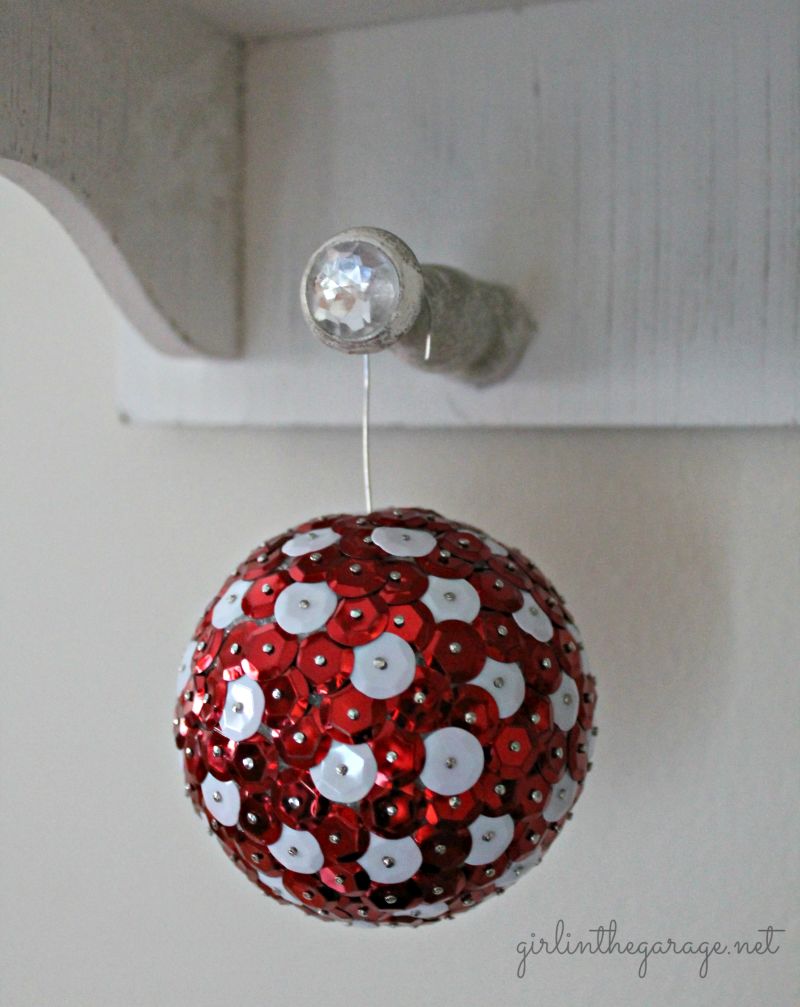 DIY toilet paper roll Christmas decorations
Want to involve kids in decorating your home? You can engage them in creating cute little Christmas-themed decorations from toilet paper rolls. From snowman to elves, there are different things to try. You will be needing basic craft supplies like paper, cardboard, colors, pom poms, buttons, googly eyes, etc. See full details at The Best Ideas for Kids.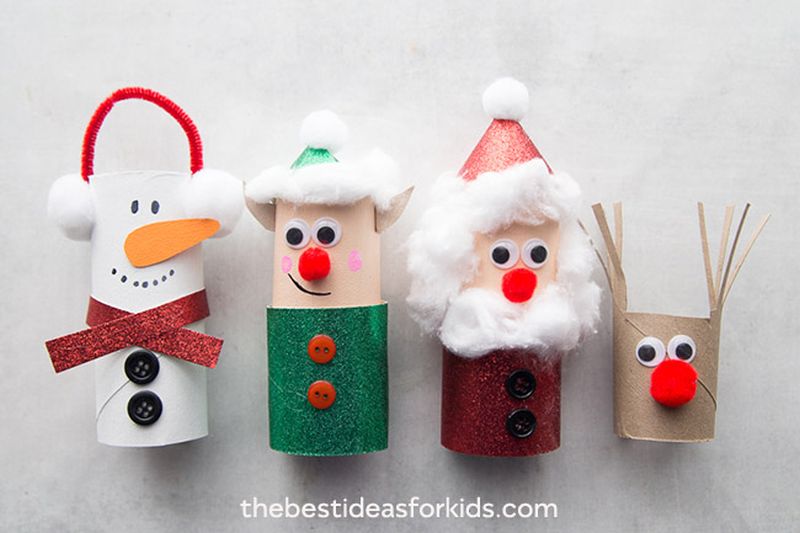 Faux mercury glass vases
If you have a desire to decorate your home or dining table with mercury glass vases for Christmas, The Paper Mama has a cool idea for you. Clean the glassware thoroughly and spray a layer of mirrored paint on the outside. Repeat until you are satisfied with the appearance.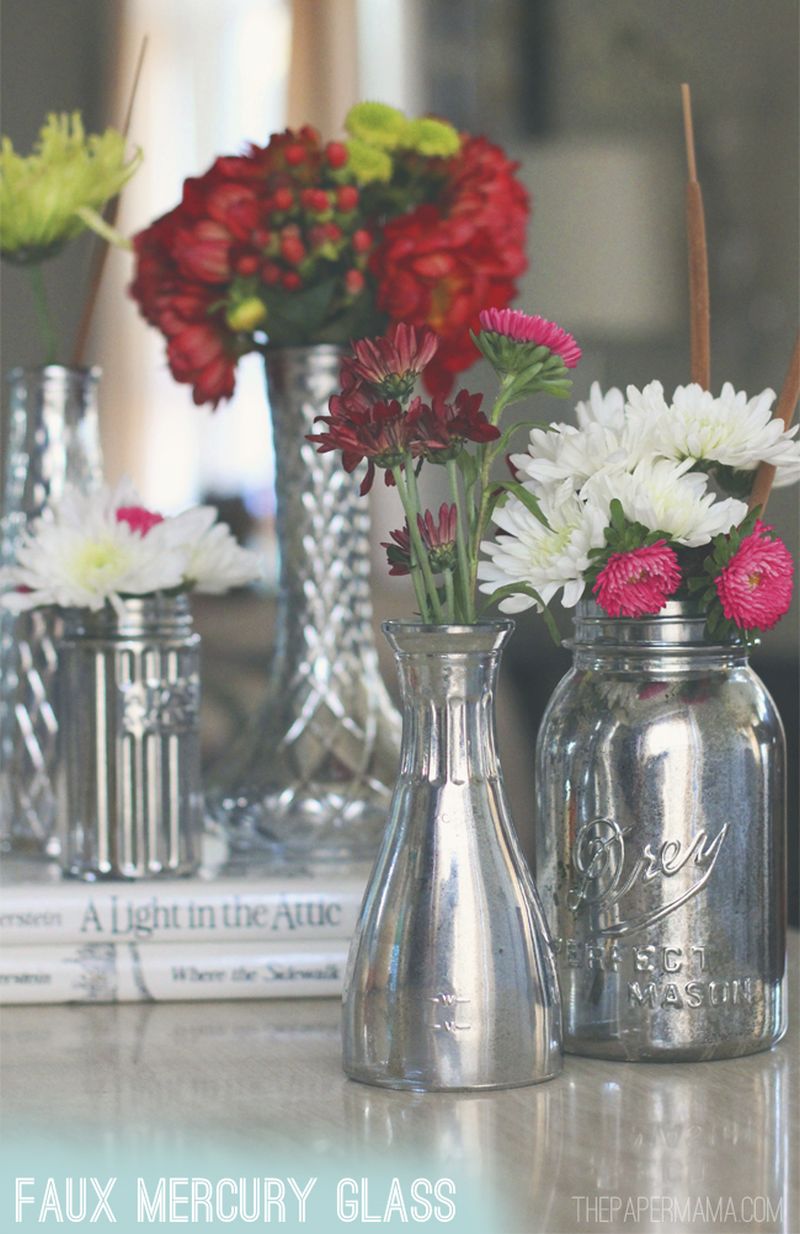 Christmas tree made of books
Wouldn't it be a good idea to make a Christmas tree from books? You are in luck if you have a collection of books stashed up somewhere, collecting dust. To create a Christmas tree, form a pile of books in the shape of a Christmas tree, with bigger books forming a firm base and the shape getting narrower as you progress to the top.
When it finally takes a pyramid-like shape, light up your book Christmas tree with colorful LED strips to give it a festive appeal. And when the festivity is over, you can store your books on a bookshelf (not leave them to bite the dust again).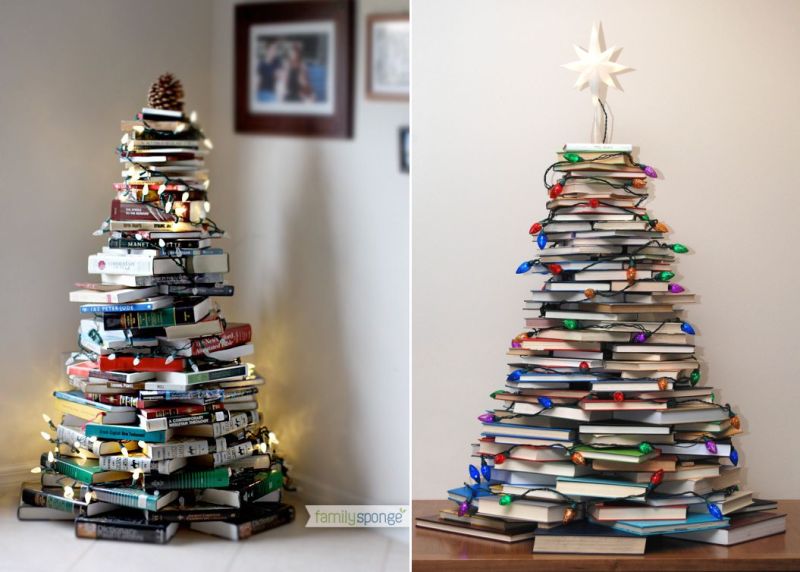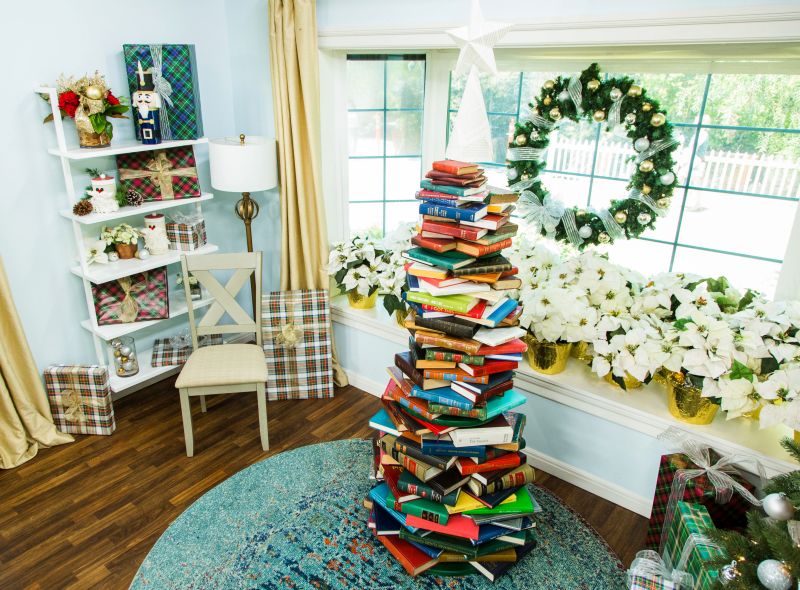 Christmas card display
A Christmas cardholder can provide a beautiful way to showcase your memories. There are many different ways: you can hang them on a wall or just create a wooden holder. You can get the full tutorial for the latter at Jenna Burger.