What do you like the most about Halloween? For most of us, it's the time of the year when we utilize our holidays and DIY skills to decorate homes in the creepiest way possible. Halloween decorations are not limited to jack-o-lanterns, costumes, and devil-inspired recipes, it's about Halloween wreaths and props that are a simpler way to add petrifying appeal to your front door.
You'll find thousands of spooky Halloween wreaths in the market but making one on your own is also a good option. You just need some creative inspiration and DIY skills since it isn't as difficult as it may sound.
Here are some cool DIY Halloween wreath ideas that'll bring out your inner DIY'er and will help take your Halloween decoration to a whole new level.
1) DIY Doll Halloween Wreath
Making a wreath from old dolls isn't difficult. All you need is to create a base wreath using wire coat hanger and newspaper and ornament it with dolls, cobwebs, artificial blood, hair, grass, and lights to make it look scarier. Check out the full tutorial here.
# Creepy Doll Mobile Wreath
This is a super simple Halloween craft for which you just need to decorate the dolls in a creepy way. A grapevine wreath will do great as a base where you need to hook up some old dolls like they are really being hanged. Torn clothes, stoned faces, and gruesome eyes are some things you can do to make it look horrible. Yo can hang it like a chandelier.
# Barbie Halloween Wreath
A bunch of unused Barbie dolls, a LED string light, cardboard, glue and a large diameter hoop will do for this project. You can decorate the wreath with anything from action figures and toy cars to Lego bricks.
# Old Dolls Halloween Wreath
If you want to turn your home into a house of horrors and surprises that will make kids scream, get inspired by this creepy doll wreath by Glances Back Vintage. Creepy dolls and their split-in-half parents with artificial red blood are really horrible to witness.
2) DIY Bird's Nest Wreath
Bored of traditional ghost-inspired wreaths and want to try something unique this Halloween? Make one from abandoned bird nests, feathers, and grass rather than buying an artificial one from the store. You'll need a grapevine wreath on which you have to secure the nests using thread or wire. Here's a tutorial on how to make one.
This Halloween wreath is simple but definitely catches attention at your front door or fence.
# Wood Bird Nest Wreath
It isn't necessary to use real bird nests to make a wreath as you can make one easily with wooden slats or paint stir sticks. Stain the wood and lay out the frame of your wreath by gluing them up in a cool pattern. Add some egg cutouts of a wood piece for a fancy look.
# Spring Wreath
It is a great DIY wreath idea to try this Halloween. You need a polystyrene wreath, jute twine, plastic eggs, straw, and some artificial feathers. Tie the jute twine around the polystyrene wreath and then make a bird nest from a handful of straw or raffia. Add some fake eggs and feathers to jazz up the wreath.
# DIY Bird's Nest Burlap Rag Halloween Wreath
Use burlap and jute runners for this simple DIY project. Just cut the fabric into thin strips and tie up onto a wreath frame. After the wreath is full, add some colored paper mache eggs for a unique appeal.
3) Black Magic Wreath
Add an eerie touch to your living room with the black magic wreath! Create a haunting environment inspired by black magic stories, and make your guests feel that you are actually welcoming bad spirits into your home. Making this creepy wreath is not difficult. You need to create a simple wreath with grapevine and glue some faux flowers to it. Finally, spray paint the whole wreath with black color to give it a cool, haunting look.
# Black Magic Halloween Wreath
Made using black paper streamer and a polystyrene wreath, it is a cool DIY project for people who like all things black. Cut the paper streamer into small pieces and clip them to the wreath foam using paper pins. Once you're done, your black magic wreath is ready.
4) Terracotta Pot Halloween Wreath
The coolest thing about DIYing is that it gives you the freedom to add a personal touch to your creation. Making a spooktacular wreath from terracotta pots is likewise if you're creative.
Use grapevine wreath as the base and attach small terracotta pots, plastic bones, spiders and skulls for a ghoulish appearance. This wreath would look frightening at your entryway. Check out the full tutorial here.
# DIY Flower Pot Wreath
This easy-to-make wreath is a great DIY project for families. All you need is 2-3 small flower pots, moss, and a grapevine wreath to realize this project.
# DIY Succulent Wreath
You'll need a wire wreath, clay pots, moss, succulents, foam balls, floral pins, paint and a floral wire. Items used and steps are similar to the previous project, except for whitewashing the clay pots which adds a mysterious look to the wreath.
4) Googly Eyeball Halloween Wreath
How about a Halloween wreath that seems to be watching you all the time? It's a totally terrifying feeling when you are watching a movie with your family and guests, and all of a sudden you realize that you are being watched by evil eyes. These visuals can send shivers down anybody's spine.
If you're craving for such a Halloween decoration, the wreath made from ping pong balls and Googly eyes is surely a great fit. You'll need to create a straw wreath or anything you can create a loop with. Glue ping pong balls onto the wreath and just stick Googly eyes all over.
# Spooky Eyeball Wreath
You'll need a wooden wreath and plenty of googly eyes of different sizes. Paint the wreath in black and attach googly eyes all around. Decorate with a ribbon and some wordings to complete the eyeball wreath.
# Monster Eye Halloween Wreath
It's an affordable and easy Halloween craft made using fur and foam wreath. Cover the wreath with fur and add a half-cut ball to the center as a monstrous eye. Now that is one intimidating wreath to put up on your front door to scare everyone stopping by.
# DIY Spooky Eyeball Wreath
You'll need two flat wood wreath forms of different sizes and glued eyeballs to each one. Drape the wreath in a ribbon printed with spiders, bats, or bugs.
# Halloween Monster Eye Wreath
If you're looking for fun DIY Halloween wreath ideas, this one is for you. You'll need a foam wreath, feather boas, floral pins, pipe cleaners, and wiggly eyes. Wrap the feather boas around the wreath and attach wiggle eyes to the wreath using pins. Hang it on your front door and let your guest admire your creation.
5) Raven Halloween Wreath
If you're looking for quick and easy Halloween decorations that look elegant yet have a creepy element, the Black Raven DIY Halloween wreath is perfect for you. You'll need a wreath frame and 8-10 faux blackbirds to glue up on the wreath. Make sure to glue up all the birds pointing to the center of the wreath. Since ravens symbolize death and bad spirits, they create a perfect Halloween accent.
Don't worry about the stuff you need, the market near you is already rambling in Halloween craze. So you will be able to find all the items at your nearest craft store.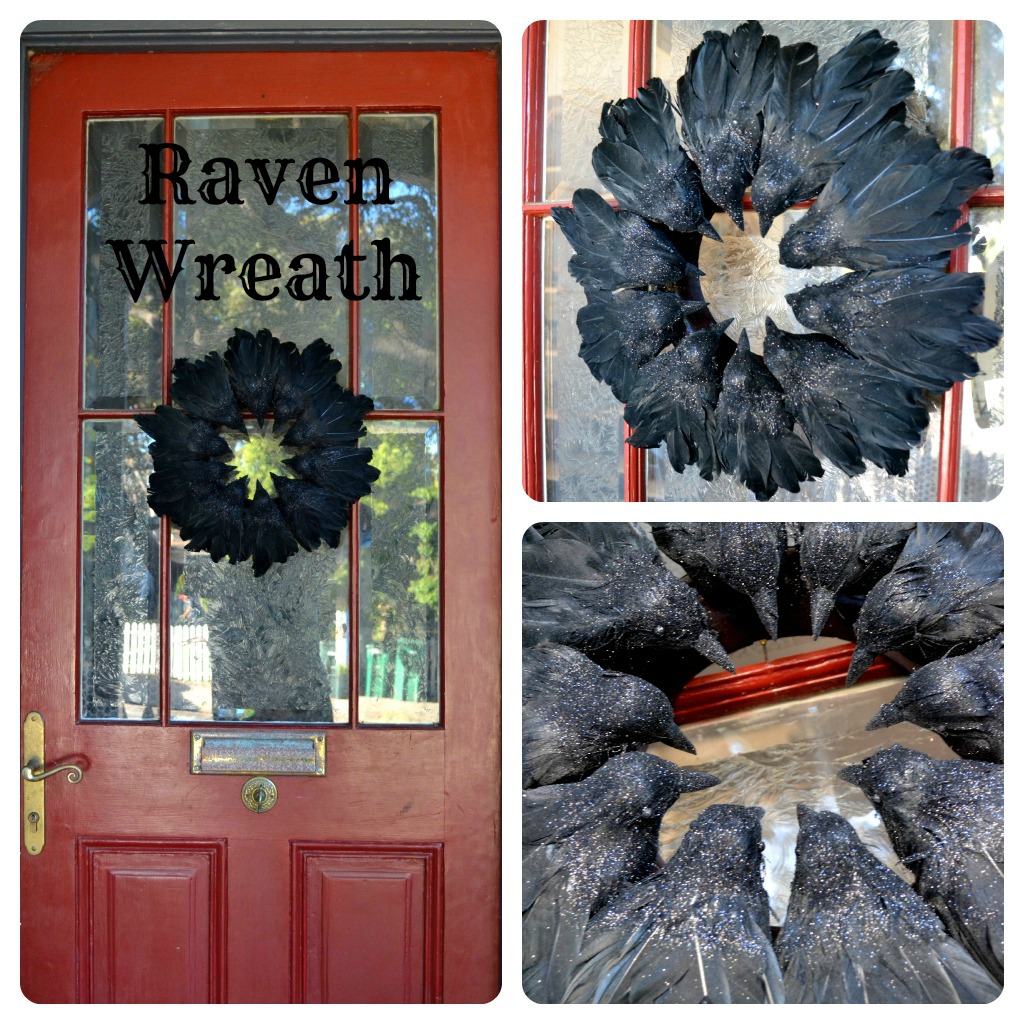 # DIY Burlap Raven Wreath
You can easily create a wreath using black burlap and a stuffed raven. Just wrap the strips of burlap around the wreath, decorate it with a fake raven and you're ready to hang it on your front door.
# DIY Halloween Raven Wreath
Make a Halloween wreath with a foam wreath, colored fabric, spider web and a stuffed raven. Cut a bandana into thin strips and wrap around the wreath form. Glue up raven to the top of the wreath and add some fabric flowers and spider web.
# Wooden Raven Wreath
This raven wreath is simple to make using upcycled and salvaged items. You'll need a round wooden frame, tree branch and a fake Halloween raven. Simply color the frame, attach the tree branch, glue up the raven, and hang with a thin strip of cloth.
# Halloween-Edgar Allen Poe Wreath
How about using an old book for a Halloween wreath. Simply take a styrofoam wreath and glue up rolled pages to it. Finally, add a fake raven to create a creepy ambiance.
6) DIY Halloween Snake Wreath
A mere look at this creepy DIY Halloween snake wreath will give you goosebumps. It is fairly easy to make and would look perfect at the front door. You need a grapevine wreath, black spray paint, and a few plastic snakes of different sizes. The build process is the same. You need to spray paint the base wreath and snakes in black to make the final wreath look creepy.
# Gold Snakes Halloween Wreath
You'll need toy snakes and a wreath form to make this golden snake wreath. Wrap a black ribbon around the wreath form, securing it with floral pins. Now take the toy snakes painted in golden color and set them on the wreath facing different directions.
# Scary DIY Snake Wreath
It's a quick and easy DIY perfect for a spooky Halloween decor. All you need is a dry grapevine wreath and a few plastic snakes. Attach the snakes with some wreath ornaments, spray paint them black and your creepy Halloween wreath is ready.
# All Black Snake Wreath
Take a random wreath and glue two or more plastic snakes on either sides. You'll need longer snakes for this project. Once complete, the wreath looks intimidating.
7) Rat Halloween wreath
Abandoned houses with mysterious noises of rats can scare anybody. Give your home a similar kind of haunted appeal with this DIY wreath made using black toy rats. I am pretty sure this DIY Halloween wreath will scare anyone with musophobia.
A frame of tinsel wreath, creepy cloth, cobwebs, and plastic toy rats make this scary DIY Halloween wreath complete. Before gluing up the plastic rats, spray paint every part of the wreath in black – the color of horror, and add cobwebs. Check out the full tutorial here.
# DIY Rat Wreath
Just take some plastic rats and a grapevine wreath to make this rat wreath in a few minutes. You'll need to attach fake rats, and spray paint the entire wreath and rats in white.
# Halloween Rat Wreath
A not-so-scary Halloween DIY, this cute wreath is sure to impress your kids. Use a styrofoam wreath, a strip of white scrap fabric and black silk yarn to make this one.
# Rats Halloween Wreath
You'll need to wrap a wreath frame with black and bloody gauze table runner and attach red-eyed rats for a truly horrible rat wreath.
# DIY Feathered Halloween Wreath
You'll need to attach black feathers to a wreath frame and place a little black plastic rat wearing witch hat in the center on a black and white ribbon.
8) DIY Halloween Burlap Wreath
Burlap wreath is a simple-to-make yet elegant Halloween craft. You'll need a wire/sponge wreath form, orange burlap fabric and a ribbon. Just tie up pieces of burlap fabric around the wreath in some unique pattern and you are ready to go. You can also attach skulls, skeletons, spiders, and other Halloween decorations to make it more appealing.
# Black Burlap Halloween Wreath
While making this elegant burlap wreath, the first task is to wrap a black burlap to a wire wreath forming small patterned loops. Hang with a glitter Halloween ribbon and add Halloween decorations as per your preference.
# DIY Burlap Wreath
Wrap a wire wreath with thin strips of shimmery burlap and decorate with DIY sock pumpkins of different colors. This makes for a different kind of wreath design which is very appealing to look at.
# Halloween Burlap Wreath
Take a wreath frame and wrap it in strips of burlap in a square pattern, as described in the tutorial here. The pattern is what makes this burlap wreath stand out from the rest.
# Boo-tiful Burlap Wreath
Attach small strips of black burlap around a black-painted foam wreath and add wooden letters to create this easy-to-build Halloween wreath.
# Burlap Pumpkin Wreath
Burlap wreaths are versatile and can be crafted in different ways. If you're looking for some unique DIY burlap wreath, you might fancy this one. Here's a tutorial to learn how to make a burlap pumpkin wreath.
9) DIY Nightmare Before Christmas Halloween Wreath
A large Jack Skellington face mask coupled with colorful ribbons and feathers is the focal point of this Halloween wreath inspired by Tim Burton's movie. You can use a polystyrene wreath form and cover it with black and white wool in a striped pattern.
Next, you need to decorate it with cardboard cuttings flanked with creative patterns of wool and finally make Jack's head from a polystyrene ball. Lay out all the parts in an arrangement you love.
Whether you choose to display it inside or outside your home, it will surely make an impressive statement.
# Nightmare Before Christmas Halloween Wreath
The hardest part of making this wreath is wrapping the yarn around wreath form. You can later decorate it with bones, skulls, and a Jack Skellington face.
# Crochet Jack Skellington Wreath
If you love knitting and crocheting, this idea is best suited for you. Find the complete tutorial here.
# Jack Skellington Yarn Wreath
Wrap black and white yarn on a foam wreath, and decorate with fabric flowers, and a foam ball painted with Jack's face.
# Jack Skellington-Inspired Halloween Wreath
Relish the chance to decorate your home with a Jack Skellington-inspired wreath. You can easily find the mask of this popular character and the rest depends on your creativity. You can also add purple feathers and colorful ribbons for some colorful element.
10) DIY Spider Halloween Wreath
Imagine your guests being welcomed by creepy spiders at the front door! What a creepy situation it will be. I think nobody likes spiders and their cobwebs but they are perfect to give your entrance an eerie look this Halloween. To create a DIY spider wreath, you need a styrofoam wreath, tulle fabric, cotton, faux cobweb and plastic spiders.
It starts with wrapping of the wreath form with cotton followed by tulle fabric. Now arrange the cobweb and plastic spiders around the wreath and your spider Halloween wreath is ready to use.
# Spider Halloween Wreath
You'll need a wreath form, white cloth, fake black spiders and three small skeletons to make this spider wreath. Wrap the wreath form in strips of white cloth and glue fake spiders throughout. One or more skeletons sitting on the center of the wreath add more creepiness to the wreath.
# Googly Eyed Spider Wreath
Take a wreath frame and wrap it with black felt. Cut legs of spider from felt and use googly eyes to make this cool and creepy spider wreath.
# DIY Spider Wreath
It is a quick and easy Halloween craft you can prepare with a few supplies, including yarn and a styrofoam wreath form. Just wrap the yarn around the wreath form. Use two balls for eyes and large yarn pieces as legs of the spider.
# Grapevine Spider Wreath
Weave up white yarn through and across a grapevine wreath. Attached a spider and wood letters and you're good to go.
# Climbing Spider Halloween Wreath
A climbing spider is the centerpiece of this DIY wreath. As soon as you step near it, its all black silhouette reveals the secret of wreath covered in countless creepy spiders.
# Yarn Ball Spider Halloween Wreath
Take a wreath form and a few foam balls. Wrap them both in orange and black yarn. Make sure to make a small yarn ball for spider. The spider legs can be prepared from half-cut pipe cleaners. Glue it onto your wreath and it's ready to decorate the front door.
11) DIY Black Cat Wreath
Black cats are cute but they are steeped in superstition too, making them perfect for including in Halloween decoration. You can easily make a furry black cat Halloween wreath from black yarn and a wooden wreath form. If you're looking for not-so-scary Halloween decorations, this one is for you.
This DIY Halloween wreath will definitely look cool when placed alongside jack-o-lanterns, small pumpkins and candles.
# Crochet Black Cat Halloween Wreath
It's a combination of crochet and other crafty elements. You'll need a round foam wreath, cover it with a crocheted strip and decorate with a crochet cat and spider. Find the detailed tutorial here.
# DIY Cat-Inspired Halloween Wreath
A wire wreath, black mesh fabric and fish skeleton cutouts will be enough for this DIY project. You'll need more time for crafting foam shapes like paw prints, fish bones and cat silhouette.
12) Halloween Bug Wreath
If your kids are afraid of creepy bugs and cockroaches, make this Halloween bug wreath to make them overcome their fear. Buying plastic insects isn't difficult, not is sticking them to a grapevine wreath. Paint the entire wreath in white, black or any other color of your choice and your bug wreath is ready.
# Plastic Bug Wreath
Attach plastic bugs on a styrofoam wreath and decorate with a French bow layered with orange ribbon. It is a cheap and easy Halloween craft.
# Creepy-Crawly Bug Halloween Wreath
Take a grapevine wreath and decorate it with moss. Now just weave in some black painted centipedes, worms, and snakes. See a full tutorial and list of required materials here.
# Gilded Bug Halloween Wreath
Take a grapevine wreath and spray paint in black to make this Halloween wreath. Add some golden bugs to give it an eerie appeal.
13) Glow-in-the-Dark Halloween Wreath
What would be your reaction after seeing a glowing witch hand coming out of the wall? Well, these visuals can frighten anyone to death. Why not make something similar for this Halloween?
This DIY Halloween wreath studded with plastic bugs and a witch hand painted in glow-in-the-dark spray paint is great for turning up your Halloween home decoration.
You just need to attach a fake witch hand and creepy bugs to a grapevine wreath and paint the whole prop in luminous paint or just the bugs and the witch hand.
# DIY Halloween Glow Stick Wreath
It is a simple and easy DIY perfect for kids to make use of the holidays to enhance creativity. Just create round bangles by gluing up ends of each glow stick and finally attach them in a round shape of a standard wreath.
# Glow-in-the-Dark Eyes Halloween Wreath
This adorable yet creepy wreath on your front door would be perfect to scare trick or treaters on Halloween. Create this fluffy wreath from feather boas and decorate with googly eyes filled with glow-in-the-dark powder.
14) Asylum Halloween wreath
How about a wreath inspired by lunatic asylum and flanked with a tinge of creepy sliced fingers with red blood stains? It is an incredibly creative Halloween idea to scare kids and adults alike. It may look difficult to make but can be crafted easily using minimum materials and tools.
Use a rubber tube as wreath form and cover it up with cotton and bandages. A fake syringe and finger dipped in red ink look so gross. You can even attach some asylum quotes to make it look worse.
15) DIY Flower Halloween Wreath
Halloween is not all about ghostly decorations; this event is also popular for showcasing obnoxiously loud decorations in black and bright yellow colors. Just look at this giant flower bow wreath made using differently–colored ribbons and murky artificial flowers.
Building this wreath requires DIY skills; else you'll turn it into an ugly decoration element of your Halloween party. Check the tutorial by Shelley Detton here.
# Flower Wreath from Old Lace Jacket
Wrap a wreath form in orange ribbon and later cover it with strips of an old lace jacket. The last thing is to make a flower from a ribbon and attach to the wreath.
# Glam Flower Wreath
Wrap a wreath frame in white linen and embellish with fabric flowers with lots of sparkles and pearls.
# Felt Flower Halloween Wreath
You'll need a foam wreath for the project. Craft beautiful felt flowers and cover the wreath with them. Hang it on the front door using a bow made of strong black and white fabric.
# Colorful Paper Flower Wreath
Just make a few paper flowers of different sizes and colors and attach them to a wreath form. It becomes even more interesting with the addition of a sugar skull. Sweet and scary!
# Creepy Black Rose Wreath
You need a few bunches of faux black roses and a wire wreath form. Just weave up the roses onto the wreath and attach your favorite props.
# Not-So-Scary Mickey Halloween Wreath
You'll need a half craft pumpkin and a grapevine wreath large enough to house the pumpkin. Just add flowers to the wreath and place the pumpkin carved with Mickey's face in the center.
# Paper Plates Flower Wreath
If you're looking for a unique DIY Halloween wreath idea, this one is for you. You need a grapevine wreath and white paper plates. Craft flowers of different sizes following the tutorial here and glue them to the wreath.
16) DIY Tulle wreath
The idea of wrapping a wreath in tulle fabric gives surprisingly elegant results. It not only looks colorful but also creepy with a few complementary decorations. It gives the appearance of a witch wearing a pretty cool dress and standing on your front door.
You just need to wrap a wreath form in different colors of tulle fabric. Also, add a witch hat to add some horrid feel. Here is the complete tutorial.
# Tulle Halloween Wreath
Just pick up a styrofoam wreath, black ribbon, and different colors of glitter tulle to make this DIY Tulle Halloween wreath. Cutting the tulle fabric into similar size strips and then tying around a wreath form will take most of your time. It is a great Halloween craft for people who don't want to scare anybody but keep it subtle and colorful.
# Tulle Skull Wreath
Decorate your room with this wreath made from a wire wreath form, tulle, and a fake plastic skull. The building process is easy – just tie black, white and gray strips of tulle fabric on the wire form. Glue the glittery skull in the center and a not-so-scary Halloween wreath is ready to be hung on your front door.
# Tutu Halloween Wreath
First, wrap a foam wreath in black tulle followed by tulle fabrics of different colors. Next is to add some letters or props to enrich the wreath.
# Tulle Halloween Wreath
Want to keep the party's aura cool with a small and simple decoration? Consider crafting this tulle Halloween wreath. You'll need a styrofoam wreath, black ribbon and glitter tulle in different colors. Simply cover wreath in colorful tulle and fabric strips. Make sure to not leave any space uncovered. This will make wreath look ugly and unfinished.
# All Black Tulle Wreath for Fireplace
This DIY wreath is made by wrapping strips of black tulle on a wreath form. The yellow ribbon bow is an eye-catchy addition to the wreath. It will look perfect over a fireplace mantel.
# Turkey Tulle Wreath
You need a foam wreath, brown yarn, tulle fabric in different colors. Start from making a turkey head from a ball and later covering the wreath form with yarn followed by thin strips of tulle to make this tulle wreath.
# Lighted Tulle Wreath
You'll need a Styrofoam wreath, battery-operated lights and orange tulle. Cover the wreath in the light strip and later in orange tulle. Don't forget to add some bats or other spooky Halloween ornaments.
17) Poison Apple Halloween wreath
If you are not in favor of hanging creepy skeletons, tombstones and zombies around your home this Halloween, just have a look at this DIY wreath made from pine wreath, faux apples, and a paper mache hand. It reminds of the poisonous apple from the movie Snow White.
You have to paint a creepy face on each apple and then attach all of them throughout a pine wreath. Add an artificial hand in the middle of the wreath for a scarier look.
18) DIY Skeleton Halloween Wreath
Honestly, I don't like to keep it too scary, but if you do, try this horrific skeleton wreath. This creepy skeleton wreath is right for people crazy for spine-chilling Halloween decor ideas. It's made from foam bones and skulls readily available in the market. You just need to glue up them in a fine circle and hang it on your front door to greet trick-or-treaters.
Trust me it will scare each and every person who walks by your front door or backyard fence.
# DIY Grapevine Skeleton Halloween Wreath
Your Halloween decoration has no impression on your neighbors if you are not decorating your yard with a skeletal style wreath. It's a superb idea that looks even scarier in the dark. This DIY Halloween wreath ornamented with ribbons, artificial spiders and skeleton on a grapevine wreath looks amazing on a front door or fence. You can even add some text-printed stickers to customize the look. See full tutorial here.
# Grapevine Skeleton Wreath
Have a look at this black painted grapevine wreath with a skeleton pinned to the center to create a ghostly effect at your front door on the occasion of Halloween.
# Bone Halloween Wreath
Collect some chicken bones, clean them with hot water, and leave for a week to dry. Now stick all the bones to a wreath form in a circular shape. Furthermore, take an old portrait and place it in the center of the wreath for a creepy look. You can also add spider webs and other Halloween props to intensify the looks.
# Metallic Skeleton Wreath
Start from buying five miniature metal skulls, four-foot metal pipe, duct tape, hot glue and a metal spray painting machine. To DIY the metal skull wreath, you need to attach five metal skulls using duct tape or hot glue to a wreath form made of metal pipe. Make sure you are laying the skulls in a circle.
# Skeleton Bride and Groom Wreath
If you are planning for a not-so-scary Halloween party, you can try making a skeleton bride and groom wreath. The idea of dressing up two skeletons like a real couple is cool. This looks funny rather than being scary.
19) DIY Halloween Skull Wreath
The human skull props are an essential item for Halloween decoration. Whether decorating your yard or living room, you can use them in different ways. You can also make a skull wreath yourself without spending much. You can paint the skulls black or leave intact the original feel. When making a skull wreath, you can also use ribbons, feathers, cobwebs and other Halloween decorations.
# Black Skull Wreath
You'll need styrofoam mini skulls, ribbon and a metal tie wire to make this wreath. Just sew up all the skulls in the wire pointing towards the center and add a ribbon for the festive mood.
# Not-So-Scary Floral Skull Wreath
You'll need colored felt sheets, polystyrene skull, polystyrene wreath form and paint to color the skull in your own way. It is quite difficult to cut flowers and other patterned shapes. Here is a simple tutorial to cut Pom style flowers out of felt sheet.
# Glitter Skull Halloween Wreath
Spray painting and adding glitter to artificial sculls is also a great idea to add shining creepiness to your Halloween wreath and other decorations.
# Spooky Skull Wreath
Displaying ribbons, fake skull and other Halloween decorations on a foam wreath is easy. The horrific appeal of the skull relates to the Halloween theme at your home.
# Halloween Wreath made of Real Skull and Bones
Have a look at this Halloween wreath made entirely of real skull and bones. Yes! DIY'ing one in itself is a scary idea. You can buy it directly from Katu Design's Etsy shop for about $98. It looks extremely horrible and will surely scare your Halloween guests.