Turning industrial waste into construction material or brand new furniture is not a new concept. However, developing a new 3D printing technology that can decrease concrete usage by 75-percent might just leave anybody scratching their head. Researchers at IIT-Guwahati, India, have developed a 3D printing technology that uses industrial waste as a construction material to print furniture.
Scaling down the concrete waste by 75-percent, the technology helps in reducing carbon footprint in the construction industry. Dhrutiman Dey, Dodda Srinivas, and Bhavesh Chaudhari were responsible for manufacturing 3D printed urban furniture using locally sourced industrial waste. The trio developed cementitious mix compositions, amenable for 3D printing.
The concrete printer that was jointly developed by IIT Guwahati and Deltasys E-Forming can print components up to 1 m long, 1 m wide and 1 m tall. Usually mold-casted, this sort of 3D printed construction requires additional concrete and labor. However, the team of researchers leveraged an in-house-developed concrete printer and were able to 3D print a unique piece of urban furniture. The manufactured piece has arch-shaped support and measures around 0.4 m in height and 0.4 m in width.
Also Read: Desktop Metal launches Forust to Make 3D Printing More Sustainable
Creating 3D printed furniture using the new carbon-light material is undoubtedly more eco-friendly than doing so from normal cement. However, the project is far from being the first to come up with a more sustainable approach to construction 3D printing. Dutch design studio The New Raw expertise in making 3D printed chairs from recycled plastics and studio offcuts.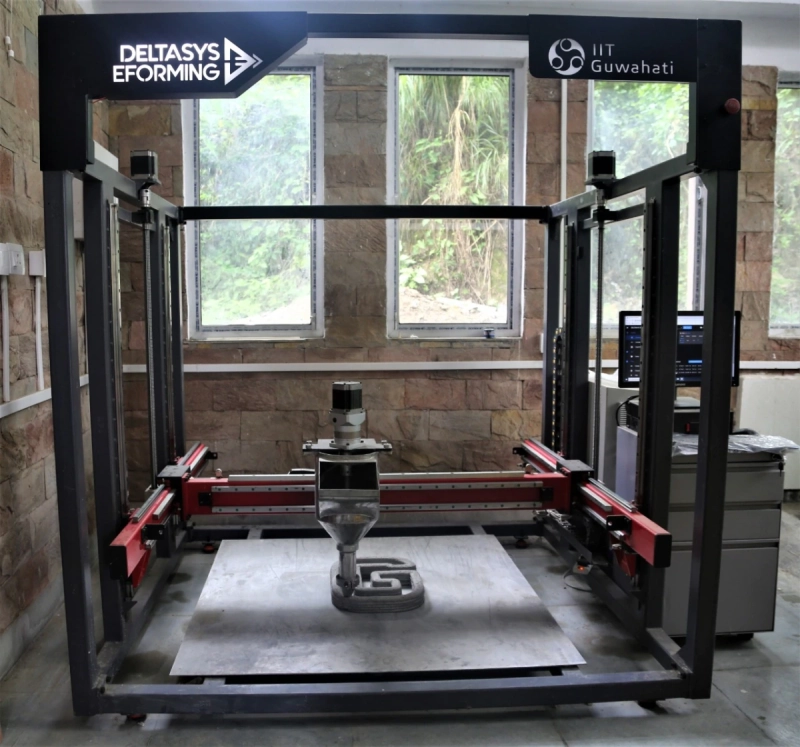 Via: India Today