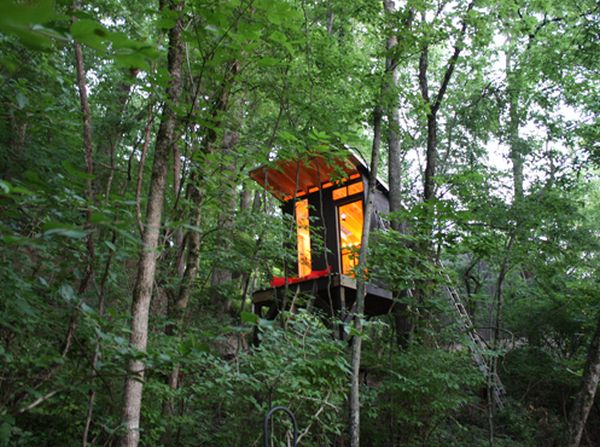 We have prattled about luxury treehouses, we have babbled about therapy treehouses and we have even yakked about bio-mimicking tree-habitats. However, this time around the treehouse scope goes back to its 'purist' level with righteous DIY credentials. We are talking about ModFruGAL blogger's bantam 8-ft x 8-ft family treehouse built in one of the locales of Nashville, Tennessee. Constructed in a DIY way with her husband, the end conception alludes to a sturdy modern structure epitomized by a simple form, while featuring essential user-friendly attributes.
The nigh austere dark stained finish of the exterior skin and the pitch roof is equally matched by some unpretentious decor on the inside. This 'essential' mode is defined by a series of built-in rustic shelving around the walls and two twin air mattresses at one side that can easily hold four people. The decor also comprises of a centrally located coffee table that comes in handy for keeping both books and crockery.
Additionally, the windows are provided with sliding, acrylic covers. These covers serve two purposes – firstly, they keep the interior space snug and warm during winter, by virtue of their insulation properties; and secondly, they double up as adjustable 'shields' to keep out those pesky (and potentially harmful) pollen during spring time.
The user oriented features are also found in other spatial denominations, such as a deck with two armchairs (upholstered in bright red) that provides good views around the forested area. The sole access to the DIY treehouse is through this deck via wooden steps. Finally, as for carrying materials to the treehouse, it is achieved by the conventional bucket and pulley mechanism.
Via: SweetPeachBlog