Make the Christmas countdown more exciting with some cool advent calendars for kids. An advent calendar is a fun way to enjoy the festive season, as it comes filled with interesting knick-knacks to keep kids busy until Santa arrives.
Today, advent calendars for kids come packed with various types of candies, toys, and other surprises to make the it super fun to wait for Christmas. If your kids have not tried it yet, you can consider gifting this marvelous item to your little ones to get hands on it. So, they can use it the following years. As per the calendar you pick, you can find chocolate, toys, or also books behind every well-crafted door.
Also Read: 10 LEGO Christmas Sets for Master Builder in Your House
Here we have created a list of 15 best advent calendars for kids to try in 2022. Whether your kids like fidget toys, Barbie, or LEGO, there is an advent calendar to meet everyone's needs and preferences. So, hurry up before the holiday season ends.
Elover Advent Calendar Christmas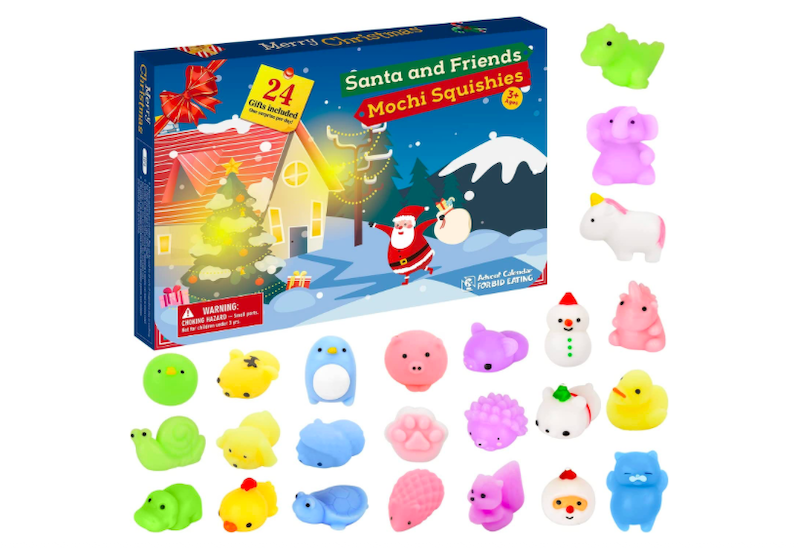 Made of safe non-toxic silicone, this 24-pieces Elover Advent Christmas Calendar is squeezy and fun for kids. You can even rinse them with warm water and soap for cleaning, if needed. Since it is made of non-toxic material, it's ideal for children under the age of three.
Buy: $15
Hot Wheels Advent Calendar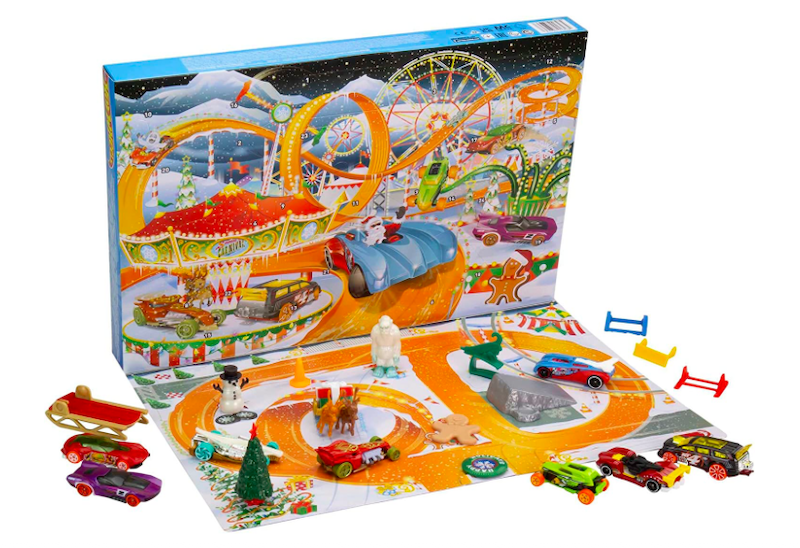 Make your kids enjoy the festive season with this amazing Hot Wheels advent calendar. It is made of plastic and comes with fun accessories to get children in the holiday spirit. It comes with 24-pieces that are great for 3 years and older kids to discover various Hot Wheels-inspired accessories.
Buy: $22
Funko Pop! Marvel Advent Calendar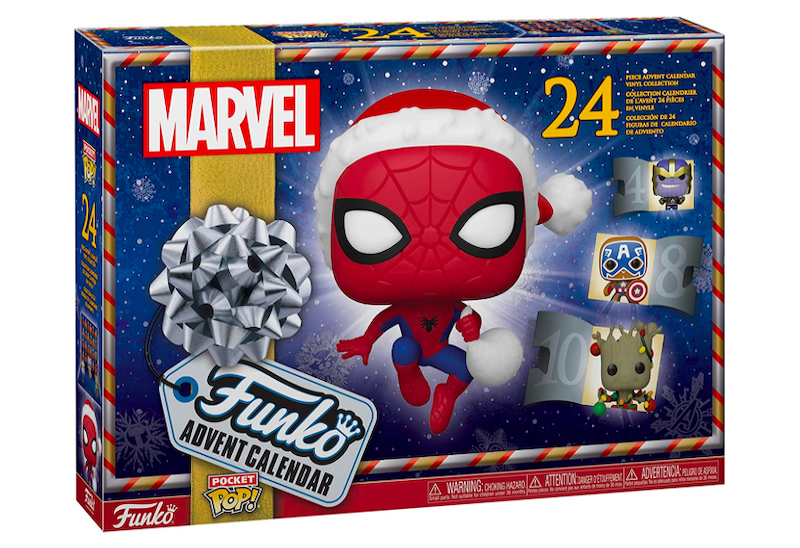 Take the holiday fun to another level with this Marvel Funko Advent Calendar. It comes with 24 exclusive Funko Pocket Pops to enjoy Christmas count down. Made of plastic, this fun advent calendar is suitable for kids of 3 years and more.
Buy: $36
Barbie Advent Calendar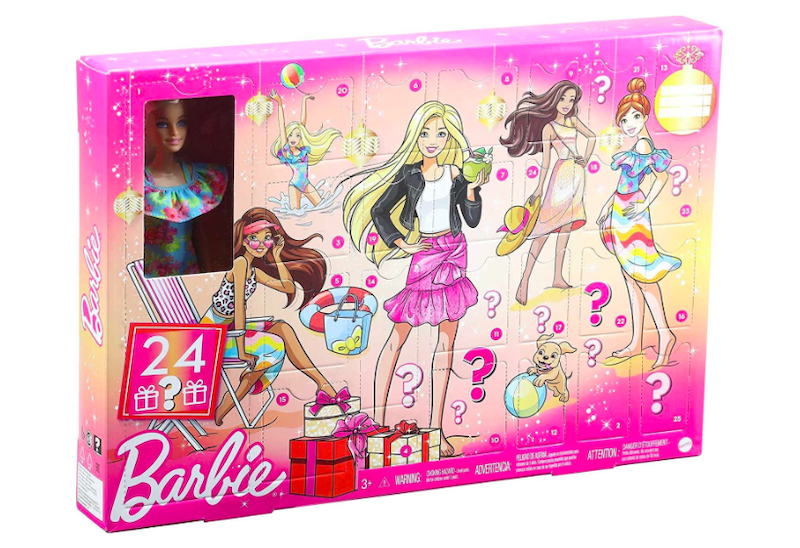 Is your little girl a fan of Barbie? If so, gift her this Barbie Advent calendar with a Barbie doll. Made of plastic material, this gift is suitable for kids 3 to 7 years old. It's suitable for little girls who have an eye for fashion fun while enjoying holidays in style.
Buy: $30
SUPER MARIO Nintendo Advent Calendar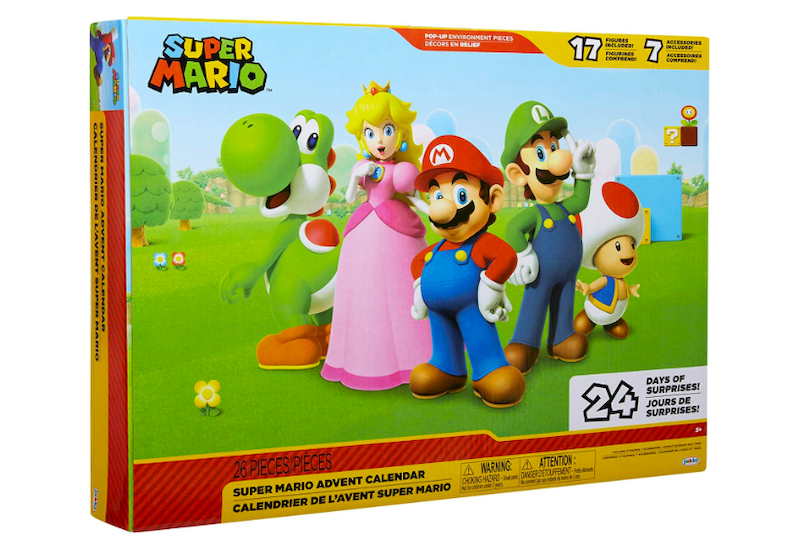 Made of paper material, this SUPER MARIO advent calendar comes with 24 days of surprises for kids. It enables kids to display their favorite figures with the exciting pop-up environment pieces. It's suitable for kids who are 3 years old and above.
Buy: $42
Roblox Action Collection – Advent Calendar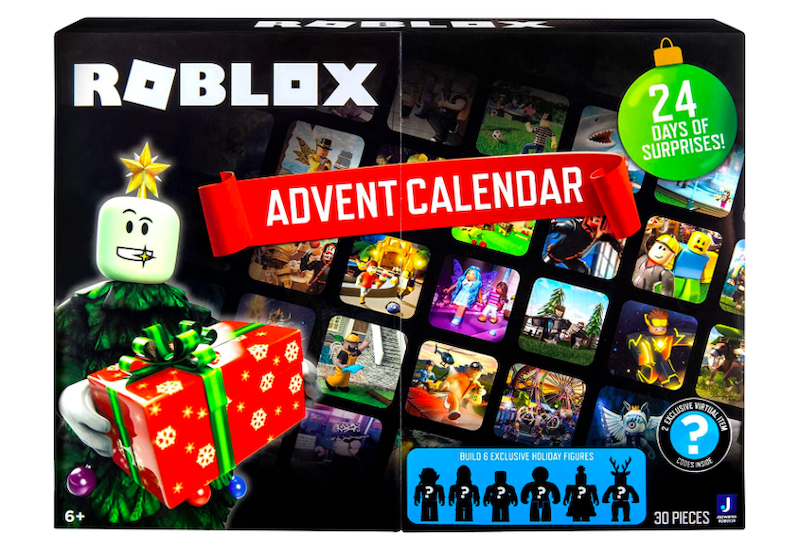 Suitable for kids of age 6 and above, this 24 door Roblox advent calendar offers a new way to surprise kids with different holiday-themed Roblox characters and accessories. It consists of plastic figures with various accessories to make it quite exquisite.
Buy: $48
Disney: Storybook Collection Advent Calendar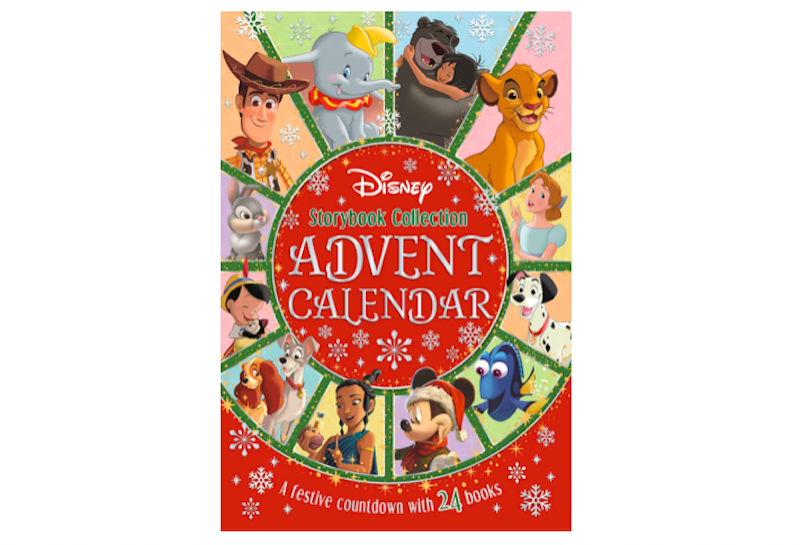 Unwrap 24 pieces of books (including interesting takes) with this advent calendar. Made of paper, this calendar is great for 2-6 years old kids. The children can unveil a new story everyday till Christmas.
Buy: $29
Playmobil Advent Calendar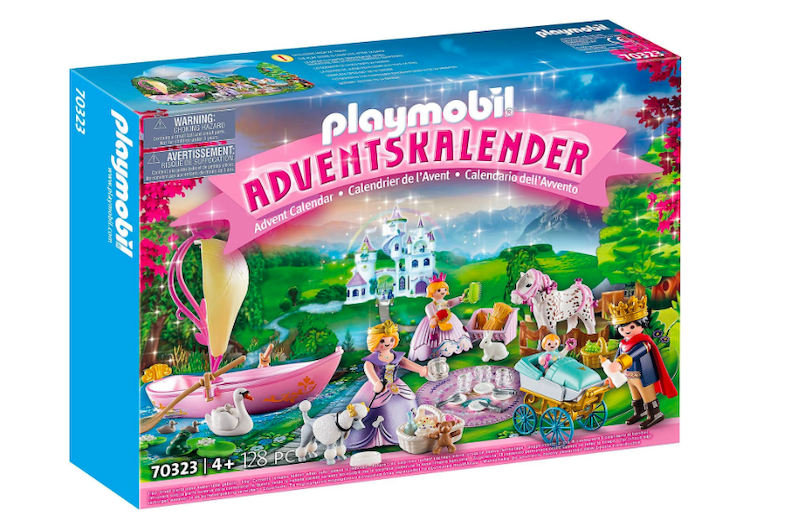 Enjoy a picnic theme in a beautiful castle garden with this advent calendar. It includes 24 surprise figures for every day until Christmas. Made from plastic, each piece is sturdy and durable. It is recommended for ages 4 years and above.
Buy: $50
NATIONAL GEOGRAPHIC Advent Calendar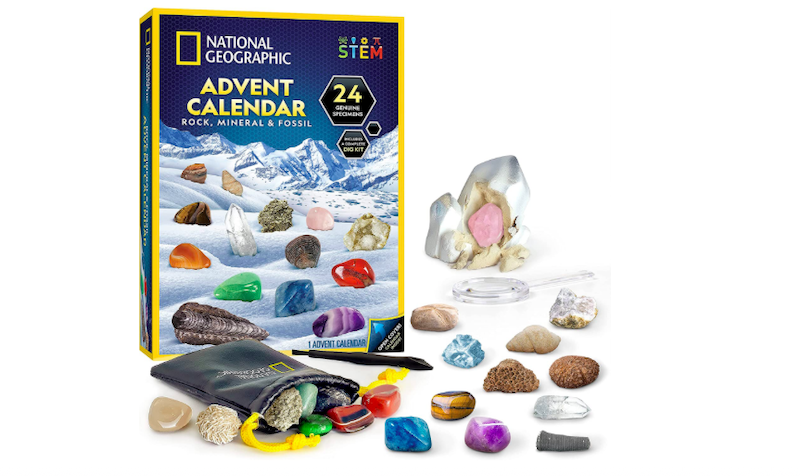 Made of gems and fossils, this advent calendar's 24 pieces will make the Christmas countdown joyous. They can start with this rock collection all year round and it also comes with a storage bag to keep the pieces safe. It's suitable for 8 year old and above.
Buy: $19
Pokemon 2022 Holiday Advent Calendar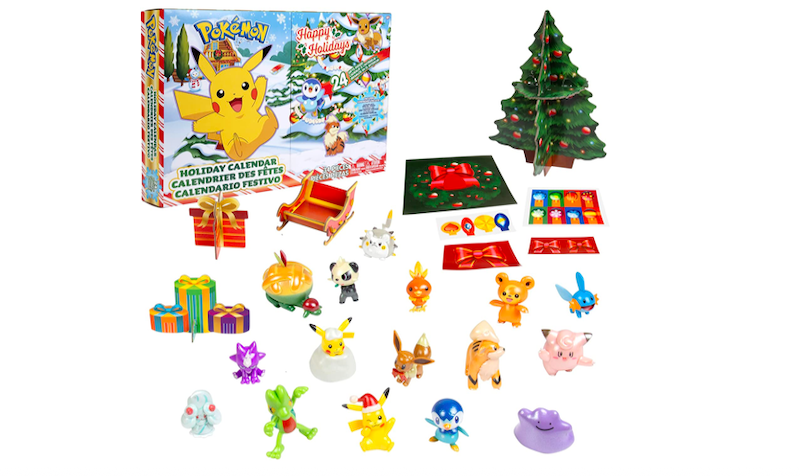 This 24-piece Pokémon holiday Advent calendar for kids is easy to create by kids of age 4 and above. It comes with interesting doors containing plastic toy figures and other holiday-themed accessories.
Buy: $70
Harry Potter Advent Calendar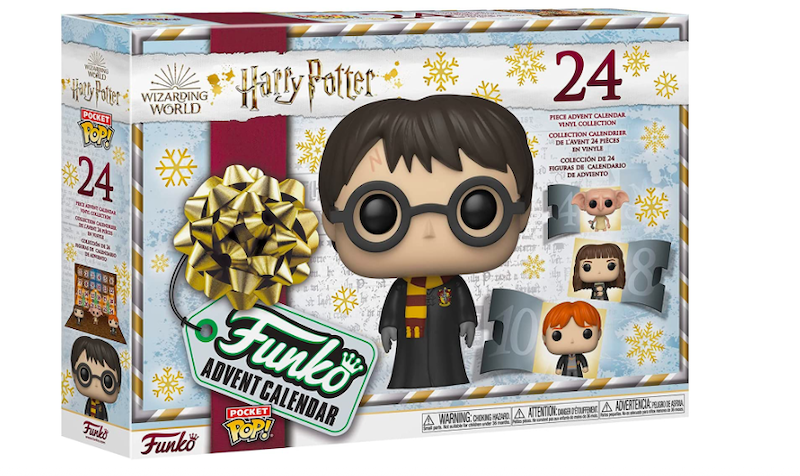 Made of vinyl material, this play set consists of the trio and other accessories from the Harry Potter. It comes with 24 pocket pop including various decor and playful accessories. The recommend age range for this advent calendar is 8 years and above.
Buy: $60
Fidget Advent Calendar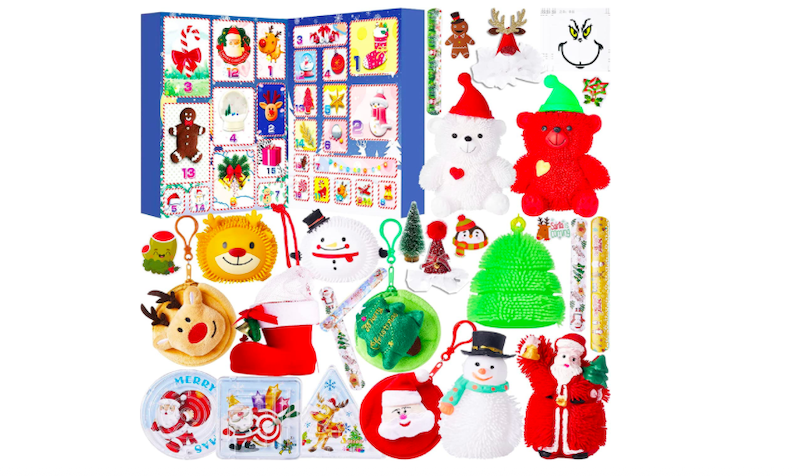 This 24-piece Fidget advent calendar toy is made of premium quality plastic with utmost safety and environmental protection. So, it is safe to play for kids over 3 years old.
Buy: $11
Purple Cow Crazy Scientist Advent Calendar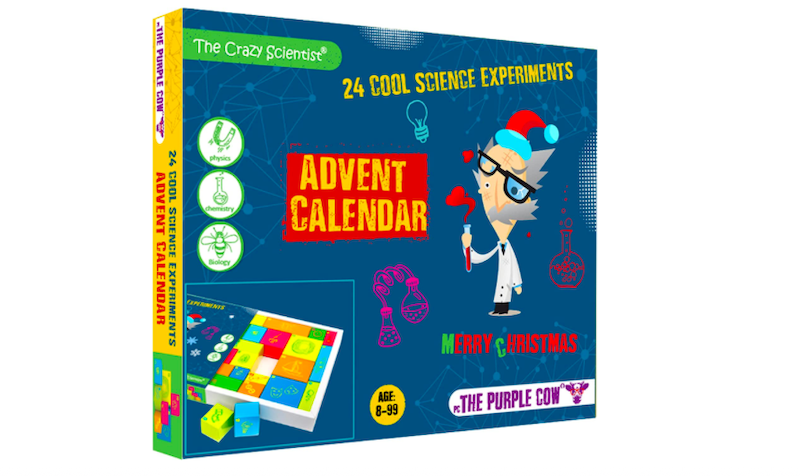 This Purple Cow's Crazy Scientist advent calendar is suitable for young science enthusiasts. Made of 24 plastic and cardboard pieces, this play set contains 24 experiments from different science fields to keep kids engaged for hours.
Buy: $35
Wooden Gingerbread House Advent Calendar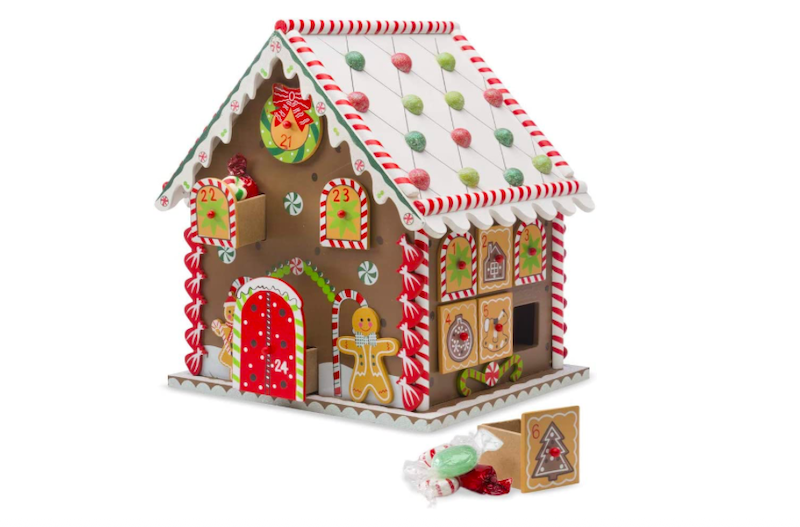 This Gingerbread house Advent calendar is cool way to start a new Christmas tradition that dates back the mid-19th century. It comes with 24 wooden pieces with gingerbread people, candy canes, gumdrops, and more. This gift set is recommended to age range 3 years and above.
Buy: $35
Juegoal Advent Calendar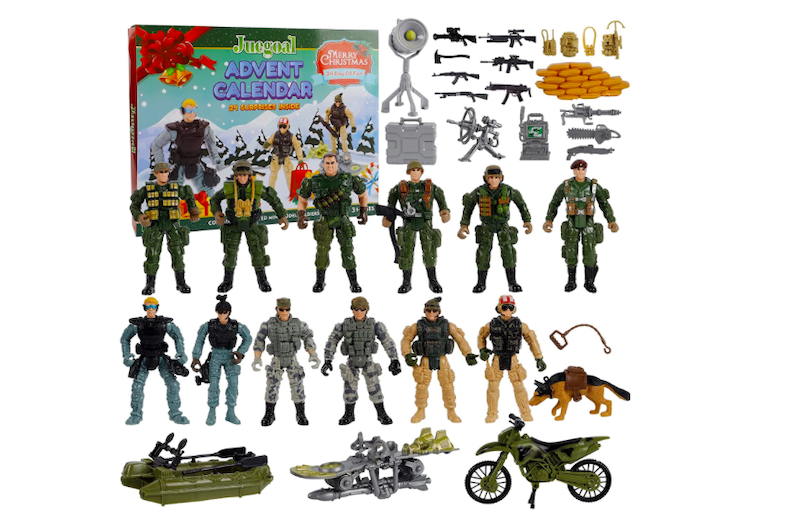 This advent calendar comes with 24 different toys, including 12 army men, 3 transportation, 1 dog, gears, and weapons. Made from plastic and paper, this gift set is ideal for ages 3 years and up.
Buy: $25