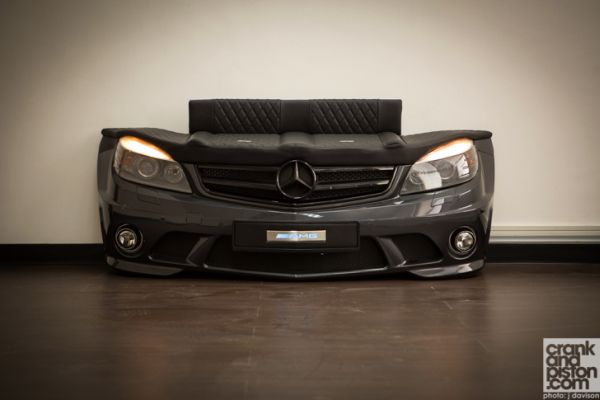 Previously we have harped about automotive furniture systems including Ford's exclusive line and Mazda's unique collection in this year's Salone Del Mobile. And, now we have come across the 'AMG Seat', a nigh literal furniture translation of the C63 AMG, the 'heavy' sedan from Mercedes-Benz. Designed by Dubai-based Simon Kirschke (who by the way, is also the Head of Upholstery in an automotive company), the two-seater sofa replicates the front section of the vehicle including the bumper, headlights and the exalted Mercedes logo. All of these authentic finishes are topped off by original quilted leather used in the C63 and an illuminating entrance panel salvaged from a G55 AMG SUV.
And, since we have mentioned something about illuminating, the headlights and the AMG panel can be wired up and lighted by using another German product – a boisterous Bosch transformer. This set-up can certainly transform any car aficionado's home decor into an automotive wonderland guided by C63's headlights. As for us, the AMG Seat is well worth the above 100 hours of painstaking labor being put into the crafting of the furniture item.
All images are courtesy of Crank and Piston.
Via: CrankandPiston