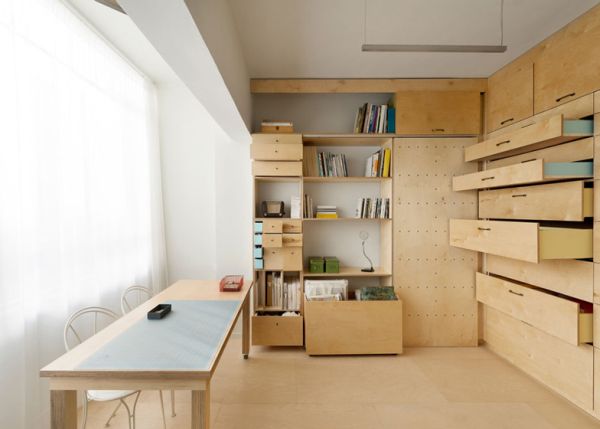 Space saving modular studio is every artist's dream, where he/she can conjure up revolutionary designs. To satiate an artist's dream, Israeli architect Ranaan Stern has designed space-saving modular workspace out of a 15 sqm room inside an artist's Tel Aviv apartment. The adaptable workspace contains personalized collection of 2D objects (collected by the artist) dating from the 1940s to the present date. The studio features a pair of desks, modular storage compartments, set of 36 drawers, pegboard display walls and a wall retracting bed.
To organize his specific collection, books and art material, the workspace has been divided into four separate portions to store everything according to its group, size and artistic importance.  Most of all the cells, drawers and cupboards in the studio are constructed from lightweight birch wood coated with natural grain. The flooring of the room is also made from birch wood.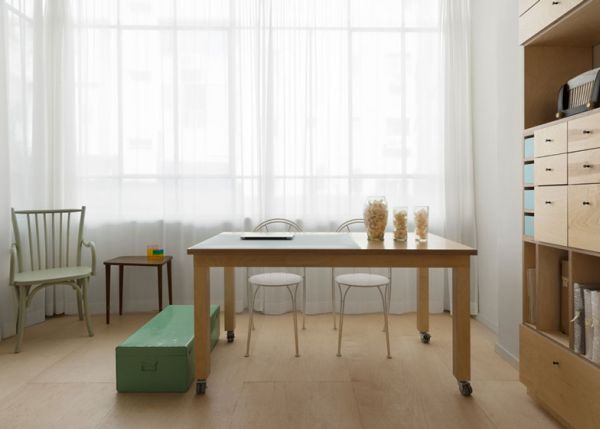 Stern had a challenge to create separate storage space for tools and materials of the artist's daily use. For this the drawers have been colorfully painted from the inside and on the sides, a mosaic which is revealed when the drawers are opened. From the outside the wooden layout of the room appears ordinary, but when the closets are opened, the artist's instinct is instantly reflected.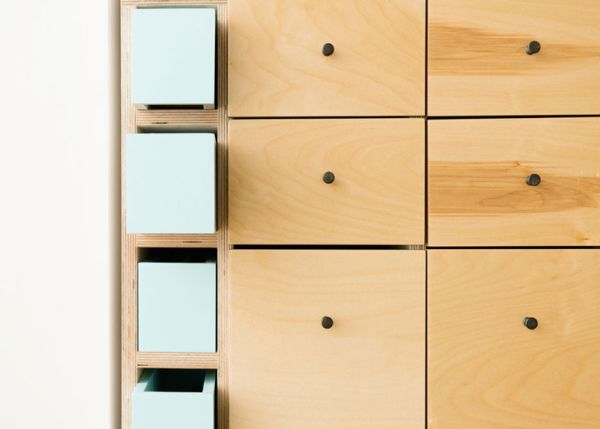 The modular room features sliding doors and smaller sections actually made of pallets, which can be used as presentation boards or used as modular stands. The windows of the modular room is fitted with blinds and the folding bed which stores neatly in the wall allows the workspace to be used as a guest room in the house.
Via: Dezeen