With the urban sprawl, spending time outdoors – whether it's your patio, porch, traditional yard, or rooftop – is becoming increasingly popular. And with it, people are starting to pay more attention to the way their outdoor space is designed.
Where well-groomed and highly curated outdoor spaces never go out of style, there are few modern style changes that can make you spend more and more time outdoors.
However, as trends come and go, you should take note of the following landscaping design ideas for 2020 and let them inspire your backyard design.
Low-Maintenance Lawns 
Low-maintenance landscapes are, by far, one of the fastest-growing landscaping design trends and they're going to enjoy the same popularity this year too. Undoubtedly, your lives are getting busier every day, and it's tough to find the time for yard maintenance. Low-maintenance designs that require as little upkeep as possible present a wonderful solution.
There's been a gradual transition toward minimalistic, simple, and sustainable landscape designs over the past few years and low-maintenance lawns are the next logical step.
Also Read: 14 Backyard Remodeling Ideas That'll Liven Up Your Home
You're free to play around with low-maintenance turf, xeriscaping, hardscaping elements, perennials, and shrubbery and trees that require minimal pruning. The result will be a simplistic, sustainable landscape with minimum fuss for you and essential benefits for the environment too!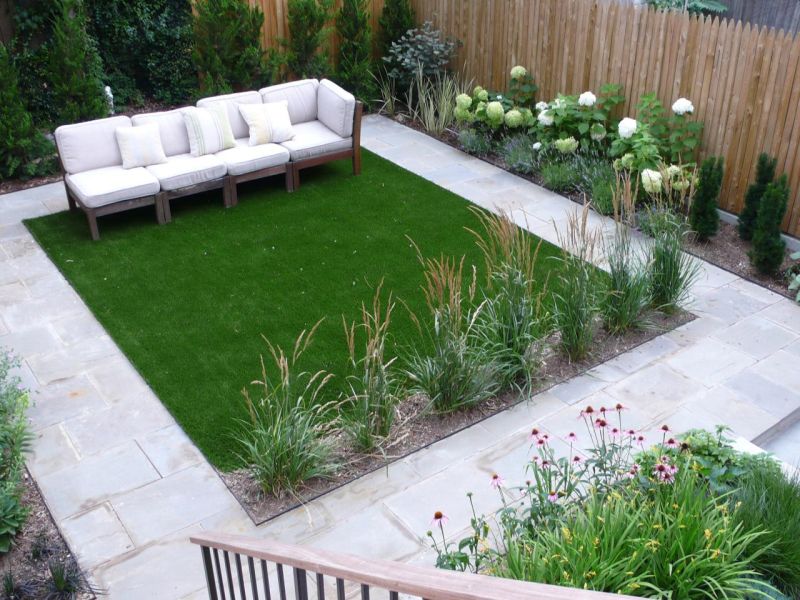 Taking the Indoors Outside 
Being a homeowner comes with an exceptional gain of having an outdoor space to call your own. And if you need some landscaping design ideas for 2020, try seeing your backyard for more than just a few flower beds and turf. Start treating it as another one of your home's "rooms."
There is a growing trend of blending indoors with the outdoors, while entertainment is slowly moving outside as well. That is why for many property owners, turning their yards into extensions of the indoor space or fully functional "outdoor rooms" makes perfect sense.
It's all about having a comfortable yet stylish outdoor lounging area with throw cushions, comfortable chairs, and even sofas. Another landscaping idea worth exploring is transforming your patio into a second living room or dining room and also adding a complete outdoor kitchen to go with it.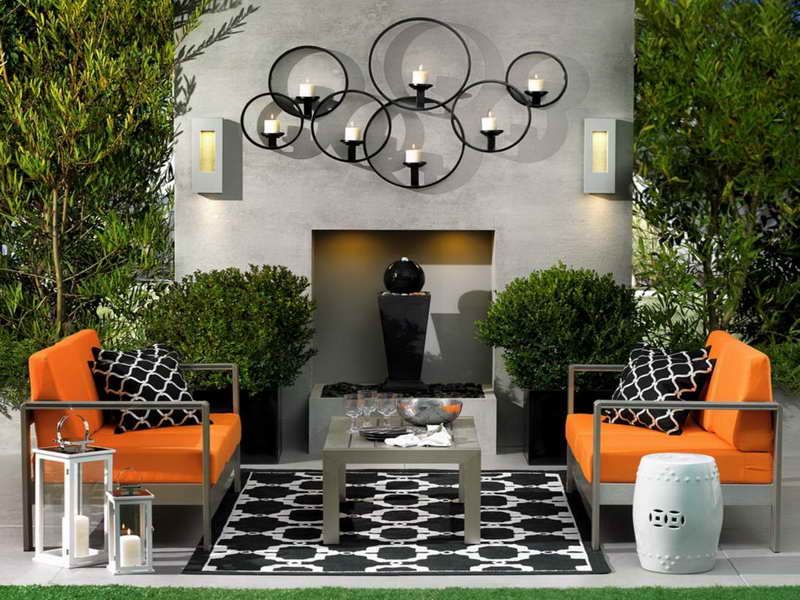 Minimalist Lighting 
Lighting can brighten up any space and not just in terms of illumination. Adding the right landscape lighting can increase visual appeal. Linear, sharp, and minimalist lighting are the top landscape design trends in 2020.
While choosing outdoor lighting, select high-powered lights that create brighter spaces without any fuss. Creating a lighting projection from a hidden fixture could create a warm effect.
Incorporating LED light channels under walkways, stairs, or lights placed under landscape structures such as benches and bridges is also an excellent option. Providing an eco-friendly and cost-friendly alternative, solar-powered lights are even better.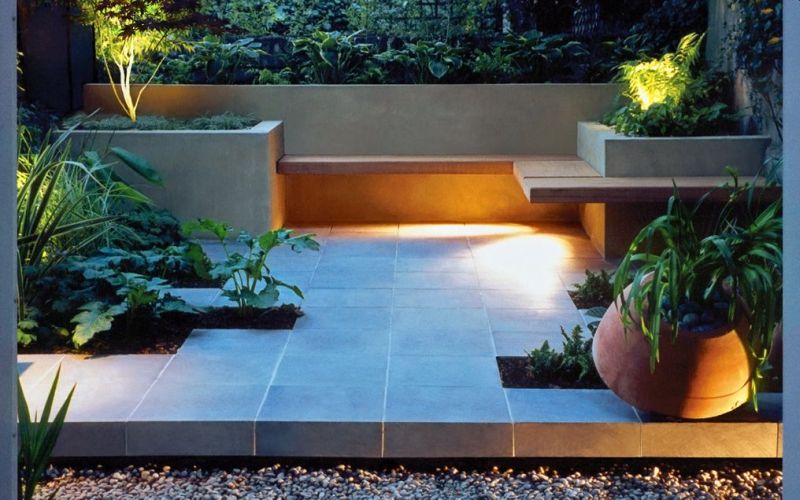 Functional, Simple, yet Personalized Design 
Outdoor spaces seem to be adopting minimalism and contemporary visual influences with open arms. Restrained color palettes, geometric patterns, continuous rectilinear lines, and an overall sleekness seem to be the main inspiration behind 2020's landscaping design ideas.
Bringing multi-season functionality to outdoor spaces is the idea that goes hand-in-hand with the minimalistic approach to landscape design. Besides making it look good, heat lamps, native plants, and protective structures can all add functionality to your yard all year-round.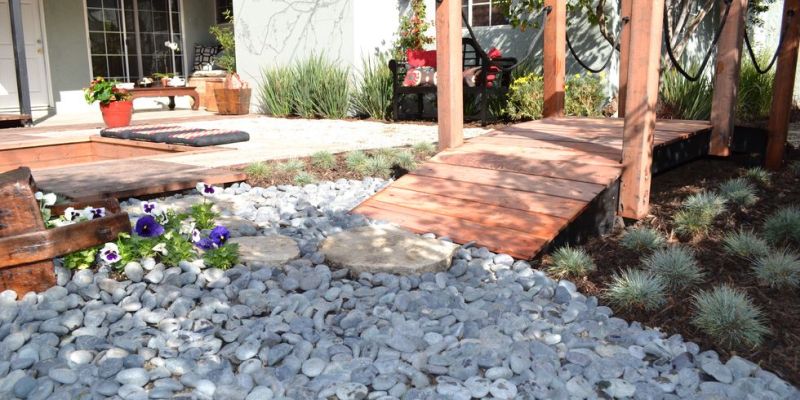 Smart Irrigation Systems 
Smart tech has become an integral part of our homes, making our everyday lives a lot more convenient. It's no surprise, then, that this technology found its way outside, into our backyards as well.
If you wish to keep up with all the hottest landscaping design ideas and trends for 2020, be sure to consider including some of this smart tech into your backyard. Very popular and probably the fastest-growing piece of outdoor-friendly tech are smart irrigation systems.
Also Read: Tips to Transform Your Outdoor Space into a Backyard Oasis
Once installed, they genuinely make having a beautiful backyard accessible and attainable because they do the watering for you, so that is one less thing for you to worry about. These systems are known for reducing water waste and prevent over-watering.
Depending on the model, these high-tech irrigation systems can factor in various things such as weather conditions, soil conditions, and the actual plants, to deliver optimal amounts of water and keep your landscape healthy-looking.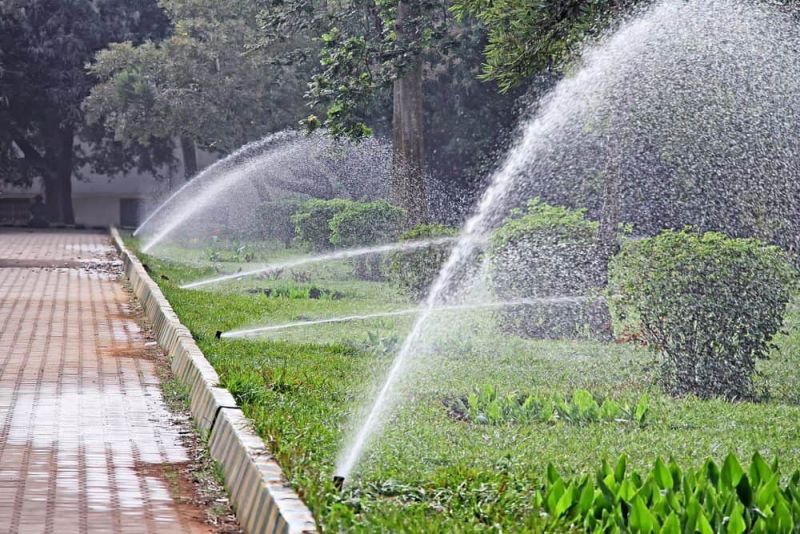 Bold Color Palette
Every outdoor space could use a repaint after a few years. The colors could look dull after months of weather wearing and natural 'wear and tear.' Be it something as small as fences or as large as the exterior of the home, repainting can give it a new lease of life.
In 2020, the bold and darker color palette will be very popular. Try incorporating a pop of color into your landscaping design.
For 2020, blue is predicted to take stage as The Color of the Year. You can add a touch of blue to your landscaping design this year with any shade of blue. It could be a bright turquoise planter pot, a beautiful baby blue hydrangea bush, or place blue decorative statues in your garden. Besides, water features are blue in color, you can also add a birdbath, waterfall, or fountain to your landscape.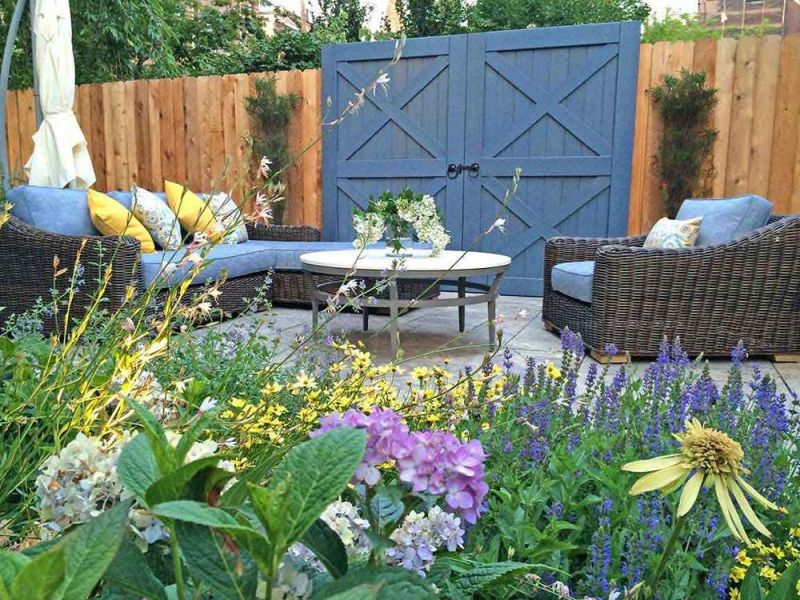 Geometric Landscaping Design
Popular interior decor patterns like waves, lattice, basketweave, and textured materials are making their way into landscaping design. Adding these trends into the layout of backyards thus makes sense.
Porcelain tiles, traditionally used in bathrooms, are marking their presence felt outside of the home, appearing in walkways, patios, retaining walls and fire features, if any. Natural stones remain as popular as before. Materials can be used in many design patterns and shapes. Patterns such as chevron patterns have become favorites and are used on the outside.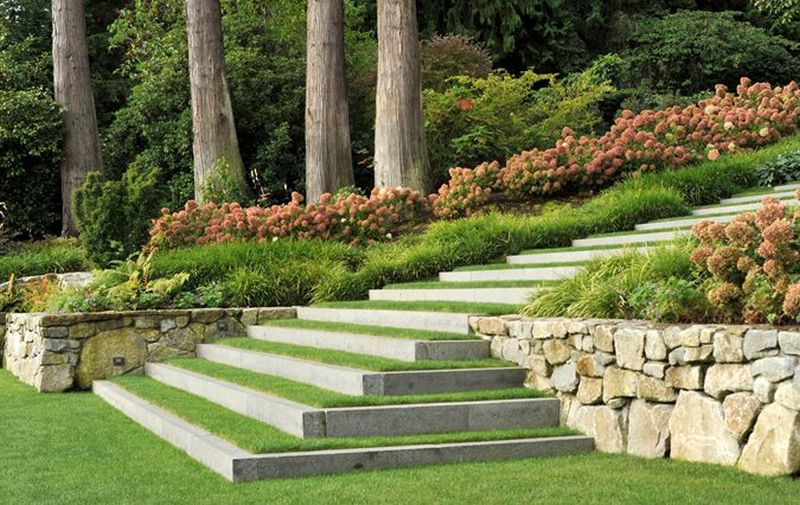 Using the abovementioned popular landscaping ideas as inspiration is one thing, but failing to include a personal touch in your backyard is something entirely different. Your outdoor space should always have a personalized feel because that's where you feel most at home and relaxed. So, go ahead and adapt the landscape design to your lifestyle preferences and sense of style!