Generally, your bedside table is a catch-all for the entire day's miscellany. Lamps, glasses, chargers, books, phones, and everything in-between winds up here. So, having a stylish bedside table is important for a bedroom not just to spruce up its interior, but also to hold your belongings.
However, when you think about a bedside table, the first thing that pops to your mind is a classic, wooden table with a bunch of drawers. But over the last decade, the design of the bedside tables has changed drastically, and nowadays we have different tables that are suitable for different types of bedrooms.
| Bedside Tables and Nightstands
1. IWELL Bedside Table with Three Open Shelves Buy: $45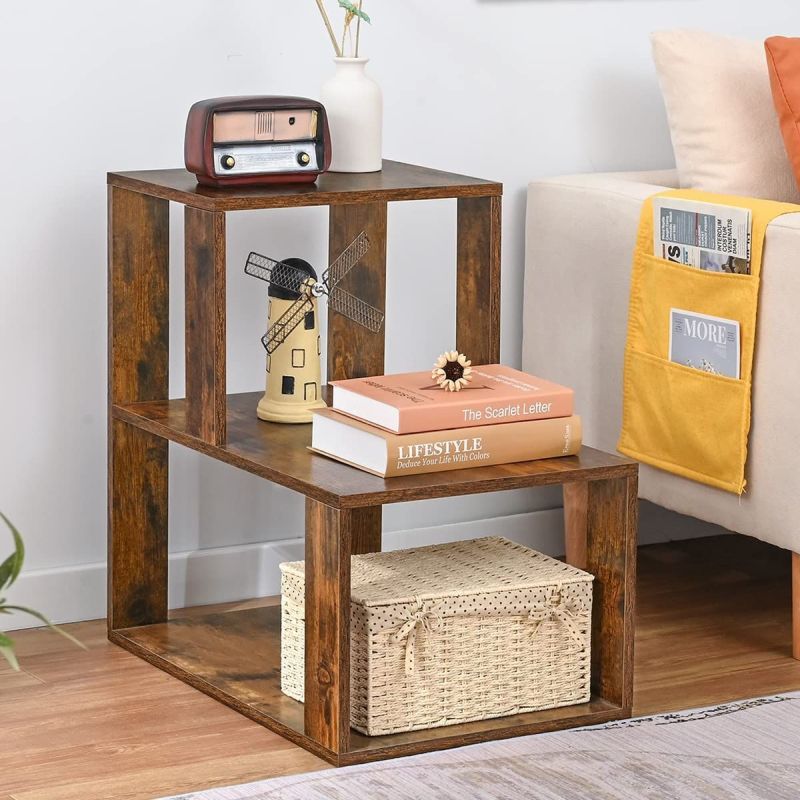 A simple yet practical open-shelving bedside table is good for storing your books, remotes, magazines, candles, or other personal belongings that you want at your arm's reach. In addition to displaying the books neatly, it also serves as an organizer and storage unit just next to your cozy bed.
2. HOOBRO
Wooden Nightstand with a Cabinet Price: $130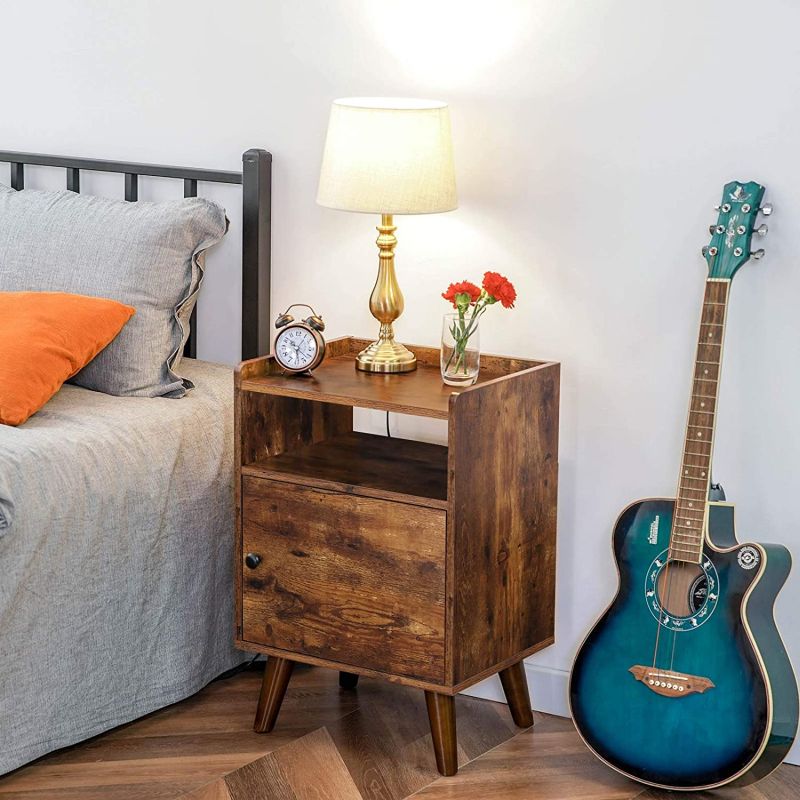 Of course, the best thing about bedside tables is that your essentials are always at your disposal. When it comes to traditional bedside tables, people usually choose the simplicity of their design and functionality over a modern shape. The extra storage space in the drawers is also a big convenience for people who keep a lot of personal belongings or books in their drawers. Wooden bedside tables are simple, so their design can easily blend into a classic bedroom. They might be more convenient for larger bedrooms since they are usually bigger in size, but they offer additional storage space.
Also Read: Best Coffee Tables You can Buy for Under $1000
3. Tribesigns
Bedside Table with Laptop Swivel Price: $100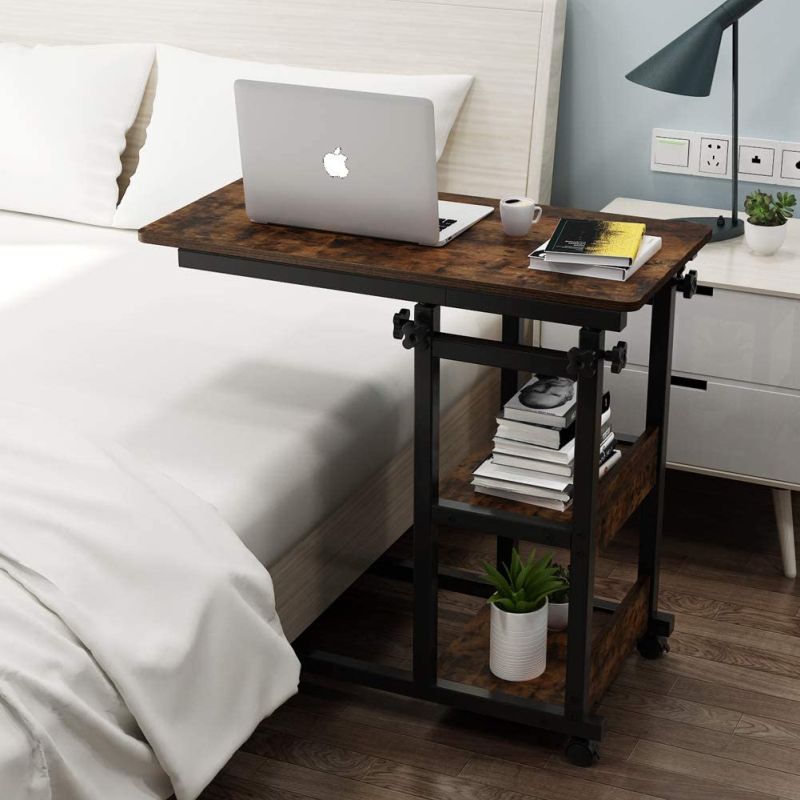 Double-duty bedside table also serves as a small study or laptop table. While you can use it simply as a side table, you can pull it toward your bed whenever you need to work on your laptop or eat some snacks while watching TV. Such bedside tables also come with nifty storage for magazines and books.
4. EKR Bedside Table with Glasstop Buy: $146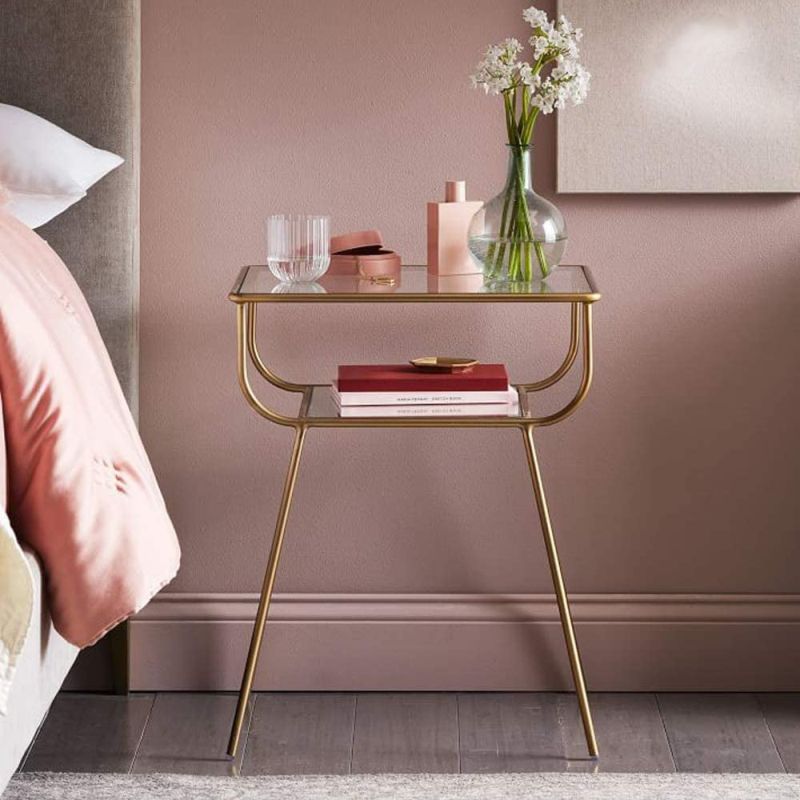 For those of you who would rather not choose practicality over style, the glass bedside table might be a riskier choice. But the timelessness and elegance of these tables are unmatchable. They never go out of style! However, it takes more effort to keep this type of table clean and in good shape since it is prone to scratches. When compared to a wooden bedside table, it seems more lightweight and it will not take up as much space. It is usually a good alternative and it goes well with all types of decor.
Also Read: Smart Bedroom Essentials: From Adjustable Beds to Motorized Blinds
5. HERJOY Round Side Table Buy: $45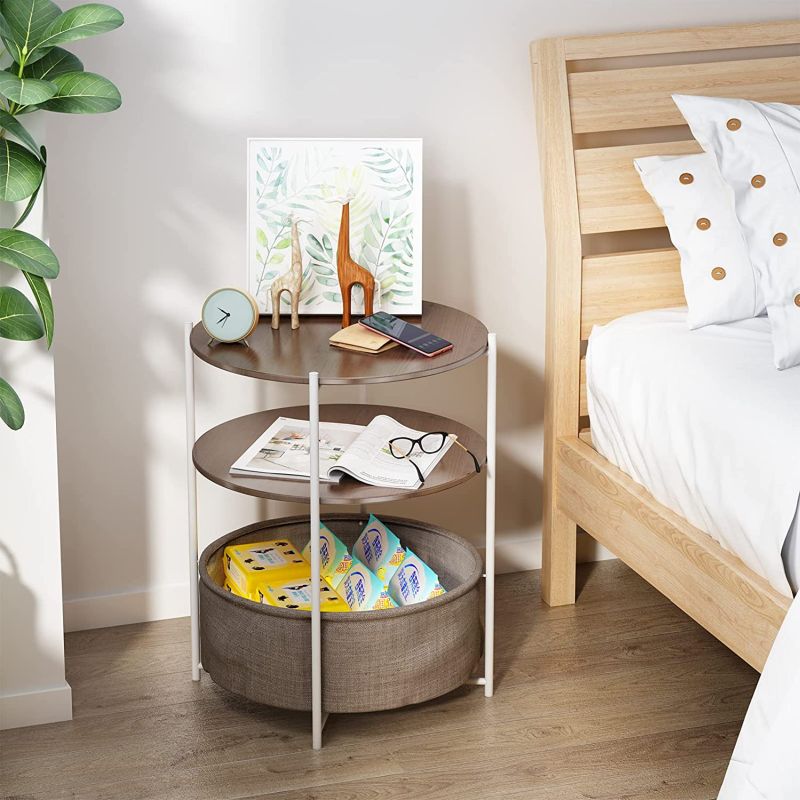 When it comes to circular-shaped tables, the accent is on the shape and the unconventional, retro look. They can be made from metal or wood and be differently colored. Add a dash of color to your bedroom and opt for a brightly colored piece. The shape and design aren't too practical, but these types of tables go well with vintage pieces of furniture and also offer good storage space, even though it is not easily accessed. Liven up space with this statement piece that is a real head-turner.
6. MIREO Mirrored Nightstand with 3-Drawers Buy: $195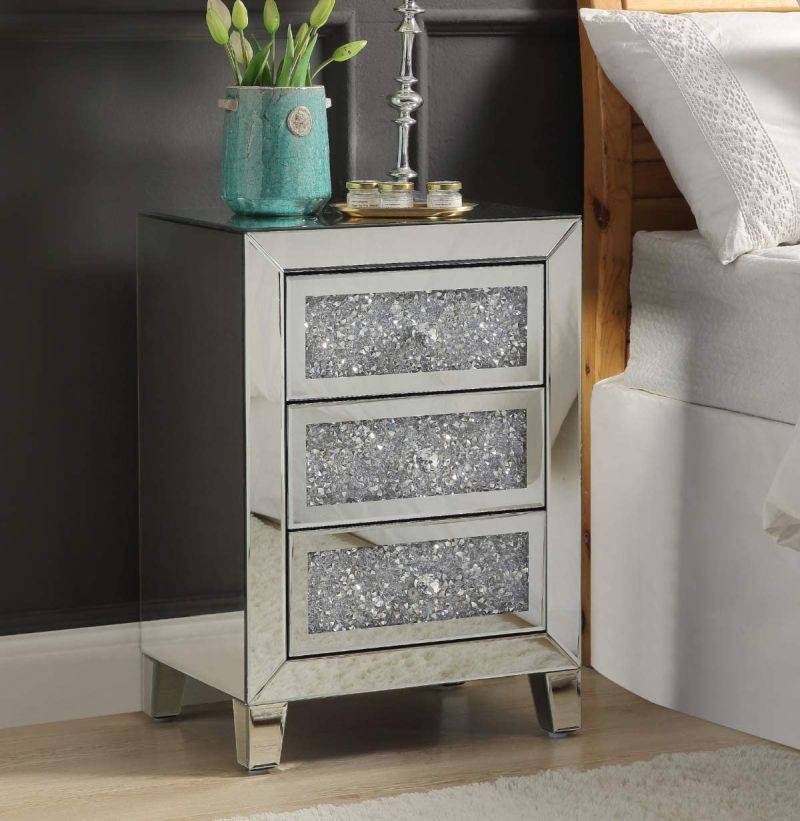 A glamorous bedside table with cabinets is a perfect complement for your bedroom. Usually, these tables are made from wood but decked up with the silver painted finish. Furthermore, mirrors are fixed on the top, the front, and the sides. With its mirrored finish, it adapts to any surroundings without overpowering, yet catches your eye with its unique presence.
7. mDesign Fabric
Nightstand with Two Drawers Price: $36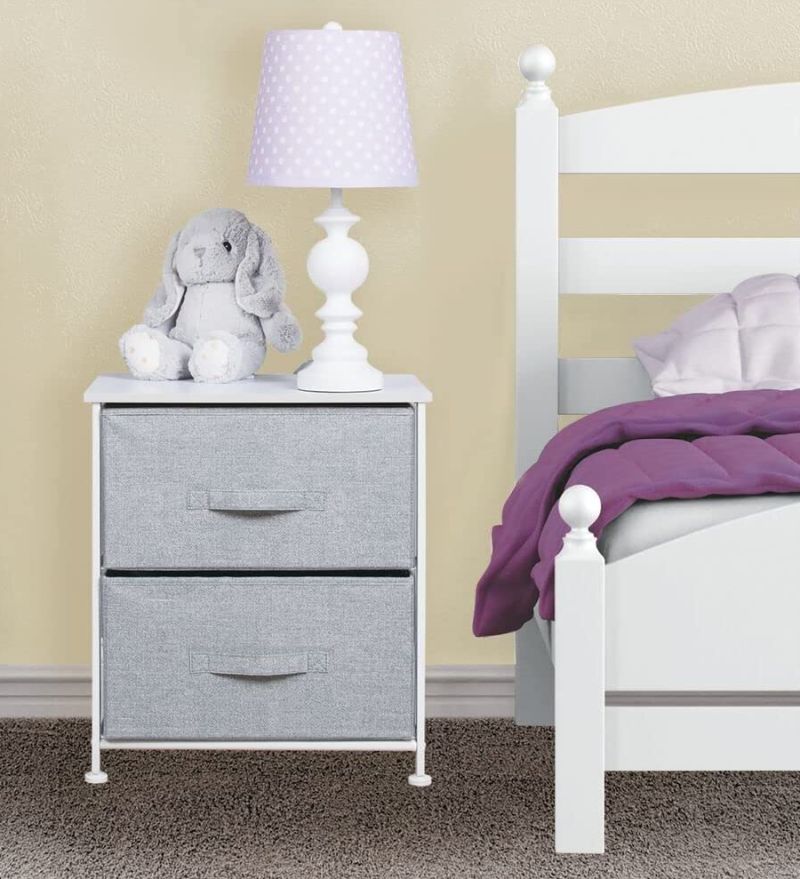 You can choose a subtle fabric bedside table that matches or contrasts with the accent of your bedroom, depending on your choice and preference. This charming bedside table is ideal for a touch of function and understated appeal. Place it in your master suite or guest room for holding devices, magazines, fresh flowers, and more.
8. Safavieh Natural White Wash
Wicker Nightstand Price: $211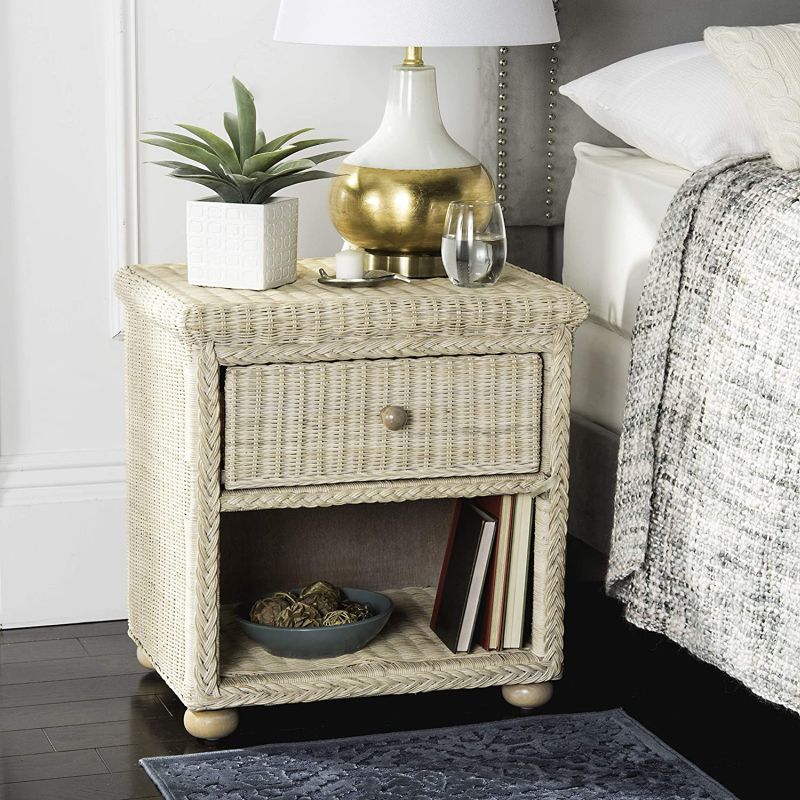 The weather-proof bedside table is not just perfect for outdoors but also for your contemporary bedroom space. You can choose it in beige or brown color for adding a natural tone to your minimalist bedroom decor. With it, you will certainly love your subtle bedroom interior.
Also Read: 20+ Most Unique River Tables
9. Nathan James Wall Mounted Floating Nightstand Price: $76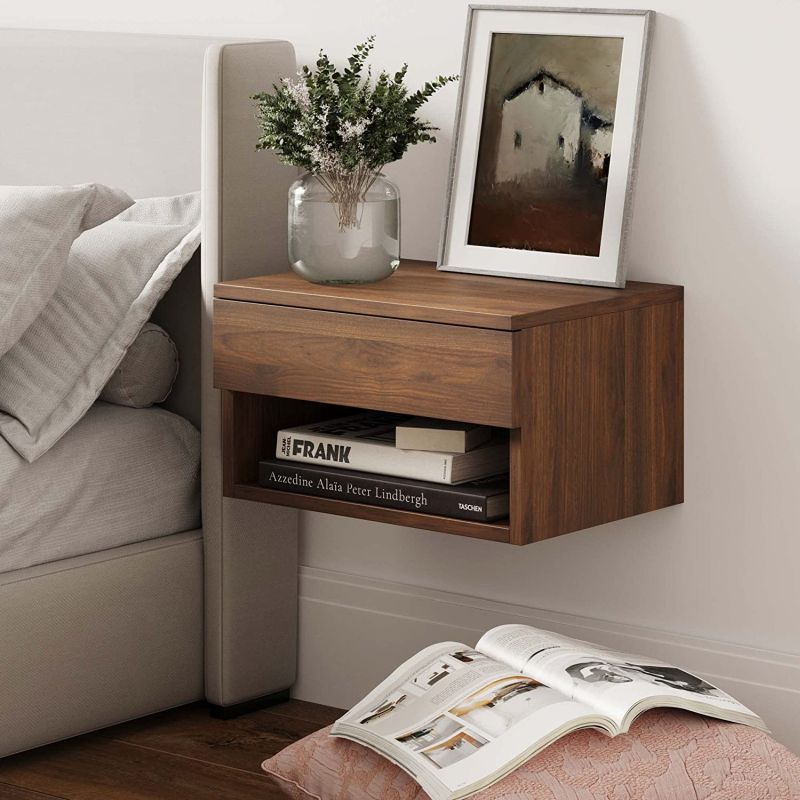 Modern times call for modern measures. To free the space, suit modern needs, and be more practical, the floating table seems to be a perfect furniture piece. This bedside table is intended to be mounted on the wall and is not as bulky as the traditional tables. Some of them are similar to shelves. The design is closer to minimalistic style and it offers a modern and practical solution when you are lacking bedroom space and want to fully maximize the floor space.
10. mDesign Side
Table for Bedroom Price: $50
The shape of this bedside table is influenced by the industrial design that is currently very popular in architecture and interior design. These types of tables look expensive and artistic, yet they do not offer much storage space. They usually don't contain drawers, just the circular top part where you store your essentials. If your bedroom is leaning toward minimalism and industrialism, these will fit into the bedroom design perfectly. They are a perfect choice for edgier bedrooms and assertive owners.
Final Thoughts
Just like every bedroom differentiates in size, shape, and style, the abovementioned tables are all unique and special in their own way. What kind of table speaks to your personality the most? If you recently redecorated your bedroom, which one would you choose? Tell us more about it in the comment section below.