Smart homes and artificial intelligence assistants are no longer a part of science fiction. They are becoming a commonly accepted part of life. We now fancy automation and smart technologies built into our homes to make lives run smoother. While there are plenty of kitchen-centric smart home upgrades, you rarely hear about smart bedrooms. Here are some of the ways you can create a smart bedroom and fall asleep in style.
Upgrade to Adjustable or Smart Bed
Give up sleeping in only a flat position, take home adjustable beds and mattresses, and see how your bed can improve your life. Customize your sleep and ensure you get the desired rest.
Adjustable beds will not only help change the way you sleep or create better airway so you recover quicker from illness, but it also helps you relax after a heavy training session and comes loaded with a range of other smart features to make your sleep better.
It's ideal to purchase an adjustable bed with a dedicated app since it will simplify your experience. Using an app, you can set an alarm and when it goes off, the bed will gently elevate you to a more upright position. Easing the transition from sleep to wakefulness.
You can also get a bed with motion sensing light at its base which will turn on when you step down from the bed. That way, you can walk to the washroom or get out to the kitchen for a midnight snack without disturbing your partner.
Examples
1. ReSt Smart Bed
Responsive Surface Technology (ReST) integrated smart bed senses pressure and automatically adjusts to the sleeper's desired firmness throughout the night. Using the smartphone-enabled ReSt app, you can customize support for shoulders, head, back, hips, and legs to requirement.
Each ReST bed purchase is accompanied by a tablet pre-installed with the app. Its Auto Position Mode allows you to custom fit the bed to your desired preference and then lock in the settings for when you're on your back and for when you're on your side.
The ReSTdash feature on the app collects your unique sleep data, which empowers you with the information you need to improve your sleep. The users can even activate the remote adjustment using the mobile app on any smartphone, tablet, or another device with Wi-Fi connectivity.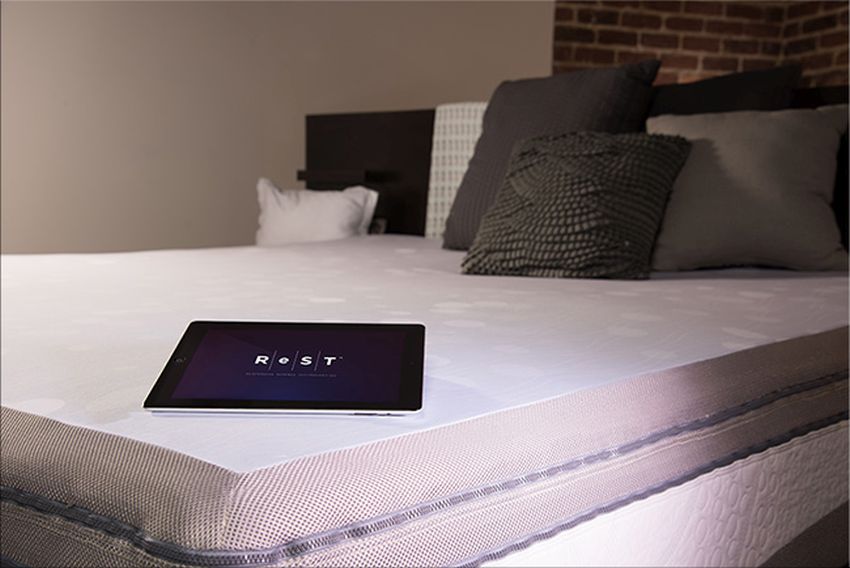 2. Sleep Number 360 Smart Bed
Sleep Number's much-hyped 360 Smart Bed features sleep IQ technology for seamless biometric sleep tracking and collecting comprehensive sleep data. This smart bed has been designed for providing users with comfortable and sound sleep, as well as prime health.
The smart bed technology is capable of reading hundreds of measurements per second, tracking countless sleep sessions, and analyzing a total of 4 billion biometric data points. This helps in identifying irregular breathing or heartbeat patterns.
In case of emergency, it will alert your partner for help. It even shares your medical data and related personal information with your doctor so that you're offered the treatment on time – without delay. According to statistics, around 58-percent of people have successfully improved their sleep quality with the Sleep Number 360 Smart Bed.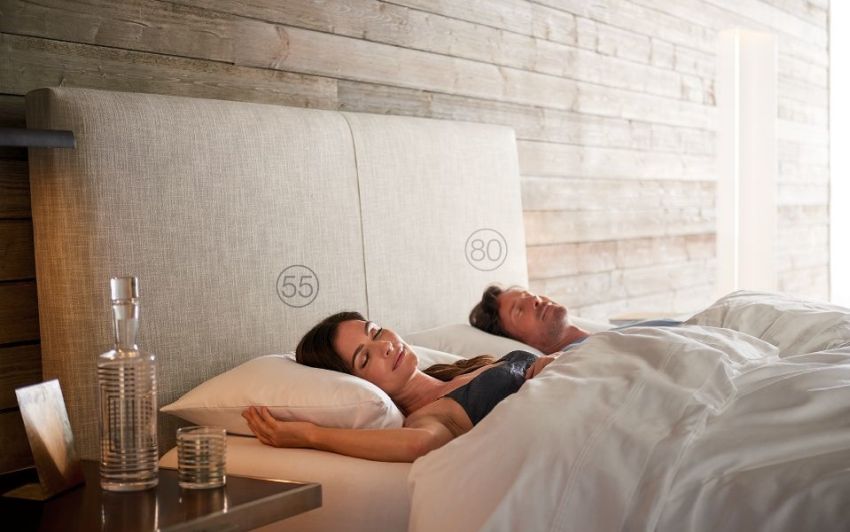 3. Tatami Multimedia Bed
Besides offering you a clever space-saving solution, this multi-functional bed comes integrated with a massage chair, bookshelf, speakers, USB ports, and a safe to store your valuables.
Aside from sleeping and relaxing, his multipurpose bed can be used for working from home. It features a pop-up laptop stand, a footstool with storage, and a reading light. The bed is made from wood and finished in leather to add aesthetic appeal to your modern living space.
For health conscious people, the bed is integrated with a massage chair and has enough space to let you sleep. This smart bed is perfect to make the most out of a small bedroom, as well as minimize clutter to streamline the overall look of a bedroom.
This multimedia bed allows you to enjoy luxury blended with comfort. It comes in a variety of color options to match with the differently styled home interiors.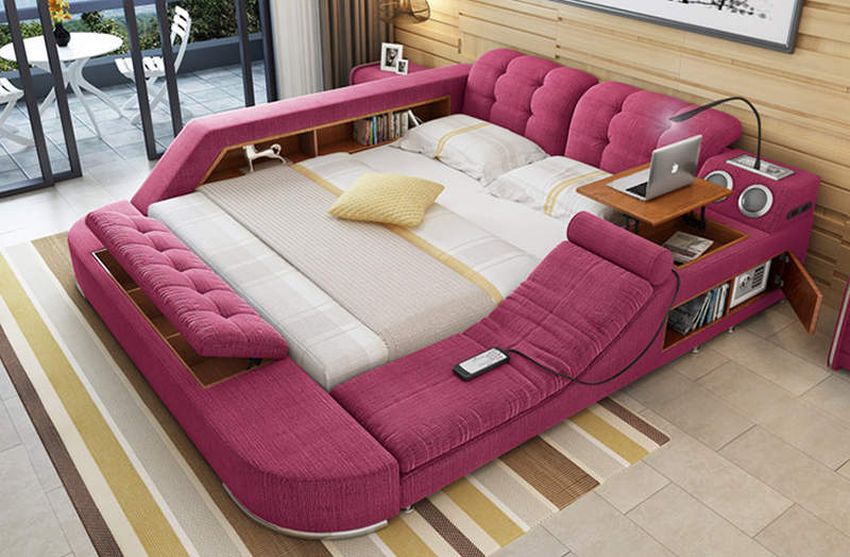 Make A Switch to Smart Switch
Smart switches can be used anywhere in the house, but are particularly useful in the bedroom. Especially, if you are someone who prefers to get ready in your bedroom.
Imagine you flat ironed your hair and left home in a hurry, sitting in the car, you're stuck with the thought that you've left the iron on, sitting beside, hell! With a smart switch at home, you can easily switch it off right from the convenience of your phone. Below are some of the most exciting smart switches you can bank on.
Examples
1. Belkin Wemo Light Switch
It is a smartphone-controlled light switch that allows you to operate your lights from anywhere. It is a great device for smart home beginners who are starting to build their connected home.This convenient light switch is able to connect to your mobile device via your home Wi-Fi system, without the need of an extra hub. Once it's connected, you can easily set your schedules, randomize lights when you're away, turn lights on and off remotely, and even sync up with sunrise and sunset.
You can also use the Wemo Smart Switch to set a timer to ensure things get turned off automatically. That way, you don't have to worry about leaving lights on back home, as you can be assured they will shut off on its own.
It can even integrate this Wemo switch with any other smart home system. It is compatible with Nest and IFTTT. Moreover, you can even add voice control with Google Assistant or Amazon Alexa.
Price: $39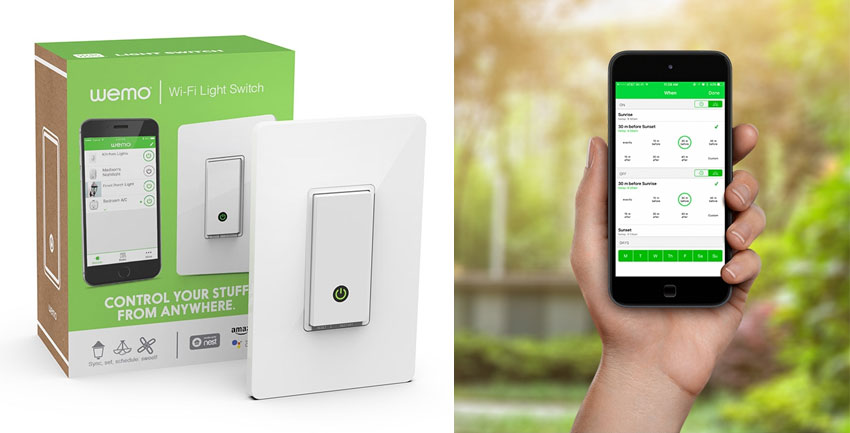 2. TP-Link HS200 Switch
The TP-Link HS200 Switch has two indicator lights on its face – one turns on when the light switch is turned off, to help you find it in the dark, and the other is a Wi-Fi indicator.
Using this switch is quite simple: You just have to press it for on/off – just like a conventional switch. But this one can be operated using a smartphone app called Kasa. This app has been divided into a few different sections: cameras, devices, smart actions, scenes, and notifications.
Through the main menu of the app, you can switch the lights on and off. Scenes allow you to turn on or off multiple devices at once. For instance, you can turn on/off your TV as well as the lights in the house using this single button.
You can even connect it with your other smart home devices like Google Home or Amazon Echo to control everything without having to get off the couch.
Price: $24.99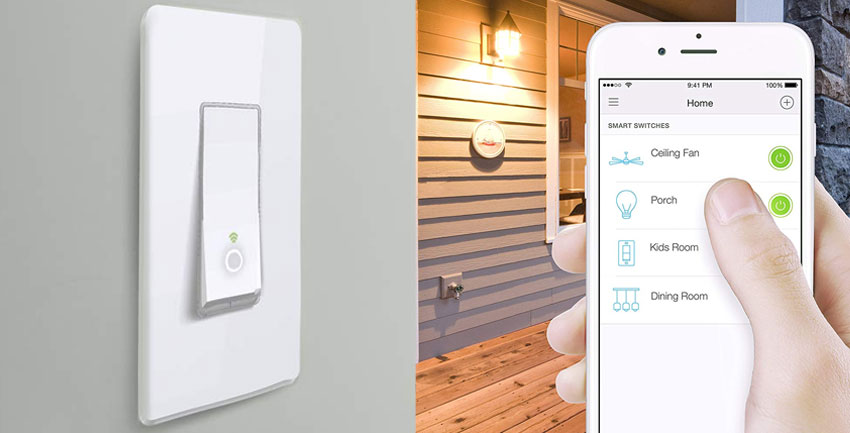 3. Philips Hue Smart Dimmer Switch
Everything from installation to setting up this dimmer switch is very easy. Just pull out the plastic strip to power it up and the dimmer is ready to be operated by a thin CR2450 battery. Using the Hue app you can quickly pair this smart lighting accessory with any other smart hub in your home.
Besides controlling the lights remotely with your phone, it can be controlled by voice commands with Amazon Echo or Google Home. You can set your lights to turn on/off automatically on a schedule and use IFTTT or other automation apps to control them.
Once added, you can set the dimmer to work with up to 10 bulbs, again this is very quick and simple to do within the Philips Hue app. This will work with white and colored Hue bulbs making it ideal for all rooms.
Price: $21.97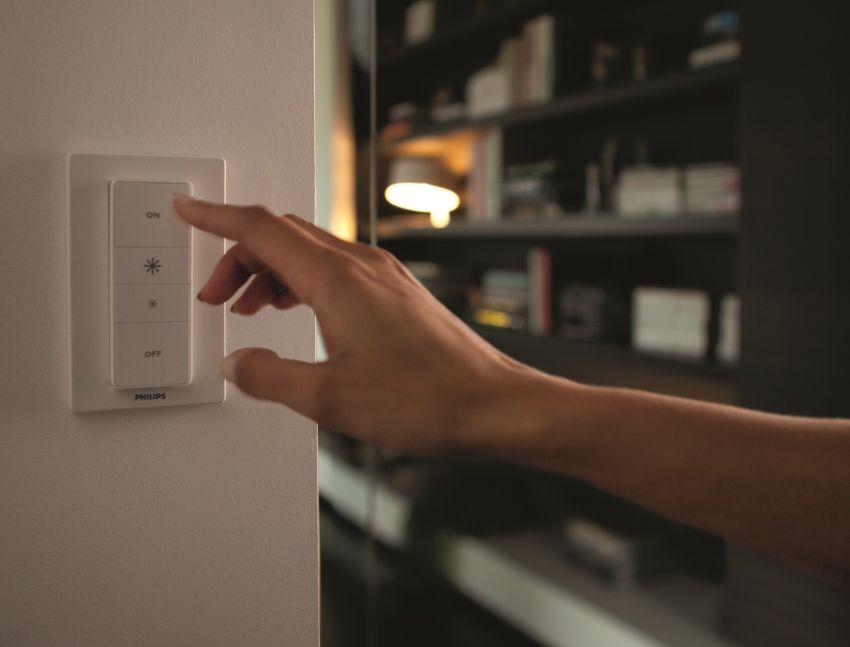 4. Lutron Maestro Sensor Switch
Lutron Maestro Sensor Switch supports up to 600 watts on one circuit. It is available in nearly 27 different colors. It can be configured via simple push-button commands to function either as an occupancy sensor or a vacancy sensor.
What's the difference? Well, an occupancy sensor turns the light on automatically, then shuts off automatically after a scheduled time. On the other hand, a vacancy sensor needs you to turn the light on manually, but it can shut them off automatically after it doesn't sense motion for a specified amount of time.
Installation is easy – just cut off power, remove the old switch, then install this new switch using the same wires. It's affordable, easy to install yourself, and does exactly what it promises on the box. It also looks sleek and modern and will blend in with pretty much any decor.
Price: $21.64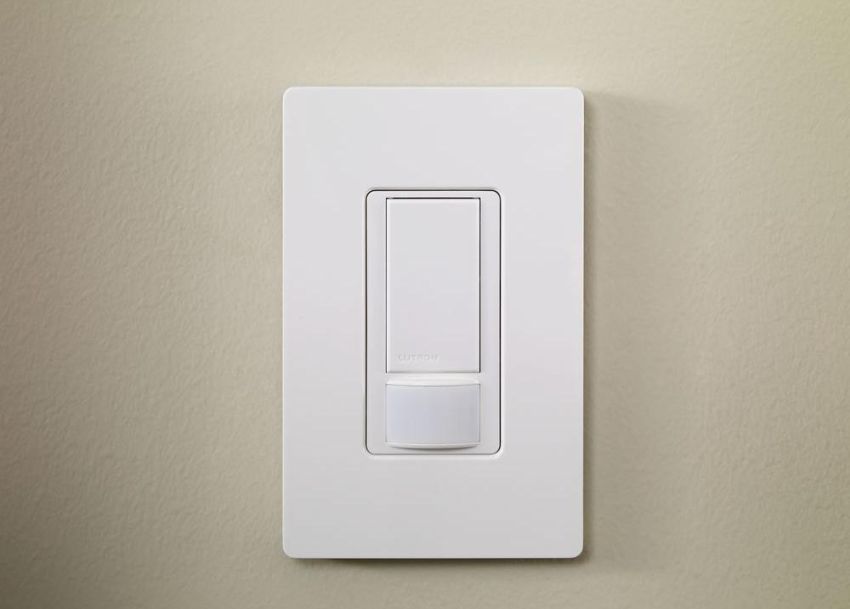 Deploy A Smart Sleep System
Do you like to block out sounds when sleeping? Do have loud roommates or odd work shift which compels you to sleep at odd times during the day? The new-age smart sleep System can help.
The smart sleep accessory delivers white noise to lull you into slumber, plugs easily onto your wall and works over the internet. The devices are controlled from an app on your phone/tablet, so you don't have to get out of bed to change anything.
The best part about the smart accessory is that it can go anywhere with you. Listed below are the finest smart sleep systems you can bank on.
Examples
1. Withings Aura Smart Sleep System
It is a multi-functional sleep system that incorporates sleep tracking, bedroom environmental monitoring, and scientifically designed sleep-wake programs.
At a glance, it appears like a standalone bedside lamp. But when paired with an optional sensor accessory it transforms into a total sleep system that includes sleep monitoring.
In the evening, the device uses its lamp and speaker to create a program of light and sound that's scientifically proven to help in sound sleep. Each program lasts for 20 minutes, allowing you to fall asleep and rise at the optimum time within your sleep cycle. Its built-in smart alarm adapts to your sleep cycle.
In the morning, Aura increases light and sound along with colors from the sunrise light spectrum and a crescendo sound.
Price: $124.90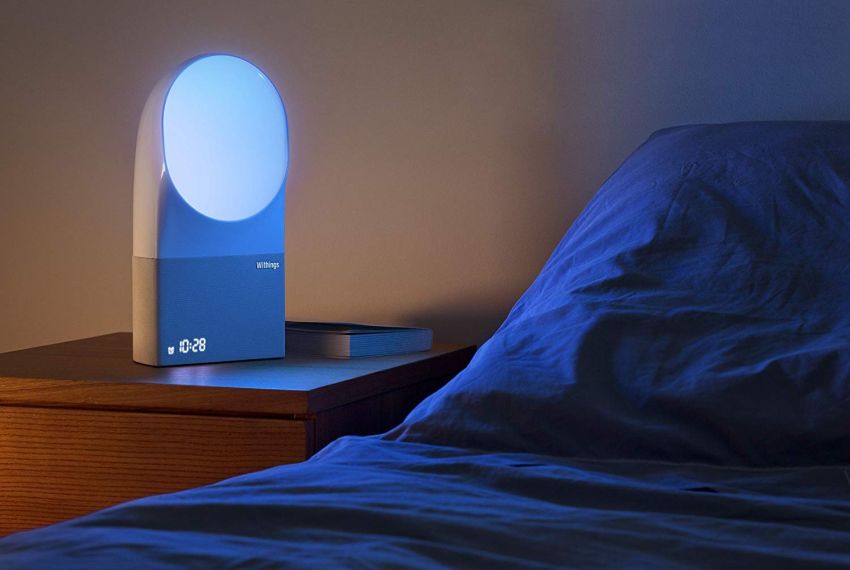 2. Dodow – Your Sleep Assistant
Dodow sleep aid device acts as a metronome to teach you how to fall asleep naturally without depending on medications. You simply have to turn on the device and tap its surface once for the eight-minute mode or twice for the 20-minute mode.
Now, the device projects a blue light onto the ceiling to guide your breathing. As you begin breathing in rhythm with the light, inhaling as the light expands and exhaling as it gets smaller, you'll naturally start falling asleep.
Whether you are experiencing insomnia due to stress, pregnancy, noise, or thoughts running through your head, Dodow will help you fall asleep 2.5 times faster compared to your usual sleeping cycle. It is even recommended by some neurologists to manage insomnia in some patients.
Price: $59.90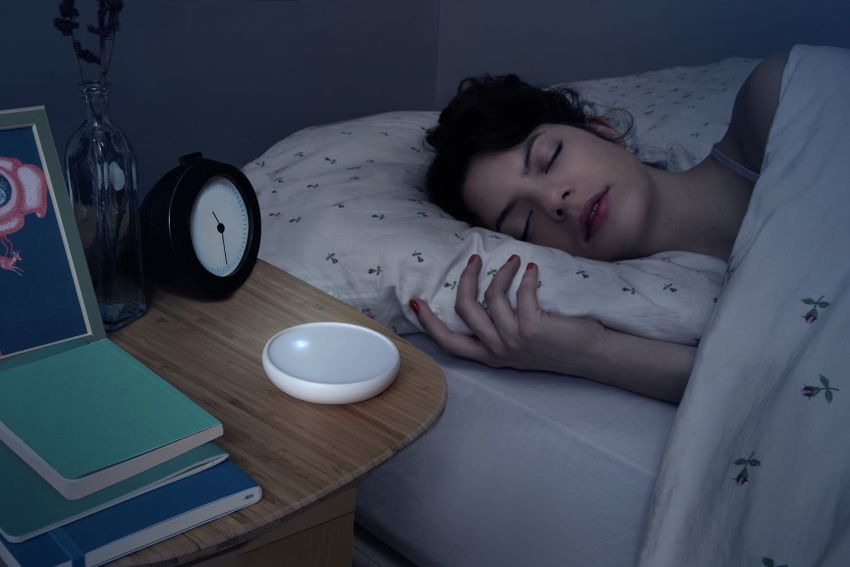 3. Philips Wake-Up Light Alarm Clock
Philips Wake-Up Light alarm clock slowly increases light intensity, shifting from soft dawn red to warm orange to bright yellow over a period of 30 minutes. If you're somehow still sleeping when the room is fully lit, it uses sound as its last resort.
It is clinically proven to help you wake up feeling more refreshed. Its sunrise simulation alarm clock wakes you up with a natural light lamp and a speaker plays your choice of five different calming wake-up sounds or FM radio with tap-to-snooze.
The device comes with a PowerBackUp+ feature that maintains internal clock settings and backup alarm for at least eight hours, in case of power failure. Moreover, it can be used as a bedside reading lamp with 10 brightness settings.
Price: $285.96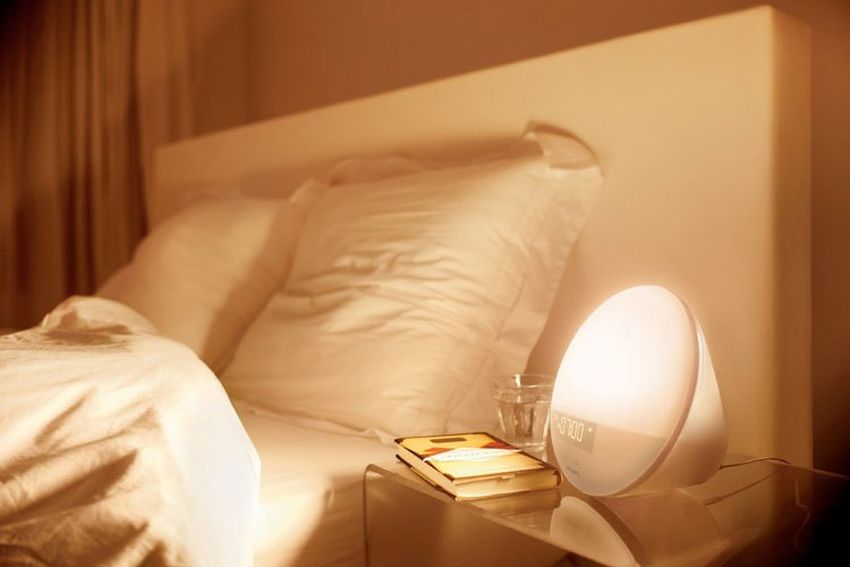 Sleep Well and Dream Big on A Smart Pillow
If you're going to have a smart bed, you should have it accompanied with a smart pillow. A smart pillow can be ideal for music lovers, lazy sleepers and of course the snorers.
Smart pillows come with built-in speakers to play music, sound alarm, have height adjusting features and even vibrate to adjust your sleeping position so that you don't snore. Below are the coolest smart pillows you'd definitely want to own.
Examples
1. ZEEQ Smart Pillow
The ZEEQ may be the most advanced technology integrated pillow you'll ever lay your head upon. This smart pillow is able to detect snoring, moreover, it vibrates to adjust your sleep position without waking you up.
It can wirelessly play sleep music and other audio tracks via ZEEQ app. It also acts as a sleep tracker to measure your sleep motion and snoring decibel. It produces a sleep score and a detailed daily report of sleep duration and restfulness.
Another good thing about this pillow is that it can easily regulate its temperature and wicks away moisture. Plus, it adjusts its memory foam cluster fill to suit your preference.
Price: $99.99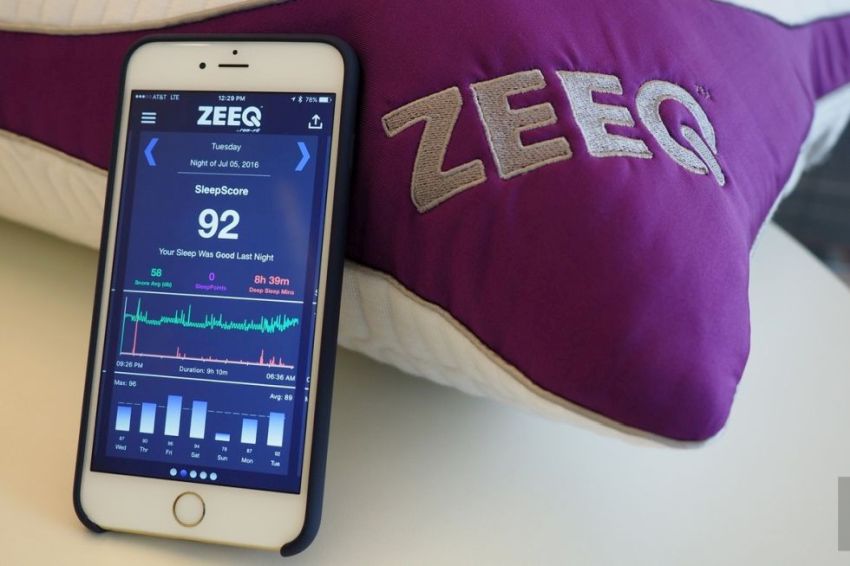 2. Smart Sunrise Pillow
Smart Sunrise Pillow features six clinically proven ways to help aid better sleep. These include a smart alarm, sleep tracker, nature sounds, sound conditioner and fan with low tone, deep sleep binaural beats, and guided meditation.
The pillow can read you your favorite audiobooks and block out the unwanted sound with the help of a sound conditioner. When connected to its mobile app on your smartphone, you can set the time you want to wake up each day.
The Sunrise Pillow uses gentle lighting that mimics a sunrise to wake you up. Emulating the natural sunlight, your body responds by stopping the production of melatonin (the sleep hormone). Therefore, you wake up feeling more energetic and well-rested.
When you wake up, the Sunrise Pillow delivers previous night's sleep data to the app. You can review your sleep score and improve it night-on-night.
Price: $129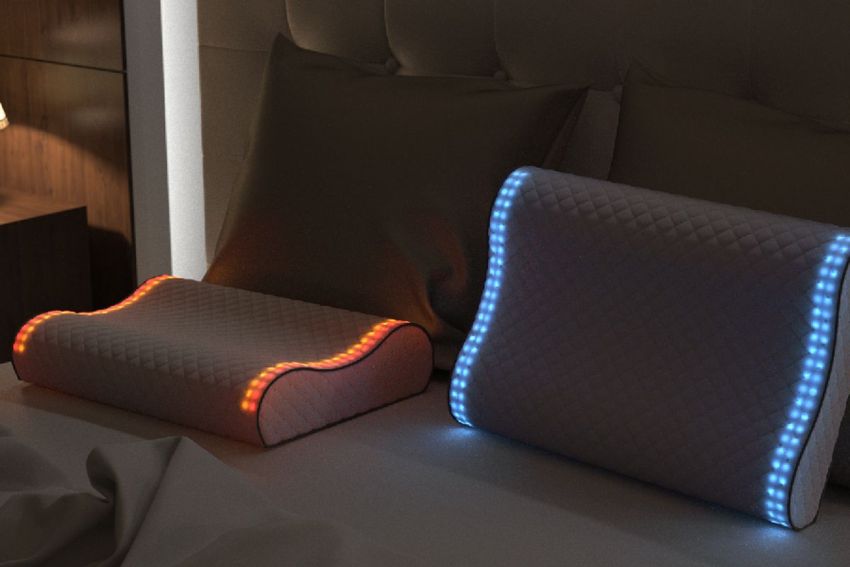 3. iSense Smart Pillow
iSense smart pillow comes with an embedded sleep tracker and pairs with an app to understand and streamline your sleep routine. It is filled with CertiPUR-certified memory foam, which is infused with temperature-regulating gel. This avoids overheating of your head while sleeping.
By unzipping its cover you can easily adjust the fill and height as per your liking. Whether you prefer a flatter or more elevated alignment, the individual pieces adapt and work together to support you if you change positions throughout the night.
It is integrated with a sleep tracker that monitors heart rate and respiration in real time, allowing it to capture your heart rate pattern, breathing pattern, what time you fell asleep and woke up, sleep cycles, and restlessness. In the morning, you will get this complete data on your phone, so that it can be utilized to improve your sleep.
Price: $169.97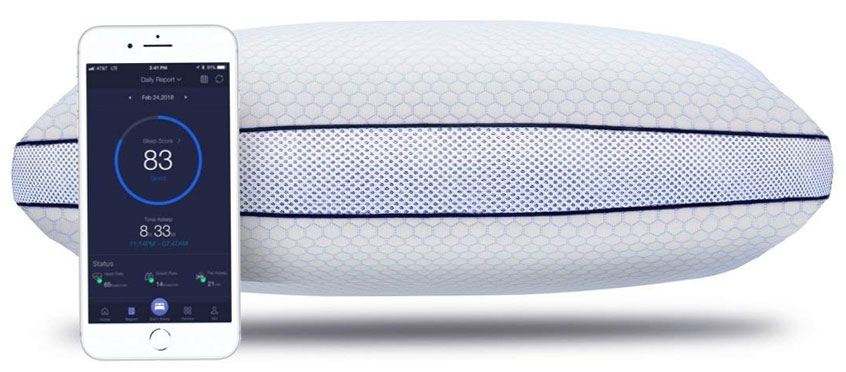 Say Goodbye to Dumb Blinds
There are various types of Smart blinds you can purchase that integrate with home assistants. Depending on how much you invest in these, you will be able to do everything from operating the blinds by voice, to have them control temperature and monitor the carbon monoxide inside. You can set an alarm for the blind to fold up at sunrise. Below are some smart blinds you can choose from.
Examples
1. MySmartBlinds
MySmartBlinds can turn any horizontal corded blinds into smartly automated blinds in just a few minutes. The smart blinds can be controlled with voice commands where you'll never need to reach for your smartphone or remote switch again.
It needs a Smart Bridge for connectivity (sold separately). With built-in temperature sensors, these blinds can manage temperature and lighting within your home. Decide how hot or cold you want your room to get, and it will function as per your desire.
MySmartBlinds on-board memory motor stores and remembers all your preferences and schedules. This way the blinds will continue to operate smoothly even when you are out of the Bluetooth range.
Price: $169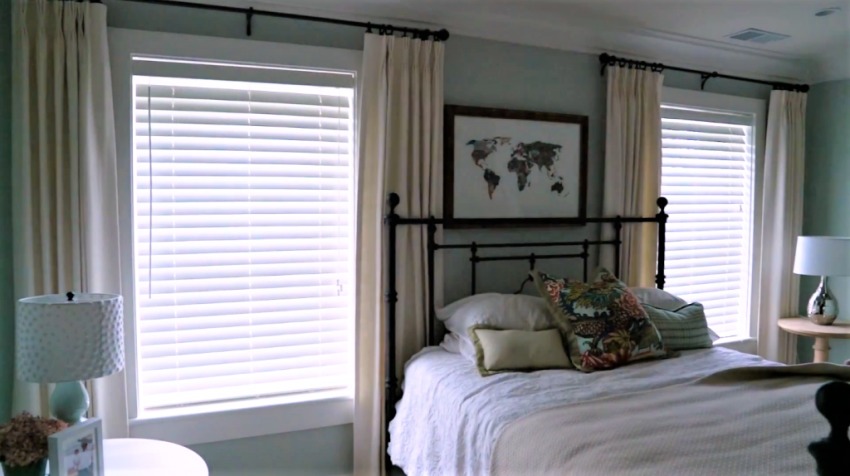 Also Read: Buying Guide to Smart Blinds & Motorized Shades
2. GoDear Design Free Stop Roller Shade
This motorized roller shade can be operated with a wireless remote control and powered by alkaline batteries. No wall power outlet is needed and it can even switch between sheer and privacy within a few minutes.
Its light filtering shades will bathe your space in a warm glow while you can still keep your privacy. This window shade needs to be mounded at a minimum 2.5-inch depth inside the mount for better and smooth functioning.
The fabric is shorter by an inch on both sides so that it can accommodate the cordless mechanism effortlessly. This fashionable shade will create a beautiful sense of interlaces light and shadow in any room where you mount it.
Price: $146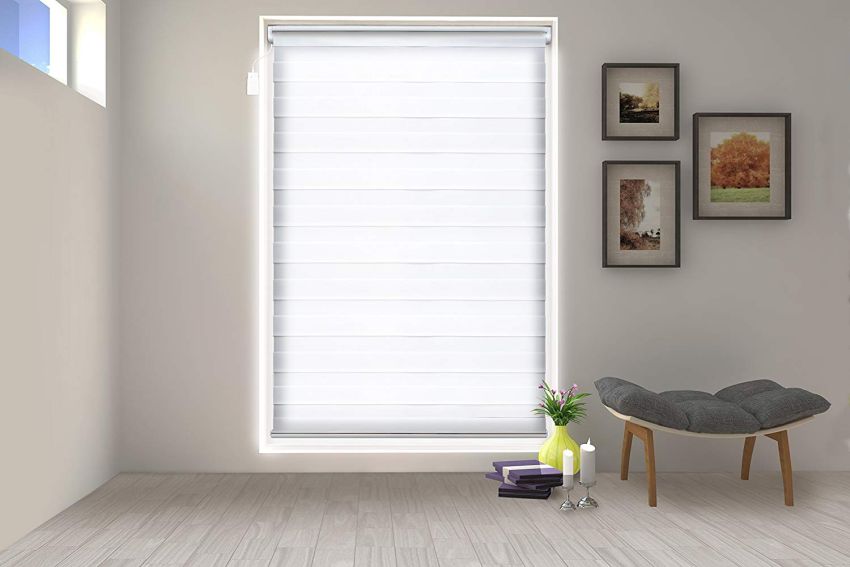 3. Powerview Blinds & Shades
Powerview motorization enabled blinds and shades by Hunter Douglas can be operated at the touch of a button. These window treatments are battery-powered with uniquely quiet motors. The battery pack remains hidden behind the headrail so there's nothing to obstruct the beauty of your window.
The Pebble Remote Control offers a modern alternative to a traditional remote. It's ergonomically designed and comes in seven stylish colors. If another remote control isn't what you want, the PowerView Surface Remote can be mounted directly onto the wall.
Using your smartphone, you can wirelessly create scenes that can be scheduled and controlled as per your changing preference. These are based on your light, privacy and overall room ambiance preference.
You can even create a personalized connected home experience by integrating PowerView with other smart home systems. Currently, it is compatible with Nest, IFTTT, Control4, Logitech, ELAN, RTI, and Crestron.
Price: $289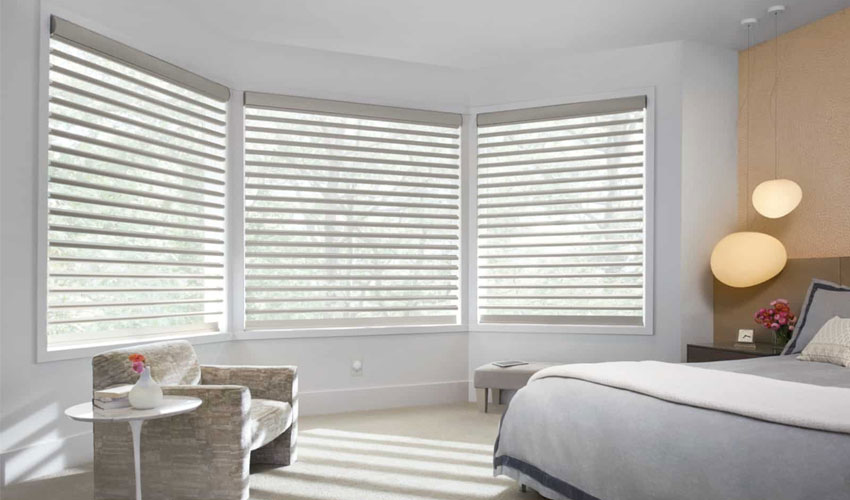 People who get a good night's sleep often feel ready to take on the world the next day. If you have trouble sleeping well, upgrade to a smart bedroom and have the most peaceful nights you've always dreamt of.