All Hallows' Eve is edging closer and I am assuming, you all have your shopping carts ready. So, what are you planning to buy this Halloween? Is it the inflatables, in particular, or the Halloween planters? Whatever it is, if you don't want your Halloween bash to curtail into a kids' tea party, try buying these unique Halloween skeletons that will level up the horror element.
Ranging from bat skeletons to petrifying snakes, these unique Halloween skeleton props will add spooky essence to your home decor. The best part is they all can be positioned in various poses to double the eerie. Let's begin!
Human Skeleton
Purchase a life-sized human skeleton that will add flair to your Halloween decorations. Other than posing and standing, these skeletons can even be hung anywhere you please.
Buy: $20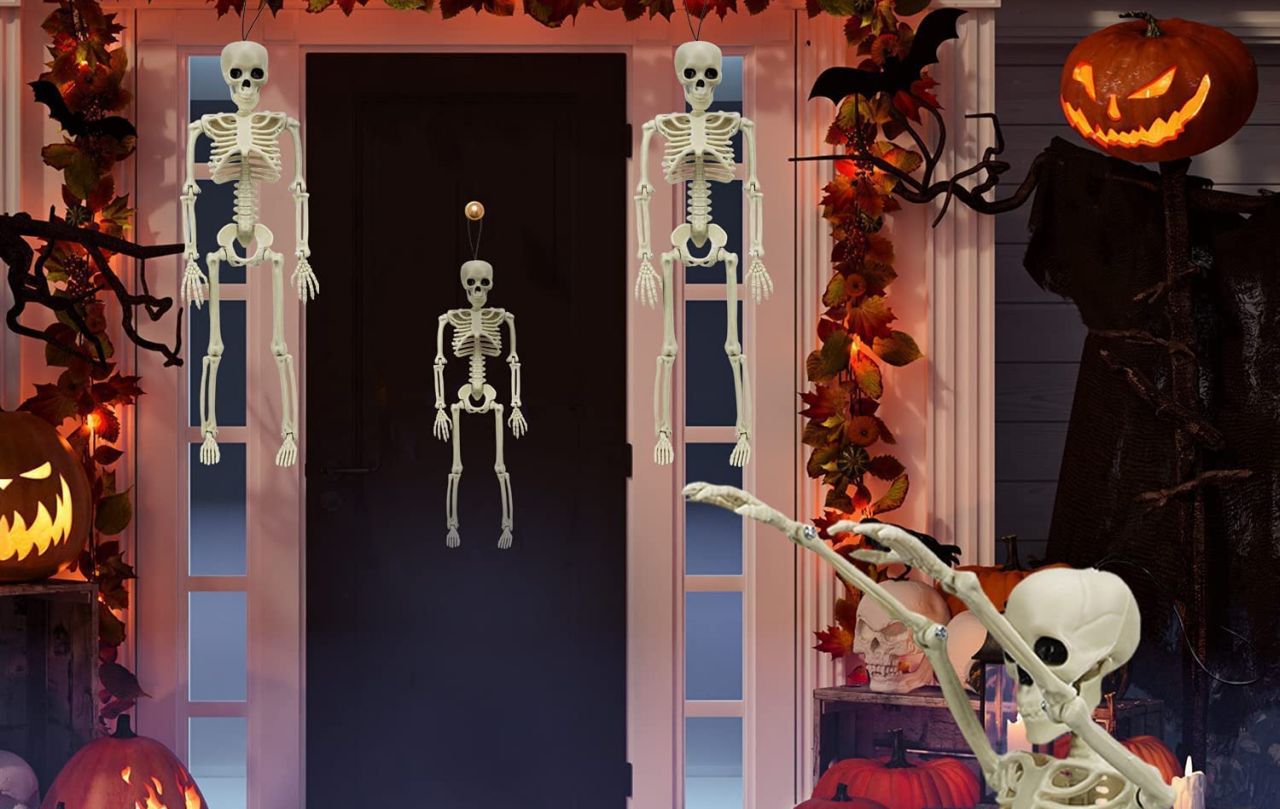 Cat Skeleton
Sitting in a crouching position, this skeleton kitty crafted from durable all-weather plastic will be a terrific addition to your Halloween scene. It can be placed anywhere from the lawn to the living room.
Buy: $20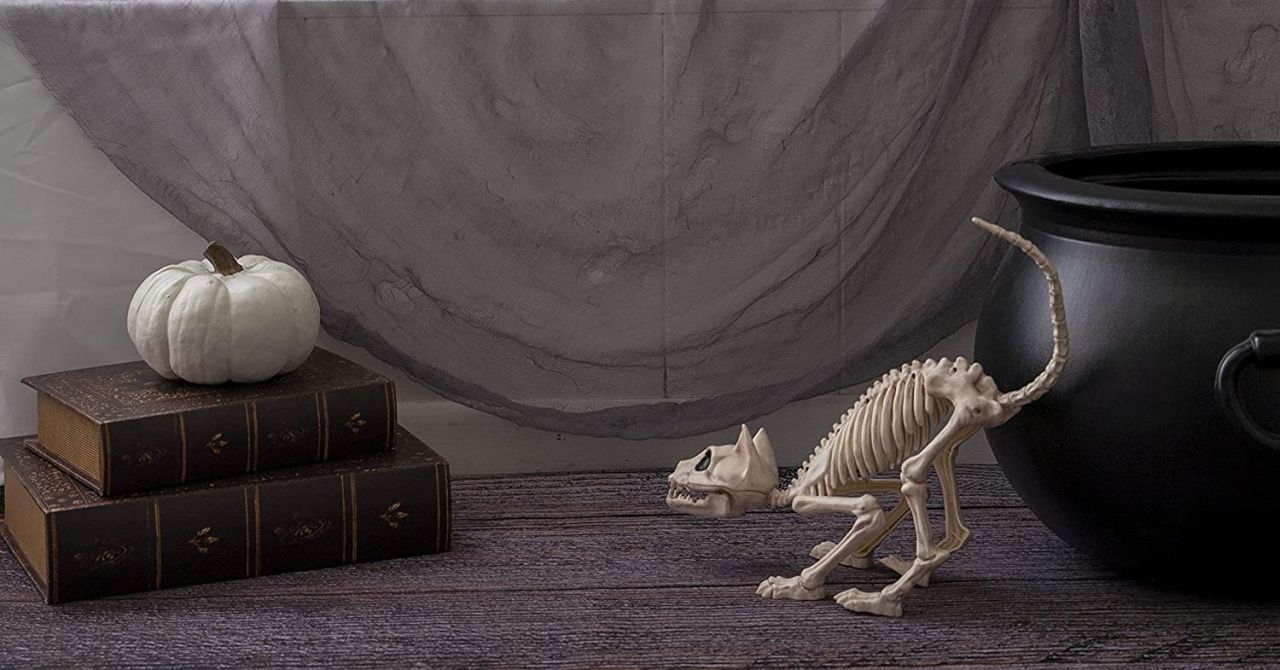 Puppy Halloween Skeleton
Snap up this puppy skeleton prop for your home which is an excellent Halloween decoration. The skeleton features a bendable tail and a moveable head and jaw.
Buy: $26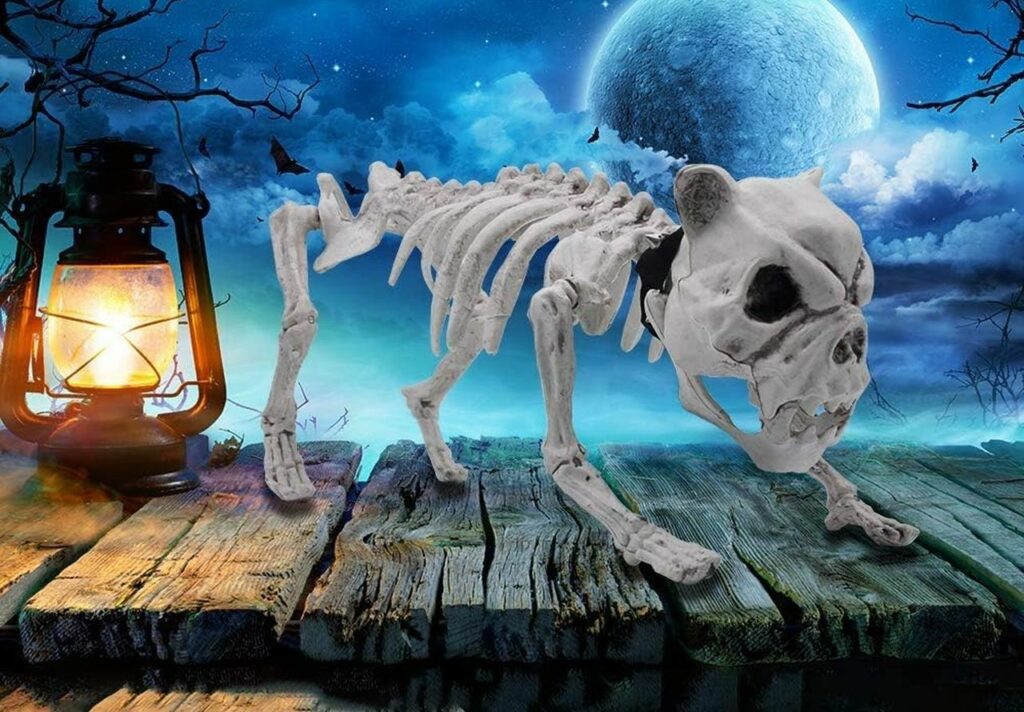 Vulture Skeleton
Made of sturdy plastic, the vulture skeleton is a spooky addition to your Halloween setup. Being ten inches tall, this buzzard features a bendable neck and moveable head.
Buy: $25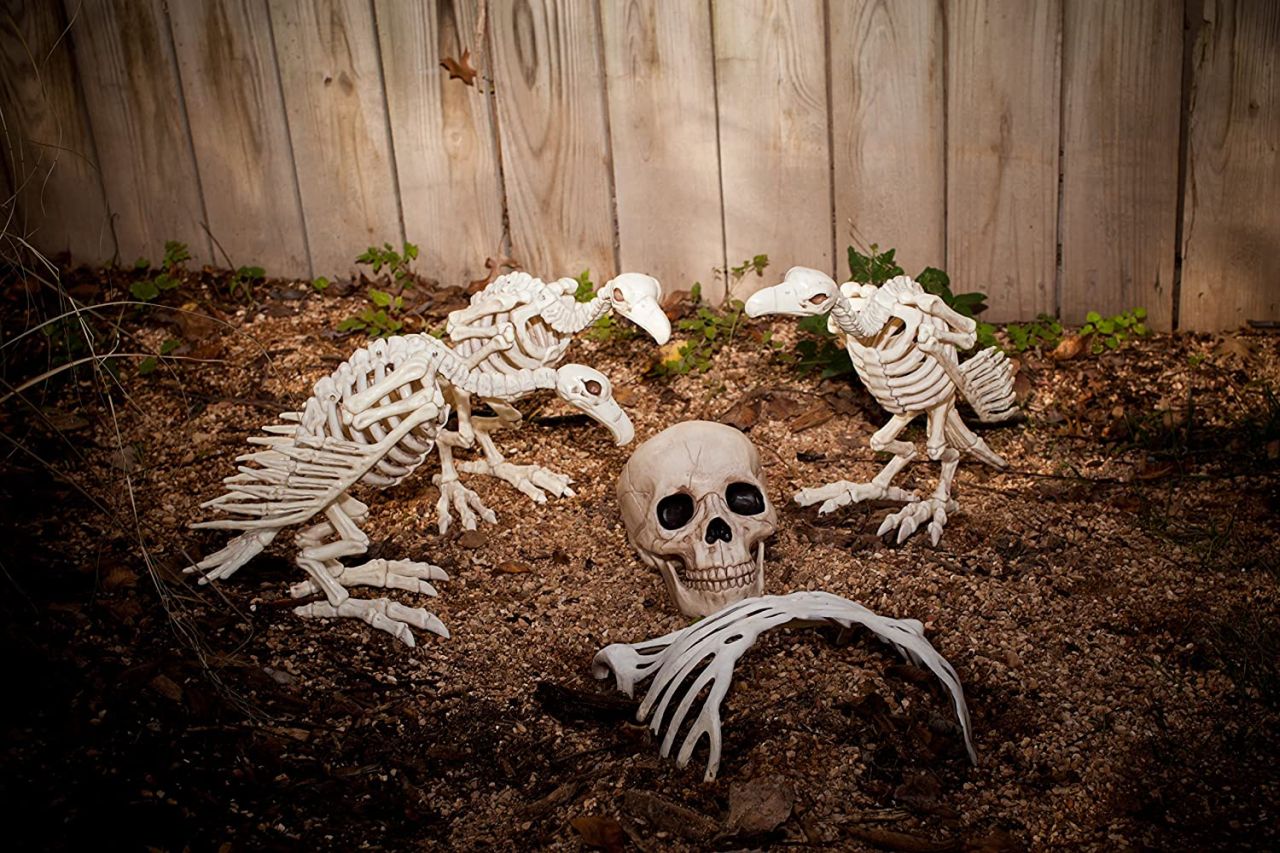 Giant Skeleton Decoration
Looking for a perfect spooky decoration to frighten your friends? This 12ft skeleton comes with animated LCD eyes to create a creepy effect.
Buy: $30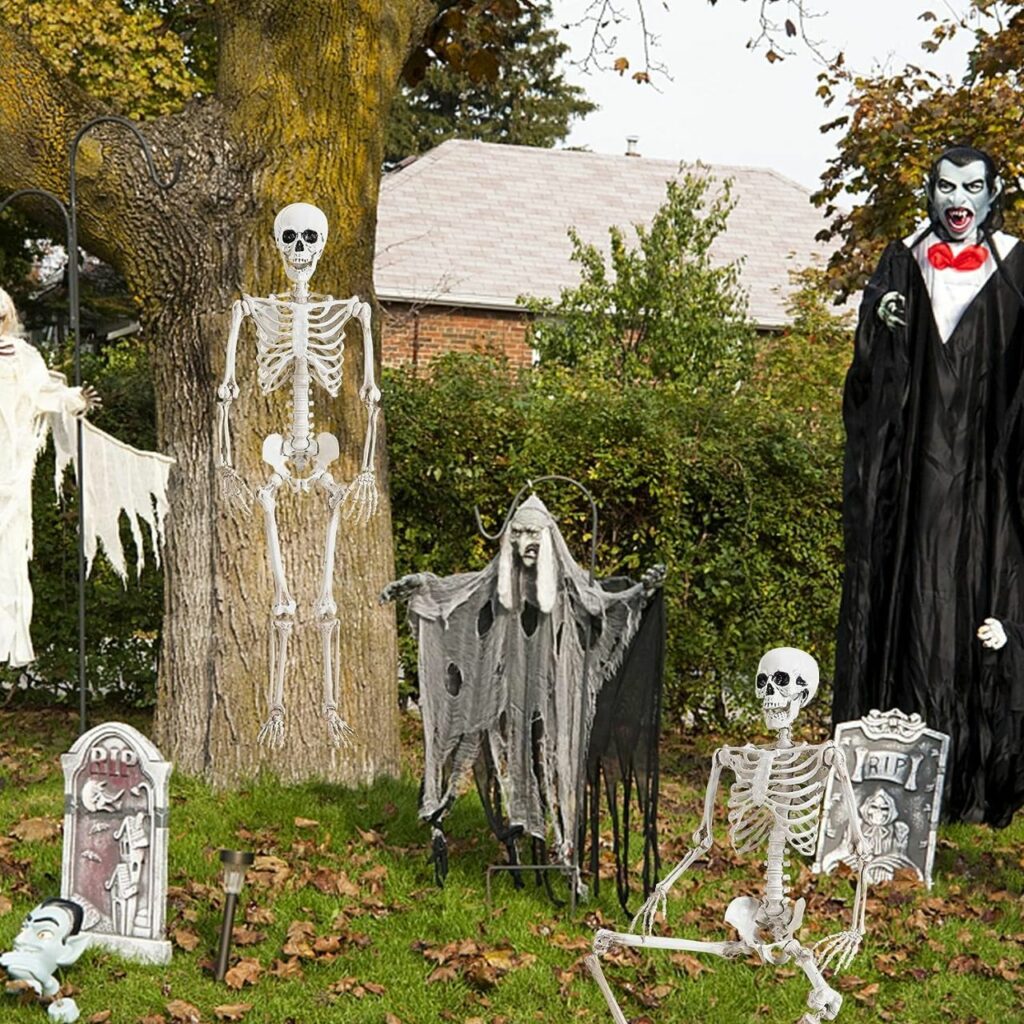 Mermaid Skeleton
If you have a fascination with mermaids just like me, you can get a life-size skeleton prop to spook up your party setting. Purchase this mermaid skeleton to adorn your interior with this beauty.
Buy: $110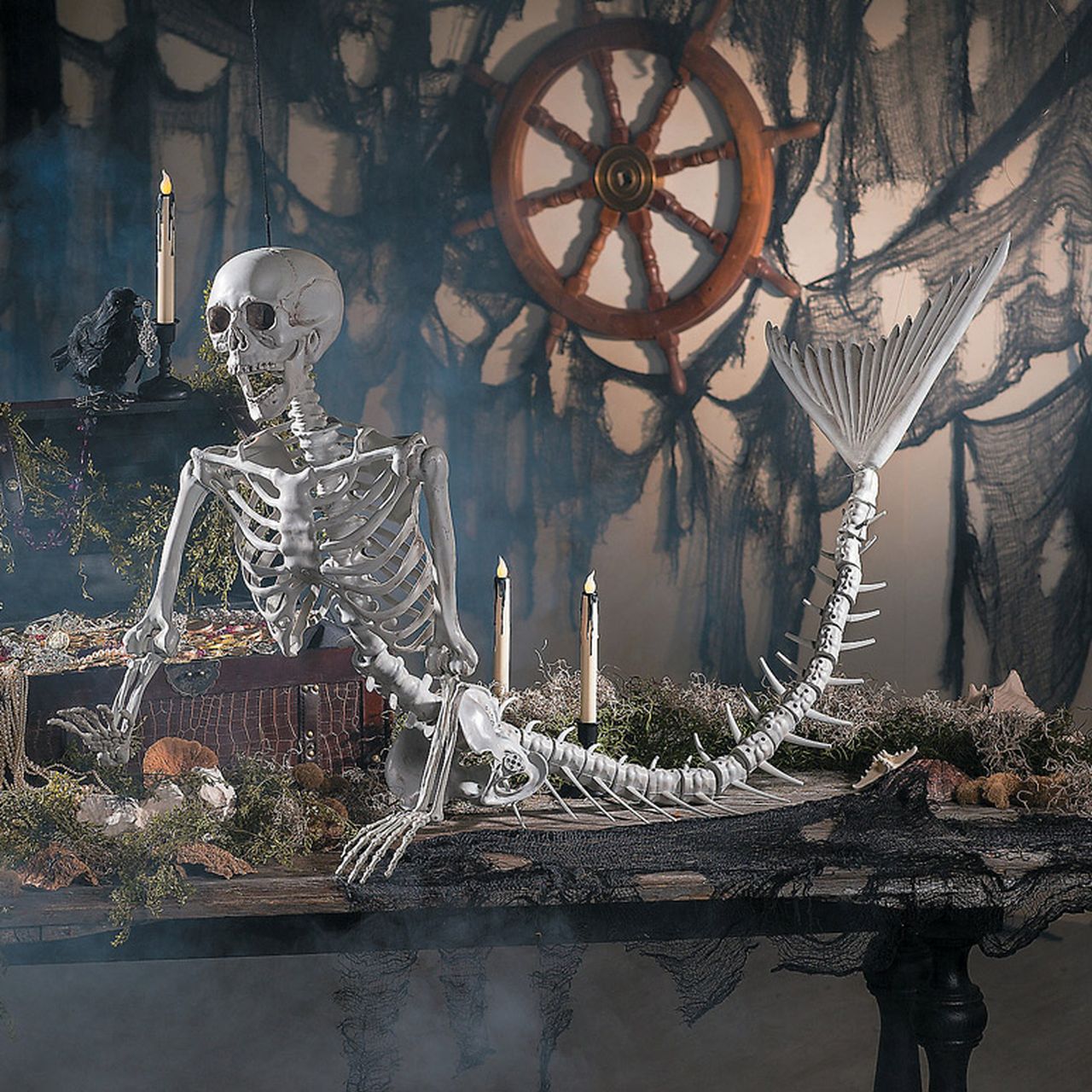 Pumpkin Skeleton
The bone pumpkin decoration is a great prop to be kept on your dining table. Crafted from durable all-weather plastic, it has a realistic skeletal appearance.
Buy: $41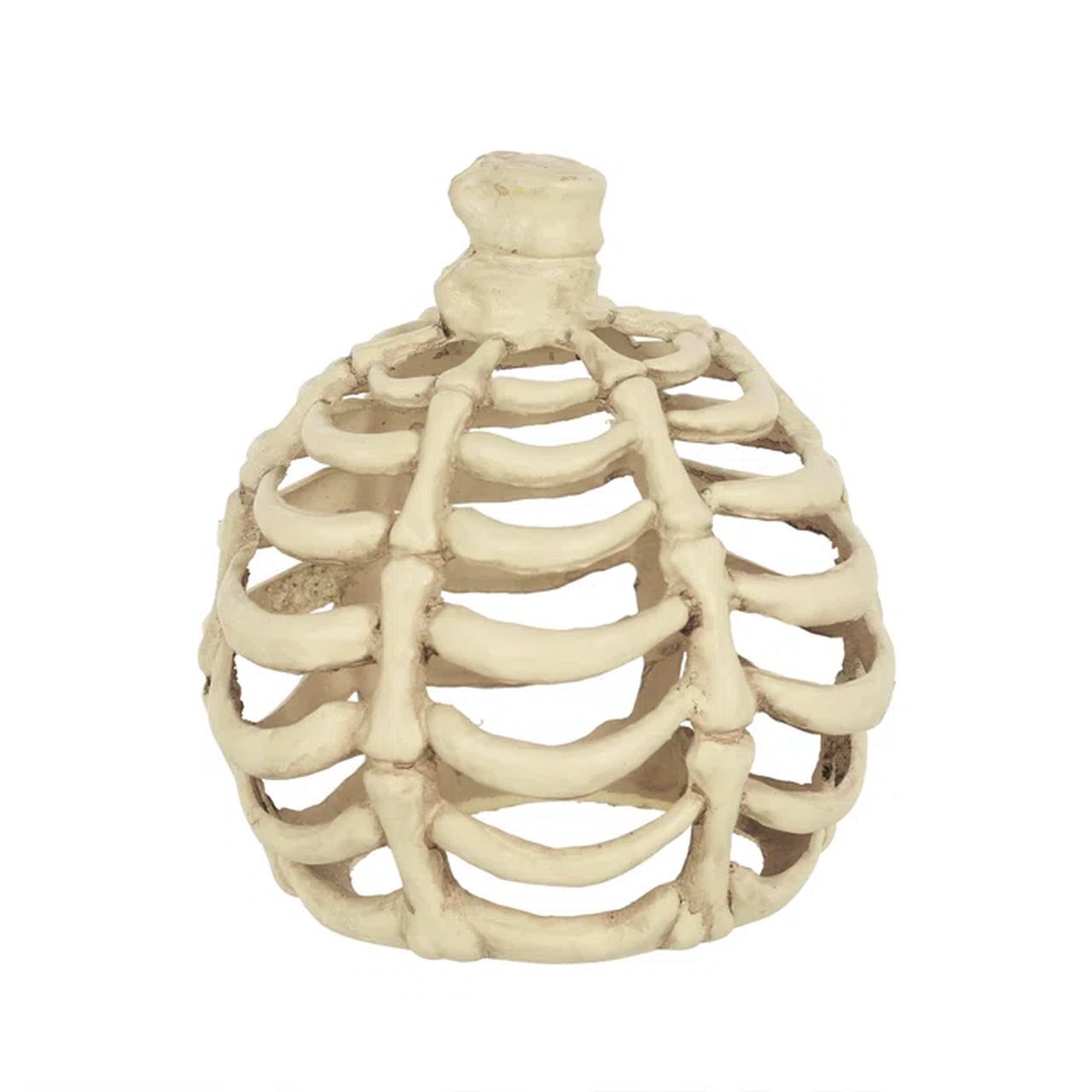 Skeleton Rising from its Grave
What was once buried and left for dead will rise from the crypts and shock and scare your guests as it crawls back among mortal beings. This macabre piece for Halloween is something you should definitely plan on purchasing.
Buy: $30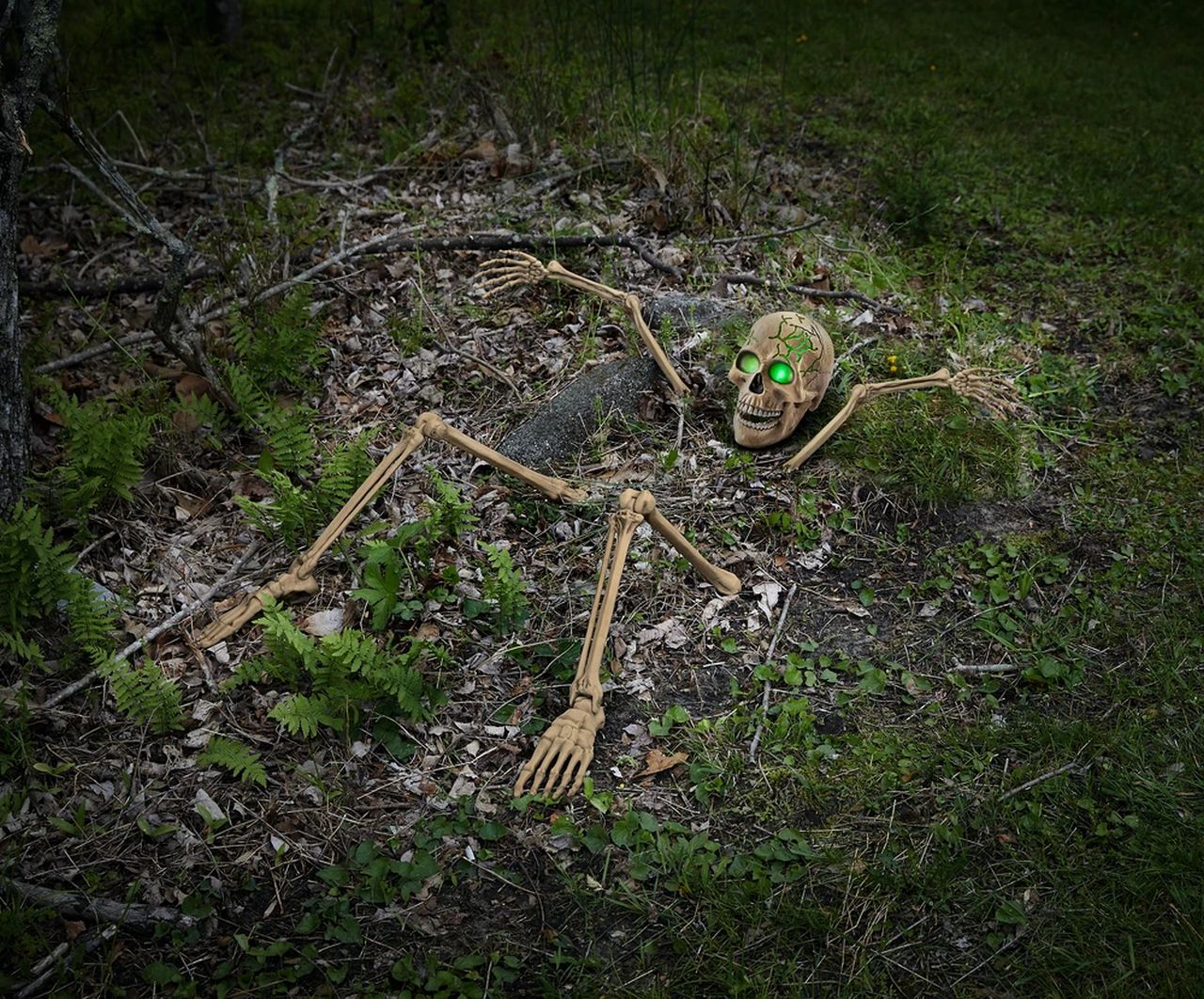 Monkey Skeleton
Decorate your home with a creepy monkey Halloween skeleton decoration and pose it in different settings. Made of Polypropylene and polyvinyl chloride, the skeleton is super sturdy and will attract a lot of kids.
Buy: $20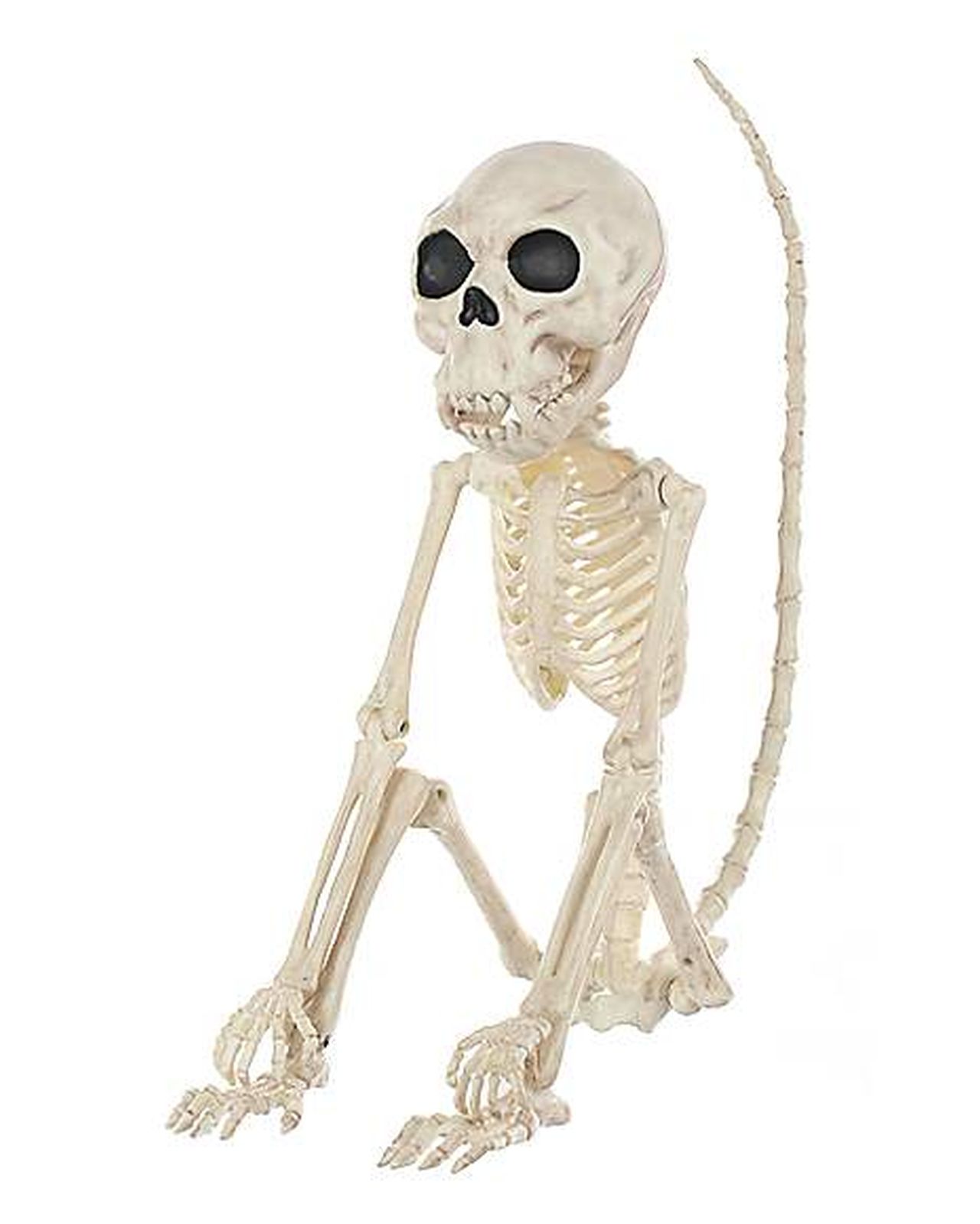 Bat Skeleton
If you are looking for a perfect Halloween decoration, there is no better element than adding a bat skeleton to your setup. It not only is a bone-chilling décor to your Halloween but is also versatile. It can easily be hung on your door or placed on the wall.
Buy: $10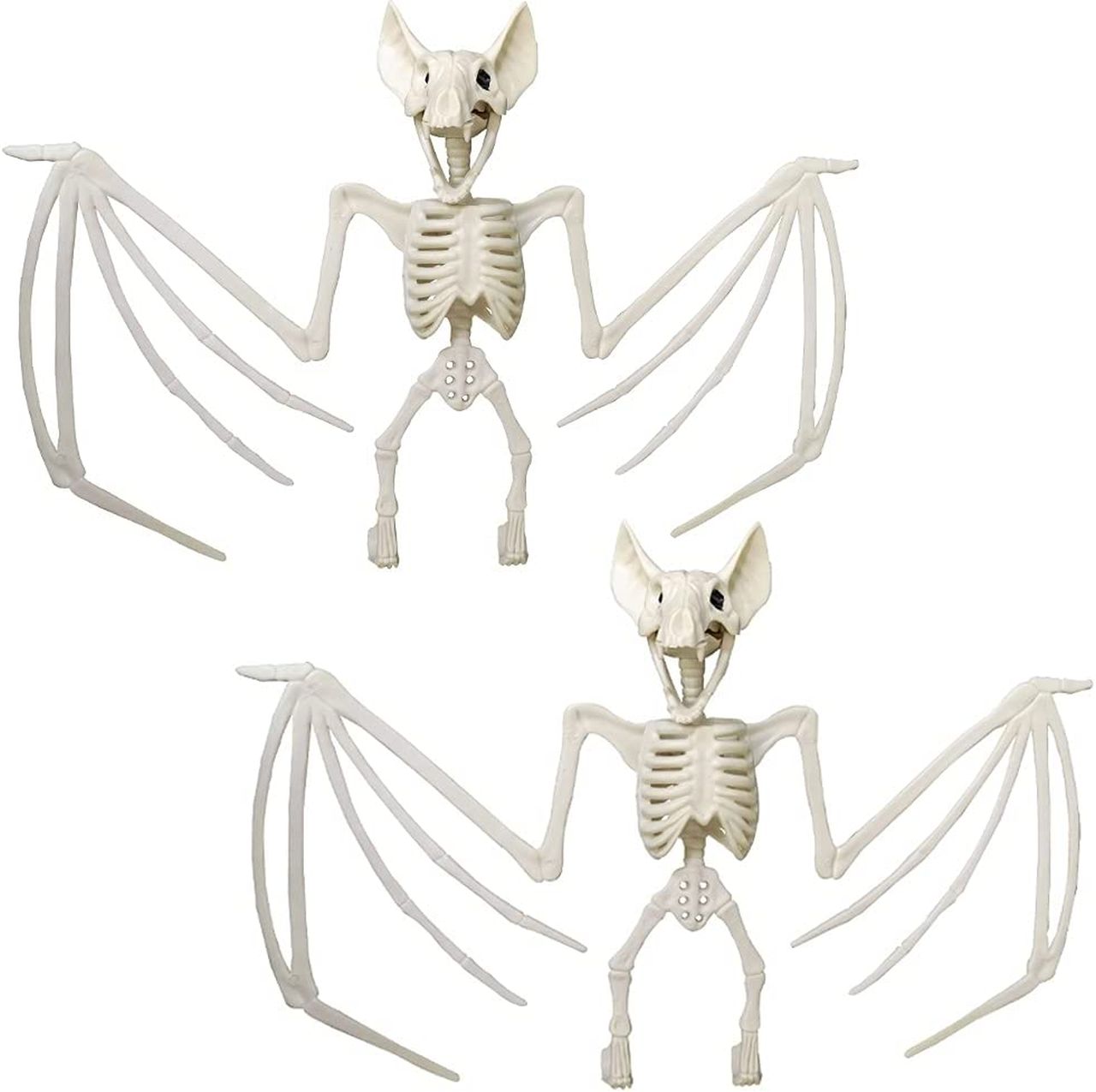 Ram Skull Skeleton
With durable construction, this ram skull skeleton Halloween prop is sure to grab the attention of trick-or-treaters this year. Buy this badass skeleton and string it on your wall to make your house look like a cowboy home.
Buy: $20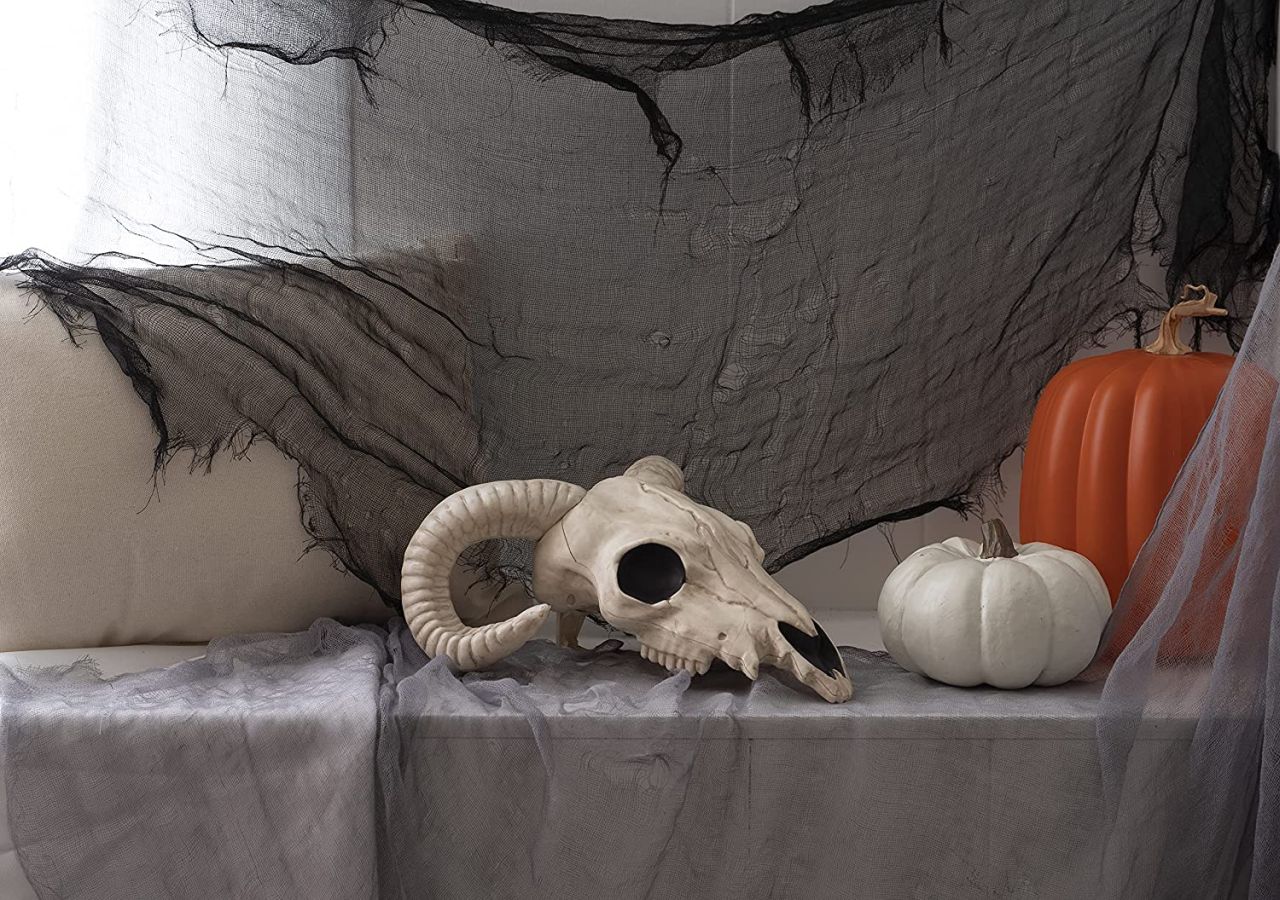 Animatronic Skeleton
This 6-ft grim animatronic is the new Halloween horror. Sending chills down your spine, the grim skeleton animatronics is a perfect outdoor Halloween decoration. It relies on motors to move the different parts of his body including his arms, torso, head, and eyes. Check out more Halloween animatronics
Buy: $300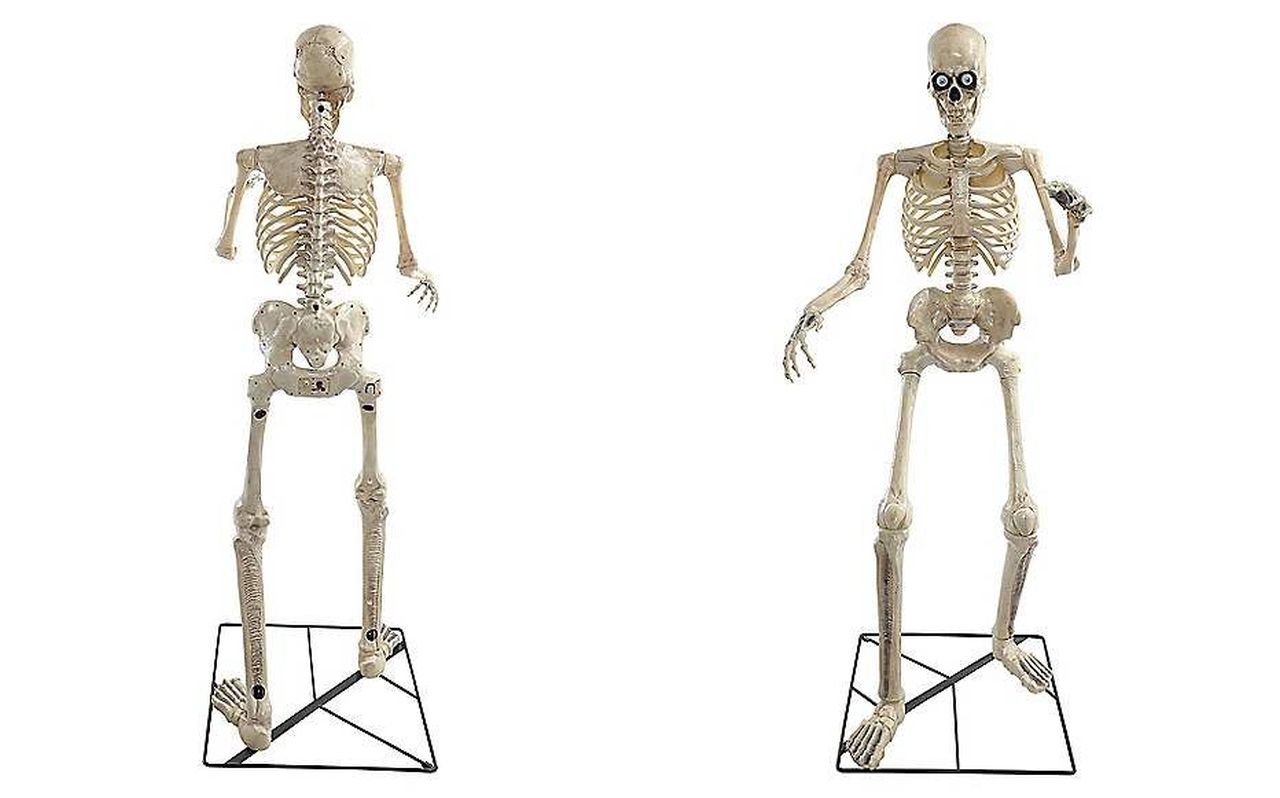 Pirate Skeleton
Made from high-plastic material, the pirate skeleton package includes two skeletons with a string on the top of their skulls from which they can be easily hung on porches or trees. I have to admit, it's my personal favorite from the list and to see them floating is one heck of a sight.
Buy: $18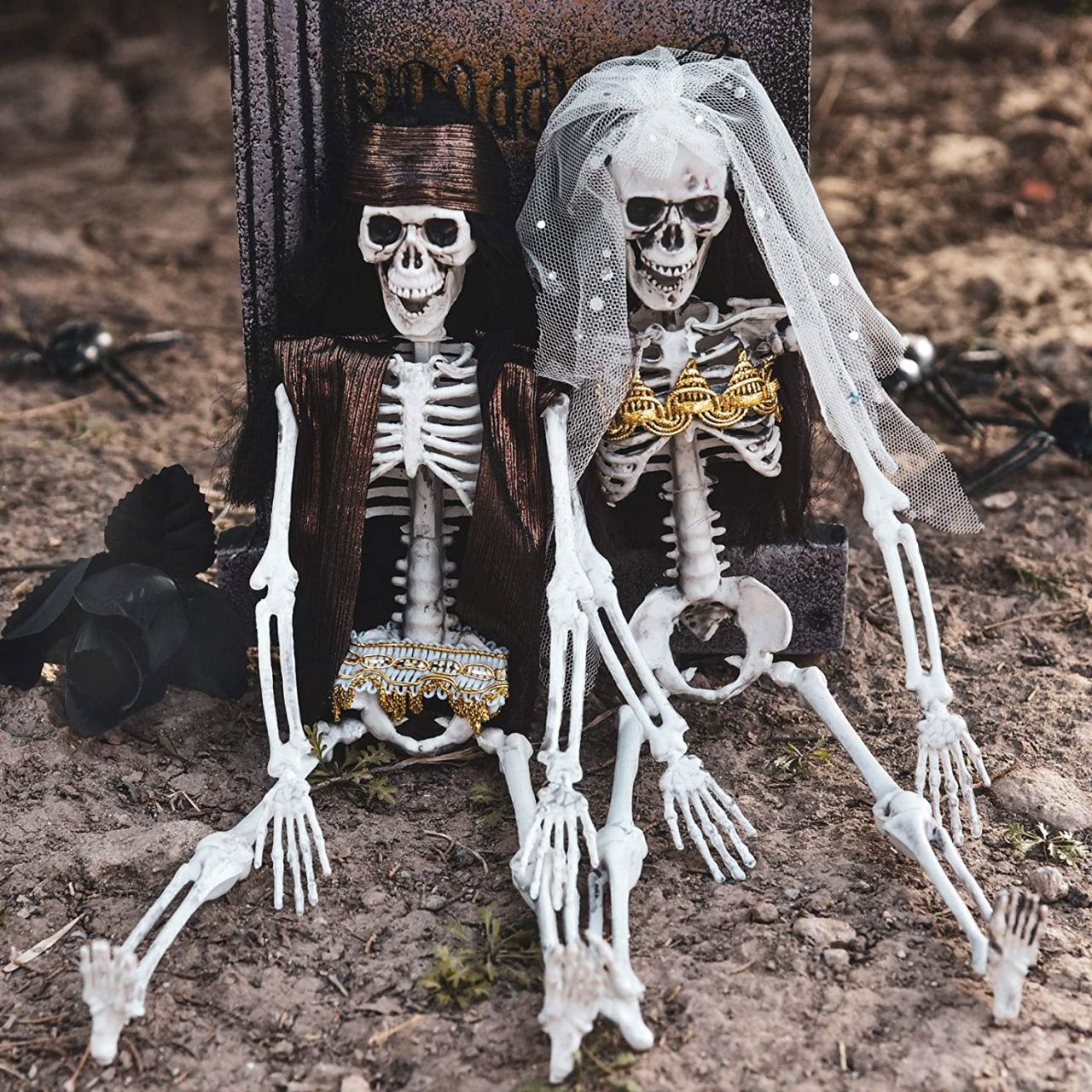 Dragon Skeleton
There is a separate fan base for dragon skeletons. This elegant and spooky bone white dragon skeleton will up the ante during Halloween. It can be used in any setting be it your house party or outdoor decorations.
Buy: $20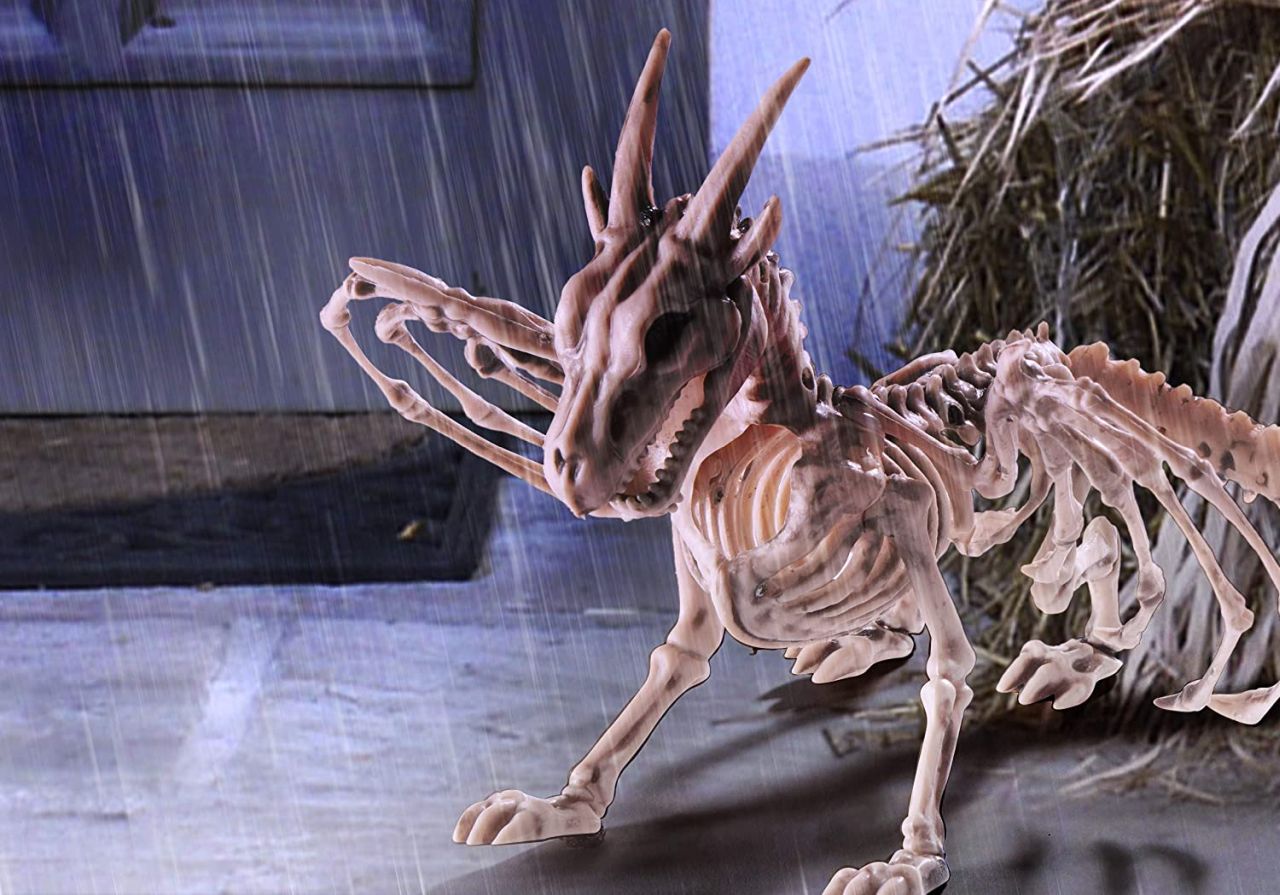 Scorpion Skeleton
This quite realistic and scary scorpion skeleton will terrorize your guests and create a horrible atmosphere for your Halloween party. It will not only spook up your space but also leave your guests scared and petrified.
Buy: $12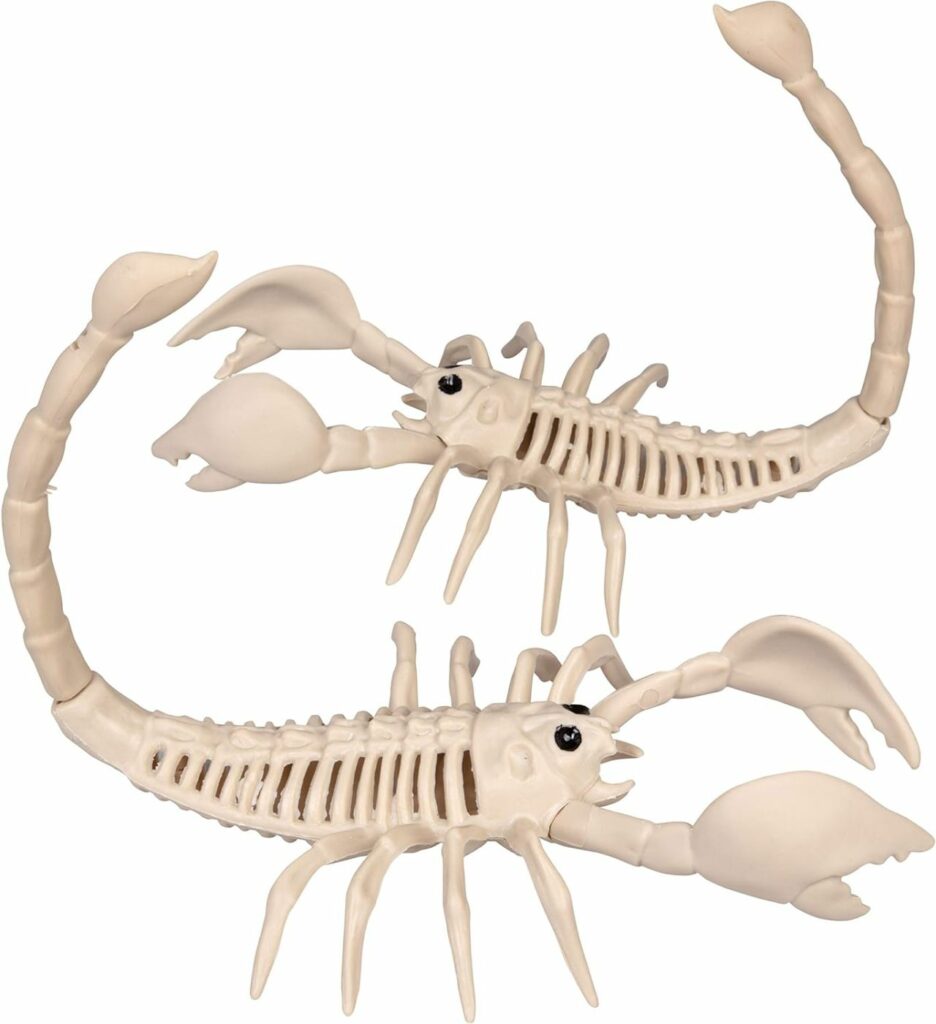 Snake Skeleton
In case you want to add a tint of spookiness to your home decoration, there is no better option than opting for snake Halloween decorations. Breathe horror into your Halloween with a snake skeleton that looks formidable.
Buy: $19