Halloween hues await us as we march toward October. As the leaves start falling and days become shorter, we anticipate that Halloween 2023 is going to be the spookiest. If you are ready with your party wears, lighting decor, and larger-than-life displays but still feel something missing, we will assist you to find the charming element.
Even after following the best Halloween decoration ideas, if you find your lawn, balcony, and tabletops empty we know what you require. The need of the hour is planters for indoor and outdoor decoration. Thus we bring to you the 13 best Halloween Planters for decoration that will spook up your home like nothing else. These planters are available on Etsy and Amazon for purchase.
Skull Planters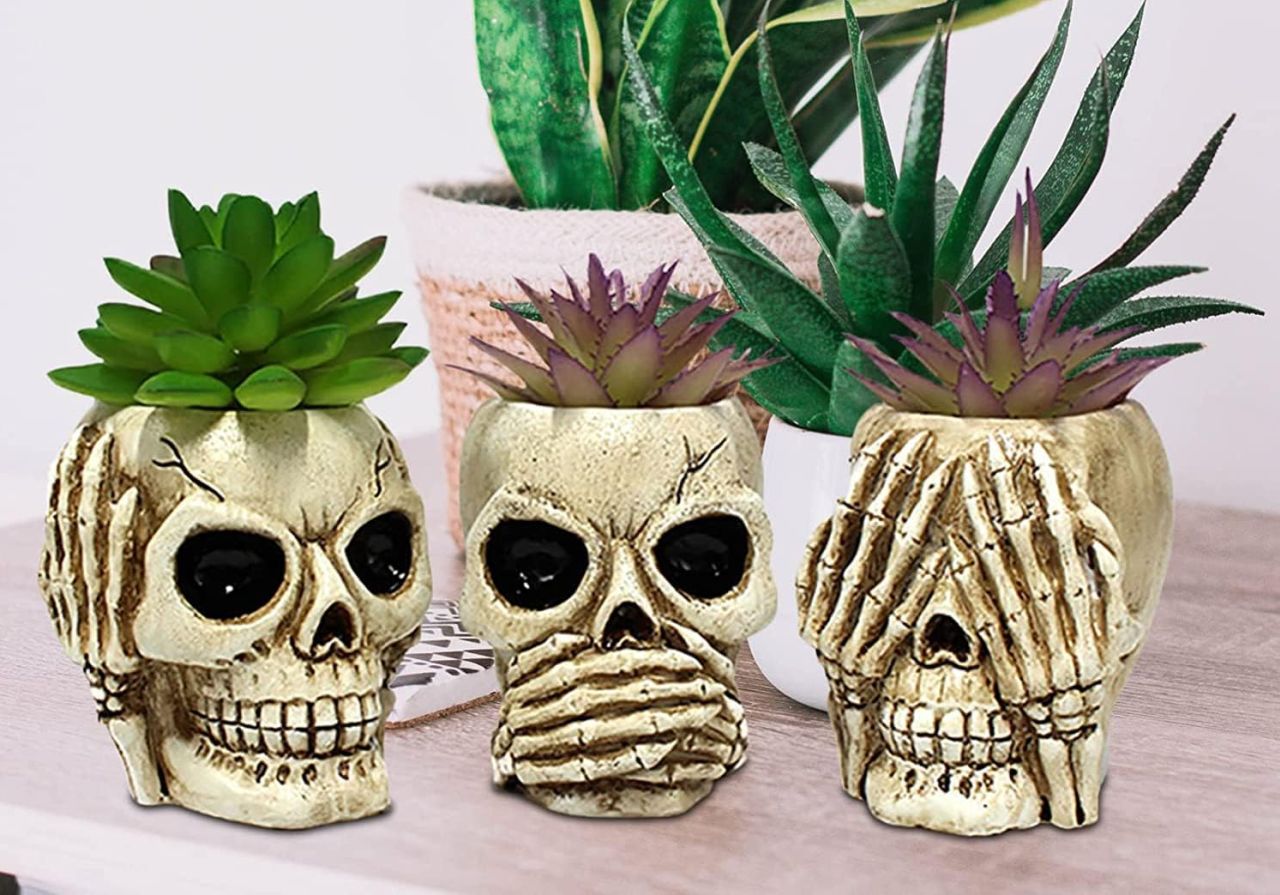 Buy: $21
Made from eco-friendly corn-based plastic, these anatomical cranium planters will surely add a gothic touch to any room. You can place them on any shelf or tabletop to add to the décor. These skulls come with drainage holes and are lightweight and durable in nature.
Rest in Peace Mini Coffin Planter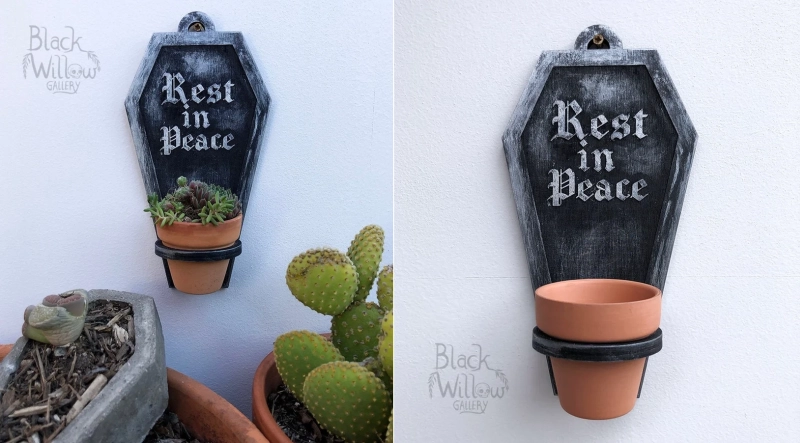 Buy: $29
These Mini coffin planters designed by Saide Garcia can be hung on your front door. Made of Birchwood and hand-painted in raven black and embellished with a mist of silver paint, the planter will be a great addition to your Halloween setting.
Hanging Skull Planter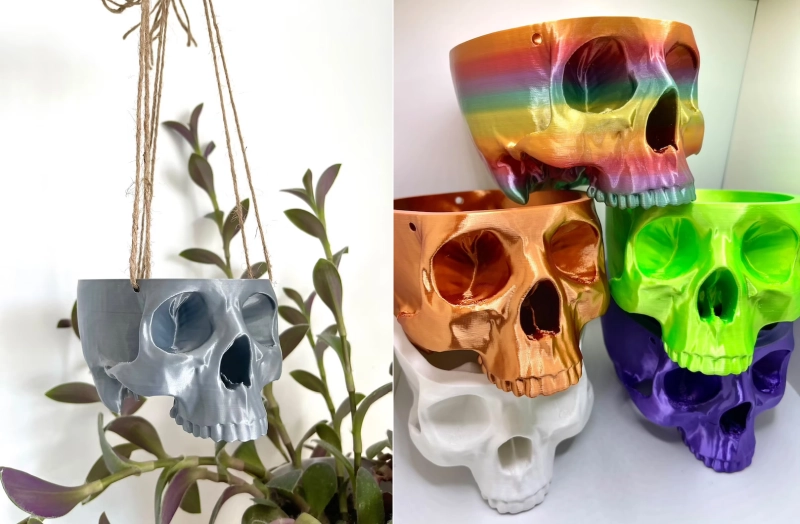 Buy: $25
What better view than suspending skull planters from your balcony which comes with 2-3ft pieces of hemp cord? Each planter is made of PLA filament and will enhance the beauty of your balcony.
Candy Corn Tiny Terracotta Pot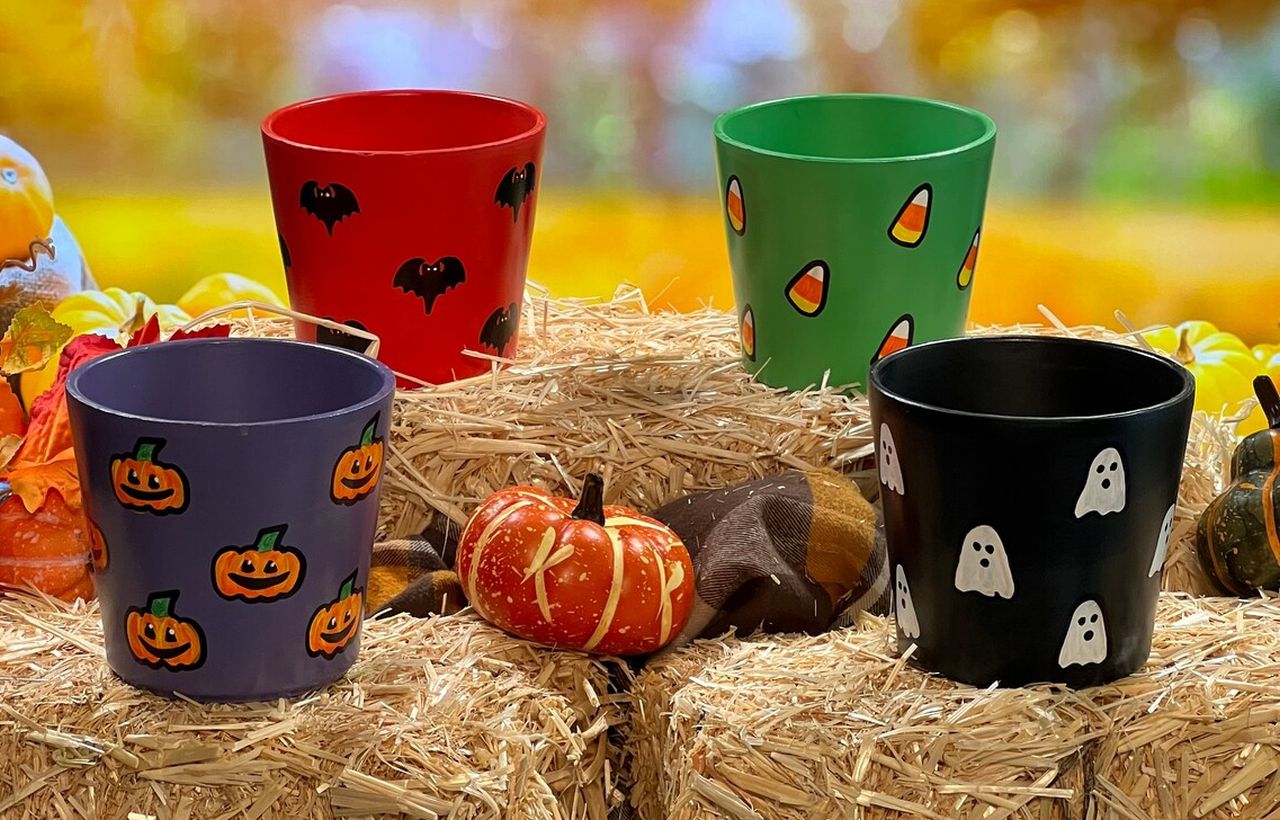 Buy: $14
Imagine having these Halloween-themed terracotta pots at home. They can be used as planters or storage containers. These cute pots can also be gifted to someone as a holiday present and feature a drainage at the bottom.
Large Horned Skull Planter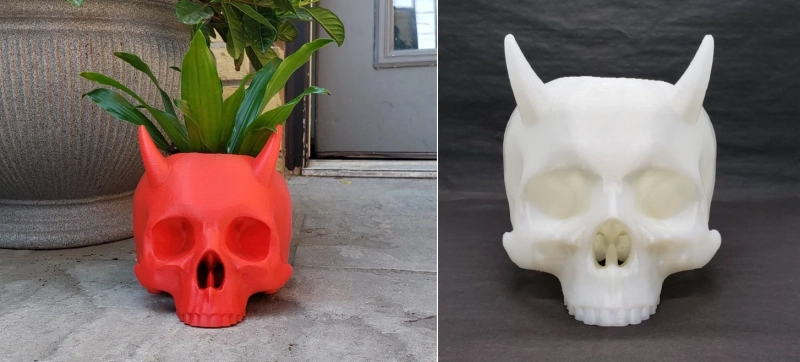 Buy: $34
These skull planters are five times the size of an average succulent planter and can be used as a plant vessel. It will be a great idea to place them in your bathroom as they can also serve the purpose of storing accessories like toothbrushes or toothpaste in them. Moreover, the planter is available in vivid color options.
Dragon Flower Pot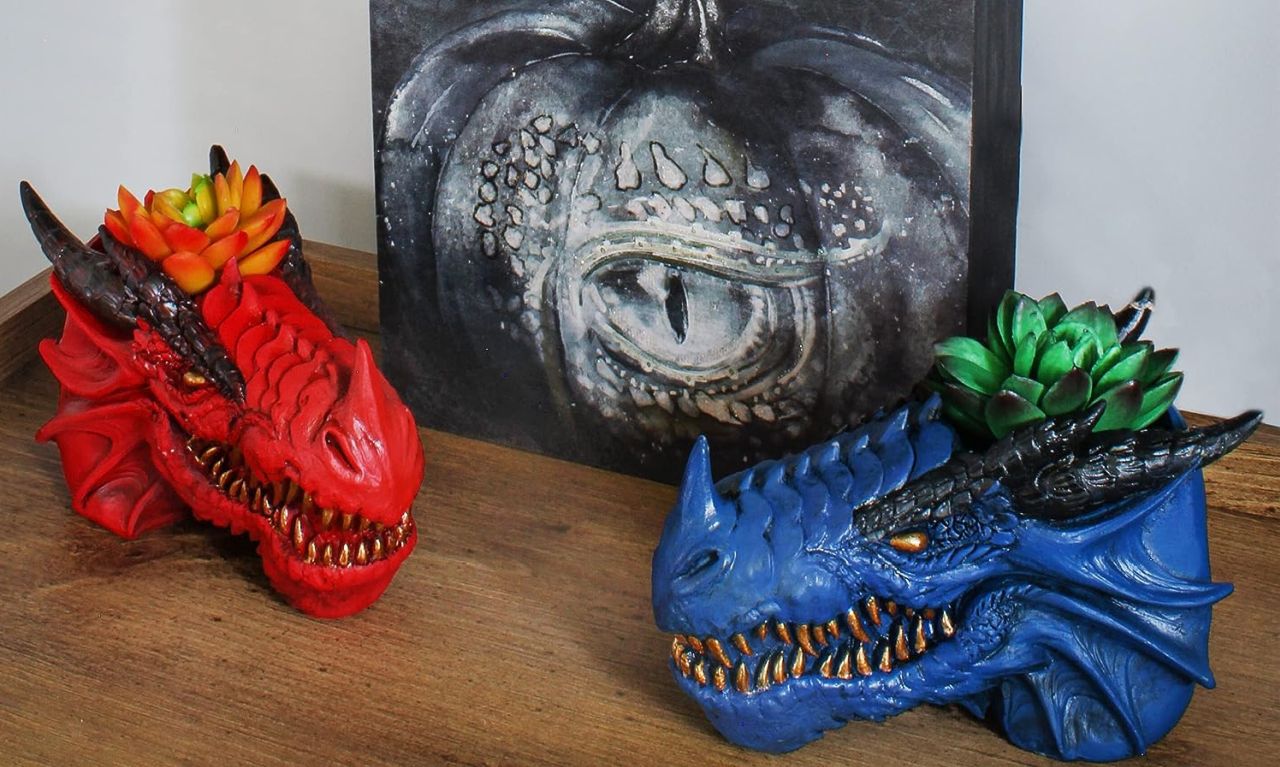 Buy: $17
These dragon head flower pots are made of resin and will give any indoor or outdoor decor a mystical vibe that will remind you of dragons from the Game of Thrones series. These planters are perfect for succulents, air plants, cacti, carnivorous plants, and herbs. In addition, they would be a fantastic addition to your Halloween décor. Though suited to be placed in the bathroom, these dragon head pots can even be used in outside settings.
Also Read: Five Halloween Succulents on Target That Are Scary as Hell
Pumpkin Planter Pots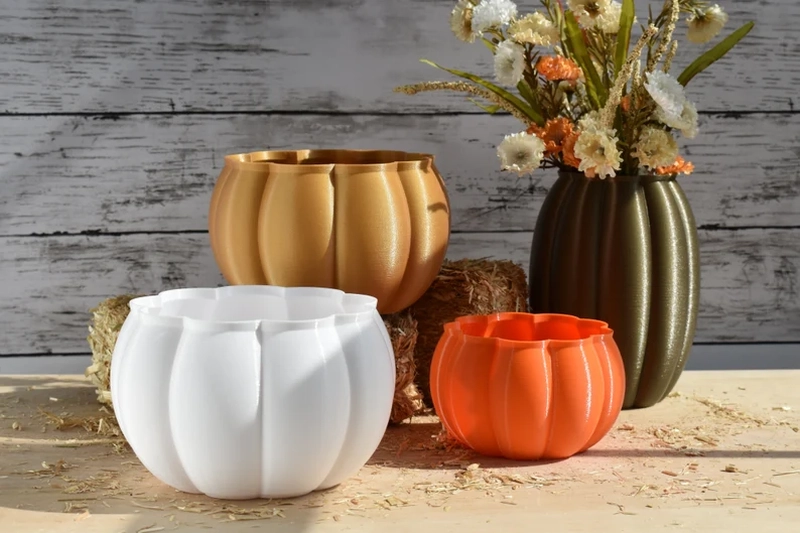 Buy: $11
Available in four diameter options and multiple color choices, these pumpkin planters will enhance your inner home décor once set in the hall. Moreover, these planters come with a paintable surface and can be sanded, primed, and painted anytime.
Mini Leg Desk Witch Planter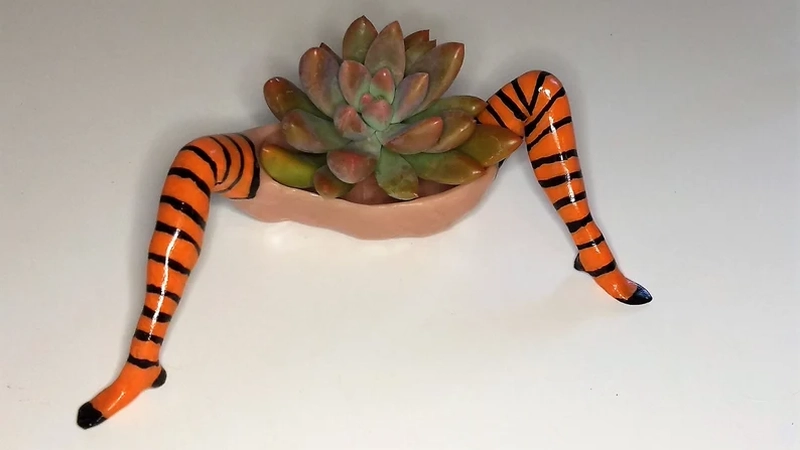 Buy: $21
In case you wish to add some glamour to your Halloween party, we recommend you check out these mini-leg witch desk planters. These little planters are made of polymer and measure 5 inches long and 3 inches wide. These planters are also suited for your office environment once you are done with your Halloween and can be put next to your coffee mug.
Halloween Skull Pot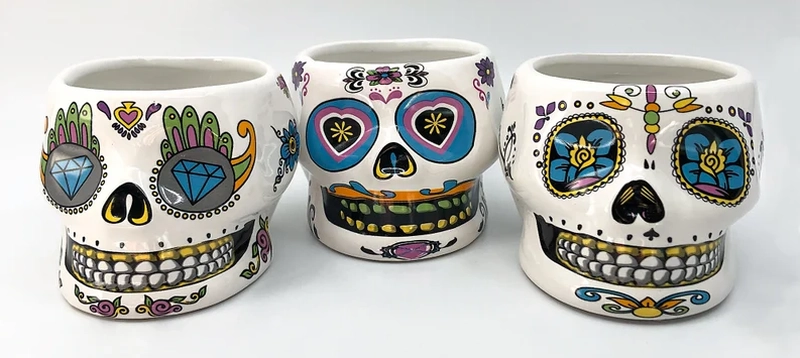 Buy: $19
These skull pots are available in three colorful skull designs: Diamond Eyes, Floral Eyes, and Heart Eyes. Made from glazed ceramic, this would be a fantastic addition to your kitchen. In case, you don't want to expose them to your house guests you can keep them inside a glass shelf for décor purposes.
Flying Bat Plant Holder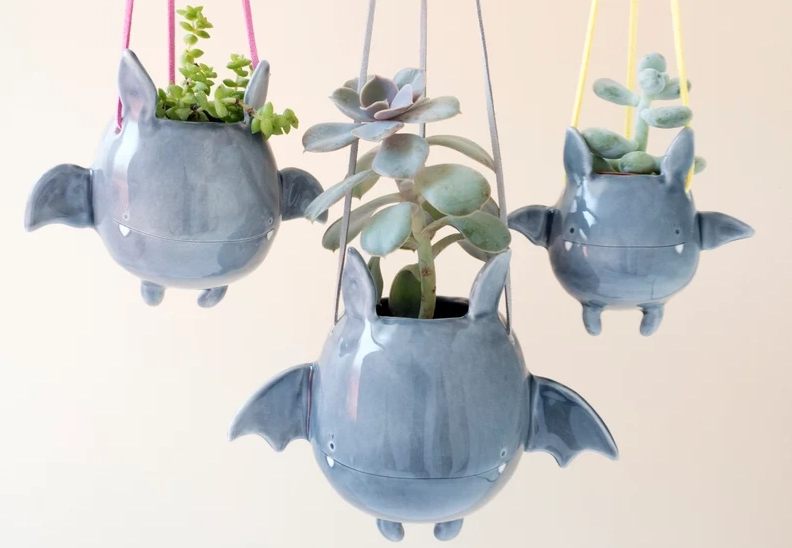 Buy: $55
There is no better sight for Halloween than having a bat-shaped vase suspended on your balcony. These planters will surely scare some of your guests and also bring a ghostly feeling to your home. Available in multiple size configurations, these flying bats have long ears, sharp teeth, tiny legs, and little wings to fly free.
Frankenstein Halloween Planter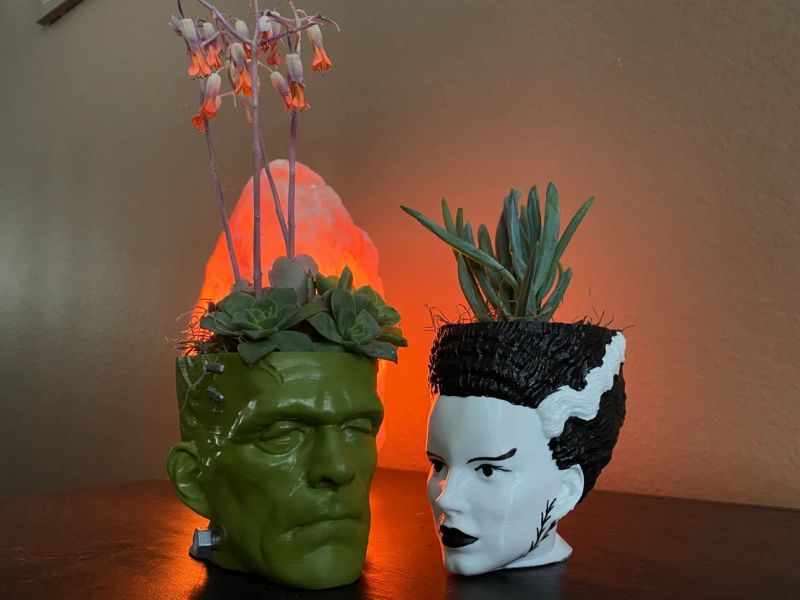 Buy: $20
The Frankenstein and Bride of Frankenstein planters can be placed anywhere from your balcony to the house entrance. These planters are guaranteed to spook your Halloween guests. The best part is they are 3D printed with plant-based plastic.
Cauldron Planter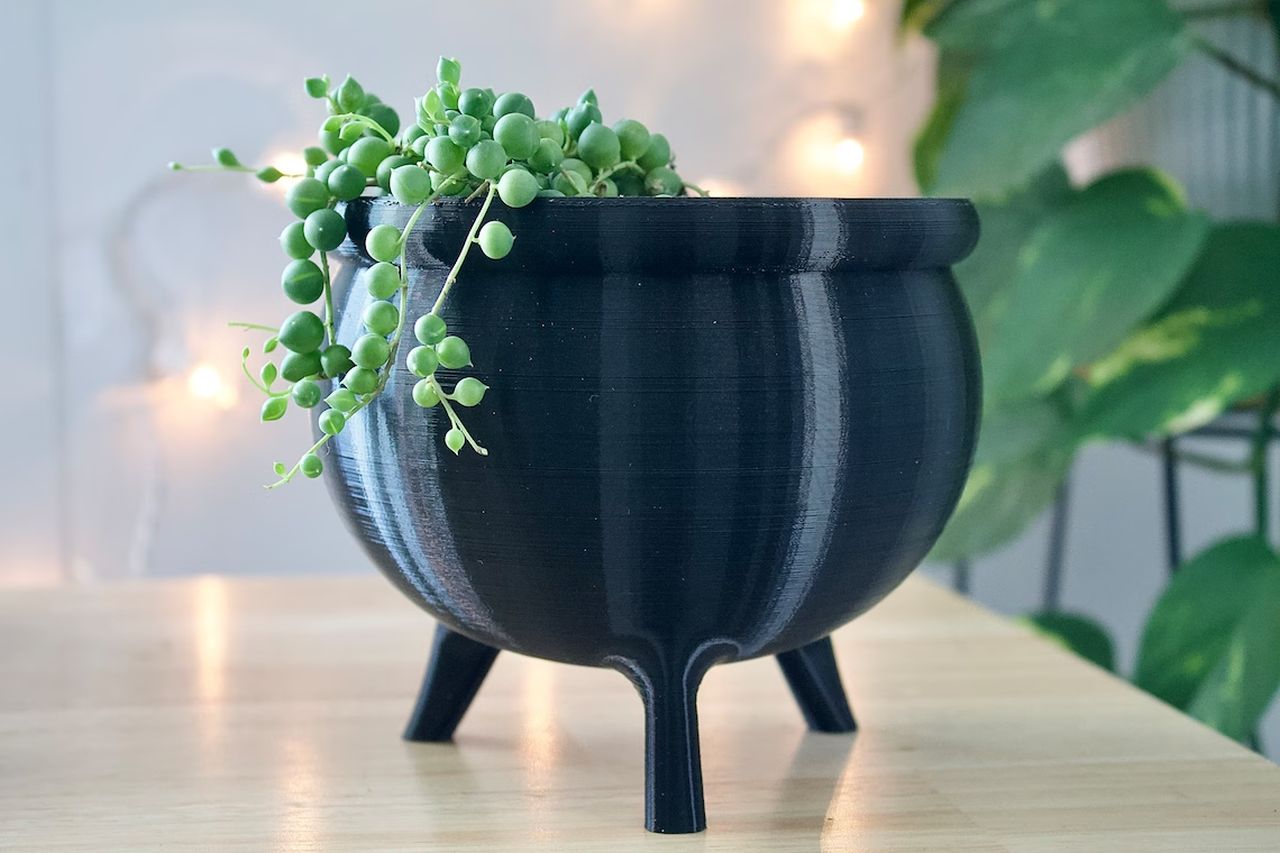 Buy: $19
If you are in search of an adorable yet spooky little succulent planter, look no further. Cauldron Planter available on Etsy not only adds a ghastly vibe to your home decor but also decreases the load on the environment courtesy of its PLA filament construction, which is a biodegradable thermoplastic derived from renewable resources.
Creepy Alien Planter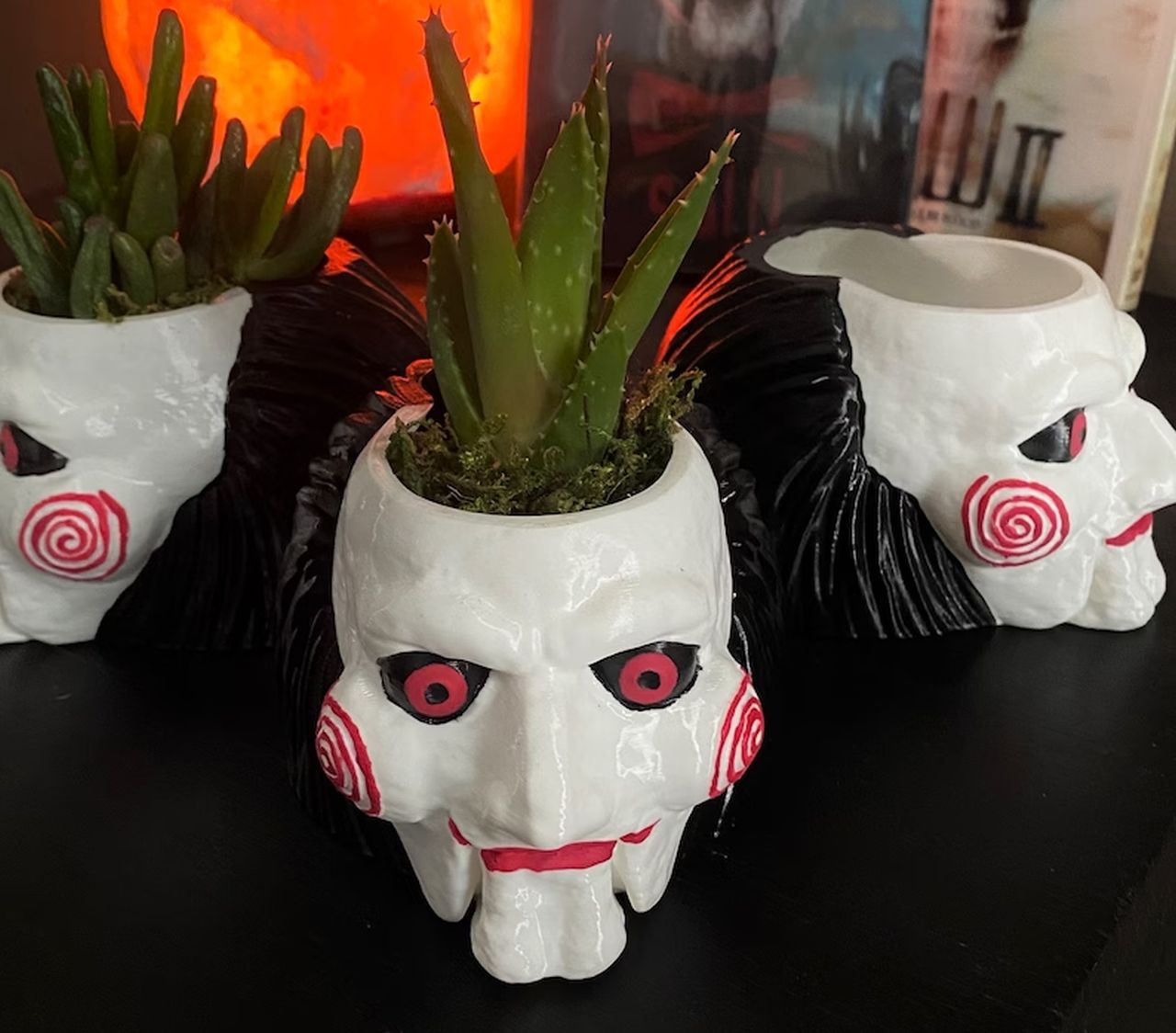 Buy: $24
While not sure if a spaceship would come from outer galaxies, we know for a fact that these Alien planters will add a creepy vibe to your Halloween decor. Available in white color with tinges of red, this planter is handmade. It is a perfect addition to your lawn area this Halloween.