Winter comes not only with holiday festivity, but also brings excitement for outdoor adventure trips. During the holiday season, most of us must be busy partying, planning outdoor trips, and buying gifts. However, people who love spending a lot of time outdoors and explore different places are often in need of new gear.
If you have an outdoorsy person in your life, then you can gift them cool and useful camping gear this Christmas. So without further ado, here are some of the best and unique Christmas gifts that any outdoor enthusiast will love for your help.
UCO Collapsible Cup
This 12-ounce collapsible camp cup has a flexible TPE base that stows within the rigid rim for convenience. The cup is reckoned safe for boiling liquids and can also hold ice-cold beverages. Moreover, the ergonomic handle provides a comfortable, sturdy grip and includes an attachment hole for a karabiner. This will be a perfect gift and an asset for your rambler friend.
Buy: $9
Sound and Light Lantern
Once you are out in the wild it is important to take all precautionary measures. Coleman sound and the light lanterns can assist your friends throughout their trip. The lantern provides 360 degrees of light and has a built-in Bluetooth speaker which streams music for up to 20 hours.
Buy: $50
Portable Camping Shower
If your friend is a travel junkie and ends up missing a shower during the trip, gift that person this portable camping shower. The item makes an easy camping shower and turns and one or two-liter bottle into a portable shower. Being lightweight in nature it can be carried with ease to any part of the world. The camping shower can also be put to other uses like washing pets and beach toys.
Buy: $15
Travel Neck Pillow
If your friend is 26 but his neck hurts like 62, deliver him a travel neck pillow this Christmas. Made up of polyester, the pillow helps you and your friend to keep your head in an ergonomic position. It allows you to have a better sleep without worrying about neck pain and other prospects. Moreover, the TRTL pillow can be used while traveling.
Buy: $30
Portable Speaker
Wonderboom 2 by Ultimate Ears is a perfect gift for your travel enthusiast friend. This Bluetooth speaker is waterproof in nature and connects with Smartphones and tablets. It comes with a built-in rechargeable battery that supports up to 13 hours of playtime. The long-lasting battery sees you through day trips, beach detours and biking adventures.
Buy: $80
Helinox Camping Chair
Be it a beach, mountain, plain, or plateau, this foldable camping chair is suitable for any terrain. Gift this ultra-light, compact and backpacking chair to your friend so that he/she can cherish the holiday season. Weighing just 1.2 pounds, the chair packs smaller than any of your water bottles. It is constructed from advanced DAC aluminum alloy to provide maximum strength and holds up to 265 pounds.
Buy:$120
Sleeping Bag
The Okskys sleeping bag is made of nylon and can be used in all seasons. Mostly suitable for temperatures between 10 and 20 degrees Celsius, the bags would prevent your loved one from any dampness. These bags have a weather-resistant design to keep you warm even in extreme conditions. The sleeping bag also has a separate zipper at the bottom which allows your feet to come out and experience the wind. A half-circle hood with an adjustable drawstring keeps your head warmer even in extreme conditions.
Buy: Starts at $21
Collapsible Dog Bowl
If you are thinking of gifting a nice warm present to your friend who is also a dog lover why not gift this collapsible dog bowl. WINSEE dog bowl allows the owner to serve water and food in two different bowls. One can also feed two pets at the same time. These dog travel bowls are designed with non-skid and flipping proof silicone mats which could prevent bowls from moving around.
Buy: $20
Portable Power Bank
While camping or trekking our phone batteries often go dead and we are certainly not getting any charging place in the wild. If your friends face this scenario quite often, it's time to gift them a portable power bank by Marbero. This power bank can be easily used to power iPhones, cameras, game consoles, mini fans, LED lights, and laptops. Not just this, it also offers a bright LED flashlight and can be your guiding force through the dark.
Buy: $56
Travelling Pouch
It is important to travel light during camping especially when you have planned hiking or trekking by the day. Victorinox traveling pouch can help you travel light without missing major items. The traveling pouch includes a large storage pocket and a full-length zippered pocket to store tickets and passports. There are other dedicated slots that store credit cards and business cards. In addition, there is a rear pocket for storing quick-access items such as boarding passes.
Buy: $59
 Instant coffee 
Made from 100-percent Highland Arabica coffee beans, this pack of 25 single-serve coffee packets will help campers prepare coffee easily even on the go. It is made using a freeze-dried coffee process that is achieved without using any form of preservatives or additives. You can use one sachet of Mount Hagen Organic Instant Coffee per cup and add hot water accordingly. Add milk and sweetener according to taste. It is an ideal boost for caffeine addict campers and travelers.
Buy: $17
Wacaco portable espresso machine
This handheld espresso machine is a cool gift for people who need a caffeinated kick even when miles away from their kitchen or a coffee shop. Instead of using batteries or a power cord, the device is manually operatable. It uses coffee grounds or capsules along with hot water, which is mixed by its pump and finally poured into its main chamber.
Buy: $55
Stanley Adventure coffee maker
It is a 32oz, multifunctional set that brews, boils, and cooks. Its creative nesting handle design that folds flat allows easy and convenient storage. It is dishwasher-safe. Pour water, bring it to a boil, add the coffee, let it sit aside for about a minute, then put the plunger filter in and finally push down the coffee in the cup.
Price: $25
SteakChamp steak thermometer
This steak thermometer will be a perfect gift for a camper who likes steak and BBQ. It is like a stainless steel nail that needs to be inserted into a meat piece. It features a flashlight to indicate when the steak is ready to be eaten. Gift it to the one who likes to enjoy perfectly cooked delicious meat.
Buy: $50
Kikkerland portable BBQ suitcase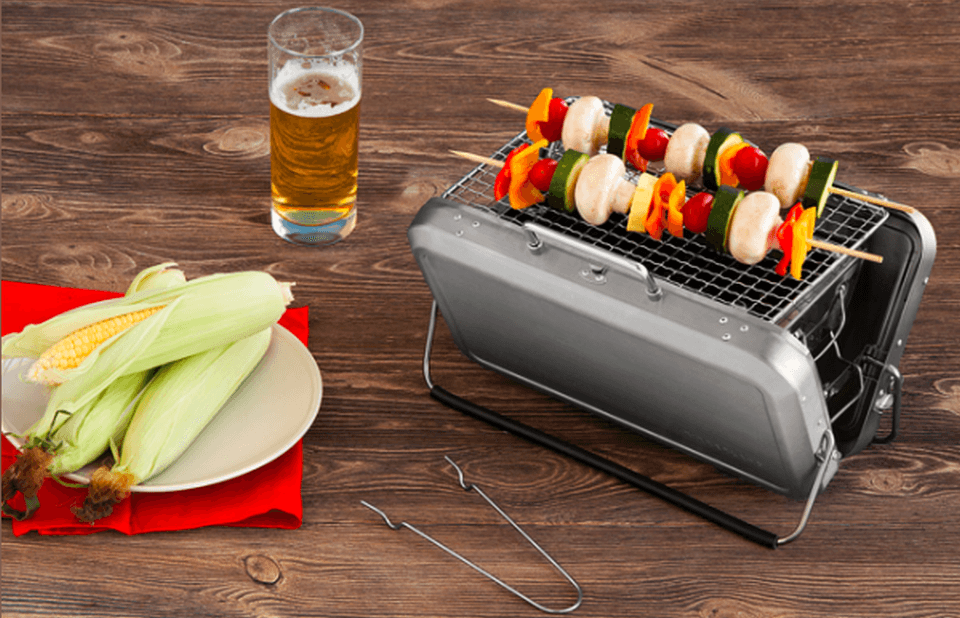 The stainless steel BBQ by Kikkerland is designed to look like a briefcase when closed. It carries a  portable charcoal grill inside for cooking a delicious meal for two. This BBQ grill makes a smart travel companion that can be carried anywhere you go. After you are finished cooking, let the grill cool down and then lock it back into a suitcase.
Buy: $45
MSR camping stove
This 2.6 oz isobutane-propane gas stove is ideal for minimalist camping adventures. It boils one liter of water in just 3.5 minutes and flame can be adjusted easily.
Buy: $34
BioLite camping stove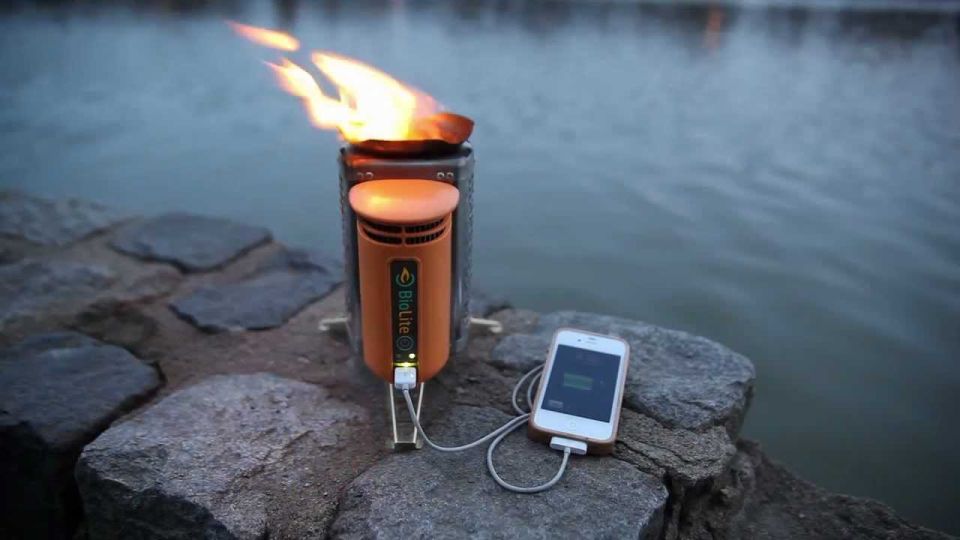 This amazing gear not only cooks, grills and boils your food, but also helps you to charge your gadgets. Powered by a thermoelectric generator (that stores power whilst burning wood) it can be connected (via USB) to your gadgets for charging them. It is an ultimate device for campers, as they don't need to carry separate charging plugs and cooking devices, when travelling.
Buy: $200
GoSun solar stove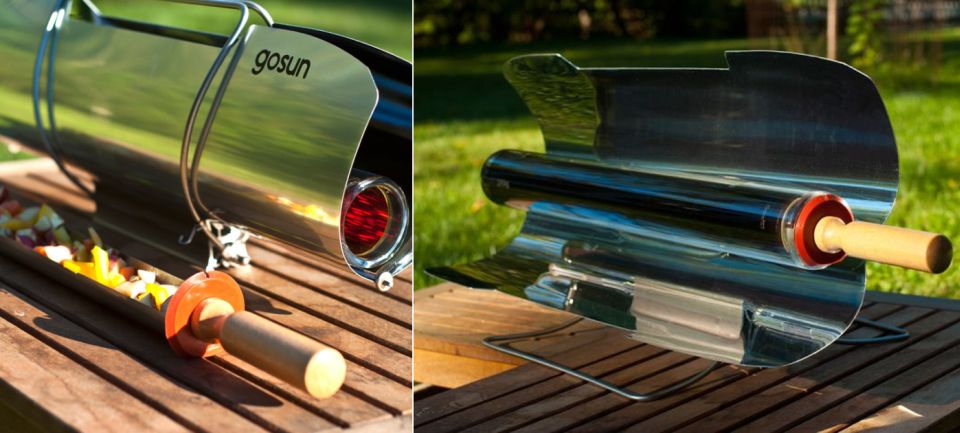 If you're tired of wood, gas, or coal burning outdoor stoves, then GoSun Stove is the best outdoor cooking appliance for you to enjoy with family and friends. It is a solar-powered stove that absorbs heat from the sun to reach temperatures of over 290°C (554°F). So, on a bright sunny day you can carry this amazing device to your favorite picnic spot and enjoy cooking, whilst having fun.
Buy: $100
Fli tunes frisbee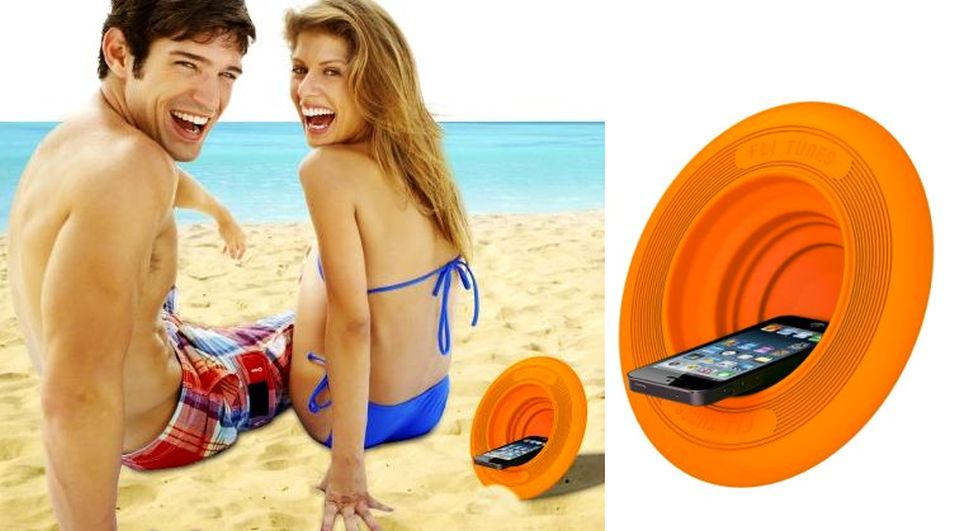 Instead of carrying Frisbee and speaker separately to a beach, buy two-in-one Fli Tunes Frisbee with which you can play around on the beach and use as a smartphone sound amplifier when you are in the mood to listen to music louder. This amazing camping gear will make your summer beach trip exciting as well as fun-filled.
Buy: $13
Tentsile Flite Plus tree tent
This unique tree camping tent will satisfy an outdoor enthusiast. It allows camping above the ground as it can be suspended in the air with support from the trees just like a hammock. Weighing only 8.4 pounds, the tent accommodates 2 adults comfortably while keeping all their gear secure. It can carry a weight load of 485lbs, has a head height is 2.7ft, and the floor area spans 43 sq. ft.
Price: $339