With only a couple of days until Christmas Eve, you must be busy adding finishing touches to your holiday decor. But do you feel something is still missing? In that case, you can consider creating a few mason jar centerpieces to give a holiday boost to your decorations. Mason jars are versatile embellishment pieces that are fun to play with during the holiday season.
There are several ideas to spruce up your home with these empty jars, whether you want to make a simple mason jar craft or a more intricate decoration piece, the choice is entirely dependent on your level of creativity and skill. You can either collect white, red, and green ornaments and a few other decoration items and put them in the glass jars to create a festive look or carefully consider and design it around a specific color theme. For instance, you can create chic or vintage mason jar crafts.
If you are still out of ideas, here are some gorgeous Christmas mason jar centerpieces that you can make yourself with some effort and creativity. Just have a look at these sparkling pieces. These are ideal for adding festive charm to your miniature magical winter wonderland. 
DIY Snowy Mason Jars
This particular DIY snowy Mason jar decoration comprises three empty jars of distinct sizes, ribbons, and faux greenery. Further, the mason jars are nicely covered with glittery mix of Epsom salt. This helps in creating a perfect glistening snow effect on these jars. You may use these jars as centerpieces on a tiered tray decor, fireplace mantel, or windowsill. Here's the full tutorial if you're also interested in creating it yourself.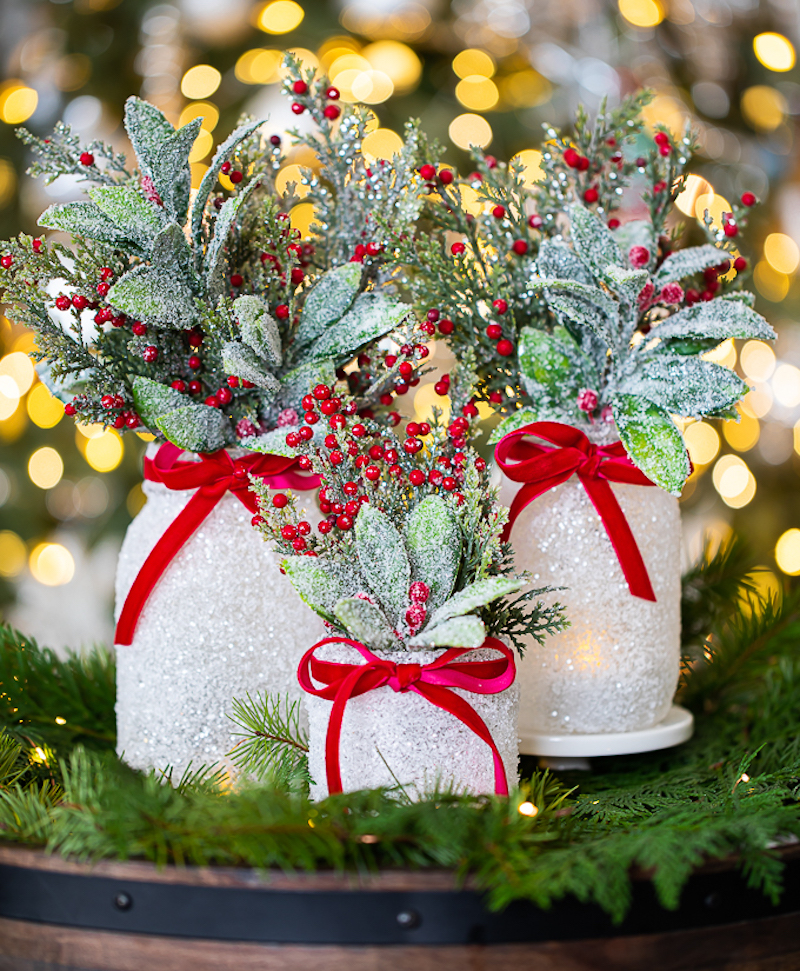 Mason Jar Flower Centerpiece
Need something colorful yet simple for your neutral-toned holiday decor? How about some hand-painted, hand-distressed mason jars? These may need a little effort while painting and distressing but you'll love the result. Here's a complete tutorial if you're interested.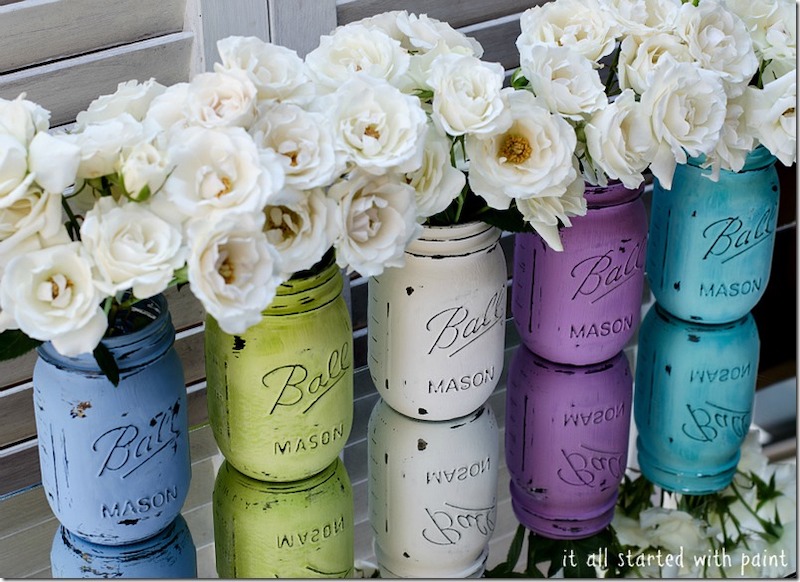 Mason Jar Floating Candle Centerpiece
Do you love to jazz up your table for the holiday season? But if you don't want anything extravagant on a table, consider creating floating mason jar candles. This is an easy and affordable way of adding some flair to your holiday table. To set it up, you simply need mason jars, raspberries, fresh conifer needles, checkered ribbons, tea lights, and water. Here's the full tutorial.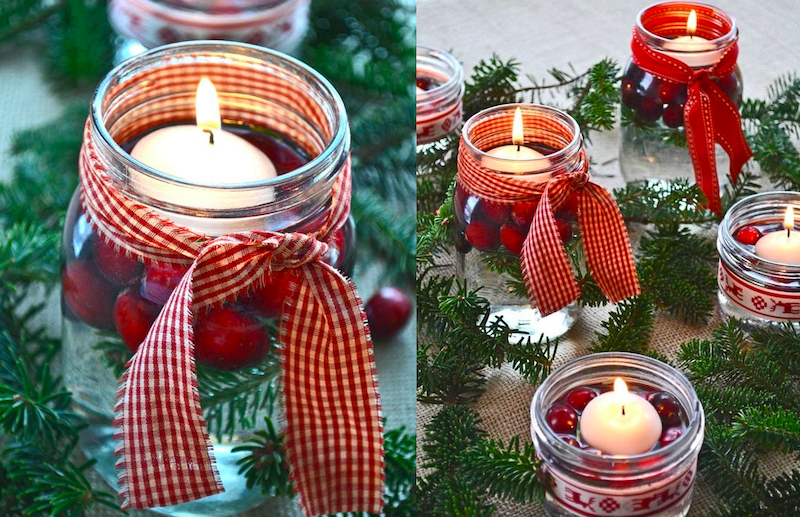 Snowy DIY Mason Jar Candle Centerpiece
Everyone adores snow-covered pine cones, fragrant conifers, and of course, mason jars. When you blend all these elements together, you'll get these aesthetic Christmas-appropriate mason jar centerpieces. Check the full tutorial to give it a shot.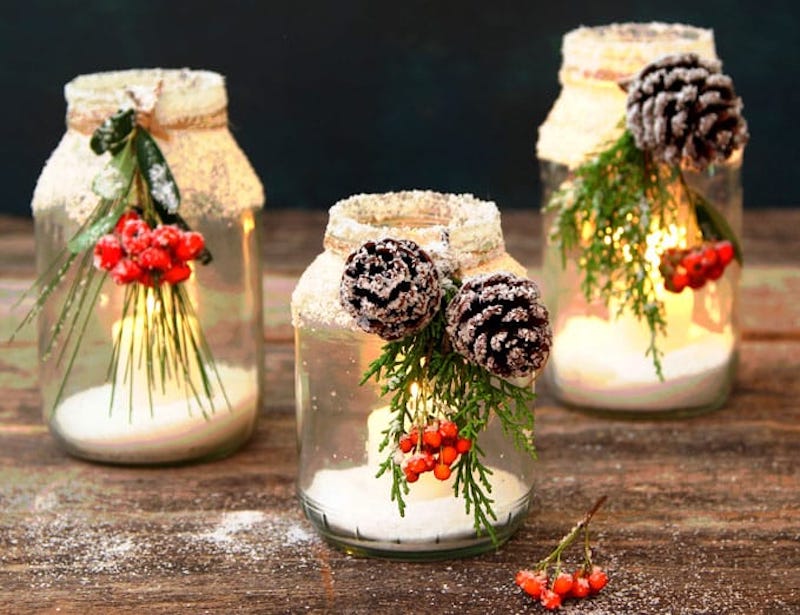 Also Read: 10+ Paper Christmas Garlands to Drape Your Home in Holiday Cheer
Tri-Color Mason Jar Centerpiece
This is an eye-catching DIY mason jar centerpiece that you can create using three mason jars. You need to paint the jars in three different colors and then decorate them with conifers, pinecones, and berries. Also, tie the mason jars with a jute string and jingle bells. Check out the full tutorial.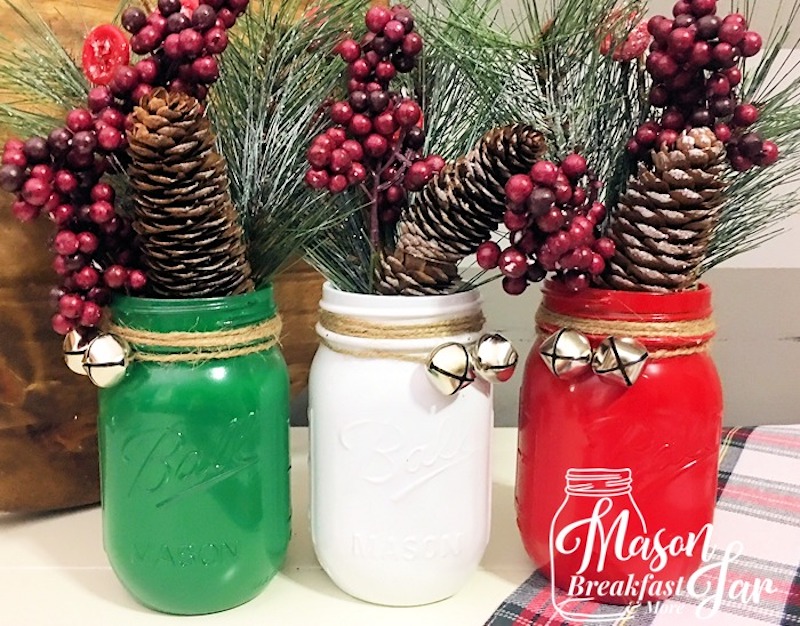 Snowy Pinecone Candle Jars
Create some winter luminaries that look as if fresh snow has fallen on them. You can create these DIY mason jar decoration pieces using some tiny pine cones, a string, and snow-textured paint. The final look of these mason jars will look amazing when lit up on a holiday table, windowsill, or mantle. See this full tutorial for help.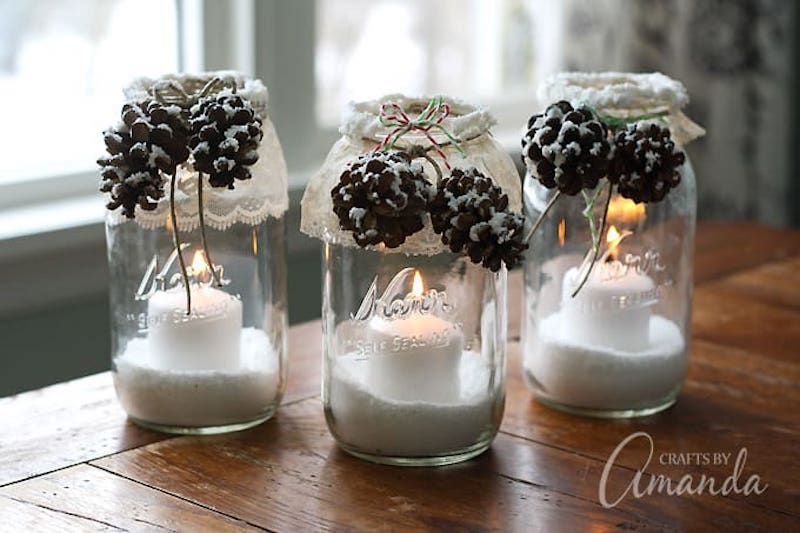 Red and White Christmas Mason Jars
You'll enjoy creating these red and white Christmas mason jars. It is a quick and interesting holiday craft idea to try this festive season. These painted jars are so easy to put together and would look amazing when decorated with some berries and greenery. Check the full tutorial here.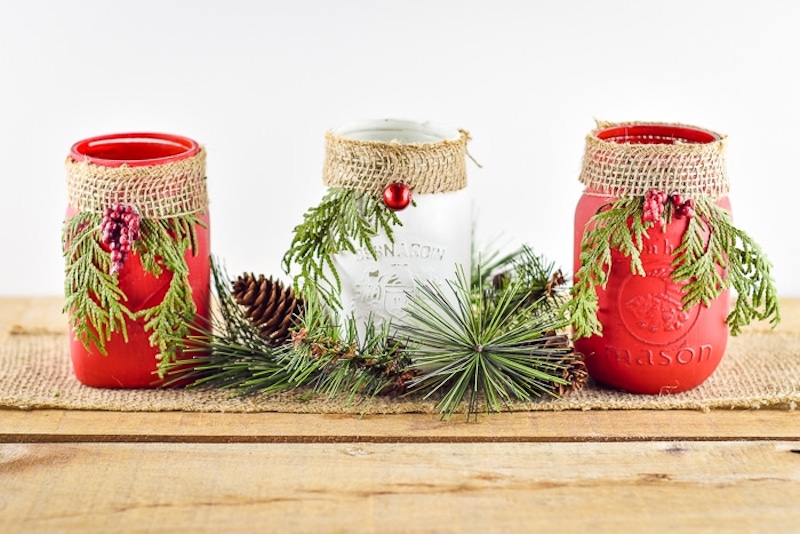 DIY Mason Jar Snowglobe
This DIY mason jar snowglobe is a cool craft that can also be a table centerpiece. All you need is fake snow, fishing line, small white balls, tiny figurines, a needle, and tape to assemble it. The best part is that it's quite easy to make. Here's the full tutorial.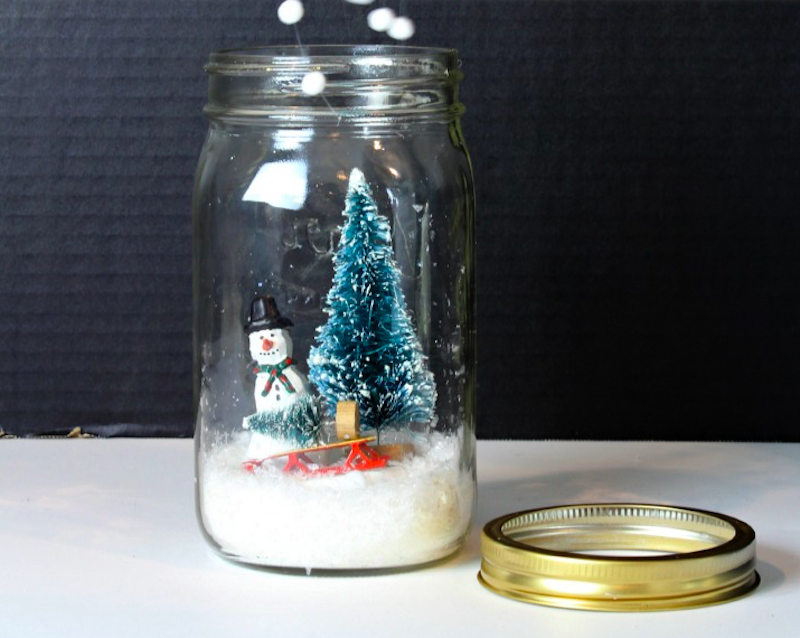 Mason Jar Terrarium
Upgrade your Christmas table decor with this bunny mason jar terrarium. You can display it with your other holiday decorations or showcase it on tiers of shelves. Here is the complete tutorial.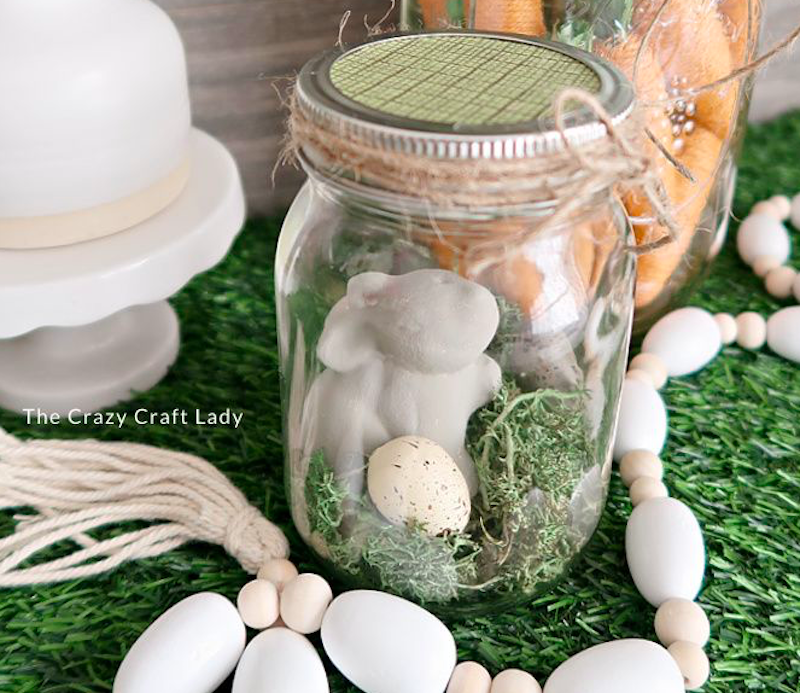 Rustic Mason Jar Christmas Centerpiece
Looking for simple DIY mason jar centerpiece ideas? Try this mason jar Christmas display that's very easy to create but would add a charming festive appeal to the holiday decor. Begin with these lovely jars today to finish your holiday decorations on time. Check out the full tutorial.