Who said Christmas is the only holiday on which you can dress the trees with beautiful ornaments? For the past few years, people have been decorating trees for Halloween just like they do for Christmas.
Take artist Alfredo Majuri Vargas , living in Haines City, Florida, for instance, who is famous for his Disney-themed Christmas trees. Last year Alfredo built a Christmas tree inspired by Snow White and Evil Queen. The creation was widely loved, although many people associated it with Halloween.
The response to Snow White Christmas tree inspired Alfredo to create a Halloween tree. Therefore, this year the artist has created a Halloween tree drawing inspiration from Disney's Maleficent and Fantasy Parade dragon.
Also Read: Moana-Inspired Christmas Tree is a Burning Sensation on Social Media
Clad mostly in purple, golden and green, the tree looks mesmerizing. There is a dragon spewing smoke, with glowing eyes and wings spread in the air. Behind the dragon head, a castle tower rises high, on which stands the Mistress of Evil, Maleficent.
Small props have been used to depict the story of Sleeping Beauty throughout the downward length of the tree. The three good fairies watching over the princess and Aurora pricking her finger on swindle of a spinning wheel recreates the story. Many glittering ornaments have been used to decorate this magnificent tree.
We got in touch with Alfredo for more information about this beautiful, yet scary Halloween tree.
What inspired you to make a Halloween tree and choose Maleficent as the theme?
Well, after last year's Snow White's Christmas Tree where I had a big villain influence on the tree, most of the people commented that it looked like a Halloween tree, even though that wasn't really the intention as I was just telling the story of Snow White. So I thought, well why not make a Halloween tree if people already do it and I can be dark without ruining the holiday spirit of Christmas. I decided that Maleficent would be the perfect theme because the new movie comes out this October and she is the Mistress of all Evil. I got my inspiration on the maleficent dragon float from the parades at the Magic Kingdom in Florida and Disneyland Paris in France.

What's the best thing about working for Disney and now Universal? Where do you think one out-powers the other?
I've had the great opportunity to have worked for Disney and also Universal. I was very young when I started with Disney and they basically shaped me. I worked as a Scenic Artist and I learned a lot of my skills on the job there, even I had studied arts in college. I also got the chance to tour with Disney On Ice as well as a head props guy, where I was able to showcase my art and abilities and got to travel the world. Lately, I have been working at Universal Orlando as a Scenic Artist Lead and it's very exciting to be able to use all my knowledge and skills in a different setting. The fact, that I can work and lead a team of people who take care of the aesthetics of the park that is visited by millions of people each year, is very rewarding.
What materials did you use to make this Disney-themed Halloween tree?
The materials used to build the dragon are Plastic Sheets inside as skeleton. Spray foam, aluminum foil and aluminum tape, foamy, wiggly eye to make the rivets look, paper clay, gesso to seal it all, and paint. I also used Styrofoam for some pieces as well as PVC pipes, canvas fabric, and mesh.
It's the biggest and most complicated tree you have built till now
, how much time did it take to build it?
I started working on it in May and it took 4 months to complete all the big pieces. The day of the set up took around 6 hours to apply the finishing touches.
How many people built it, who would you like to thank?
Since the pieces were so big and some were heavy and had complicated construction I needed the help of some friends and family who are always willing to lend a hand. Some of them are my every year helpers and others joined on the fun this year for the first time. I wanna thank to Reinaldo Santiago, Yariel Caraballo, Yoldani Gonzalez, Evelyn Shoemaker and Luis Daniel Martinez. Their help was the key for me to be able to put all that together. To do something like this you need many hands and many eyes at the same time.
Could you tell us a bit about the ornaments, lighting and effects used?
This year I was able to reuse a bunch of the spheres from prior years which is why I tell people don't throw away after one use because they can be repurposed. For the first time, I used a smoke machine to give the dragon the dramatic effect of breathing fire. I also used black light paint to create glow in the dark effect with a UV light. And also a projection light to simulate Maleficent's green fire.
Are you going to have the monster at home for Halloween?
I'm keeping the tree up to November when I will transition into Christmas, which I am very excited about too, because I have been prepping for that since last November and it will be my first Christmas in my new house.
What are your views on Halloween and the latest trend of Halloween trees?
Oh! Definitely, Halloween has become another holiday as big as Christmas. The stores now have so many options for decorations and people get more and more creative each year. It's not just a one day of trick or treating any longer, now it's a big season of events and things to do that, including  making Halloween trees. I think it's a trend that is going to continue, getting bigger and bigger.
https://www.facebook.com/alfredo.majurivargas/videos/10218186084216748/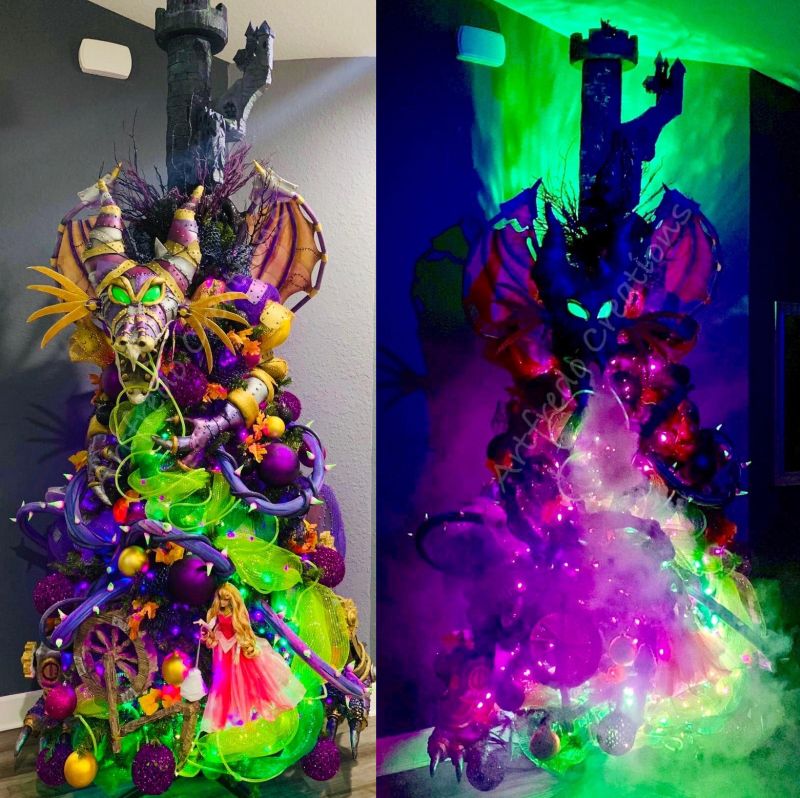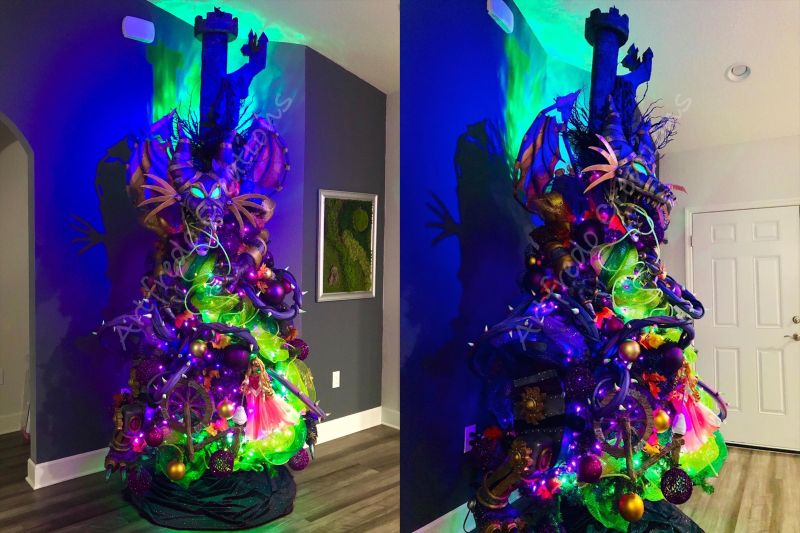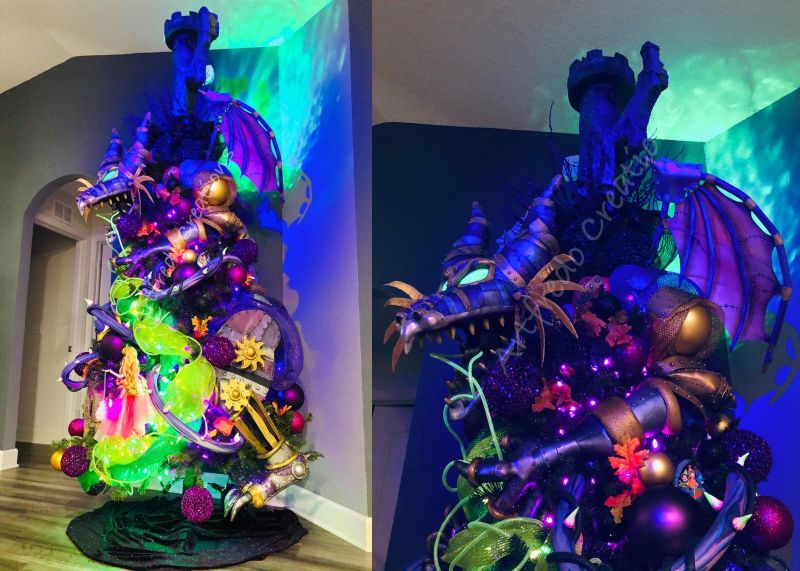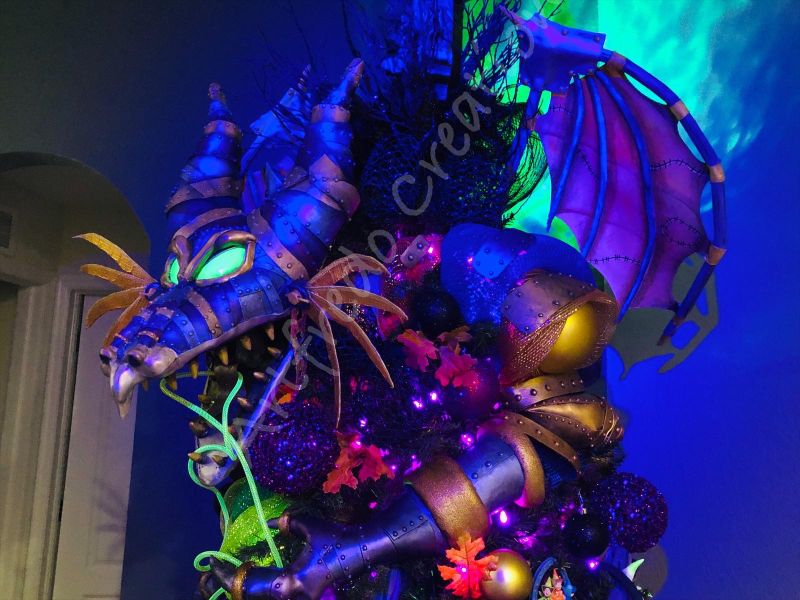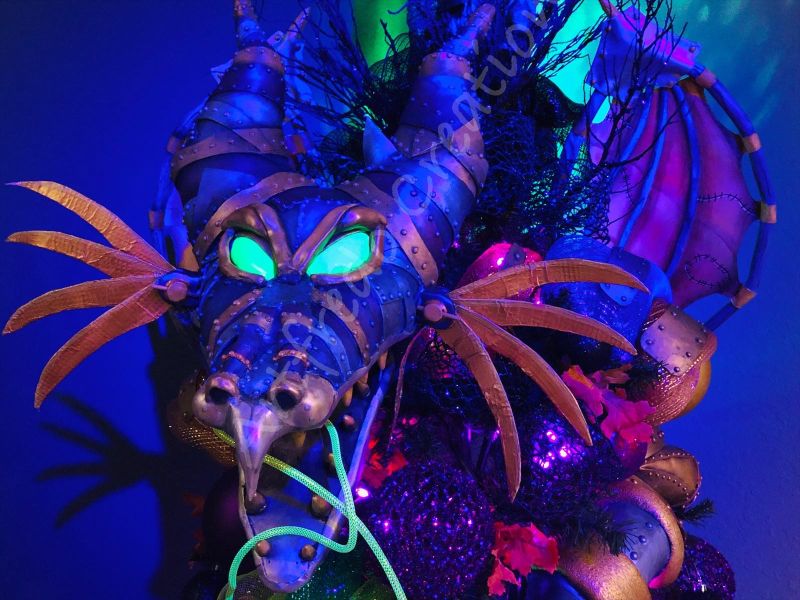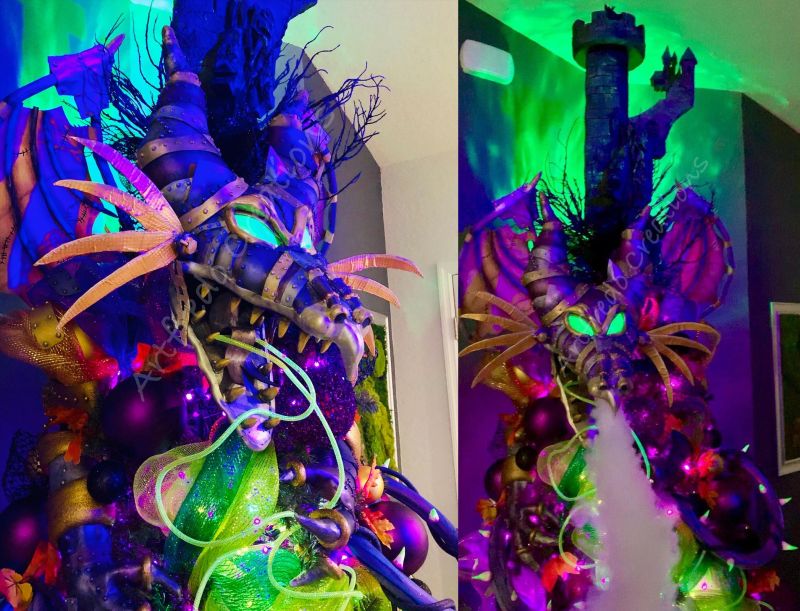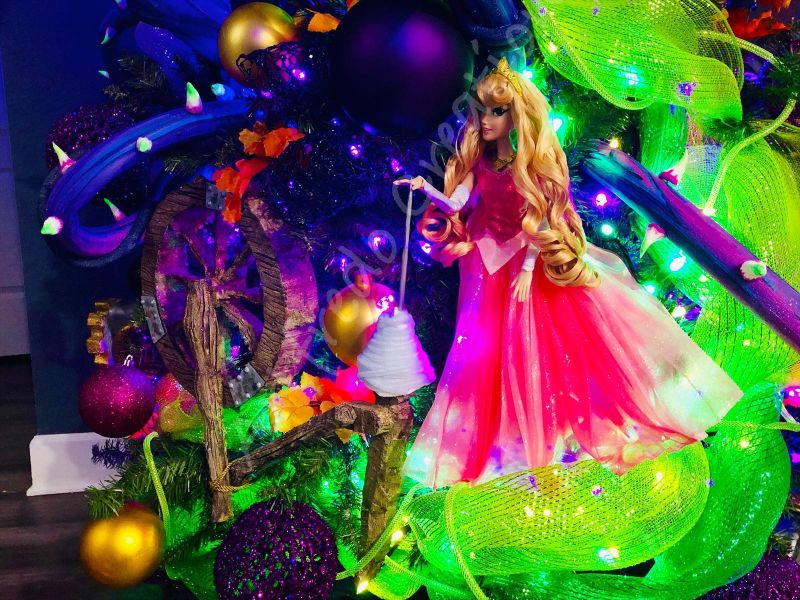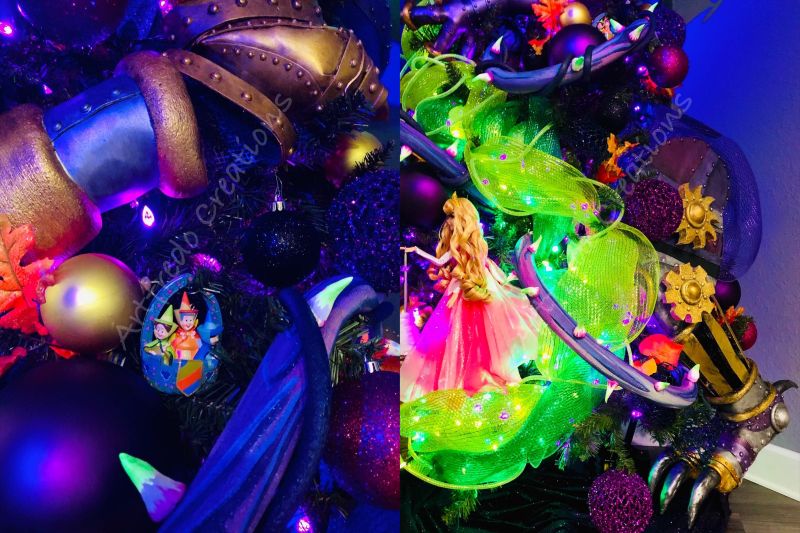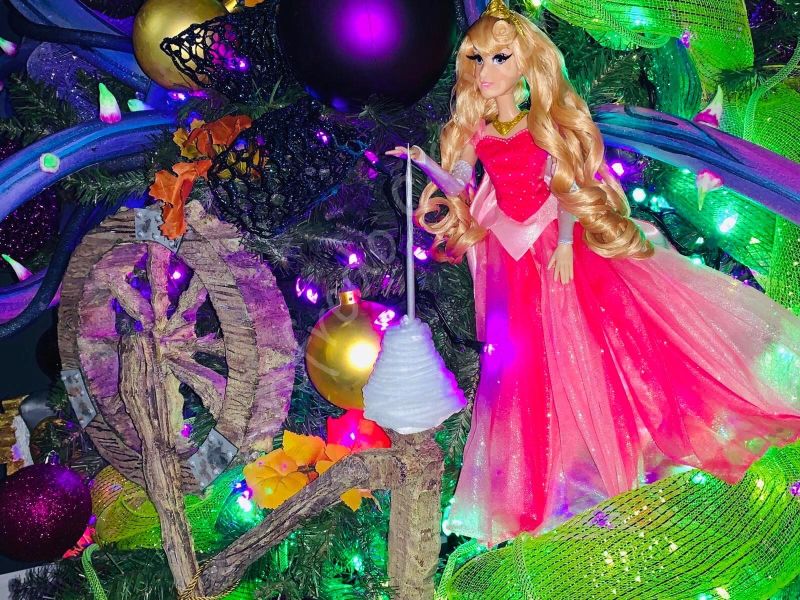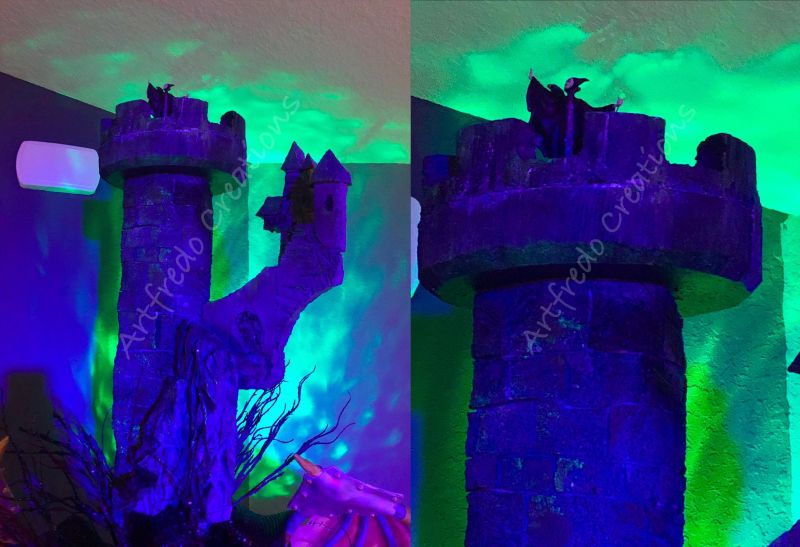 Special thanks to Alfredo Majuri Vargas for sharing the details and the photographs of his creation with us!