Pallet wood is not only effective in the easy and secure transfer of goods but it can also be repurposed in different ways for home decoration or furniture. Talking about furniture, you can draw inspiration from Danielle Healey and her partner Harry who have built this attractive garden furniture from salvaged pallets. They have built an L-shaped seater and a generously-sized coffee table from pallets alone.
The couple bought pallets from a local farm for £45 (approx. $55) and then transformed them into seating and table for their garden. Aside from the outdoor furniture, the couple has also built a pallet wood playhouse for their son, which you can see besides the furniture in pictures.
As of the seating, its base is made from two stacked pallets while the back is made from pallets cut in half. On the other hand, the table comprises two stacked pallet crates. The couple has also added cushions to ensure comfort.
These DIY outdoor furniture pieces provide a place for the couple to relax and spend some quality time outside their house. Danielle posted pictures of the creation on a Facebook group where it was received well by netizens.
Also Read: Man Builds Luxury Villa for His Dogs, Complete with Pool, Spa and Cinema
Danielle and Harry have shown us how we can spend time at home effectively and build something cool for outdoor living space at minimum cost and effort. Pallets are very strong and largely weather-resistant, which further makes them perfect for outdoor use, like in this case.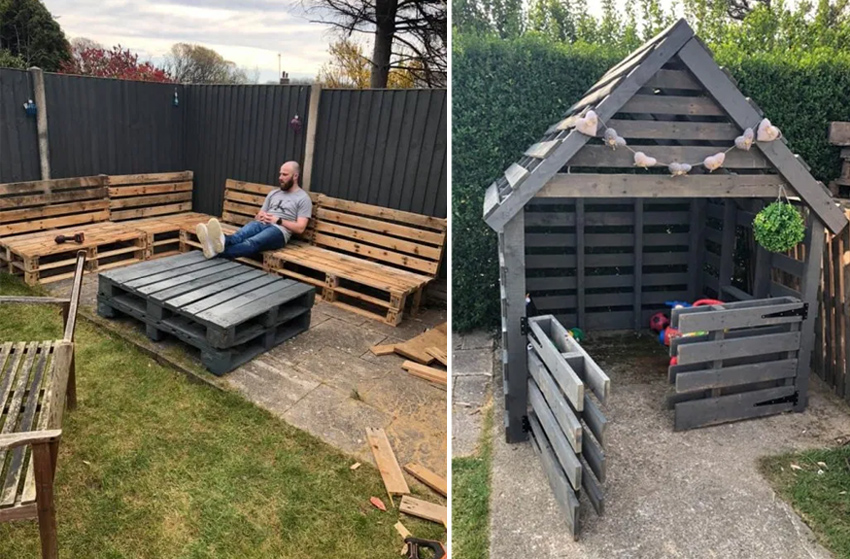 Via: Metro