Partners in life and work, Draga Obradovic and Aurel K. Basedow are known for their creative approach to design through experimental materials and composition. Inspired by the pioneers of various art fields including Nanda Vigo, Gabriella Crespi, Paco Rabanne, Courrège, Lou Reed, and Robert Mapplethorpe; Draga and Aurel have established themselves with an interplay of playful and seductive works.
With a diversified background in art, fashion, and craftsmanship, Draga (from Serbia) and Aurel (from Germany) are among the pioneers of upcycling in design. Starting their journey by reinventing vintage furniture and objects in eclectic style, the design couple made a splash with their Transparency Matters collection, giving a new makeover to epoxy resin in furniture. I had the chance to talk to the couple about their partnership and work, preferred materials, and exhibition of projects at the upcoming Salone del Mobile 2023.
I was inquisitive about how the seed of Draga & Aurel was sown. The design couple answered that their varied background fuels the multidisciplinary approach of their studio.
"Both of us came to Italy to study art; we then took different paths, in textile design (Draga), but also in music (Aurel), thus returning to art and eventually approaching design, always treated in an artistic and artisanal manner," the couple mentioned. "Our studio is a real production workshop, where ideas are born and materially come to life together with our skilled team, experimenting with shapes, colors, and materials." they continue.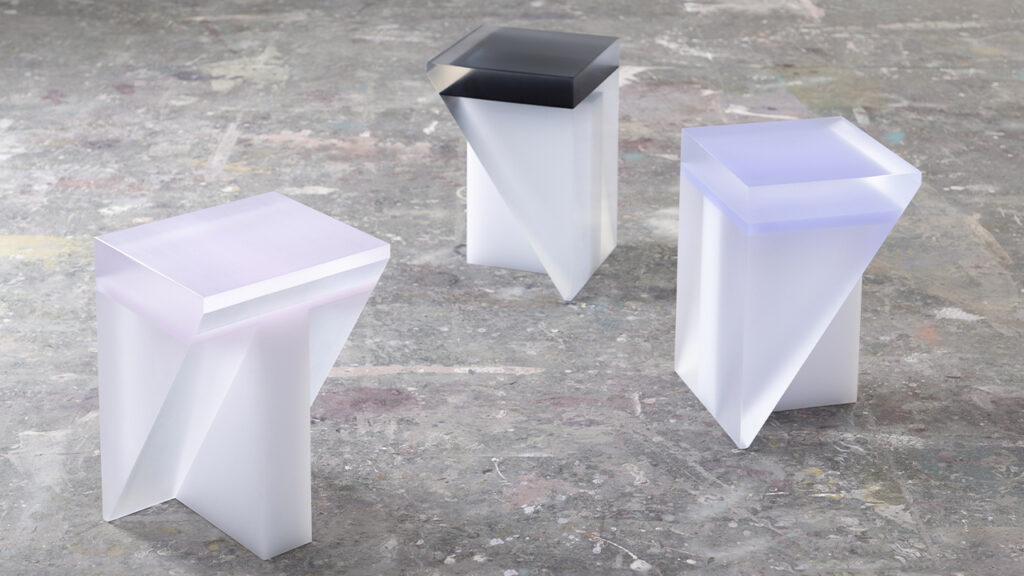 Usually, budding designers are faced with obstacles or challenges while establishing themselves, especially when they are fusing conventional methods with an artistic approach. But for Draga & Aurel even obstacles posed opportunities in disguise. The couple believes that the strength lies in always believing in the work and doing it with the same love and passion as on the first day of this adventurous venture.
Upon my asking how being one of the most influential couples in Italian design feels like, the couple laughs humbly and says, "Ahahha thank you for saying that. We are exactly the same stubborn dreamers who used to salvage vintage furniture in the garage. Only now, we have much more space. The passion is the same."
When managing a multidisciplinary studio one has to strike a balance between design, art, and craftsmanship. But Draga and Aurel tread this thin line with extreme poise and proficiency. For them, the handcrafted, manual facet is as crucial in art as it is in design. Each of the studio's creations is extremely expressive with a stout human component as the design pieces are handcrafted in their Como workshop.
Also Read: Marva Griffin's SaloneSatellite Shapes Landscape of Design for the Next Generation
Even when the couple designs for companies, they try to maintain a similar approach, to preserve the sense of the 'collector's piece', through their use of materials, the processing, the textures, and the motivations behind the design.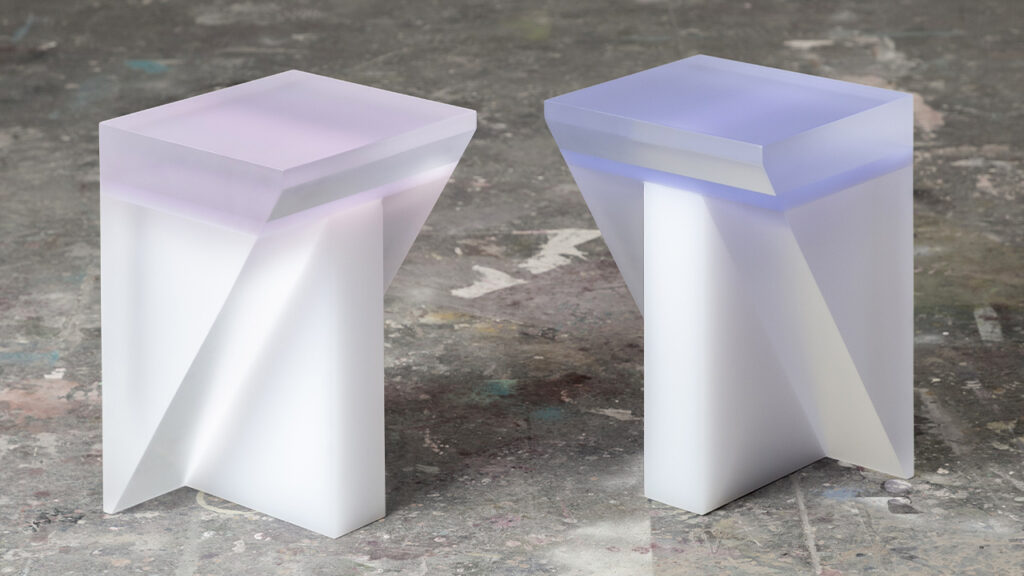 After establishing their studio in 2007, the couple started reviving vintage furniture and objects in their own style. Upcycling has been a big part of the studio's design methodology.
"Once upon a time Draga & Aurel were only "upcycling" recycling. Our first exhibition was called 'Contain Yourself.' Everything was made from recycled materials, the 'Container' from laser cat iron leftovers and the 'contents'; found objects reinterpreted with hand-painted textile or coated with resin. We learn how to design by cutting and pasting vintage furniture. Part of this practice we keep doing in our Heritage collection and it is still a methodology that we apply in all our works," say Draga & Aurel.
The Transparency Matters collection is one hell of an intriguing project with exquisite and slightly underrated material. So naturally, I wanted to know about the source of inspiration for this furniture series. The designers reveal that the collection was created to revel in the concept of transparency, which explores an extremely transparent, deep, and wild material such as resin. But above all, it means being transparent and honest.
This exquisite collection was born as a mirror of who Draga & Aurel are, it represents the studio fully and it makes it transparent. Besides, it is infused with art and design and very much linked to the 1970s, an era of courage or 'unveiling.' An era to which the designers feel the closest.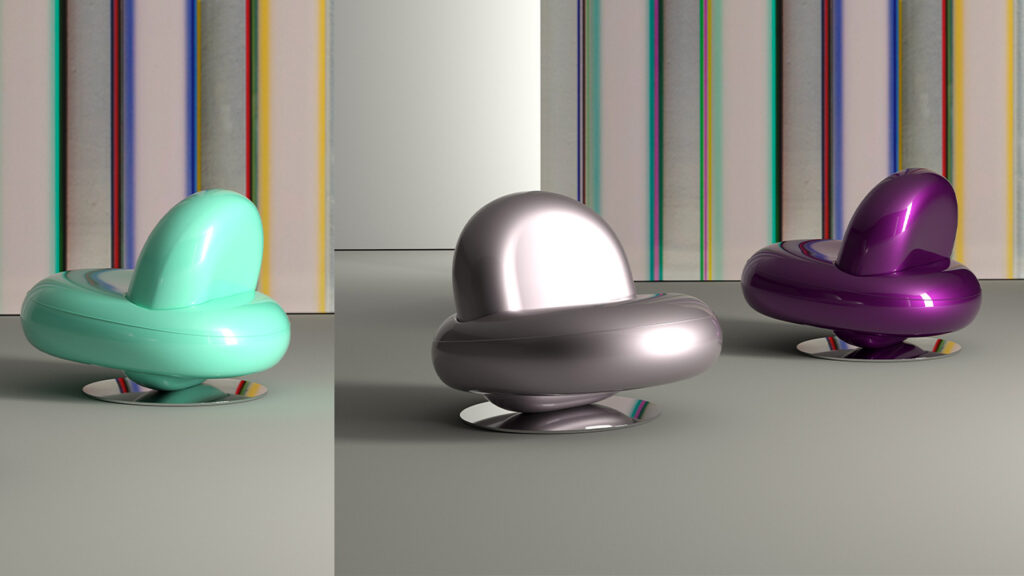 Every creative person has a favorite material and colors that they enjoy working with. For Draga & Aurel, the material certainly is epoxy resin. "We started using it from the beginning in the Heritage Collection, and it is the core of our Transparency Matters Collection. Aurel's artworks are normally completed with a layer of resin. We also made wallpaper with it! As for colors: don't ask us to choose!"
Also Read: BEBA Armchair Crafted From Painted Resin Fiber and Marzotto Velvets
The multidisciplinary studio has collaborated with names like Baxter, Wall&Decò, and Gallotti&Radice through synergy and mutual trust created over the years. The couple approaches every project similarly, the first step is knowing the company, then challenging themselves with projects that are close to their identity and express their way of being.
In 2009, two years after the studio was established, the couple debuted at Milan Design Week, gravitating a lot of attention.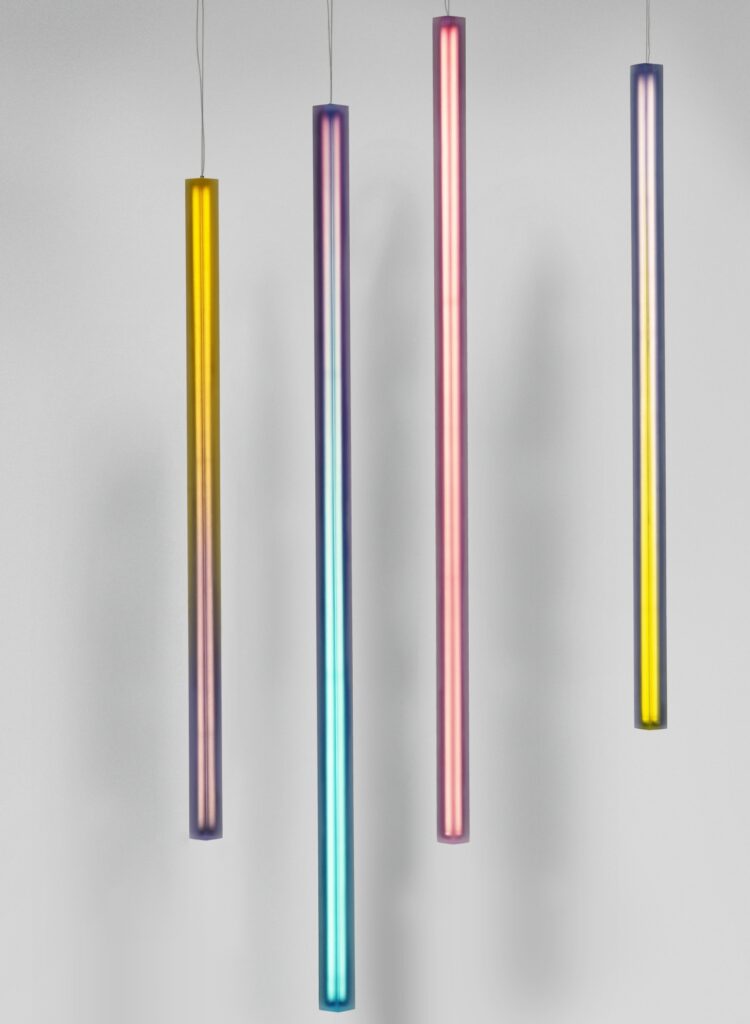 "The Milan Design Week was an important launching pad for us, allowing us to make ourselves known to companies, galleries, and even the press, which is always very supporting with great coverage (for which we are extremely grateful). It is important to be there in the right way and in the right places. In this sense, collaborating with leading galleries such as Rossana Orlandi is truly an added value that allows us to express our creativity as designers and artists in the round."
This year the power couple is exhibiting the Ravine Coffee Table, which was designed for Galeria Philia, an international contemporary design and modern art gallery. The quaint coffee table is designed to interpret the concept of desacralization as part of the DESACRALIZED exhibition to be presented during Salone del Mobile 2023.
Ravine is inspired by the monumental nature of large cathedrals and sharp geometric shapes. The handcrafted table is made from alternating layers of transparent resin and slabs of gray and pastel variants."We wanted to capture the aura—the invisible, subtle, and ethereal energy we emanate, which accompanies us and varies depending on our vitality", say Draga & Aurel.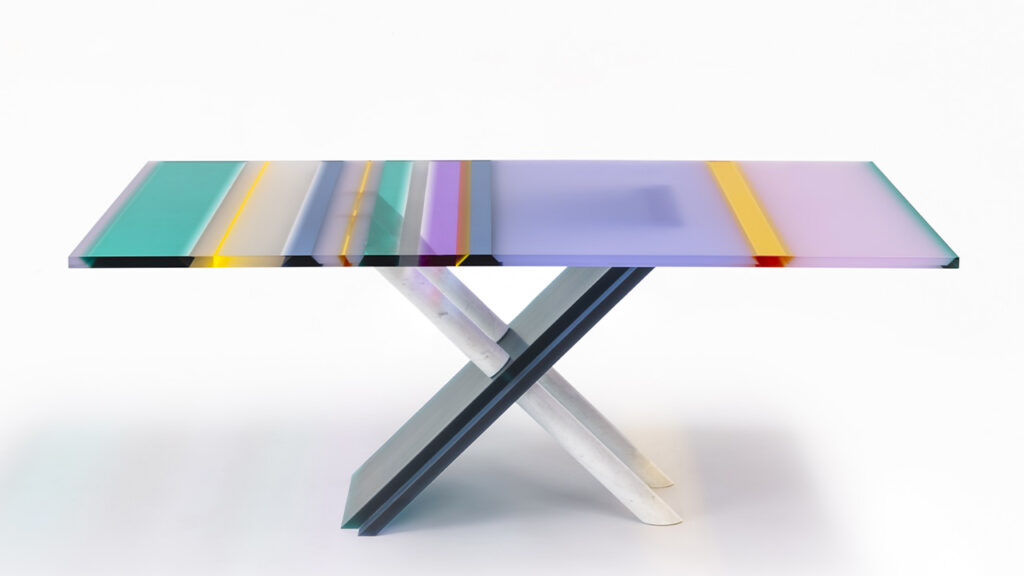 Another project by the Italian designers is Space Couture, a vivaciously stunning furniture collection with bright colors and reflective surfaces. The collection was designed for one of Milan's most prestigious art and design galleries, Nilufar. Drawing inspiration from the '70s, the couple created a lighthearted, carefree, and sparkling furniture series that is coated in laminates and glossy varnish.
Also Read: Maria Porro – The Lady Marshal of Salone del Mobile
Draga & Aurel are also exhibiting three more products, each product rife with light, transparency, and color. Designed exclusively for Rossana Orlandi, the new projects include the "rays of light of the Ray lamps, the monumental and welcoming shapes of the Tito armchair, the geometric purity of the Baia tables and consoles."
The world has seen great designers and glorious design eras. Especially ardent by the '70s, the couple also mentions their favorite designs in various fields of art and design. A reference of which can be seen in their products.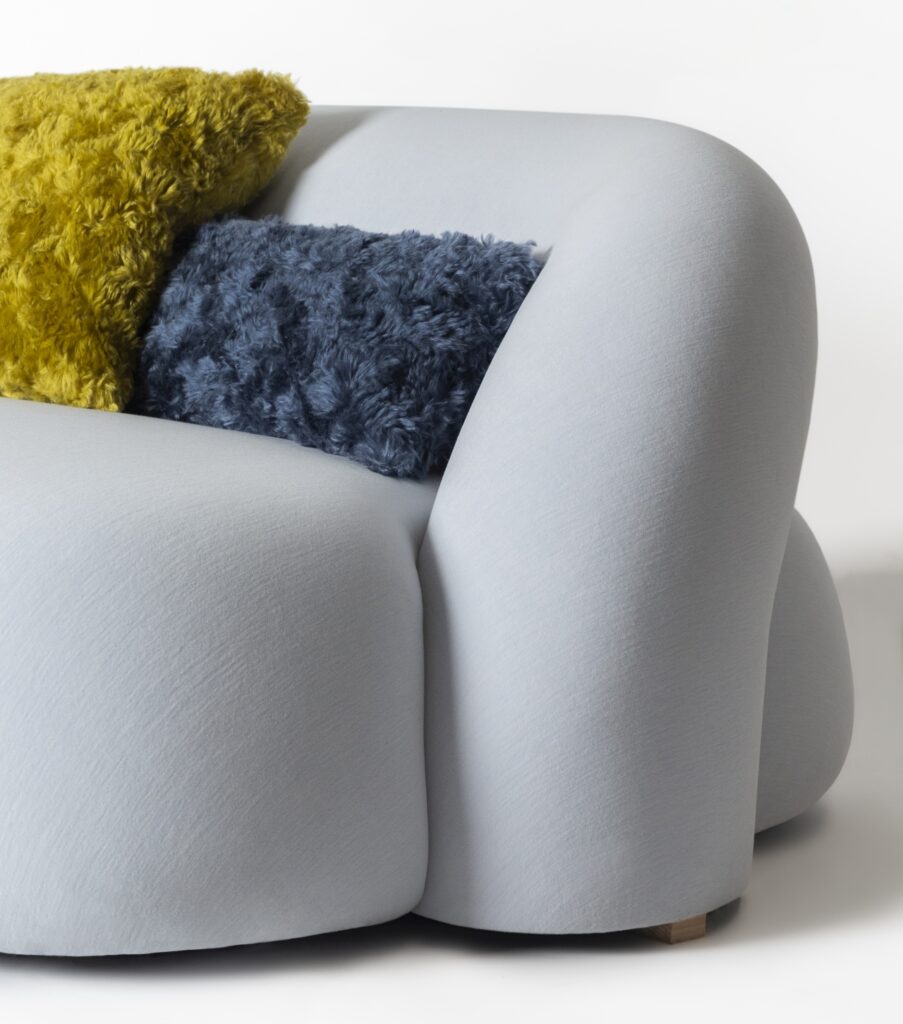 Draga and Aurel say, "What we like about those years is the vitality, the ferment, the experimentation, and contamination, but also the playful and unconventional approach. Some of our masters, which are glorious and great? Gio Ponti, who combined his architectural background with a new way to conceive design and surface treatment, or the extremely eclectic female figures like Nanda Vigo and Gabriella Crespi. Not to mention the fashion designers of the time, from Paco Rabanne to Courrège, or music with artists such as Lou Reed, Blondie or Patty Smith, or again the photography of Robert Mapplethorpe."
Post-Salone 2023, Draga & Aurel have nice programs lined up in the US. They are being represented by Todd Merrill Gallery, a collaboration that kicked off at Design Miami in 2022.
We thank Draga and Aurel for the conversation and wish them luck in their future endeavors!