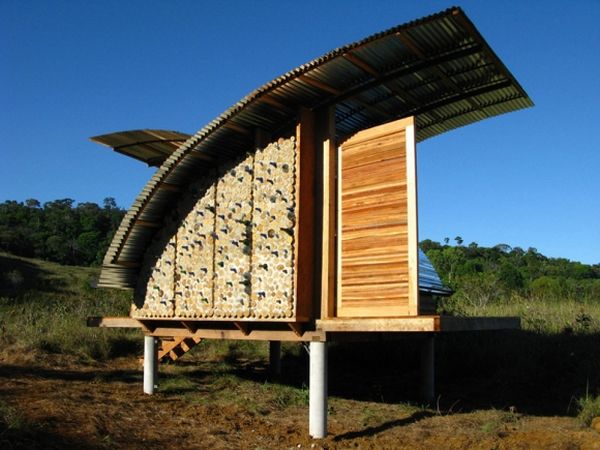 If our earlier post spoke about the ostentatious side of architecture, this one is surely about the bare minimum scenario. Designer Kristofer Nonn has envisaged the beautiful yet low cost project of Eco-Cabañas, which entails 'dirt cheap', sustainable cabanas for Peace Villages Foundation. Two prototypes Windscoop and Mariposa were already built from locally available materials, thus giving their an air of vernacular essence. And, the cost required to conceive each of these conceptions came at just around $500, which is surely a far, far cry from the millions and zillions of real estate value we have been talking about.
However, the ambit of Eco-Cabañas doesn't stop with just low cost credentials. The designer has also gone to great lengths so as to provide a structural solution in relation to the local climate. In this regard, the cabanas were craftily designed to mitigate the  harmful effects of South American rains. The roofing elements comprise of two intersecting, corrugated zinc roof planes that overhang to 're-route' the rainwater. This arrangement avoids the accumulation of water (and dampness) in the roof top, thus shielding the core structure of the Eco-Cabañas.
Finally, on the aesthetic front, the angular external wall facades are colorfully speckled with recycled bottles. From a distance, this gives an appearance of mosaic which visually plays out with its unique nature of vibrancy and light.
Via: Gessato