Imagine exploring picturesque campgrounds, untamed mountains, and remote countryside without leaving behind a trail of noise and pollution. An electric camper van conversion propels the essence of camping to this heartening elevation, offering campers a chance to reconnect with nature in its purest form.
"If you can make an RV sustainable, you can make any industry sustainable," Ty Adams told New York Times, after spending a year traveling across 25 US states in an RV powered by biodiesel. We have come a long way since, and the industry is actually at a point of noiseless electric transition, driven by climate goals, and efficient and sustainable living.
Embracing the electric future
As electric vehicles gain traction in everyday travel, the RV market is embracing the eco-conscious revolution, witnessing a rapid surge in electric camper vans, motorhomes, and travel trailers designed for tourism and leisure.
Marrying sustainable and emission-free camping with the unexploited thrill of adventure; electric recreational vehicles (e-RV) are making adventurers embrace the future of outdoor exploration. This is rightly why established brands like Mercedes and Ford have already announced electric versions of their full-sized camper vans (Mercedes Sprinter and Ford Transit), signaling a promising shift toward sustainable road trips. In that league, exciting developments from startups are on the horizon as well.
The new wave of innovation is driving DIY e-RV conversions. It has become a trend among eco-conscious campers. Enthusiasts are retrofitting conventional RVs or vans with electric powertrains and solar panels, creating their customized electric campers.
E-RV manufacturers (in their exclusive capabilities) are adopting sustainable materials and lightweight designs to reduce overall vehicle weight, which can have a positive impact on energy efficiency and range. It's imperative in a way as the primary concern for e-RVs is range anxiety, especially when venturing into remote areas with limited charging stations.
Embracing electric camper vans not only promises an enhanced camping experience but also contributes to a greener, more affordable future. This puts the E-RVs as a potential source to reclaim campgrounds from noisy generators and return them to the serene silence of nature.
Apart from their environmental benefits, electric campervans also boast lower maintenance costs compared to their traditional counterparts. With no need for regular oil changes or air filter replacements, owners can enjoy hassle-free journeys. However, it's essential to consider that the added weight of an electric vehicle can lead to more frequent tire replacements. Nonetheless, camper vans have been gaining popularity due to their versatility and compact size, making them an attractive option for electric conversion.
Perils to early transition
Transitioning to electric recreational vehicles may not be without its perils. According to Green Car Reports, electric vehicles are heavier than their internal-combustion counterparts. This is because of the bulky battery packs. While these heavier EVs offer faster and quieter acceleration, they also raise concerns about range and road safety.
With the transition to e-RVs comprising new battery technologies, a world of design possibilities opens up. But weightiness is still under questionable parameters. New batteries allow storage beneath the floor and possibilities of all-electric powertrains centered on the rear axle to free up space in the front allowing designers to reimagine the appearance and layout of camper vans.
A major concern associated with the transition to electric camper vans is still range anxiety. It's the fear that your EV will run out of battery before reaching the destination, leaving the occupants stranded. While EV manufacturers are making strides in addressing this issue, it, for now, remains a challenge for those looking to venture off the beaten path.
The actual range of an e-RV varies depending on its speed, weight, and driving habits. In an ideal scenario, there are electric vans that have a range of 150 miles before requiring a charge, while some touching the 200+ mile mark are in the works. Although range limitations remain a concern for those planning longer journeys, exciting innovations taking place in the electric camper van industry make local sightseeing and shorter off-the-grid camping frequent.
Electric camper vans out there
A few electric camper vans are already available in the market, while several others are currently under development. Additionally, some remain conceptual ideas, yet to be fully realized and brought to life beyond the drawing board. Companies have a major inclination toward building electric camper vans since the bigger motorhomes are more challenging at the moment to work on. If you're convinced by the idea of an electric camper van, here are a few you can bank your money on:
Grounded G1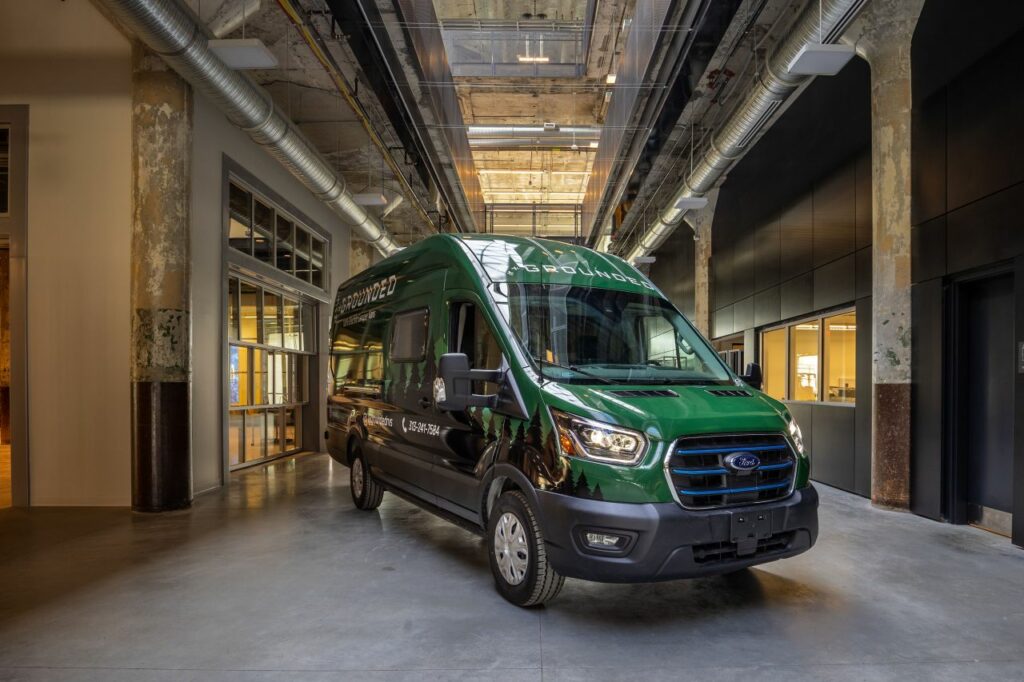 Detroit-based Grounded RVs, founded by former SpaceX and Tesla engineers, have launched the world's first fully customizable smart electric camper van, the Grounded G1. This is built on the Ford E-Transit platform and can be reserved now. The G1 is priced at $125,000 and goes beyond being a silent, zero-emissions RV with its impressive 650-Watt rooftop solar capacity and electric powertrain.
The G1 comes with a modular interior design that buyers can personalize for the eco-friendly road trip of their dream. G1 has a high roof for headroom and volume and has a mileage of approximately 108 miles. Grounded is addressing this with its upcoming G2 camper van that will have an impressive 250-mile range before requiring a charge.
Winnebago e-RV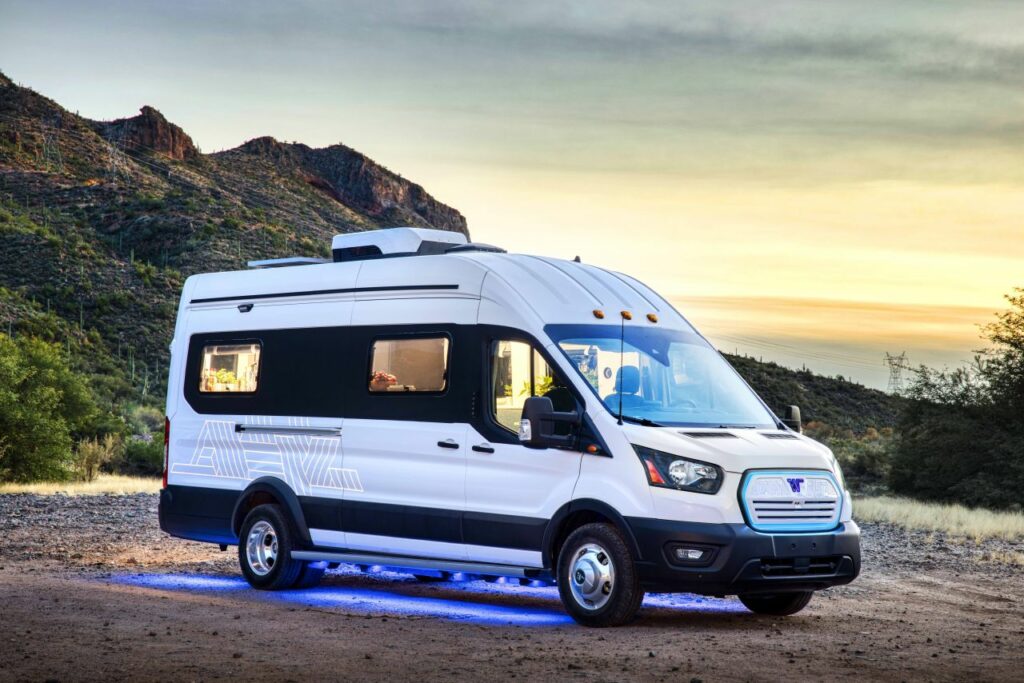 Winnebago e-RV is an all-electric camper van designed for the American market. This innovative camper van is based on the Ford Transit platform and boasts a full floor plan for a completely reimagined camping experience. It is powered by an onboard 86-kWh battery pack and delivers an estimated range of 125 miles.
Winnebago has achieved a significant milestone with the e-RV. It was taken for the longest continuous trip to date with the electric RV, covering over 1,000 miles on a single journey. This feat was the first known electric RV trip of such scale in the United States. Not resting on their laurels, Winnebago is actively developing the e-RV2, the next iteration of their all-electric RV, which is currently in its final stage of prototyping and already hitting the roads.
Sussex Campervans' e-NV200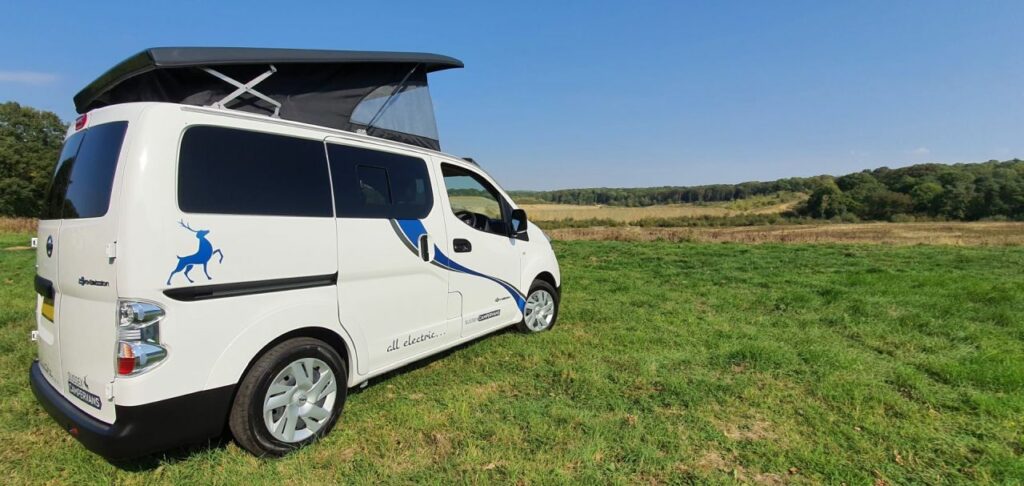 In the realm of camper vans, Sussex Campervans has achieved a remarkable feat by creating one of the UK's rare all-electric models using the Nissan e-NV200 van as its foundation. This camper uses both Acenta and Tekna base vehicle models, boasting enhanced features that cater to the discerning market.
Propelled by the e-NV's 40-kWh battery pack, this camper offers a modest yet dependable range of 124 miles. Starting at around £67,995 (roughly $85,000), the e-NV200 emerges as a fully-fledged all-electric mini-camper, offering an eco-friendly and fossil-fuel-free travel experience that is truly unparalleled.
Best base models for van conversion
Ford e-Transit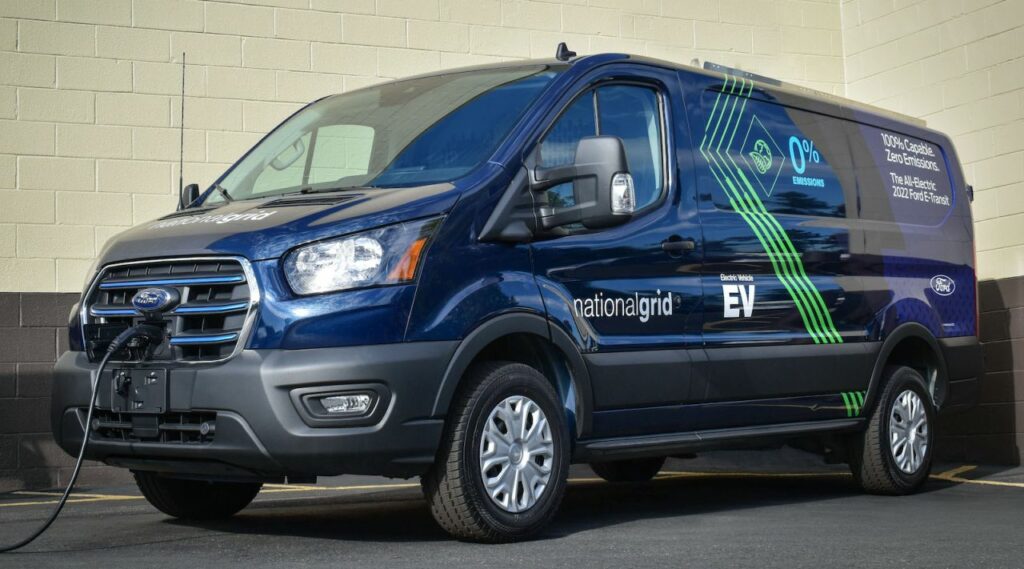 For years, outdoor enthusiasts and enterprising companies have been converting Ford Transit vans into compact camper wonders. Surprisingly, the launch of the e-Transit in 2022 has given new wings to the conversion market. The Ford e-Transit emerges as an ideal candidate for the electric camper role, offering versatility with its three roof heights and three body lengths in Chassis Cab, Cutaway, and Cargo Van models.
Speaking of range, the Cargo Van Low Roof showcases a demonstrated range of 126 miles, while the Cargo Van Medium Roof boasts a projected range of 116 miles, and the Cargo Van High Roof impresses with a projected range of 108 miles. Remarkably, these vans manage to integrate the battery underneath the body, cleverly preserving cargo space without compromising on the perks of an electric powertrain. With a potent 68 kWh battery, the Ford e-Transit van starts at $45,995, making it a tantalizing choice for adventurers seeking a thrilling, electric-powered journey to the great outdoors.
Mercedes eSprinter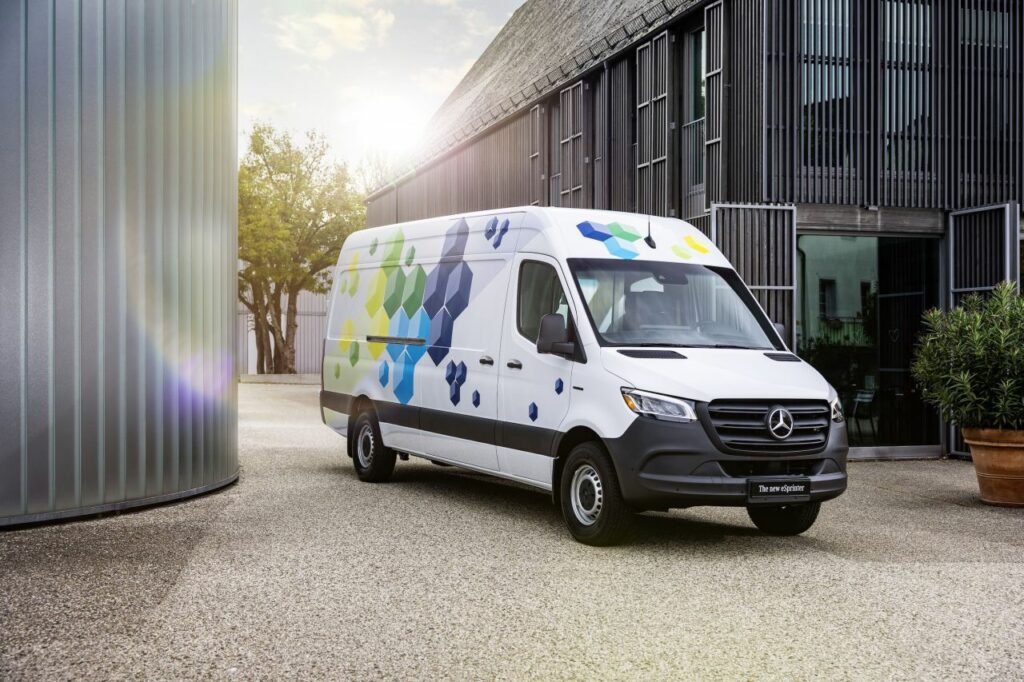 Mercedes Sprinter van has been a go-to choice for van conversions, but with the eSprinter, an all-new fully electric version from Mercedes, the electric camper van market is getting a thrust. The eSprinter was first introduced in Europe in 2019, with a limited range. The new version, set to make US landfall soon, with a greater range of up to 300 miles on a single charge is going to be huge.
Mercedes-Benz is offering the eSprinter with a usable battery capacity of up to 113 kWh, and customers can choose between two power levels with 100 kW or 150 kW output. This means that the eSprinter is ready to elevate the sustainability of the conversion market in the U.S. with its emission-free, battery-powered design.
Volkswagen ID. Buzz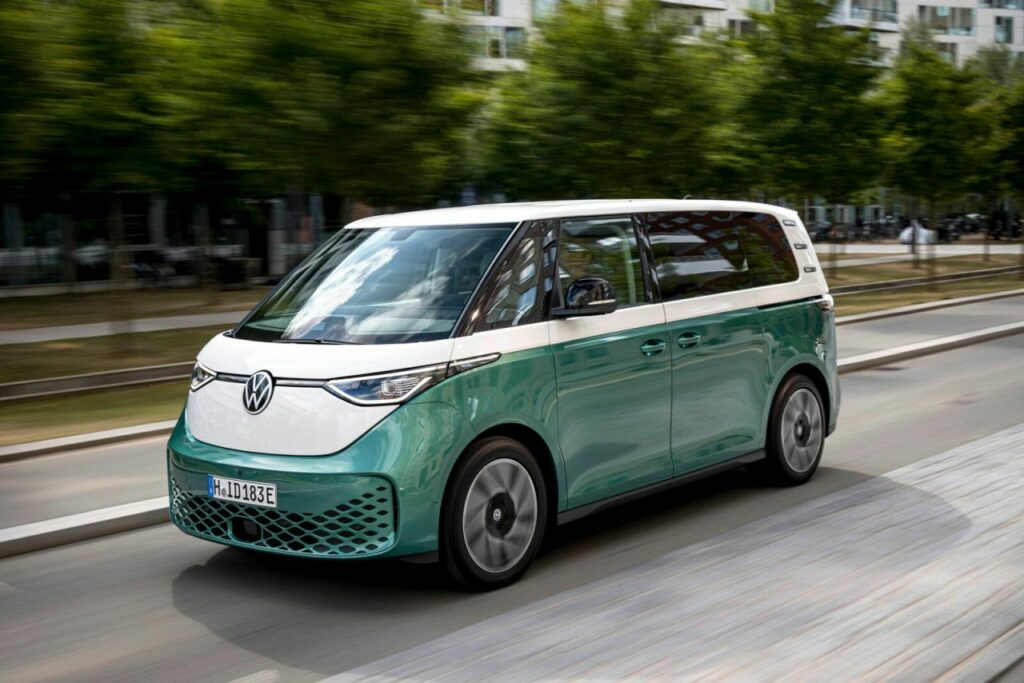 Volkswagen has a rich history in camper van innovation dating back to probably the earliest designs, including the iconic Volkswagen Microbus. In mid-2022, Volkswagen threw open camper conversion possibilities in the electric frame of things with the introduction of the ID.Buzz in Europe. Reflecting old-school appearance with state-of-the-art features, the emission-free base ride for camper vans is likely to make it to the US in 2024.
The ID.Buzz will open a market of mid-priced campers with an estimated starting price of $55,000. Its impressive range is estimated to be around 264 miles, potentially even reaching beyond 300 miles on a single charge (real-world possibilities of that remain to be seen). Volkswagen plans to offer both rear-wheel drive and all-wheel drive options to make things exciting for avid travelers.
Is it a good time to switch?
The future of electric recreational vehicles promises to be exciting and transformative. If you are ready to embark on a greener and more enjoyable camping experience with the new generation of electric camper vans, it is a good decision now to make the switch. Considering factors such as range, charging infrastructure, and budget is crucial in making the switch when you have zeroed down on a desired model.
Keep in mind that electric camper vans may still be relatively more expensive than traditional ones. However, increased competition in the market may lead to price reductions as more models and advancements in battery technology (offering improved range and efficiency) appear in the near future.
Switching to an electric camper van aligns with eco-conscious goals, as it significantly reduces your carbon footprint. If you prioritize sustainability and have access to a suitable model, now might be the right time to embrace the greener and more enjoyable camping experience that e-RVs offer.