After a few hiccups years, where in-person events were disturbed; CES 2023 was a big tech event. As the stage was set right, the world's biggest brands and some new ones mushrooming tech startups hit the Vegas Convention center floors with the sharpest and most innovative products to show.
From a toilet sensor that can analyze your pee and an abundance of OLED TVs, to innovative furniture such as Acer eKinekt Bike Desk and LG's air-purifying furniture; CES 2023 featured many headline -grabbing products. In case you are interested in techy furniture, we have compiled a list of our favorite furniture from CES 2023, which is guaranteed to make your life easier. Let's take a look, shall we?
LG's Styler ShoeCare and ShoeCase
It is no news that Gen Z and Millennials love collecting expensive designer footwear, but keeping the shoes clean and hygienic is time-consuming. However, LG has made this task incredibly easy with its Styler ShoeCare and ShoeCase. Simply put, the luxury brand has unveiled a shoe rack that uses steam cleaning to refresh your shoes, while also allowing you to showcase your footwear in style.
The LG Styler ShoeCare solution is for various shoe types, including suede, leather, and sports footwear. It includes a ZeoDry filter that uses the absorbent properties of zeolite to eliminate moisture and odor from footwear. Users can simultaneously clean two different shoe types (each requiring a different level of fabric care) owing to the Dual Care System feature. The LG Styler ShoeCase and ShoeCare can be accessed, remotely controlled, and monitored using LG's ThinQ app.
What we like:
ZeoDry filter eliminates moisture and odor
Remote control and monitoring through ThinQ app
Dual Care System to simultaneously clean two different shoe types
What we don't like:
Takes pretty long to freshen up a pair
Acer eKinekt Bike Desk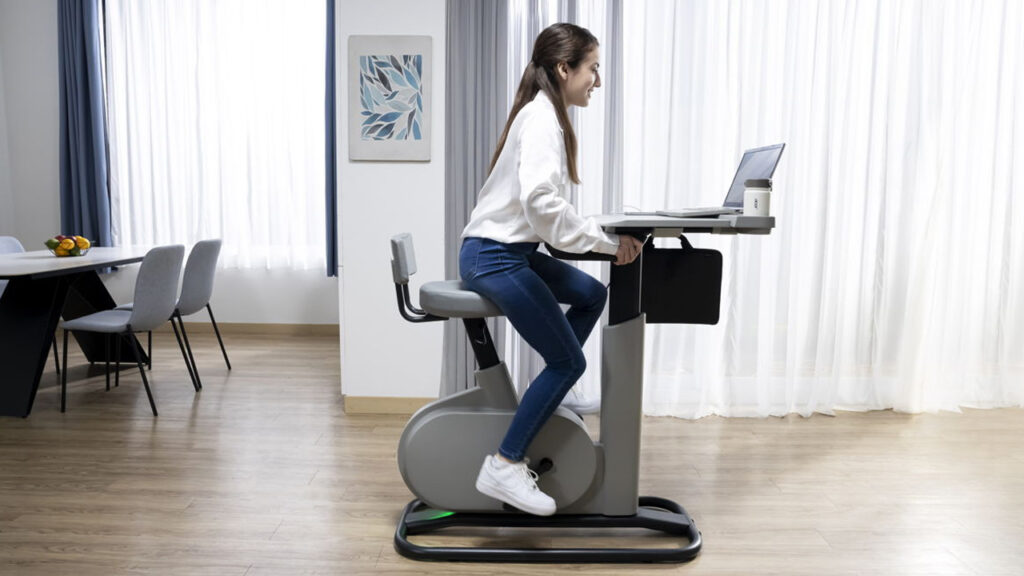 Acer has developed a bike desk that yokes kinetic energy to produce enough power to charge electronic devices. Priced under $1,000, eKinekt Bike Desk is a fusion of a fitness bike and a smart desk. The desk will only charge your devices when the bike is being pedaled. Acer mentions, "one hour of constant cycling at 60 RPM on the bike desk can generate 75 watts of self-generated power."
The power created in the course can charge your laptop and smartphone using USB-A and USB-C ports on the desk. The desk has a separate section for your bottle of water or beverage along with office essentials. The top and the casing of the eco-friendly bike desk is made from post-consumer recycled plastic.
What we like:
Post-consumer recycled plastic construction
Fitness bike and smart desk merged into one design
What we don't like:
Asus ROG Destrier Ergo Gaming Chair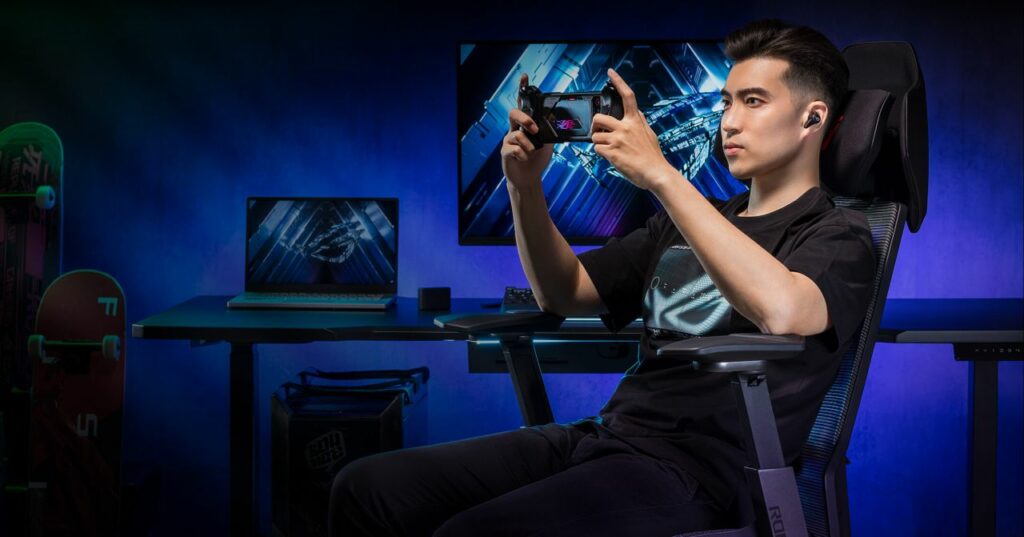 Asus has designed a gaming chair tailored for mobile gamers. Asus ROG Destrier Ergo Gaming Chair has adjustable, padded armrests to make handheld gaming comfortable. It is a versatile chair that is a fitting partner for your gaming experience on the ROG Phone 6 or an iPhone and is also enticing for console/PC gamers. ROG Destrier Ergo is fashioned with breathable mesh and an aluminum frame in a futuristic aesthetic.
The adjustable, rotatable armrests elevate the gamer's arms up to 14 cm to ensure elbows are in a comfortable position (resting on a specially padded form factor). It has customizable two-head and two lumber support (adjustable between 1 and 7cm) options. With a detachable panel that wraps around the user's head, cocooning the gamer in an immersive environment devoid of ambient noise.
What we like:
Detachable panel to cocoon the gamer from distraction
Customizable head and lumber support, breathable mesh
What we don't like:
Optimized chiefly for mobile gamers
LG PuriCare Aero Furniture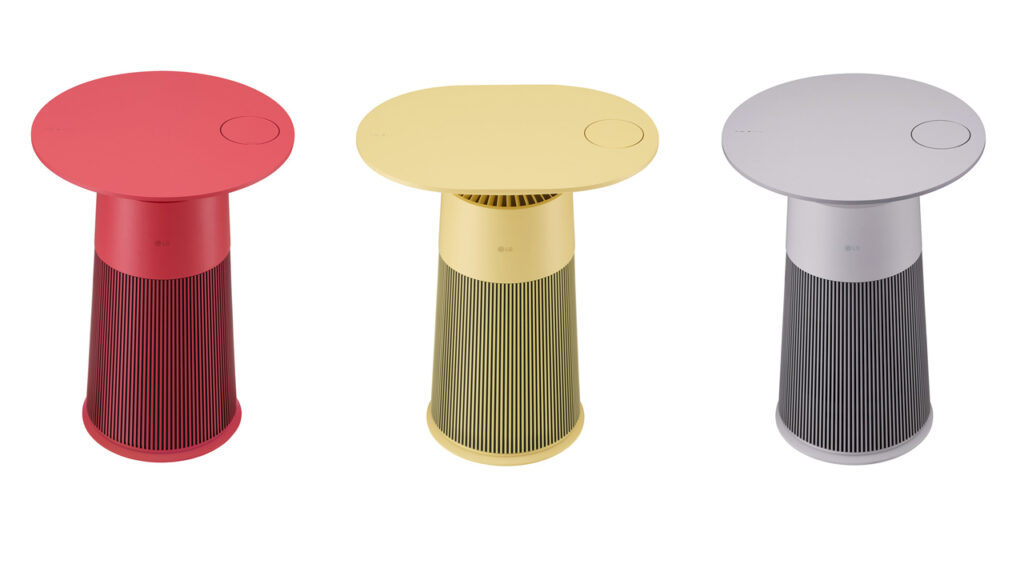 LG's PuriCare Objet Collection Aero Furniture boasts advanced air purification technologies, truly blurring the line between form and functionality. Small in size, the air purifier features a cylindrical base and a flat or track top. The compact design of the air purifier is ideal for small spaces. The users can pick from a variety of colors including Crème Rose, Crème Yellow to Crème Grey. It includes 360-degree air purification along with a multi-stage filtration, which combines LG's ultra-fine filter, dust collector filter, and deodorization filter together to ameliorate indoor air quality.
The company says that the integrated UVnano technology eliminates viruses and bacteria on and around Aero Furniture's fan blades by up to 99.99 percent. The air purifier further integrates a number of control options on its underside and can charge your small electronic devices. Compatible with the LG ThinQ mobile app, the user can even control airflow modes and mood lighting features. There are also a series of small indicators that keep you updated on Wi-Fi connectivity and air quality.
What we like:
Versatility
360-degree air purification with a multi-stage filtration
Variety of colors and wireless charging
What we don't like:
ErgoAV ERDS1-01B Adjustable Desk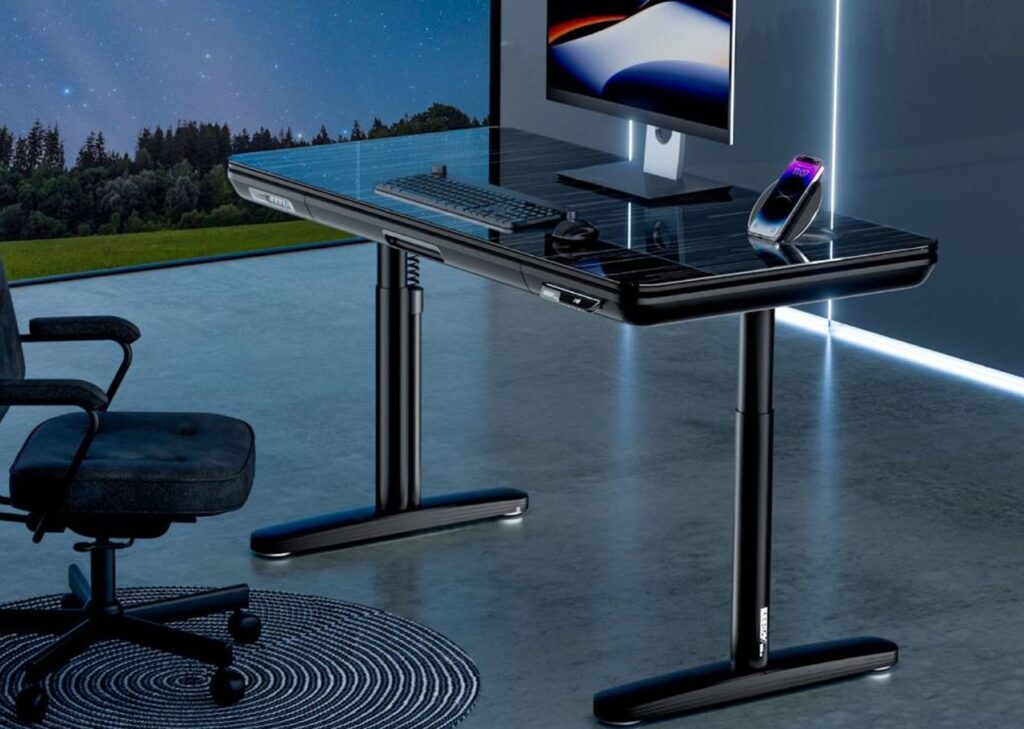 ErgoAV ERDS1-01B Adjustable Desk is equipped with two USB-C ports and a USB-A port offering 100W of total power on the front for easy access. The wireless charging plate mechanically elevates and spins your phone toward you while charging. The table has premium cable organization to conceal cluttering wires from sight.
For user convenience, the height-adjustable desk – useable in sitting and standing positions – comes integrated with a 7-outlet power strip to cater to all power needs, while the built-in drawer leaves you with ample space to store essentials.
What we like:
Charging ports positioned on the front
Built-in wireless charger
Adjustable design
What we don't like:
May be uncomfortable to use a keyboard and mouse
uThrone Gaming Massage Chair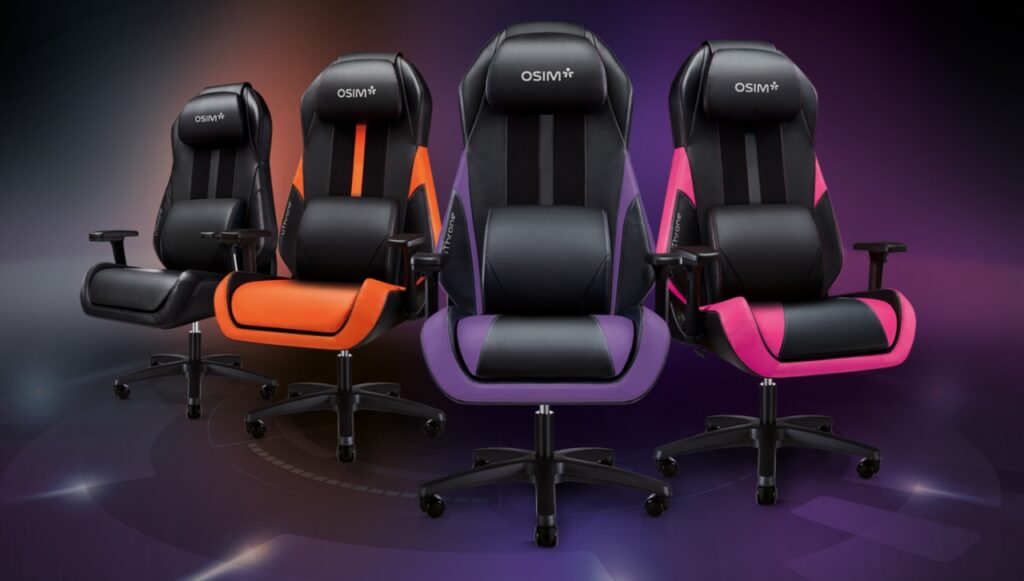 Prolonged gaming can cause terrible body aches, however, the OSIM uThrone gaming massage chair aims to relieve your body through exclusive full-back massage. It helps release neck, shoulders, and lumbar pain to rejuvenate your body for prolonged gaming. It has a completely adjustable back and incredible lumbar support to contour your body frame.
The technology integrated into the chair's design matches the dexterous methods and suppleness of a masseuse's hands. It features 360 degrees rollers to move along your neck and shoulder outline. The chair provides a directed neck and shoulder massage to offer a reprieve from stiff neck and muscle knots through realistic hand-grip massage.
What we like:
Reclines up to 145 degrees
Patented V-grip massage technology
Immersive built-in Bluetooth speakers
What we don't like: