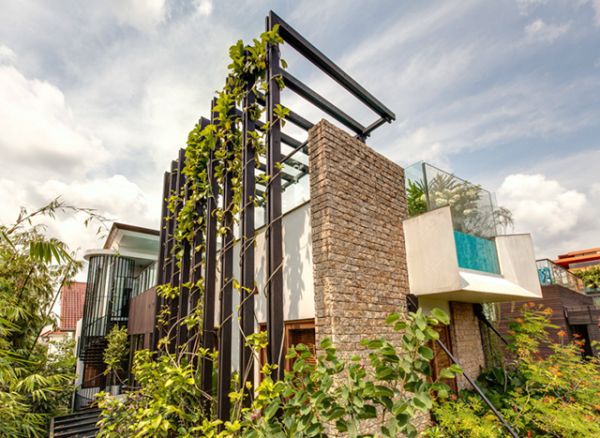 Marrying the high points of modernism and nature – this in a nutshell defines the design scope of the aptly christened Garden Villa. Conceived by Aamer Architects', the residential building has been remarkably the third project for the same client in Singapore. And, it comes with all the works, including stacked gardens, koi ponds, roof top swimming pool and metallic spiral staircase. Of course, the very first feature one notices is the greenery profusely bedecking the two-storied bungalow and its estate. This serves as a pleasing albeit contrasting factor, especially if we consider the urban setting of the project. Furthermore, this greenery of Garden Villa is complemented on the natural scale by materials like wood, marble and granite, thus accentuating upon the essence of architecture and nature.
However, the confluence of landscaping and modernism has a more intrinsic symbolism that relates to the owner's love for gardening and green spaces. And, in spite of the estate's expansive landscaping, his interests are also 'captured' structurally with vertical posts with creepers climbing atop them. The openness of the Garden Villa is finally exhibited by the strategic window placements (including even bathrooms) that directly connect with the paradisiacal setting of nature.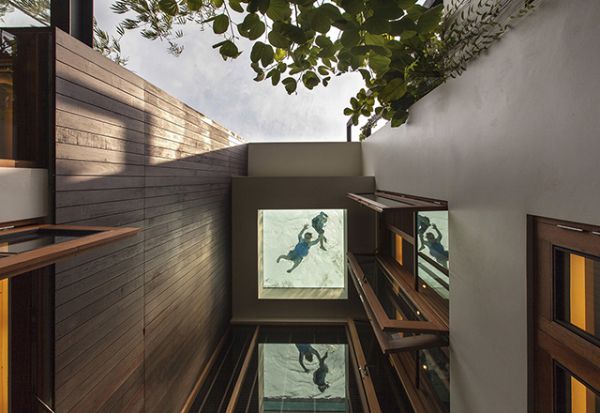 There is also that intangible sense of uniqueness to the architectural side of affairs. For example, the metallic credentials of the vertical posts and a separate spiral staircase (for accessing private rooms) does conform to an industrial style. Moreover, we can get sneak peeks of the swimming pool bed from the ground level through the transparent glass facades, thus alluding to the 'dream-like' surreal state of the Garden Villa setting (please refer to the above image).
Via: AamerTaher