Love is in the air more than ever before, since Valentine's Day is here. You may have done all the preparations outdoors, with regards to gifts, candies, chocolates, fresh flowers, greeting cards. But what about your house, is all the charm going to end at your doorsteps after the special candle light dinner? No, show your Valentine that you care (even back home) with these last minute loved-themed home transformations.
At the first stride
Nothing gets better than flower pots around the main door. Given the occasion, you can replace the lilies and African violets with Carnations and red roses.
Doormats can add appeal, using Valentine's Day mat at the entrance can have her/him awed.
For additional elegance during the way in, you can prepare a beautiful garland of red roses along with smaller ones for the hallway and the other rooms.
Putting up a banner reading Happy Valentine's Day can be a little childish, but if you want to play a kid, you can put it up at the main gate.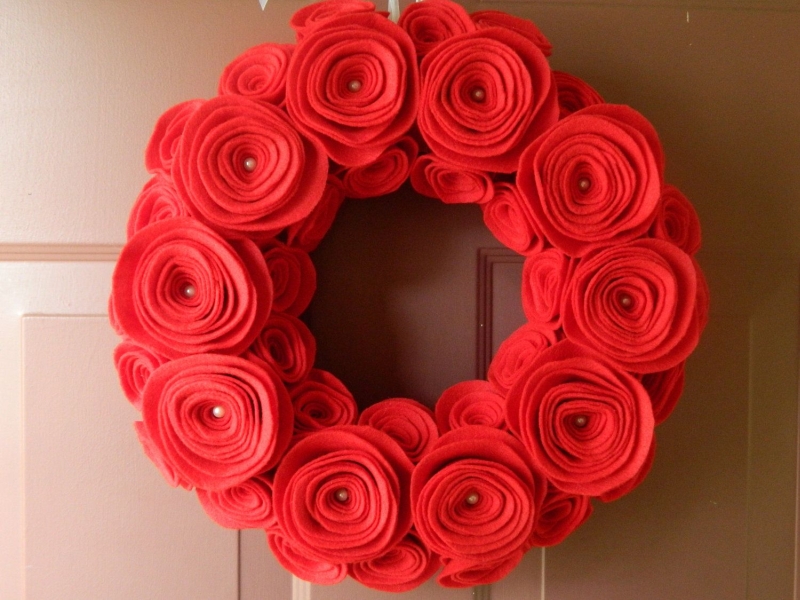 Welcome to the hallway with pleasure
The hallway leading to the other rooms of the house should be the first site oozing out with love for your Valentine. Little hanging heart shaped/love depicting ornaments coupled with lit candles in eye-catching candle holders can do the trick.
To make the hallway look more enticing, you can lay red carpets. The side tables and other surfaces can be all occupied with French flower baskets filled with red paper hearts and white branches, and lots of chocolates and candies.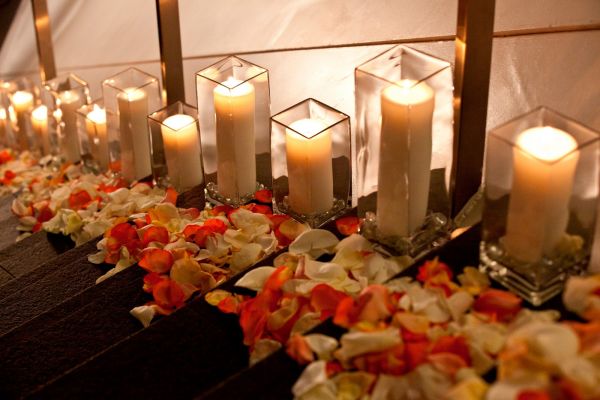 And the bright living room
The most vital aspect of Valentine's Day is the red color. Red refers to the color of the heart, so you definitely want the living room to be graced with the color red.
Starting with the top, you can tinsel ceiling with hanging hearts. Red hearts can be made of paper or stuffed fabric or you can purchase them from the stores. The more artistically inclined lovers can cut out hearts from cardboard and embellish them with glittering stars of various colors.
This is going to take time. And since you have a few hours on you, you can simply have heart-shaped balloons hanging from the ceiling and placed all around on the couch, floor coffee tables, side tables etc. You can also place bouquet of flowers along with the balloons.
It's only for winters (though you can do without it) but for a cozy feeling you can flare up the fireplace, and have some nice Christmas decorations (with the red white theme) placed over and around the fireplace.
A good thing about Valentine decoration is that you can reuse some of the Christmas decorations, and the living room is the best place to do it.
Valentine's Day can be a good time for you to make the most of the home theater you have in the living room. You can line up some good romantic movies for the evening.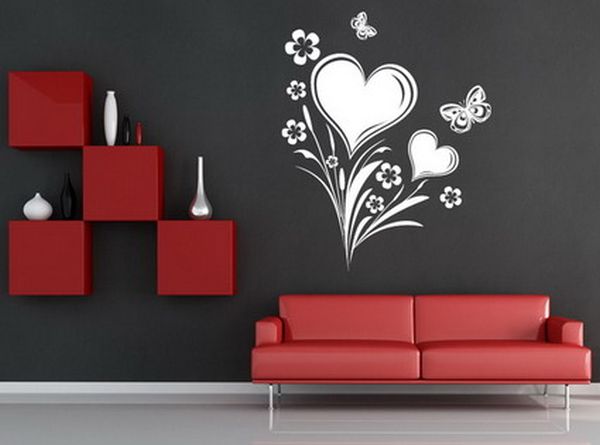 Way to a man's heart is through his stomach
For all lady lovers, here's a tip. Make the most use of your kitchen this Valentine. Nothing gets better for a man to eat delicacies cooked by his lover.
Trade the candlelight dinner on the terrace of your favorite restaurant with a delicious menu specially cooked for your lover (male lovers can also try; it's a tested way to impress her).
A chilled bottle of champagne, followed with a lovely meal and a heart shaped cake can just make the difference of a lifetime. You can precook some cookies and candies and serve them in a Valentine's Candy Box.
Coming to the dining table, place Valentine's Day table cloth on it and team it up with heart-shaped candles and napkins.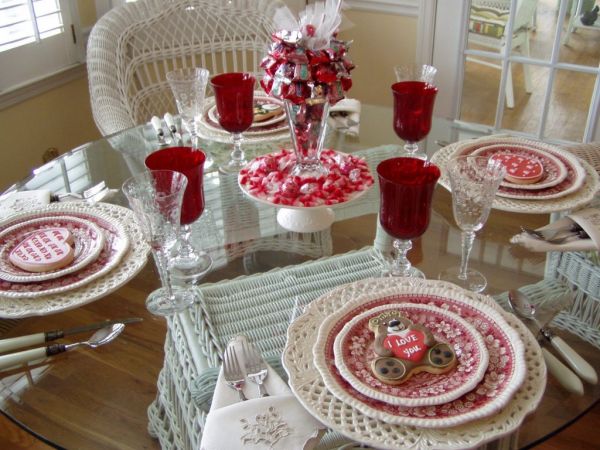 Freshen up with red
We don't often give bathrooms a due makeover, and that's where we lose out. Do not commit the same error this time.
Decorating the bathroom doesn't take much, you can simply replace the shower curtains with love-themed ones. Everything from bath mats, rugs, towels and toilet lid cover etc. can bear red hearts imprinted on them.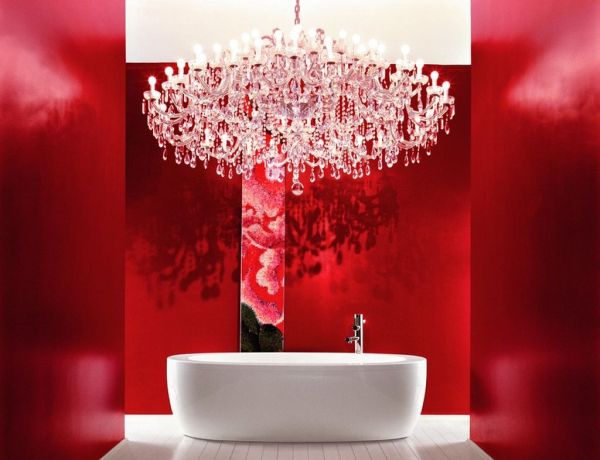 To the love den
Finding the special something for that special someone is difficult, but with all the decoration outside throughout the house, you have done a good job.
Now, without saying you will have the bed draped in red with heart-shaped pillows. But then you cannot leave it just there. To team it up for more love-theme, fill the room with softly scented candles decorated with red ribbon and lace.
You can choose heart shaped candles to enhance the Valentine theme of your bedroom.
Lightning plays a big role in enhancing the decoration effect. Besides dim lights, you can drape lamp shades with rosettes made from tissue paper (painted in your partner's favorite color).
A mirror can be placed at such an angle that it reflects the softened light. This will add to the depth of the bedroom. You can also play with the color of the curtains. Pick shimmer curtains with a small heart and red rose prints. Gracing the side tables with pictures of your loved one in heart-shaped frames can add glamor.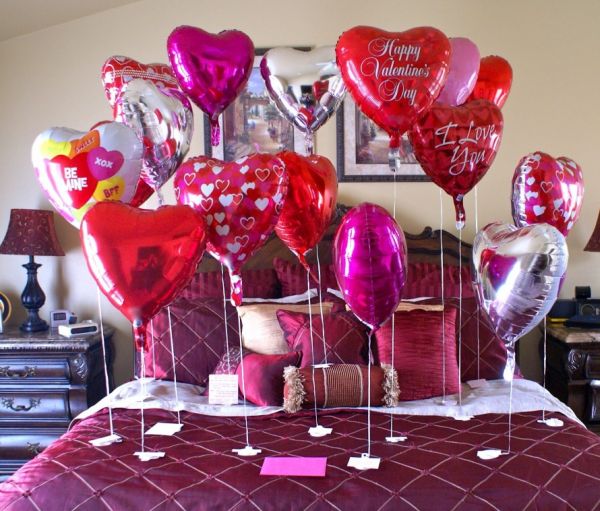 So, here you complete the love-themed makeover of your home. Now, sit back and relax to some soft romantic music. Happy Valentine's Day!