The holiday season is in full swing, which means you would have already begun decorating your house inside out for Christmas. When it comes to outdoor decorations, we can't ignore the role of lighting. Christmas lights are a uniquely American tradition that people take interest in everywhere.
Generally, families prefer to visit professional Christmas light shows during the festive season, but some creative heads put up their own light displays at home to show to the world. It takes an incredible amount of time and creativity to decorate a house with lights, but it is totally worth it when you can proudly watch your house cast luminance and joy in the neighborhood.
We have enlisted some of the most spectacular outdoor Christmas light displays people have set up around the world. You will be amazed at how creative these exterior illumination ideas are. And if you have the mettle, maybe you would want to get out and try one for Christmas this year.
Montreal-based Sami Hajjar has spent hours designing and building this Frozen Land Christmas display at his Montreal home. He decked his yard with lights and characters from Disney's famous movie 'Frozen' like inflatable Olafs and Queen Elsa.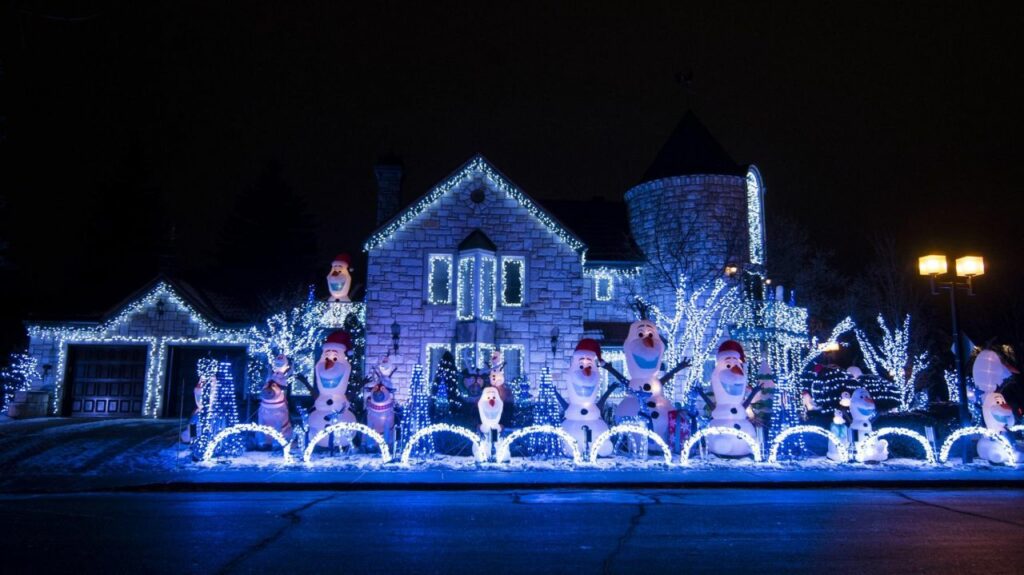 Christmas lights on The Hazard's Gingerbread House look spellbinding. You can see lights covering every part of the house's exterior and also find some trees on the walls. There is 'Merry Christmas' and 'Joy' written with lights on the facade.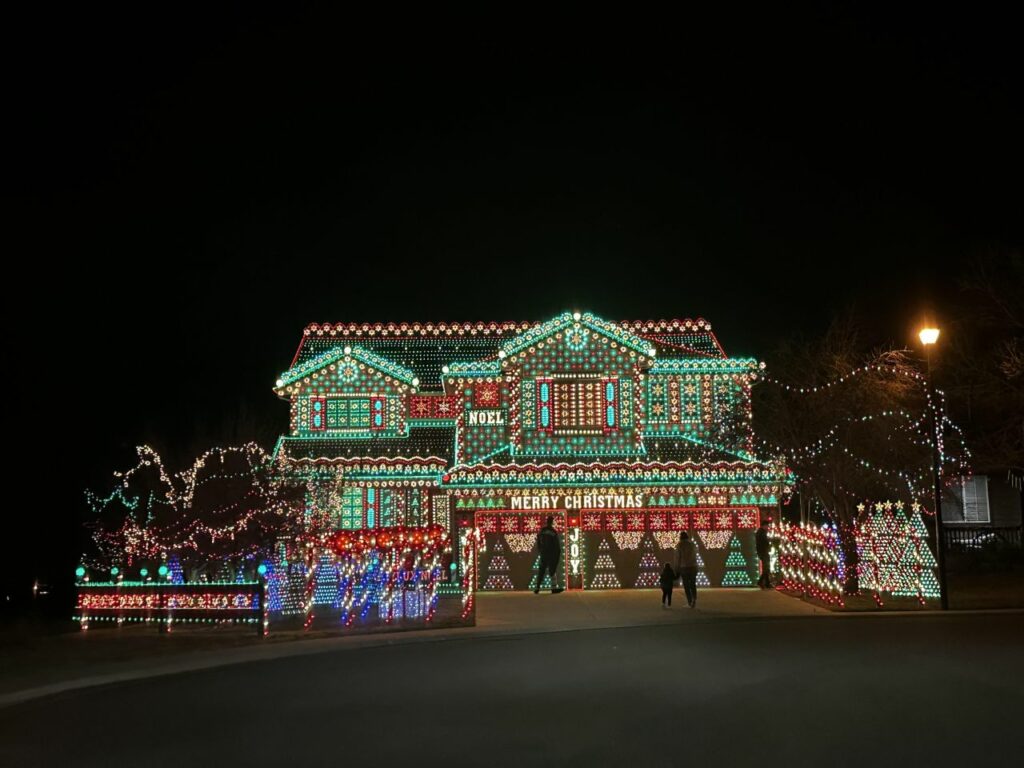 This guy has relentlessly put up rolls of Christmas lights around his home exterior along with some inflatable cartoon characters. There are also green lights over the garage that elevate the festive feel.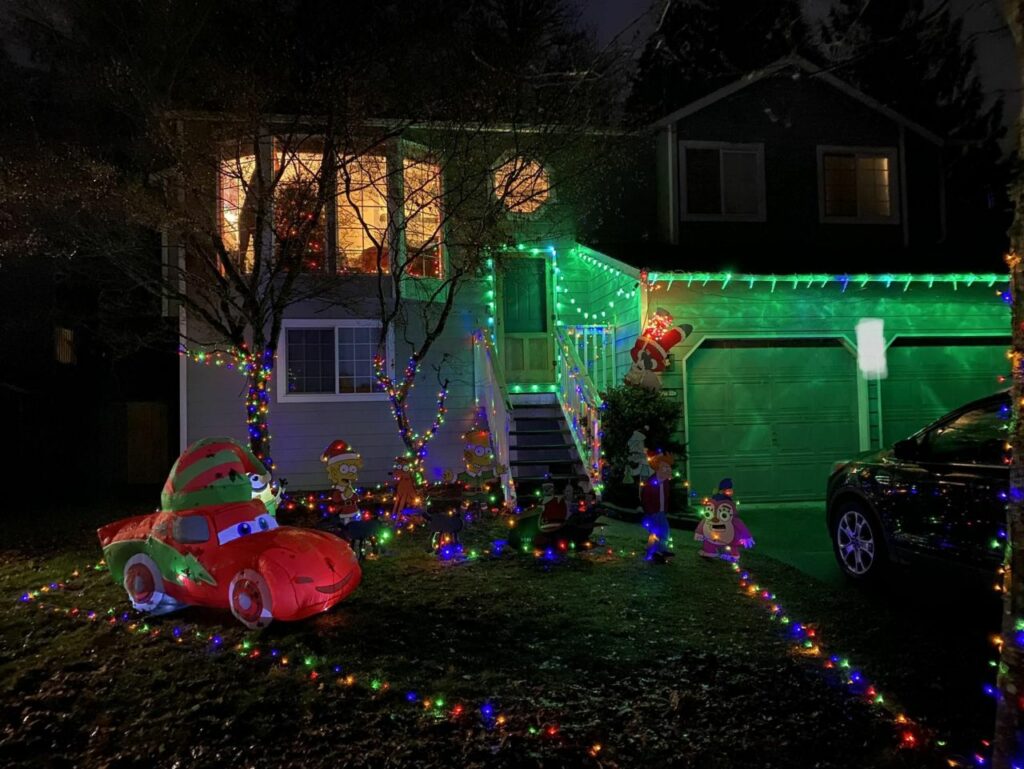 Snoopy's ice skating rink is the main highlight of the Christmas lights on this beautiful house. It is accompanied by a lighted snowman in the yard. A Santa is placed up on the rooftop next to the chimney he's probably going to descend.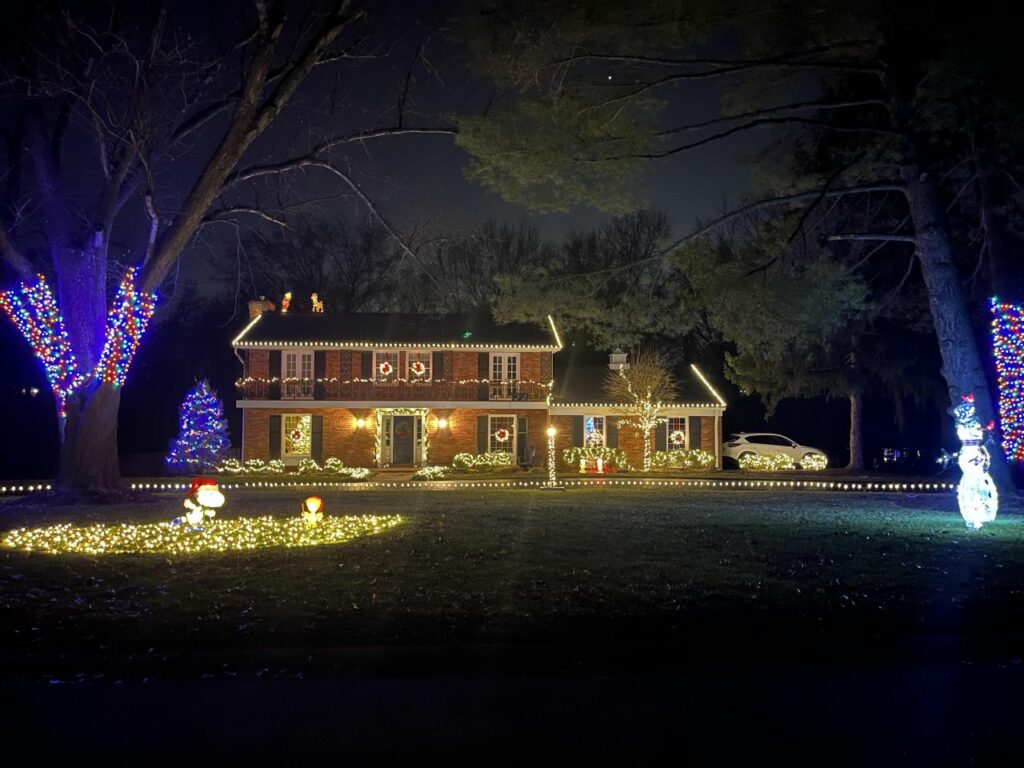 This house in Golden, Colorado takes Christmas lights displays to a whole new level. It uses hundreds of light strings, giant Santa, snowman inflatables, and large snowflake lights. Trees are also decorated with lights to blend into the theme.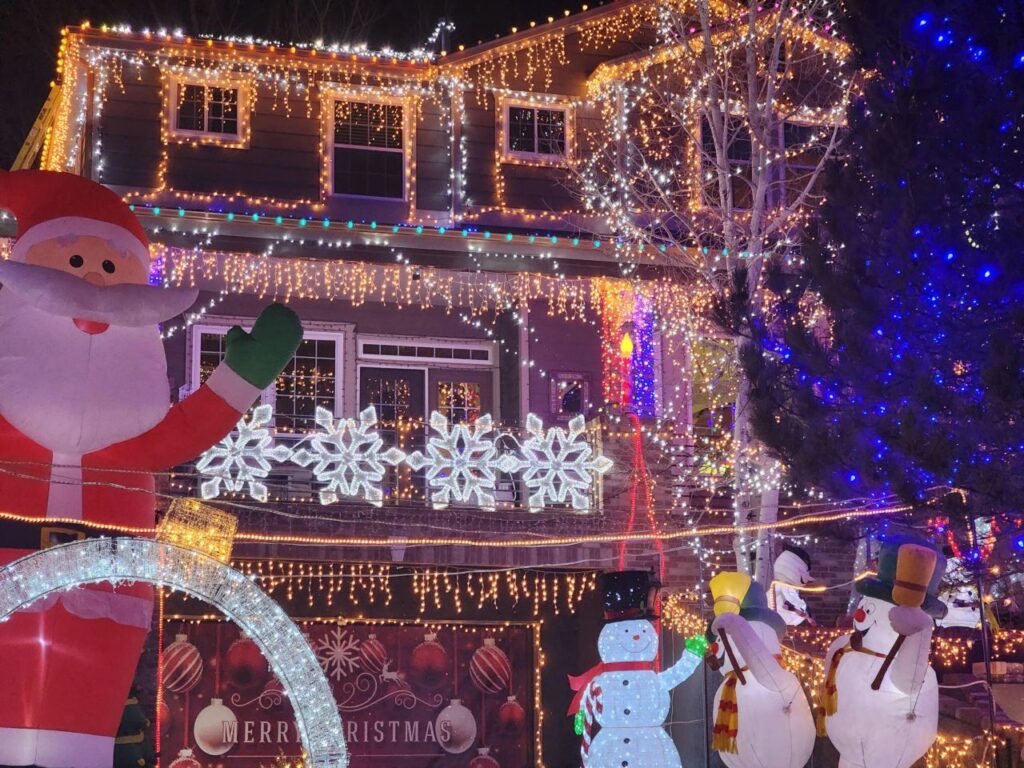 Also Read: Ultimate Indoor Christmas Decoration Guide for Every Part of Your Home
Decorated for the 5th time now, this house stands out with a roof lined with Christmas lights. The purple overtone evoked by multicolored lights creates a grand look. The center of attraction is a large Christmas tree made of lights and topped with a bright star.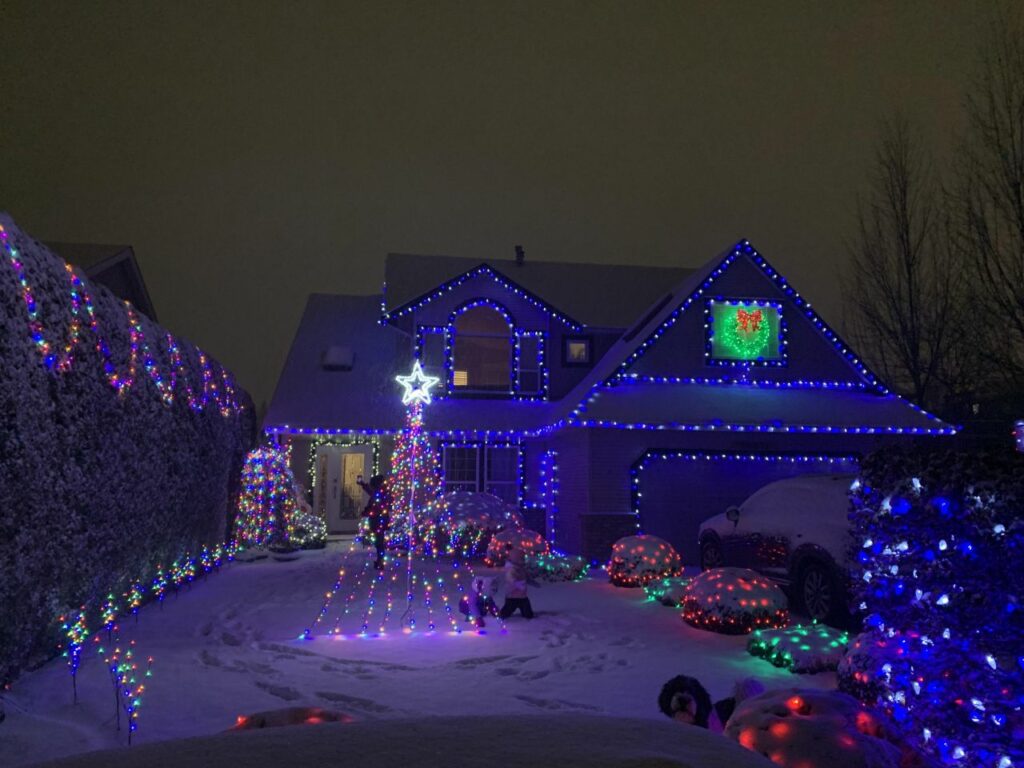 Subtle colorful illumination and a large artificial Christmas tree in the foreground make this house's light display simple yet beautiful. It has been completed in just one day with little lighted inflatables to go with the minimalist appearance.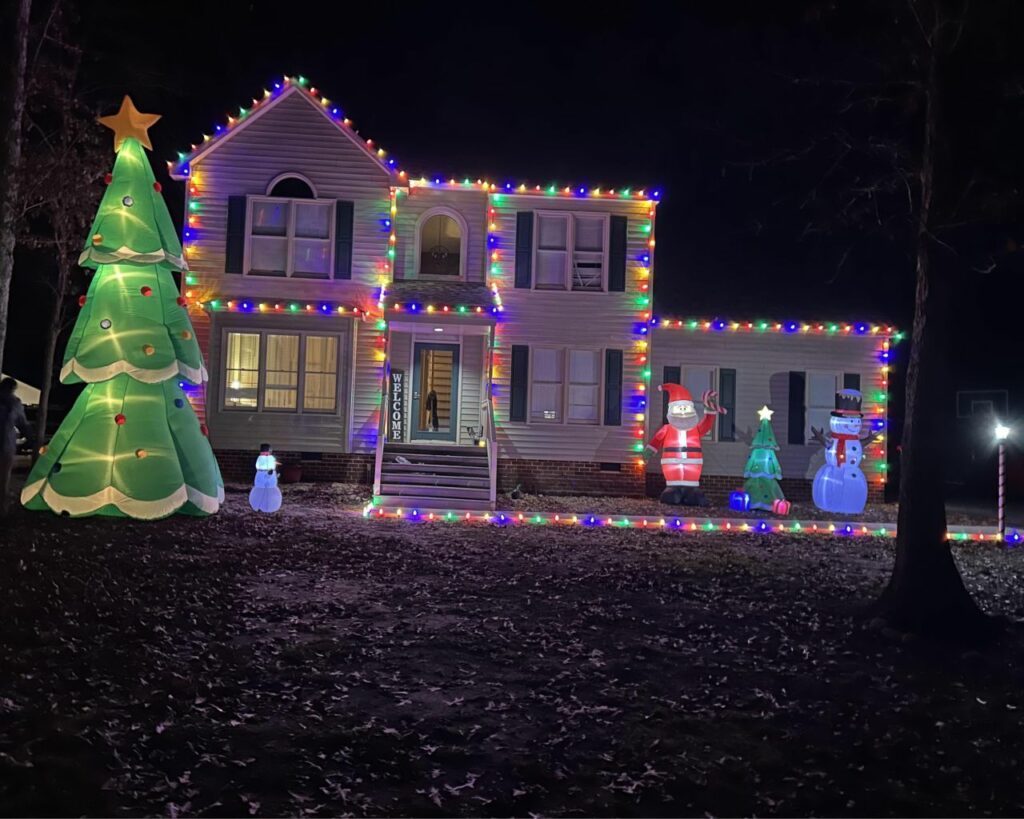 The light art on the house below is bound to get you itching to try outdoor Christmas illumination this year. The owner has decked the doors and windows with lighted wreaths and added lights to the roof. There is also a candy cane light in the yard in white, yet it's the warm hue of the setup that has won me over.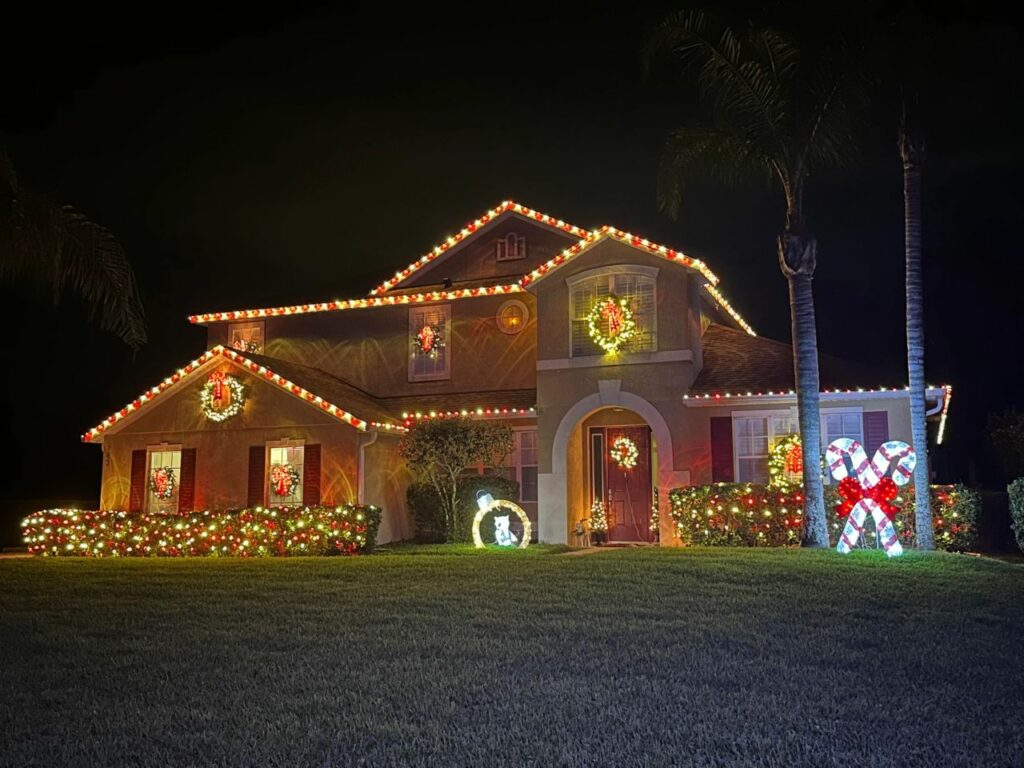 A combination of golden and green light strings is used to decorate the house on the outside. Interestingly, the decorations extend into the front yard where two large trees are swirled in illumination as well.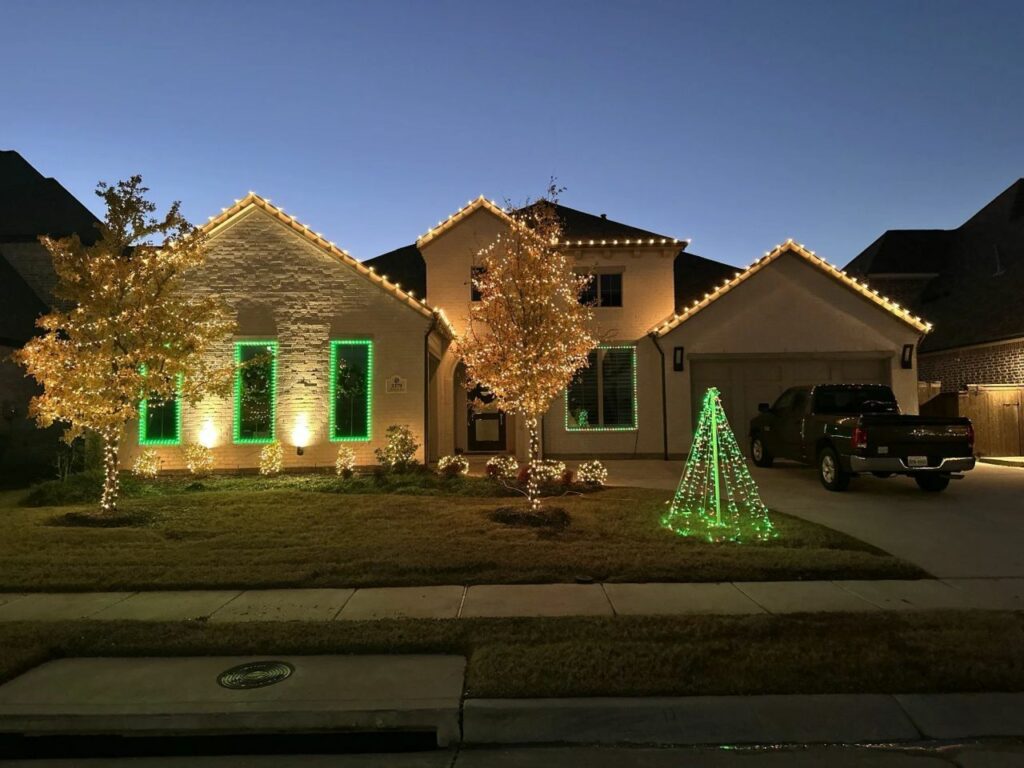 The use of red and green lights highlights this house in Katy, Texas. The similar theme is carried down to the windows as well. What really eye-catching is a large ribbon bow light decoration at the entrance that stands ready for a grand welcome.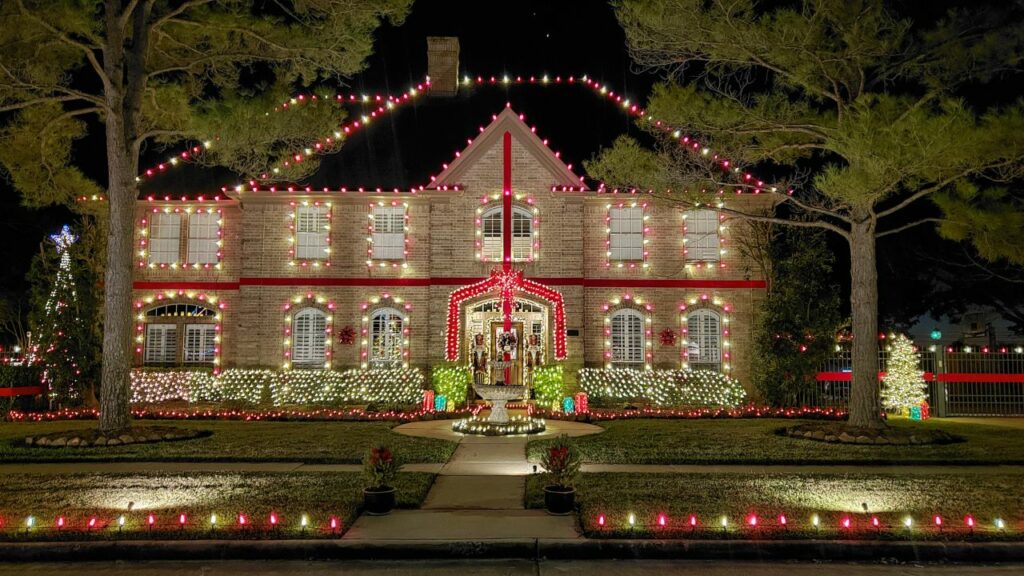 A wildlife-themed outdoor Christmas light display is a cool idea, and you can see it perfected in this house below. The patio railing is decked with candy cane lights, while a tree in the yard is decorated with white and snowflake lights. Bright yellow animals grazing in the middle complete the setup.