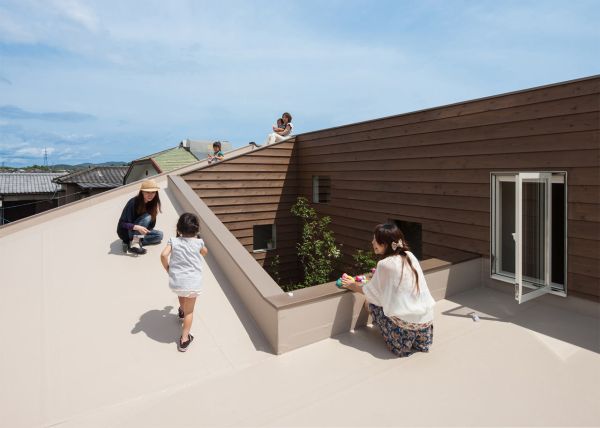 We have harped about architectural designs that pose as solutions to cramped urban conditions. However, the above pictured House J, designed by Keiko Maita Architect Office utilizes such familiar cramped conditions to emerge as a simplistic yet modern family home, with its very own innovative Japanese garden. Constructed on a narrow lot (which is typical to Japanese suburbs), this triple floored house is located in Japan's Yamaguchi prefecture. The owner of the project longed for seclusion and privacy even in such a congested suburban neighborhood. And as an architectural answer to his prayers, the designers followed a 'courtyard' plan, with the floors built around an open space. This small open space was used as the garden, secluded from the outside yet easily accessible to the inhabitants of the House J.
So, basically, the House J follows a vertical pattern that ultimately ends on a roof terrace with good views of the 'outer' city and the 'inner' garden. In this regard, the circulation credentials of the floors are aptly divided as per user convenience. For example, the ground floor comprises of  the family room, kitchen, and dining room, with a simple physical access to the central garden. And, as we go higher, the second floor denotes a study and reading space, while the top most floor (with its greatest privacy) has the bedrooms, complemented by a myriad of windows for induction of natural light.
Finally, the common element shared among all these floors is the familiar view of the garden via the inward situated windows. This interesting arrangement certainly takes care of the rare (and happy) psychological ambit of feeling 'close with nature'.