The excitement is building up with Halloween just around the corner. Decorating the insides of the house is always enjoyable, but the scary outdoors give chills to all. People have already begun preparing their gardens for the day and especially trees.
The trees in your backyard must be dressed in spooky decorations so they can scare off people coming to your house and also the passersby. Here are few ways to decorate outdoor trees for Halloween.
Pumpkins – all-Time Favorite
The basic and all-time favorite Halloween décor item is the pumpkin. Carving scary faces, images or creatures out of pumpkins is not only fun but artistic and not to forget, spooky. Decorating your outdoor trees (especially the bare-limbed trees) with carved pumpkin lanterns will illuminate your garden and scare the trick-or-treaters as well.
Put them on the adjoining branches or hang them, the choice is all yours. Add a few other elements such as ravens to give it a more spooky touch. You can also use other gourd vegetables, paint them, add props to them and hang on the trees.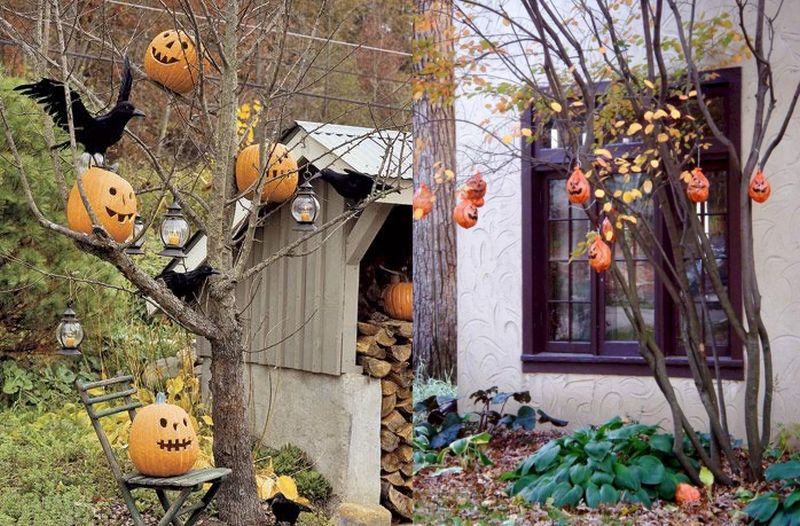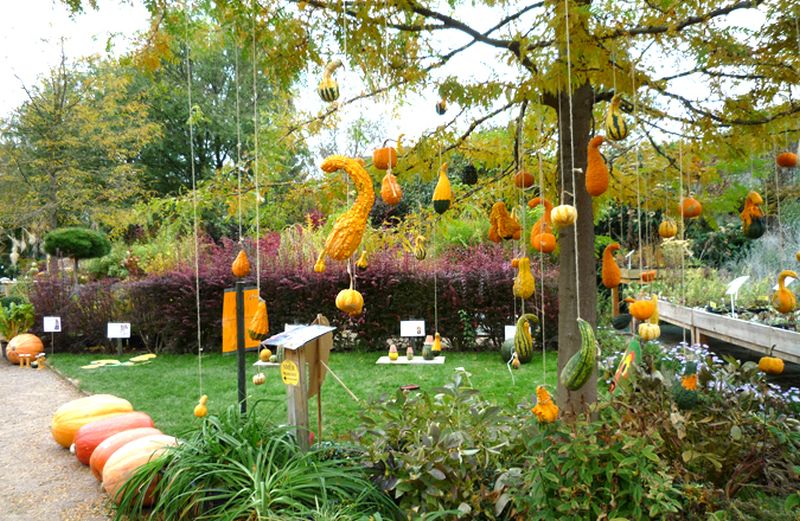 The Trees Have Eyes
The big, creepy eyeballs on trees surely give you a fright. Get some balloons or beach balls to fashion out a pair of huge eyeballs. Place them on the highest branch of your garden tree amid the leaves. They will follow the bystanders everywhere freaking them out. Or you can paste some big eyeballs onto the tree trunk.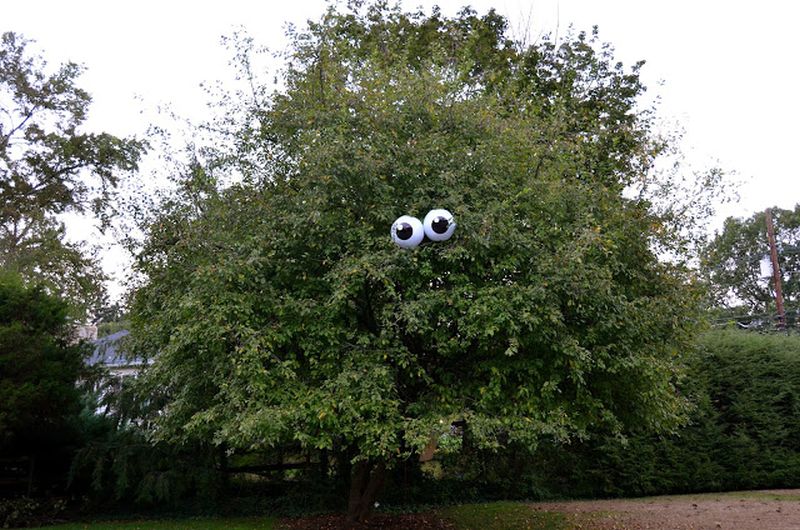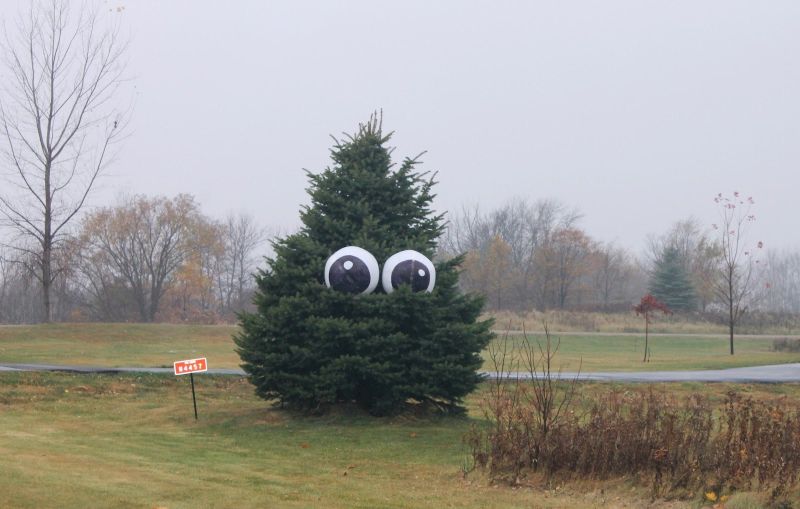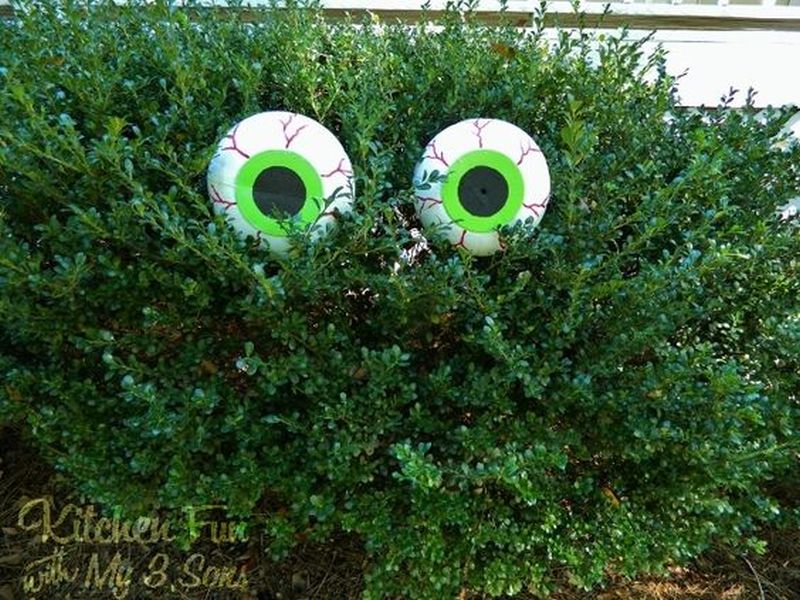 Also Read: Spooky Ideas to Decorate Front Gate and Fence For Halloween
Floating Ghosts: They Come When They Are Called
All the horror stories you've heard as a kid of ghosts living on trees might come true this Halloween. All you have to do is craft faux ghosts out of fabrics and attribute eyes and mouth to them. Take a few big white balls or white balloons and paint eyes on them, draping them in a translucent white fabric you can hang them on the tree. They'll float with the breeze, scaring the onlookers.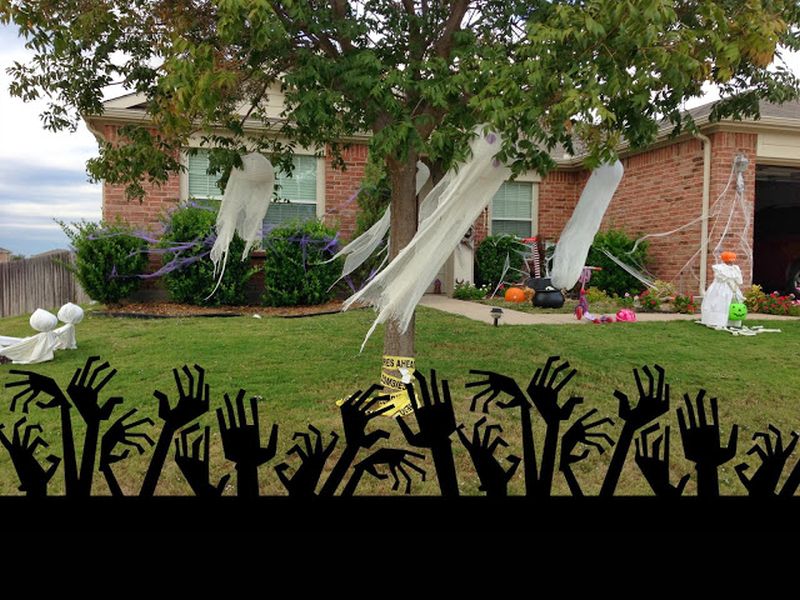 Planet of the Carcasses
What can be scarier than the skeletons hanging on a tree? I bet flowy ghosts won't seem that scary then. Get some skeletons, be it human or animal carcass, or the skulls, it's enough to scare the hell out of anyone. Arrange and fix them on trees in a manner to create panic. You can also try your creative touch here by adding an eye patch and a sword giving a pirate look to the skeleton.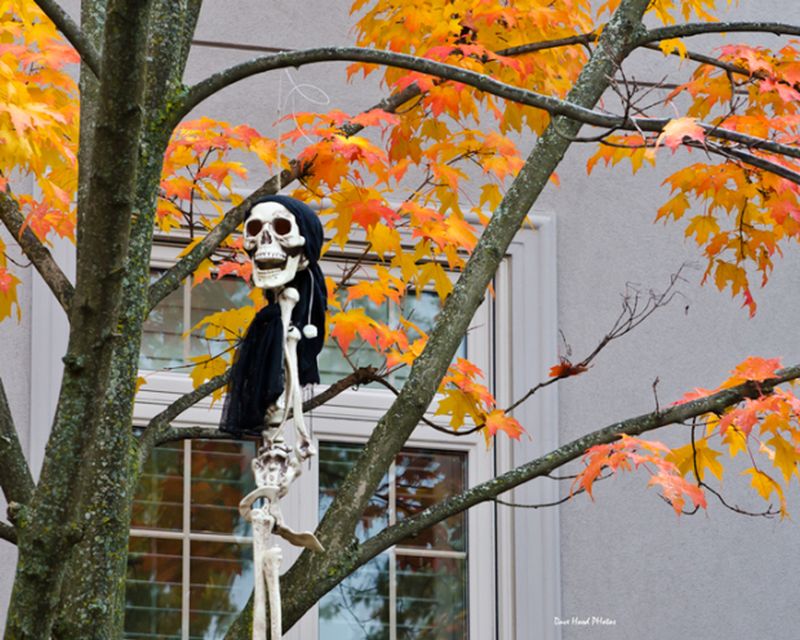 Hang Creatures of Night
The black creatures of the night hanging upside down on the trees are spooky and they do scare the kids. No need to spend big bucks on these décor items. Cut some paper and foam in shape of a bat and add some googly eyes. Make a considerable number of these creatures and hang them with little strings scaring away the children.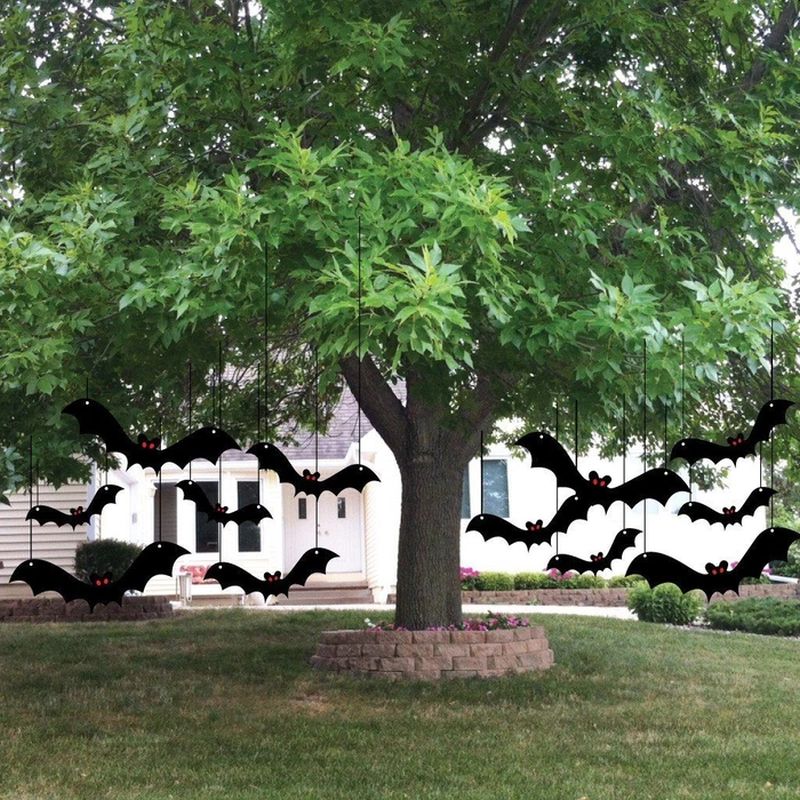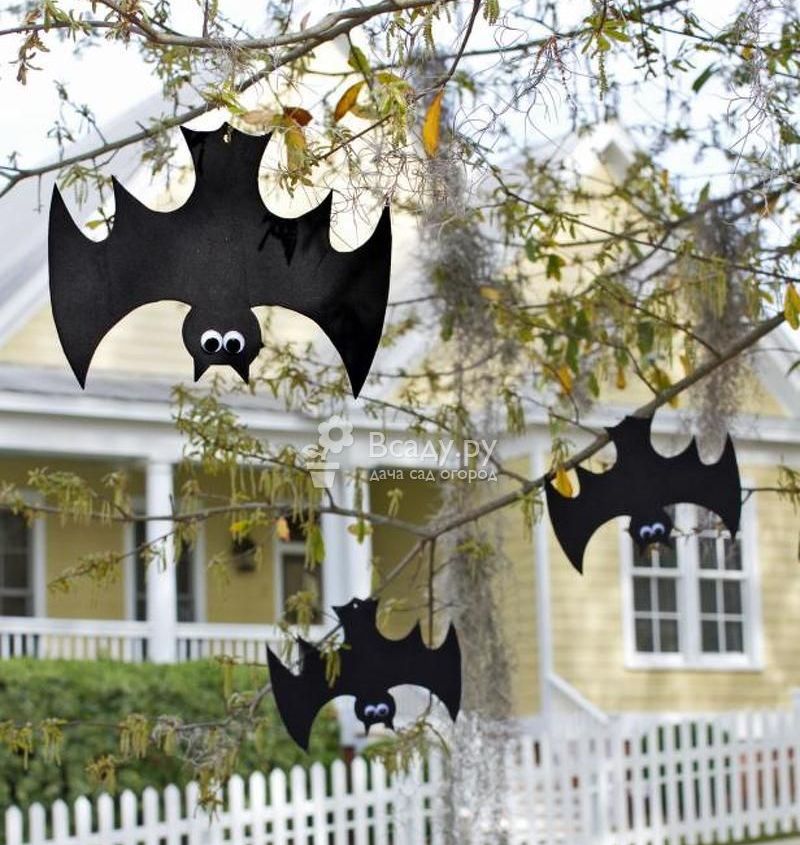 Also Read: 20+ Pallet Wood Halloween Decoration Ideas
Nail a Warning Post
Warning posts nailed on the tree stems are a good option. You can warn the people to beware of what they might find inside the house. Not all that scary but adds to fun for sure. You can also name your favorite Halloween- themed movies on these signposts.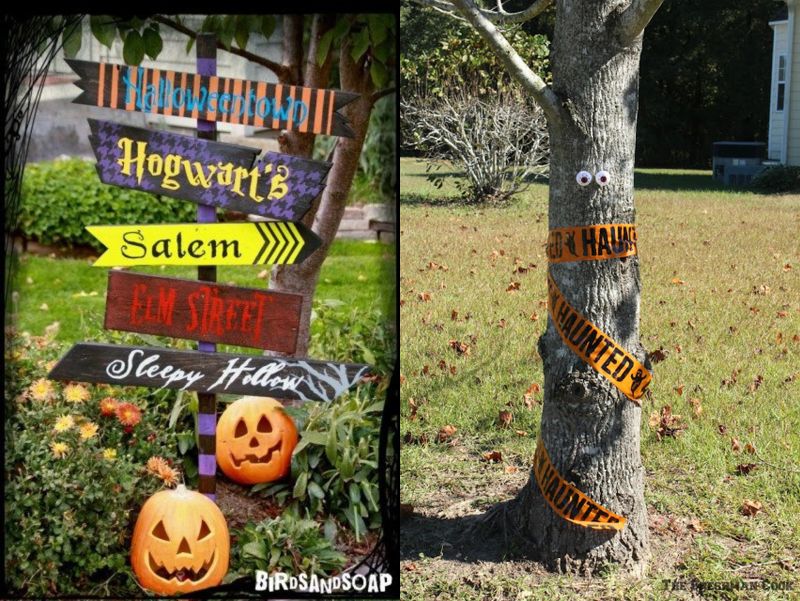 Twinkle-Twinkle Little Tree
The outdoor trees draped in shiny glittery lighting strings is perfect for Halloween. Think of the Halloween color schemes such as orange and black or you can also use orange and purple. They help you spook up the decor of garden trees.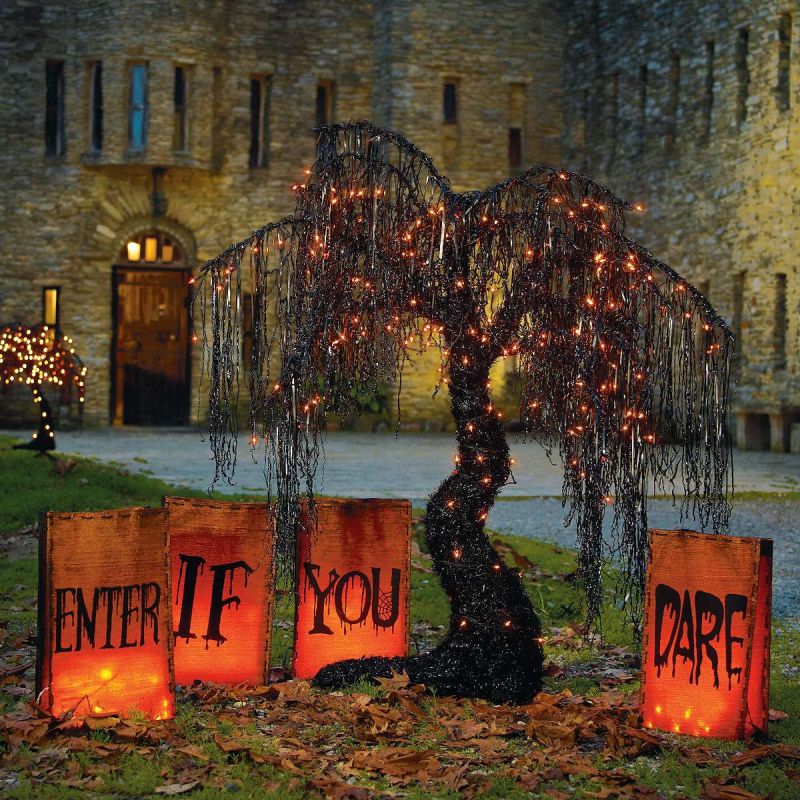 Weave a Web
"Follow the spiders". Or not. Depends on whether they scare you or not. Well, they creep out most people for sure. So, how about decorating your outdoor tree with fake spiderwebs and a huge monstrous spider? It is a great Halloween décor idea. You can also add a cocoon corpse around the web.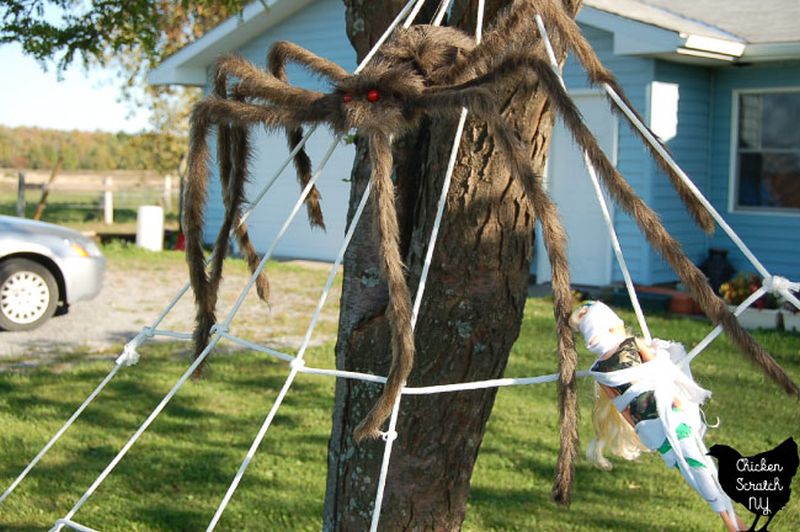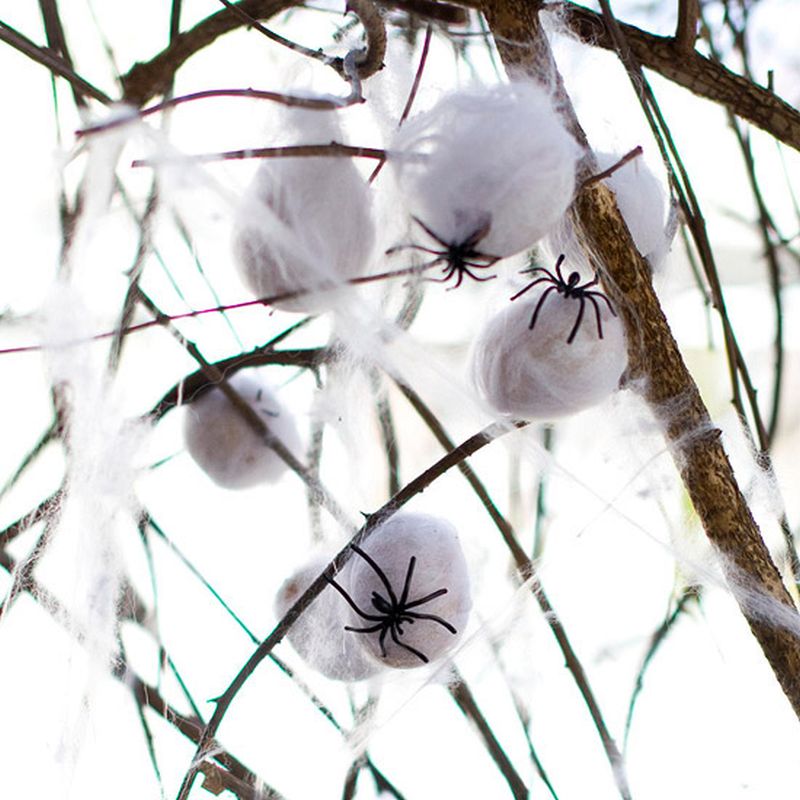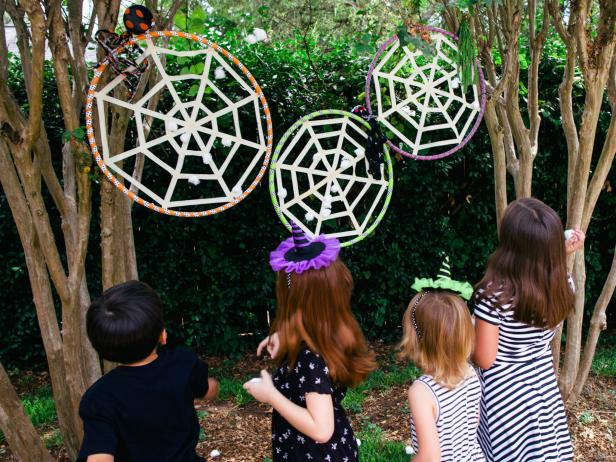 Dolled Up Halloween Tree
Well, not exactly. Dolls are adorable, with their cute expressions and pretty dresses. But, dismembered dolls hanging on a tree? Scary! You can gather disfigured dolls in your house, dress them up in rags; have their hair muddy and uncombed with a little bit of smudged makeup. Hang them on trees giving chills to the people, especially kids coming for candies.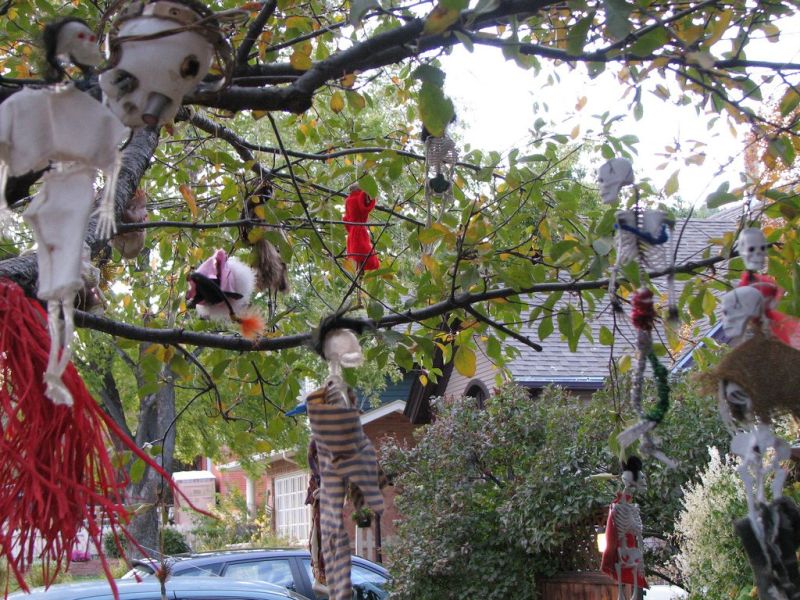 Beware of Witches
Halloween and witches go way back in time. The stories of evil, scary witches who would kidnap kids and turn them into animals are very common and enjoyed by most of the kids. Create witches with their broomsticks hitting the trees. Sounds fun and creepy as well. Take a look at this witch who has hit the trunk of a tree.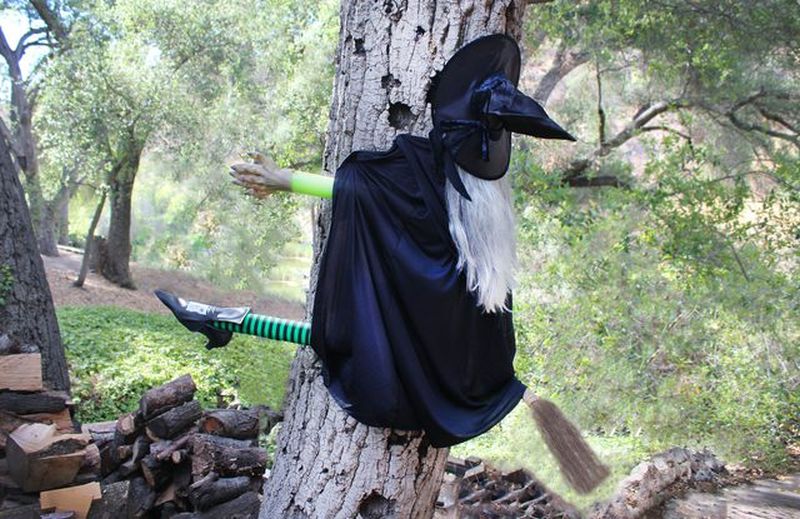 Also Read: Wacky Ideas to Decorate Front Porch for Halloween
Creepy Elf Houses on a Tree
Craft little elf houses on the trees. Nail small windows and a door painted with bright colors to a tree trunk, making it look like a house for a little elf. Small and strange elves, living inside a tree are good enough to creep out the kids.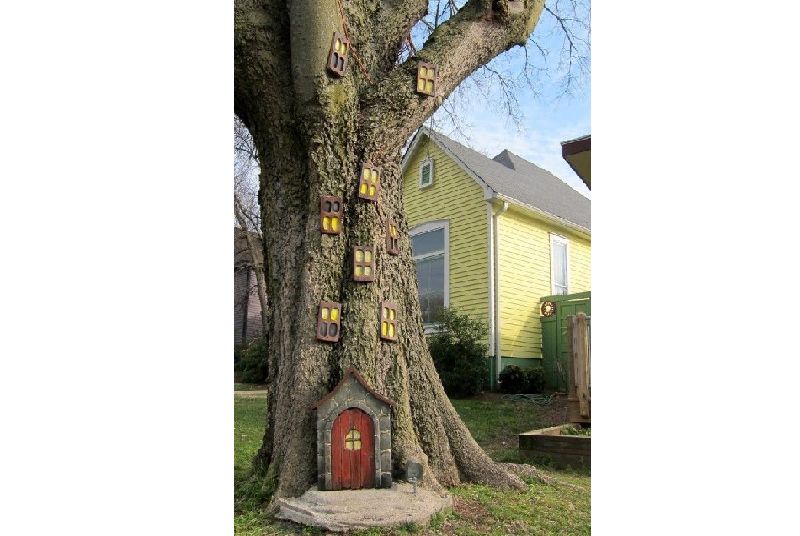 Haunted Trees with Lights
Scaring the kids who come asking for candies is one of the trends of Halloween and undoubtedly, fun. You can turn your garden into a mystery and terror land. You can use your gowns and dresses to spook it up. Hang lanterns draped in gowns. This hanging lit wardrobe can help you scare the kids.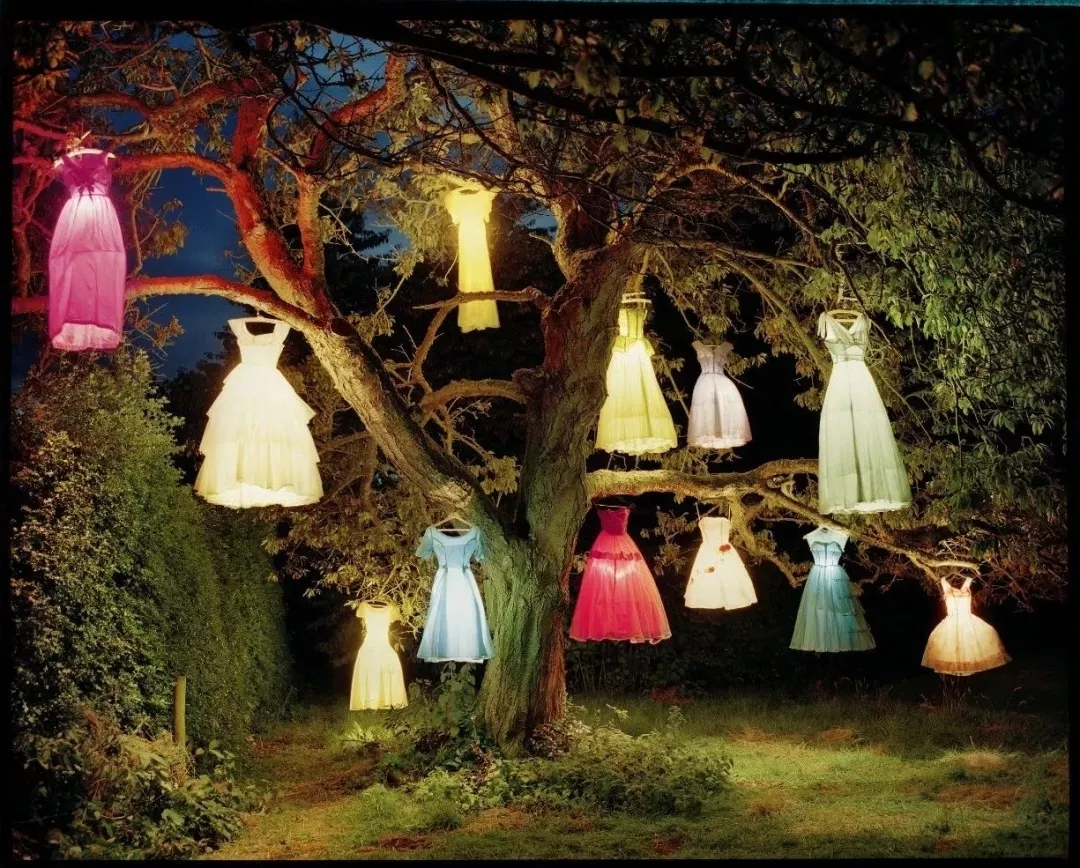 Let it Swing
Swings are an important part of any garden, put them to use this Halloween. You can use the swings to create panic. Have a ghost swinging or a carcass swaying with the wind on the swing in your garden.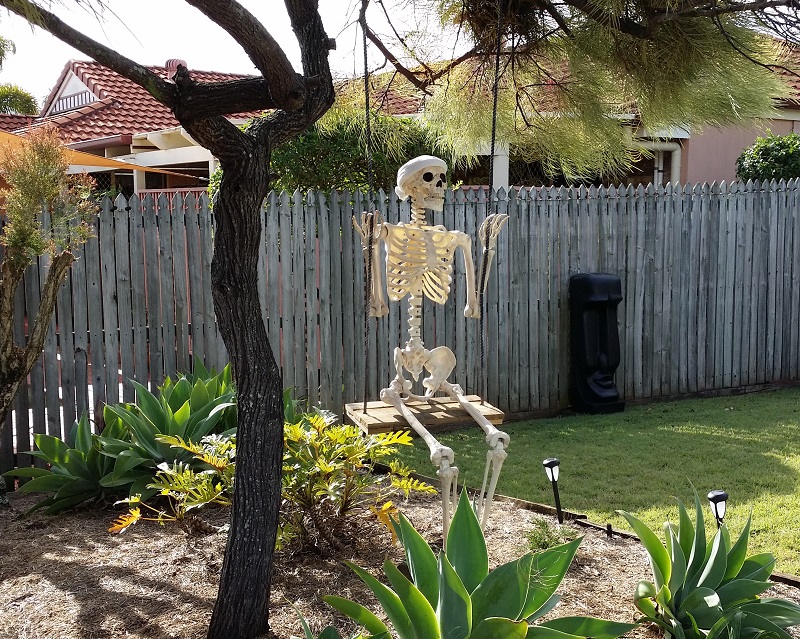 Final Thoughts 
The delicious, colorful, and chilling feasts of the day, the scary and creepy costumes and the frightening décor are all worth waiting for. Trick-or-treating is always fun for kids while adults take interest in preparing Halloween-themed cuisines and decorating the garden in a terrifying way.
So, are you ready to decorate outdoor trees for Halloween, turning it into a terror and mystery land? This year take it up a notch and use every bit of resources and creativity. Prepare to scare the trick-or-treaters with your spooky garden trees; it'll make your day. Have a fun Halloween.