People have different preferences and tastes when it comes to buying furniture for their homes or office. Some prefer bulky tables and chairs while others want retractable furniture that is space-saving. But, when we talk of modern-day furniture requirements, everyone wants an aesthetically pleasing piece that blends with the interior and at the same time offers smooth functionality.
Where other designers fail, Joao Teixeira leads the charge. With balance, emphasis, and rhythm at the back of his mind, Portuguese designer Joao Teixeira brings a Scandinavian and minimal touch to furniture design, which combines functionality with aesthetics. The designer has garnered a lot of attention for his product design like Float cat tree and won laurels for his furniture designs like the Piano desk, for which he won iF Design Award 2022. Homecrux had an exclusive chat with the designer to know more about his work philosophy and more. He talks vividly about his projects and future prospect, and you can enjoy the conversation below:
Homecrux: Thanks for taking out time to chat with us. Please tell us a little about yourself?
Joao Texeira: When it comes to describing myself as a designer I'm a natural hard worker. This is one of my strongest attributes, to stay curious and focused all the time. To always push myself to do better in each project. And actually, as a person I'm very similar, I'm a very simple guy, just like the products I design.
HC: Did you always want to be a furniture designer or was there something else in mind?
HC: I believe the furniture expertise arrived in a natural way, I can't say it was something I've always wanted. I remember that when I was growing up to become a professional designer my interest was (and still is) to design functional and useful products, no matter what discipline really.
HC: You completed your bachelor's in product design and specialized in integrated design. How does it help you as a designer and business owner?
JC: For my academic experience I can say the bachelor's and master's have done a lot for me. Not just in terms of design but mainly because it really boosted the way designers must interact with the industry and how important it is to understand the context for which you're designing.
HC: Tell us about the journey and struggles from a student to being a professional designer.
JC: As a student, I've always struggled with myself, I never settle. This focus and way of thinking led me to my first design job as soon as I completed my Master's. So, I've struggled while a student to make a future for myself, but I was lucky enough to find my first opportunity right away.
HC: Desdeco was one of your earliest projects; how successful was it?
JC: The product was part of a bigger picture project. The project was called "Genius Terrae" and its briefing was to think local and act global, by using the true soul of each Portuguese region (specifically the "Alto-Minho" region). So Desdeco is an academic product, and designed by me together with Marco Ferreira, Ivo Carvalho and Joana Ferreira. The region we've opted to research is Paredes de Coura, and we've found the region's true identity was agriculture. The product uses inspiration from this, from the way the agricultural objects were made and used but also their meaning. We took these values and designed something fresh with the added value of design.
HC: You were an integral part of Cadeinor design studio. How was your experience working with them?
JC: Cadeinor was an amazing opportunity and experience for me. I've learned pretty much everything I know now as a freelancer. Mainly, I can say that the ability to design freely and to be able to connect physically with manufacturers was key to my evolution as a designer.
HC: You say "design is about process, not the outcome." Is it about enjoying the design process? What's your mantra of design?
JC: I believe that if you want to do great work within design you must do a great process otherwise you miss the chance to create something useful. Even if sometimes the outcome is not as beautiful as other people might expect it to be, what really matters is the right approach, the rest will follow.
HC: Most of your designs, be it Shelter or Piano are focused on working and office typologies. Why so? And how do your designs breathe life into boring spaces?
JC: Shelter, Piano, Loop, Bars, and Brick really are products, I've designed having the home office in mind. This has happened for me because while working from home (due to Covid), I felt the need to create better solutions for the home. I always try to explore and value the same concept, which in this case is organization layouts and clever use of space. Although these desks share this same principle they're very different from each other in terms of usability, while keeping the design language.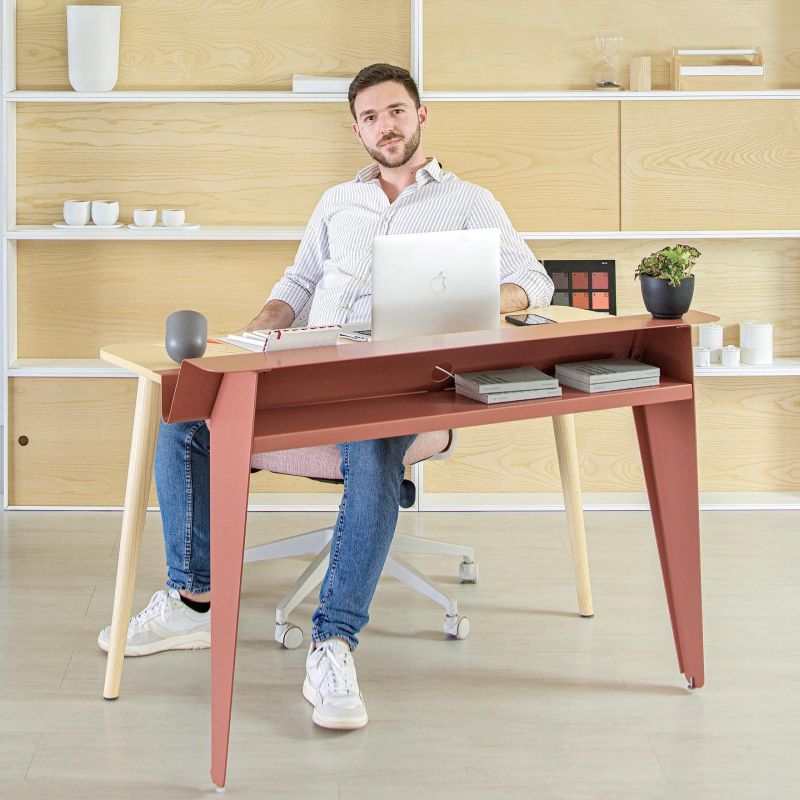 HC: Your designs are a balance between aesthetic and functionality. Recently, you started with ''Japandi'' design trend which is evident in the Cloth coffee table. How's it different from your previous designs? Why only 'Japandi'?
JC: I believe the "Cloth" coffee table follows a recent design approach I've added to the studio's language, which is the mix between wood and metal. I think the main difference from the previous designs is probably the looks of it. I always explore rounded shapes in my designs but in a simple way, "Cloth" on the other hand seems to me a more unique product regarding its overall appearance. You have plenty of information about the "Japandi" trend, but basically, it's all about combining the best of 2 very similar productive worlds, the Scandinavian and the Japanese. It's becoming popular because interior design trends are also looking for this kind of furniture.
Also Read: Your Guide to Creating the Perfect Japandi Style Home
HC: We have also seen your pet furniture designs such as the Float cat tower. What was the inspiration behind this? Are you a cat person?
JC: I'm a pet person in general, but I'm a dog person in particular. The inspiration sometimes comes from the need, "form follows function". Float is the case. Although I can say that for this design we wanted to come up with a unique product. The materials and shapes allow for this to happen, but the fact that this is modular, flat-pack, aesthetically pleasing, and with an "almost floating" step design makes Float a different cat tower.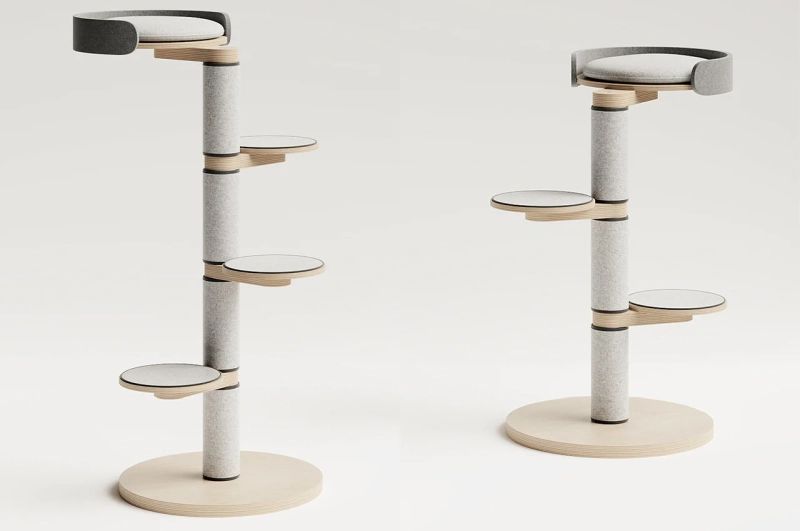 HC: One challenge most designers face is finding a manufacturer. How difficult has it been for you to find firms who are ready to manufacture your designs?
JC: The thing is that I don't look for manufacturers to produce, at least for now. Normally they see the designs I have and this is an open door for 2 situations. On the one hand, they want to further develop the products I've designed but on the other hand, the products are a basis for the client to suggest new briefings.
HC: Past two years have been a roller coaster ride for you. Nine of your designs received Behance best product design and A'Design Award. How do you feel about it?
JC: Actually I have 7 Behance featured badges I think. But yes, not only on Behance but also on Designboom, DesignMilk, Yanko Design and main Instagram pages (design content related) the feedback was amazing, and definitely helped to get where I'm now. I'm always thrilled to find out that my works inspire others, especially when they are experts.
HC: How big is it to get recognized by A'Design Award, from a designer and industry perspective?
JC: The A'Design Award is one of the best ones out there, so it was great news to have achieved the top classification (Platinum) with Shelter desk. From a designer and industry perspective, the advantage of getting these awards is obviously the amount of projection they get with it, also they are a guarantee of design quality for those who are looking for unique designs.
HC: You have showcased your designs at Milan Furniture Fair. How was the overall experience?
JC: At the time I was part of a collective exhibition. This was made possible by the University where I studied (IPVC). They've made a small selection of products designed by students and I was lucky enough to be selected with Desdeco and Black Arrow (surfboard). At the time I couldn't attend Milan, but I got some feedback from many enthusiasts, including from the Green Product Award team, that invited me to participate in the award at the time.
HC: Your latest Cloth Coffee Table gained a lot of traction online. Tell us a little about the design? How has the internet helped you as a designer and business owner?
JC: Indeed, most of my products get this kind of projection online, especially over Instagram. And I'm really happy with it. The Cloth coffee table was no different. This definitely helps you get some recognition and start building your mark, that's for sure. It also boosted a lot of freelance jobs.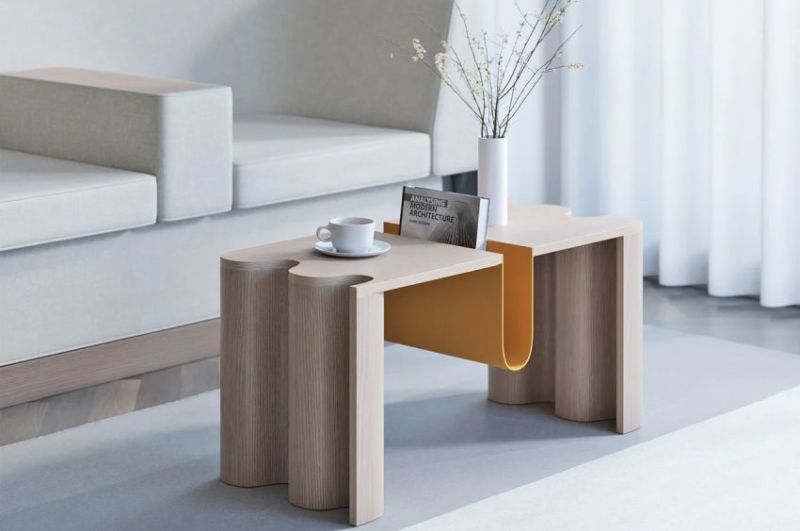 HC: Would you like to share about the projects in the pipeline?
JC: All I can say for now is that I've been getting lots of briefings related to pet and kid's furniture, and I'm really enjoying it! As for personal projects, I might be looking for a multifunctional piece of furniture that I haven't yet seen in the market but is just an idea for now.
HC: What is your message to the budding designers?
JC: Well, these are not my words, but they could be… and this is my message "It is not coincidence that makes a designer but his continuity. And continuity means working and searching, working and fighting, working and finding, finding and seeing, seeing and communicating, and again working and searching. Designers must challenge the past, must challenge the present, must challenge the future. But first of all, they must be true to themselves. Design is attitude."
HC: What does João Texeira do when not designing?
JC: I always like to keep myself busy. I love photography and travel.