"We will rebuild our cities. Some of them with the likes of Mariupol, we will rebuild from zero," proclaims Kateryna Sokolova, one of the top industrial designers from Ukraine.
Born in 1984, Kateryna is one of the most prominent voices in the design sphere not just in Ukraine and Europe but worldwide. When her country is undergoing an arduous time, she makes it pretty clear that designers and architects of Ukraine would no longer be tholing to the perils of the war, and would definitely not relent to Russian atrocities.
"War always brings fear, horror, and death of thousands of innocent people. But war is also a powerful impetus for progress. Ukraine will undoubtedly make a huge step forward in architecture and design," Kateryna tells me in an exclusive interview.
Many Ukrainian designers and architects have expressed their horrors of war, but the Kyiv-based designer is one of the few who is obstinate and optimistic that Ukraine will rise again.
"We will use the most advanced solutions that are now available in world architecture. I believe that a lot of famous architectural firms will help to restore Ukraine and bring their vision to our cities. Already, many architects are working on a restoration program. Product design will also take off. Now many designers work for foreign markets, but after the victory, we expect investments in production, and a stable domestic market," Kateryna explains.
Since the inception of the war, Ukrainian designers have predominantly shifted their focus to designing functional objects helping to solve problems in bomb shelters, dugouts, temporary hospitals, and war zone areas. Lending a small hand to her comrades and the Ukrainian army, Kateryna designed the military edition of the Gropius and Low chairs and even exhibited it at the London Design Festival 2022. Shrouded in 'wartime camouflage net' the chair epitomizes that the war is far from over.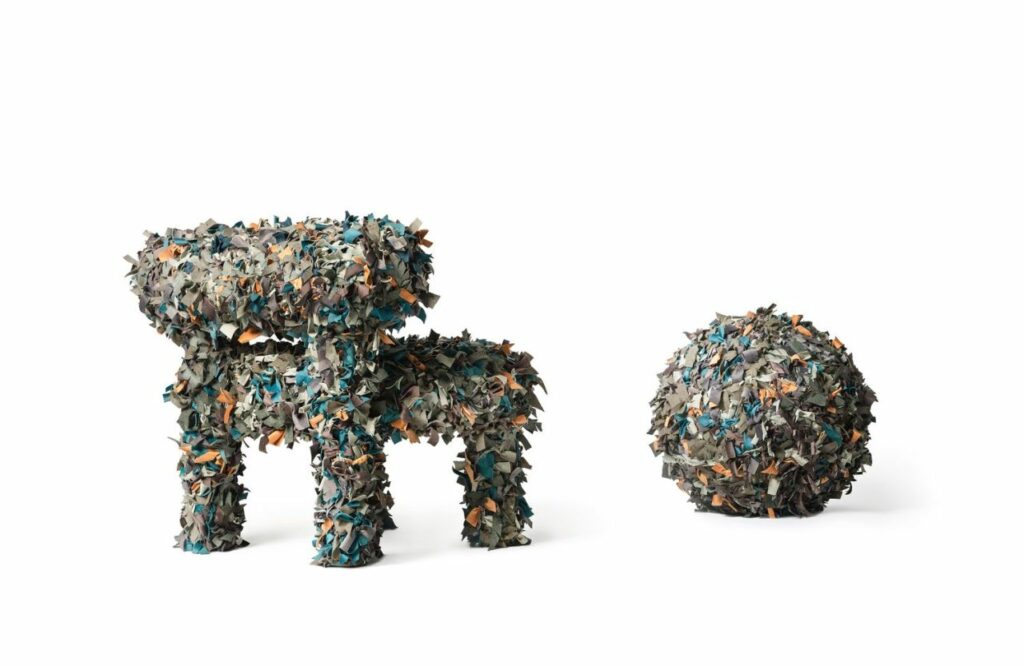 "Ukrainian designers using the experience of previous years are now focused on making functional objects necessary for the new wartime reality. These objects help solve problems in temporary shelters, dugouts, temporary hospitals, and bombed houses. These objects help save lives, find enemies, protect heritage, and bring a piece of comfort there where it seems impossible," Kateryna said.
When asked about how designers and manufacturers are managing their current raw material requirements, considering Russia was a major source of imports pre-war; she informs that NOOM has never worked with Russia.
"We will never work with them in the near future too. We order fabrics and accessories from leading European brands and buy wood and metal from Ukrainian manufacturers. For young designers, we recommend not being afraid and sending their concepts to brands, even the big and famous ones. With the outbreak of war, most Ukrainians try to consume Ukrainian-made goods in order to support small businesses. And, that is what the need of the hour is. Ukrainian designers and the entire ecosystem need to stand with each other," she points out.
What the co-founder and creative director of NOOM and SOKOLOVA Design Studio says becomes important not just from the war standpoint or political perspective but also holds significance when magnified from a design slant.
As a winner of the Red Dot Design Award 2015, she is also one of the top female Ukrainian designers to pave way for more women in the industry. In addition, she is one of the top industrial designers who has left her footprints for the future generation of budding designers to follow. As much as vigorously she speaks on the Ukraine situation, she also passionately reminiscences her salad days.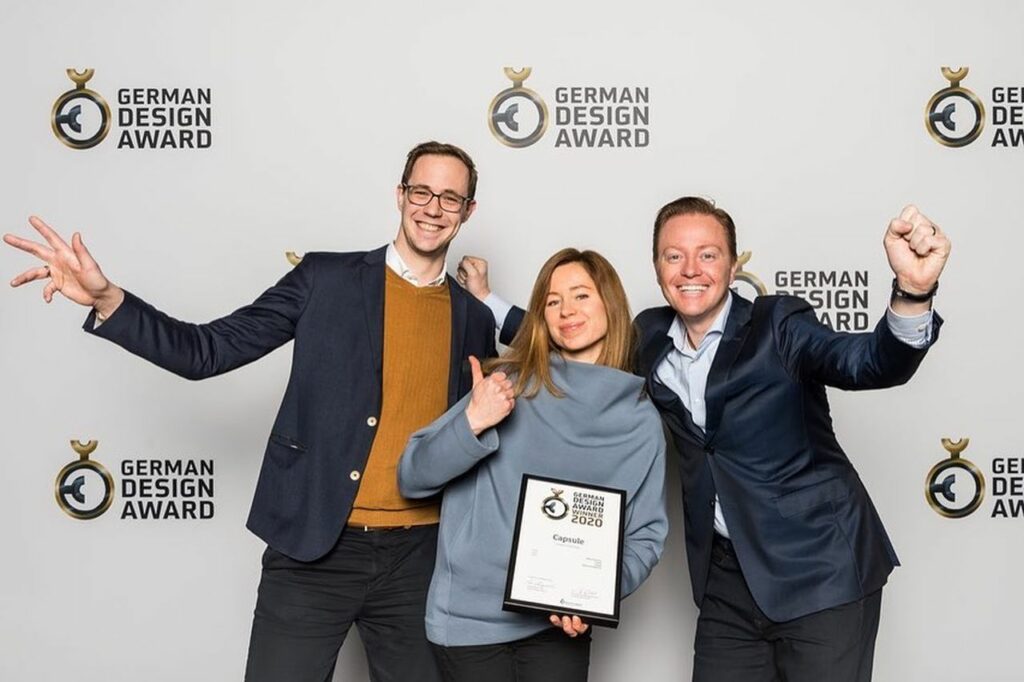 Raised in an artistic family, Kateryna's dad is an artist and designer who ran a small workshop of craft leather production. Kateryna's family inspired her to get a designer's degree from the Kharkiv State Academy of Design and Arts. After completing her 'Master of Industrial Design,' she interned at German Design University 'Burg Giebichenstein Kunsthochschule Halle.'
"I was raised in an artistic family, so I never hesitated about which direction to go," Kateryna tells proudly. "My designs always blend simple geometric shapes, clean lines, fine detailing, and intriguing materials." However, it's not just the hereditary roots and heirlooms that left an impression on her, she was also inspired by the culture beyond the extent.
"As a creator, I always feel the strong impact of the 20th century's cultural legacy on me. The Bauhaus ideas of functionalism and conciseness, the combination of craft and art, buildings and objects formed by a composition of simple geometric shapes, are still relevant. The works of the Ukrainian avant-garde artist Kazymyr Malevych very inspire me. Yes, he was Ukrainian," she strongly notes. Malevych is one of the painters labeled as a representative of the 'Russian avant-garde.' "There is nothing Russian about his heritage or inspiration," she affirms.
Talking about her two studios she states, "At NOOM we create an emotional design. Balancing between expression and function, NOOM is a place where design meets art. At the same time, my products for other brands (SOKOLOVA Design Studio) are more diverse and utilitarian. Sometimes I design products according to the client's needs."
Working around a wide range of disciplines including furniture, lighting, hardware, and electronics, Kateryna has made sure she leaves no stone unturned in designing a product that flaunts both artistry and functionality.
Recently exhibiting her Flock Collection at Maison & Objet 2023, Kateryna exemplified why she is so good at what she does. Functioning as a beautiful centerpiece for your home, the Flock Lounge Chair and Ottoman (part of the collection) are made of foam rubber, injection-molded soft foam, and textile. Poised on four wooden legs, the soft fabric used in the chair and the ottoman defines the furniture's relaxation and cuteness.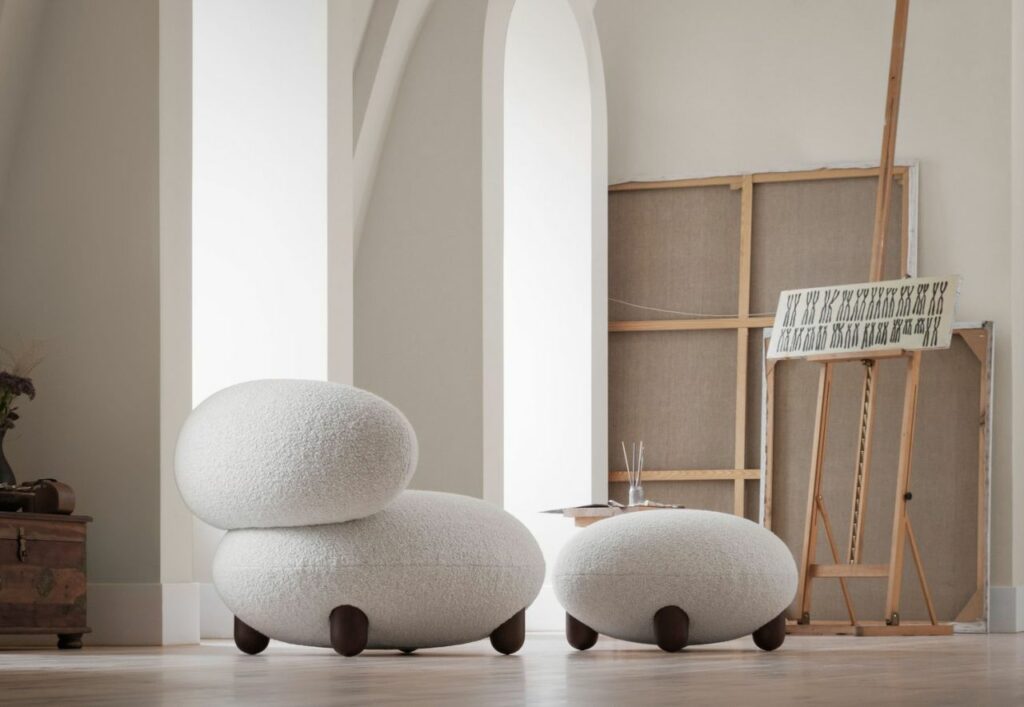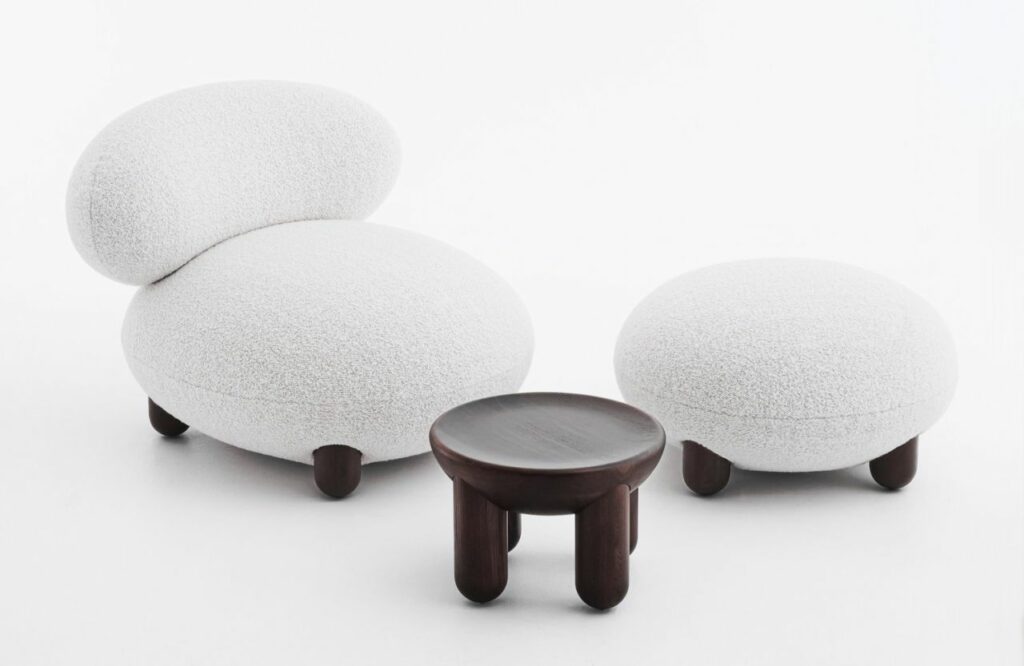 "We presented our new collection as part of a collective stand of Ukrainian designers. This exhibition, named 'The Art of Resilience: Ukrainian design and crafts,' received much positive feedback and mentions in the design press. We will show some new items at the Salone del Mobile, but before that, we will show unique vases at the Collectible design fair in Brussels," she divulges.
Elucidating her thoughts on the change in furniture design she says, "The industry has definitely become more open to young designers and fresh, bold ideas. Many brands are now betting on artistic accent pieces. When it comes to NOOM, our motive has always been to design unique shapes that are pleasant to the touch features eye-catching textures, and, of course, a hint of handmade work."
Talking about her creations and the time it takes to fully customize an object, she informs, "We aim to create personalized products because they evoke emotions and connections. Recently, we have launched a bespoke service to help architects implement their ideas to life. Now any architect, interior designer, or creator can turn to us with his concept of furniture, lighting, wall panels, or any other metal product. We create custom objects according to the requirements of different complexity. The lead time depends on the product and it is from one month to two."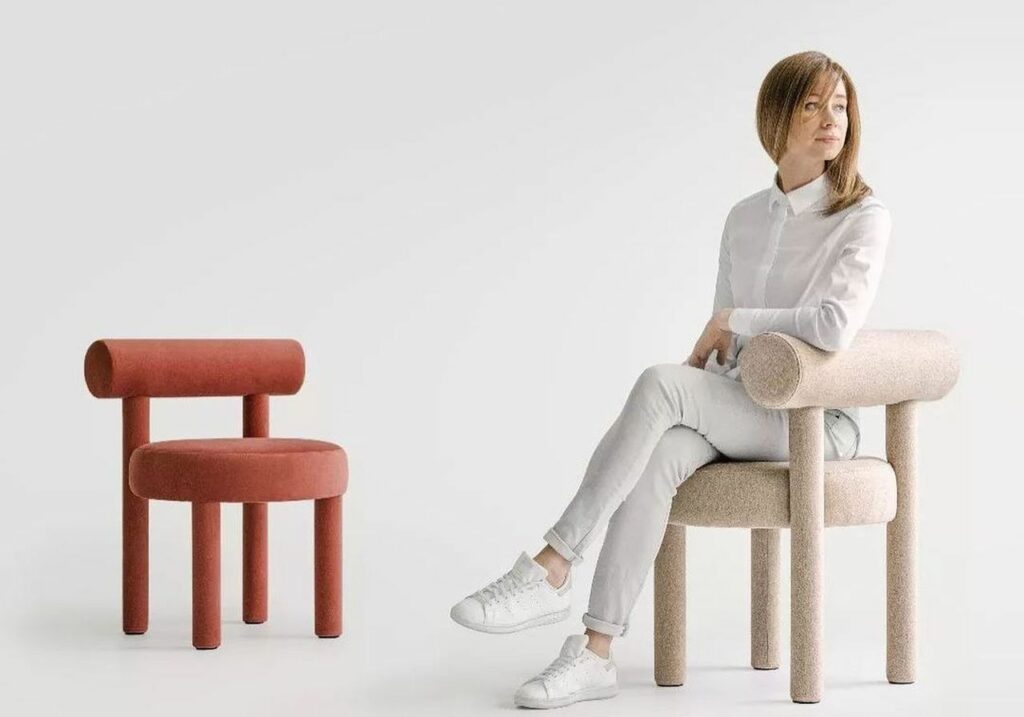 Further opening up on her struggle in the war, Kateryna said, "Our head office is located in Kyiv and part of our team is working from there. Another part is spread over Ukraine. Our production was located in Kharkiv, which from the very first hours of the war became the target of massive and merciless artillery shelling. We were forced to relocate our manufacturing to other cities. Now we produce our objects in different parts of Ukraine and are currently looking for manufacturing partners in Europe. After our victory, we all will be back in Kyiv," she emphatically states.
Spending a lot of time with her little daughter, who is a major source of inspiration for her and her creations, Kateryna Sokolova is a paragon not just for the design community but for anyone who dares to dream.