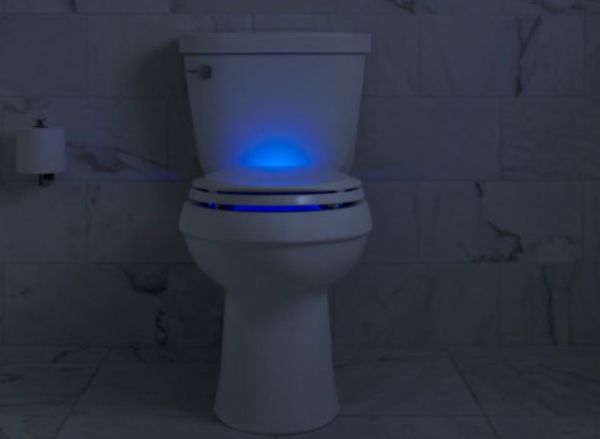 My biggest late night crisis may have just been answered with Kohler new toilet seats. I don't like turning on the overhead light in the bathroom at night because it ruins my sleep, therefore I often have trouble locating the toilet to take a leak at late hours. Kohler's Nightlight toilet seat with a pair of LED lights (available on company's Cachet Q3 and Reveal Q3 toilet seats) has made it really simple for all weak bladder fellows like me. The commode fitted with low-intensity LEDs shows where to aim, bingo!
The toilet seat has a guide light, to show the way, and on approaching the toilet the task light glows to allow male users to pee accurately. To elaborate – the toilet seat when shut, shows a blue glowing light good enough to guide you safely in pitch dark, when the cover is lifted, the light fills the bowl to make sure no male in the house dirties the seat anymore.

Nightlight can be set by simple press of a button to glow for seven hours each night. Yet, the AA battery powered Nightlight can light for six months on a pair of batteries. Additionally, the toilet seats with Nightlight comes with Quite-Close feature to eliminate annoying slamming sound of the seat, along with Quick-Attach and Quick-Release features that allow the toilet to be installed and removed easily.