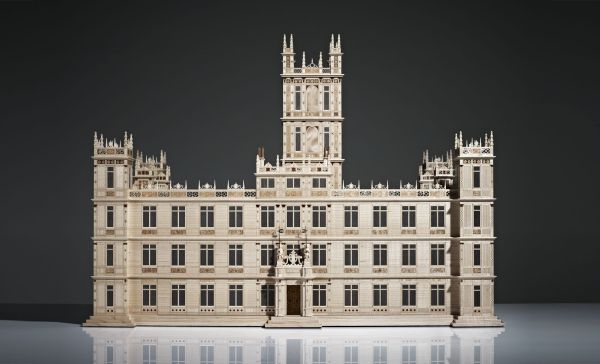 We have been witness to an assortment of upscale products from Linley, ranging from the $13,000 Rocking Horse to the $133,000 Tectonic Bar. And, now the family owned company has reverted to their expertise in creating scaled versions of famous architectural buildings. The end result is the magnificently crafted Downton Abbey's Highclere Castle, which remarkably also doubles up as a jewelry box.
The castle building itself is constructed from maple complemented by finishing like burr maple, ripple maple and quilted maple. It is further bedecked with finer details that are meticulous in their craftsmanship. For example, the mini architectural specimen is astoundingly made from a whopping 10,944 individual pieces of marquetry (which were specifically selected for by an expert artisan). All of these is accompanied by decorative stonework on the roofing area, which has been achieved by laser cutting, and is further etched with maple details.
The conspicuous symmetry showcased by the mini Highclere Castle is ensured by an ornamental lathe comprising of 72 square finials. This essence of structural balance also plays its part in the jewelry box by endowing it with spacious compartments. And, since we have brought up the spatial features of the jewelry box, its faux suede lined interior is divided into three main drawers. There is also a separate hidden drawer, which essentially is a trademark design feature of Linley.
Finally, as with all Linley designs, the mini Highclere Castle does demand a hefty price of around £65,000 (or around $101,000). The replica also comes in a limited edition with just five specimens.
Via: DavidLinley