A typical workday in Marius Myking's life starts with waking up his two kids and making them ready for the day together with his wife. After he is done preparing breakfast for the family, he is generally found hustling between virtual and physical meetings (understandably, given the position he holds at Snøhetta). With a vast experience in strategic design development, Marius' pivotal role at Snøhetta is to inspire and guide the creative teams and collaborators to develop tangible projects that push the frontier of sustainable design.
"Not one day is the same. I am either supporting our team to achieve what we're aiming for, or helping our clients to understand how far they can go, and how we may be able to help them on the way," Marius Myking, the Director of Product Design at Snøhetta tells Homecrux. "My main task is to help others to do as well, do as good, as they can do," he states on being asked about this main role at the design firm.
As the Director of Snøhetta Product Design, Marius has busy days, but fortunately, he had the time to sit down and have a chat with me. Myking showed up donning a black T-shirt that cemented a casual look on his face, which worked for me since I like interviewing influential personalities who are in the chill mode. Three minutes into the conversation, he appeared to resonate with me. He talked about his life and how much he adores spending time with his family whilst working at Snøhetta.
"It's a very privileged situation or place to be in, being able to go excited to work every day. I've embraced the philosophy of Snøhetta as everyone does when you start working in a place like this," Marius states proudly.
And why not, for a man who spent his salad days working with jigsaws and planes, and witnessing sawdust disappear in thin air, working as the Director of Product Design at one of the most prominent architectural firms in the world is a pretty big deal.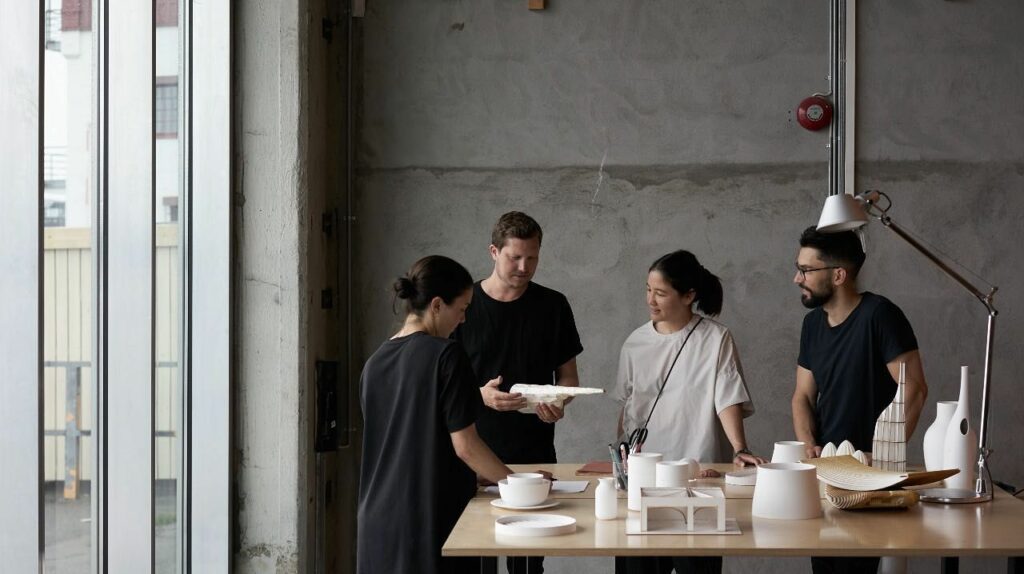 But the road was bummy for the Norwegian designer. He had his share of struggles and dilemmas, whether it be working as a carpenter in the initial days of his career or worrying about paying rent in New York, a city that he believes "gives you highest highs and lowest lows."
With life not being so fancy and a sense of insecurity everywhere, it's the courage, grit, and determination that had him going, and today he is one of the most reputed designers in the industry. In the twenty-minute video interview, Marius spoke on a range of topics, ranging from his personal and professional career to new projects at Snøhetta and the likeliness of AI as a potential job stealer in the near future.
But for a tale to transpire into a powerful narrative, it has to be recited from the outset. That said, what eventually made Marius Myking the Director of Product Design at Snøhetta is something everyone should draw inspiration from.
Also Read: Is there anything more Italian than design?
Marius Myking began as a skillful carpenter in Oslo. "By working as a carpenter, I discovered that I enjoyed the act of creating, more than I maybe enjoyed the actual building part. And luckily, we work with some really good interior designers and architects on the projects where I worked. And I was advised to apply for what they call the best school in Oslo, Norway," he states.
During his studies, one of his furniture designs was picked up by a Swedish manufacturer, which led to enhancing his understanding of the business side of the industry. To seek more expertise, Marius chose to head to New York, where he had the pleasure of building the Todd Bracher design studio in Brooklyn.
"I not only learned the insights of the industry together with him (Todd Bracher) but also had someone very close to talk to about the more poetic and strategic parts of what design is," Marius elucidates about his relationship with Todd Bracher. After working for nearly four years in the industry, he decided to start his own studio and to his luck, Snøhetta was one of his clients, before he finally joined the Norwegian architectural firm in 2017.
Also Read: AI Will Take Your Design Jobs in Two Years?
During the interview, Marius also spoke about the inclusion of artificial intelligence in design. "It's a double-edged sword with AI. It's super scary, but it's also super exciting. I think we do go into a little bit of an uncertain period for quite an extended time now, trying to figure out how to do them, how to utilize these tools, and how to respond to them. This may be one tool that can really help to level the playing field on that. I'm nervous, but I'm also very excited," he points out in our chat about AI and design.
On being asked about the job culling that AI could contribute to, Marius stated, "I'm sure it will. There will probably be what we today call a designer's job being taken. But what we make into the next generation of what design is and how designers work, that's what we're working towards. So maybe if we can have a mindset of seeing what we can do with the skills we have now to adapt to that future, the occupation and description will maybe change."
Watch the full video interview at Homecrux YouTube channel to delve into the man's personal and professional hike.