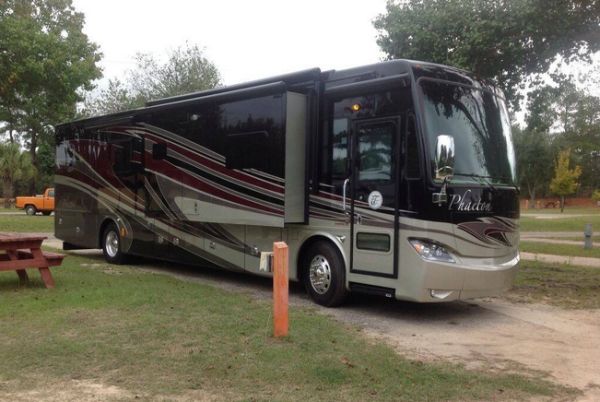 Last week, we talked about how Will Smith has seriously notched it up in the realm of mobile homes. Well, it seems Tampa Bay Rays manager Joe Maddon is not too far behind, with his version of a palatial house-on-wheels. Comprising of a veritable Tiffin Phaeton that alone retails for $300,000, the 40 ft hulking RV is bedecked with a myriad of furnishings and spaces that cry out their ritzy details. So, just hit the jump to check out the affluent features of this lavishly contrived mobile home.
In terms of planning, the RV is basically divided into two compartments, with the larger compartment behind the steering comprising of the main living space. This expansive space boasting of sofas, seats and TVs is also flanked by a kitchen area (with its refrigerator, counter top and dining table), a small office area and an array of storage mechanisms. The whole set-up is further bedecked with sumptuous lighting along the ceiling and polished wooden facades marking the storage areas.
The smaller compartment on the other hand is situated at the rear side of the Phaeton. It is used as the master bedroom, thus serving its spatial function as the private area of the mobile home. However, the privacy features certainly do not hold back the opulence factor, with the bedroom flaunting a king-size bed, a personal television set, along with an en-suite bathroom. Finally, this bathroom space further exhibits its very own closet area, a personal shower with glass panels and even a shoe keeping shelf. For more details, do take a gander at the glorious gallery images.
All images are courtesy of Joe Maddon (from his Twitter account).