Christmas, the most cheerful time of the year is here. Most of you would have already ornamented best looking Christmas trees for the occasion. However, if you've still not found time to spruce up your Christmas decoration, here are a few last minute Christmas tree decoration ideas that'll help you stand out from the rest.
You're going to love these unconventional Christmas tree ideas if you don't like the traditional ones. Get ready to welcome the pleasant ambiance of festivity in your home with splendid Christmas tree ideas below.
Book Tree
Got a book collection stacked up at home that simply being layered with dust? This year put all hardbound books to good use. Stack these books in the shape of a tree most creatively and then embellish it with illuminating décor objects. Volla!
Buoyant Ornamental Tree
Put together shiny and matte monochrome ornaments of same or different colors; use green colored ornaments if you want to reflect natural tree. Tie these onto a circular ring using transparent strings. Now hang this unusual Christmas tree at any central location in your living room.
Beer Bottle Tree
Collect all empty beer bottles you have at home and clean them up. Now stack up these bottles, one over the other, vertically or horizontally to form a tree-like structure. You can illuminate it using light strings and other ornaments, giving a unique touch to the home décor.

Pine Cone and Twig Tree
If you don't prefer vibrant colors and want something simple yet appropriate for the occasion, then nothing is better than staying natural. You can collect pine cones or dry tree branches and assemble them together in form of a unique dry tree. It can be embellished with lights or other shiny decorative objects, if you may, else they look equally impressive bland and simple.
Wall Christmas Tree
Don't have extra space in your small apartment to accommodate a huge Christmas tree? Don't worry; you can create an easy space-saving tree on a wall using light strings, paper, and decorative embellishments. All you need to do is draw a shape of a tree on the wall, exactly the way you want wall decoration to be, and then begin ornamenting it with different attractive embellishments.
Natural Shrub Tree
This one is a really quick, easy and fun tree idea. If you've planted any indoor or outdoor shrub, take it along with its pot and ornate it with shimmering light strings, decorative streamers, and shiny decoration balls. The tree is ready and awesome, isn't it?
Ladder Tree
Another quick way to create a tree is by using a ladder. Bring out that aluminum ladder from the garage, dust it off and begin sprucing it up with vibrant lights and streamers. It is a very simple way to design a Christmas tree that will look cool in your living room.
Cool Wine Cork Tree
This holiday, do not only drink wine but also make elegant Christmas tree out of it. Collect some old wine bottle corks that may be lying around at your place for a decorative tree. Paint each cork in a different color and fix them on top of each other, forming a cool tree. Add an attractive tree top and few ribbons on it for a classy touch.
Stunning Broccoli Tree
You can even deck up your dining table with colors of festivity using broccoli. Take fluffy flowers of broccoli and arrange them like a Christmas tree on the dining table. Little tomatoes in the middle can add to the presentation.
Voluminous Balloon Tree
Take home green, white and red balloons from a craft store to create a tree. Blow up the balloons and fix them in tree-shape using glue or cello tape. Embellish the lightweight tree using shimmery decoratives for the merry season.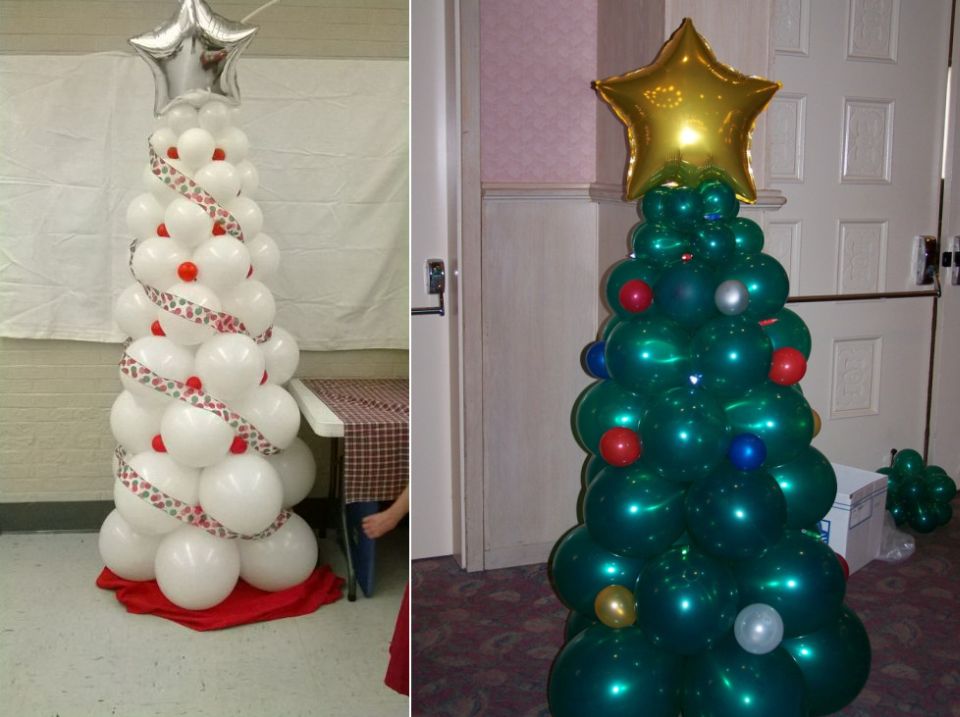 Cardboard Tree
Take out scissors, unused cardboard box, and decorative papers to form an inventive tree. Cut cardboard in a beautiful tree shape and decorate it with shiny paper and ornaments. However, if you don't have time to create cardboard tree yourself, then buy the OdenneBoom cardboard Christmas tree online and satiate your requirement.
These were few simple yet attractive Christmas tree ideas that will enhance exquisiteness at home. Hope, you'd try out these amazing decoration ideas to celebrate the festive season in full spirit. Happy Decorating!