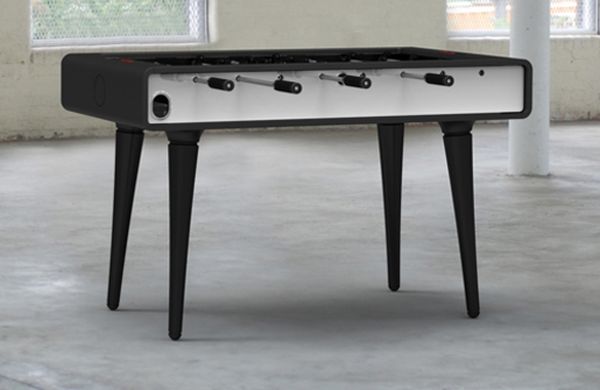 Our present-day foosball tables are certainly undergoing through a 'chic' phase of design progression. First we came across Michael Imbert's 'cloud featuring' B99, and then the Formula One inspired Opera F1. And, now we have stumbled across the 'Retro Foos' by Mars-Made, an elegantly crafted foosball table that is remarkably inspired by the design style of TV sets from the decades of 1950s and 60s. According to the designers, this specific time period was chosen for a symbolic reason, as it was during these years that the very first batches of table soccer were imported to United States from Europe.
As with everything inspired by the retro scope, the Retro Foos weighs a good 450 pounds, which allows it to be stable even during those adrenaline-rushed 'handle jolts' in the tension-filled games. This essence of stability is further improved by the precision-ground rods for extra balance and a sturdy, polished carbon fiber playing surface for smooth game play.
Of course, beyond the playing components, it is the graceful aesthetic appeal of the Retro Foos that might make it a good candidate for your man cave's living room. In this regard, the inset side panels can actually be customized with variant colors and even materials, thus enhancing upon its overall decorative credentials.
Via: Mars-Made