RoomMe by Israeli startup Intellithings is a smart sensor that allows setting up personalized home automation routines for different persons at home. It detects who has entered the room and adjusts light, temperature, and other room settings automatically to the person's preset preference.
You don't have to give any voice commands or tap on the app – it automates all for you and every other family member.
Oren Kotlicki, Founder and CEO of Intellithings said,
RoomMe converts your phone into a personalized smart home controller. Intellithings is proud to provide consumers with what they really want when it comes to home automation – a smart home that knows who you are and automates your living experience based on presence alone. This is just the beginning of our commitment to enabling consumer products and services to adjust and automate to the actual people using them.
Intellithings' RoomMe allows person-specific adjustment of compatible smart home products. It detects the position of a person through occupancy sensors and smartphone. You have to mount it on the ceiling and it will create a virtual Bluetooth barrier at the entrance of a room. When you enter inside with your smartphone, RoomMe identifies you and tailors the room settings automatically. It lets you add up to 32 rooms, and 16 individual users that are detected by their smartphones.
As you arrive at home, it can turn on light bulbs according to the preset schedule, cool or heat the house, and play your favorite music on smart speakers. For now, RoomMe works with Philips Hue and LIFX smart lights, Nest and Ecobee thermostats, and Bose and Sonos speakers. In the future, you can expect it to support HomeKit, SmartThings, Wink, and Sensibo.
Also Read: LawnTap Introduces Smart Sensor to Automate Lawn Care
RoomMe is a battery-powered, smart home device that needs no internet connection. It detects persons through motion sensors and then creates personalized home automation scenes without the need for manual control through app or voice commands. You can purchase a single unit for $69 at GetRoomMe.
It was recognized as a CES Innovation Awards honoree during the Consumer Electronics Show 2019.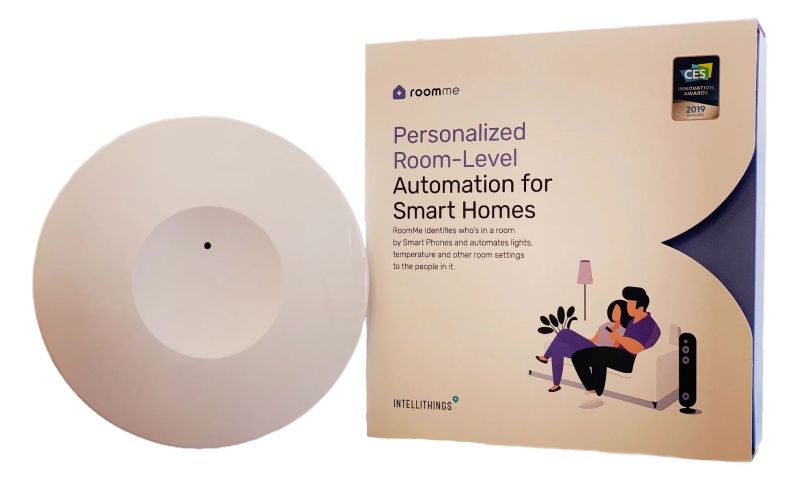 Via: Israel21c