"Rustic" is a term thrown out there to refer to everything from farmhouse design to a Tuscan-style décor. However, very few people understand what it actually means. Rustic design has continued to rise in popularity as homeowners increasingly want to incorporate a down-to-earth layout in their home's interior design. The rustic interior design calls back to an older time with natural materials, warm colors, and vintage décor items.
This décor is completely unpretentious or stuffy and offers an approachable and relaxed décor. The color palette is calming, traditional, natural, and neutral with ample usage of beiges, whites, browns, and grays. A rustic home will avoid using splashes of bold paints and instead keep it monochromatic and muted. Let's understand this classic design comprehensively before we begin to incorporate it into our homes.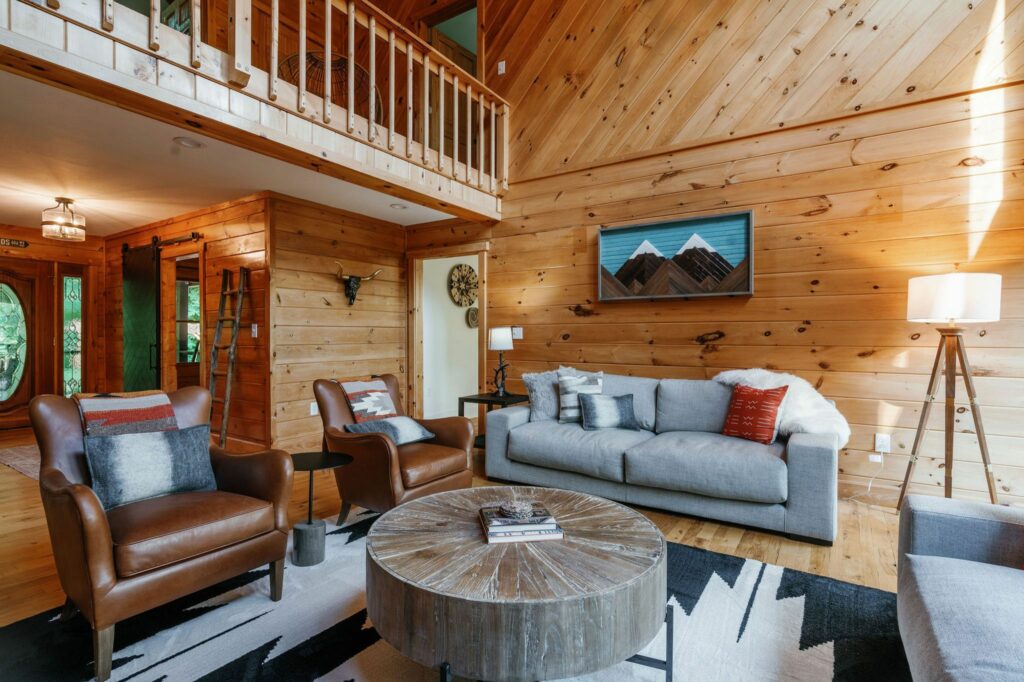 What is Rustic Design?
Rustic interior design focuses on organic materials and natural elements to imbue a warm and welcoming vibe into a house. Although many people relate this style with the rustic look of log cabins, farmhouse-style homes, or country style, it doesn't necessarily adhere to those standards. The rustic style interior can be mixed and matched with other designs such as Boho, Coastal, and French Country, or it can be incorporated into a layout on its own.
Rustic design is an unpretentious style that employs raw, natural materials such as throw pillows made of burlap, cowhide rugs, and wood walls. The aim of this style is to design a home that is warm, inviting, and natural both in looks and material usage. Rustic interiors see a lot of natural wood and stone, raw edge furniture, warm color tones, wooden floors, and vintage decorations.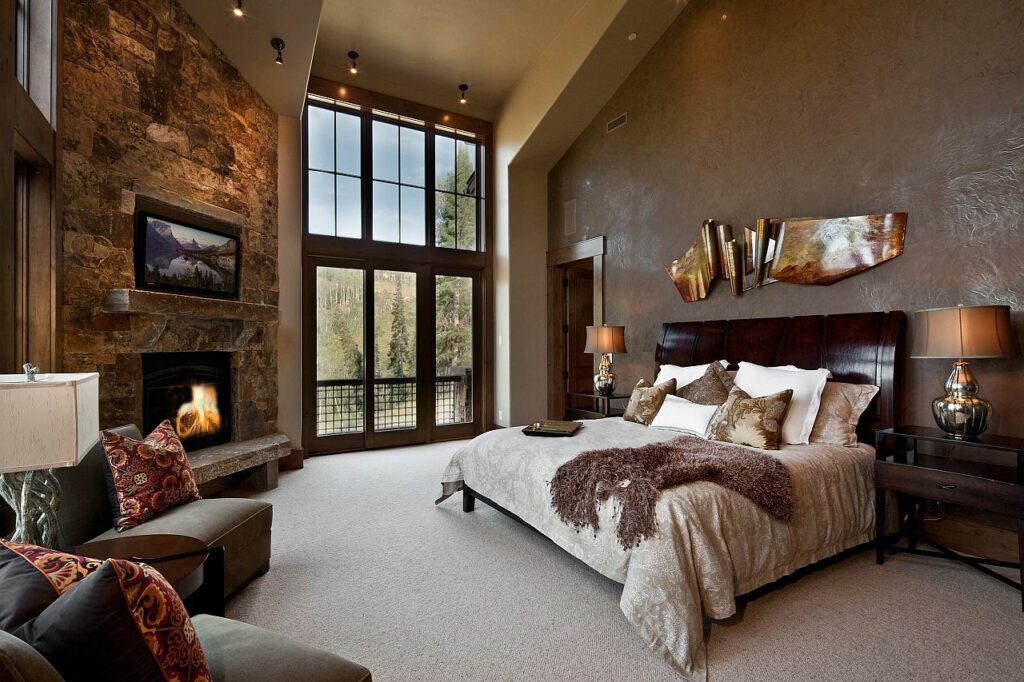 This style has become a popular pick in posh country houses in the US and Europe. Rustic design often merges mountain and ranch-style dwellings with traditional décor elements for acquiring a down-to-earth living space.
Also Read: 18 Most Popular Interior Design Styles Homeowners Should Know
Origin of Rustic Interior Design
Although quite dissimilar to the traditional parlors of Europe or the Colonial styles in Northeastern states, the rustic design has a definite aesthetic appeal of its own. Rustic interior design goes back to early settlers throughout the US who dwelled in the countryside in the 19th century. Many of these people brought very little furniture as space was limited and furnishings were heavy. They erected homesteads and homes with locally found materials.
These dwellings were simple and emphasized creating warm, inviting spaces to relax in after a long day of work. Emerging in the early 19th century, rustic design only gained popularity in the following centuries.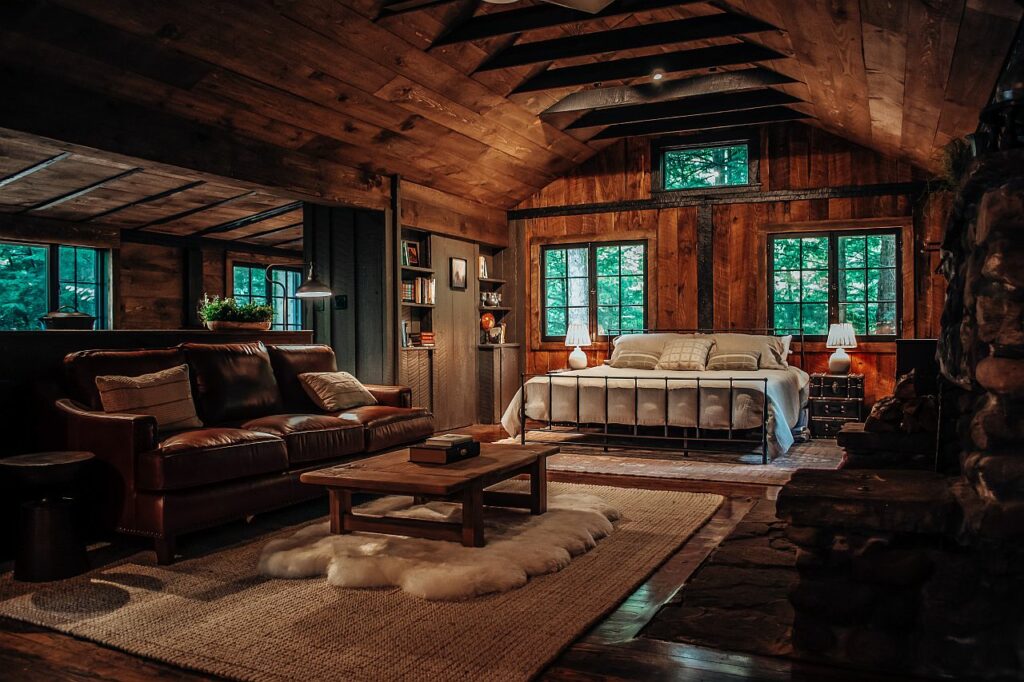 Restaurants have helped bring this traditional style into the modern era through the casual use of reclaimed wood shelving, neutral paint colors, barn doors, chalkboards, and other rustic kitchen elements. These characteristics have led the way for rustic-style homes.
This timeless style promotes the ideals of eco-design and conservation-minded in residential spaces. It is a brilliant choice for people who desire to live snuggled in natural beauty and bring the outside in. The style also favors unique, handmade statement pieces, making it an ideal interior design for people who love to DIY.
Elements of Rustic Interior Style
Before you proceed with incorporating rustic interior design, you must know the key elements of this style. Every characteristic of this interior design oozes warmth through the abundant usage of natural materials, handmade items, warm colors, and textures. Read on to know more about the elements of rustic design.
Practicality and purpose
The first thing, and probably one of the most important ones, is to keep practicality and purpose in mind. Everything you add to your rustic interior design must have a reason for being there: a purpose to serve. If you are over-accessorizing with items that are not necessary or functional in your life, you are definitely clashing with the rustic décor feel.
For instance, if you want to introduce a bold, statement rug to your living room, it must have rustic themes to go with the décor. You can use animal prints, floral prints, or woven textiles to accentuate the vintage décor.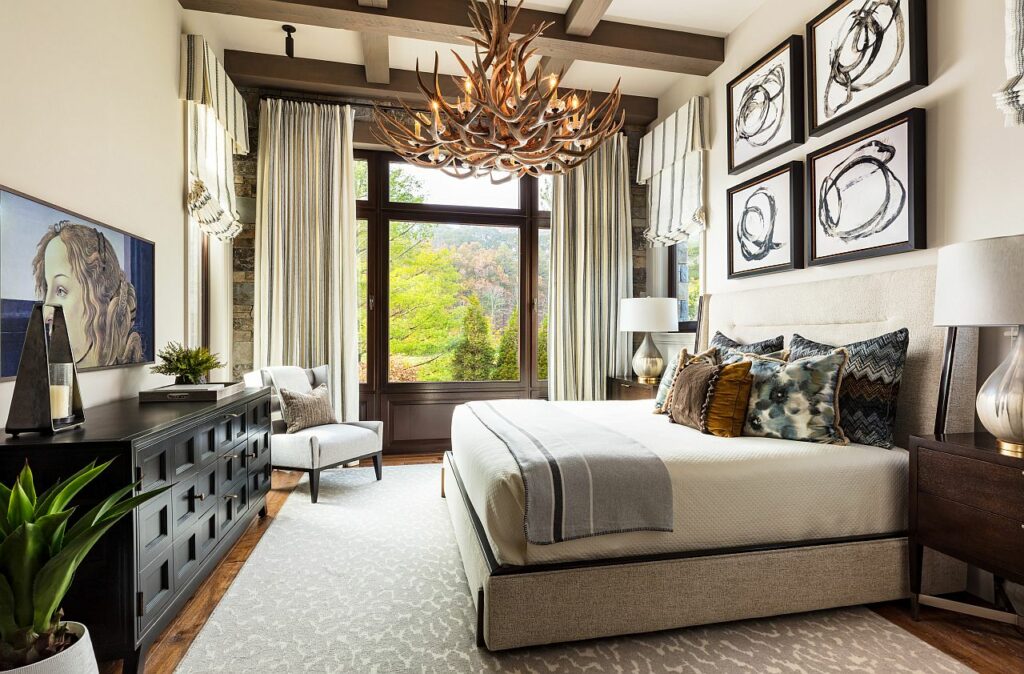 Another important part of rustic design is to create cozy and functional spaces throughout the house. It can be a comfortable outdoor setting, a snuggly living room couch by the fireplace, or a cozy reading nook under the staircase.
While implementing this design style, you must keep in mind that every playful accessory, art, and trinket should have a purpose, whether it's highlighting your personal style or telling a story through aesthetics. The simple rule is that rustic homes include accouterments you need for a comfortable lifestyle, but they do not abide by any sort of clutter.
Embrace natural materials
If you are revamping your home with rustic interior design, then natural materials such as stone, wood, and metal are your best friends. You can choose reclaimed wood flooring for the perfect layout. Wood paneling is another way to include the warmth of this natural material in your living space. Wide, wood plank flooring is usually used to complement the wood beams used to support ceilings.
Metals are another natural material that makes an ample appearance in these designs. You can include wrought metals into your space in numerous ways while keeping up with your personal style. For instance, pots and pans hanging in the kitchen or cast iron bands wrapped around stairway posts are a good way to infuse metals into a rustic style. Metal doorknobs and handles along with distressed faucets and matching towel rings help create the desired effect as well.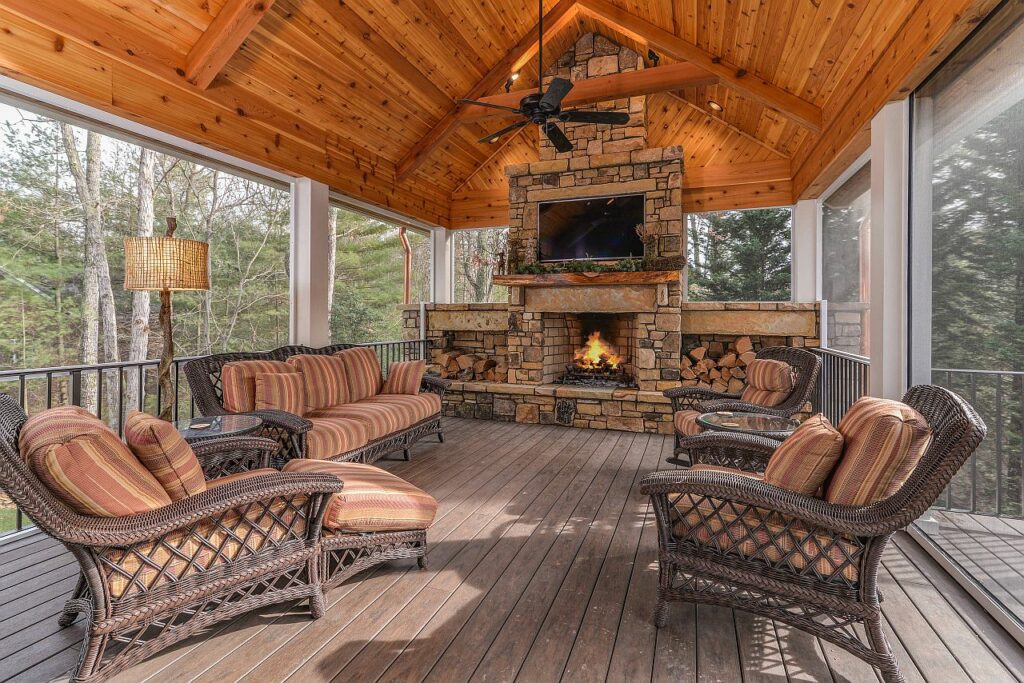 Natural stone is frequently used to create equilibrium in the interior space while completing the rustic design. Incorporating natural stones such as marble or granite is incredibly easy. You can invest in marble fireplaces or fireplace surrounds, stone staircases, exposed stone walls, and so on.
Also Read: Everything You Need to Know About Modern Interior Design Style
Earthen color palette
One of the key elements of any interior design is the color palette they employ. Rustic design, like all its other characteristics, favor earthy, warm, and neutral tones to create a cozy, plush, and snug space for you to relax in. Rustic décor includes a nature-inspired color scheme but that doesn't mean the rustic style is dull. You can always use other accessories to accentuate the beauty of this natural décor style.
Rustic interiors use a lot of neutral colors such as beige, white, black, dusty pink, and shades of brown. You can use dark, bold shades of greens, blues, browns, and grays as long as they remain warm and earthy. You can mix and match these colors for a strong and dreamy contrast that complements the rest of your décor.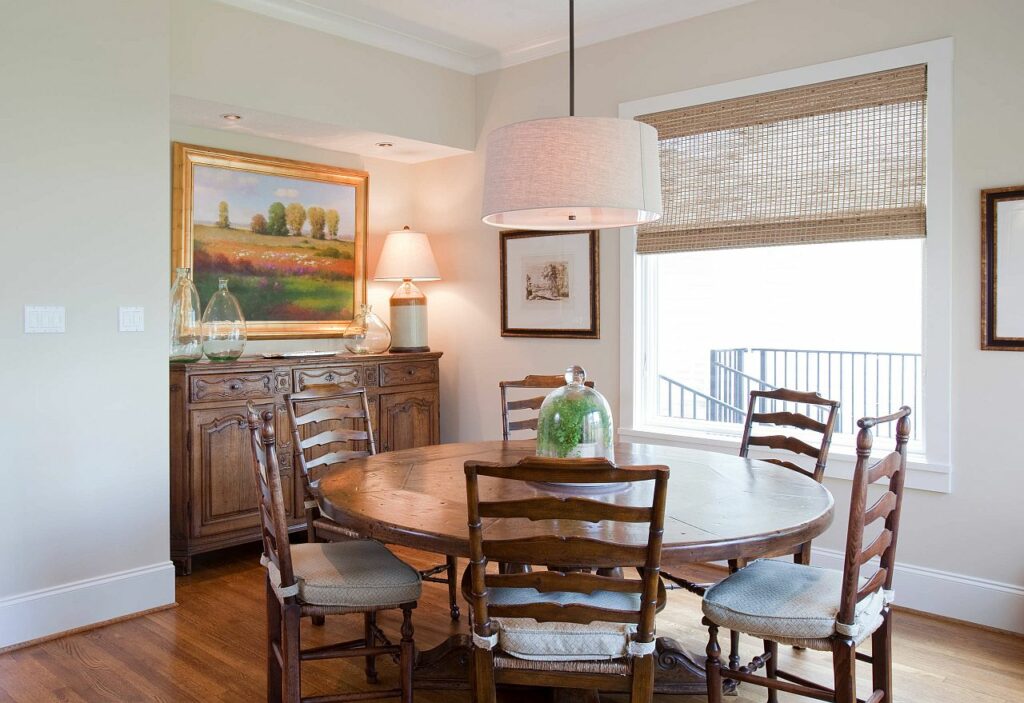 For instance, white walls pair wonderfully with natural wood features, be it exposed wood beams or rugged furniture. On the contrary, a bright wall color like red would completely clash with the exposed wood and look stuffy. It's important to note that when applying neutral shades around wooden features in your rustic home, make sure that they are not too close in color. The goal is to use them to enhance one another, not merge together.
Plush and plaid textiles
Winter is the season of cozy and snug décor. But what is the main ingredient you seek for a warm design? It's the plush, plaid textiles with bold textures. And that is exactly what you will need for a rustic interior. Comforting fabrics in warm shades will make rustic décor feel more inviting.
You can invest in cozy throw blankets pillows, plaid fabrics, and chunky knitted accents to design a well-organized and comfortable space to relax in. For instance, you can pair a faux fur throw with your living room sofa, along with a patterned woven rug to complement the floors.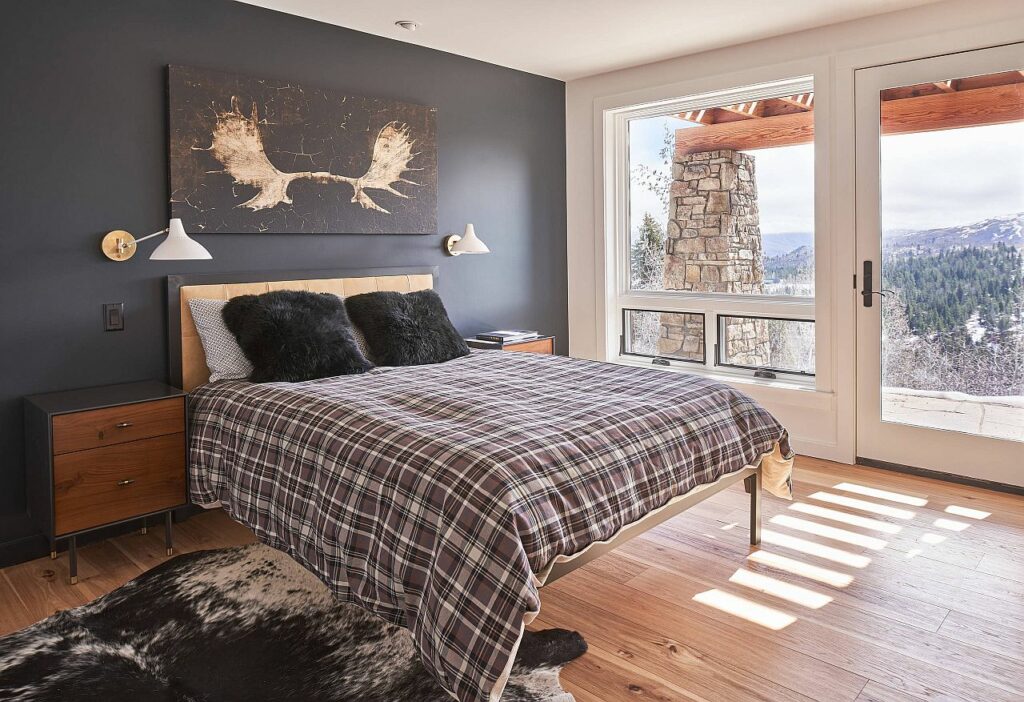 You can alternate between feminine and masculine energies for your rustic interior or mix and match them for aesthetic synergy. Think gentle floral designs, birds, and animal prints for upholstery or tapestry that can be balanced through bulky, wooden furniture, and exposed stone walls.
Also Read: A Comprehensive Guide to Master Contemporary Interior Design
Heavy furniture
Rustic décor is often lined with an eclectic mix of items (each picked for its function and purpose) thrown into a mix randomly in a room. For instance, it is quite common to find mismatched, bulky dining chairs around a heavy, rugged-looking dining table. The design style is usually described as heavy, dotted with tables featuring large square legs, or sofas with dark, deep leather.
The main goal is to include furnishings that look like they have been collected over time to form a beautiful and friendly space. Each contains a vintage air about it. You can form a charming, antique-looking side table using an old trunk as a coffee table in any room; it will become an instant central feature.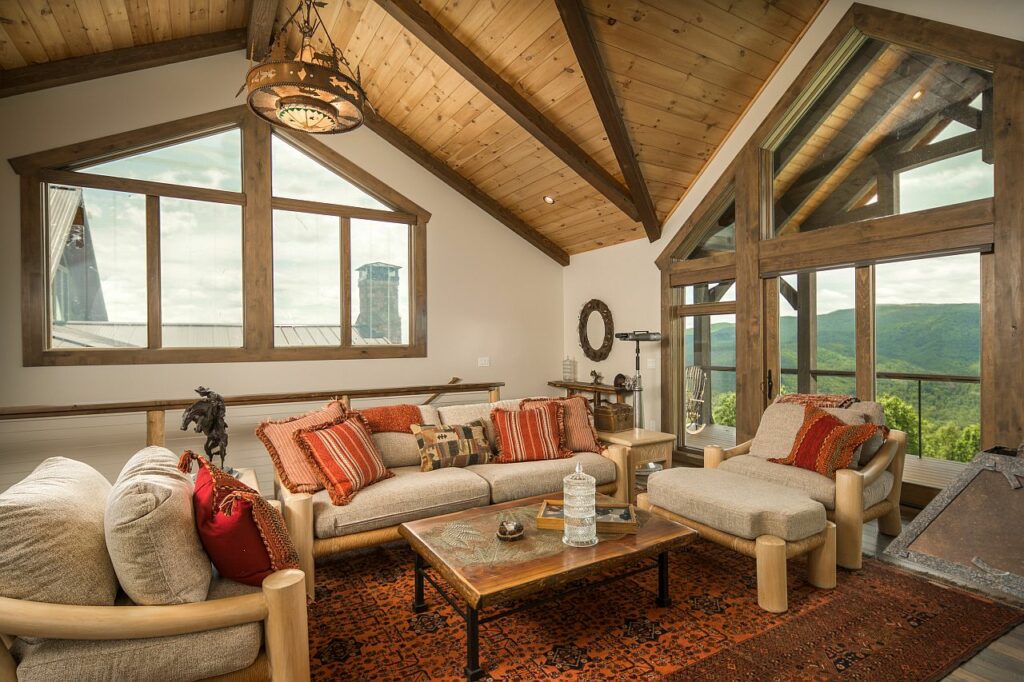 Distressed and reclaimed wood are a preferred choice for rustic furniture. You can also use wrought metals and unfinished iron to furnish your living room. Think of a bulky four-poster bed, either made from wood or metal. Huge natural stone tables are also common in rustic interiors.
Emphasis on greenery
Biophilic design is a concept in interior design that brings in live plants to better the aesthetics and air quality while incorporating a natural element. Live plants not only add a pop of bright color to your space but also create a woodsy feel. You can opt for indoor trees, indoor plants, or small desktop planters to include biophilic design elements inside your house.
Hanging plants and air plants are a wonderful way to add greenery to a small space favoring rustic décor. For instance, small rooms such as kitchens, bathrooms, and narrow hallways, can use hanging vine-style plants such as heartleaf philodendron, arrowhead plant, spiderwort plant, and English ivy. These cascading plants placed on kitchen cabinets or hanging in the bathroom will create a charming vibe.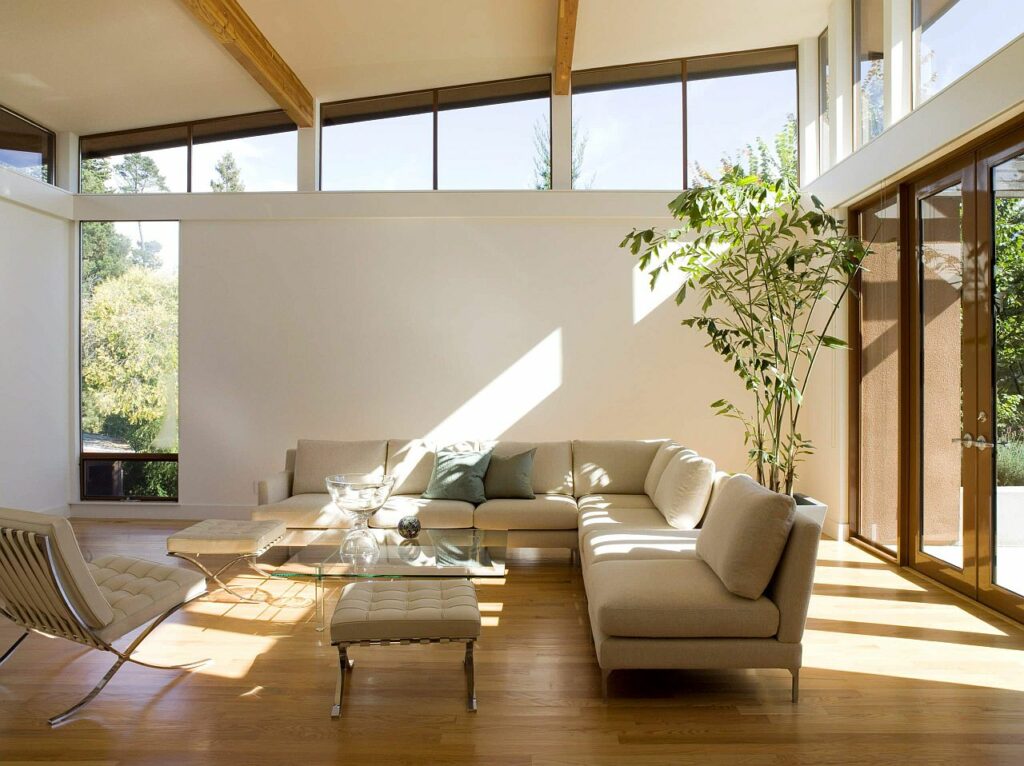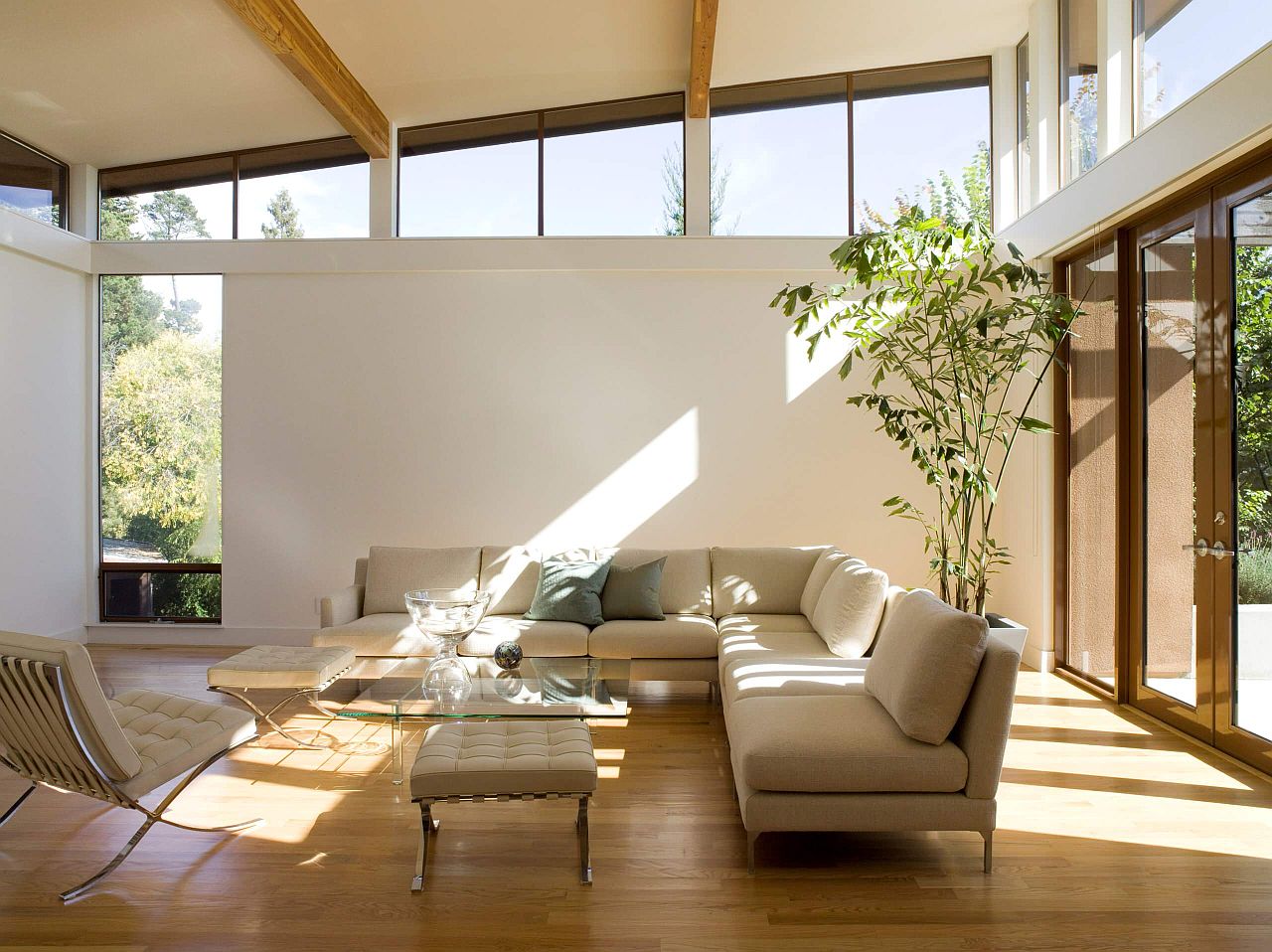 Biophilic design will enhance your rustic interior by seamlessly merging the beauty of the outdoors with the indoors. You can opt to plant in mason jars, old crates, pallets, or small jute pots to keep in line with the theme.
Also Read: A Simple Guide for Biophilic Interior Design Trend
Rustic Interior Design Inspirations
Rustic Living Rooms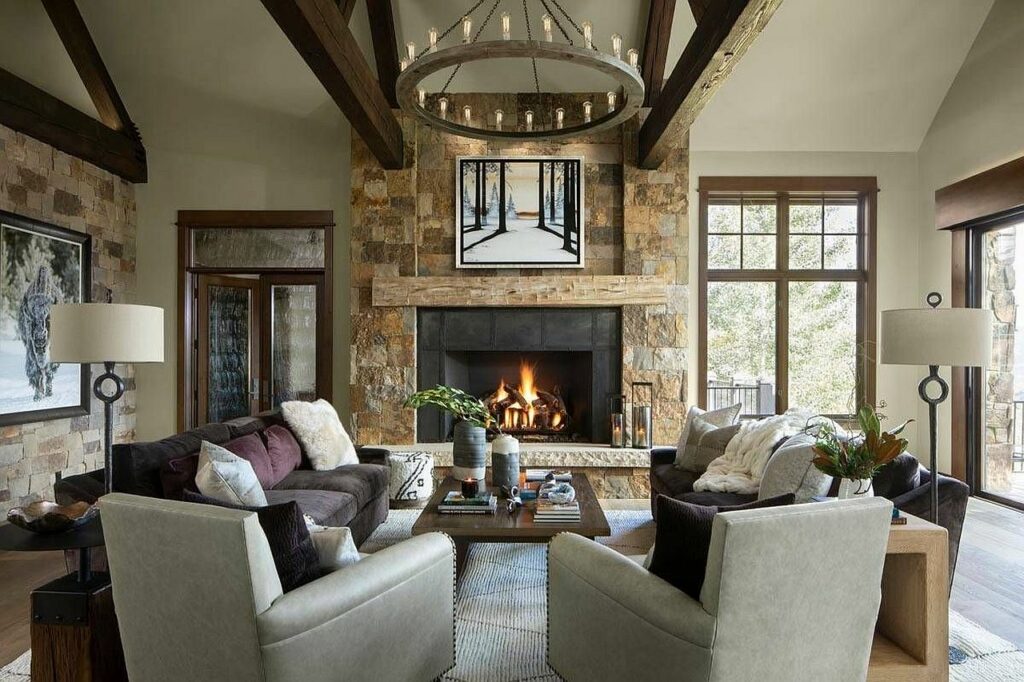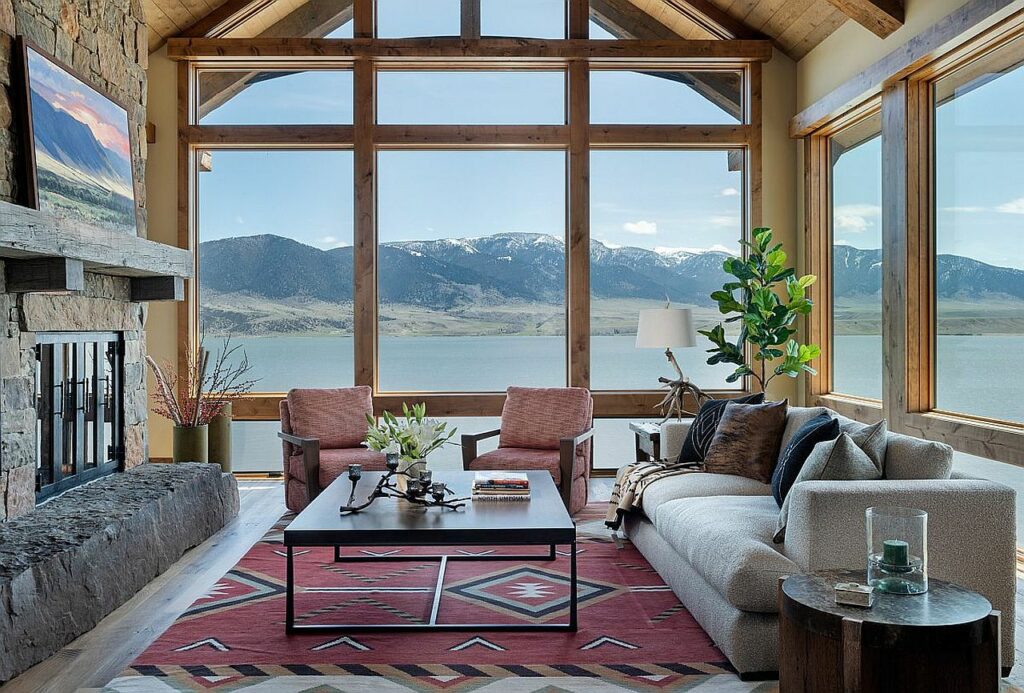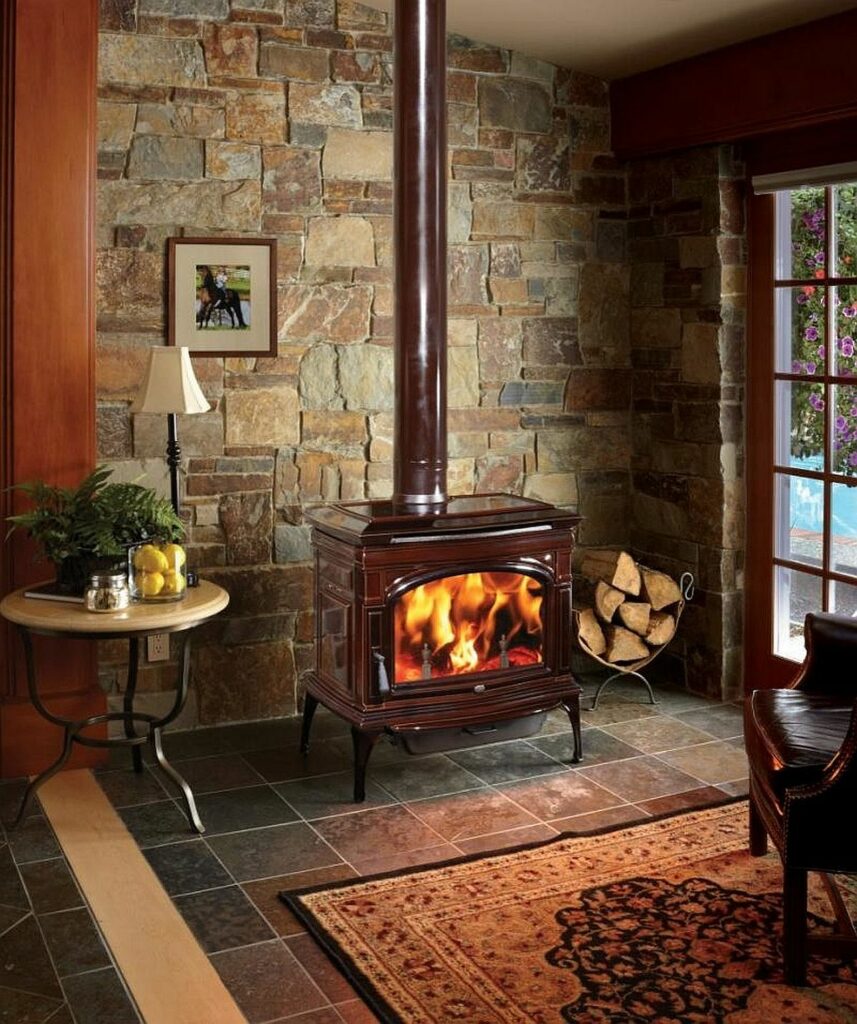 Rustic Bedrooms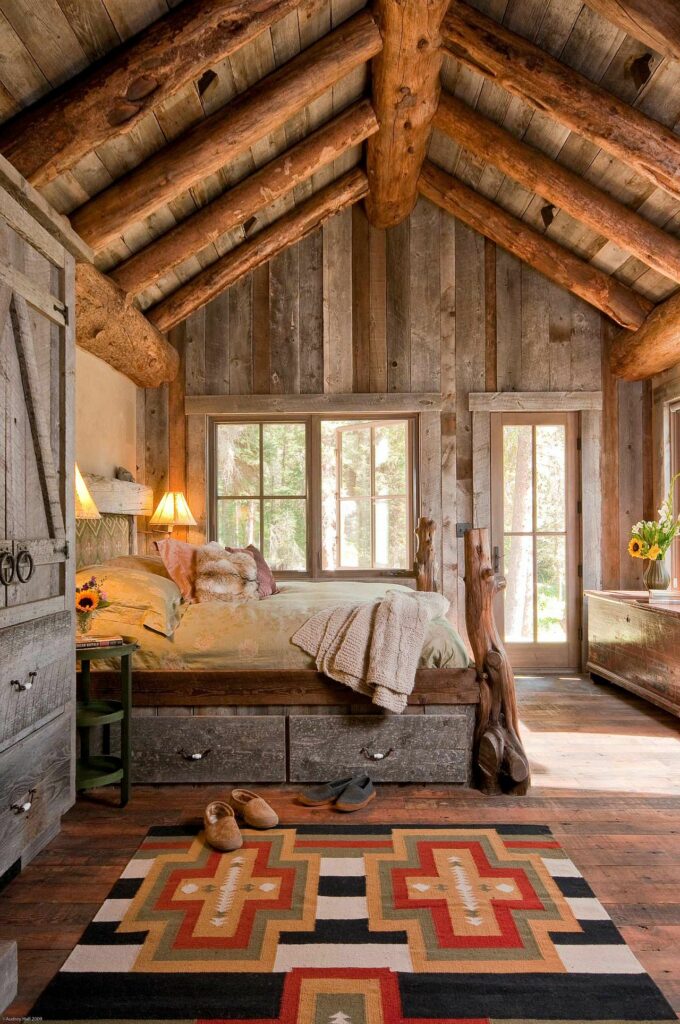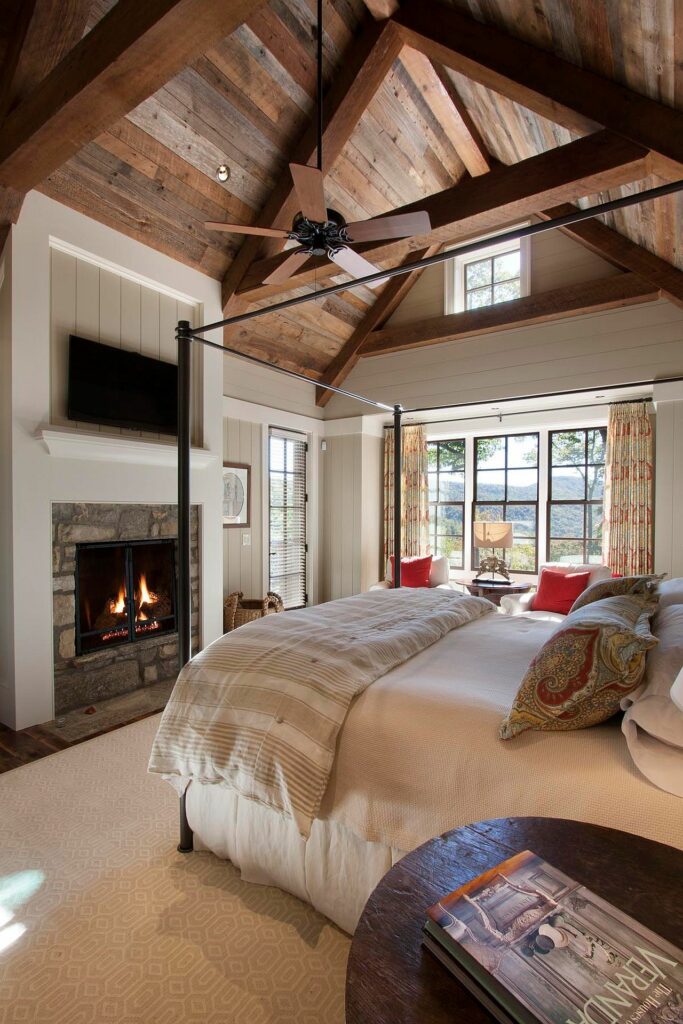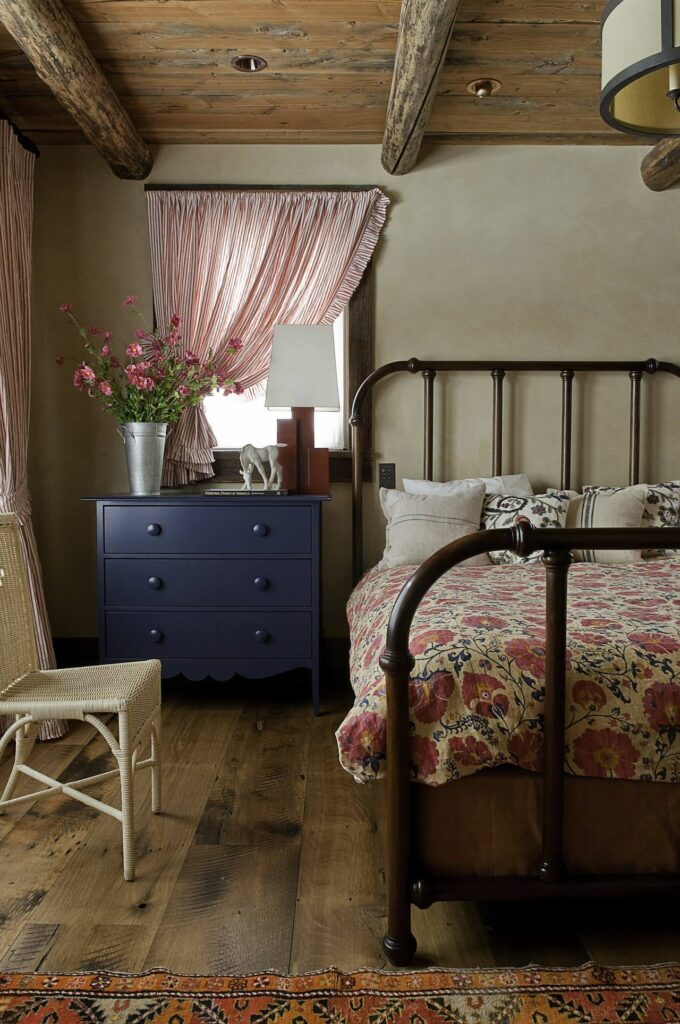 Rustic Kitchens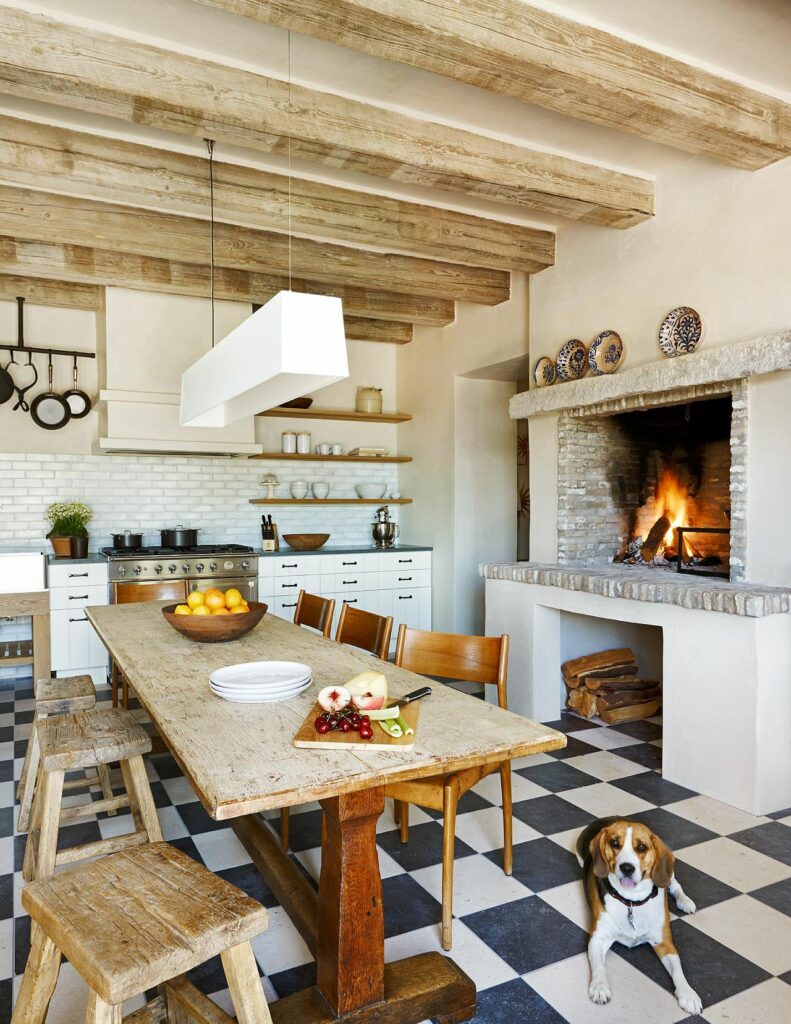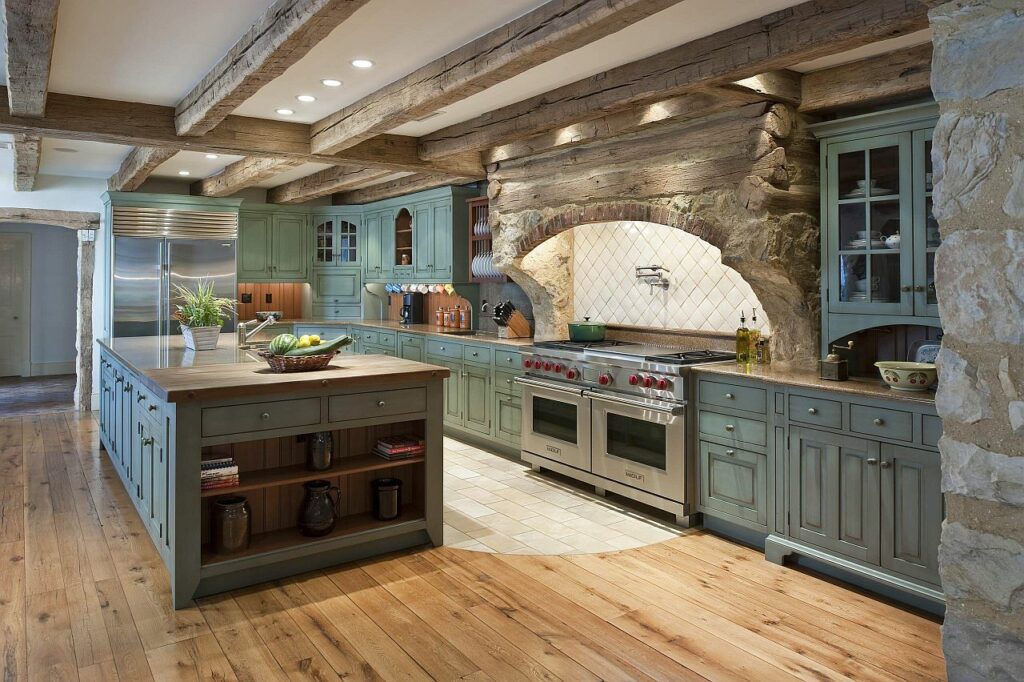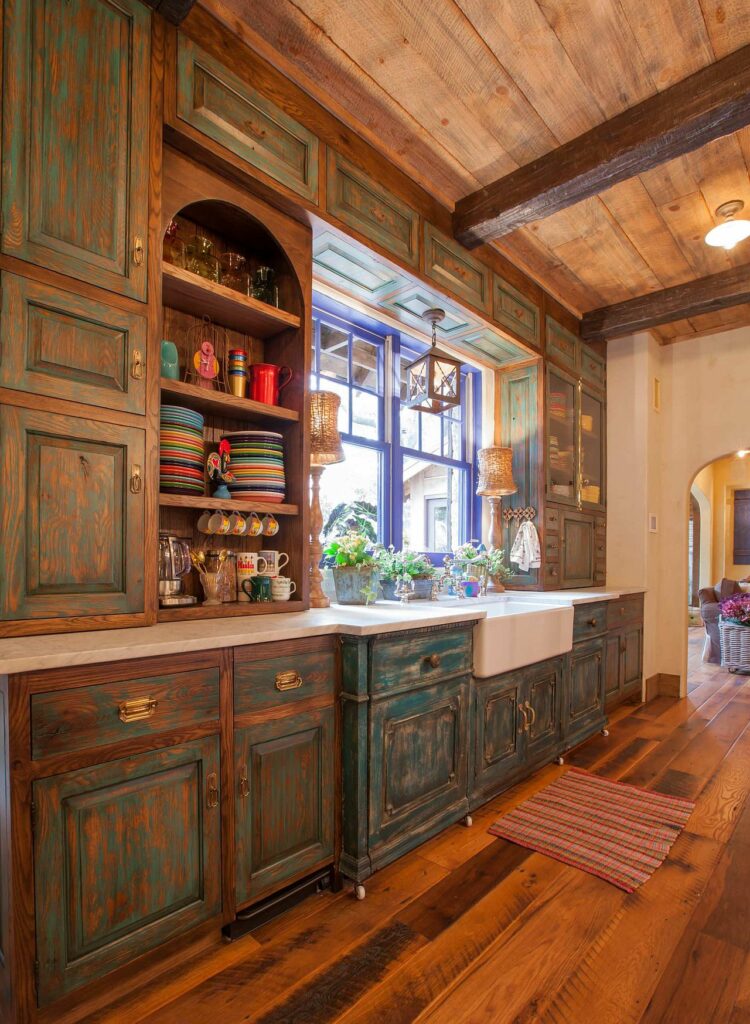 Rustic Bathrooms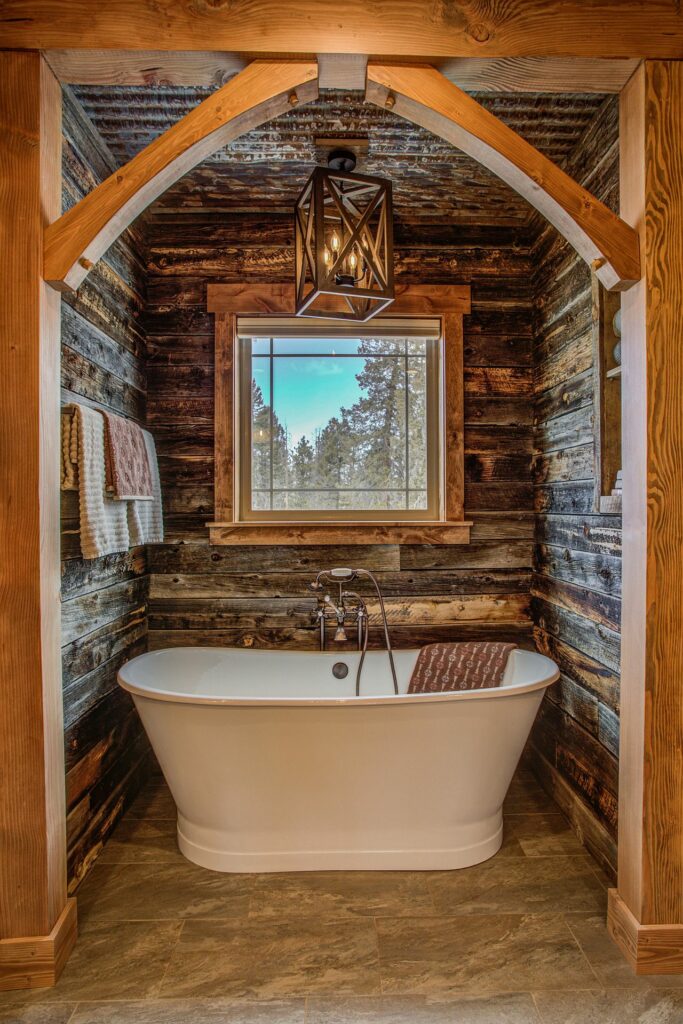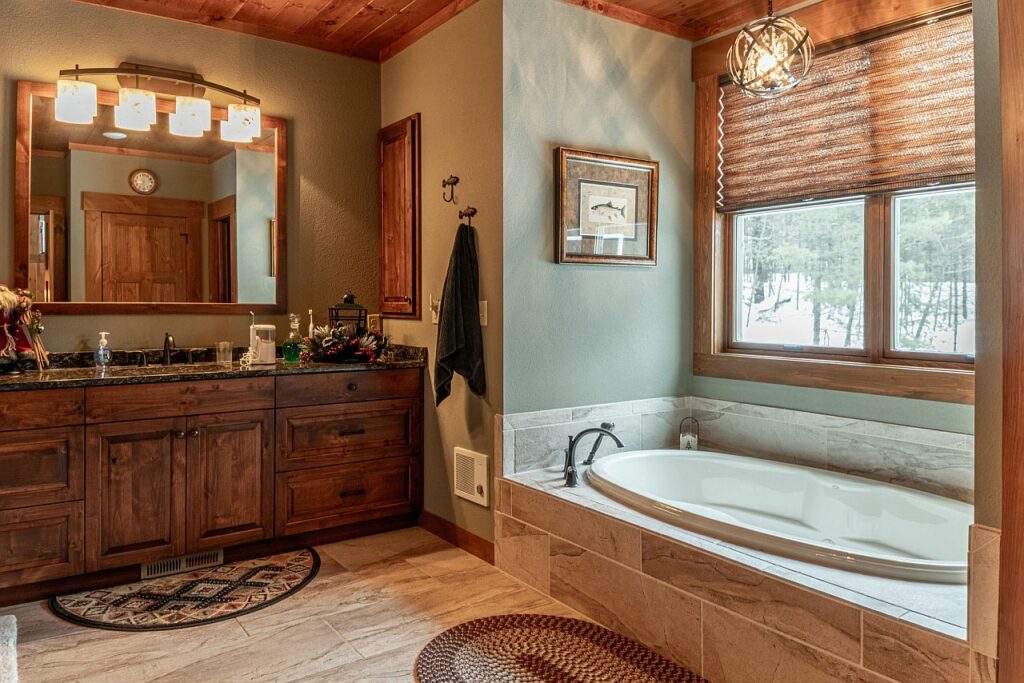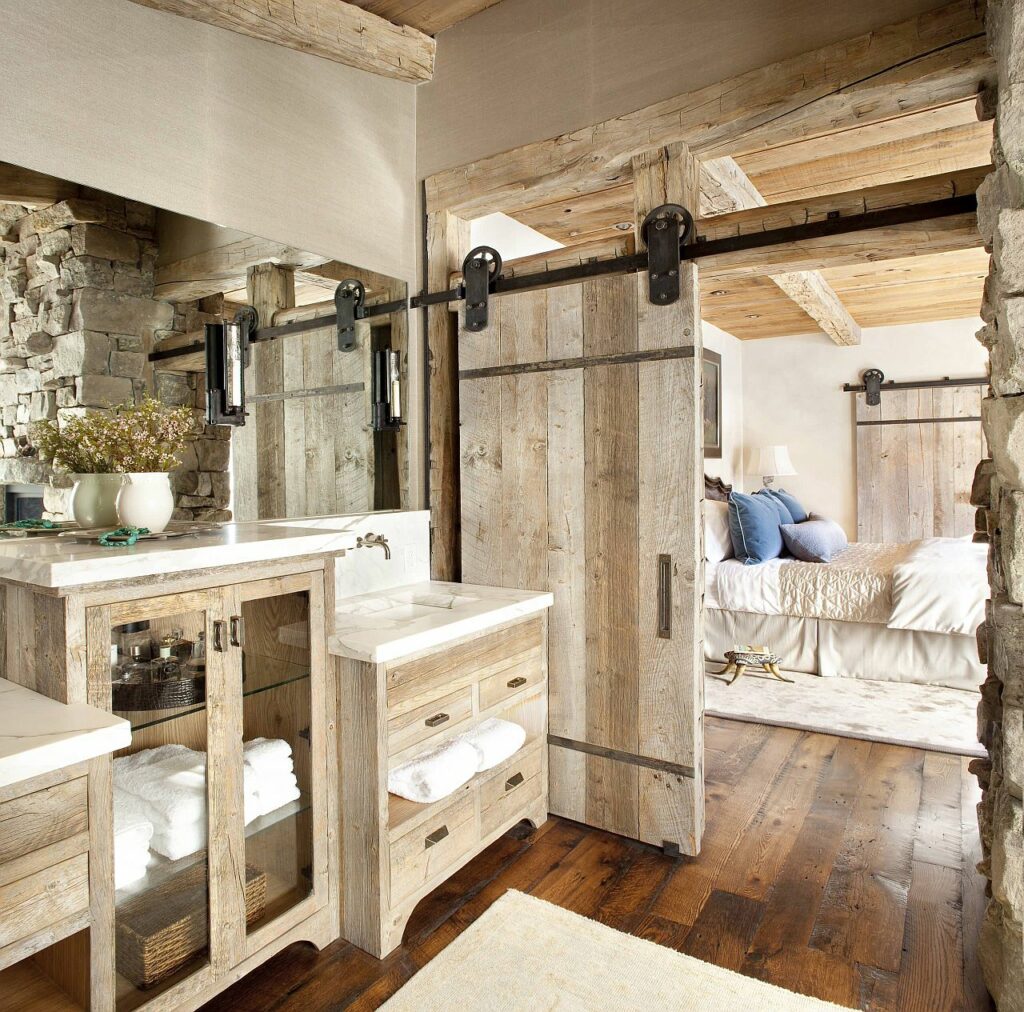 Rustic Dining Rooms