Over the years, fashion industry has changed a great deal, of course for the better. It seems lately, the industry is planning something extraordinary for our bodies. You've guessed it right, it's more than fabric; its furniture that we can carry as our attire. There have been many recent examples of fashion and furniture design intersecting to provide us with wearable furniture.
Read on to have a glace of seven such exquisite examples of wearable furniture pieces.
#Noonee Chairless chair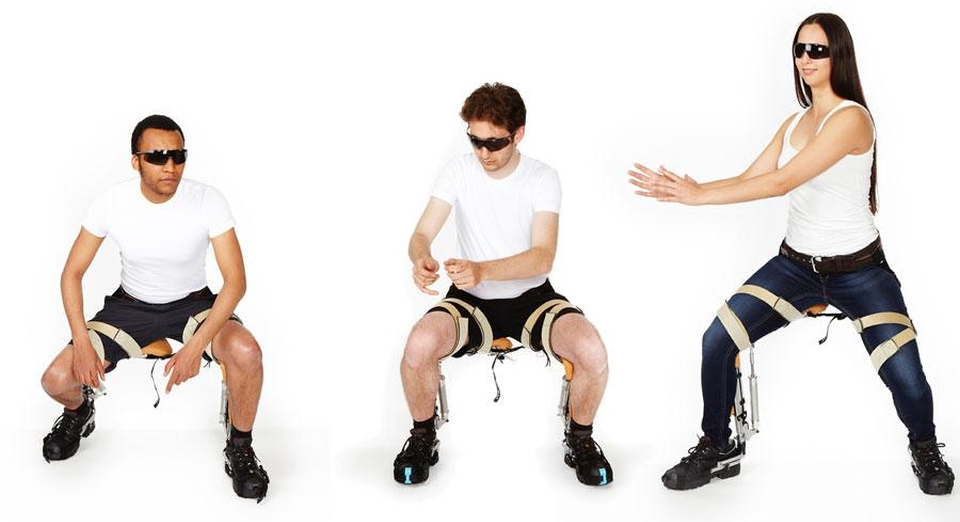 The Chairless chair by Zurich-based startup, Noonee, is certainly nowhere close to being called a chair. It can be worn as an exoskeleton and can transform into a chair as and when needed. The Chairless Chair is only two Kilograms in weight and is made from aluminum and carbon fiber. The Chair is designed primarily for production line workers that spend hours standing doing their chores. The wearable chair will provide such workers or anyone else with a comfortable seating in the middle of nowhere.
#Paraseats chair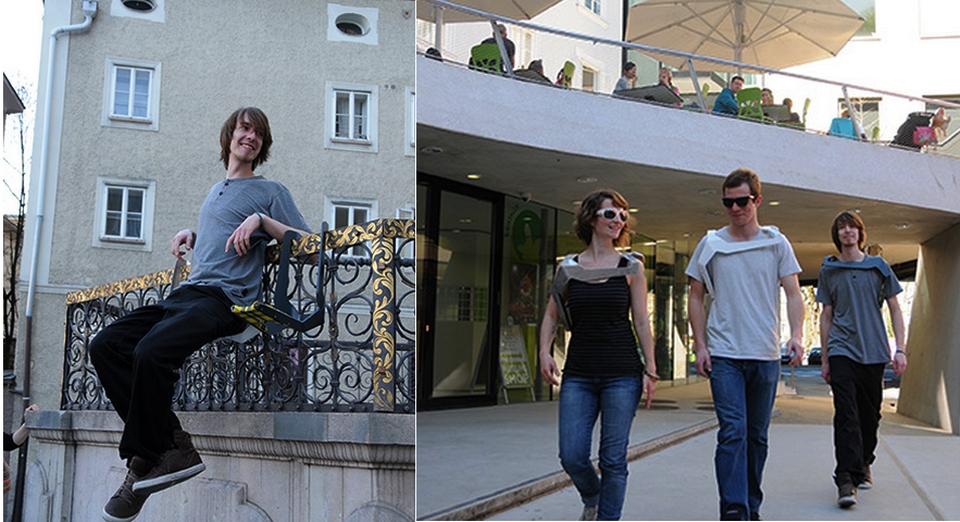 Wearable furniture can only make the cut and compete with traditional furniture if it's lightweight, simple in design and really comfortable. Underpartner Paraseats chair is one such furniture unit, which ensures comfort and is lightweight enough to be worn around the neck. Underpartner is a design house in Austria; the Paraseats designed by the design house are made from plastic and metal, and if you don't like the idea of wearing the chair, you can also transport it on your bike. Ideal for all public places where there's no seating arrangement, the chair can be hung on a horizontal pole or a fence to transform public space into an outdoor living room.
# Wearable coffee table/chair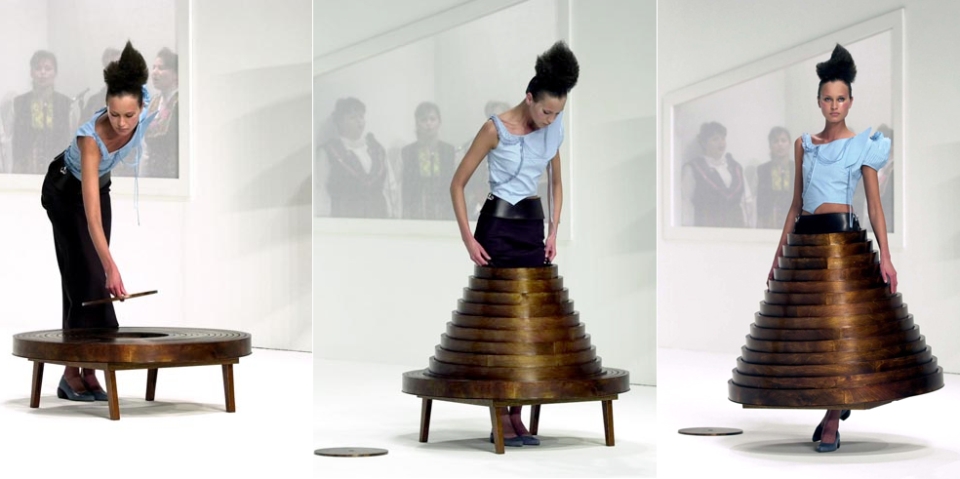 Hussein Chalayan is one fashion designer who is known to have pushed the boundaries of wearable fashion to a new high. Case in point is his collection of chairs and tables that can be worn as garments. The most exciting of all items in the collection is a coffee table which transforms into a wooden skirt. Made from Tyvek, an envelope of paper; the wooden skirt is ideal for times when you're invited at the last moment and you need to carry your own seating (not that people invite you with your own seating arrangement, but who can predict the future).
# Self sustainable chair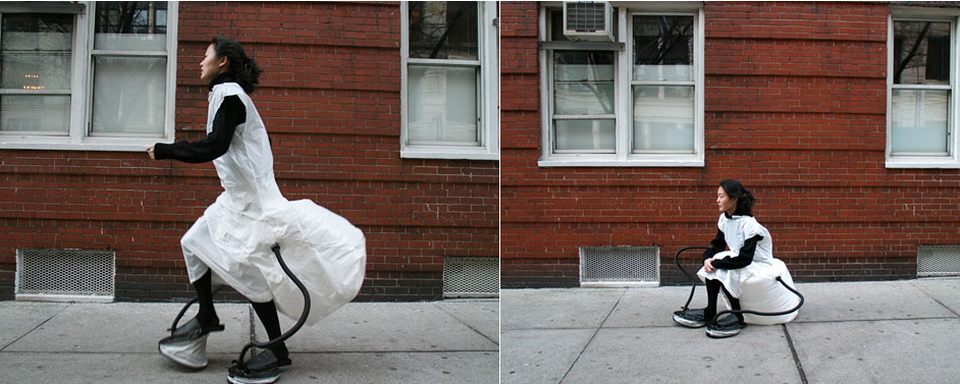 When you've walked too much, it's obvious you look for a place to sit and rest. Ideally, you don't find a comfortable place to sit outdoors. Artist and designer JooYoun Paek believes walk and rest can be balanced (and the need for an additional seat can be done with) by a functional outfit, which inflates to become a chair. Paek's self sustainable chair is a furniture item which is basically a dress wherein the butt area inflates as you walk (using pumps in the shoes) to form a comfortable chair. Made from polyethylene, the dress comes with a pair of pumps in the shoes and makes for one comfortable chair for the outdoors and of course the indoors.
# Pret-a-Thonet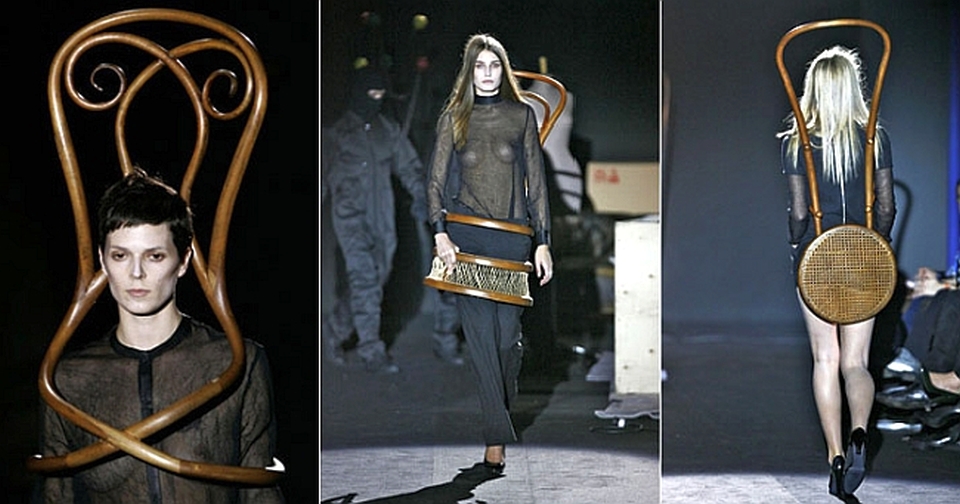 There are many innovative makeovers given to the Thonet chair. Amid all of them Pret-a-Thonet is most state-of-the-art. Argentinean designer and sculptor Pablo Reinoso has given the Thonet chair a wearable transformation. Pablo has designed the Thoneteando series of sculpted chairs dubbed the Pret-a-Thonet, which is metaphor for wearable chair or a chair you can wear like a garment.
# Mamoris wearable chair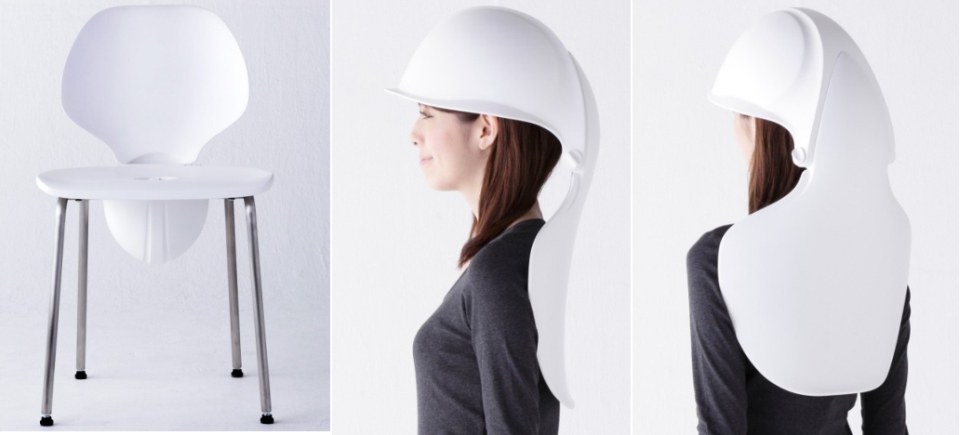 Mamoris, combination of words memoru (protect) and isu (chair) in Japanese is a chair that can become a protective gear for the head, neck and the back in case of emergency. Given the frequent earthquakes we are witnessing, the Mamoris by designer Youji Ikawa is surely a piece of furniture which can help people protect themselves in case of a disaster. Mamoris chair is just like a natural chair on a regular day, and in event of a natural disaster, by simply turning the chair's dial, its back rest can be detached to become a protective helmet of sorts.
# Wearable chair for everywhere

We've already seen some exciting pieces of wearable furniture. To wrap up, we have a wearable chair by budding designers Lisa & Tom. Appropriately called the wearable chair for everywhere, this is a fabric chair that one can wear like a vest. Since, it is made of soft fabric and is designed keeping human body motion in purview; the chair is worth sitting in any place at anytime. The chair converts from a vest into a seating unit in a jiffy; it has an orthopedic neck support collar built-in and allows the user to cuddle in it in the most comfortable manner.