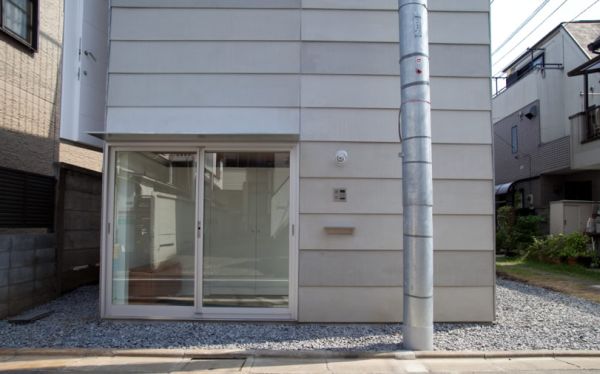 While many contemporary architectural projects deal with the imposing side of affairs, it is the scope of spatial efficiency where the expertise of an architect truly shines. This is quite evident from the aptly (an rather unpretentiously) christened Small House from Unemori Architects. Located in the neighborhood of Meguro in Tokyo, Japan, the project as its name suggests, comprises of a bantam housing unit constructed in a densely populated area. Designed for a married couple and their child, the specifications of the building are sure bring out some gasps – the residence is only 16 sq m (4 x 4 sq m) in terms of area, while its plot boasts of a paltry 34 sq m of space.
So, how exactly did the architects achieve the final design of the Small House? Well, the answer lies in the volume expansion in direction of height (very similar to Marco Pierazzi's design), which rises to a substantial 9 m (around 30 ft). This tower like form consists of living and utility zones separated by four thin floor boards and an access mechanism in the form of a spiral staircase. In this way, the circulation pattern is maintained freely without the obstruction of cramped spaces.
Another interesting space saving feature of the Small House entails the application of unique types of windows along the lower floors. Replicating the form of hinged doors, these large windows open on the outside. In fact, their expansive sizes directly influence the ambiance of the room, with their opened state inducting profuse beams of natural sunlight. Conventional ceiling height windows also bedeck the upper most floor, thus ushering in the optimized effect of both light and air.
Via: Unemori-Archi